It's a beautiful day and the water is calling so we'll tell you right up front our picks for best overall inflatable stand up paddle board, best for beginners, and the best for SUP yoga or SUP fishing, covering all your bases. 
Each type of activity requires different features and attributes of a paddle board. If you plan to do SUP yoga, you'll need a large board with superior stability. Fishers will want a paddle board with compartments, anti-slip board tops, and great stability.
Key Point: No matter your skill level or desired activity, in this ranking we've scoured the market to find the best inflatable paddle board for every occasion.
The Inflatable Paddle Boards We RAVE About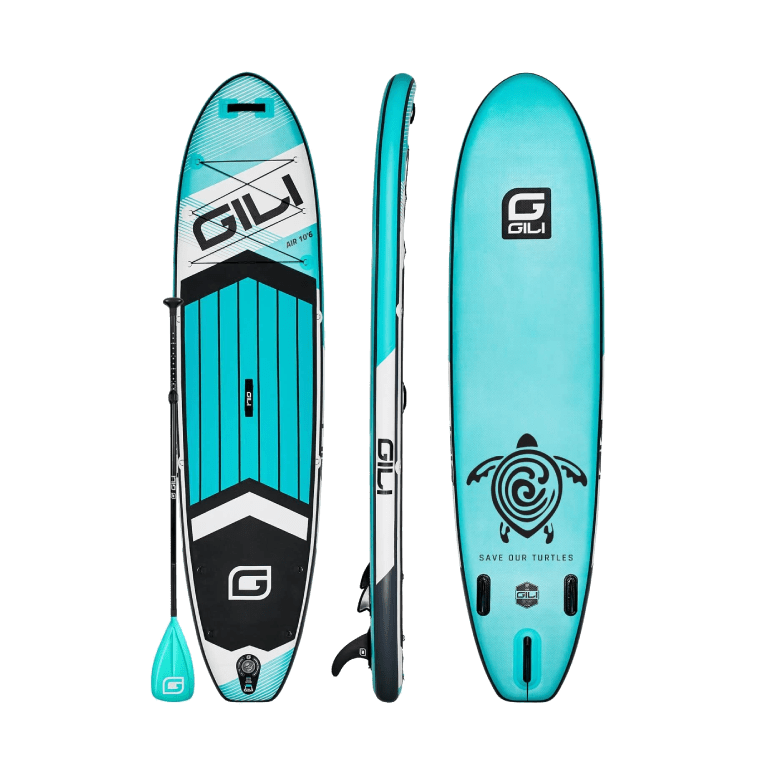 Best Overall
Gili Air Inflatable Stand Up Paddle Board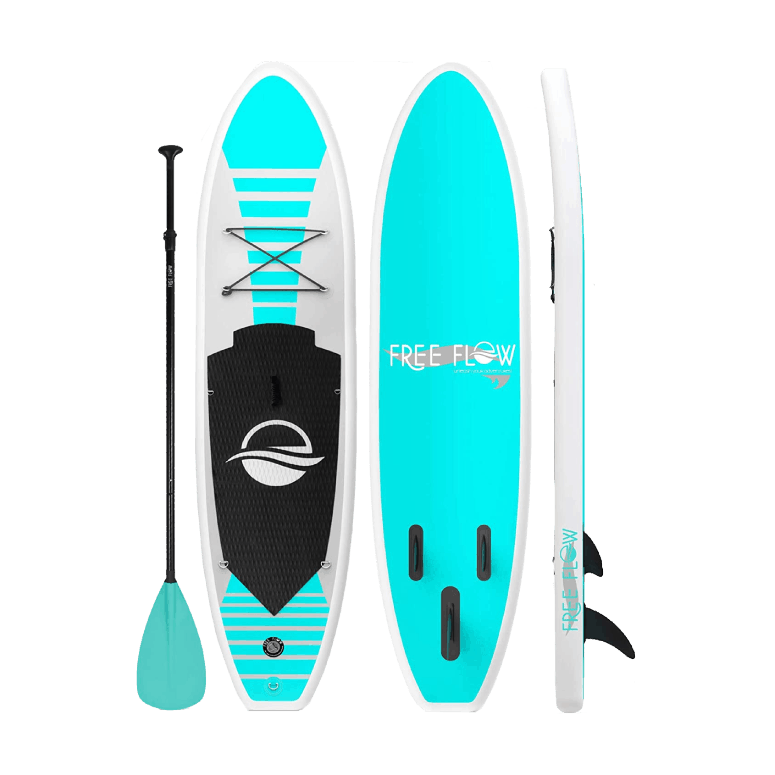 Best for Beginners
SereneLife Inflatable Stand Up Paddle Board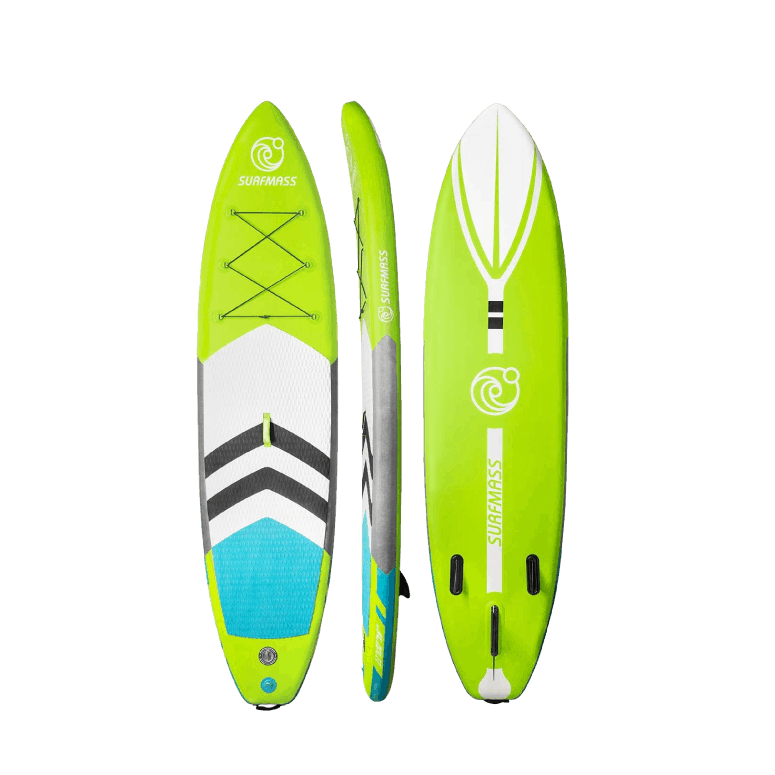 Best for Yoga or Fishing
SURFMASS Inflatable SUP
Are the Best Inflatable Paddle Boards Worth the Cost?
Have you always wanted to try standup paddle boarding?
In addition to being a lot of fun, paddle boarding is great exercise and good for all fitness levels, and best of all, it's very easy to get started.
There are two kinds of paddle boards: hard and inflatable.
The best hard paddle boards are great for performance and durability. Inflatable boards are great for beginners, travelers, and those on a budget.
While great exercise, SUPing doesn't require a high-level of fitness to do successfully, so we'll begin with a question: why haven't you tried SUP boarding sooner?
Here are some pros and cons of paddle boarding, according to experienced paddle boarder Dave De Haan of Standup Paddle Boards Review.
The benefits of paddleboading:
Lots of health benefits 
Full-body workout 
Easy to get started 
All-year round activity 
Wonderful way to relax and enjoy nature
Great group activity
Are there any cons to SUP boarding? "Can't think of any, to be honest," De Haan says.
Takeaway: If these benefits sound appealing to you, then the cost of an inflatable paddleboard is easily justifiable.
What is an Inflatable Paddle Board?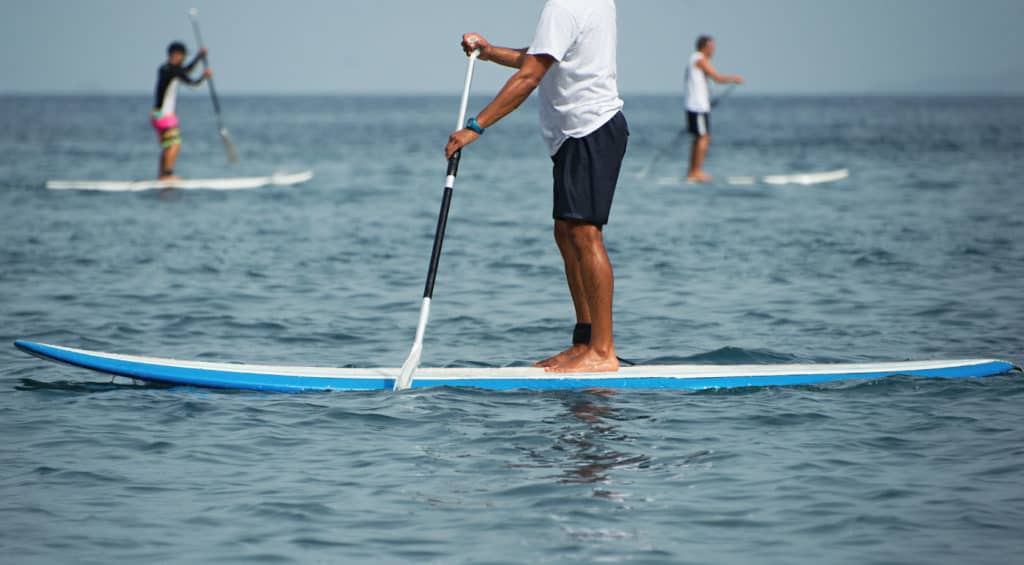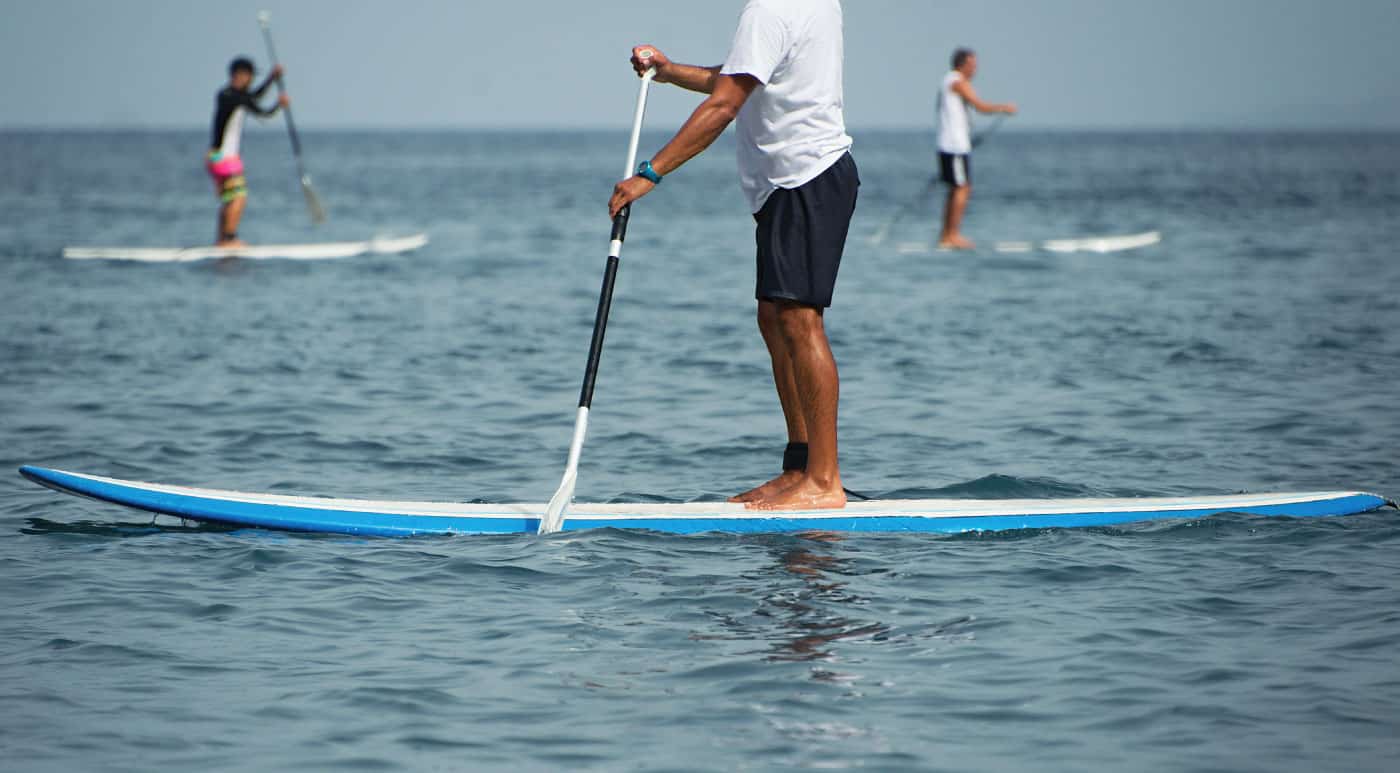 Before going any further, let's define an inflatable SUP.
An inflatable SUP is just like a hard paddle board but instead of being made from a stiff plastic or epoxy, they're inflatable.
Some feel inflatable paddle boards aren't quite as stable as hard SUPs, since they sit higher up in the water. But first-time paddle boarders can get the hang of inflatable boards with a little practice.
Benefits of inflatable paddle boards include the fact they're easier to store and easier to travel with, and since they're soft and forgiving, falling on one isn't quite as painful as falling on the hard variety.
Perhaps most importantly, they're a lot less expensive than hard paddle boards, making them the perfect entry-level board for beginners, children, families, or even couples looking to paddle board together.
There are some drawbacks to inflatable paddle boards, too:
First of all, they're not as quick or fast since they're flatter and wider than traditional SUPs. 

They're also best suited for calm water and not the best choice for surf SUPing in the ocean

Last, you have to inflate and deflate an iSup , so you'll need a pump, which is an added expense.
But more than anything, this means an extra step before you can get out on the water.
Takeaway: An inflatable SUP paddle board comes with some clear cons. But if you're a beginner, an avid traveler, or you're on a budget, it's the superior option.
What are the Different Kinds of Paddle Boards?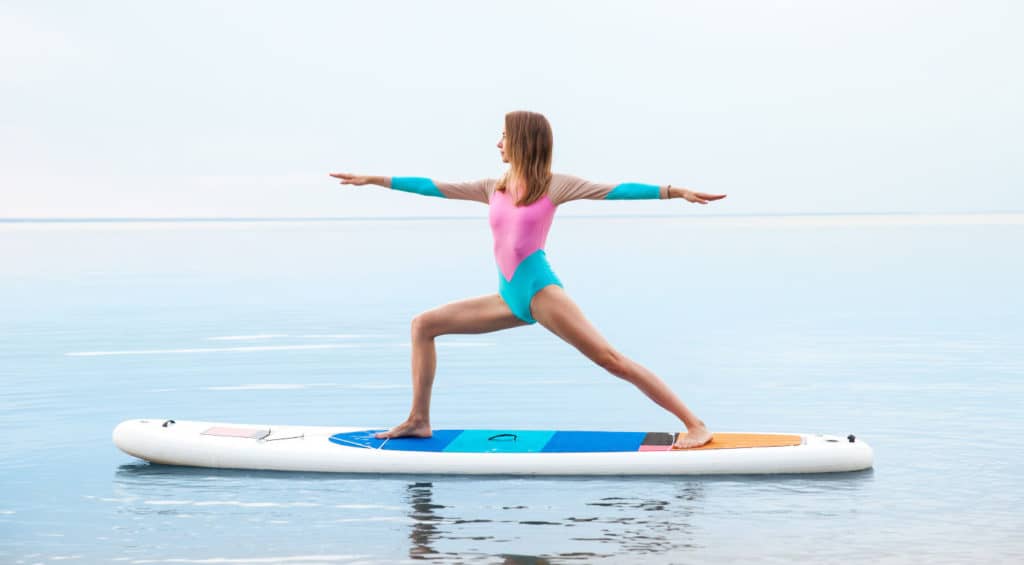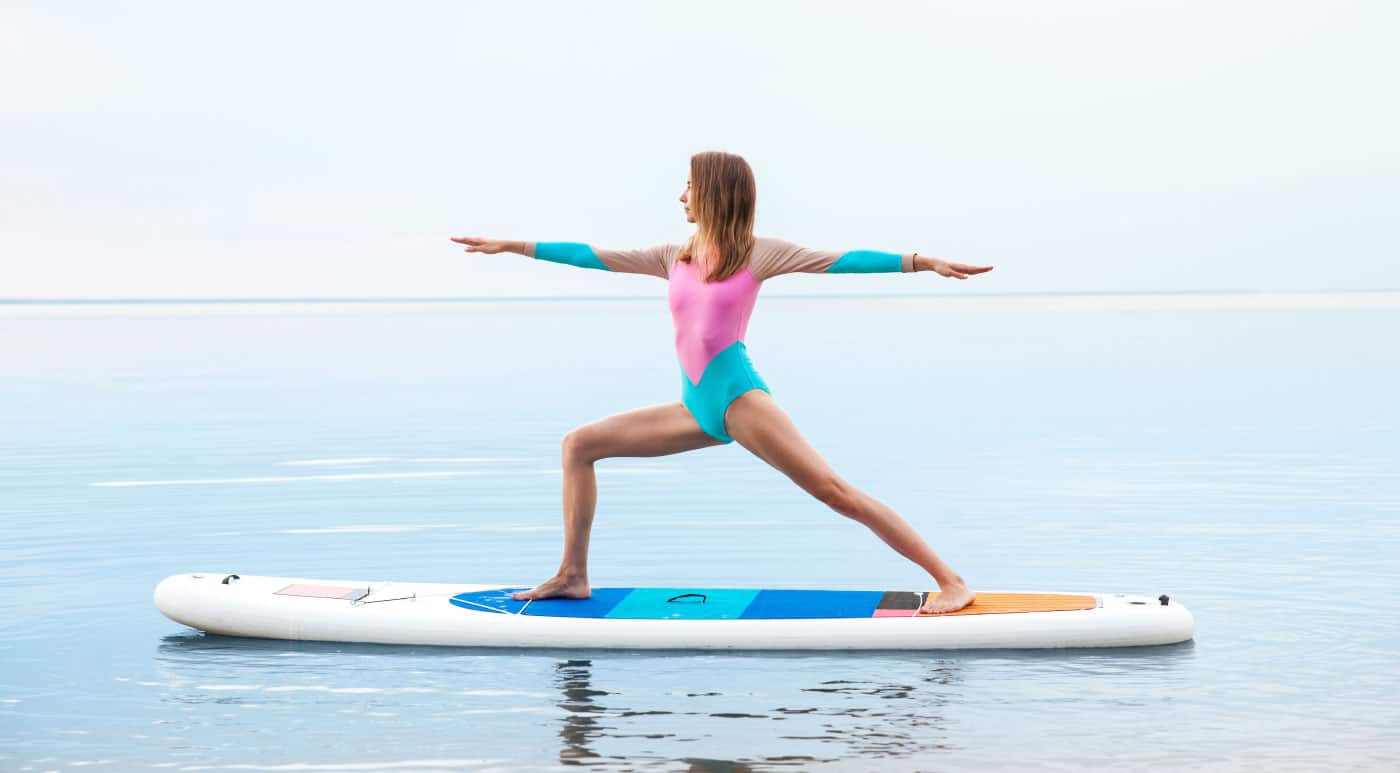 There are SUPs specifically designed for different styles of paddle boarding, and for paddle boarding in different environments. Inflatable paddle boards are no different.
Before choosing which kind of SUP is best for you, consider your activity level and when and where you plan to SUP.
Wide, thick, and stable board is usually best for beginners.
Short and wide SUPs are good for a mellow day on the water
Long and thin SUPs are built for speed.
People also SUP for different purposes from beginner options to more advanced activities like SUP yoga.
What Beginning Paddle Boarders Should Know
Touring SUPs are good for long distances on both flat and choppy water. They're also wider and flatter than your average paddle board. Beginners should consider a touring SUP.

Because they're less stable than other kinds of paddle boards, Surfing SUPs are difficult for beginners to master. They're narrow and thick, with rails specifically for cutting into waves.

Fishing SUPs are thicker and float better than other kinds of SUPs. Many feature a mount or extra space for your rod and additional fishing gear.

Racing SUPs are long and narrow with V-shaped hulls. Difficult for beginners to use, Inflatable SUPs don't come designed for racing. For more information about racing SUPs, see RAVE's ranking of the "Best Paddle Boards."
Some even practice yoga on a paddle board.
If that's something you're interested in trying, consider a hard paddle board.
Given the cushiony nature of inflatable SUPs, they're not the ideal choice for SUP yoga. However, some brands have designed inflatable paddle boards to combat this–so it's up to you.
Our Recommendation: Decide which paddle board activities are most important to you, and look for boards that excel in this category. If you're a beginner, prioritize a board with stability.
Things to Consider Before Buying Your Paddleboard
Inflatable or hard, and touring, surfing, fishing, and racing SUPs–which matches your style and goals?
And what else should you consider before buying your first inflatable SUP?
Your height and weight
Fitting a board to your body type is important.

If you're on the shorter side, avoid boards that are extra sided that can make paddling a challenge, causing arm and shoulder pain.

As far as your weight, most inflatable paddle board manufacturers list a maximum weight for their product.

Make sure you fall within the recommended range.
The shape of the board
The shape of the board also plays a part in how it will perform once you're out on the water.

There are V-shaped and flat, or displacement hulls.

A V-shaped hull cuts through the water more quickly and efficiently than a flat hull.

A flat, planing, or displacement hull is better for all-around SUPing and SUP surfing in particular.

With that, you're ready to begin shopping for your first inflatable SUP board. Let's get started.
Our Recommendation: Always evaluate a board based on its size and shape relative to your body type. Big and tall individuals will need larger boards, while smaller people can get away with smaller, more agile paddle boards.
Methodology
In this article, we polled SUP experts from all over the world about their favorite inflatable paddle boards.
We then compared their input with our own research, as well as similar iSUP rankings and consumer reviews from all across the internet. 
We ranked each inflatable board on the following:
Length, width, and thickness
Volume and weight capacity
Added features for sup activities like fishing and yoga, as well as extra gear storage capacity
Additional supplies included with purchase (pumps, paddle, bungee cords etc.)
Board versatility
Customer support and price
We're confident all this combined has resulted in a thorough and comprehensive list of the most high-quality inflatable paddle boards on the market..
The Best Inflatable Paddle Board
1
Gili Air Inflatable Stand Up Paddle Board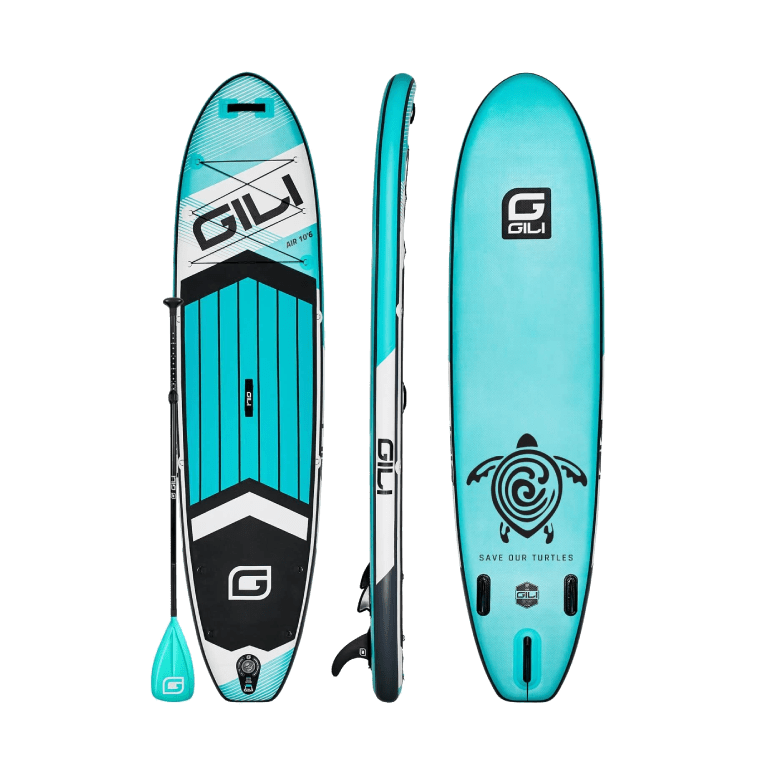 Topping our list is the air inflatable stand up paddle board from Gili. What earned this 10-foot, 6-inch iSUP top honors is how well it performs in all sorts of conditions — from choppy waves to a mellow day paddling on flat water, making it a good choice for beginners but also suitable for intermediate and advanced riders — just a great all-around board.
The board boasts a  rigid design reaching six inches in thickness when fully inflated. There's also a snap-in center fin, as well as a six-point bungee system allowing for quick and easy access to all your gear.
Also not to be missed is the extra-large traction pad for SUPing with a friend, your dog, or even for practicing yoga. Included with purchase is a 2-stage pump or fast inflation as well as a quick to install and highly durable nine-inch snap-in fin.
There's also a three-piece, travel paddle, fully adjustable to match your height while breaking down for convenient portability, a Gili 10' coiled leash to secure your board to your feet, a travel backpack and a repair kit. 
But maybe best of all, every purchase from Gili goes toward saving our oceans, reefs, and endangered sea creatures. There's a 2-year manufacturer's warranty on the board, and its weight capacity ranges from 280 to 300 pounds.
Pros
Extra large traction pad
Versatile
Purchase benefits oceans
2
SereneLife Inflatable Stand Up Paddle Board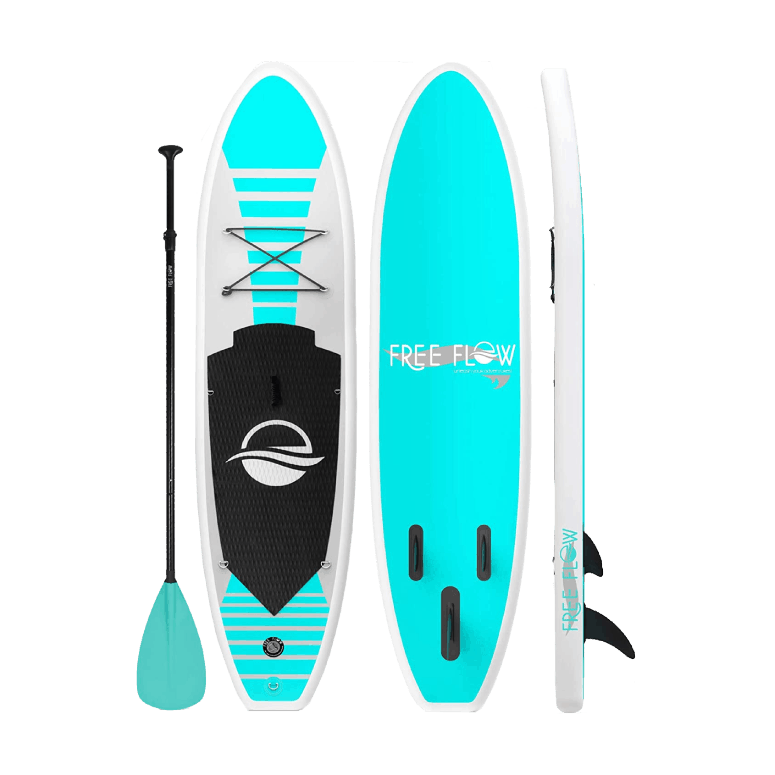 Serenelife's Inflatable stand-up paddle board takes second place in our ranked list of the best inflatable paddle boards. The board is also our choice for the best inflatable paddle board for beginners, measuring 10-feet long, with 30 inches of deck, which helps improve stability and balance once standing on the board. 
This is also a good choice for anyone seeking a wider board for yoga, or perhaps SUPing with a friend. But just because the board is wide, doesn't mean it's slow. The triple bottom panel fins also caught our attention, helping boost the board's overall speed. 
This design also improves handling and steering, making this board a good starting point for kids, teens or grown-ups just getting started with SUP boarding.
Something else that earned this board its spot in our ranking as the best board for beginners is the non-slip soft top deck, cushioning those inevitable slips and falls we all go through when learning to SUP. It's also priced right for an entry-level board.
Otherwise, the board comes with all the paddle board gear you need, including a coiled ankle cuff safety leash, oar pedal, manual air pump, foldable paddle, patch repair accessory kit, and storage bag. The board is 6 inches thick, weighs 19 pounds, and can handle a maximum weight of 275 pounds.
Pros
Wide for beginners
Easy to inflate
Tight turns
Cons
Low-quality paddle
Best on flat water
3
SURFMASS Inflatable SUP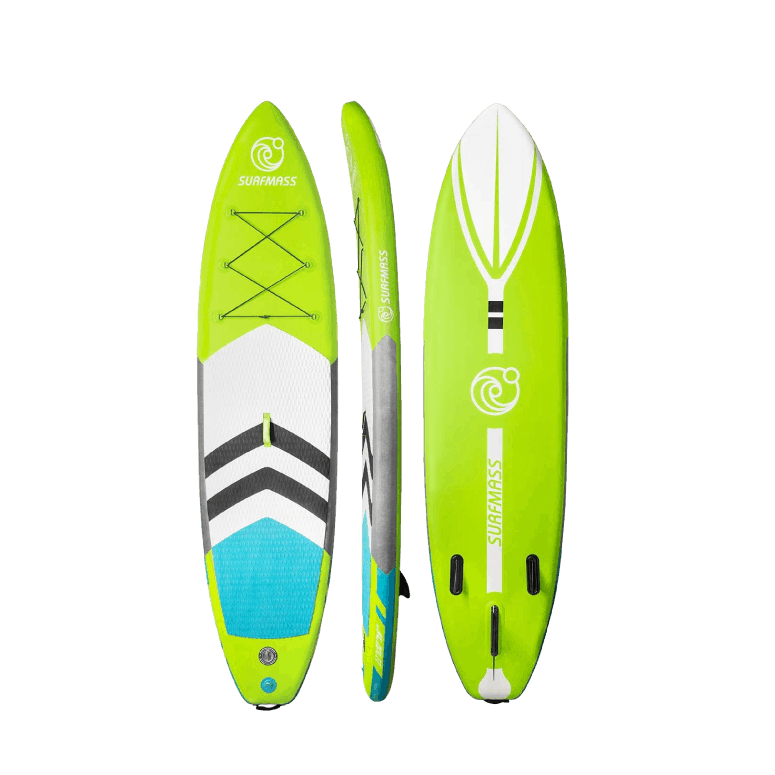 Next up is the SURFMASS inflatable SUP, a good choice for SUPing with a dog or practicing paddle board yoga. This board is 11 feet long, 32 inches wide, and 6" thick, with a weight limit up to 400 pounds. 
Made from tough, military-grade PVC with drop-stitch construction, the deck of the SUP has six layers of reinforcement from inside to outside, and two in the sidewall. Included with purchase is a non-slip EVA pad, contributing to this board being a good choice for anyone who likes to SUP with their dog.
Maybe best of all, if you buy from SURFMASS and you'll also get a dual chamber hand pump with triple action, as well as an integrated pressure gauge, and a three-piece adjustable fiberglass paddle ranging from 69 to 85 inches, with edges made by extra-durable nylon and fiberglass. 
Also included with purchase is a high-grade material travel backpack large enough to fit all accessories, and something else not to miss is the wheeled design, making transportation even more easy and convenient.
Pros
Comes with carry handle
Good in both flat and choppy water
Large carry bag include
Cons
Gets longer with every inflation
Deck prone to small tears
4
ISLE Explorer Inflatable Stand Up Paddle Board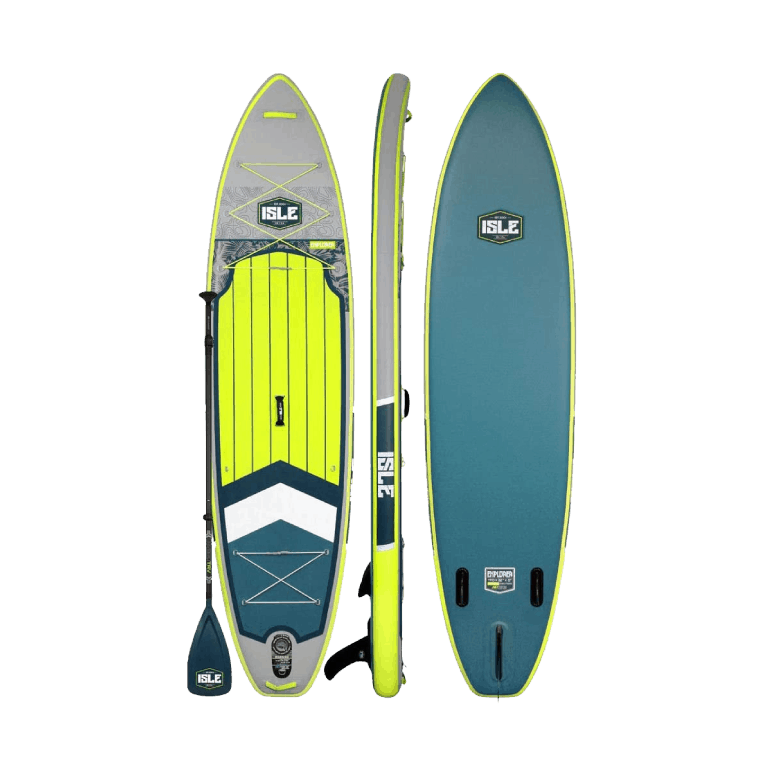 If you're looking for a versatile SUP board that holds up well under all sorts of different water conditions and for all sorts of different styles of SUPing, check out the fourth pick in our ranking, the ISLE Explorer. 
Good for yoga, pets, fishing, and touring, this board has a 6-point front expandable bungee system paired with a 4-point rear expandable bungee system to store and easily access extra gear.
The board's also extra durable, with 6-inch thick military-grade PVC when fully inflated, and the Airtech Fusion Lite manufacturing process forms a durable and lightweight, forming a bond not otherwise achievable with the traditional hand-gluing used in other iSUPs.
Also not to be missed is the grooved EVA traction pad for extra stability, but also adding extra comfort on bare feet, when paddling on your knees, or when practicing yoga. Nicely though, the pad is still durable enough for your dog.
Included with purchase is adjustable carbon shaft and nylon blade paddle, carry backpack, high-pressure pump, coil leash, ISLE sticker pack and manual, and snap-in travel fin. Isle offers a 60-day return policy, and backs their product with a  1-year warranty on materials. 
The board is between 11 and 12 feet long, 32 inches wide, and 6 inches thick carrying up to 400 pounds.
Pros
Extra light
Airtech Fusion Lite bond
EVA traction pad
Cons
Valve defects
Tracking issues for some
Challenging to inflate
5
TOWER Inflatable Stand Up Paddle Board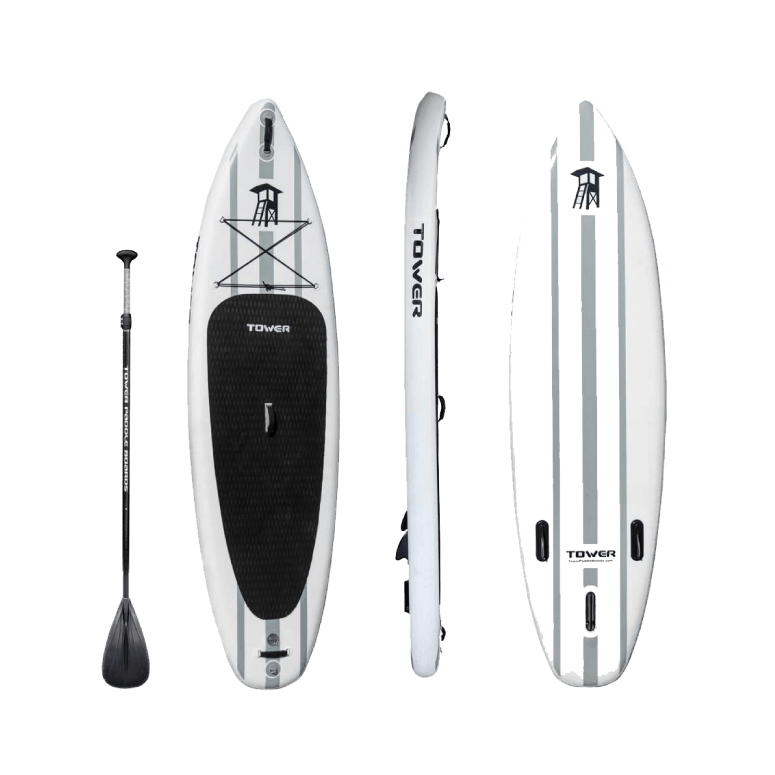 The next iSup in our ranking is The Tower Inflatable Stand Up Paddle Board, another good choice for anyone just starting out on an inflatable SUP.
The board is 10 feet, 4 inches long with 32" of deck width. Don't miss the single bottom fin system, improving overall speed and handling, while also making the board easier to steer. 
In addition, the board is extremely durable, made from 6-inch thick military-grade PVC material with drop-stitch construction. There's also a non-slip soft-top deck to cushion slips and falls. 
Coming with purchase is the Tower Adventurer 2 Inflatable SUP Package, including a 3-PC fiberglass paddle, a high-pressure SUP pump, a high-end Tower branded diamond grooved deck pad, a removable center fin, a handhold strap, and a roll-up carrying strap to make transporting your board easy and convenient. 
Something else RAVE appreciated about the SUP is Tower's 2-year manufacturer's warranty on all iSUPs. The warranty covers everything outside of normal wear and tear on the product, but does not include the paddle and accessories.
Pros
Only 15 PSI for best performance
Removable center fin
Good for surfing waves up to 4′
Cons
Pump durability issues
Paddle sinks
Not for larger people
6
Bluefin Cruise SUP Package Stand Up Inflatable Paddle Board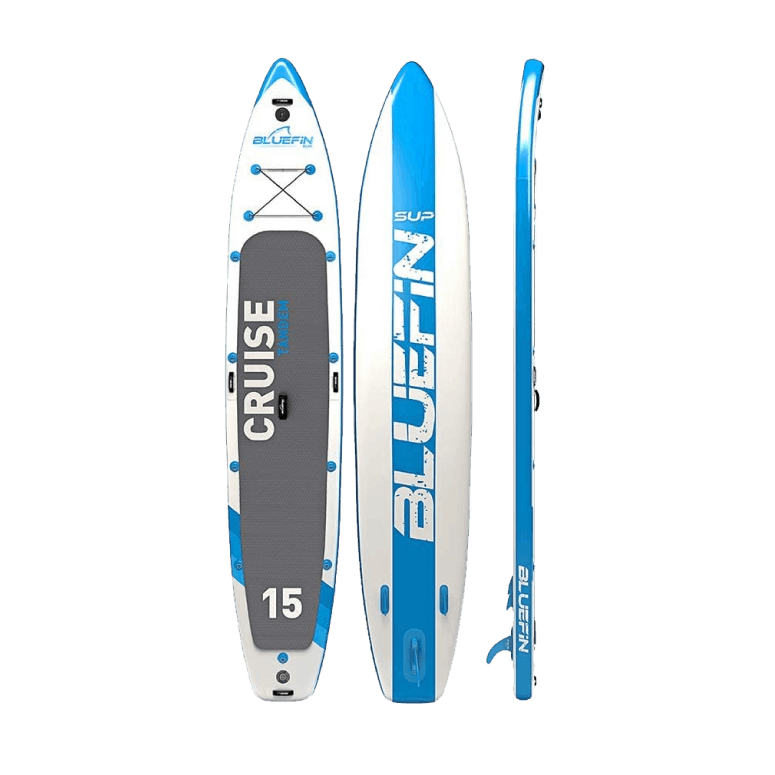 For a larger iSUP option, consider the Bluefin Cruise SUP package. At 15′, this board features 1000 Denier Exo Surface Laminate PVC and Pro Weave drop stitch, and it's able to hold up to 28 PSI, making this board among the most rigid and stable inflatable paddle boards in our ranking. 
Choose the Bluefin and it's like getting two flotation devices in one. That's because the Bluefin offers a kayak conversion kit. Simply use D-rings to transform the SUP into a SUP kayak with a padded kayak seat. There's also a GoPro Mount to record your adventures. 
Other things about this package that caught RAVE's attention about this SUP package include the smart lock fin, an 8-inch center fin designed for glide, and a double action pump for easy inflation. You also get a SUP backpack, and a two-piece fiberglass paddle. Weighing up to 45% less than other paddles, the blade is made from "Noflutter" polyurethane.
Bluefin also offers outstanding customer service, with a 5-year warranty on all their iSUP.
Pros
Kayak conversion
Easy to maneuver in narrow areas
GoPro Mount
Cons
Broken GoPro Mount, board leaks
Pump port seal issues
Pricey
7
Atoll 11′ Foot Inflatable Stand Up Paddle Board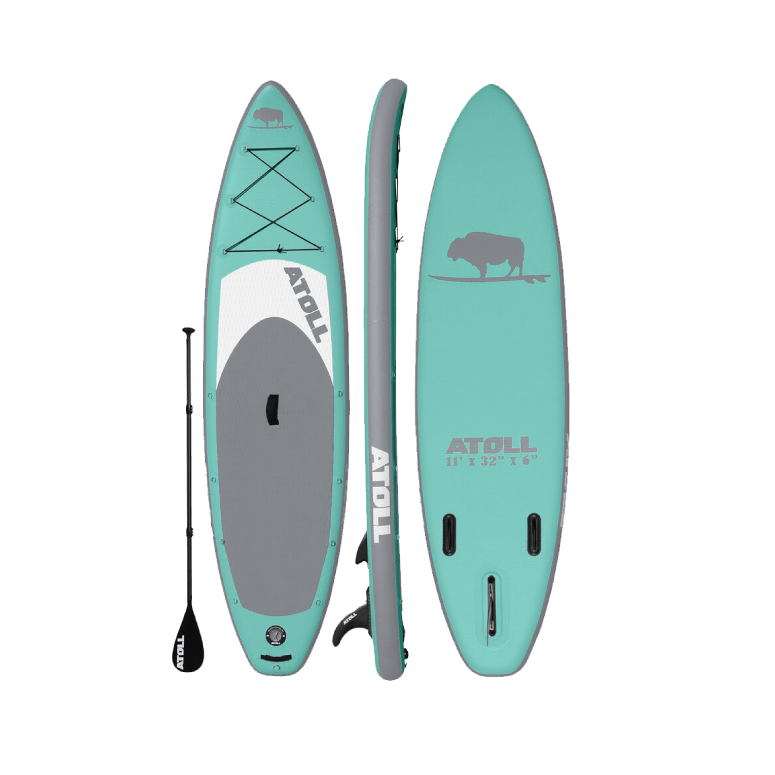 Our seventh choice for best inflatable stand up paddle board comes from Atoll, a reputable brand in the SUP community. David De Haan of Standup Paddle Boards Review has tried the board and says, "I've ridden it with my 9-year-old and it was very stable. It tracks amazingly and the speed is decent. Another thing I love about the Atoll is that it comes as a complete SUP bundle—including a leash." 
Otherwise, the board is made from dual layer PVC, and easily mistaken for a hard paddle board once fully inflated. Consumers say the board is able to handle over 300 pounds, with multiple users, all while remaining 40% lighter than comparable models. Once fully inflated, the board is 6-inches thick, 32-inches wide and 11-feet long, with 15 D-rings on the deck to tie down your belongings. 
Also notable is the Tri fin design for easy and efficient tracking. The Atoll also comes with a  detachable, extra-durable removable fin that's compatible with both universal and U.S. fin boxes. Buy the Atoll and get a high-pressure Bravo dual action hand pump, front and back bungee tie- downs, travel backpack with a waist strap, and a 10-foot poly flex paddle leash. And your purchase is protected by a 2-year manufacturer's warranty.
Pros
Handles over 300 pounds
Comes with iSup bundle
40% lighter than similar models
Cons
Weak high pressure valve
Might be too light for some
Pricey
8
THURSO SURF Inflatable Stand Up Paddle Board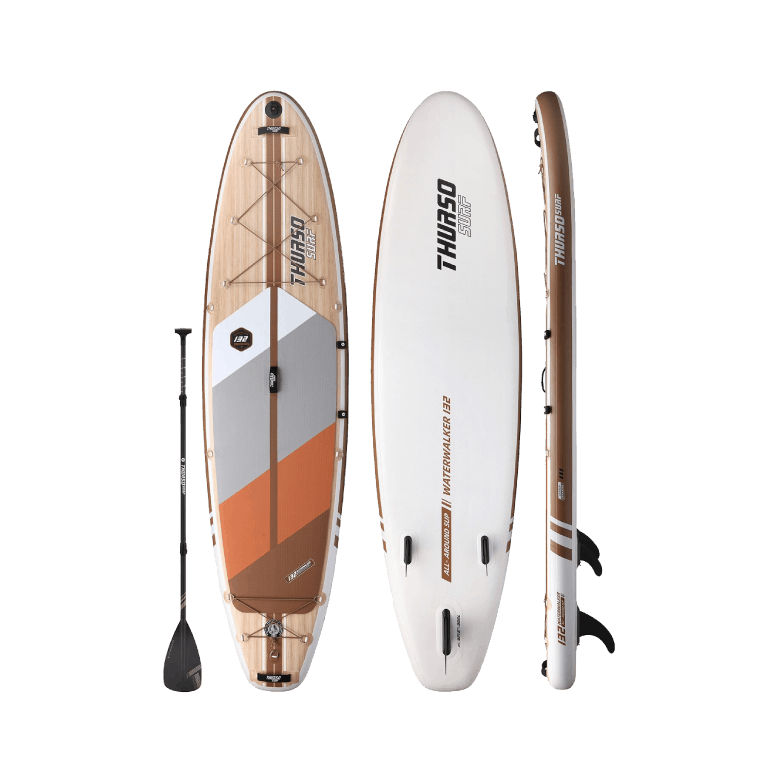 The next board in our ranking is the Thurso Surf Waterwalker. This is a great all-around SUP that's also a good choice for touring. 
The board boasts excellent stability, great tracking, and maneuverability, with some of the strongest and most durable iSUP structures available. Contributing to this durability is double layer construction with triple/quad military-grade PVC coatings on both the deck and side.
In addition, this iSUP has a two-layer PVC coated tarpaulin, bonded to a PVC coated drop stitch core with two of these layers also reinforcing the sides, with the deck and bottom seams capped with two extra side wraps.
Good in choppy water, the board also boasts three removable fins for added stability and extra maneuverability. Also notable is the quick-lock fin installation making installing and removing the extra fin extra easy and convenient. 
Also worth noting is the paddles Thurso offers with purchase are among the best on the market. The carbon shaft paddle with a blade made from tough nylon is superior to both aluminum paddles and fiberglass, weighing only two pounds. 
Thurso Surf also offers a comprehensive two-year full warranty on all manufacturer defects.
Pros
PVC coated tarpaulin
Good in choppy water
Quick-Lock fin installation
Cons
Slower than expected
Pad peeling issues
Valve durability issues
9
iRocker Sport 11′ X 31″ inflatable SUP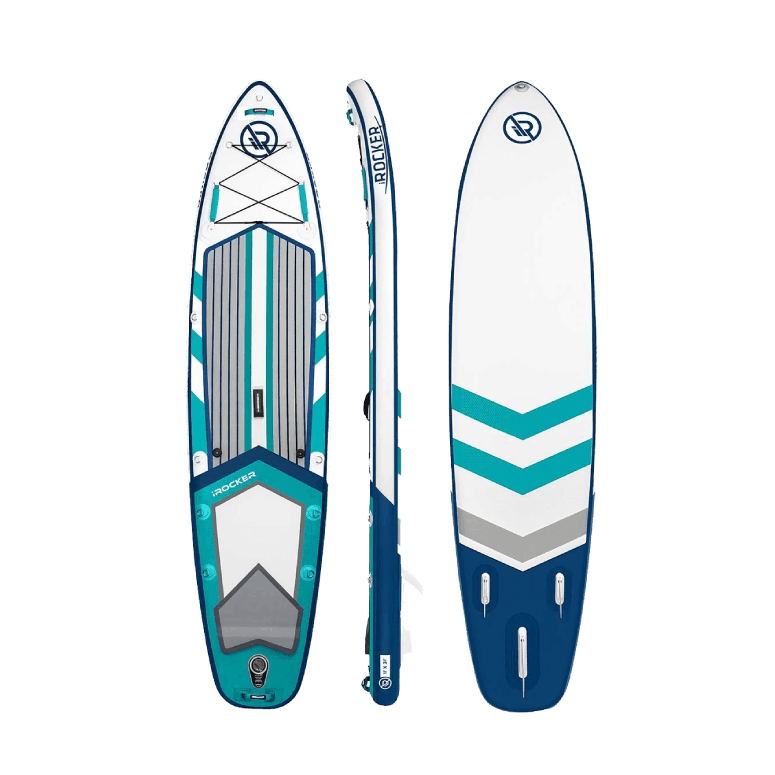 A good choice for intermediates is the iRocker Sport, the eighth inflatable SUP in our ranking. Now using triple-layer composite PVC the board is just as strong as boards made from iRocker's quad-layer construction, but now 20% lighter for easy transportation.
There are also four new multi-use action mounts for a total of 17, well-placed for cameras, kayak seats, speakers, and fishing rods, making this board a good choice for SUP fishing. There's a new larger deck pad and new larger rear cargo storage and a recently-added front grab handle.
Coming with purchase is a recently upgraded, carbon blend shaft paddle, stronger than the fiberglass paddle previously offered by iRocker. Also recently added are the pockets, extra bungee, and velcro storage, as well as a wheel tray for transportation.
Pros
17 action mounts
Good for SUP fishing
Large cargo storage
Cons
Wider options available
Not suited for fishing
Low marks for stability
10
Peak Titan Inflatable Stand Up Paddle Board Package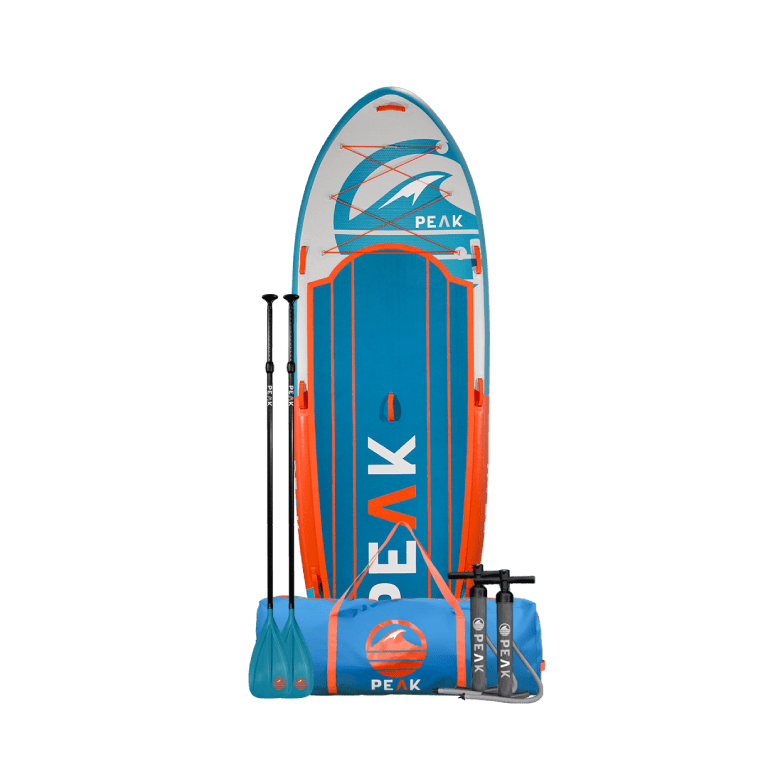 Last in our ranking is the Titan inflatable stand up paddle board package from Peak, specifically designed for SUP yoga, fishing, or just if you like paddle board with friends. This 12-inch board measures 45 inches wide and 8 inches thick. Max weight on this thing is 500 lbs or up to 5 people! 
Otherwise, the PEAK Titan is built from quality military-grade PVC and drop stitch material. The 8 inch thickness makes the board particularly stable with non-slip grip for a steady ride for groups or your dog.
Included with purchase is a carry case with convenient shoulder strap, 3-Piece adjustable travel aluminum paddle, and two high pressure dual action pumps with pressure gauge. 
You'll also get a removable travel fin, easy to attach and remove with no tool required, and a waterproof phone case. Otherwise, the board comes with four side fins.
Pros
Extra wide
Max weight capacity 500 lbs.
2 pumps included
Cons
Not the fastest
Rides high, pivots ok
Best with two paddlers
With your first inflatable SUP board on its way, what else do you need to know about SUP boarding?
This FAQ answers your most pressing questions.
How Do I Choose a SUP Paddle?
In addition to a board, SUP boarding requires a paddle.
Here's how to choose the best SUP board paddle for you, suiting not only your body type but your preferred style of paddle boarding.
Here are the four most important parts of a SUP paddle:
Length
Construction materials
Blade offset
Blade size and shape
To check if the length of your paddle is a good fit, stand with the paddle parallel to your body, the blade toward the ground and the shaft in the air.
Tips: Does the palm of your fit comfortably over the end of the paddle? Another good rule of thumb is that the paddle should be about 10 inches taller than you are.
SUP Paddle Material and Weight
In order to not wear yourself out paddling, you'll want a paddle that's as light as possible.
That has everything to do with the materials from which the paddle is constructed. But also want your paddle to be durable.
Here are the most common materials from which paddles are constructed:
Plastic
–Rugged and affordable
Aluminum
–Light and affordable
Fiberglass
–Stiff, light, middle-of-the-road cost
Carbon Fiber
–Light, stiff, expensive
Wood
–Heavy and expensive, looks great
Our Recommendation: Decide whether you're purchasing a paddle for value, aesthetics, or utility. Carbon fiber is the gold standard, while plastic and aluminum are most affordable. Wood paddles are the best looking but will cost a pretty penny.
What is Blade Offset?
Blade offset has to do with the kind of SUP boarding you plan on doing.
For SUP surfing, look for a blade offset of about 7 degrees.

For all-around paddling, roughly 10 degrees, and for SUP racing, look for a blade offset of about 12 degrees.
When considering blade size, begin with your own weight.
Small to medium body types should use a paddle with between 80 to 90 square inches in surface area.

Medium to large body types, 90 to 100 square inches in surface area.

Bigger body types will need 100 to 120 square inches in surface area.
Blade Shape Matters
More than anything it's important to remember large blades are more powerful, while small blades are more efficient.
For SUP surfing, go with a larger blade. For racing or SUPing, choose a smaller blade. 
And last, a word about shape. SUP paddle blades commonly come in two shapes: tear-drop and rectangular.
Tear-drop is a good choice for SUP surfing, or slow paddling with a lot of power.
Rectangular-shaped blades are the best choice for a casual, all-around SUP board experience.
Our Recommendation: Choosing the best paddle comes down to prioritizing speed or efficiency. Large paddles generate more speed but will wear you out; smaller paddle blades are easier to use but take more strokes to generate speed.
What is the Best SUP Board for Dogs?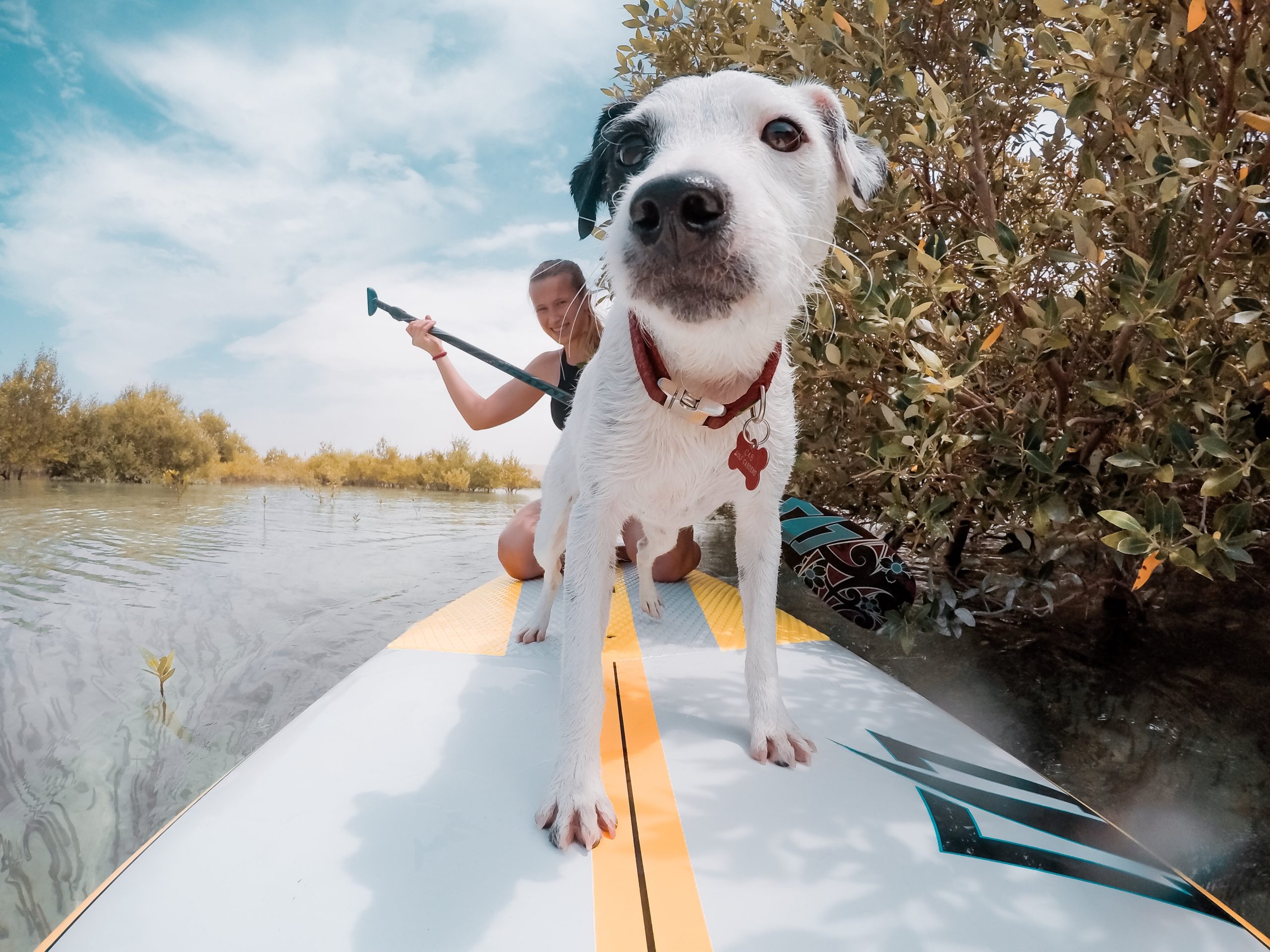 Earlier we talked about different kinds of SUP boarding, like yoga and fishing.
But many people like to SUP with their families, and family for many people includes a dog.
Here's how to shop for a SUP board for dogs.
The most important thing to check before buying a board to SUP with your dog is that the board supports your combined weight.
Here are some additional points to consider:
If you plan on SUPing with your dog, choose a board at least 10 feet long with as wide of a nose as possible.

Stability will also be a priority, so an inflatable paddle board may not be the right choice for SUP boarding.

This isn't always the case, however, just be sure to check the board's stability ratings before you purchase.

Next, check the board's height out of the water, and consider a soft top board to help prevent Fido's paws from slipping on the surface of the board.
Next, here's how to SUP board safely with your four-legged friend.
Choose a paddle board with a handle

Use a longer than usual or adjustable paddle

Put a traction pad on the board to help prevent slipping paws
Most of all, if you plan to SUP with your dog choose an area where it's easy to get into and out of the water and where the water is as calm and flat as possible. Last but not least, when SUPing with your dog, don't forget to pack a dog treat.
Our Recommendation: When choosing a SUP suitable for your furry companion, prioritize boards with extra size, superior stability, and ant-slip traction pads.
What is the best Inflatable Paddle Board?
While researching this article on the best inflatable SUP boards, RAVE reviews broke down their top three picks into the following categories:
Best overall inflatable stand up paddle board
Best inflatable paddle board for beginners
Best inflatable stand up paddle board for groups, SUP yoga, or fishing.
Best overall inflatable stand up paddle board
Coming in first in the category of best overall inflatable stand up paddle board is the Gili Air Inflatable Stand Up Paddle Board.
This board, made from durable military strength PVC, has it all: affordability, versatility, stability, and a 6-point bungee system, performing well in all sorts of water conditions and suitable for beginning, intermediate, and experienced SUP boarders alike.
Best inflatable paddle board for beginners
A beginner iSUP needs to be extra wide and thick, and the SereneLife Inflatable Stand Up Paddle Board meets all those requirements, plus improves overall speed, handling and steering.
At 32 inches wide, this board is stable enough in all sorts of water conditions, from calm flat water to the ocean. 
Best inflatable stand up paddle board for groups, SUP yoga, or fishing
If SUP yoga or SUP fishing is on the agenda, or just enjoying the day on the water with your dog, friends, or significant other, the SURFMASS Inflatable SUP is wide enough for yoga and fishing, with a weight limit reaching 400 pounds.
And with 6 layers of construction reinforcing the deck and 2 in the sidewall, the board is highly durable as well.