Shoes are, arguably, the most important accessory for your hike — except maybe water.
Whether you plan to trek around in the mountains, the forest, the desert, or wetter lands, weather can change in an instant. It's important to find the best hiking shoes to support you in times of unpleasant surprises.
Here at RAVE, we chose Salomon for the best overall hiking shoe, specifically the X Ultra 3 for men, and the Ellipse GTX for women. These light and breathable shoes are waterproof and built for tough terrain. Plus, there's no harm in finding favor with a shoe that prioritizes style as well as comfort.
We've all been there, hearts pounding and mouths parched as we make our way up the last treacherous incline. Using as little water as possible and trying desperately to not think about the burning sensation in our calves. But after hours of effort and minimal complaining, we reach the top and take in the most beautiful view we've ever seen.
Then we feel it. The sting of an open blister. It might be on your heel, ankle, or the side of your toe. But either way, it can ruin a perfectly good hike. Your shoes not only protect your feet, they get you from point A to point B. If they're faulty, your hiking experience will be, too. A word to the wise: If you have to remember to bring bandages on each hike to prepare for blisters, you're wearing the wrong shoes.
You shouldn't have to protect your feet from your own hiking shoes. On top of that, you also shouldn't have to bring a pair of backup shoes in case the weather changes. Here at RAVE, we made a list of the best hiking shoes for men and women that fulfill any explorer's comfort and versatility needs. Hopefully, these shoes will help you save some money on bandages.
The Hiking Shoes We RAVE About
One of the worst things you can experience on a hike is shoe discomfort. You wouldn't take a car with bad tires and faulty steering on a road trip, so don't put just any hiking shoes on your feet. On top of comfort, hiking shoes should support your arches (or lack thereof), adapt to various trail conditions, and overall keep your precious modes of transportation safe from harm.
Sure, you could buy a $20 pair of thick-treaded shoes from Target or Walmart, but chances are you'll also be spending a decent amount of money on bandages and ice packs for the resulting blisters and inflammation. Hiking is meant to improve your health, not damage it. Plus, who can fully enjoy all the beauty and splendor nature has to offer when you're checking crumpled heel bandages the whole time?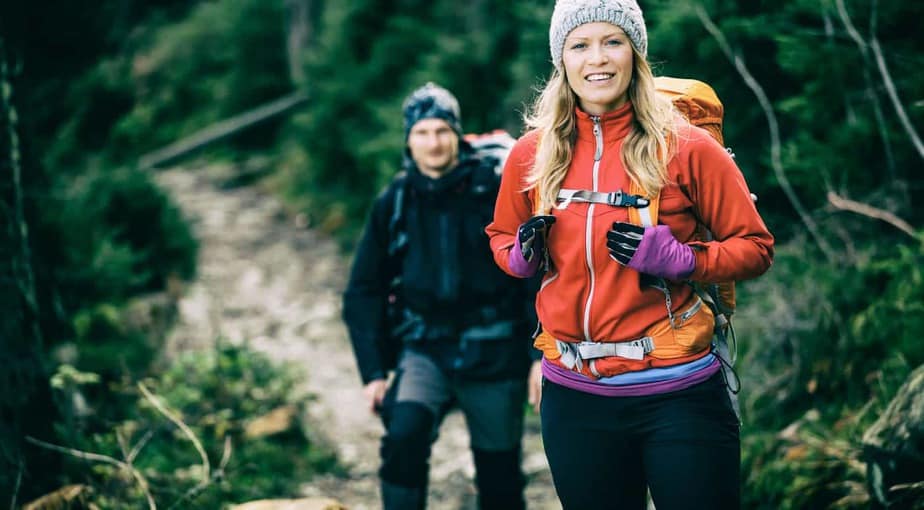 But choosing the right hiking shoe is about more than making sure you found a pair with ample cushioning. It's also about finding the shoes that best fit the environment you're hiking. If you're in a dry climate, the trails will likely have a lot of sand and dirt. In this case, choose a hiking shoe like the Hoka One One, since it has breathable mesh and a high-top collar.
For rockier terrain, such as in any Midwest or upper coastal territory, pick shoes with a deeper tread and waterproof protection. Weather up north can change dramatically, despite what your weather app tells you, and it's important to be equipped with shoes that can withstand multiple conditions.
Luckily, in this list of our top picks for the best hiking shoes for men and women, we came up with brands and models that are ideal for any foot shape or trail terrain. Fear not: As expensive as hiking shoes can be, we also came up with a fair amount of affordable options.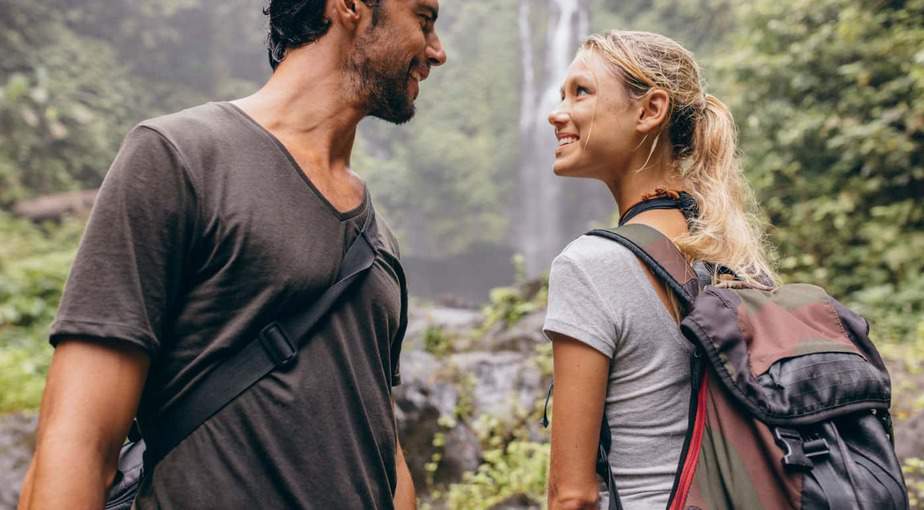 There are 26 bones in each of your feet, along with dozens of intricately webbed muscles and ligaments. Any injury to the foot can impact your body's ability to move, and inhibited movement is just not ideal on a hike. Sport-specific shoes, including hiking shoes, are engineered to "provide the support, motion control, and cushioning that minimize foot injuries associated with a particular activity," according to Winchester Hospital.
It's a lot of pressure to put on a pair of shoes, but your feet are precious commodities, and brands like Salomon, Adidas, North Face, and KEEN built their empires on this very idea. Their hiking shoes contain porous fabric so your feet can breathe, rounded toe tops resembling the natural shape of your foot, and deep tread so you can be sure-footed while you hike.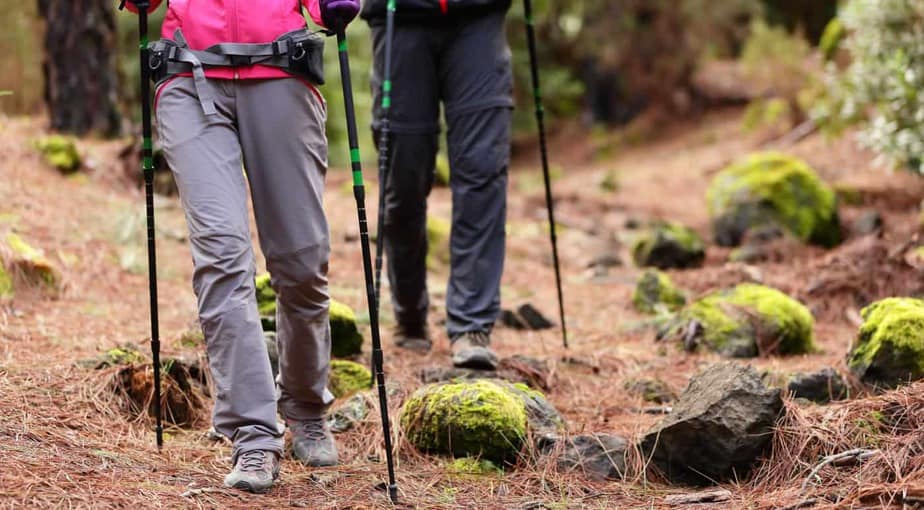 But the most important test of all is completely subjective: whether or not your shoes feel comfortable. A particular pair of shoes may look stylish or be on sale, but if they're going to leave you sore, limping, and unable to get the most out of your hike, it's best to leave them in the store.
So here is a list of the men's and women's hiking shoes that prioritize being kind to your feet. After all, those puppies have to carry you and a few knapsacks — they need to be able to bear the burden.
Methodology
From ankle to toe and everything in between, your hiking shoes should protect every part of your foot from unnecessary strain. It's true that if you choose to hike up a six mile mountain, you're going to feel some discomfort. It's a big climb after all, but you should never feel sharp pains in your foot bones, or elicit nasty blisters and cuts from the collar of your shoe. A cushioned lining, tongue, and collar are absolute musts in our hiking shoe criteria.
While your hiking shoes should be durable and have a decent amount of traction, you also don't want to be weighed down with excessive material. After all, these are not boots. Hiking shoes should make it easy to run, climb, jump, or walk as much as you'd like on your hiking adventure.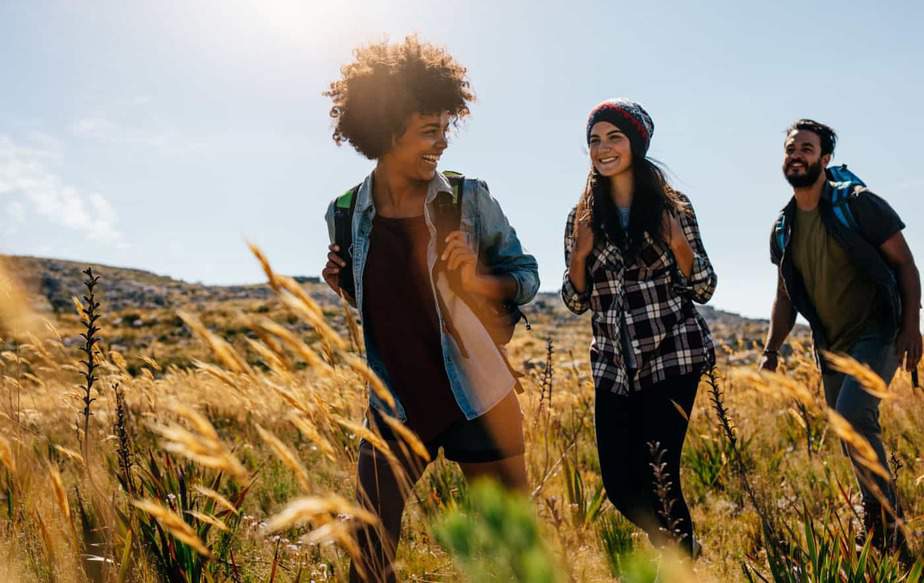 It might go without saying, but hiking shoes should not be slippery. You need traction, and a lot of it. Think about how dangerous it would be to hike up the side of a mountain with shoes that don't have the proper traction. Effective tread is one of the most important features we considered in this ranking.
Even though your shoes should protect you from the elements (such as sand, dirt, heat, cold, water, bugs), also make sure your shoe's material is light and breathable. Find a hiking shoe with waterproof, synthetic mesh that allows your feet to breathe, and protects you from developing skin irritations from wet, molding material or excessive sweat.
Any pair of shoes, for anyone, should be supportive. But where you need that support most is entirely unique to you. Hikers generally need heel cushioning, but you may also have high arches that need extra support in the middle of your shoe. Or you may have no arch at all. Either way, we simply could not overlook support as we put together this ranking.
While your hiking shoes should be customized to your specific needs, your shoes should be like a chameleon: able to adapt to all kinds of conditions. It's perfectly fine to have multiple hiking shoes for various hiking conditions, but you should also have shoes that are prepared for the worst and the unexpected.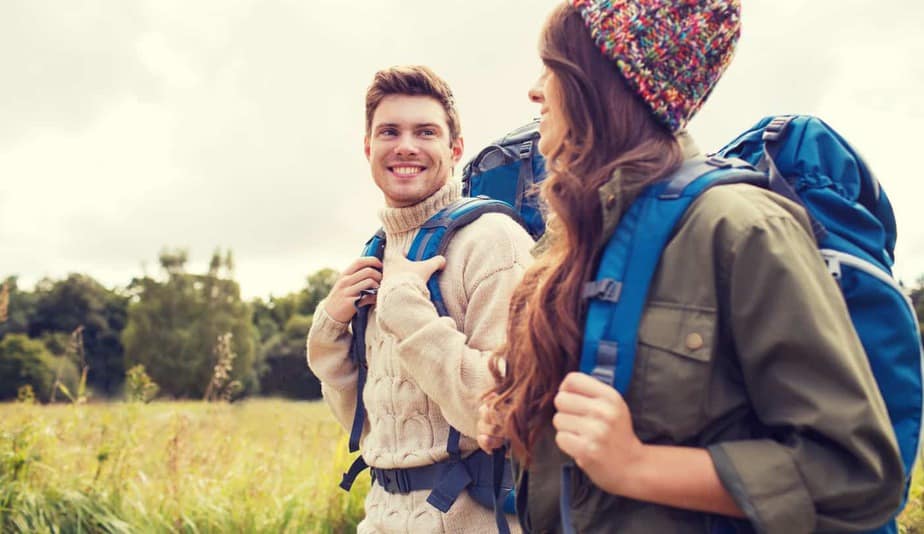 Quality hiking shoes cost a pretty penny — there's no skating around that fact. But not all high-quality options have to burn a hole in your wallet. Though you won't likely find any quality hiking shoes for $20, you also don't have to pay $200 for a pair of shoes that will be your lifeline on any hiking excursion.
5 Best Hiking Shoes for Men
North Face Ultra 109 GTX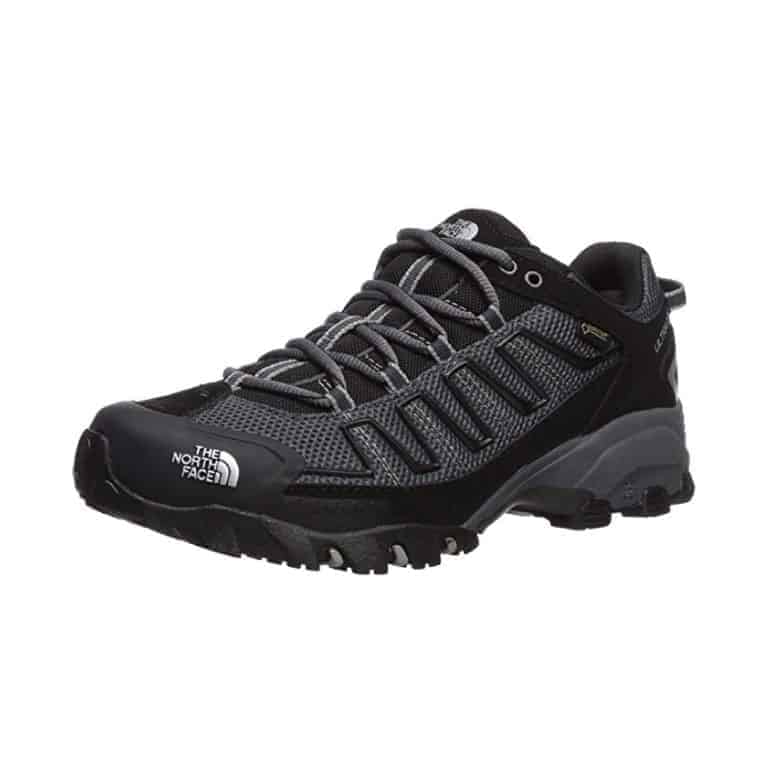 The Ultra 109 GTX is a newer model in the North Face men's line. Made with Gore-Tex Extended Comfort Range material, these hiking shoes are designed to help with stability on uneven trails. The breathable mesh is also waterproof, protecting your feet from the elements. The shoe's protective toe cap and TPU Snake Plate forefoot protection is also resistant to tough gravel and thorny foliage.
These hiking shoes are among the few made with authentic leather in addition to the synthetic membrane mesh. Shoes made with leather often last longer, but can be harder to clean, depending on the conditions of the hike. However, North Face's primary concern is that you receive maximum comfort and support, hence the shoe's cushioned tongue, collar, and lace-up design.
While the Ultra 109 GTX is certainly not the heaviest shoe on our list, it's definitely not the lightest, due to the deep treads and heavy duty construction. This shoe will certainly last a long time and endure the elements of the wild.
Pros
Deep tread
Made with leather
Gore-Tex Extended Comfort
Salomon X Ultra 3 GTX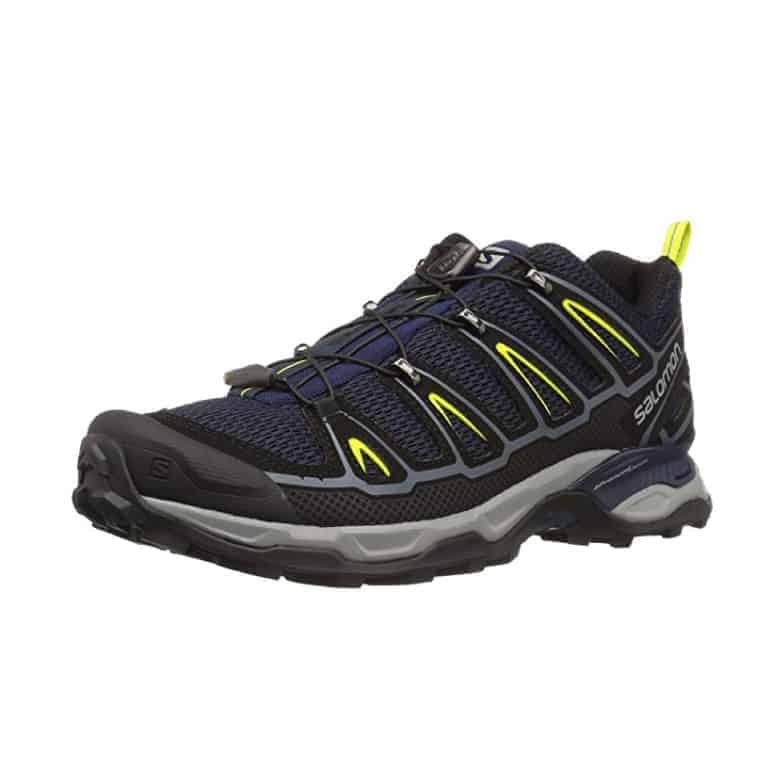 The Salomon X Ultra is one of the more stylish men's hiking shoes on the market. It's more slender than the KEEN shoes, and much lighter than North Face. After all, this shoe is made for tough descents and climbing, where the last thing you want is to be weighed down.
The X Ultra also has grip-patterned lugs and a waterproof GTX membrane mesh. It's a light and breathable shoe that can also handle tough climates. With thick rubber zigzags dispersed evenly from toe to heel, this shoe's tread is one of the more trustworthy. It's no surprise this hiking shoe is one of Salomon's bestselling.
SensiFit technology offers additional, customized stability and support, with a highly cushioned collar and tongue to prevent blisters. The EVA foam midsole also offers shock absorption to reduce injuries often caused by fatigue.
Pros
Shock-absorption technology
Trustworthy tread
Light and stylish
Cons
Less toe protection
More expensive
KEEN Targhee II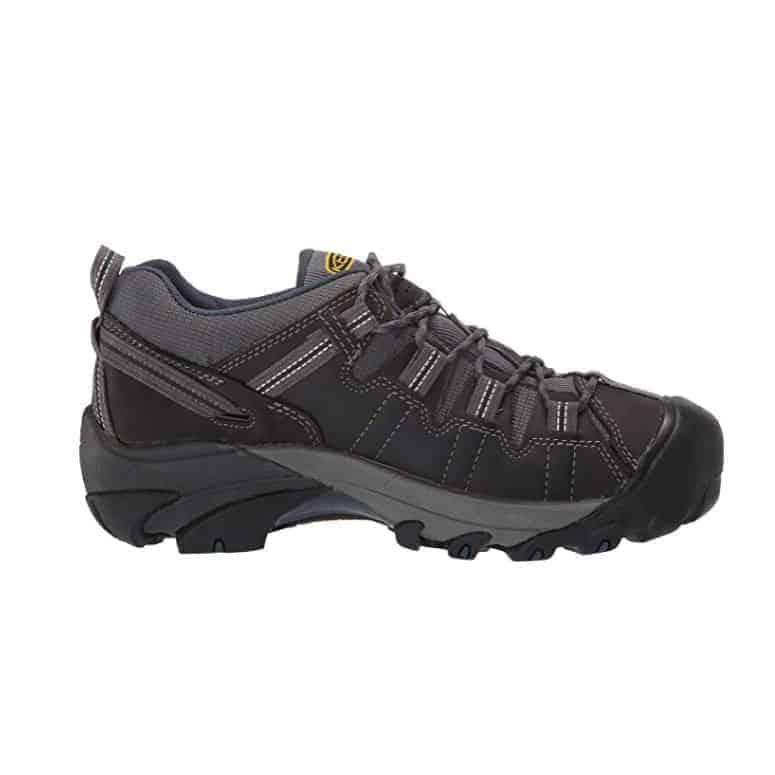 Speaking of leather shoes, KEEN is also known for their high-quality shoe materials. Designed with a waterproof nubuck leather upper and non-marking rubber outsole, KEEN's Targhee II hiking shoe is made for off-road adventures. The thick rubber tread can handle intense hikes, though the underfoot design might not seem as trustworthy as other shoes.
Not only is this shoe waterproof, but it's also designed with a breathable membrane that lets water out and keeps athlete's foot away. While the stylish design of leather shoes might certainly be more desirable, it's important to also make sure your shoes can breathe and will protect your feet from catching an uncomfortable infection.
Targhee II's metatomical footbed design is also made for hikers who need some serious arch support. The shoe's shape cradles your foot, providing excellent security.
Pros
Made with leather
Provides arch support
Waterproof
Cons
Less reliable tread
Heavy
Bulky style
Adidas Outdoor Terrex AX3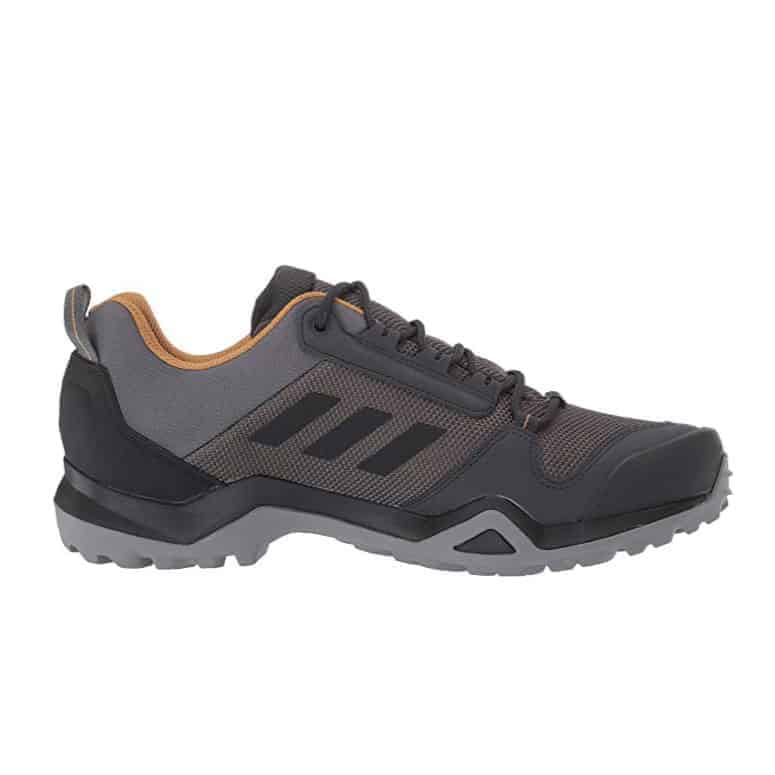 It's a brand anyone even remotely interested in athletics knows well: Adidas creates comfortable, trustworthy, and stylish shoes for all your health and fitness needs, and the Terrex AX3 is no exception.
Like the Salomon, this slender hiking shoe design provides ample cushion around the ankle. The AX3 is often described as a lightweight option, but it's one of the heavier shoes on our list. Still, this hiking shoe provides exemplary tread grip, even if the sole support is lacking.
Designed with breathable mesh and a synthetic upper, the Adidas hiking shoe also utilizes Gore-Tex membrane materials for waterproof protection. This shoe also has a lace-up closure, a padded tongue, and a molded sockliner for underfoot comfort. In addition, this hiking shoe is one of the most affordable on the market, when it comes to top brands.
Pros
Ample padding and cushion
Trustworthy tread
Affordable
Cons
Made for slender feet
Heavy
Lack of sole support
Hoka One One Tor Tech Mid Waterproof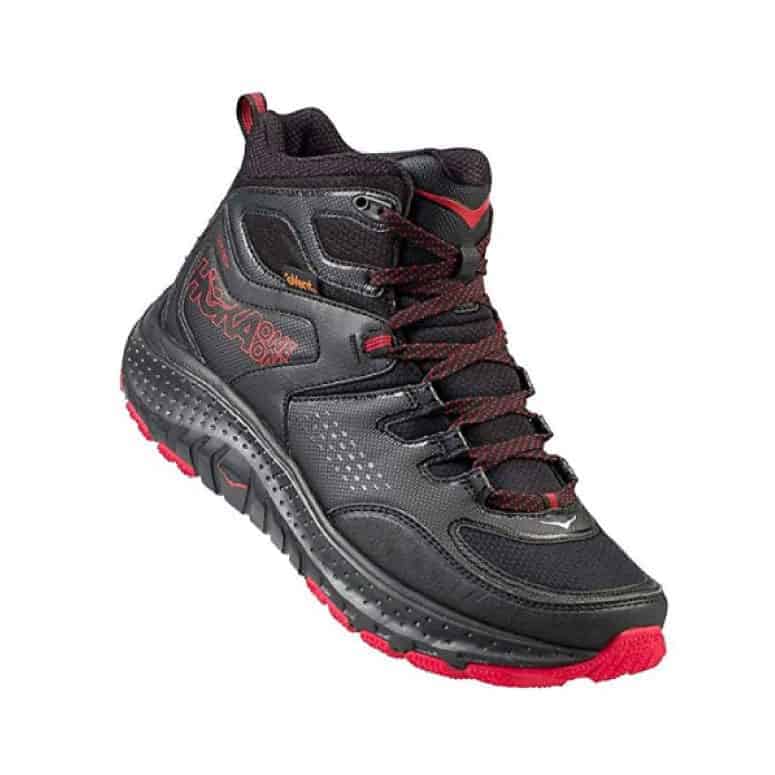 Hoka One One is a new brand to the hiking shoe market, and has made its mark in the industry with extremely cushioned, elevated, and futuristic shoes. Hoka One One came on the scene back in 2009, built out of the minds of previous Salomon employees. But in 2013, Deckers Brands, the parent company of UGG and Teva, purchased Hoka and began their hiking shoes line, expanding their reach in athletic footwear.
Hoka One One's latest hiking shoes model, the Tor Tech Mid Waterproof, looks like it's straight out of the '70s or '80s with its high volume rubber sole and cushioned high-top collar. Hoka One One hopes this will be the hiking shoe of the future.
The tread pattern is evenly dispersed, but not quite as deep as the tread on North Face or Salomon models. Still, the excess rubber in the sole is built to help you glide across the trails, unaffected by uneven ground. The shoe is waterproof and undoubtedly durable. The best part of this shoe, however, is its high-collared design, made to keep unwanted debris out.
Pros
Excellent sole support
Cushioned and comfortable
High-top collar resists debris
Cons
Very expensive
Unique style
Less trustworthy tread
5 Best Hiking Shoes for Women
Related Rankings
What are the most important things I should look for when choosing a hiking shoe?
The two most important features to consider when choosing a hiking shoe are the comfort and the tread. Quality support, breathable and durable materials, and cost are also important, but you should most certainly prioritize comfort and tread. These features affect your overall hiking experience most directly.
When you consider tread, make sure it is deep enough to withstand rocks as well as softer surfaces like sand trails. When you hike along a steep slope, be it a cliff or a sand dune, you aren't thinking about the style and cost of your shoe. You're thinking about whether or not your shoe will catch your balance and keep you from slipping down the side of the incline.
In the same way, comfort is just as important. In any hiking situation, be sure that you don't have to worry about causing your foot injury with your own pair of shoes. The last thing you want to do in the middle of your adventure is try to compensate for your hiking shoe's shortcomings with excessive amounts of bandages. A cushioned collar, tongue, and lining go a long way.
How do I know if my shoes have enough tread?
Just like you wouldn't go on a road trip in a car with bad tires, you also wouldn't hike in shoes with poor tread. It's one of the most important qualities in any hiking shoe, and one of the main factors that keep you safe while hiking along steep and narrow trails.
But it's not always a black and white matter. How do you even know if your shoe has enough tread? There are so many variations of tread patterns and levels of thickness. One way to test the level of tread is to place the shoe on a carpeted floor, and push it forward to see if it has resistance. Shoes with poor tread design or smooth bottoms are easy to push across carpet.
On the other hand, if you're looking for another way to test tread, just to be safe, there's another trick. Some people even use this method to test if the tires on their car need to be changed. Take a penny and stick it upside down between the tread. If you can see the top of Lincoln's head, the tread is too shallow.
How do I know if I need new hiking shoes?
Some hiking shoes can last five years, and others need to be changed every two years. It just depends on how often you hike, and how long and intense your hikes tend to be.
If your cushioned support lining no longer bounces back, it might be time to replace your shoes. Also, if you experience shin splints or any sort of discomfort in your knees after a hike, your shoes are probably too worn out to use anymore.
Athletic shoes' midsoles are normally composed of a foam material: Ethylene Vinyl Acetate (EVA), Polyurethane (PU), or a combination of the two materials. The foam midsole is supposed to provide shock support, but after a certain amount of time, it can deform and wear out unevenly (depending on your stride). If you keep using shoes with uneven midsoles, it could result in serious injuries over time.
If you're looking for a way to measure if it's time to replace your old hiking shoes, a good rule of thumb is to replace them after 300-500 miles of walking or running.
Which hiking shoes are the best if you are on a budget?
If you don't want to spend too much money on your hiking shoes, we suggest going for the Adidas AX3 (women's and men's). These shoes have all the support and protection of high-quality hiking shoes, but can cost as low as $60.
These shoes are relatively new to the Adidas Outdoor line, but have already gained speed in popularity. Their lightweight durability, exceptional support, and outsole grip make these shoes a well-rounded choice for your hiking endeavors. Plus, the cushioned collar and tongue offer that important necessity of comfort.
Even though style is not the primary objective when you shop for a hiking shoe, it certainly doesn't mean it has to go unnoticed. For many years, Adidas has proven itself a worthy style competitor up against other top brands, and these shoes are no exception.
Which hiking shoes are the best overall?
For both men and women, RAVE recommends the Salomon brand of hiking shoes, specifically the X Ultra 3 for men and the Ellipse GTX for women. Salomon shoes are versatile and customizable. Their enhanced stability and support tread offer security on any kind of terrain, and the waterproof protection keeps the weather — and foot fungus — out.
Both Salomon shoes are very stylish and lightweight, crafted with synthetic mesh material to let your feet breathe. Even though the material is light and airy, it is woven in a way that keeps unwanted pebbles and sand from entering your shoes without permission.
One of the best features of this hiking shoe — in addition to its shock-absorbing foam midsole — is the time-saving QuickLace system, which allows you to adjust your shoes without having to re-lace. According to Salomon's website, the bindings are "four times stronger" than traditional laces.
RAVE Recommends
While a good pair of hiking shoes is one of the most important accessories for your hike, it is certainly not the only equipment that deserves credit for getting you up those hills. Check out this list of products we recommend below to make the most of any hiking trip.