Teva might not be the first company that comes to mind when thinking of the best hiking boots, but that all changes now!
Known for their rugged, comfy hiking sandals, Teva also make our favorite hiking boot, the Teva Arrowood Riva Mid-High. Although these boots are made of high quality leather, they are surprisingly lightweight and flexible and require very little break in time. In fact, most hikers say they fit like a glove from the very first time they're worn! If you like hiking boots with a classic look but modern materials and technology (you'll be surprised how waterproof yet breathable these are!), the Teva Arrowood Riva will not disappoint.
Hiking boots can make or break your hike. A 'bad' pair can leave you with soggy feet, slipping and sliding in the mud, or nursing painful blisters. A good pair of hiking boots, on the other hand, will leave you free to enjoy your hike in comfort and safety. But what should you look for in a new pair of boots?
Buying new hiking boots is not as easy as it seems. You need to decide whether you want leather or synthetic materials, whether you need waterproof boots or not, and what kind of lug pattern you need. All this depends on your personal taste, your budget, and — most important of all — the kind of hiking you'll mostly be engaging in.
Hiking boots come in all shapes, styles and sizes, each designed with a different hiker in mind, so we've divided our ranking into different categories — best overall, best men's, best women's, best vegan, best waterproof, best hiking shoes, and best winter boots — so you can find the perfect pair for you.
The Hiking Boots We RAVE About
Why do you need hiking boots?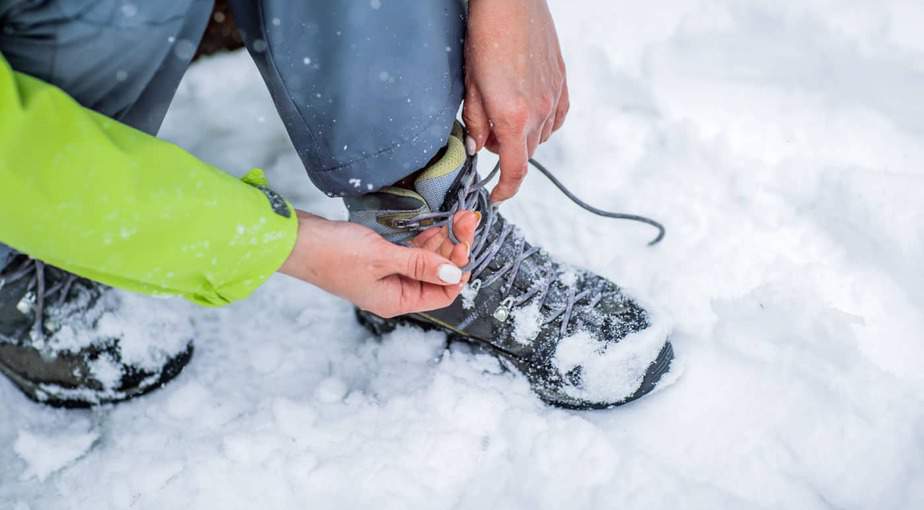 "Hiking boots" usually refers to any kind of boot or shoe designed specifically for long walks, hikes, and long backpacking trips. Hiking boots can be mid or high rise, meaning the cover part of or all of your ankle, or they can be more of a low 'shoe' style.
Hiking boots tend to be stiffer than normal footwear because they need to hold your ankle and foot in place while you navigate uneven terrain, where you can easily trip and twist your ankle. The outsole is also thicker and stiffer, protecting you from rough surfaces and sharp rocks, and features an aggressive tread which improves your grip on slippery ground.
Most hiking boots are water resistant or waterproof, and some are insulated, so you can hike wherever you want, no matter the weather. Some hiking boots are even designed to accommodate crampons, so you can push yourself even further!
All of this might sound excessive for those of you who like the occasional hike in the countryside, but almost all of these features are essential to your health and safety while hiking. Wearing the wrong footwear can lead to blisters, or worse: you could end up with painful feet and knees, or a twisted ankle.
In any case, hiking with tennis or running shoes will take away from the magic of your hike. There is no need to invest $200 in a state-of-the-art pair of hiking boots if you're a casual walker or hiker, but it definitely is worth getting your hands on a decent pair of $70 hiking boots.
On the other hand, if you're a committed hiker or backpacker, it is worth spending the big bucks on a pair of hiking boots. You'll no doubt appreciate the extra features after six hours (not to mention six days!) on the trail.
What to know about hiking boots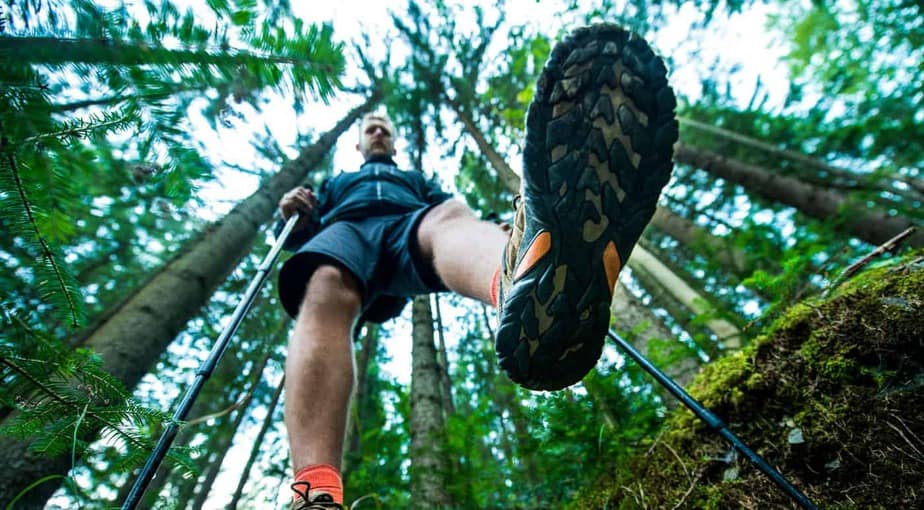 Components
Uppers are (you guessed right) the uppermost part of the boot. They are also the main barrier between your foot and the elements, and are made of leather or synthetic materials.
Outsoles are part of the boot that comes into contact with the ground beneath your feet, and are usually made of rubber.
Lug patterns basically refer to the depth and pattern of the treads on the bottom of your boot. They are all designed differently but all for the same purpose: to increase your grip and stop you from slipping on wet, smooth, gravelly, or muddy terrain.
Midsoles provide cushioning, comfort, and shock absorption. They also determine whether the boot feels stiff or flexible, and have an effect on how stable it feels.  
Shanks go between the boot's midsole and outsole, and they are designed to add rigidity so that your foot and ankle don't have to suffer through all the lumps and bumps on a trail. They are usually between 3 and 5 millimeters thick, and are made of steel or composite material.
Plates are inserts that go between the midsole and outsole, and underneath the shanks. Much like shanks, they are there to reinforce the shoe and protect you from the terrain underfoot.
Materials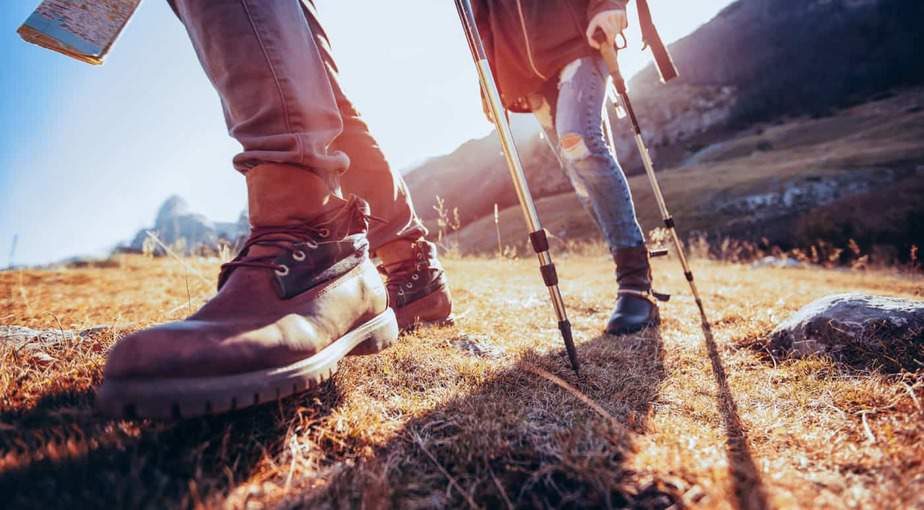 Full-grain leather is durable and very resistant. It's the material of choice for tough boots that need to survive difficult terrain over long periods of time. However, this material requires a long break-in time.
Split-grain leather is lighter and often combined with synthetic materials such as nylon mesh. Great choice if you prefer a lighter, slightly more flexible feel.
Nubuck leather looks and feels like suede, and is water resistant and durable, but also requires a long break-in time.
Polyester, nylon, and synthetic leather are becoming increasingly popular in the manufacturing of modern-day hiking boots. They are easier to break-in than leather, the don't feel as stiff, don't require much break-in time, and are usually (but not always) a little less expensive.
Ethylene vinyl acetate (EVA) foam or polyurethane (PU) foam are materials often used in the midsole. They both provide cushioning, but EVA is softer and cheaper, while PU is firmer and more durable.
Gore-Tex will be familiar to anyone with an interest in the outdoors, as it's often used in jackets, pants, and, of course, hiking boots. It's so popular because not only is it waterproof, but it also offers incredible breathability ⁠— the perfect combination for a long hike!
eVent is a lesser-known, but still incredibly effective, waterproof technology that is excellent at temperature control. So even if you start hiking in a hot valley and end on the top of a snowy mountain, your feet will stay dry and warm throughout.
Best Hiking Boots Methodology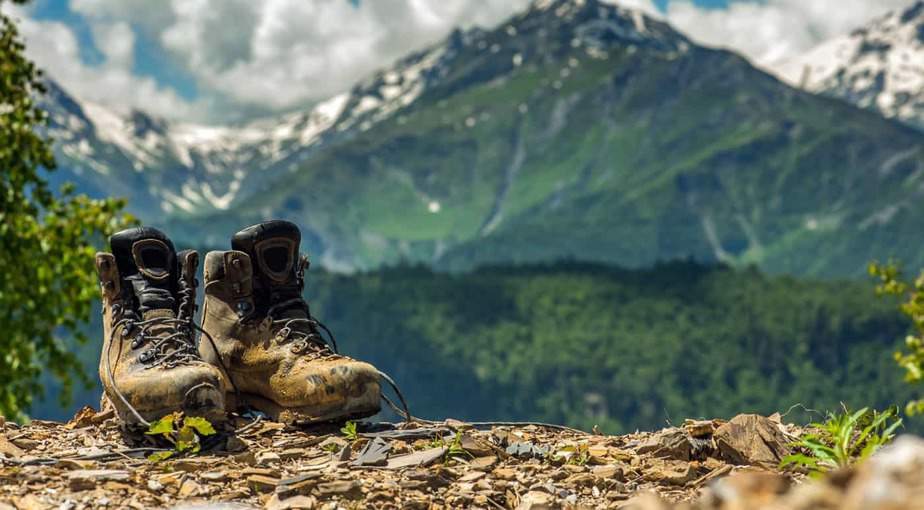 It took us weeks to build this definitive hiking boot ranking, weeks we spent trawling through thousands of consumer reviews by people who've been walking, hiking, backpacking, and running up mountains, down hills, and through forests all over the country.
We even spoke to hiking aficionados and experts to get a sense of who the best of the best are in the hiking boots world.
From these reviews and comments, we created a scoring system to rate the hiking boots on this real-life feedback. Using a scoring scale of 0-100, we formulated an average across different categories for a final tally and built our ranking from there.
Since hiking boots are so different, and designed with different hikers in mind, we chose four of our favorite hiking boots for each category. In all categories we were paying special attention to these factors:
Comfort
Traction
Warmth
Waterproofness
Breathability
Arch Support
Ankle Support
Quality of materials
Value for money
Our ranking is one of the most comprehensive hiking boot rankings around, so keep reading to learn more about what you need and what you should go for.
Best Hiking Boots Overall
Although you might not hear about this boot as much as other famous brands, our research shows that the Teva Arrowood Riva hiking boot is a surprise favorite among hikers. But what it lacks in fame, the Teva Arrowood makes up for in high quality materials and cutting edge tech. If you're looking for a great mid-high hiking boot, look no further.
With its tough yet flexible full-grain leather upper, the Teva looks pretty sleek too, but without compromising on usability. Under the upper, for example, is an eVent membrane that allows your foot to breathe, but prevents water from getting thorough, while nylon shanks that run the length of the boot keep your foot stable.
Another favorite feature is the boot's Vibram outsole, which is excellently designed and features a good lug design that will stop you from sliding even on the steepest, wettest terrains. Considering these are leather boots, they are incredibly lightweight and quite flexible. People were also very impressed by the fact that they require very little break-in time, and feel almost immediately comfortable.
Best Hiking Boots for Women
Ahnu Women's Sugarpine II Waterproof Hiking Boot
Designed especially for with women in mind, these synthetic mid-height hiking boots are lightweight, waterproof, and extremely comfortable. Although these boots do feature some leather parts, they are mostly made of synthetic material, which gives the boot a lightweight, flexible feel. They are nonetheless tough enough to navigate even the toughest terrains, from a light stroll to a cold mountain top.
The hikers who've fallen for these boots say that they are remarkably waterproof, but also allow your feet to breathe so you don't get all sweaty and — dare we say it — smelly. Their effective temperature regulation is due to their use of eVent liners, an innovative feature which all hikers who tried the boots seemed to love.
Their great weather protection also means these are pretty versatile boots, which you can use on a hot summer day or cold winter hike. The tread lug pattern may not seem as deep as in other boots, but because the outsole is made of Vibram rubber, you'll find that these boots have surprisingly good traction, and you won't be slipping all over the place.
If you're a woman with a passion for the great outdoors, you'll love these boots.
Honorable Mentions
Merrell Women's Moab 2 Vegan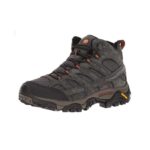 These vegan friendly, synthetic hiking shoes are a super comfy, lightweight option for those of you who don't like the way high-rise hiking boots feel. They don't rub around the ankles thanks to their cushioned collar and tongue, and offer good support thanks to their well-designed footbed.
The Moab 2 shoes boast above average breathability, which makes them the perfect choice if you hike mostly during spring and summer and don't like your feet getting too hot. Because this is a shoe rather than a boot, it won't be enough for the most challenging of hikes, but it's nonetheless an excellent choice for Intermediate level hiking.
Shop Merrell Women's Moab 2 Vegan
HOKA ONE ONE Women's Tor Tech Mid Waterproof Hiking Shoe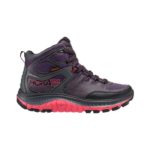 Hoka One One are known for their incredibly thick and bouncy running shoes. This year the brand has forayed into hiking, with the launch of a series of hiking shoes. Our favorite, the Tor Tech Midrise, is a strong hiking boot with great traction and Hoka's trademark comfort.
These boots will feel different to anything you've ever worn before, because as well as their unusual padding, their sole has an unusual rockered design, which takes a while to get used to. We're pretty sure that after only a few steps in these, you'll never want to take them off.
Shop HOKA ONE ONE Women's Tor Tech Mid Waterproof Hiking Shoe
Lems Women's Boulder Leather Boot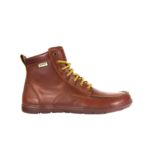 If you want something different, take a look at Lems: these unique boots are designed around the foot's natural shape, with a roomy toe box and unparalleled flexibility throughout, so that you almost feel like you're barefoot (but without the pain!). Their 'zero-drop' design places the forefoot and the heel flat to the ground, which corrects posture and helps maintain spine alignment.
Their Women's Boulder Boots are made with full-grain leather and an injection-blown rubber outsole, but maintain Lems' trademark minimalist aesthetic. Because they are so flexible and can easily be packed away, these cool-looking boots make the idea travel companions.
Best Hiking Boots for Men
Lowa's signature hiking boot is a very popular choice for hikers across the country: relatively lightweight, comfortable, and supportive, the Renegade GTX Mid boot comes in an incredibly wide range of sizes and widths, so you're bound to find one that will fit you like a glove. The company calls it a 'multi-functioning' boot, and based on the reviews, it seems pretty fitting.
First of all, it's immediately obvious that this is a great quality boot, constructed with the finest materials and real attention to detail. The upper is made of Nubuck leather and kept together by both hand and machine stitching, and not only does this make it a sturdy and durable product, it also makes it look quite good too.
Although, like all boots, you should wear these around the house before you taken them on their first big hike, the Lowa Renegade GTX don't require much break-in time, and in fact feel comfortable straight out the box thanks to their well-made PU midsoles. The tall, well-cushioned ankle collar will keep you comfy and stable, as will the full-length stabilizing shank.
Add to that a grippy Vibram outsole, and you have yourself a great pair of men's hiking boots.
Honorable Mentions
Salomon Quest 4D 3 GTX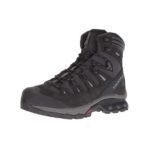 Looking for a serious hiking boot that is stiff, sturdy, yet comfy? The Salomon Quest 4D seamlessly combines all of these qualities into one high-quality and versatile hiking boot. A high collar and well-designed lacing system will hold your foot and ankle stable, but a good amount of padding will keep you comfy and cozy.
Despite the stiffness, you won't feel restricted, and in fact you might be surprised at how stable yet nimble these boots are. The outsole is made with Contagrip rubber, and an updated lug pattern means these are quite impressive on loose, rocky, or muddy ground.
Forsake Range High Leather Approach Sneaker Boot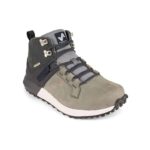 Looking for a seriously grippy outsole that will carry you over the harshest and muddiest terrains? Take a look at the Forsake Range High Leather Approach Sneaker Boots, which boasts Vibram Megagrip outsoles that are especially designed to offer the best traction on a variety of surfaces. Stability is further increased by the extra-wide shanks built into the boot.
Your feet will stay dry thanks to above average waterproofing and taped seams, which prevent water from ruining your hike. And don't worry, your feet won't get too hot and sweaty either, and hikers say these lesser-known boots actually boast great breathability.
Shop Forsake Range High Leather Approach Sneaker Boot
Scarpa Zodiac Plus GTX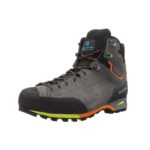 This brand is a superstar of the outdoor world, and with good reason. Their products are known for being high-quality, durable, and innovative. With its stylish yet tough suede and leather uppers and high-top design, the Zodiac is a great addition to the company's hiking boot collection. One interesting feature is their Sock-Fit technology, which prevents snow and debris from getting in.
But there are many more qualities to this boot: thanks to the Gore-tex used throughout, your feet will stay warm and dry, while a rubber band around the toe box will protect your feet from any rocks or sharp bits. An overall excellent choice!
Best Lightweight Hiking Boots
Timberland White Ledge Waterproof Boot
Love sturdy leather boots, but can't stand feeling like you're walking with a ton of bricks stuck to your feet? We have the perfect solution for you. Timberland have made a classic full-grain leather boot that is both durable and surprisingly lightweight. And because the seams are sealed and the leather is treated, not a drop of water will get through!
Available for both men and for women, Timberland White Ledge Waterproof Boots are equipped with Timberland's signature B.S.F.P system, which stands for Brake, Support, Flex, Propel. Having read hundreds of online reviews, we can safely say that Timberland are true to their word, and these boots boast incredible traction and support.
These boots are also known for being incredibly comfortable thanks to their padded tongue and collar, as well as their EVA dual-density footbed, which is perforated to increase breathability. You'll find that these boots perform exceptionally well on wet and muddy terrain thanks to their rubber outsoles and lug design.
Although there are more exceptional lightweight boots out there (just keep reading to learn more about the best!), these are the lightest one-piece leather boots we could find, and at around $80, they are also incredibly good value.
Honorable Mentions
Columbia Newton Ridge Plus II WP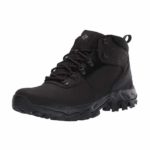 Another great lightweight option is the Columbia Newton Ridge Plus II WP boot, which is known for offering excellent support and stability thanks to a firm shank and well-designed lacing system. Unlike the Timberland, these boots are made with a combination of PU coated leather, suede, and mesh, but they still have a classic look — not to mention great waterproofing.
The Techlight lightweight midsole keeps things light but does not compromise on comfort, and you'll feel your foot adequately cushioned and protected from the elements. Your feet will be kept safe from what lurks inside the shoe too, thanks to Columbia's innovative use of mesh, which increases breathability while preventing bacterial growth.
Shop Columbia Newton Ridge Plus II WP
KEEN Men's Targhee II Mid Waterproof Hiking Boot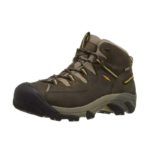 From Keen, another much loved outdoor brand, comes the Targhee II Mid Waterproof Hiking Boot, a lightweight, Nubuck leather and nylon mesh hiking boot that offers great traction and durability thanks to its aggressive and deep lugs and thick outsole. Keen's patented rubber Toe Guards are great at keeping your feet safe, despite this being a lightweight boot.
Inside the boot, nylon shanks help keep your foot stable while you hike, and EVA footbeds provide great arch support and comfort. If this isn't enough, you can also swap these footbeds for orthotic ones, depending on your needs.
Shop KEEN Men's Targhee II Mid Waterproof Hiking Boot
Merrell Moab 2 Mid Hiking Boot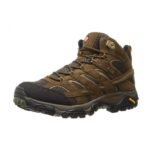 People love the Merrell Moab 2 for its looks, but not only (although we must admit, they do look good!). These comfortable, light, and sporty boots look deceivingly delicate, but underfoot they hide an aggressive Vibram outsole and 5milimiter lugs. You won't be slipping and sliding all over the place with these on your feet!
Contoured footbeds are designed to provide great arch and heel support, as well as a good level of shock absorption and stability. A sock-like tongue is designed to keep debris out, while a waterproof membrane effectively seals out water while letting your foot breathe.
Best Vegan Hiking Boots
Mammut T Aenergy High GTX – Men's
Just because boots are not made with leather doesn't mean they're vegan: many boots (and countless other products) in fact use some animal products in various levels of production. Many glues used in boots, for example, are made with animal materials. That's why, if you want to buy truly vegan, it's important to choose brands that are explicitly vegan.
The Mammut T Aenergy is a great hiking boot that is made without harming any animals. But that's not it's only quality. Far from it. The Swiss brand uses synthetic materials and rubber to keep the weight low without compromising on performance. The Vibram outsole, for example, features a multidirectional lug design that provides excellent traction.
Gore-Tex waterproof and breathable membranes keep your feet dry and cool, even in stormy weather. Inside the boot, a well- made insole provides both comfort and stability. This is thanks to the dual-density EVA insert, which supports the arch and heel, and to the nylon arch shank which adds some stability to the boot.
One last touch that makes the best vegan boots around: Mammut Memo Foam throughout the boot molds to your body and effectively protects and cocoons shin bones and ankles, providing your with an incredibly cushy experience.
Honorable Mentions
Lowa Innox GTX Mid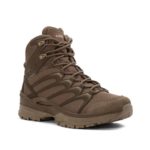 We're not surprised to see Lowa pop up once again in our ranking: after all, they make some of the best hiking boots on the planet. These are some of the most innovative around, and you'll love them if you prefer light, nimble footwear while out hiking, as these are very much like a trail shoe, but with some added ankle protection.
People love the grippy outsole, which will give you decent traction on a variety of terrains, and the sturdy dual-density PU midsoles, which will keep your feet comfortable but supported. A great option for vegan hikers who like to go fast and light.
Vivo's Magna Trail Hiking Boots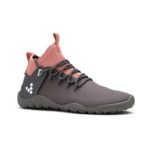 Speaking about light and fast, we can't not mention Vivobarefoot, a company at the forefront of the 'barefoot revolution'. If you like feeling like you're flying across the mountains with nothing on your feet, try their flexible, modern, and minimal Magna Trail Hiking Boots. Their no-sew design is waterproof and surprisingly warm thanks to sealed-seams and good thermal insulation.
If you hate the feeling of bits and pieces getting into your shoes, don't discard the Magna Trails straight off the bat: their well-designed neoprene sock pulls right over the ankle joint, keeping snow, water, and debris away from your feet.
Shop Vivo's Magna Trail Hiking Boots
Will's Vegan Waterproof Hiking Boots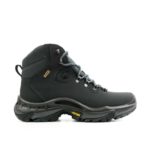 Will's has been at the forefront of the Vegan clothing and sustainable fashion industry since they were founded in 2012, and we can see why. Their products are not only ethical, but they are also seriously stylish and functional.
Their Vegan hiking boots are made with high-quality vegan suede, and feature a waterproof membrane and sealed tongue that allows your foot to breathe while keeping moisture out. The removable EVA insoles are reportedly very comfy and supportive, while the rubber injection outsole offers good grip. We also love the articulated lace hooks, which look cool while improving lace sliding.
Best Waterproof Hiking Boots
Merrell Moab 2 Mid Waterproof
Well loved by the outdoorsy crowd all over the world, Merrell are known for their high quality products that combine comfort, style, and performance. The Merrell Moab 2 Mid Ventilator is especially impressive when it comes to its waterproof and quick-drying properties. But that's not all: made with suede leather and mesh, these shoes are comfy and breathable too.
An air cushion in the heel helps absorb shocks while also providing some stability and correcting posture, which is also improved by the nylon arch shank built into the boot and Merrell's signature FIT.ECO blended EVA footbed. These are a great choice for long, multi day trips as they provide the right level of support, comfort, and protection.
Hikers say that these boots hold up pretty well, so their durability — and reasonably lightweight construction — is something to keep in mind when choosing boots for a long trip. The Vibram outsole, with its 5milimiter lugs, also offers great traction, and a rubber toe cap keeps your feet well protected. The Merrell Moab 2 Mid Waterproof boot also has a women's line, which has different sizes and fits but boasts the same high-quality.
Honorable Mentions
Forsake Duck Hiking Boots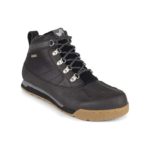 The Duck, Forsake's 'sneaker boot', is a classy looking boot built for all-weather performance. A gusseted tongue, taped seams, and a leather vamp make this a seriously waterproof option, perfect for hiking in the rain, snow, or slush. Breathable and moisture wicking linings also come with anti-microbial treatment, keeping your feet fresh and healthy no matter the weather.
We love that these boots are versatile, too, and not only do they look good while out on the streets, but their lug design means they are comfortable to wear on the mountain and while out and about in town. If you're feeling creative, you can customize your look with different colorful laces.
Shop Forsake Duck Hiking Boots
KEEN Targhee III Mid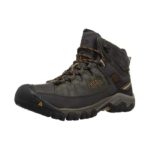 You'll be amazed at how comfy these boots feel. With no break-in time required, you can wear your new Targhee III Mid Waterproof boots straight out of the box. And you'll be glad of it, since you'll probably want to take these little gems straight out for a hike when you get them.
While maintaining Keen's signature comfort, the Taghee III focuses on improving performance, and gets it right: the Kenn.Dry technology effectively keeps water out , while the rubber outsole and multi-directional lugs provide great traction on a variety of terrains.
Vasque Talus Trek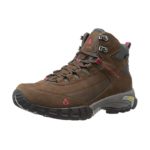 This Nubuck leather and synthetic boot is great at keeping water out — even if you're crossing shallow streams or walking in heavy rain — thanks to Vasque's proprietary UltraDry liner, which maintains good breathability despite its waterproofness. Hikers say that their feet were always dry, and never got too hot while wearing these boots.
Known for being super comfy, the Talus Trek features a thick, cushioned collar, and a responsive dual-density midsole. A Vibram outsole and aggressive lug patterns also ensure you maintain solid footing, while a rubber band gives your toes extra protection from rocks and other sharp objects.
Best Hiking Shoes
1
The North Face Ultra 109 GTX
Since hiking shoes have become 'a thing', North Face has consistently been at the forefront of the industry with their high quality, high performance, and good value footwear. The North Face Ultra 109 GTX is particularly well loved, and we can see why: it's super versatile, and it will easily take you through a day of hiking, backpacking, and even trail running.
This hiking boot – running shoe hybrid is stable and supportive, yet light and nimble enough for you to never feel weighed down. North Face's 'Ultra' line products all boast incredible traction, and will give you strong footing on any kind of terrain, even when you're running and flying over the trail.
The outsole is strong enough to protect you from rocks underfoot, and North Face's proprietary UltrATAC rubber sole offers excellent traction, thanks also to the interesting lug pattern. The EVA midsole gives you the stability and 'stiff' feeling of a hiking boot, while the forefront is flexible like a running shoe, providing you with the perfect combination shoe.
Critics of hiking and trail shoes say that this kind of footwear doesn't provide enough ankle support, but people who use these shoes say they actually feel quite stable and unlikely to twist their ankle (although this can happen with any kind of shoe or boot!) thanks to the shoe's heel pocket design.
Salomon have a history of creating excellent trail running shoes, so they know a thing or two about creating lightweight yet high-performing gear. The Salomon Ellipse GTX is designed for women who like to move fast on rocky and mountainous trails, safe in the knowledge that their feet and ankles will be protected.
But Salomon haven't simply taken a man's shoe and made it small and pink: the inside of the shoe is specifically designed to fit the shape of a woman's foot. The brand's own Sensifit system cradles the foot and keeps it in place, allowing you to adjust the whole shoe, from laces to midsole, so that it fits your foot perfectly.
The upper is made of mesh and suede, which boasts great abrasion resistance, breathability, and waterproofness, thanks especially to the use of Gore-Tex throughout the shoe. Another feature that'll stop you from taking a rain check from now on is this shoe's incredibly grippy sole, that uses an aggressive tread to increase traction, even on wet surfaces.
Details such as a gusseted tongue (which keeps debris out), mud guards, and protective toe caps (which protect you from stubbing your toes on rocks) make these some pretty rugged hiking shoes.
Honorable Mentions
Salomon X Ultra 3 GTX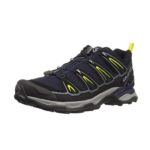 Salomon, another much loved outdoor brand, offers one of our top hiking shoes, the Salomon X Ultra GTX. Like its North Face counterpart, this shoe offers the perfect balance between a stiff midsole and a flexible forefoot, giving you the right amount of support and speed.
These shoes are particularly impressive when it comes to traction on slippery surfaces because the outsole is made with impressively grippy ContaGrip rubber. The feeling of stableness is increased by a molded shank, which is sandwiched between the outsole and midsole, and Salomon's signature Advanced Chassis technology.
ADIDAS AX3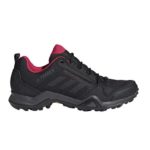 A brand that until a few years ago would not have had any place in a hiking boot ranking now features among the best of the best. Adidas is, of course, known for their running shoes and running attire, but has recently branched out into making footwear that can be used on mountain trials too.
The AX3 for example are designed to excel off the beaten track, thanks to their tough, abrasion resistant upper, quick drying mesh, and water resistant qualities. A grippy outsole with an aggressive lug patterns will keep you stable and upright on all kinds of terrain, while the TPU toe tip is designed to protect you while you run.
KEEN Targhee II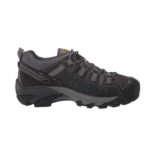 The Targhee II is another great product from KEEN, and a longtime favorite among hikers who love lightweight, flexible and nimble trail shoes that don't compromise on stability and traction. Comfort is one of the Targhee II's biggest selling points: a balanced footbed, padded tongue, tough toe covering, and roomy toe box all ensure you stay comfy and safe during your outings.
KEEN have been striving to eliminate pesticides from their production, and are increasingly turning to natural products and materials. Their footbeds, for example are infused with probiotic technology that naturally breaks down odors in sweat without the use of hazardous chemicals.
Best Winter Hiking Boots
Oboz Bridger Insulated BDry Winter Boots
Hiking in true winter conditions is not a feat to be taken lightly and requires the best preparation in terms of equipment, clothing, and footwear. If you are not put off by a foot or two of snow, but still want your feet to be warm and dry, the Oboz Bridger Insulated Winter Boots are a must-buy.
While many winter hiking boots can sometimes feel cumbersome and inflexible, the Oboz Bridgers combine the best of hiking boots with the necessary features of wintery, insulated boots. The result is a very comfortable, warm, and functional boot.
The highlight of these boots lies in the insole, which is molded to match the specific shape and construction of every single pair of boots, and which features an insulated top sheet and Mylar bottom sheet to regulate temperature. This proprietary technology delivers unparalleled fit, performance, and comfort.
Thinsulate lining also plays its part in keeping you warm, while wool pile hugs your ankles and prevents snow and debris from coming into the shoe. The shoe is made of durable nubuck leather and is waterproof, so you can happily walk in deep snow for hours without moisture seeping in and getting you cold.
Honorable Mentions
Vasque Snowburban II UltraDry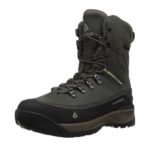 No need to shy away from the elements while wearing the super-well insulated, waterproof, and durable Vasque Snowburban II UltraDry hiking boots. A Nordic Rover outsole with Vasue ColdHold Compound will give you good traction and prevent you from slipping, even on slush and ice, while 400 gram Thinsulate insulation keeps your feet warm even during the coldest of hikes.
The UltraDry waterproofing excels at keeping water away from your feet, while the terry wool collar linings are made to be warm and odor resistant. If you're going for some extreme winter hikes, you have the option to attach gaiters (to buy separately) thanks to the D-rings that run up the boot.
Shop Vasque Snowburban II UltraDry
KEEN Durand Polar Waterproof Winter Hiking Boot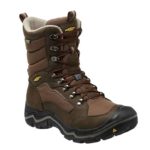 The Durand Polar Waterproof Boot uses innovative materials to give us a truly 'polar' boot, which is rated at -40 degrees and can withstand pretty extreme weather. The lightweight insulation is made with charcoal bamboo, which absorbs odors and helps radiate heat and control temperature. With their 400 grams of KEEN warm insulation, these boots are guaranteed to keep you toasty.
But not only are they extremely warm, they are also completely waterproof thanks to KEEN's proprietary KEEN.Dry membrane. Although some customers say that the sizing of these boots is a little offer, they are so quality that it's worth giving them a try.
Shop KEEN Durand Polar Waterproof Winter Hiking Boot
Sorel Caribou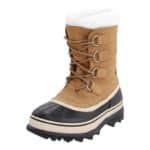 The classic Caribou boot from Sorel features a nubuck leather upper, which offers good protection from the elements, while a well-insulated inner boot which will keep you dry and warm. A rubber outsole, made with the brand's signature AeroTrac material, provides good traction and will make you feel stable and safe on the snow.
We love the 'sherpa' snow collar, which hugs your ankles, keeping them warm and protected from snow and ice. Another highlight is the Caribou's lacing system, which lets you tighten up where necessary, but leaves you with enough freedom to move where you need it the most.
Related Rankings
Why do I need hiking boots?
If you're someone with a love for the outdoors, hiking boots are a must. While you can get away with using sweatpants, shorts, and old t-shirts during walks and hikes (especially in the summer), running or tennis shoes just don't cut it.
Hiking boots are designed for specific terrains and conditions, from wet and icy to rocky and hot. Mostly, hiking boots are built in a way that protects your feet from sharp rocks underfoot, and that give you enough traction to prevent you from slipping. They also support your foot and ankle, and protect it from potential twists. Other types of shoes just won't offer the comfort or protection that hiking boots do.
If you don't usually hike on very harsh terrain, and prefer to feel nimble and light, you could always opt for a good pair of hiking shoes. These are lighter and less cumbersome than traditional hiking boots, and while they offer a little less protection, they can still take you far. Most are just as supportive, grippy, and waterproof as boots, so check them out!
But if you'll be embarking on longer, multi-day trips, it's well worth investing in a heavy-weight pair of hiking or backpacking boots, which are hardy enough to withstand the weight of your backpack.
What material should I choose for my new hiking boots?
Hiking boots are traditionally made with a leather upper and rubber outsoles. While leather is still very popular, both for practical and aesthetic reasons, synthetic materials have been gaining ground in recent years. While you might be tempted to choose based on looks alone, remember that leather and synthetic materials can feel pretty different.
Leather boots are usually heavier and sturdier (scroll up to find out about the most commonly used types of leather), while synthetic boots are lighter. Leather also feels more rigid and stable, but also takes quite a long time to break in.
Synthetic boots on the other hand can be worn immediately (although we would still recommend you spend a day walking around in them before your first hike).
Both can be breathable and waterproof, and this often depends on the brand, the model, the seams, and the materials used in the construction of the boot.
One more difference is the price, as leather tends to be more expensive than synthetic. However, as synthetic boots get increasingly more sophisticated and use the latest high-tech materials, this difference is narrowing.
What's the difference between men's hiking boots and women's hiking boots?
You'll see that we have divided our best hiking boots ranking into several sections, including one for women's hiking boots and one for men's. So what is the difference? Surely men and women have similar feet?
Well, this is true, our feet are not that different. But even those small differences in shape and size can change the way shoes and boots feel. That's why the industry has been improving in leaps and bounds this year, making minor changes to their footwear to ensure that we all get the most comfortable and healthy hiking experience.
Women's feet tend to be smaller and wider, and women's hiking boots reflect this (but don't fret, many brands offer wide models for women too). Another important difference is in the midsole design: women's boots offer enhanced arch support while men's are flatter.
Still, much of the difference is in the look and marketing, so don't be afraid to try on hiking boots meant for the opposite sex if you have unusually big or small feet.
And what about hiking boots and hiking shoes?
While many of us still love the feel of good leather hiking boots, over the last few years many hikers have been moving away from the heavier all-leather models, choosing instead to go for lighter leather, synthetic or combination footwear. But while hiking boot companies have been working on slimming and lightening their footwear, some companies have been doing the opposite.
Running shoe brands have in fact been focusing on adding sturdier and somewhat heavier features typical of hiking footwear, such as thick rubber soles and deeper tread patterns.
In both these cases, the end result is what we call hiking or trail shoes. These shoes have become increasingly popular over the past several years, and now are a common sight while out hiking.
Unlike running shoes, trail shoes have a thick outsole with deep lug patterns to increase traction; their midsole is usually made of EVA foam, or a similar material, their upper is usually made of synthetic material (sometimes combined with some leather), and they boast features such as padded collar or reinforced toe.
When compared to hiking boots, the most obvious difference is that trail shoes do not extend over the ankle. Critics say that this minimal construction doesn't protect you from sprains, but there isn't much scientific evidence to support that argument.
One obvious advantage of trail shoes is that they are lighter, so won't tire you out as much during a long hike. However, if you are on an extended backpacking trip, sturdy backpacking boots may last you longer.
The jury is out, and the decision isn't an easy one. If you're a very frequent hiker, you might even consider buying a pair of hiking boots and a pair of trail shoes, so you can choose which one to wear depending on the terrain.
What are the best hiking boots?
We've divided this Best Hiking boots ranking into several different categories precisely because it is so difficult to answer this question. The 'Best' hiking boot really depends on what you're looking for, and what kind of hiking you'll be doing.
However, there are some boots out there that are undeniably head and shoulders above the rest. To choose the best ones we aggregated data from across the internet (you can read all the ins and outs of our Methodology above) and came up with a fair scoring system.
Our data analysis tells that the Teva Arrowood Riva Mid-High is the best hiking boot overall according to thousands of hikers and outdoor enthusiasts. These boots rank so high because of their incredible comfort, superior waterproofing and breathability.
But, because hiking boots are all so different, we decided that we wouldn't stop at that, and instead looked for the best hiking boots in several categories. So if you are looking for a trail shoe rather than a hiking boot, or if you want a strictly vegan product, or if you're looking for a very insulated winter boot, scroll back up and read through our ranking.
RAVE Recommends
Hiking is always an enriching experience, but it can be a nightmare without the right gear. Get your hands on these products and make the best of your trip.
Randy Brangman
Randy Brangman is a Licensed Physical Therapist and Exercise Therapist and a former long distance runner. He is the founder and Lead Exercise Instructor at Trinity of Wellness. Spending more time in running shoes than flip flops, he travels the world while going through pair after pair. He is currently writing a book about joint therapy.