Climbing to the top of our ranking of the best hiking boots for women are the excellent Ahnu Women's Sugarpine II Hiking Boots.
These synthetic mid-height hiking boots are lightweight, waterproof, and extremely comfortable. Ahnu specifically designs their boots with women in mind, so they have plenty of arch and heel support, and you can effectively adjust the width by tightening the laces that run down to the tip. Because of the ankle shaft height, the Sugarpine II boots boast great ankle support, and you can use them on different types of terrain. Last but not least, did we mention how stylish they look?
There are few things worse than realizing mid-hike that your uncomfortable, unsupportive hiking boots are making your feet ache and causing painful blisters. The only thing that is worse is realizing you still have halfway to go. The wrong hiking boots can be sole-crushing, and take the magic away from your hike.
That's why choosing the right hiking boots is an important — but in no way easy — feat. For women, the search for the perfect solemate (okay, we'll stop now) is even more complex. For decades, outdoor gear has been designed by men, for men. Thankfully, brands are becoming more conscious of women's needs, and now there are hundreds of high-quality hiking boots for women on the market.
But with so many options, how do you know what to choose? That's our job: We spent weeks trawling the internet, reading through hundreds of consumer reviews and hiking magazines to narrow it down to the 10 best hiking boots for women.
The Hiking Boots for Women We RAVE About
Best Overall
Ahnu Women's W Sugarpine II Waterproof Hiking Boot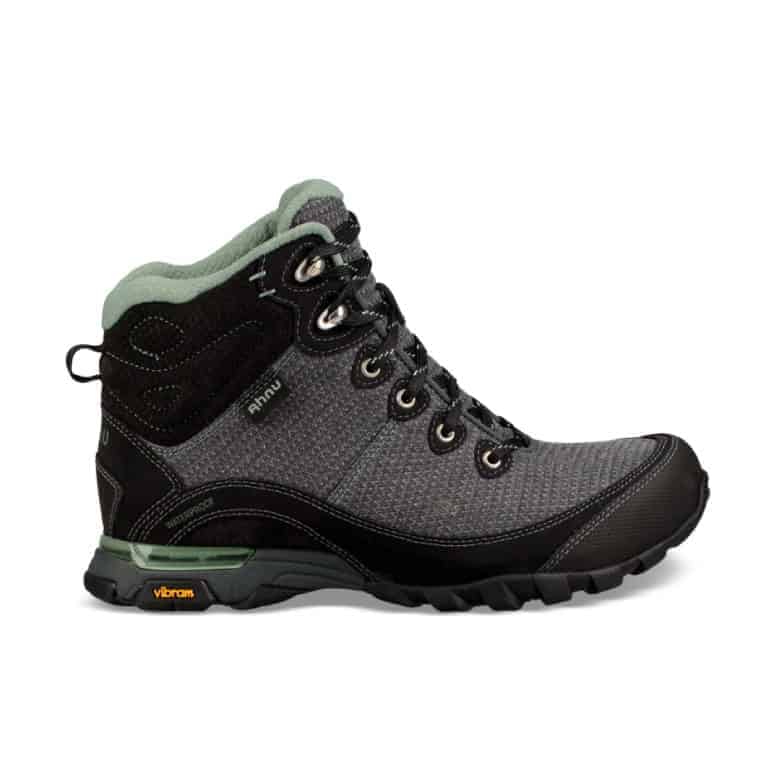 Best Vegan
Merrell Women's Moab 2 Vegan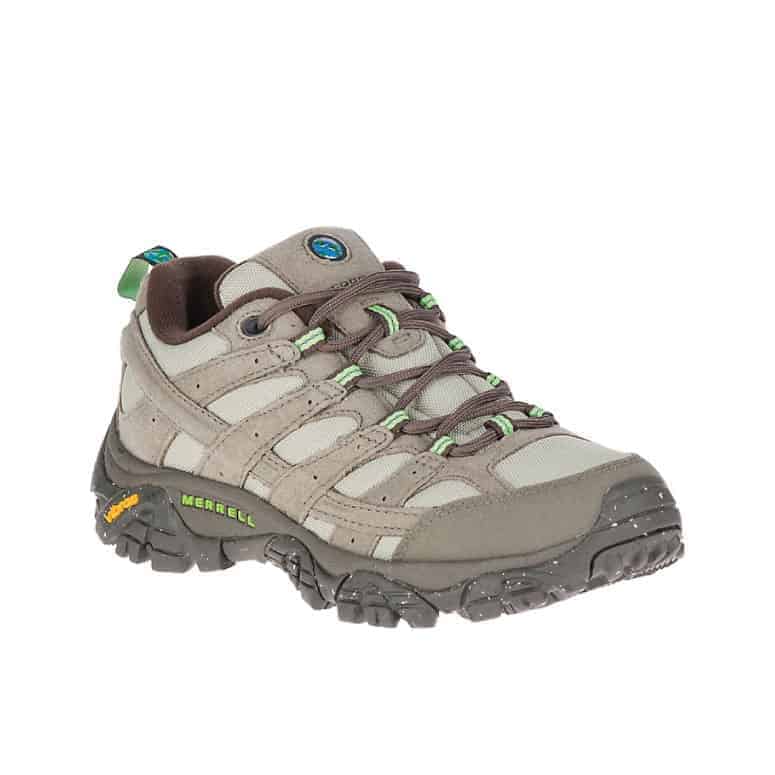 Best New Brand
Hoka One One Women's Tor Tech Mid Waterproof Hiking Boot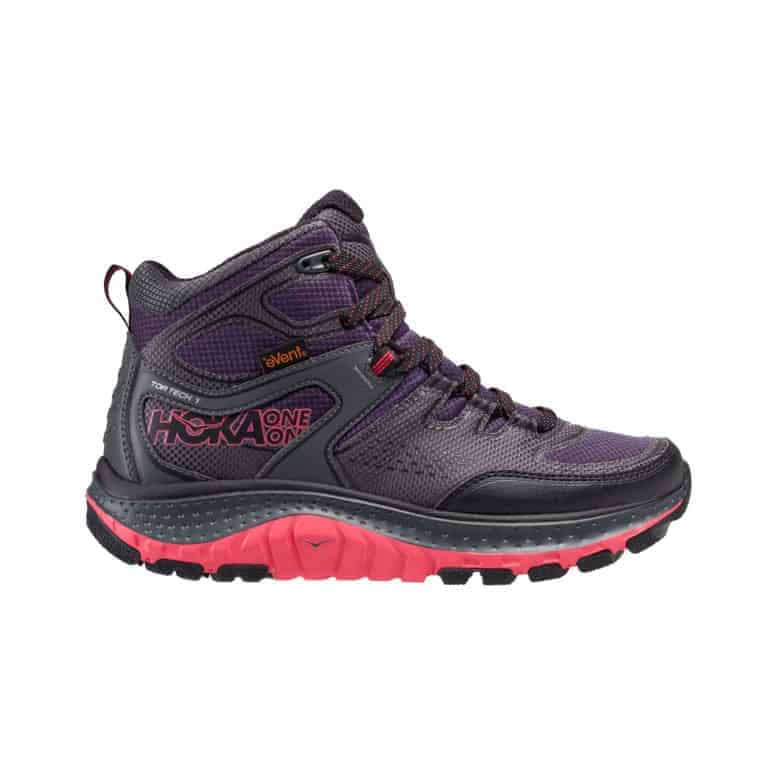 Hiking boots for women
Hiking seems to be all the rage these days (a trend we can really get behind!), so a good pair of hiking boots is a must-have for nature-loving, adventurous women. But choosing the right pair isn't so easy, especially since you're investing in something that should last you several years.
To make an informed choice, you need to know the basics: how women's hiking boots are made, and what they're made of. Without further ado, here is a rundown of hiking boots' main components.
The bits you need to know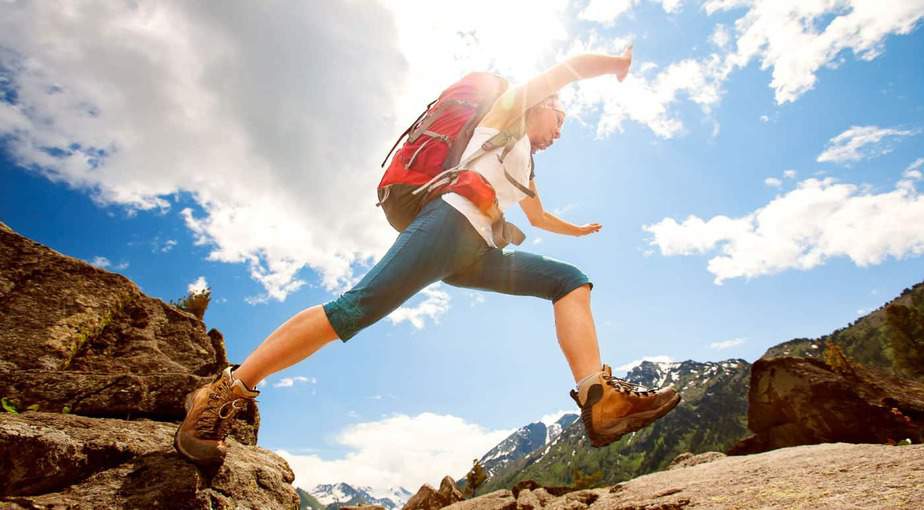 Uppers, as you might guess, are the uppermost part of the boot. They are the main barrier between you and the elements, so they have to be water-resistant (or waterproof), breathable, and durable. Uppers are made of different kinds of leather or synthetic material. Which type you choose should be determined by the type of hiking you do.
The outsole is the part of the boot that touches the ground, protects your foot from the terrain, and stops you from slipping. Outsoles are made of rubber, come in different layers of flexibility or firmness, and feature different lug patterns. The deeper and thicker the lugs, the better the traction.
Midsoles provide shock absorption, cushioning, and comfort. They determine whether the boot feels stiff or flexible, and affect how stable it is. Midsoles are usually made of ethylene vinyl acetate (EVA) foam or polyurethane (PU) foam. Both types of foam provide cushioning, but EVA is softer and cheaper, and PU is more durable and firm.
Shanks are inserts between the boot's midsole and outsole that add rigidity and increase support. They are usually between 3 and 5 millimeters thick, and are made of steel or composite material.
Plates are also inserts between the midsole and outsole, and underneath the shanks. They reinforce the shoe and protect your feet from harsh terrain.
What are women's hiking boots made of?
Hiking boots are made of a variety of different materials which are sometimes combined.
Leather is one of the most popular choices:
Full-grain leather is durable and boasts great water resistance. It's usually used in sturdy boots that need to survive long backpacking trips across different challenging terrains. It is quite heavy and requires considerable break-in time, but it's perfect if you need something durable and tough.
Split-grain leather is lighter, and often combined with synthetic materials such as nylon mesh to create boots that are durable but lighter than their all-leather counterparts. They usually cost less than full-grain leather boots, but are also not as waterproof. However, depending on the lining used in the boot, they can be waterproof.
Nubuck leather is similar to full-grain leather in that it is durable, water-resistant, and requires a long break-in time. The main difference between the two is aesthetic, as Nubuck leather looks like suede.
Polyester, nylon, and synthetic leather are all commonly used in modern day hiking boots. The main benefit of synthetics as opposed to leather is that they break in easily, are very light, and dry quickly. If they are paired with the right lining, they can also be breathable and waterproof. Synthetic hiking boots are usually, but not always, cheaper than leather boots.
Vegan hiking boots have become increasingly popular in recent years, and are made with a variety of synthetic materials (like some of the above). Just because boots are not made of leather doesn't mean they're vegan: Many types of glue, for example, are actually derived from animals. Vegan hiking boots avoid any kind of animal products in their construction.
Making sure your new boots fit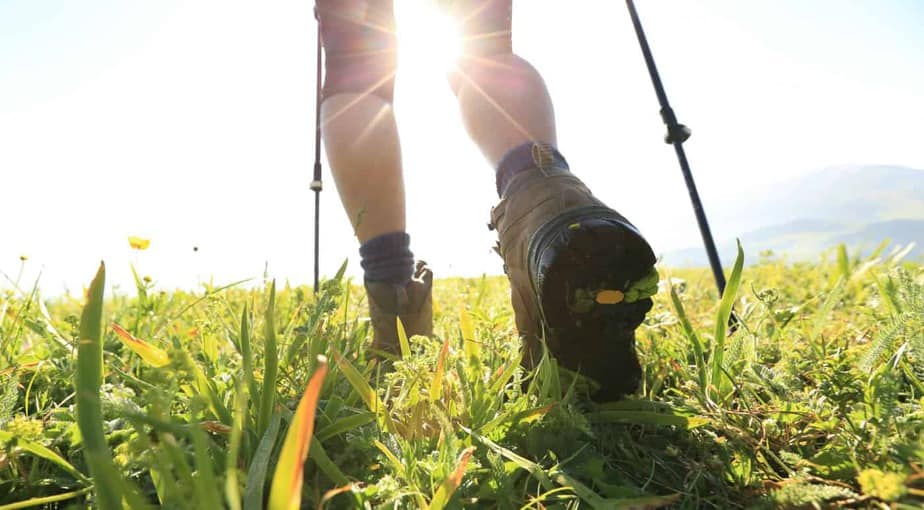 It may seem easy, but finding a pair of women's hiking boots that actually fit is quite an ordeal. Here are a few easy tips to help you avoid blisters and achy feet:
Know your foot size: Get your feet professionally measured (many outdoor gear shops do it for free) before you buy your new boots online.
Size up: Buying boots one size larger than you normally would ensures you can wear thick socks on your hike, and stops your toes from feeling too cramped.
Try them on: Order the boots you love in the size you think you are, and spend some time in them. If they don't feel right, send them back!
Walk in them: Simply slipping them on and off won't do. Remember, you'll be hiking, climbing, and jumping around in these boots. Take them for a real ride before you decide.
Try them with insoles (or footbeds): Insoles can make your boots more comfortable, or make them fit better.
Allow enough time to break them in: Breaking in your boots is extremely important if you don't want to end up with achy feet. It's especially important if you choose traditional leather boots. It may not be comfy, but it's worth it!
Use the right socks: Seamless socks can reduce rubbing, while synthetic ones dry quicker and reduce the risk of blisters better than cotton.
Methodology
With so many great hiking boots for women available on the market, whittling the list down to the 10 absolute best isn't an easy feat. So we did it for you: First, we long-listed some of the favorites by reading through dozens of websites and examining thousands of reviews, comments, and ratings by avid hikers.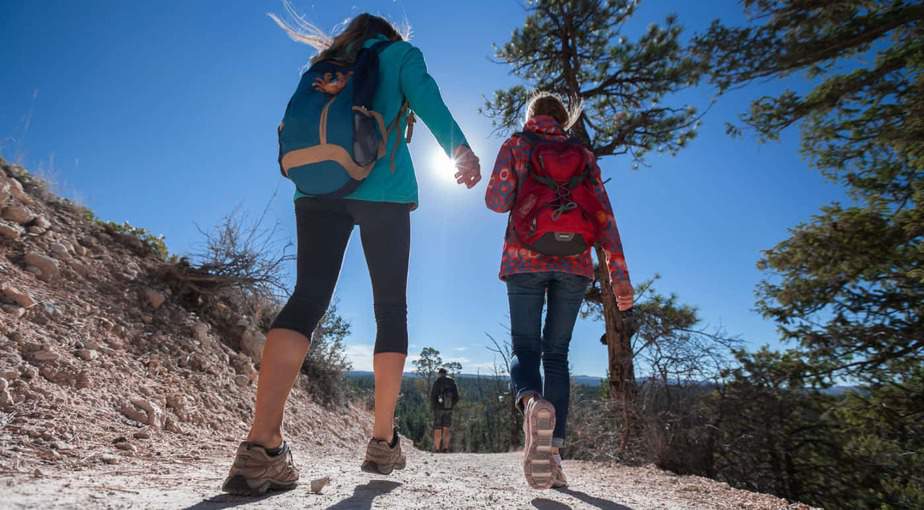 Then we created a scoring system and rated each hiking boot based on the following factors:
Comfort
Traction
Waterproofness
Arch support
Ankle support
Quality of materials
Value for money
Then we took an average of these scores for a final metascore and created our ranking. Read on to find out which hiking boots for women made it to our top 10 list.
The Best Hiking Boots for Women
Related Rankings
Why do I need hiking boots?
You may think you can get away with wearing tennis or running shoes on a hike. If you plan on taking anything a little more challenging than a gentle stroll in a grassy field, investing in a good pair of hiking boots is well worth it.
Tennis and running shoes are built for specific conditions and terrains, and they don't protect your feet or ankles. You could feel lumps and bumps through your soles, or easily roll and twist your ankle. Running and tennis shoes also have a very minimal lug pattern and offer very little traction, so you'll be slipping and sliding if you encounter gravel, mud, or grass.
Insulation is also a factor: While running shoes can be quite breathable, they are very lightly insulated and won't keep your feet warm on cold hikes.
If you're sure you don't like hiking boots (they do take some getting used to, so don't knock them before you try them) you can always choose a lighter weight, low-rise hiking shoe. They offer better protection and traction than tennis shoes, but don't feel as heavy or rigid.
Are women's hiking boots different from men's?
In short, yes, women's hiking boots are different from men's. Just like normal shoes, women's hiking boots come in a variety of sizes, and are designed for the shape of a woman's foot. Usually they are narrower, and have a more supportive arch.
You can get women's hiking boots that fit wider feet, or you can buy insoles for narrower feet. A good hiking boot fits snugly, but also leaves enough room to wiggle your toes. You should also feel like your arch is supported but not uncomfortable.
There is nothing stopping you from trying on shoes meant for a different gender — after all, feet come in all shapes and sizes! If you're a woman looking for new hiking boots, we recommend you start by trying on women's boots. Try wider models or insoles if you need adjustments. If it still doesn't feel right, go ahead and try on a pair of men's (or even children's if you have tiny feet!).
Should I get leather hiking boots or synthetic?
Traditionally, hiking boots are made of leather. Many hikers still love the traditional, natural look of leather over synthetic materials, which broke into the market in recent years. Both options are good, and people often make their choice based on the look and style they prefer. But these two types of material also have very different qualities.
Leather boots tend to be heavier and sturdier, while synthetic are more lightweight. You can also get boots that combine both. Since leather boots are heavier, they also tend to be more stable, but may feel too rigid and heavy for some people.
Breathability and waterproofness really depend on the quality and combination of materials used, and mostly depend on the kind of lining the boots have.
Another factor to keep in mind is the price: Leather boots tend to be more expensive, while synthetic boots generally cost less. But with top brands investing in the very best materials and technologies for their synthetic hiking boots, that is starting to change.
What are the best hiking boots?
We spent hundreds of hours trawling the internet to answer this question. We aggregated data from across dozens of specialized websites and compiled this ranking of the best hiking boots for women based on those results.
At the very top of our list is the Ahnu Women's Sugarpine II Waterproof Hiking Boot, a leather and synthetic option that is stylish yet incredibly comfy and sturdy. Perfect for a challenging hike or a walk in the park!
But we know that everybody has different priorities and prefers different styles when it comes to hiking boots, so don't worry, we have you covered. There are nine other hiking boots for women on our list, all with very different characteristics but with one thing in common: quality.
Be sure to read through our list to make an informed choice.
RAVE Recommends
You'll be a trailblazer with your new hiking boots, so why stop there? Get your hands on a few of these other great products before you set off.