Climbing to the top of our ranking of the best hiking boots for women are the excellent Ahnu Women's Sugarpine II Hiking Boots.
These synthetic mid-height hiking boots are lightweight, waterproof, and extremely comfortable. Ahnu specifically designs their boots with women in mind, so they have plenty of arch and heel support, and you can effectively adjust the width by tightening the laces that run down to the tip. Because of the ankle shaft height, the Sugarpine II boots boast great ankle support, and you can use them on different types of terrain. Last but not least, did we mention how stylish they look?
There are few things worse than realizing mid-hike that your uncomfortable, unsupportive hiking boots are making your feet ache and causing painful blisters. The only thing that is worse is realizing you still have halfway to go. The wrong hiking boots can be sole-crushing, and take the magic away from your hike.
That's why choosing the right hiking boots is an important — but in no way easy — feat. For women, the search for the perfect solemate (okay, we'll stop now) is even more complex. For decades, outdoor gear has been designed by men, for men. Thankfully, brands are becoming more conscious of women's needs, and now there are hundreds of high-quality hiking boots for women on the market.
But with so many options, how do you know what to choose? That's our job: We spent weeks trawling the internet, reading through hundreds of consumer reviews and hiking magazines to narrow it down to the 10 best hiking boots for women.
The Hiking Boots for Women We RAVE About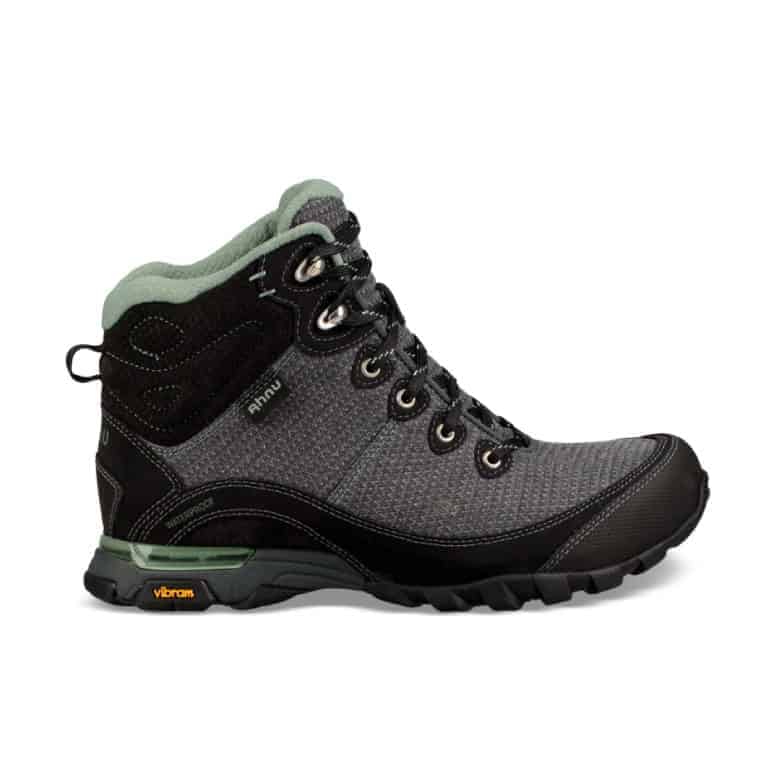 Best Overall
Ahnu Women's W Sugarpine II Waterproof Hiking Boot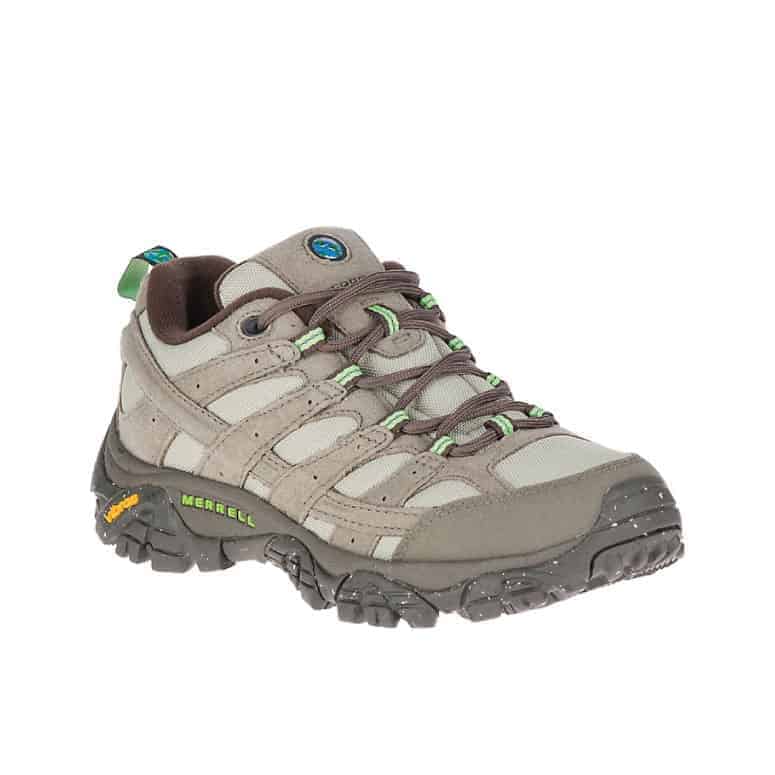 Best Vegan
Merrell Women's Moab 2 Vegan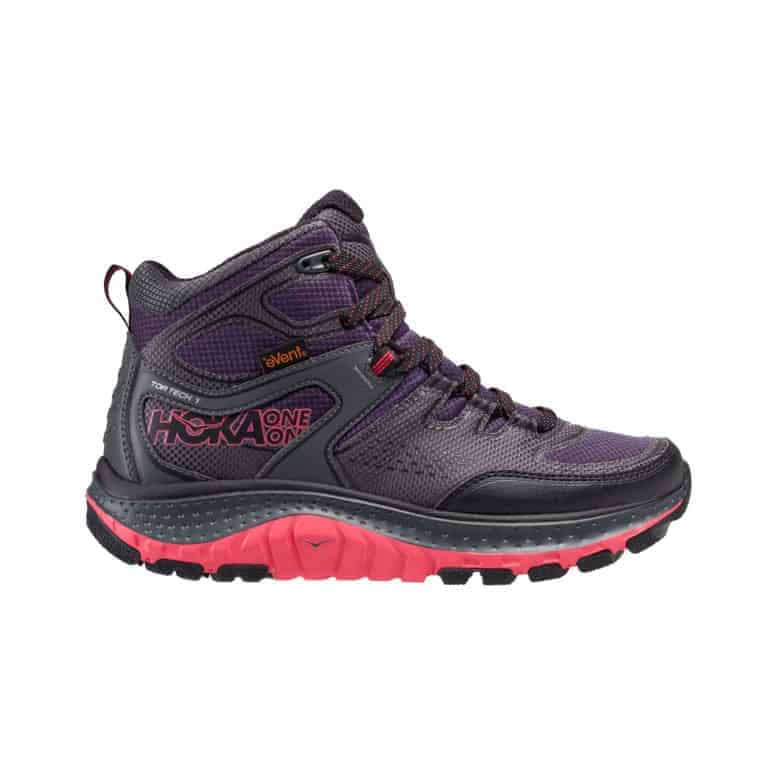 Best New Brand
Hoka One One Women's Tor Tech Mid Waterproof Hiking Boot
Hiking boots for women
Hiking seems to be all the rage these days (a trend we can really get behind!), so a good pair of hiking boots is a must-have for nature-loving, adventurous women. But choosing the right pair isn't so easy, especially since you're investing in something that should last you several years.
To make an informed choice, you need to know the basics: how women's hiking boots are made, and what they're made of. Without further ado, here is a rundown of hiking boots' main components.
The bits you need to know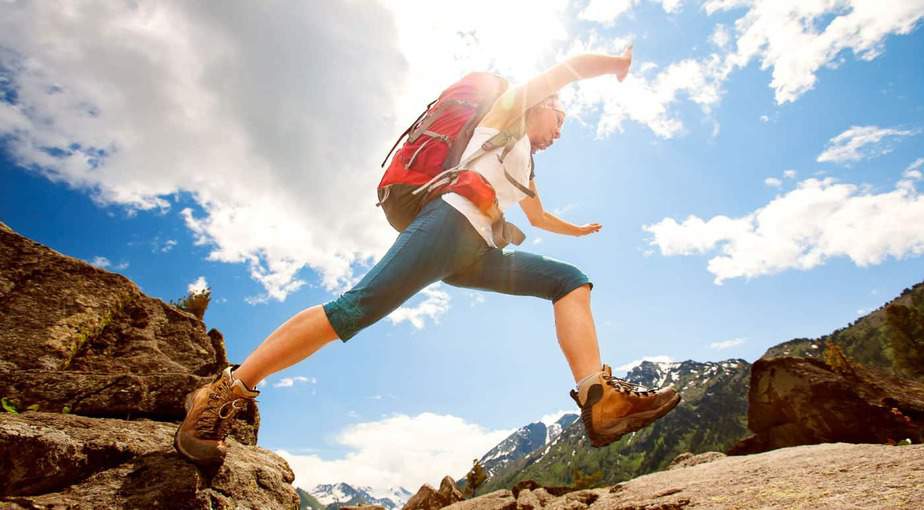 Uppers, as you might guess, are the uppermost part of the boot. They are the main barrier between you and the elements, so they have to be water-resistant (or waterproof), breathable, and durable. Uppers are made of different kinds of leather or synthetic material. Which type you choose should be determined by the type of hiking you do.
The outsole is the part of the boot that touches the ground, protects your foot from the terrain, and stops you from slipping. Outsoles are made of rubber, come in different layers of flexibility or firmness, and feature different lug patterns. The deeper and thicker the lugs, the better the traction.
Midsoles provide shock absorption, cushioning, and comfort. They determine whether the boot feels stiff or flexible, and affect how stable it is. Midsoles are usually made of ethylene vinyl acetate (EVA) foam or polyurethane (PU) foam. Both types of foam provide cushioning, but EVA is softer and cheaper, and PU is more durable and firm.
Shanks are inserts between the boot's midsole and outsole that add rigidity and increase support. They are usually between 3 and 5 millimeters thick, and are made of steel or composite material.
Plates are also inserts between the midsole and outsole, and underneath the shanks. They reinforce the shoe and protect your feet from harsh terrain.
What are women's hiking boots made of?
Hiking boots are made of a variety of different materials which are sometimes combined.
Leather is one of the most popular choices:
Full-grain leather is durable and boasts great water resistance. It's usually used in sturdy boots that need to survive long backpacking trips across different challenging terrains. It is quite heavy and requires considerable break-in time, but it's perfect if you need something durable and tough.
Split-grain leather is lighter, and often combined with synthetic materials such as nylon mesh to create boots that are durable but lighter than their all-leather counterparts. They usually cost less than full-grain leather boots, but are also not as waterproof. However, depending on the lining used in the boot, they can be waterproof.
Nubuck leather is similar to full-grain leather in that it is durable, water-resistant, and requires a long break-in time. The main difference between the two is aesthetic, as Nubuck leather looks like suede.
Polyester, nylon, and synthetic leather are all commonly used in modern day hiking boots. The main benefit of synthetics as opposed to leather is that they break in easily, are very light, and dry quickly. If they are paired with the right lining, they can also be breathable and waterproof. Synthetic hiking boots are usually, but not always, cheaper than leather boots.
Vegan hiking boots have become increasingly popular in recent years, and are made with a variety of synthetic materials (like some of the above). Just because boots are not made of leather doesn't mean they're vegan: Many types of glue, for example, are actually derived from animals. Vegan hiking boots avoid any kind of animal products in their construction.
Making sure your new boots fit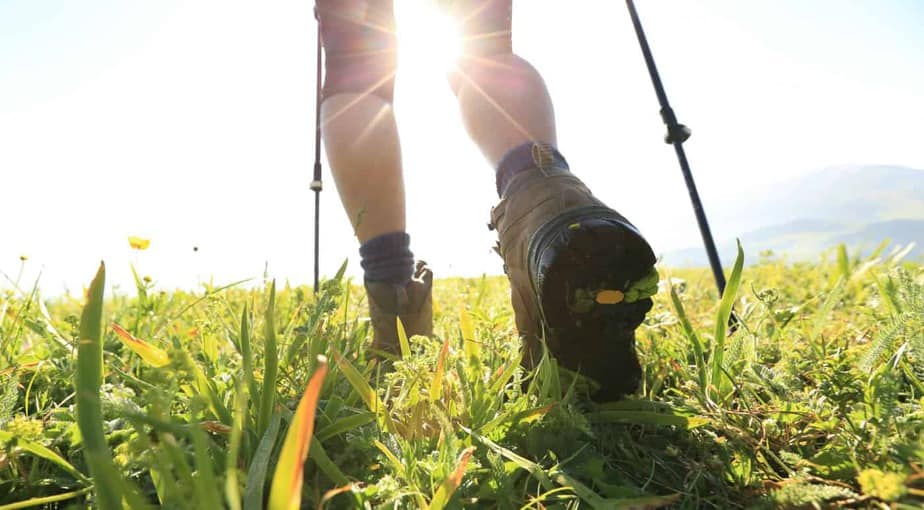 It may seem easy, but finding a pair of women's hiking boots that actually fit is quite an ordeal. Here are a few easy tips to help you avoid blisters and achy feet:
Know your foot size: Get your feet professionally measured (many outdoor gear shops do it for free) before you buy your new boots online.
Size up: Buying boots one size larger than you normally would ensures you can wear thick socks on your hike, and stops your toes from feeling too cramped.
Try them on: Order the boots you love in the size you think you are, and spend some time in them. If they don't feel right, send them back!
Walk in them: Simply slipping them on and off won't do. Remember, you'll be hiking, climbing, and jumping around in these boots. Take them for a real ride before you decide.
Try them with insoles (or footbeds): Insoles can make your boots more comfortable, or make them fit better.
Allow enough time to break them in: Breaking in your boots is extremely important if you don't want to end up with achy feet. It's especially important if you choose traditional leather boots. It may not be comfy, but it's worth it!
Use the right socks: Seamless socks can reduce rubbing, while synthetic ones dry quicker and reduce the risk of blisters better than cotton.
Methodology
With so many great hiking boots for women available on the market, whittling the list down to the 10 absolute best isn't an easy feat. So we did it for you: First, we long-listed some of the favorites by reading through dozens of websites and examining thousands of reviews, comments, and ratings by avid hikers.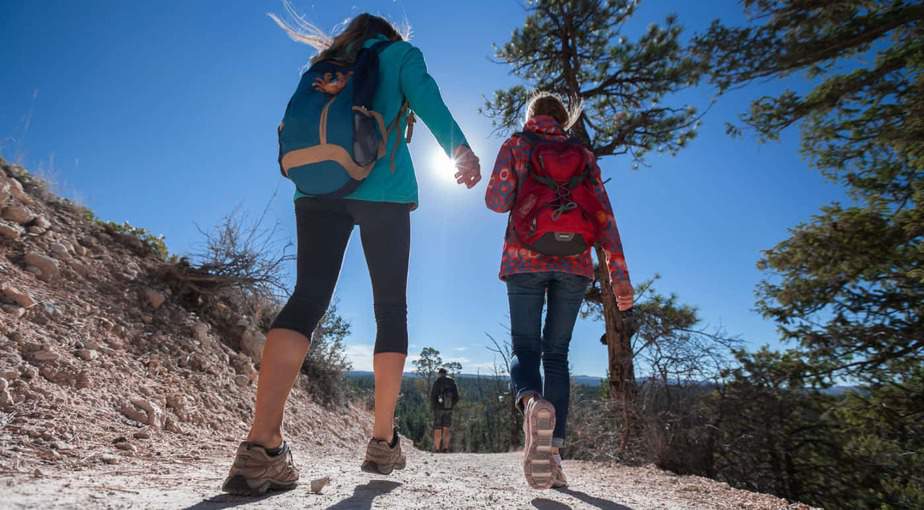 Then we created a scoring system and rated each hiking boot based on the following factors:
Comfort
Traction
Waterproofness
Arch support
Ankle support
Quality of materials
Value for money
Then we took an average of these scores for a final metascore and created our ranking. Read on to find out which hiking boots for women made it to our top 10 list.
The Best Hiking Boots for Women
1
Ahnu Women's W Sugarpine II Waterproof Hiking Boot
You probably don't know it yet, but the Ahnu Sugarpine II just might become your new favorite hiking boots. The Ahnu line is made specifically for women, and you'll notice the difference the second you slip them on. As hiking boots go, these are extremely light, yet manage to support and protect your feet.
Although some parts of the boots are made of leather, these most definitely are not leather boots, which would be heavy and less flexible. By contrast, these mostly synthetic boots feel soft and flexible, helping you navigate the toughest terrain.
One of the most remarkable aspects of these boots is that they are waterproof, yet incredibly breathable. You can start off at the base of a mountain and not suffer in the sweltering heat, but also not feel cold as you make your way through snow up to the peak.
Pros
Lightweight
Breathable
Tough
2
Merrell Women's Moab 2 Vegan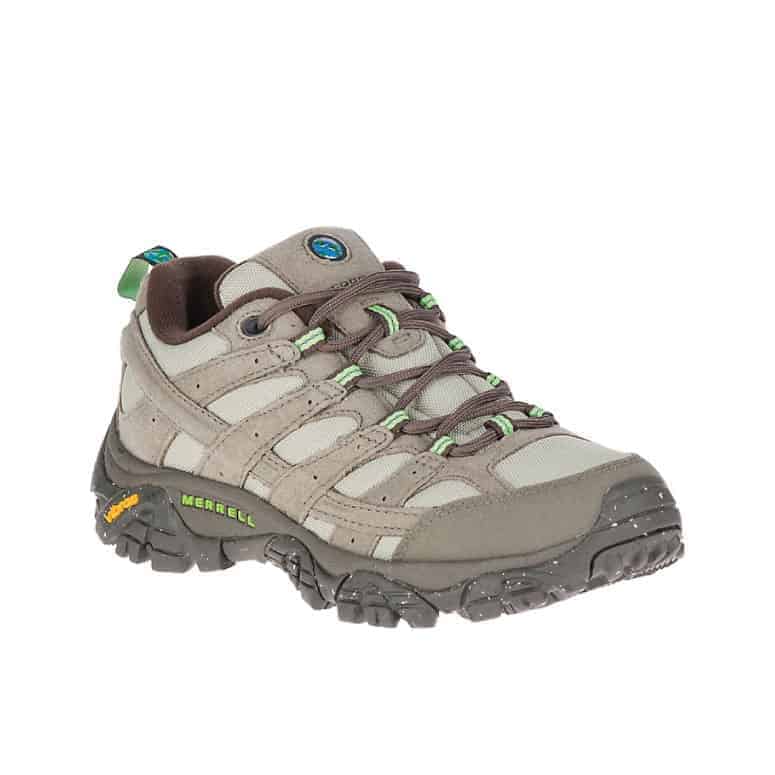 Merrell only recently released the Moab 2, which is a fully vegan-friendly, synthetic hiking shoe.   This brand is known for high-quality products, and the Moab 2 Vegan is no different, proving that you don't need animal products for your shoes to work well.
This model is truly comfortable, thanks to the cushioned collar and tongue, and the well-designed footbed, which supports your foot in all the right places. The Moab 2 is perfect for summer or spring hikes, because it is made from synthetic mesh, giving it above-average breathability (but little waterproof qualities).
Because this is a lightweight hiking shoe rather than a boot, it does not offer much ankle support and might not be the best choice to hike over extremely challenging terrain. For anything else, though, this is an excellent and ethical choice.
Pros
No animal products
Extremely comfortable
Good durability
Cons
Too flexible for hard trails
Average traction
Not waterproof
3
Hoka One One Women's Tor Tech Mid Waterproof Hiking Boot
Just like the popular running shoes that came before it, the Hoka One One Tor Tech make you feel like you have cushions strapped to the soles of your feet. How can hiking boots possibly feel so comfortable? Hoka uses a blend of proprietary foam layers as the base of the boot's midsole, giving it that unmistakable plush feel.
These boots might not look or feel like anything you've ever seen before ⁠— the cushioned sole has an unusual rocker shape, which takes a while to get used to ⁠— but they perform as well as the best out there.
Despite the lack of shank, these boots are remarkably rigid and feel pretty stable. Thanks to the Vibram Megagrip outsole, they win high marks for traction and grip. Invest in a pair of these boots, and we're pretty sure you'll never look back.
Pros
Unparalleled comfort
Good stability
Good grip
Cons
Expensive
Not for tough terrains
Shape requires getting used to
4
Lems Women's Boulder Boot Leather
In 2008, the Lems creator decided to build a shoe that would fit the foot's natural shape, rather than pushing and squeezing it into something different. He understood that naturally comfortable shoes should be roomy at the front, leaving space for the toes, and flexible throughout. The company has created several models since, but their philosophy remains the same.
You can see it ⁠and feel it in the Women's Boulder Boots, which are highly flexible, extremely lightweight, and perfect for traveling and hiking. While maintaining the Lems trademark minimalist approach, these boots feature a full-grain leather upper and injection-blown rubber outsole.
The zero-drop design places your forefoot and heel flat to the ground, which in turn corrects your posture and helps keep your spine aligned. If you still need convincing, just take a look at them: They're incredibly stylish.
Pros
Innovative design
Very flexible
Lightweight
Cons
Average traction
Not waterproof
Not the most supportive
5
Timberland Women's White Ledge Mid Ankle Boot
The Timberland White Ledge Mid Ankle Hiking Boot is a favorite among hikers across the nation (in fact, it's one of the best-selling hiking boots on Amazon). Tough, durable, and waterproof, these versatile leather boots are for women who like to push themselves through difficult conditions.
The upper part of these boots is made with fully waterproof grain leather, and the whole shoe is seam-sealed, meaning that not even a drop of water can get through to your socks. The outsole is made of rubber and features multidirectional lugs, which enhance traction and keep you from slipping.
On the inside, a dual-density EVA footbed keeps your foot cocooned and comfy, even if the outside is battered by the elements. These Timberlands are great for gardening and working outdoors as well as hiking.
Pros
High-quality leather
Durable
Comfortable
Cons
Below-average ankle support
Average traction
Too soft for rough terrain
6
Vasque Women's Talus Trek UltraDry Hiking Boot
Made of leather and synthetic materials, these mid-cut hiking boots are flexible and comfy without compromising ankle support. Their UltraDry waterproofing system keeps your feet toasty and dry, while a dual-density EVA foam footbed is comfortable and supportive.
The Talus Trek UltraDry boots also feature a Vibram Nuasi sole, which uses XSTrek rubber compound and angular, multidirectional lugs to increase traction. Women who swear by these boots especially love the easy speed-lacing construction, which allows you to loosen or tighten them around your ankle depending on your size and the type of hike you're doing.
These boots also have pretty good arch support, so you won't have achy feet at the end of a long hike. They also perform well if you stick to trails, but become a bit more slippery on rock or harsher terrains.
Pros
Good arch support
Comes in wide sizes
Speed-lacing construction
Cons
Poor traction
Average ankle support
Expensive
7
Columbia Women's Newton Ridge Plus Waterproof Amped Hiking Boot
If you've just discovered a love of hiking, the Columbia Newton Ridge Waterproof hiking boots make a great entry-level pair of hiking boots. These budget-friendly boots are made of waterproof leather and are seam-sealed, so your feet stay dry throughout your hike. Besides being a great value, another reason to love these boots is their impressive comfort level.
Unlike many other all-leather options, these boots don't require long break-in periods, and immediately feel soft and cozy. However, softer, more flexible shoes also mean less support. If you are going on a long, challenging hike, invest in a different pair of hiking boots.
But if you are a weekend warrior who ventures out on moderately difficult hikes, these boots are more than adequate. Plus, you have several cute color combinations to choose from!
Pros
Great value
Waterproof
Comfy and soft
Cons
Average traction
Poor ankle support
Average arch support
8
Salomon Women's Quest 4D 2 GTX Hiking Boot
Salomon is known for making high-quality, high-performance outdoor gear. These excellent hiking boots for women borrow running shoe technology to provide stability and comfort, even for very long hikes. The sole has excellent grip, and the boots feature a high-top design which protects your ankle during difficult hikes.
However, they are a bit heavy for many hikers. Some people find the high-top design difficult to get used to, claiming that the tongue rubs or bunches up. They are also quite wide, which is great for those of us who have wide feet and like to wiggle our toes, but can prove too much for some.
There is no questioning the quality of these hiking boots, but the design is not for everyone. If you are a fan of the Salomon brand, order a pair and wear them around the house. You might fall in love, but if not, you can easily return them!
Pros
Overall high quality
Comfortable
Great ankle support
Cons
Heavy
Too wide for some
Very expensive
9
L.L.Bean Women's Storm Chaser Boots with Arctic Grip
These insulated hiking boots are made for those of you who love to venture out into the freezing cold and are not put off by a few meters of snow or a sheet of ice. L.L.Bean's waterproof, lace-up Storm Chaser Boots are the perfect companion for these winter hikes, and they'll keep your feet warm with 200-gram PrimaLoft insulation and a waterproof membrane.
The uppers effectively shield you from snow and icy water, while the Vibram Arctic Grip tech gives you great traction on smooth rock or icy surfaces.
These boots are undoubtedly a good option if you spend a lot of time hiking in freezing weather, but become too hot if you're an occasional hiker who prefers warmer climates.
Pros
Very well insulated
Waterproof
Good traction
Cons
Too hot
Expensive
Too wide for some
10
XPETI Women's Thermator Evo Mid High-Top Waterproof Leather Hiking Boot
Another one for the ice and snow, the Xpeti Thermator Evo Mid High-Top Waterproof Leather Hiking Boots for women are comfortable, durable, and extremely warm. Their rubber toe cap and heel molding give you stability and protection on all kinds of terrain, and the EVA midsole keeps your feet cocooned and warm.
These shoes are also waterproof, so you don't need to worry about any of that icy water getting through.
While these boots really shine in cold, winter conditions, they don't fare as well during spring or summer hikes (unsurprisingly they get very, very hot!). They can feel rigid and clunky underfoot, so they are not for you if you like to feel springy and nimble.
Pros
Extremely waterproof
Good traction
Warm
Cons
May become too hot
Clunky
Not very breathable
Related Rankings
Best Lightweight Hiking Boots
Why do I need hiking boots?
You may think you can get away with wearing tennis or running shoes on a hike. If you plan on taking anything a little more challenging than a gentle stroll in a grassy field, investing in a good pair of hiking boots is well worth it.
Tennis and running shoes are built for specific conditions and terrains, and they don't protect your feet or ankles. You could feel lumps and bumps through your soles, or easily roll and twist your ankle. Running and tennis shoes also have a very minimal lug pattern and offer very little traction, so you'll be slipping and sliding if you encounter gravel, mud, or grass.
Insulation is also a factor: While running shoes can be quite breathable, they are very lightly insulated and won't keep your feet warm on cold hikes.
If you're sure you don't like hiking boots (they do take some getting used to, so don't knock them before you try them) you can always choose a lighter weight, low-rise hiking shoe. They offer better protection and traction than tennis shoes, but don't feel as heavy or rigid.
Are women's hiking boots different from men's?
In short, yes, women's hiking boots are different from men's. Just like normal shoes, women's hiking boots come in a variety of sizes, and are designed for the shape of a woman's foot. Usually they are narrower, and have a more supportive arch.
You can get women's hiking boots that fit wider feet, or you can buy insoles for narrower feet. A good hiking boot fits snugly, but also leaves enough room to wiggle your toes. You should also feel like your arch is supported but not uncomfortable.
There is nothing stopping you from trying on shoes meant for a different gender — after all, feet come in all shapes and sizes! If you're a woman looking for new hiking boots, we recommend you start by trying on women's boots. Try wider models or insoles if you need adjustments. If it still doesn't feel right, go ahead and try on a pair of men's (or even children's if you have tiny feet!).
Should I get leather hiking boots or synthetic?
Traditionally, hiking boots are made of leather. Many hikers still love the traditional, natural look of leather over synthetic materials, which broke into the market in recent years. Both options are good, and people often make their choice based on the look and style they prefer. But these two types of material also have very different qualities.
Leather boots tend to be heavier and sturdier, while synthetic are more lightweight. You can also get boots that combine both. Since leather boots are heavier, they also tend to be more stable, but may feel too rigid and heavy for some people.
Breathability and waterproofness really depend on the quality and combination of materials used, and mostly depend on the kind of lining the boots have.
Another factor to keep in mind is the price: Leather boots tend to be more expensive, while synthetic boots generally cost less. But with top brands investing in the very best materials and technologies for their synthetic hiking boots, that is starting to change.
What are the best hiking boots?
We spent hundreds of hours trawling the internet to answer this question. We aggregated data from across dozens of specialized websites and compiled this ranking of the best hiking boots for women based on those results.
At the very top of our list is the Ahnu Women's Sugarpine II Waterproof Hiking Boot, a leather and synthetic option that is stylish yet incredibly comfy and sturdy. Perfect for a challenging hike or a walk in the park!
But we know that everybody has different priorities and prefers different styles when it comes to hiking boots, so don't worry, we have you covered. There are nine other hiking boots for women on our list, all with very different characteristics but with one thing in common: quality.
Be sure to read through our list to make an informed choice.
RAVE Recommends
You'll be a trailblazer with your new hiking boots, so why stop there? Get your hands on a few of these other great products before you set off.
York Nordic Collapsible Trekking & Hiking Poles with Digital Camera Mount ($50): These adjustable, lightweight walking poles are perfect for a day out on an easy to mid-level hike. Not only will they help you keep your balance while you hike, they also have a built-in camera mount, so you can immortalize the moment forever.

Danish Endurance Merino Wool Hiking Socks ($14): Made with high-quality merino wool, these Danish socks keep your feet warm in cold weather, and cool in warm weather. The seams and mid- to high-level cushioning prevent your feet from getting blisters, and stop your socks from bunching up inside your boots. They're perfect for a long day out hiking.

National Parks of the USA ($17): Need some inspiration? Take a tour of America's great outdoors and discover our incredible national parks by leafing through this gorgeous book. With stunning illustrations, detailed maps, and fascinating stories, "National Parks of the USA" celebrates the nature with which we are blessed, and reminds us how important it is to preserve it.

TETON Sports Scout 3400 Internal Frame Backpack ($70): This bestselling backpack is popular for all the right reasons. Not only is it the perfect size and shape for a two- or three-day adventure, but it also can be adjusted to fit a whole range of body sizes. Every pocket is protected yet easy to reach and open, making this backpack super practical, stylish, and durable.

ATOMIC BEAR Paracord Bracelet ($10): Safety should be everyone's first concern while hiking, snowboarding, or skiing. These cool little bracelets come with five survival gear essentials: a fire starter, reliable compass, emergency whistle, a small knife, and 12 feet of military-grade paracord.

Randy Brangman
Randy Brangman is a Licensed Physical Therapist and Exercise Therapist and a former long distance runner. He is the founder and Lead Exercise Instructor at Trinity of Wellness. Spending more time in running shoes than flip flops, he travels the world while going through pair after pair. He is currently writing a book about joint therapy.