If you're looking to switch from a plastic bottle to a glass one, you might as well go for the best: Epica Glass Beverage Bottles are elegant, practical, and eco-friendly.
Their well-designed cap means you can take them wherever you want without risking a disastrous leak (we've all been there!). These popular water bottles scored consistently well across all our categories, and they're a real bargain for the price.
According to my mom, there are few things that you can't solve with water. Headache? Drink a glass of water. Tired? Water. Bad skin day? Water will clear it up!
But these days, when so much of our lives are spent on the move, it can be hard to always have a drink handy (or, er, on tap). So we end up buying disposable plastic bottles, using them once or maybe a few times, and tossing them – which, of course, isn't good news for the environment or our health.
So it's time to switch to glass. But is there really much difference between one glass bottle and the next?
Well, actually, yes.
As with most things, it's in the details: A badly designed opening and you'll be spilling water all over your face (a classic mistake), while a fragile glass bottle that's too delicate to come along on your daily adventures defeats the point of having one at all.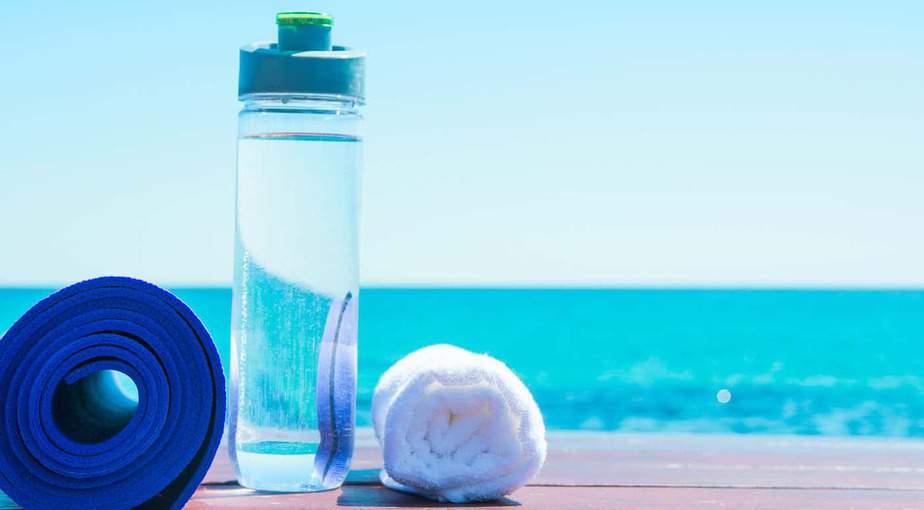 Choosing the perfect glass water bottle is not as easy as it may seem. Luckily, we have spent days researching every possible option, and have come up with a list of our favorites.
The Glass Water Bottles We RAVE About
You won't need a genie to choose the best bottle: We've done it for you.
When you're running around in the great outdoors, practicality is what you need. The Takeya glass bottle is easy to carry and to drink from, thanks to its convenient carry hook and well-designed sip lid.
Read Full Review
Shop the Takeya 22oz. Classic
Do you like knowing where products come from, and how they're produced? Purifyou's glass bottle is made by a family-run business that strives to be environmentally friendly and health-conscious.
Read Full Review
Shop the Purifyou Premium
When affordable plastic bottles were introduced in the early 1960s, it looked like the humble glass bottle may become something of the past. Plastic bottles were cheap, lightweight, and disposable. But were they better? Sixty years later, we're not so sure.
The Environment
Our dependence on plastic has been terribly damaging for our environment. An estimated 150 million tons of plastic have invaded our oceans, posing a danger to marine life from turtles to fish to coral reefs.
Processing plastic resins and transporting plastic bottles means that they also have a massive carbon footprint. And here's a mind-blowing fact: It takes 3 times the amount of water to produce a plastic water bottle than it does to fill one with water. Doesn't make sense, does it?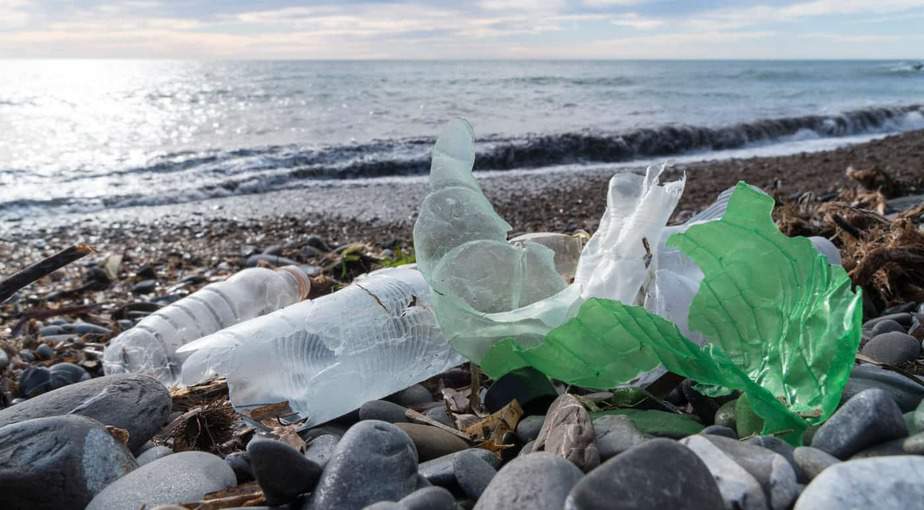 Thankfully, countries are slowly turning away from single-use plastic such as plastic bags, straws, and disposable bottles. And while the road to a plastic-free world is a long and complicated one, all of us can take small steps towards it.
Buying a glass water bottle is one such step.
Unlike plastic, glass is made from all-natural, sustainable raw materials, and it doesn't degrade over time. Glass is 100% recyclable, and there is no limit to the number of times it can be recycled! It's also very durable, so you could be holding on to yours for years.
Health
Glass bottles are not only better for the world we live in — they are also better for our health.
Water is essential for a healthy mind and body: It carries nutrients to our cells, balances energy levels, and flushes out toxins. Some studies even suggest that being hydrated helps keep our stress level under control.
Water is vital, and we want to make sure that what we're drinking is clean, healthy, and pure.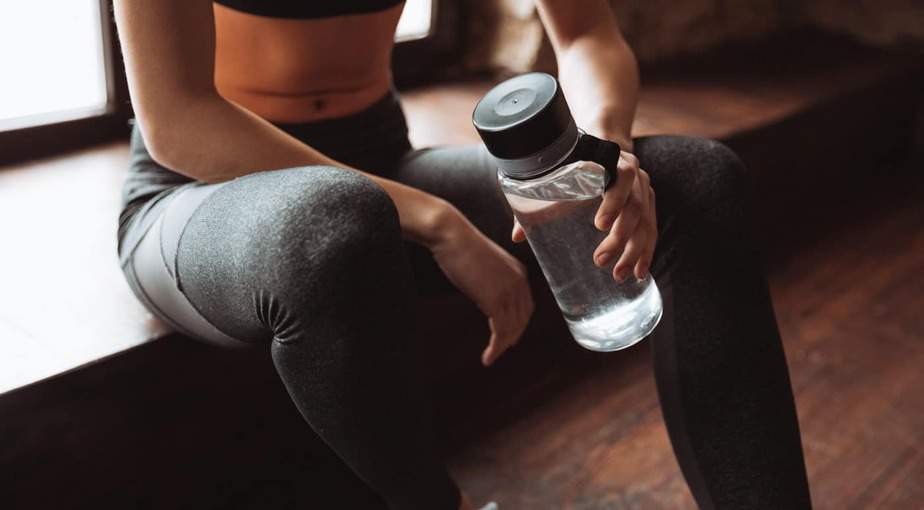 But certain types of plastic used in disposable bottles degrade easily and leak scary-sounding chemicals into the water we drink.
Bisphenol-A (BPA) is one such chemical. It's well known to be damaging to our health and especially our endocrine system, which regulates our hormones, growth, and moods. In other words, BPA is not something you want to be drinking.
Thankfully, glass water bottles don't contain chemicals such as BPA, and so the water they carry doesn't get contaminated. And as glass is less permeable than plastic, it doesn't absorb flavors. So you can have kombucha one day and throw some lemon and lime in there the next. But after a quick rinse, your water will be tasting as fresh as ever.
Style and savings
Americans spend an incredible $16 billion on bottled water every year. That's a lot of money down the drain – and straight into the landfills!
Buying a glass bottle may seem like a small investment — most of our favorite bottles cost between $10 and $40 — but it's a worthwhile one. With one of these beauts in your bag at all times, you won't have to buy bottled water all the time. Those dollars add up!
And one more thing about glass bottles: They just look so good, no matter the size, color, or design.
For a sophisticated look, there are several different glass bottles which are simply designed — clear glass, steel caps, and clean lines — and look elegant and timeless.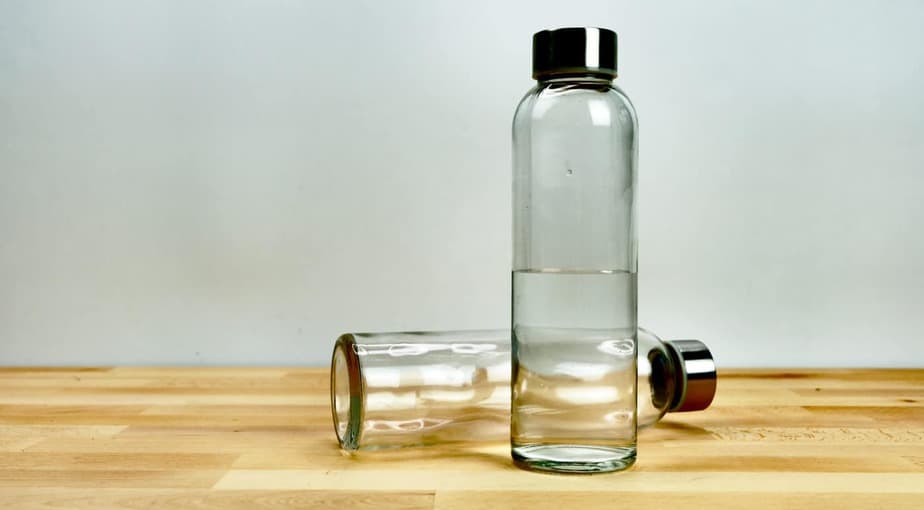 For a more sporty and fun vibe, you can go for a glass bottle in a funky color or one encased in anti-slip silicone case. The cases come in different bright colors and groovy designs, so you'll definitely find one you love.
But glass isn't just pretty: It's functional too. Some of our favorite bottles come with a handy carrying loop, so you can easily hold it in your hand or even loop it onto your belt during a hike, concert, or festival.
Methodology
We carefully examined dozens of websites, combing through hundreds of ratings, reviews, and comments from users and consumer journalists. We then created a robust scoring system by taking an aggregate of scores across a range of different categories. To come up with the finalized ranking, we used a scale from 0-100.
Our methodology is based on a weighted score of a variety of factors, including:
Value

Durability

Practicality

Style

Overall quality and design
We took an average of those scores for a final meta-score and built our ranking from there. 
Best Glass Water Bottles
Why is glass better than disposable plastic?
Firstly, glass is a lot more environmentally friendly – it can be recycled over and over again, and producing it is not as damaging as making plastic (glass is mostly made of sand).
But it is also better for our own health. Mounting research suggests that plastic bottles degrade, especially when exposed to heat and light, leaking damaging chemicals into our water.
And if that weren't enough, glass doesn't absorb odors, so drinks stay tasting fresh!
Are glass bottles better than steel?
Steel is another popular option for water bottles. As with everything, it all depends on the quality of the product.
Some steel bottles can leak chemicals such as BPA or metals like iron, chromium and nickel into alkaline and acidic drinks. But there are many great, safe options for steel bottles too.
But doesn't glass break?
As a chronically clumsy person, this was one of my main concerns. The simple answer is yes, glass does break. But the glass water bottles on our list are especially designed for people like us — they're made to be durable.
Plus, some bottles come with a practical silicone sleeve which protects the glass in case of falls. That being said, don't go kicking them around! It is still glass, and it requires a little more attention than plastic or steel.
What are the best glass water bottles?
Well, we spent hours trawling the internet's most popular review sites and aggregating data to find an answer to this question (you can read about our methodology up near the top). And lo and behold, we found the people's favorite: Epica Glass Beverage Bottles.
These water bottles are simple, beautiful, functional, and — best of all — surprisingly cheap.
But it was a close call — there are tons of great options out there. It really depends what you're looking for: Do you want to brew your own kombucha or make your own juices? Is the bottle going to sit on your desk at work? Or are you searching for a bottle to take on backcountry hikes?
Take a look at our list to find the perfect glass bottle for you.
RAVE Recommends
Now that you have your glass bottles, you're going to want to fill them. Hot or cold, juice or booze – the possibilities are endless!