Most of us spend hours sitting (more than we'd like to admit), oftentimes to the detriment of our lower backs.
Here at RAVE Reviews, we found a desk chair that will allow you to sail through the workday pain-free: the Herman Miller Sayl Chair.
Our overall best ergonomic office chair proves its worth with stunning aesthetic, ergonomic design, and ecological integrity. But the Sayl Chair is just the start. We have nine more back-saving ergonomic office chairs for you to consider.
How much time do you think you spend sitting down during a typical day? Let's look at the numbers. According to a recent study by the Saint Joseph Mercy Health System, the typical working American sits for an average of 64 hours a week. That's 24 hours beyond a 40-hour workweek and 9 hours per day. If it's not already obvious, we spend a lot of time sitting.
Unless you are diligent about taking stretch breaks and staying active throughout the day, the accumulation of all that sitting wreaks havoc on your back and neck. You know the feeling. While you're typing away and answering emails at your desk, the pain in your lower back is slowly baring its teeth. The pain can seep into activities beyond sitting, affecting your sleep, work, and social life.
But we're not here to "sit shame" anyone. We're here to make things better. So for those of you who are concerned about maintaining your health throughout your workweek, we have a solution for you: an ergonomic office chair designed to prevent back pain. In fact, we have ten for you to choose from!
The Ergonomic Office Chairs We RAVE About
Best Overall
Herman Miller Sayl Chair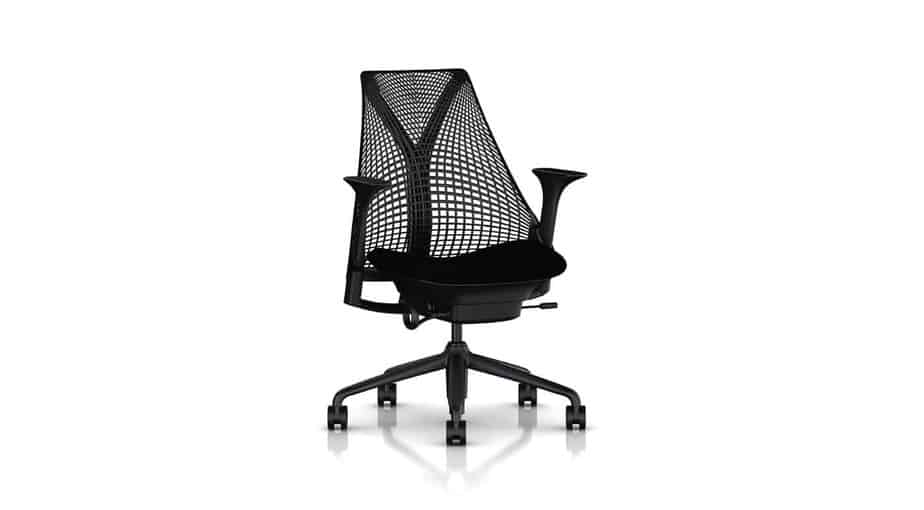 Best Budget
KADIRYA High Back Mesh Office Chair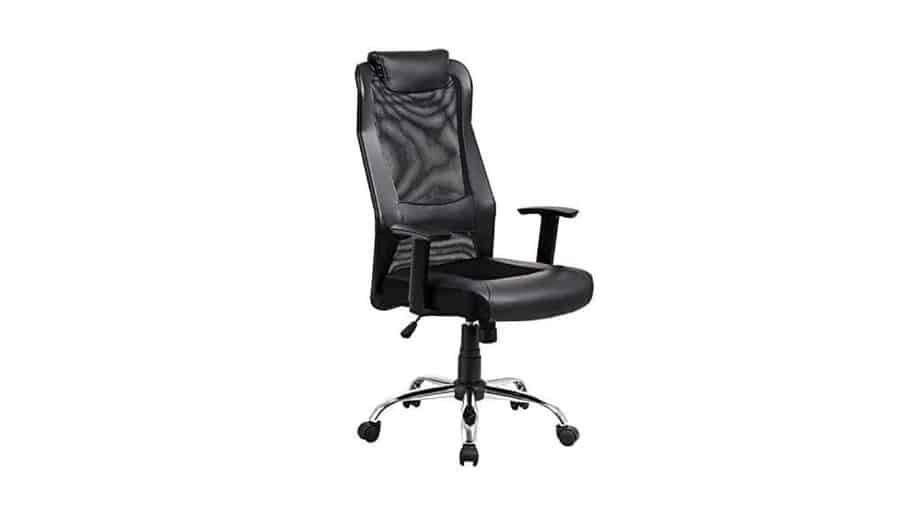 Most Customizable
Herman Miller Aeron Chair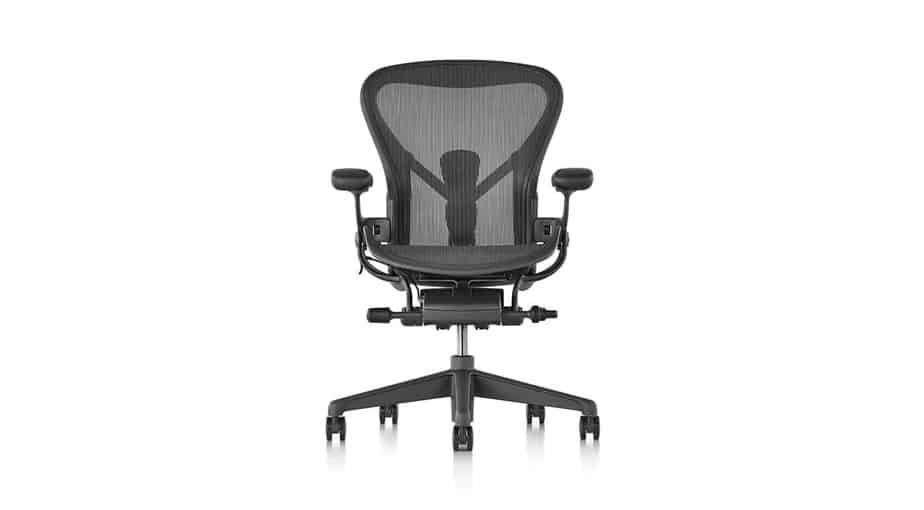 There's Nothing Worse Than a Sore Back
It puts a cloud over everything, especially any chance you have at a productive workday. Those of us who have desk jobs spend long hours sitting in front of our computers. Then we get home and sit down for dinner, move to the couch and catch up on Netflix, and then fall into bed. The next morning we start all over again.
That doesn't give our bodies much time to stretch out and move in dynamic positions that are required to keep our joints and muscles healthy. So how do you stop the cycle? Ergonomic seating can help to dramatically ease the pain of sitting.
What Do You Mean by "Ergonomic?"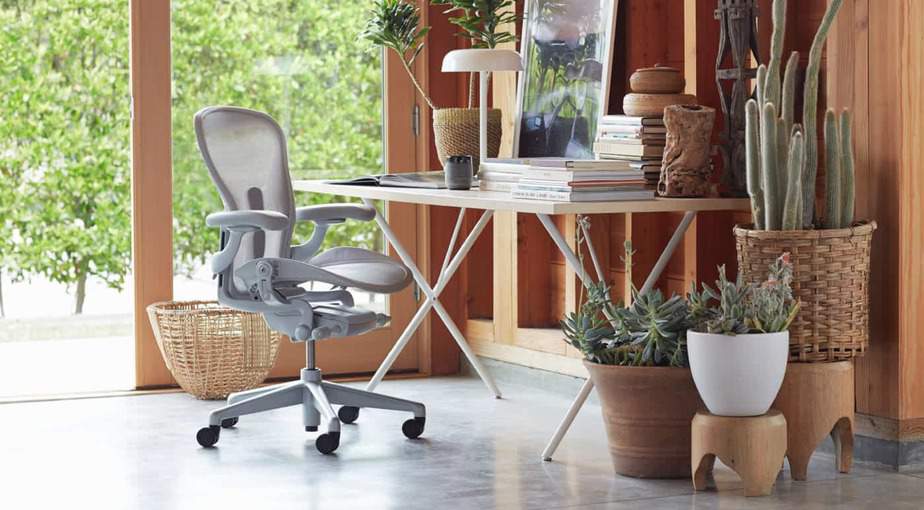 Ergonomic has become a hot-button word over the last few years. Technically, it means "related to or designed for efficiency and comfort in the working environment." But let's unpack that a bit. What would an ergonomic office setup look like, specifically?
Here are four elements to keep in mind as you put together your ergonomic office space:
Chair: Above all, find an office chair that promotes the natural curve of your spine. Then think about armrests, chair height, lower back support, and good posture. More specifics on that below!
Computer Monitor: The computer monitor should be about an arm's length away from your face, with your eyes level with the top of the screen.
Keyboard and Mouse: Your computer accessories should be close to your hands. Be sure to keep your wrists straight and maintain a 90-degree or 100-degree angle with your upper arms and forearms.
Desk: Make sure your desk is set at the correct height for your knees to fit comfortably underneath it with your feet planted firmly on the floor. Or, consider a standing desk.
Ergonomic Trends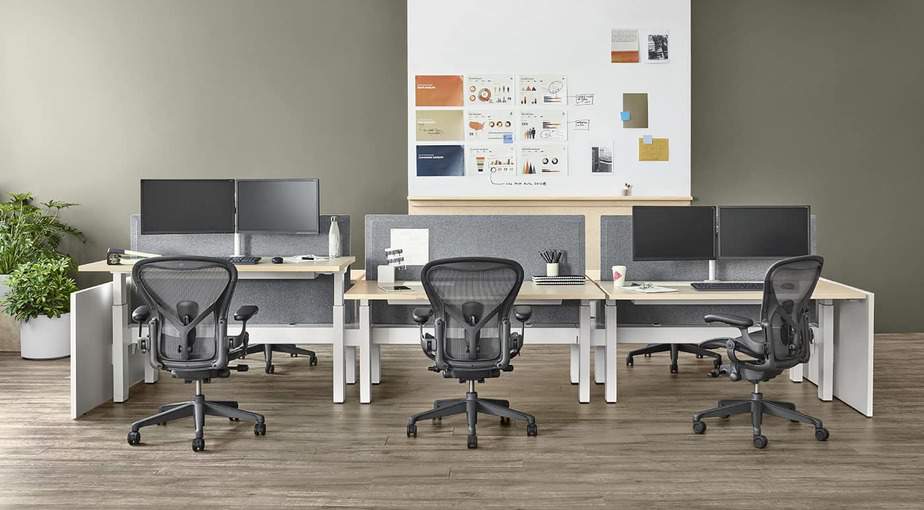 Now that you have a good sense for how to set up an ergonomic workspace, let's narrow things down to the office chair. Right now, there are lots of chairs on the market that claim to be ergonomic. But before you spend lots of money on a high-end chair, you should know a bit about the specific elements that are required to rightfully claim that title.
Looking at the chair from top to bottom, use this checklist to determine if you have indeed found an ergonomic office chair:
Adjustable seat height and tilt mechanism
Firm but comfortable padding on the seat and back
Adjustable backrest (moves forward and backward)
Adjustable armrests (move up and down, tips in and out)
Lumbar support (adjustable is a bonus)
Fluid 360-degree swivel
Solid base (with or without wheels)
Breathable
High-quality upholstery
The common denominator when it comes to ergonomic seating? Customization. It's so important to find a chair you can dial in to exactly fit your needs.
Another general rule of thumb is that ergonomic seating is best when it facilitates the natural shape of your body. Your spine has an S-shape, starting with your cervical spine (neck), then your thoracic spine (mid-back), and finally your lumbar spine (low back).
Most ergonomic chairs pay special attention to the lumbar spine simply because your lower back tends to take on the most pressure when you sit for long periods of time. Extra lumbar padding is a must for ergonomic seating.
Active Seating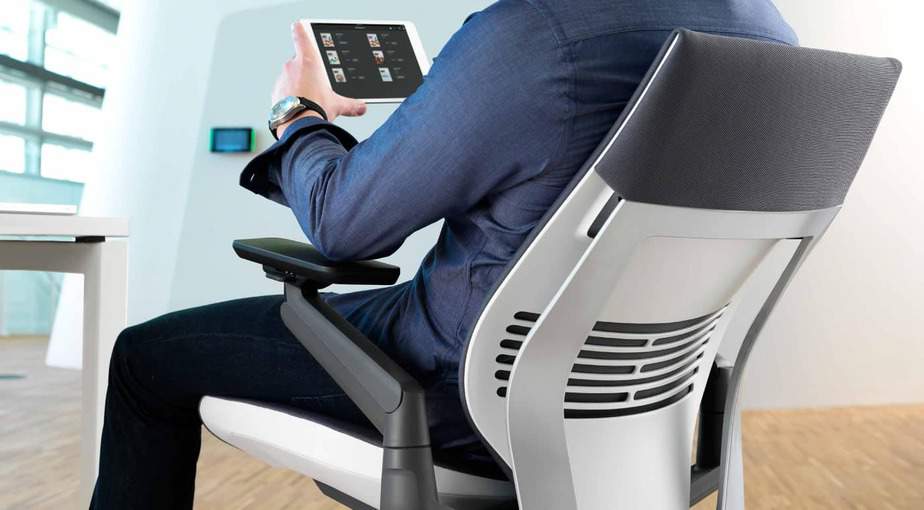 As you go about your search, you'll likely come across the phrase "active seating." This is a growing trend in the world of ergonomics. Basically, it means seating that is designed to keep your body active throughout the day.
The theory behind active seating is that by encouraging your body to stay dynamic rather than static during the workday, you're promoting increased blood flow and oxygen intake, as well as preventing your muscles from locking into one position.
One example of active seating is a waterfall front edge on the seat cushion. This removes the pressure from the back of your knees and frees up circulation. Another example is 360-degree swivel capability, which promotes mobility in your spine throughout the day.
Some ergonomic office chairs intentionally tip the main seat forward (or provide an adjustable mechanism to do so) in order to position you with your feet planted on the ground. In short, keep comfortable, but keep moving!
Methodology
There are so many office chairs out there, and so many variables that can determine what makes the best chair. So how did we narrow in on just the top ten? The short answer is data.
We crafted a methodology that considered not only product specs, but also consumer reports and reviews. User experience is key when it comes to products that advertise pain relief. We wanted to make sure these products actually walk the talk.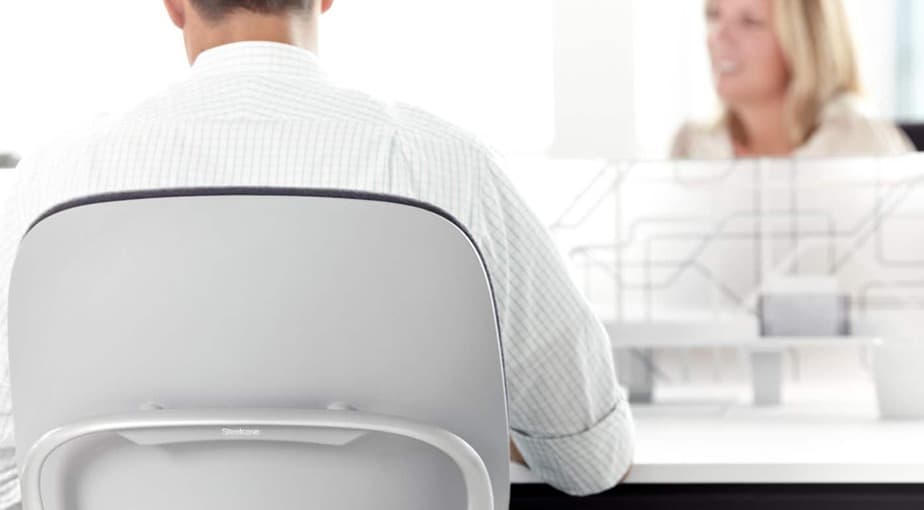 We weighed both qualitative and quantitative data, and considered not only how ergonomic the chair is, but also its longevity, cost, and overall functionality. Here's a look at our top priorities, as well as the core questions we considered:
Ergonomic Viability: Was this chair designed with your back in mind? We only selected chairs that include features specific to spine support.
Custom-Made: Can this chair be adjusted to fit specific needs? Not all backs and body types are the same. You need a chair that fits you.
Price: How much will this chair set you back? It's crucial to consider your budget before making a big purchase.
Warranty: Will this chair stand the test of time? A warranty oftentimes indicates the quality of the materials used.
Amazon Review Score: What do other people have to say about the chair? In the end, that's probably the most reliable measurement of all.
Ready to start feeling less back pain? Take a look at our ten best ergonomic office chairs.
The Best Ergonomic Office Chairs
Why do some chairs cause back pain?
So what's the big deal about sitting? Why does it tend to cause back pain? It's sort of a "chicken or the egg" scenario. As it turns out, we shouldn't rest all the blame on the chairs themselves. A large part of the problem is our posture… but certain chairs encourage poor posture. See why it's so hard to pin down the culprit?
Whether or not you have an ergonomic chair, we all tend to fall into the same postural habits. Here are a few reminders to keep you and your office chair working in harmony:
For good posture, keep your head aligned squarely on your shoulders. Most of us tip our heads forward to look at a screen or down at our desks. Our heads are heavy—10 pounds, on average. Over time, this angle puts intense strain on our necks and upper backs, causing neck pain and stiffness.
Don't roll your shoulders forward. Chairs with limited lumbar support make us curve inward, which puts unnecessary strain on our back muscles.
Keep your elbows tucked toward your torso. The further your arms are away from your body, the more pressure they absorb from even the most mundane tasks (like moving a mouse or typing on a keyboard). Adjustable armrests are crucial.
Take breaks and stand up. If you sit too long, your vertebrae tend to become compacted, potentially leading to long-term disc compression issues. So stand up and stretch every 30 minutes.
Can ergonomic office chairs improve overall health?
Yes! You'll see almost immediate improvements to your overall health with an ergonomic office chair. In fact, that's the whole point. The impact of ergonomic seating is overwhelmingly positive, not only for our physical health, but also for career satisfaction and productivity.
Spine health is at the center of everything. The spine houses our core musculoskeletal structures, millions of bundles of nerves, and major blood vessels. When the spine is compromised, our entire system is compromised.
On the flip side, when we find seating options with ergonomic integrity, we start to see huge positive changes to our overall physical health. Here are just a few:
Increased blood flow to the legs
Increased oxygen to the brain
Improved joint health
Better connective tissue fluidity
More toned pelvic floor muscles
Ergonomic seating goes beyond just physical health. It's kind of a no-brainer that when your physical health improves, other aspects of your life follow suit. According to a recent (2016) study by the Washington State Department of Labor and Industries, ergonomic seating in an office setting had a direct correlation with the following:
Significant decrease in sick days
Lower number of work errors
Boosted productivity by 40%
What are the best ergonomic office chairs for back pain?
Even after doing extensive research, poring over industry reviews, and crunching data, narrowing in on only ten of the best ergonomic office chairs out there was a tough challenge. There are so many fantastic options.
While they fall outside of our featured list, we still want to include these five honorable mentions:
There was no waffling, however, about the three stand-out winners for the Best Ergonomic Office Chairs for Back Pain. As a company, Michigan-based Herman Miller, Inc. cornered the market on both best overall ergonomic chair, the Sayl Chair, and the most customizable ergonomic chair, the Aeron Chair. And for those of you looking for a deal, the KADIRYA High Back Mesh Office Chair won't let you down.
When it comes down to it, you are the best judge of which ergonomic chair is best for your back. In the long run, this purchase will save you a ton of money and, most importantly, save you from a backache.
RAVE Recommends
An ergonomic office setup goes beyond just an office chair. We have a few more back-saving products for you to consider: