Most of us spend hours (more hours than we'd like to admit) sitting, oftentimes to the detriment of our lower backs!
Here at RAVE Reviews, we've found an office chair that will allow you to sail through the workday pain free — the Herman Miller Sayl Chair. This office chair proves its worth through its stunning aesthetic, ergonomic design, and ecological integrity. But the Sayl Chair is just the start. We've got 9 more back-saving ergonomic office chairs for you to consider!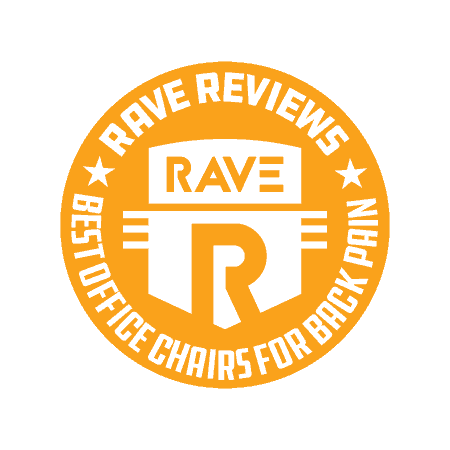 How much time would you guess that you spend sitting in a day? Let's look at the numbers. According to a recent study by the Saint Joseph Mercy Health System, the typical working American sits for an average of 64 hours a week. That's 24 hours beyond a 40-hour work week. That's 9 hours per day. If it's not already obvious, we spend a lot of time sitting.
Unless you are diligent about taking stretch breaks and staying active throughout the day, the accumulation of all that sitting wreaks havoc on your back. You know the feeling. While you're innocently typing away and answering emails at your desk, the pain in your lower back is slowly baring its teeth. For some, the pain can seep into activities beyond sitting, affecting your sleep and social life.  
We're not here to "sit shame" anyone. We're here to make the best out of the situation! So for those of you who are concerned about maintaining your health as you go through your work week, we've got a solution for you: find an ergonomic office chair that is designed to prevent back pain. And guess what? We've got 10 for you to choose from!
The Ergonomic Office Chairs We RAVE About
Save yourself a trip to the chiropractor with one of these chairs.
The Herman Miller Sayl Chair checks off all the boxes — design, price, structure — making it the best overall ergonomic office chair for back pain. This chair is minimalism meets elegance meets healthy back support.
Read Full Review
The KADIRYA High Back Mesh Office Chair somehow manages to be a high-quality, wildly affordable ergonomic office chair. The KADIRYA chair will cost you less than $100 ($82, to be exact), yet can still deliver on lumbar support.
Read Full Review
If you love to weigh your options before making a purchase, check out the Herman Miller Aeron Chair. This chair will fit your particular build and body type — it comes in 3 different sizes. You can also tack on add-ons for further comfort, like adjustable arms, leather arm pads, or adjustable lumbar support.
Read Full Review
There's nothing worse than a sore back. It puts a cloud over everything, especially any chance you have at a productive workday. Those of us who have desk jobs spend (on average) 40 hours a week sitting in front of our computers. Then we get home and sit down for dinner, move to the couch and catch up on Netflix, and then fall into bed. The next morning we start all over again!  
That doesn't give our bodies much time to stretch out and move in dynamic positions that are required for keeping our joints and muscles healthy. So how do you stop the cycle? Ergonomic seating can help to dramatically ease the pain of sitting.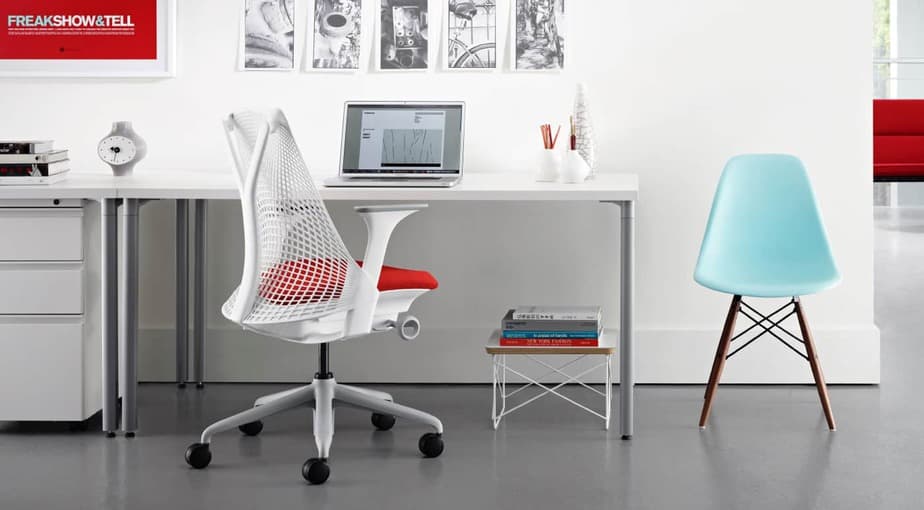 What do you mean by "ergonomic"?
"Ergonomic" has turned into a hot-button word over the last few years. Technically, it means "related to or designed for efficiency and comfort in the working environment." But let's unpack that a bit. What would an ergonomic office setup look like, specifically?
Here are 4 elements to keep in mind as you put together your ergonomic office space:
Chair:

Above all, find an office chair that promotes the natural curve of your spine. Then think about armrests, chair height, and lower back support. More specifics on that below!

Computer Monitor:

The computer monitor should be about an arm's length away from your face, with your eyes level with the top of the screen.  

Keyboard / Mouse:

Your computer accessories should be within close proximity of your hands. Make sure to keep your wrists straight and maintain a 90-degree or 100-degree angle with your upper arms and forearms.

Desk:

Make sure you have the desk set at the correct height for your knees to fit comfortably below it with your feet planted firmly on the floor. Or, consider a standing desk!
Ergonomic Trends
Now that you have a good sense for how to set up your work space in an ergonomic way, let's narrow things down to the office chair. There are lots of chairs on the market right now that claim to be ergonomic. But before you spend lots of money on one, educate yourself on the specific elements that are required in order to rightfully claim that title.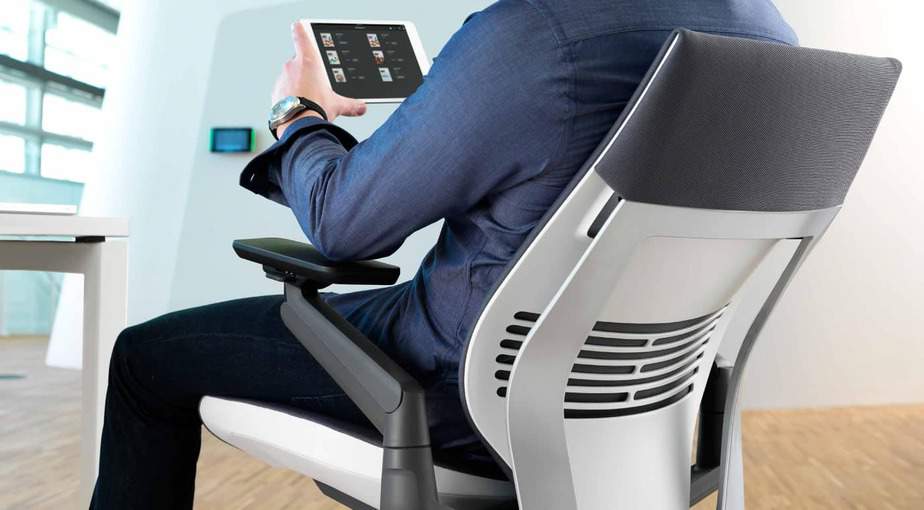 Looking at the chair from top to bottom, here's a checklist of some indicators that you have indeed found an ergonomic office chair:
Adjustable seat height

Firm but comfortable padding on the seat and back

Adjustable backrest (moves forward and backward)

Adjustable armrests (move up and down, and/or tips in and out)

Lumbar support (adjustable is a bonus!)

Fluid 360-degree swivel

Solid base (with or without wheels)
The common denominator when it comes to ergonomic seating? Customization! It's so important to find a chair that you can dial in to exactly fit your needs.
Another general rule of thumb is that ergonomic seating is best when it acts as a facilitator for the natural shape of your body. Our spine has an S-shape, starting with our cervical spine (neck), then our thoracic spine (mid-back), and finally our lumbar spine (low back).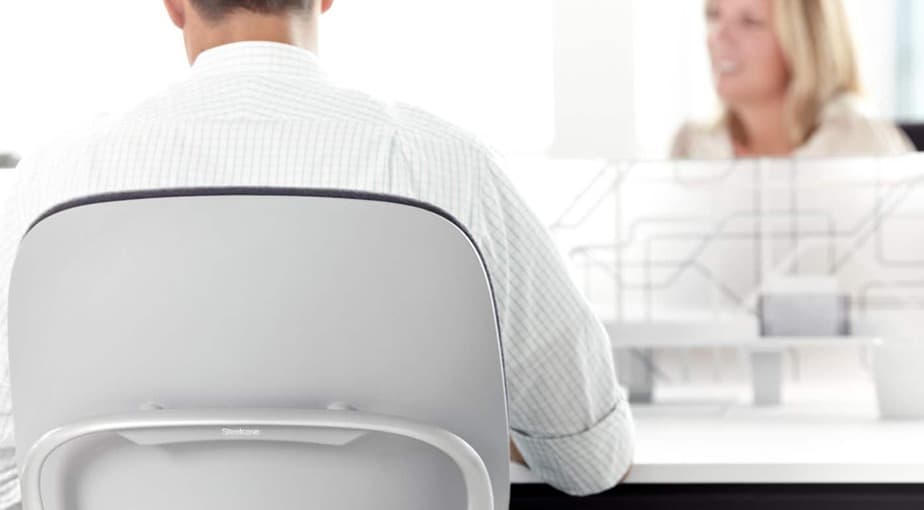 Most ergonomic chairs pay special attention to the lumbar spine simply because our lower backs tend to take on the most pressure when we sit. Extra lumbar padding is a must for ergonomic seating.
Active Seating
As you go about your search, you'll likely come across the phrase "active seating." This is a growing trend in the world of ergonomics. Basically, it means seating that is designed to keep your body active throughout the day.
The theory behind active seating is that by encouraging your body to stay dynamic, rather than static, during the work day, you're promoting increased blood flow and oxygen intake, as well as preventing your muscles from locking into one position.
One example of active seating is a waterfall front edge on the seat cushion. This removes the pressure from the back of your knees and frees up circulation. Another example is the 360-degree swivel capability on ergonomic office chairs. This promotes mobility in your spine throughout the day.
Some ergonomic office chairs intentionally tip the main seat forward (or provide an adjustable mechanism to do so) in order to position you with your feet planted on the ground. In short, keep comfortable, but keep moving!
Methodology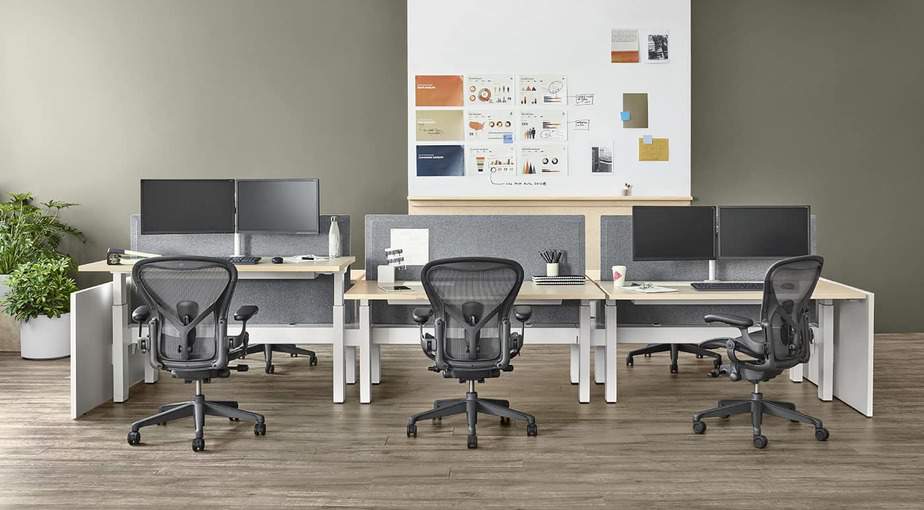 There are so many office chairs out there, and so many variables that can determine what makes a solid chair. So how did we narrow in on just the top 10? Well, the short answer is data.
We crafted a methodology that considered not only product specs, but also consumer reports and reviews. User experience is key when it comes to products that advertise pain relief. We wanted to make sure these products actually walk the talk.
So we took the route of weighing both qualitative and quantitative data. That is, we're considering not only how ergonomic the chair is, but also its longevity, cost, and overall functionality. Here's a look at our top priorities, as well as the core questions we considered:
Ergonomic Viability:

Was this chair designed with your back in mind? We only selected chairs that included features specific to spine support.

Custom-Made:

Can this chair be adjusted to fit specific needs? Not all backs and body types are the same. You need a chair that fits

you.

Price:

How much will this chair set you back? It's crucial to consider your budget before making a big purchase.   

Warranty:

Will this chair stand the test of time? A warranty oftentimes indicates the quality of the materials used.

Amazon Review Score: What do other people have to say about the chair? In the end, that's probably the most reliable measurement of all!
Ready to start feeling less back pain? Take a look at our 10 favorite ergonomic office chairs.
Herman Miller Sayl Chair

The Herman Miller Sayl Chair beats out the rest as the best ergonomic office chair that specifically addresses back pain. Uniquely designed with an unframed back, the Sayl Chair combines class with affordability ($495). You just don't see anything else like it on the market.

Here are some of the best features. By using 3D Intelligent suspension technology, the Sayl Chair allows the natural contours of your back (the S-shape) to settle into the chair. It delivers effortless sacral support through the elastomer strands netting the frame. Additionally, you can purchase an optional lumbar support piece to further cushion your back.

Typically, Herman Miller chairs are on the higher end of the price scale. However, by using eco-friendly and simple materials, this sophisticated chair is half the price of similar models. The chair is constructed out of 93% recyclable parts.

Pros

Lightweight (37 lbs)
3D Intelligent back
23 different color options

Cons

Arms not adjustable
Pre-set depth on cushion
Armrest instability

Flash Furniture Mid-Back Mesh Chair

Flash Furniture offers a Mid-Back Mesh Chair that provides extra support for your lumbar spine. This highly affordable ($107) office chair will keep your back well-loved and well-ventilated. The breathable mesh material on the back panel allows for air circulation all day long.

The Flash Furniture Mid-Back Mesh Chair also includes several adjustable features, such as flip-up armrests and the pneumatic seat height adjustment lever. The chair is upholstered in leather, and the seat cushion is designed with a unique waterfall front edge to improve circulation in your lower legs.

Here's what one happy customer had to say: "It is easy not to realize that a chair is not ergonomic when you are able-bodied and everything is working well. When you are in pain, however, that is when you feel every single design flaw. So, when I tell you that this is truly an ergonomic chair, you can believe that."

Pros

Flip-up arm adjustments
Breathable mesh material
Built-in lumbar support

Cons

Arm height not adjustable
Leather peels after heavy use
Limited backwards tilt

Herman Miller Aeron Chair

Herman Miller proves (once again) its leadership in the market of ergonomic office chairs through the Aeron Chair. Dubbed the "ergonomic workhorse," this chair molds the body into the optimal posture: pelvis tipped forward and shoulders broad.

Everything about the Aeron Chair is dialed in for ultimate comfort. The seat and back use 8Z Pellicle suspension, which features 8 different zones of tension and support to mitigate back pain. Additionally, the back panel is designed with a breathable mesh network.

This company believes in its product. That's why your office chair will be backed with the assurance of a 12-year warranty. The Aeron Chair is for everyone — literally! It is our most customizable chair, and comes in 3 different sizes for 3 different body types. Herman Miller also offers numerous opportunities for customers to adjust back support, tilt, material, and more.

Pros

12-year warranty
Hugely customizable
8Z Pellicle suspension technology

Cons

Expensive ($1,175+)
No warranty through Amazon
Locked-in seat/back angle

KADIRYA High Back Mesh Office Chair

As the best ergonomic chair on this ranking for those on a budget, the KADIRYA High Back Mesh Office Chair is more than meets the eye. It brings sophistication, comfort, and adjustability into an affordable package. And we mean really affordable: It costs just $82.

From head to toe, the KADIRYA High Back Mesh Office Chair has you covered. This is an executive office chair that not only supports your lower back, but also provides a padded headrest. The chair is padded comfortably with leather material and a breathable mesh back panel.

Here's the secret to the KADIRYA back support. The high back panel is delicately S-shaped to fit the natural curvature of your back. The Synchro Tilt & Tension control allows you to adjust the angle of your seated position anywhere from 90 to 110 degrees. You can also move the armrests up or down to the perfect 90-degree angle for your desk height.

Pros

Affordable!
Adjustable arm height
Extra lumbar padding

Cons

One-year warranty only
Some complaints of squeaking
Leather peels after heavy use

MBOO Ergonomic Office Chair

The MBOO Ergonomic Office Chair brings ultimate back comfort to the executive office. It ranks in our top 5 not only for its ergonomic design, but also for its affordability. This chair costs less than $150 ($146, to be exact).

The construction of the MBOO Ergonomic Office Chair focuses on small adjustments that make big differences. For example, there is a knee-tilt function that places the pivot point directly behind your knees. This ensures that your feet will be firmly placed on the floor. Additionally, you'll find padded, adjustable armrests that transfer your weight away from your shoulders and neck.

The MBOO Ergonomic Office Chair also features a fully adjustable headrest. This allows you to make sure your cervical spine is 100% supported throughout the day. For all its perks, the MBOO office chair only comes in one color, sadly. But it is sure to blend into any office setting — and to be a lifesaver for your back.

Pros

Affordable executive chair
Highly adjustable
Easy to assemble

Cons

Only a one-month warranty
Only comes in one color
Cloth armrests (not leather)

Steelcase Leap Fabric Chair

The Steelcase Leap Fabric Chair is everything that is right with innovative ergonomic technology. This chair is designed to accommodate the human body both in functioning parts and as a whole. The Steelcase engineers created a chair to boost productivity, support the entire spine, and look good in the meantime!

Here's a glimpse into what Steelcase offers. First, you'll experience LiveBack, which is a back panel technology that imitates the natural curve of your spine and adjusts its support throughout the day. The Natural Glide system allows you to recline fluidly while still focusing on work. This lets the body take on more varied postures, enhancing blood circulation and oxygen flow.

If you love the Steelcase Leap vision, but want a little something different, you can choose from any of the following variations: Leap Plus, Leap Stool, Leap Chair with Headrest, Leap Worklounge, and more. All of the products in this line are geared toward ergonomic seating.

Pros

98% recyclable materials
4-plane adjustable armrests
LiveBack technology

Cons

Expensive ($978)
Seat cushion is thin
Not great for people over 6'1″

Eurotech Ergohuman

A company with over 30 years of experience in the business of economical and ergonomic seating, Eurotech has found success with the Ergohuman chair. Its overall craftsmanship, value, and effectiveness easily earns it a spot on this ranking.

For starters, when your Eurotech Ergohuman arrives, you'll be able to adjust it in numerous areas to fit your exact preferences. You can move the seat up and down, slide the seat forward and backward, or lock the back panel in your preferred tilt. Even more, the back panel (with lumbar support) can slide up and down to fit your angles.

The entire chair has an overlay of strong, breathable mesh. This will help you maintain a static body temperature throughout the day. If you want to add some color to your office, this chair is available in a variety of mesh shades: green, plum red, gray, orange-copper, or blue.

Pros

5-year warranty
Lockable adjustment features
Easy assemblage

Cons

Heavy chair (60 lbs)
No forward tilt feature
No added cushion

Serta Mid-Back Office Chair

The Serta Mid-Back Office Chair changes the formula entirely. This chair is an essential for anyone with mid-back issues. Easily mistaken for a lounge chair, the Serta Mid-Back Office Chair delivers a plush, layered solution to ergonomic seating.

Here's the secret. This chair features Air Lumbar technology in the center back panel. This is a kinetic tool that supports your lower back while also reacting to your mid-back movement in real time. The air-filled pad doesn't force your spine into a particular shape. Instead, it creates the needed tension and freedom for your back to simply be.

The rest of the chair is just as comfy and padded as the Air Lumbar panel. The cushions and armrests are constructed out of eco-friendly black leather. If black leather isn't your thing, the Serta Mid-Back Office Chair can also be purchased in gray. If you want a little extra height support, try the Serta Executive Office Chair.

Pros

Air Lumbar technology
Padded seat cushion
Easy assemblage

Cons

Leather cracks over time
Not a lot of adjustment ability
Only a one-year warranty

Topsky Mesh Chair

The Topsky Mesh Chair has got you covered in all the vulnerable pain areas — neck, shoulder, and low back. At each pain area — the headrest, the armrest, and the lumbar zone — you'll find the option to adjust the chair to your liking.

The headrest on the Topsky Mesh Chair is perhaps what most sets it apart from the rest. It can be adjusted on 3 different planes: up and down, forward and backward, or angled from 0 to 45 degrees. You can maximize your lounging by tilting the back panel to the full 145 degrees. Or kick your posture into high gear by tightening up the lumbar support.

This chair is a commanding presence, with a maximum height of over 4 feet. If that wasn't enough, Topsky shows its style by offering a neon (and we mean bright neon) green color option in addition to the standard black and gray. One more perk! It also includes a sneaky built-in coat hanger on the back of the chair.

Pros

Fully adjustable headrest
Coat hanger on back
High weight capacity (330 lbs)

Cons

Too big for smaller people
Lower quality materials
Seat cushion flattens over time

Steelcase Gesture Chair

Steelcase gets the last word with its Gesture Chair. As a general rule, Steelcase chairs do not skimp on any step of the process, from the quality of materials to the level of ergonomic support. The Steelcase Gesture Chair follows suit and delivers an attractive, comfortable (if not a little expensive) ergonomic office chair.

The Gesture Chair was born out of a global posture study that surveyed over 2,000 people and took stock of their natural postures as they interacted with technology. From there, the Steelcase engineers came up with an office chair that supports these common positions.

For one thing, it uses the 3D LiveBack, which melds to the curvature of your spine. The Gesture 360 arm is designed to move like an actual human arm. Finally, the back panel adjusts its tension depending on the angle of the seat. This one also comes in super fun colors, like tangerine, turmeric, wasabi, malt, and more!

Pros

Quality materials
Lots of color options
3D LiveBack and 360 armrests

Cons

Expensive ($1,036)
No height adjustments
Uncomfortable seat cushion
Why do some chairs cause back pain?
So what's the big deal about sitting? Why does it tend to cause back pain? It's sort of a "chicken or the egg" scenario. As it turns out, we shouldn't rest all of the blame on the chairs themselves. A large part of the problem is our posture . . . but certain chairs encourage poor posture. See why it's so hard to pin down the culprit?
Whether or not you have an ergonomic chair, we all tend to fall into the same postural habits. Here are a few reminders to keep you and your office chair working in harmony:
Keep your head aligned squarely on your shoulders.

Most of us tip our heads forward to look at a screen or down at our desks. Our heads are

heavy

— 10 pounds, on average! Over time, this angle puts intense strain on our necks and upper backs.

Don't roll your shoulders forward.

Chairs with limited lumbar support make us curve inward, which puts unneeded strain on our back muscles.

Keep your elbows tucked toward your torso.

The further our arms are away from our bodies, the more pressure they absorb from even the most mundane tasks (like moving around a mouse, or typing on a keyboard). Adjustable armrests are crucial.

Take breaks! Stand up!

If you sit too long, the vertebrae of your spine tends to become compacted. This can lead to long-term disc compression issues. So stand up and stretch every 30 minutes or so.
Can ergonomic office chairs improve overall health?
Yes! You'll see almost immediate improvements to your overall health with an ergonomic office chair. In fact, that's the whole point! The impact of ergonomic seating is overwhelmingly positive, not only for our physical health, but also for career satisfaction and productivity.
Spine health is at the center of everything. The spine houses our core muscular-skeletal structures, millions of bundles of nerves, and major blood vessels. When the spine is compromised, our entire system is compromised.
On the flip side, when we find seating options with ergonomic integrity, we start to see huge positive changes to our overall physical health. Here are just a few:
Increased blood flow to the legs

Increased oxygen to the brain

Improved joint health

Better connective tissue fluidity

More toned pelvic floor muscles
Ergonomic seating goes beyond just physical health. It's kind of a no-brainer that when your physical health improves, other aspects of your life follow suit. According to a recent (2016) study by the Washington State Department of Labor and Industries, ergonomic seating in an office setting had a direct correlation with the following:
Significant decrease in sick days

Lower number of work errors

Boosted productivity by 40%
What are the best ergonomic office chairs for back pain?
Even after doing extensive research, poring over industry reviews, and data crunching, narrowing in on only 10 of the best ergonomic office chairs out there was a tough challenge. There are so many fantastic options.  
While they fall outside of our featured list, the team at RAVE Reviews still wanted to include these 5 honorable mentions:
There was no waffling, however, about the 3 stand-out winners for the Best Ergonomic Office Chairs for Back Pain. As a company, Michigan-based Herman Miller, Inc. cornered the market on both best overall ergonomic chair (Sayl Chair) and the most customizable ergonomic chair (Aeron Chair). And for those of you looking for a deal, the KADIRYA High Back Mesh Office Chair will not let you down.
When it comes down to it, you will be the best judge of what ergonomic chair works best for your back. In the long run, this purchase will save you a ton of money and, most importantly, save you from a backache!
RAVE Recommends
An ergonomic office setup goes beyond just an office chair. We have a few more back-saving products to consider: