If you're looking for the one climbing shoe you can wear bouldering at the gym or crack climbing all day in Yosemite, look no further than the La Sportiva Miura.
With a choice of lace-up or velcro, this shoe is the time-tested answer to an age old question: How do I buy one shoe that can do it all? It has a sort of cult following for being both stiff and sensitive, good at edging, and ultra-durable. At around $165, it's not the cheapest shoe on the market, but it's also not the most outrageously expensive—and its versatility and reliability will make the Miura worth the investment.
Unless you're an old-school climber who only likes traditional crack climbing in one part of the world and has no interest in what the kids are doing these days, buying climbing shoes is kind of like trying to hit a moving target. As adventure seekers, I don't think I'm entirely off base in saying that climbers might have a tendency to lack focus.
One day, I'm super stoked on bouldering at the gym—then it gets sunny out and I want to get outside and multipitch all day. The next day, I decide I love heights—but lead climbing is scary, and I just want to top rope stuff that's too hard for me. Next, I decide I'm going to be a "real climber" and learn to crack climb. Then I remember I'm a terrible crack climber, have no discipline to learn something I'm bad at, and go back to bouldering indoors. And the cycle continues.
This saga of my personal "journey with climbing" is all to say: Buying shoes is difficult. You want them to be specialty, but you also want to be able to use them for whatever phase you're going through. What's more, they're expensive—so unless you have an unlimited budget and a Paris Hilton shoe closet, investing in a single pair of climbing shoes can be daunting.
When it comes down to it, choosing the shoes is about fit. Most importantly, you want a pair of shoes that fit your feet. Second, you want a pair of shoes that fit your lifestyle and stage in climbing. I can't tell you which shoes will fit your feet (you'll want to try them on), but I can help with the rest.
The Climbing Shoes We RAVE About
This shoe makes you work for it, but it's worth the extra effort. I love the Miura because it's built to last and is good at just about everything. These shoes have seen some of the hardest sends in the world, and some of the scariest, but they'll work great on a top rope at your gym, too.
Read Full Review
Shop La Sportiva Miura
I love recommending these shoes for beginners. They're really high quality and will give you the comfort you need while you're getting used to climbing shoes. Best of all—they'll grow with you as you improve.
Read Full Review
Shop Five Ten Moccasym
These ultra-comfy shoes come in at around $79 and are still a quality all-around shoe that will last. They're perfect if you don't need your shoes to be too precise, or climbing isn't your main activity. They're not the most "advanced" shoe on the market, so if climbing is indeed your thing, you might be disappointed to find that you feel (and smell) what you paid for.
Read Full Review
Shop Evolv Nighthawk
Long before the first woman climbed 5.15, or a proposed V17 existed, or a 9-year-old girl climbed harder than you'll ever project, Theodore Roosevelt proclaimed, "Do what you can, with what you've got, where you are." We can all learn a lot from the 26th president, to do what we can, where we are, with the best climbing shoes we've got.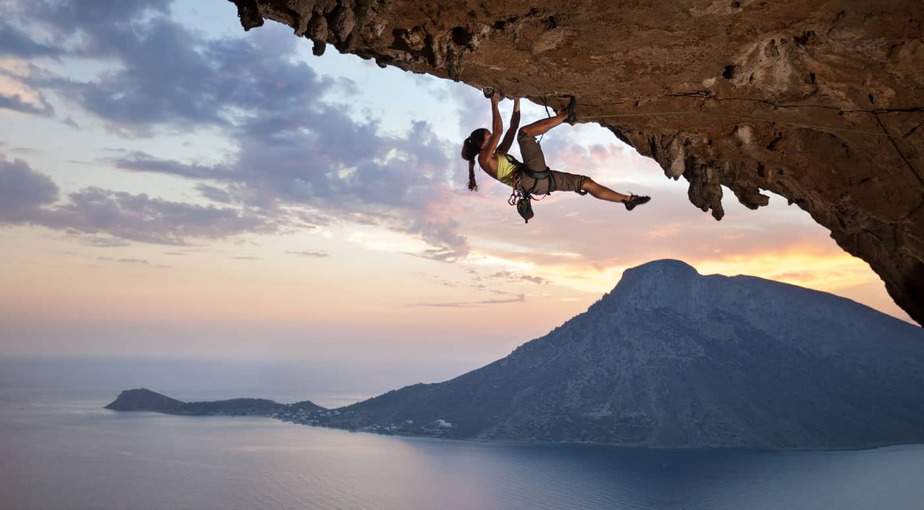 To determine the best we've got, there are a few variables to consider. This mostly comes down to the type of climbing you do most.
First, you'll want to consider low angle versus high angle. This is also known as "downturn," or how "aggressive" a shoe is. It's pretty obvious by looking at shoes side by side, but some shoes are flat and look closer to a street shoe, while some are curved like a ballerina slipper. If you like steep climbing or bouldering on tiny footholds, you'll want an aggressive, downturned shoe. If you like crack climbing, go with a flatter, more durable shoe. This also applies to multi-pitching or longer days, as downturned shoes tend to be more uncomfortable.
Next, consider soft versus stiff rubber. This is also known as how "sensitive" a shoe is. This basically comes down to whether or not you like to be able to feel the rock with your toes. Soft rubber puts more pressure on your foot, and stiffer rubber provides more support. The two main rules would be for newer climbers to go with a stiffer shoe (because you're not ready to feel so much), and for people who just love to smear, you'll want sensitive rubber for those nonexistent foot "holds."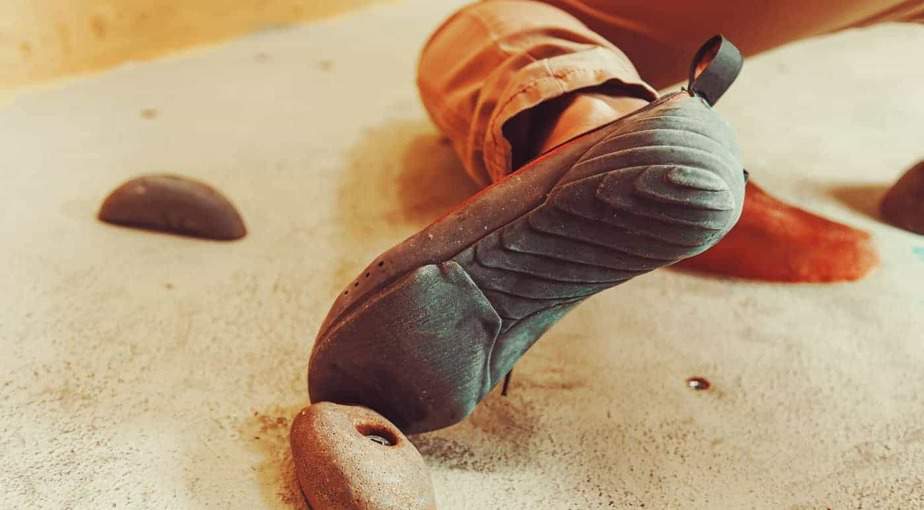 The next question is whether you want lace-ups, velcro, or slipper style of shoe. This one is pretty easy. Definitely get lace-ups if you like crack climbing, as the rock will pull your velcro shoes open and cause a lot of wear on the more delicate velcro. Laces are also useful for getting a perfect fit, as you can control exactly how tight they are on your foot.
Get velcro if you want to slip them on or off more easily but still want them pretty tight, like aggressive bouldering shoes you can only endure for three minutes at a time.
If comfort is a high priority, slip-ons are your best option. They're  low maintenance, easy to get on and off, and the least torture-y. That said, they also stretch with no way to tighten them, and I find the feel less secure in general.
When considering what goes above that nice sticky rubber, you'll need to choose between synthetic and leather. Basically, leather will stretch significantly, whereas synthetic remains about how you bought it—give or take maybe half a size, depending on the shoe. If you're willing to be uncomfortable in your new shoes, your efforts will be rewarded in the form of leather shoes that mold to your feet. If you're not a big fan of change or you just like to know what you're committing to, buy synthetic in a size that fits out of the box.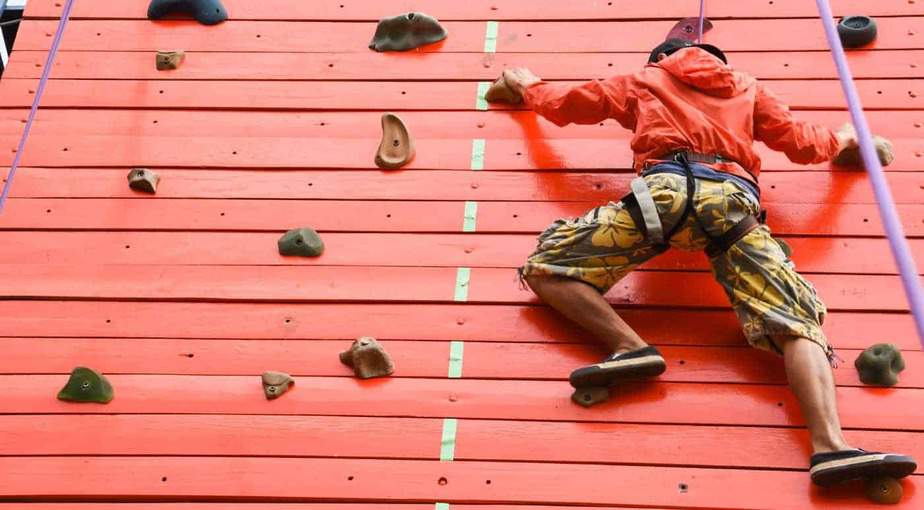 To summarize, I would narrow down shoe options that fit your lifestyle, then find a pair that fit your specific foot. Try them on if you can! Or make sure you purchase shoes online from a retailer that allows returns.
If you have a lot of different interests and a smaller budget, get an all-around shoe that you can take on your many diverse adventures. I hate to say it, but I have multiple shoes that I use for specific things. I find it helps my shoes last longer, and I'm partial to aggressive bouldering shoes that start to feel like foot binds on longer days. I use a comfortable shoe to warm up (which I also use for longer climbs) and an aggressive shoe for bouldering. I use the same shoes indoors and outdoors, but a lot of climbers like to save their expensive shoes for pushing their limits outside.
Remember—buying shoes is fun! Unwrap them, take in that fresh, rubber, not-yet-stinky-foot smell, slide them (or force them) on your feet, and get on that project you've been working on all week. Feel that? Yeah, that's the feeling of fresh rubber.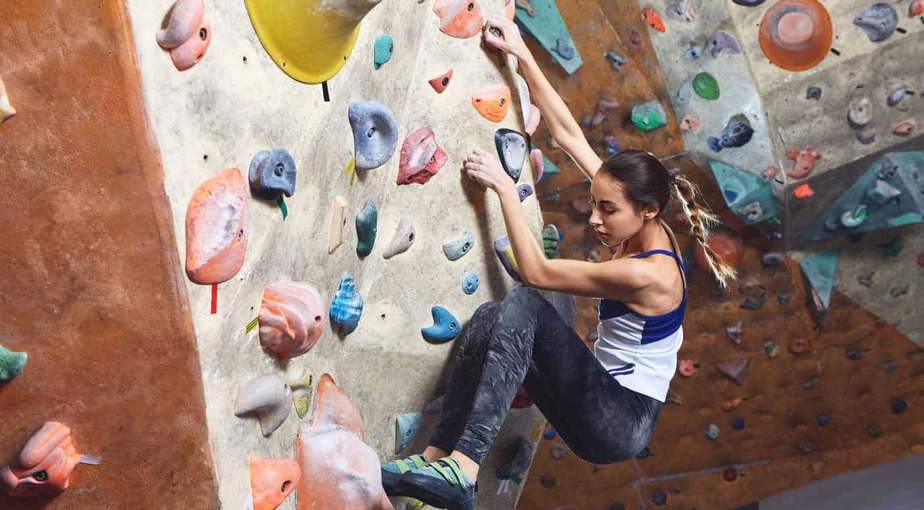 Methodology
I kept a few things in mind when narrowing down my shortlist for climbing shoes. I like to think of finding your shoes as being like penguins finding their mate and sticking with them for life. Once you pick a pair, you'll likely get used to how they feel and have a hard time switching. Before recommending products, I wanted to make sure they were high-quality and worth taking that leap of faith—so you, too, can find your own personal penguin ♥.
Durability:

There's nothing worse than dropping your hard-earned money on a pair of shoes just to have them rip on you, or get a giant hole in the toe a month later. Durability is one of the more important factors, since you'll put so much wear and tear on these shoes by nature.

Type of climbing:

See above for specifics on this, but your shoe choice will depend on the type of climbing you love most. I picked out my favorites for every style.

Cost:

Shoes are one of the more expensive pieces of gear you'll need

—especially when you consider how often they need to be replaced. You might drop $300 on a crash pad, but that will last you longer than the rubber on your toes. I kept cost in mind, especially for beginners. But, in all honesty, shoes are one of those bite-the-bullet purchases if you're really committed to climbing at your limit. Think of it like oxygen for scuba divers—it might be expensive, but it also might be super necessary.
Comfort: Climbing shoes are not exactly known for being attractive, and they're really not known for being comfortable. In fact, I would call them torture devices that happen to have rubber that helps you climb up rock or plastic. I kept comfort in mind to some extent, especially for shoes you'll wear all day, but mostly I counted discomfort as a necessary trade-off for this weird sport we all love so much.
The Best Climbing Shoes
How Do I Size My Climbing Shoes?
This is also a (somewhat) personal choice. Any front desk person at the gym (or REI employee) will tell you that you want your shoes tight, but not super painful. They should never pinch anywhere or cause excessive discomfort to the point where you question everything that has brought you to this moment and why you choose to torture yourself like this and why you couldn't have taken up golf or something like that. That said, your shoes will stretch, and I've had friends who put plastic bags on their feet just to get  a new pair on. I like my shoes pretty tight, but this is on the extreme side for my pain tolerance. Plus, too-tight shoes tend to wear out quicker.
Is There a Difference Between Men's Climbing Shoes and Women's Climbing Shoes?
Companies advertise shoes differently, but my personal opinion is that this is just marketing. "Women's" shoes are just the narrower version of the men's (I take that back—"men's" shoes are the wider version of the women's). Buy the shoes that fit your feet, no matter what your nether regions look like.
How Do I Care for My Climbing Shoes?
The biggest piece of advice I can give is: Never leave your climbing shoes in your climbing bag (or any sealed bag, for that matter). This is how your sweat seeps into them and never dries, and the entire gym or crag has to smell that ick every time you take off your shoes. You can use deodorizing foot sprays, but letting your shoes fully dry out after each session will be your best hope for preventing smelly shoes. You'll also want to wipe off any dirt after each session, using a wet (but not too wet) rag. Finally, don't leave your shoes in a hot car or direct sunlight.
Should I Wear Socks?
This is really up to you. I would personally wear them with rental shoes (because, ew!) and I sometimes wear them when I warm up (I'm a big fan of Mocs with Socks!), but wearing socks with climbing shoes is pretty uncommon and not recommended.
When Should I Replace My Climbing Shoes?
I think it will be obvious when you need to replace your shoes, but a better question is when, and whether or not, you should resole them instead. Often, the rand and rubber wears off your otherwise perfectly good shoes. Rather than buy a whole new pair, you can choose to send them to be resoled. This will likely save you money and definitely reduce your waste. It also allows you to have fresh rubber on a pair that you've put in the time and effort to break in. Resoling takes some attention and self control, because you have to send them in before the rand (rubber on the toe case) has worn through. If you can see your toes, it's too late. Finally, this requires some patience, as you'll have to wait a few weeks between shipping and resoling. Rule of thumb: This is a great option for those of us who use expensive, aggressive shoes and have a backup pair. Here's a handy map that will help you find a resoler near you.
Rave Recommends
Now that you've invested in your perfect shoe (or two), consider these products to help you take better care of them!
Right Foot Deodorizer Spray: I hate to break it to you, but your feet are gross. Use this 100% natural, made-in-the-USA spray to pretend your feet are less gross.
Shoe Goo: Use this goo to patch small dings in your rubber, so you can wear them longer.
Evolv Cruzer Psyche Approach Shoe: These ultra-light, affordable approach shoes will get you to and from the crag in style.