If you're looking to invest in a climbing rope that can really do it all, look no further than the Sterling Evolution Velocity.
At 9.8mm, it's a little heavier than some of the more expensive models. But its versatility, approachable price point, and durability put it at the top of my list of the best climbing ropes on the market.
I don't know how many of you watched the Oscars this year, but my guess is more of you did than usual. We cringed as Bradley Cooper and Lady Gaga tenderly made love on stage—maybe even harder than we cringed the first time we saw the trailer for their movie. We made tick lists for all the films we keep meaning to see. And we watched everyone gush over Alex Honnold all cleaned up in his custom North Face tuxedo.
The thing is, we can't all go to the Oscars, and we can't all be Alex Honnold. For most of us (Alex Honnold included), climbing is all about falling. In fact, if you're not falling, you're probably not trying very hard.
Here at RAVE, we're pro free soloing when you're Honnold, but pro free climbing when you're just about everyone else. We think you should not only have a rope, but use it, too. So, in the interest of climbing, falling, taking, and lowering, I picked out the best ropes to keep you climbing hard—and off the ground.
The Climbing Ropes We RAVE About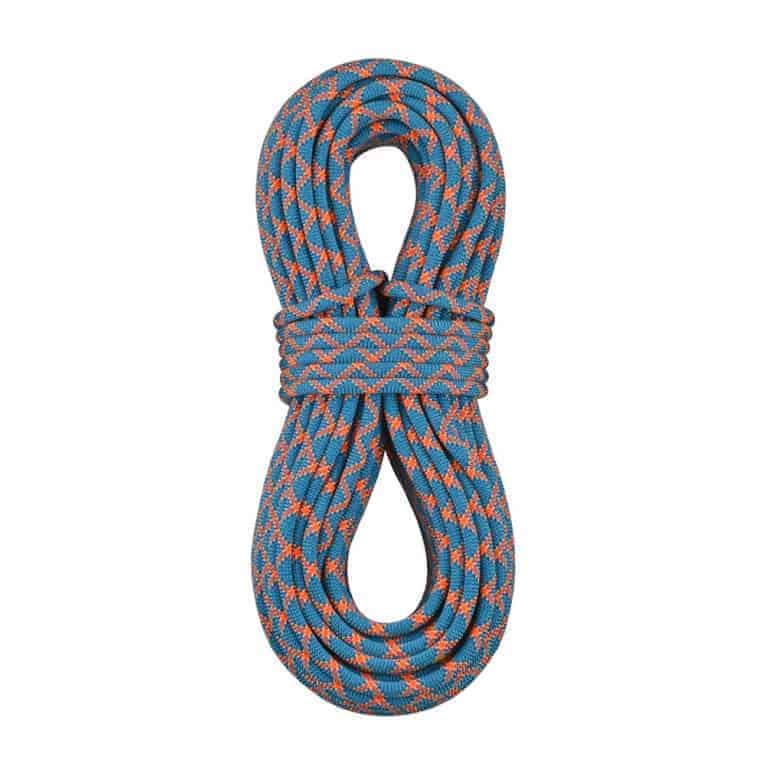 Best Overall
Sterling 9.8mm Evolution Velocity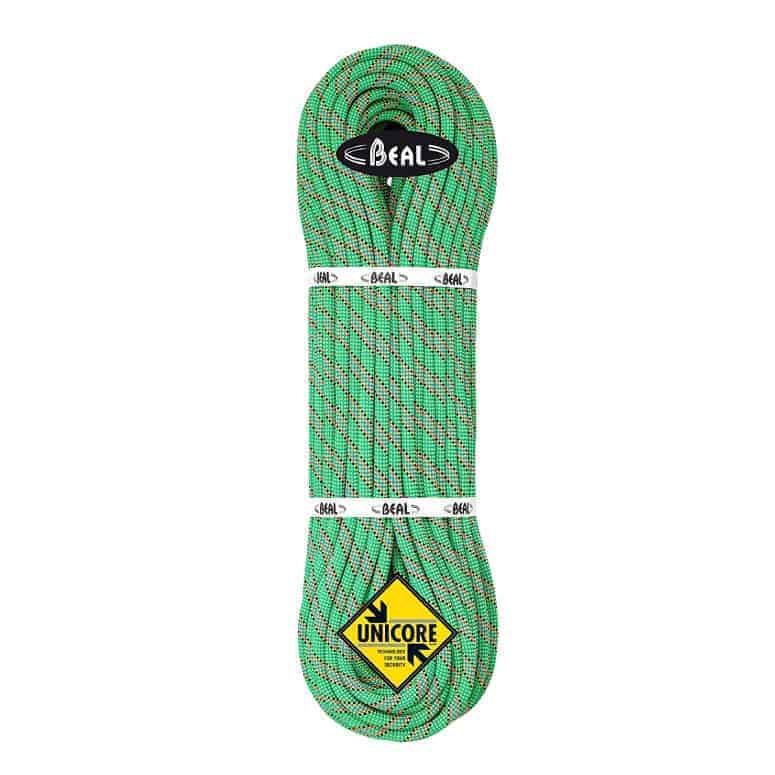 Best Thin
Beal Opera 8.5mm Unicore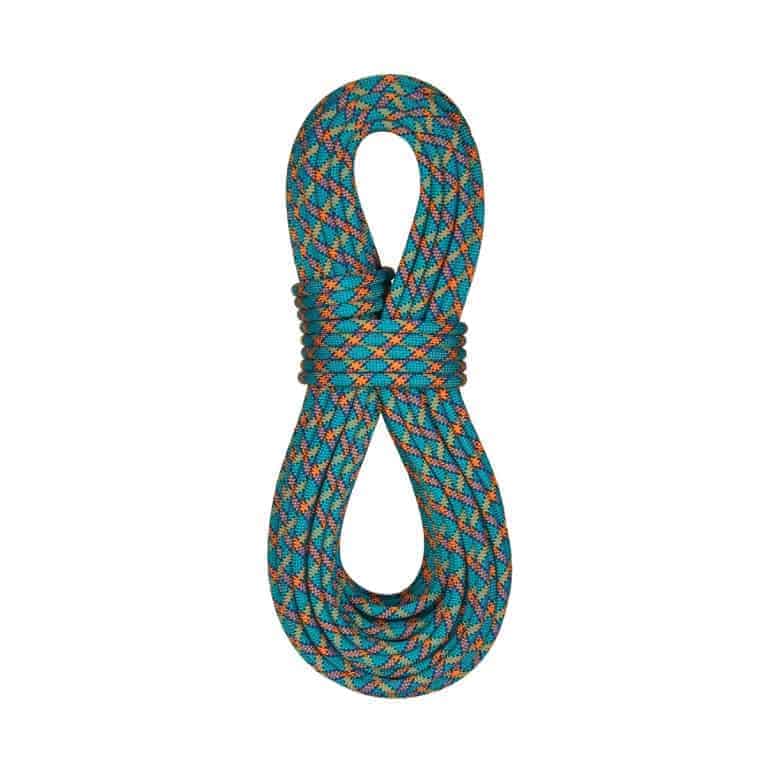 Best Thick
Bluewater 10.2mm Eliminator
When choosing a dynamic single rope (my focus for this review), you have a variety of factors to consider.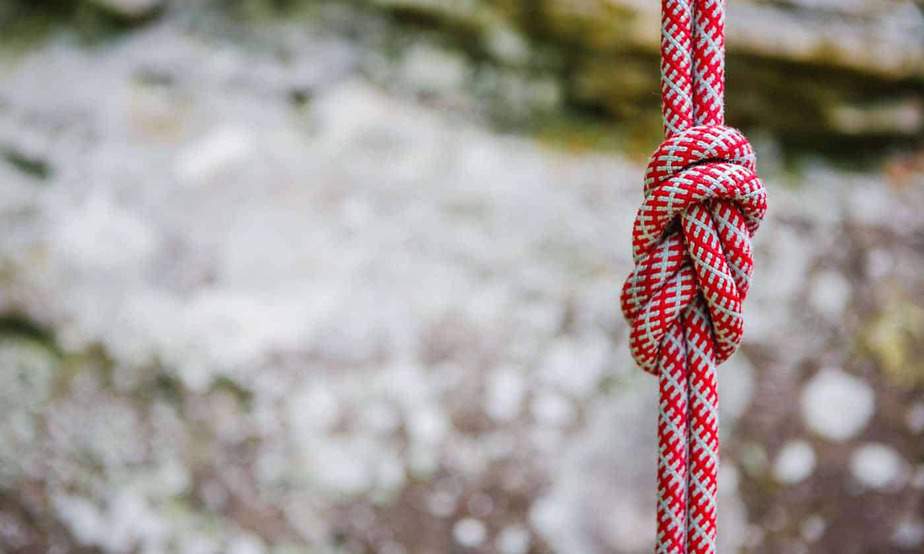 Diameter
Single ropes vary from 8.5 to 11 millimeters in width. To state the obvious, the more rope, the more weight. A thinner rope will be less weight to carry to and up the wall, but it also makes for a less durable—dare I say a less safe—lifeline.
That said, ultralight ropes do serve their purpose. Coming in at under 9.1 millimeters, skinny ropes are expensive, and they aren't built to survive multiple falls. They are, however, a great addition to your rope collection—especially if you're a seasoned climber looking to redpoint a difficult project, or you have a lot of mileage to cover.
Medium-sized ropes come in anywhere between 9.2 and 9.8 millimeters, and are the most versatile rope available. They may weigh slightly more than their skinnier counterparts, but they're also significantly more durable and easy to use. For most climbers, especially those looking to buy one rope, a medium-sized rope is the way to go.
Anything bigger than 9.8 millimeters is a workhorse rope. If you like to take your entire company top roping for a work event, this is your rope. If you're just starting to go outside and want to spend the least amount possible, this is also your rope. If you're trying to push your limits or have a long approach or are prone to back problems, this is not your rope.
Length
Now that you've pondered width, the next factor to consider is length. If you climb at areas with very long routes, you'll want an 80-meter rope. If you only climb at the gym, 35 meters will do just fine—but consider your limitations if you decide to branch out. I like to have separate indoor and outdoor ropes, and I saved some money by splitting a 70-meter gym rope with a friend.
For most of us, 70 meters is that happy medium that will get you up and down your route without excessive extra weight. So, if you're an all-around climber who wants to invest in just one rope, go with one that's 70 meters long.
Optional Features
You also have some technological bells-and-whistles to decide on.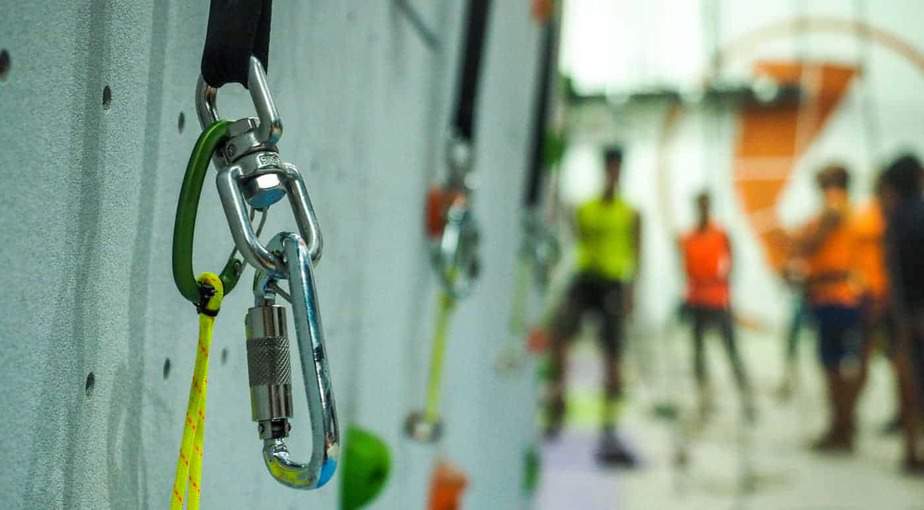 Consider whether or not you're willing to spend extra money on a dry-treated rope. Dry-treatment prevents your rope from getting heavy and ultimately damaged from water, so they're crucial if you do a lot of ice climbing or climbing in inclement weather.
If you climb in wet conditions often, consider getting a "double dry rope," where both the core and sheath are dry-treated. If your rope only sometimes gets wet, or you just want something slightly more durable and dirt-resistant, a dry treatment on the sheath alone will be just fine. If you never climb in the rain, you can save the extra $50-$100.
Another extra-fancy option is prioritizing "unicore technology," where the core and sheath are bonded together. This provides extra security in the rare instances when the sheath is cut during climbing.
Consider prioritizing a bi-patterned rope if you're an outdoor climber. Bi-patterned ropes aren't just prettier—they're the easiest way to distinguish where you are in your rope. Knowing the halfway mark is very useful for lowering and repelling, and can keep you safe by ensuring you pay attention.
But, they're also more expensive. So, if you're looking for a gym rope or you're attentive and can keep track of middle marks, save your money. And remember, ALWAYS tie a knot in the end of your rope, just in case.
Elongation
Finally, consider static and dynamic elongation.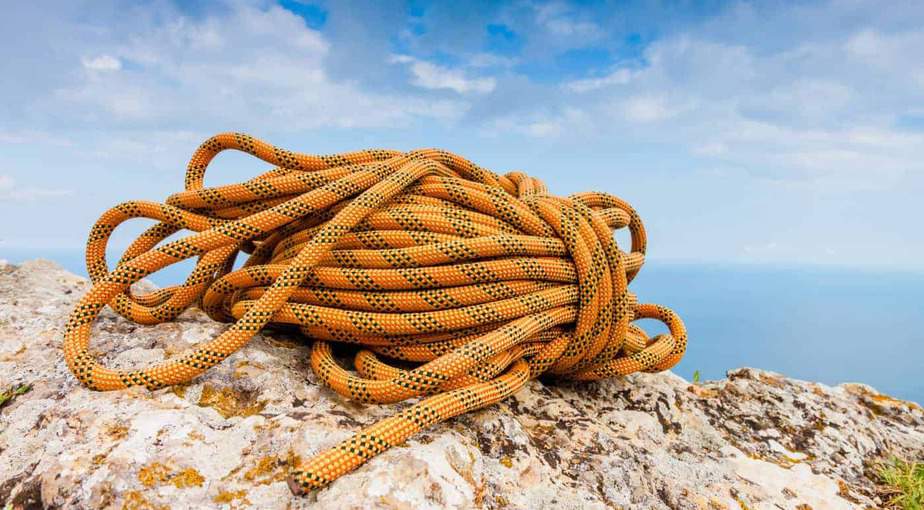 Static elongation is the percentage of rope stretch with approximately 176 pounds of static, or unmoving, weight on the end. A rope with a lower percentage of static elongation will be good for top roping and hanging on the rope.
Dynamic elongation is the amount of stretch the rope allows during a lead fall. Less stretch leads to smaller falls, providing more safety—especially in cases where you're near a ledge or close to the ground. On the other hand, more stretch means softer catches, which put less stress on the climber and gear.
So, if you mostly top rope, look for less stretch. If you're lead climbing or alpine climbing, you'll want a rope with more stretch. Pretty simple.
Methodology
Although some features depend on the type of climbing you do most and what you want to prioritize, I kept a few general factors in mind when determining the best climbing ropes for this list.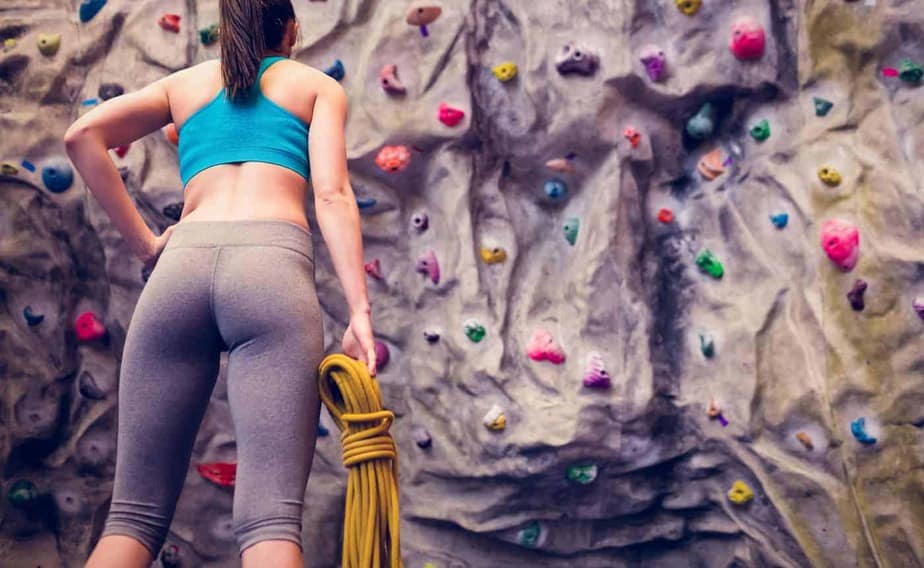 Cost: Unsurprisingly, climbing ropes are expensive. Less surprisingly, they're also pretty necessary. Less expensive equals more happy, but also usually indicates the quality, durability, and features of the rope. I included ropes with among a wide range of price points, so those of us with smaller budgets get to take falls, too.
Durability: Hopefully, you'll actually use your rope, pushing your limits and taking some falls! As scary as falling can be, it's a huge part of climbing. So I looked for ropes that are durable without feeling like a ton of bricks in your bag.
Weight: Similar to a helmet, or a harness, or anything you strap to your body to keep from dying, the lighter the better, right? Yes, but lighter also means less durability. Weight and durability are one of the many balancing acts of climbing.
Versatility: An ultralight or ultra-durable rope has a time and place, but they lose points for being able to hold you on your many diverse adventures. I included some more activity-specific ropes, for those of you who want a rope that's the best for one thing. For the rest of us, versatility is a plus.
Handling: Belaying is half the game, so I looked for ropes that are easy to manage and don't feel too slippery.
Extra Features: Extra features, such as dry treatment, unicore technology, and bi-pattern design all add extra points to the value, and cost, of a rope.
The Best Climbing Ropes
1
Sterling 9.8mm Evolution Velocity
The Evolution Velocity does the climbing balancing act, and it does it well. It comes with many optional bells and whistles—such as bi-color, dry treatment, and a variety of lengths to choose from.
It's also known for its durability, which is the true reason it made the #1 spot on my list of the best climbing ropes on the market today. In fact, Sterling brags it's Chris Sharma's rope of choice for projecting.
It's not the cheapest rope on the market, but it's still relatively affordable compared to a lot of the lighter-weight climbing ropes. And, it handles really well without slipping. As an added bonus—it's made in the United States.
So, if you're looking for an all-around workhorse you can really put to the test without spending your entire gear budget for the year, consider Sterling's Evolution Series.
Pros
Versatile
Durable
Affordable
Made in the USA
Handles well
Cons
Not the cheapest
Not the lightest
The Infinity from Mammut would likely have snagged the top spot on my list, if not for its high price tag. It handles exceptionally well, is super durable, and considerably lighter than the Sterling Velocity.
It is really expensive, but you get what you pay for. It's dry treated, giving it an added layer of protection from the elements. And, with a 31% dynamic elongation, it provides really soft catches without going too crazy.
If you have a larger budget or you're willing to splurge, the Infinity is worth the investment.
Pros
Durable
Versatile
Lightweight
Handles well
3
Bluewater 10.2mm Eliminator
Rounding out my top three choices for the best climbing ropes is the Bluewater Eliminator. It's thick, durable, easy to handle, and relatively light considering its diameter. It's also pretty versatile and can be used for everything from top roping to lead climbing to jugging to just hanging out.
It has a dynamic elongation of 31.7% and provides really soft catches. And, with a fall rating of 8, it can catch you a lot before it wears down.
Obviously, its thicker diameter make it bulkier and heavier than thinner ropes, so it's not ideal if you have a long approach or need to shave down every bit of weight to send your project. But, if you're looking for a super safe, reliable rope that'll last, go with the Bluewater Eliminator.
Pros
Versatile
Good value
Durable
Cons
Heavier than thinner ropes
No middle mark
4
Beal 10mm Tiger Unicore
I like the Tiger Unicore for a few reasons. First, it uses all the high-quality technology and materials you would expect in a Beal rope. It gives you the durability and security of 10mm rope without a lot of excess weight.
It's also essentially super-dry treated and absorbs less than 3% of water. It handles really well, and gives you very soft, comfortable catches. It's a nice middle ground between a thick workhorse and a thin light line.
The one thing I don't like: It's expensive. So, if you don't need all the bells and whistles and are just looking for a go-to solid rope, you can save your money with another model.
Pros
Handles well
Soft catches
Unicore technology
Durable
5
Edelrid 8.9mm Swift Pro Dry
The Swift Pro Dry is an excellent choice for climbers looking for a skinny rope. It's actually rated for different uses than what I cover in this review—so if you're looking for a half or twin rope, the Swift is built for that as well.
Despite its thinner diameter, the Swift Pro Dry is surprisingly durable. It comes with a 5 UIAA rating, which is obviously much lower than what thicker ropes rate, but its high quality ensures it will last. And, with 31% dynamic stretch, it manages to keep things tighter than you'd think for such a thin line.
If you're new to climbing, working a difficult project, or climbing on especially sharp rock, look for a rope with a thicker diameter that'll last through your big falls and long days top roping. But if you're more advanced and looking to get up the wall with less weight, the Swift Pro Dry is one of my favorite skinnies.
Pros
Lightweight
Catches well
Relatively durable
6
Beal Opera 8.5mm Unicore
If you're in the market for an extra-thin rope, the Beal Opera is as skinny as single ropes come. I think you're smart enough to gather by now that it won't be as durable as the other ropes on this list, but this rope isn't built to be used for top roping or projecting.
You should also consider that your Grigri 2 likely isn't compatible with this rope, as the rope diameter is too small. So, this rope is very specific for not only climbers, but belay devices too!
That said, if you're a very advanced climber or an alpine climber who's incredibly weight-conscious, the Beal Opera was made just for you.
Pros
Ultra light
Unicore technology
Soft catches
Cons
Not recommended for a Grigri
Very specific
Expensive
Petzl's Arial Dry is a solid all-around rope that manages to be both lightweight and durable. It's made using UltraSonic Finish technology—aka Unicore—so it's built to last.
It has a "slippery" feel, especially when it's brand new, but once you get used to this you'll find it makes for quickly clipping and feeding rope.
Unfortunately, this rope only comes in a dry-treated option, and one that's not UIAA certified at that. So, if you don't need to spend the extra money on a dry-treated rope, this rope will fall on the expensive end of the spectrum.
This, plus a tendency for the rope's sheath to wear more quickly, put this rope lower down on my list.
Pros
UltraSonic finish technology
Lightweight
Not for beginners
Cons
Slippery
Expensive
No bi-pattern option
8
Bluewater 9.7mm Lightning Pro
The Bluewater Lightning Pro is a pretty standard all-around rope that's built to last. It's rated for 8 UIAA falls, which is very high—especially considering it's under 10mms in diameter. It also handles well and doesn't cost a fortune.
It has a similar dynamic elongation to the Infinity (in fact, it's slightly higher at 32.2%), but it's known to give slightly harder catches in comparison. The sheath also wears out faster than you'd expect, rendering the durability of the fall rating less dependable.
Where this rope gains points for affordability and versatility, it also loses points for durability and comfort. It's one of those ropes that's good on paper, but you need to take it on a few dates before you know if it's right for you.
Pros
Affordable
High UIAA rating
Versatile
Cons
Wears out quickly
Gives hard catches
9
Black Diamond 9.9mm Gym
Like I said earlier, I like separate ropes for the gym and outside (mostly because I don't like using a dirty rope at the "clean" gym).
Black Diamond made a rope just for the gym! It's only 35 meters long, and it doesn't have all the outdoor extras that you don't need when you're pulling on plastic. And, it's only $100.
Keep in mind, this rope isn't long enough to climb outside. But if you're a gym climber or want a bare-bones rope just for your days indoors, save your money with the Black Diamond Gym.
Pros
Inexpensive
Simple
Easy to pack
Cons
Specific
No extras
Can't be used outside
Winding up my choices for the best climbing rope is the Edelrid Boa, which is another no-frills gym rope. It's only 40 meters long, and it has a slightly lighter weight than Black Diamond's model. It also uses higher quality technology, so it's built to be longer lasting. That said, it's also another $75.
If you're primarily a gym climber, it's likely worth the extra money for a higher quality, lighter line. But if you're just looking for something cheap and simple, go with Black Diamond.
Pros
Thermo Shield technology
Light
Durable
Cons
Expensive for a gym rope
No extras
Can't be used outside
Related Rankings
What Should I Do with My Brand New Climbing Rope?
Freshies need to be uncoiled before you get to climb on them. It looks like your rope is in perfect shape to pack in your bag and head out, but it actually needs to be unspooled—or it will become a knotted mess.
Ask your partner, friend, or mom to hold your rope while you unwind it the way it was coiled. If you're lonely, here's a video of a cute guy with glasses and an "ultralight British(?) accent" showing how to do it independently. I find listening to Adele helps here.
How Should I Take Care of My Climbing Rope?
There are a few simple ways you can prevent unnecessary wear on your rope.
First, make sure to never step on your rope. In fact, if your rope comes between a rock and a foot, it can cut the sheath.
There should always be something between the ground and your rope when you're climbing outside. I suggest a rope bag, but a tarp of some kind works well, too.
Always practice good rope management: Don't leave it sprawling across half the crag for anyone to step on. Keep things neat and tidy when storing and packing your rope, so you don't create kinks in the rope—which causes wear over time.
It's important to switch sides of the rope between burns, especially if you or your partner has taken a fall. This prevents one side of the rope from becoming overused.
Finally, keep your rope clean. Dust and aluminum oxide on the rope's sheath will eventually cause damage, so you need to wash it regularly.
How and How Often Should I Clean My Rope?
If you notice your hands are really dirty when you handle your rope—especially if they're turning black—it's time to clean it. Start by filling a tub with warm (not hot!) water, and rope-specific cleaner or a very mild soap. You can also wash your rope with just water, as long as it's not too crazy dirty.
Next, swish it around and pull the rope through your hands from one end to the other. You can also use a rope brush if you'd like. I like to use my hands and check for damage at the same time.
Finally, drain the tub and continue rinsing your rope with warm water until the water runs clear.
Remember: Never dry your rope in a dryer or in direct sunlight, as this will cause damage. You can allow your rope to air dry by flaking it onto a towel or over your shower rod (or your pull up bar!).
How Do I Know a Climbing Rope is Safe?
Climbing ropes are certified under UIAA to take 5-10 UIAA falls, or a drop of 80kg (about 176 pounds) of weight—much more force than a normal lead climbing fall. In theory, the higher the UIAA number, the more durable the rope—but it's also likely be heavier.
The UIAA rating lets you know a rope is safe when you buy it, but you're then responsible for checking your rope and keeping track of damage after that.
How and When Should I Check My Rope for Damage?
To inspect your rope, run your hands all the way along one end of your rope to the other. This is good practice to do at the start of every session, when you flake your rope before your warm up.
Use your fingers to feel for "dead spots." In other words, spots that feel flat. This indicates damage to your rope's core. You should also keep an eye out for any cuts, nicks, or fuzzy areas in the rope. These can be caused by sharp edges in the rock, especially if you climb outside.
What Should I Do If I Find a Dead Spot?
If you notice damage near the end of your rope, you can actually cut off the problem area without retiring your rope entirely.
Measure about a foot up from the damaged area. Using a sharp knife, cut off the end of your rope and use a lighter to fuse the raw edge and prevent fraying.
This may seem obvious, but remember how much you cut off. You don't want to look at a route's length in the guidebook, come up 10 feet short on rope, and curse me and the day you read this review.
If you have rope damage further up, toward the middle of your rope, it's time for a new one. You can throw your rope away, use it to support non-life-essential endeavors (such as walking your dog), or look here for some creative ideas.
When Should I Retire My Climbing Rope?
Your climbing rope is ready to spend its days enjoying tax breaks in Florida and having some questionable political views when you've taken a huge fall (like an, "Oh my God, will this ever end?" type of fall) or you notice a dead spot or damage.
Some people record any major falls in a logbook or their climbing journal. Maybe I'm a bigger weenie than these people, but I easily remember all of mine.
It's also recommended to retire your rope every 10 years if it's just sat in your garage, 5-7 years if you almost never use it, 3-5 years if you use it regularly, or yearly if you use it often. Exercise common sense here, and remember it's holding your life—so an early retirement is better than a late one.
RAVE Recommends
Now that you've gotten set up with one of the best climbing ropes (or two) on the market, consider the following suggestions to carry your rope, keep it clean, and up your rope-climbing game.

Devin Fuller
Devin Fuller formerly traveled the world as a fashion model, and now resides in San Francisco, CA. She loves being active outside, mostly climbing, sometimes surfing, and always eating and drinking well.