If you're looking for a helmet that's comfortable enough to wear all day, durable enough to survive multiple impacts, and still won't cost you an arm, a leg, and a head, look no further than the Mammut Wall Rider.
It's the best climbing helmet for so many reasons, but mostly because it's designed to last. Not only literally (its EPP foam won't shatter), but also because you won't grow tired of how it looks. And it's comfortable—so you really have no excuse to go helmet-less.
The go-to routine between my dad and I goes a little something like this: I show him a picture of myself climbing, he gets very aggravated and distraught and says something like, "Why are you so high up, and where is your helmet?" and I roll my eyes and move on to the next picture.
I get it. He's raised me since birth, he put a lot of time into guiding me to make good decisions, and, quite frankly, he invested a lot of money into me so I can take care of him one day when he's old. Oh, and he loves me.
But the truth is, I use a climbing helmet pretty infrequently. For me, it's not one of those pieces of gear that gets used daily and needs to be replaced every six months. But, Dad, I promise I do use one—and when I do, it's because it's going to potentially save my life.
This is all to say that when it came to buying a helmet, I put a lot of thought into it. It's added gear, added weight, and added discomfort, so I wanted to make sure I was buying the best product available for those special days I need extra protection for my skull.
So, this review is for you, dear reader, for the dedication to protect your precious head with the best product available. But mostly, this review is for you, Dad. Thank you, and you're welcome.
The Climbing Helmets We RAVE About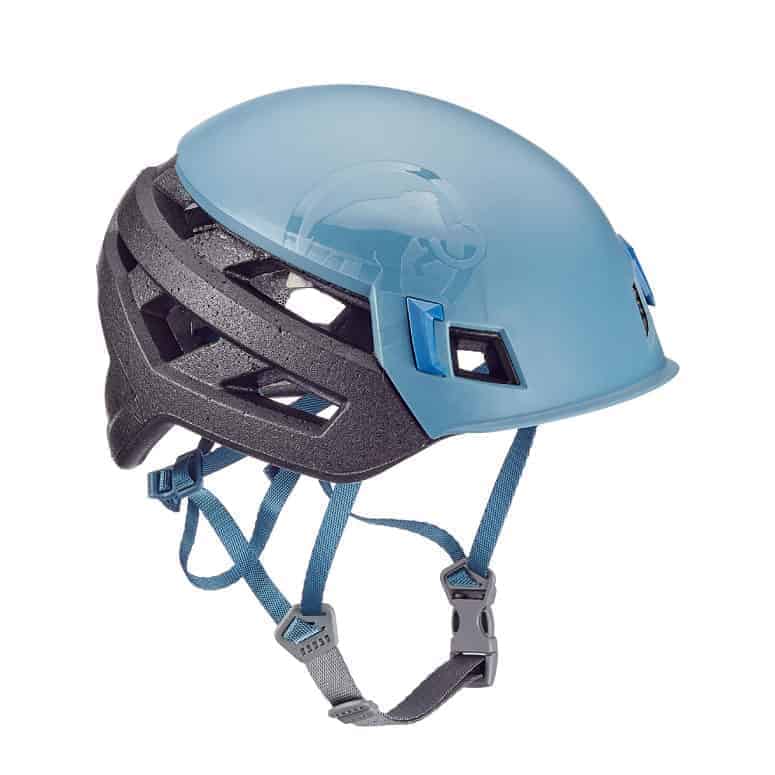 Best Overall
Mammut Wall Rider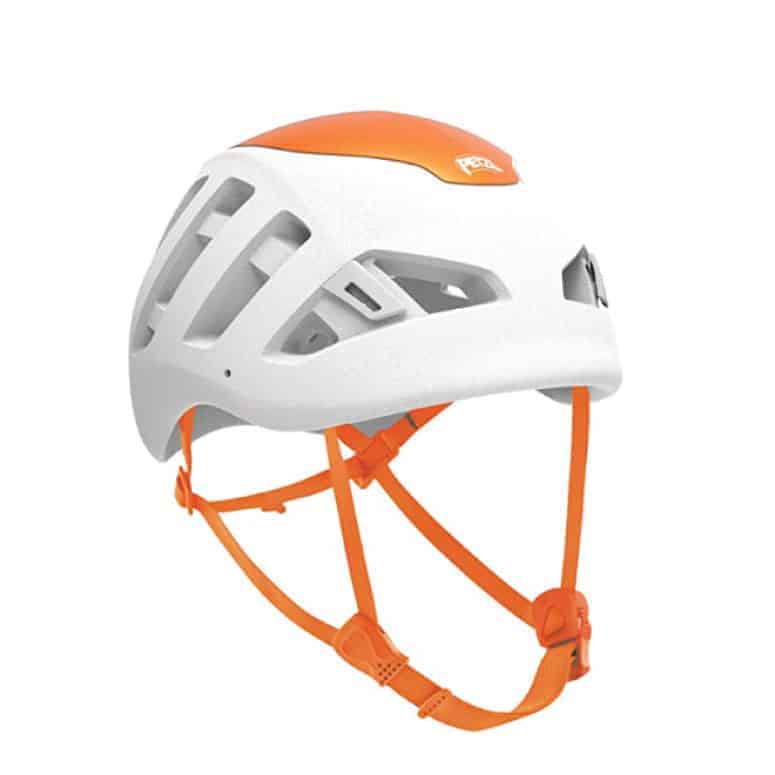 Best Lightweight
Petzl Sirocco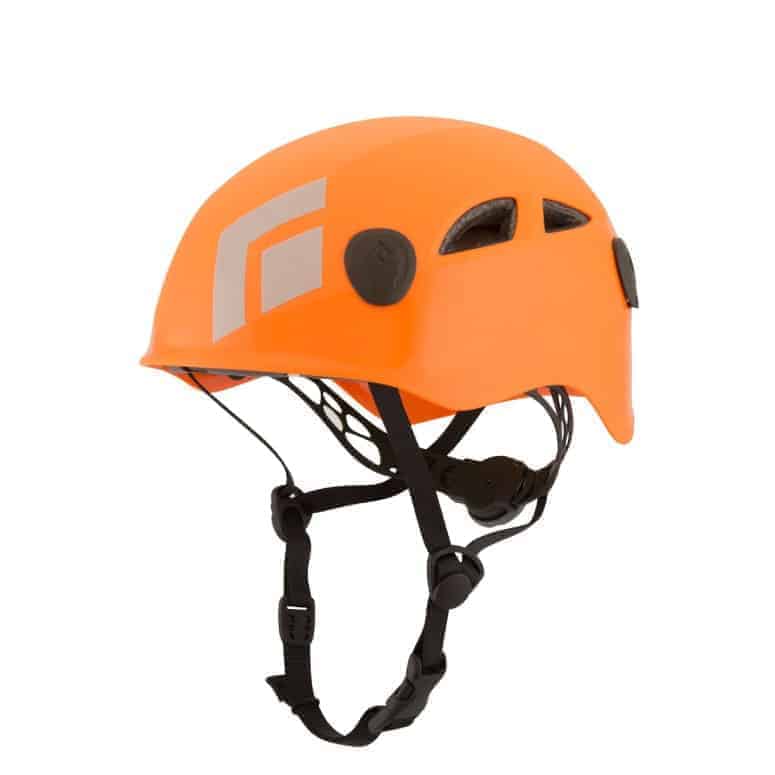 Best On a Budget
Black Diamond Half Dome
I remember a few things from elementary school: some basic math, how to say "the cat is in the kitchen" in French, and (vividly, after many drills) what to do in case of an earthquake. The protocol is: Take cover under a sturdy piece of furniture, hold onto something, and protect your head—it's the most valuable piece of real estate on your body.
While you'll likely recover from a sprained ankle or broken wrist, a head injury is not something to take lightly. You could lose most of your extremities and still lead a full life, but your head is what makes you, you.
It goes without saying that when climbing high up, with potential accidents or unavoidable rockfall, helmets are pretty essential. With that—and likely some legal issues—in mind, the companies featured in this review have gone to great lengths to make this essential, undervalued piece of gear the best it can be.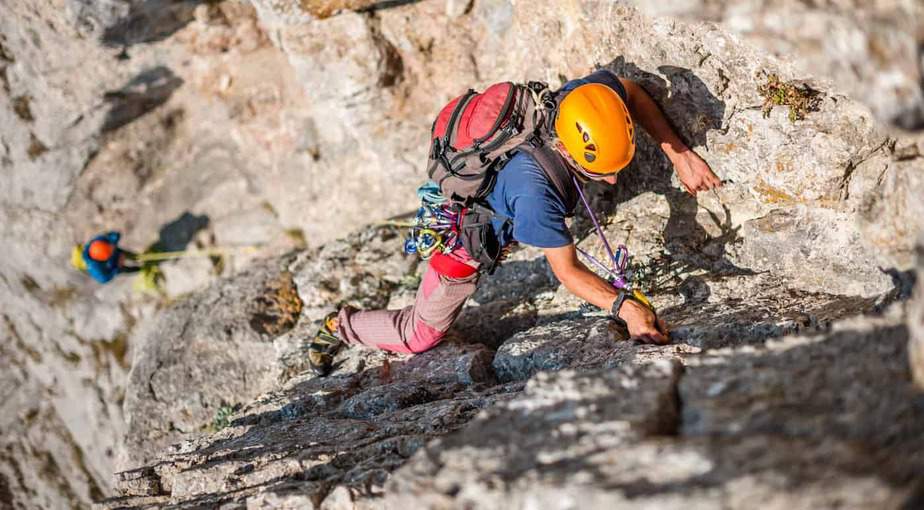 Safety Standards
To ensure safety, all climbing helmets must meet a minimum EN 12492 and UIAA 106 standard. This is tested by dropping an 11-pound mass from 6.5 feet high. To pass, the helmet must not exert a force greater than 10 kilonewtons (kN) to to the head for EN standard, and 8 kN for UIAA standard.
All the helmets on this list meet this standard, but they do so in a variety of ways. This leaves you with a few options for taking cover.
Internal Materials
One variable is the type of foam that will protect your precious cargo. There are two main types of foam on the market: expanded polystyrene (or EPS) and expanded polypropylene (EPP).
EPS is essentially styrofoam. It's actually the same material used to make packing peanuts for fragile shipments. EPS has been used in climbing helmet manufacturing for decades, and it does the trick when it comes to your head.
The downside of EPS is that it shatters on impact. It's still a valued material used in many climbing helmets, but you'll want to be aware of its potential to break, and keep an eye out for any cracks in your helmet. If you see any cracks or breaks, it's time for a replacement.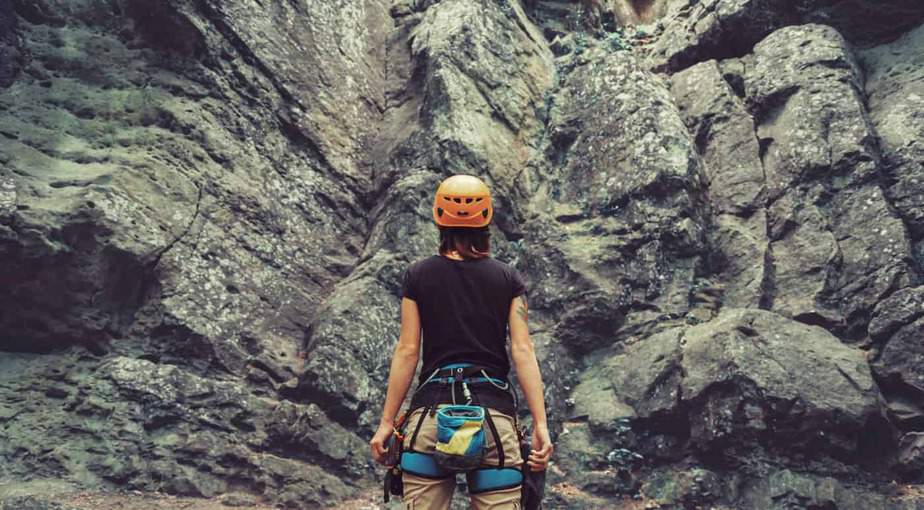 The second type of foam, EPP, is shock absorbing, and it's used in everything from car seats to bumpers to absorb impact. It's much more durable and lightweight than EPS, but it's also more expensive.
External Materials
The second thing to consider is the actual "shell" of the helmet. For this you have two basic options: an ABS plastic hardshell or a polycarbonate.
ABS hardshell helmets are durable, reliable, and typically less expensive. They're also heavy and tend to be less comfortable. If you don't use your helmet much, or are just looking for a workhorse you can toss around, a hardshell may be your best option.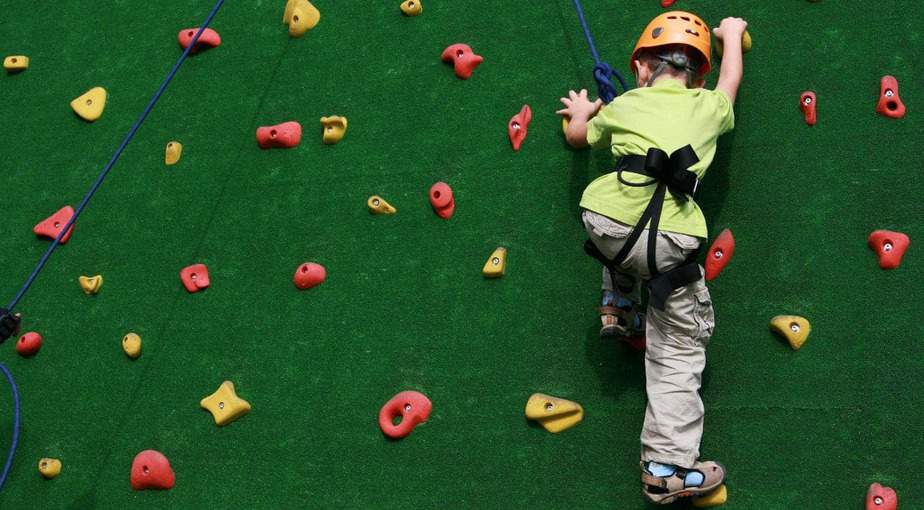 Polycarbonate helmets are more delicate and expensive, but worth their weight so to speak. They're light and comfortable, making them perfect if you spend your time multi pitching and are willing to spend a little more money. They're also fragile, though, so you'll want to take extra care. It's a symbiotic relationship—if you take care of her, she'll take care of you.
Important Considerations
As with most gear, you need to tailor your helmet to suit your needs. Find something that feels comfortable on your head, at a bare minimum. If it's not comfortable, you probably won't wear it. From there, consider how much—and for how long—you'll wear it. If you'll wear it a lot, consider investing in a lightweight EPP and polycarbonate helmet. Take good care of it. Don't take it for granted. Treat it like it'll save your life.
If you just want something for those couple times a year you're not strapping a crash pad to your back, go with a cheaper hardshell model. It'll last long enough for you to forget where you bought it—or that time you spent 20 minutes reading this review—and it'll do the trick.
And, last but not least, make sure it fits!
Methodology
I think of buying climbing gear in two ways: fun stuff and necessary stuff. Fun stuff includes your pants, shoes, chalk bag—you know, the accessories that are new and shiny and make your heart flutter. The necessary stuff includes things like a rope, draws—and, of course, a helmet. I kept the following in mind, with a goal to get your heart rate to new-shoe-level heights.
Cost: A new helmet is not as much an investment in your enjoyment of climbing, but rather an investment in your future. And, unlike other times you've invested in your future (think college degree?), this one will only set you back around $100. How much you're willing to spend comes down mostly to how often you'll use your helmet. If the answer is "a lot," invest in something high quality and comfortable, and thank yourself later.
Comfort: Have you ever been in the back of a taxi on vacation and not put your seatbelt on—and for a split second relished in the intoxicating comfort, exhilaration, and freedom? Yeah, so have I. That said, it's 2019 and you're reading this review (and are, therefore, of above-average intelligence), so I have a feeling you usually buckle up. I want to make climbing helmets the new seatbelt, so I considered comfort as a top priority.
Weight: I had a friend projecting a new grade for over a year, and finally sent the day after he cut his hair. This irrelevant antidote is likely coincidence, but weight will play a huge factor in your comfort—and willingness to wear—your helmet. Short story: The lighter the better!
Appearance: Obviously not the most important factor when considering life or death, but hey—if you look like a weird space invader/transformer, you might be tempted to leave it at home. I prefer a more classic-looking helmet, but this didn't play a huge role in my decision making.
Ventilation: This is particularly important if you run hot. Ventilation usually comes in the form of breaks in the helmet—which, at an extremely low likelihood, could make the helmet less safe. I run cold, so I actually like my helmet to keep me warm most of the time. But I factored in ventilation for all the hot-headed climbers out there.
Durability: How long your helmet will last depends a lot on how well you take care of it. The lighter helmets tend to be less durable. So if you want something you can toss around, you'll have to accept a heavier object on your head.
The Best Climbing Helmet
The Wall Rider is like that perfect girl in high school who's annoyingly pretty and good at everything. It's made of EPP foam with a polycarbonate shell, which, if you did your reading, is the holy grail of helmet combos. It comes in a few colors, all of which are nice looking without trying too hard.
Aside from looking nice, it feels nice as well. It's super lightweight, with a ventilation system in the back to keep you cool all day. Mammut has achieved comfort without sacrificing durability with this helmet. It's built to survive multiple impacts without breaking.
Some climbers complain that the adjustment system is tricky and that the headlamp clips are hard to use. Considering you'll most likely adjust it minimally (unless you're a generous friend or have a fast-growing head) and that it comes in around $100, we'll excuse these minor flaws.
Pros
Durable
Good ventilation
Lightweight and comfortable
Attractive
Cons
Hard to adjust
Not the absolute lightest
Not the absolute cheapest
In this day and age, the Singing Rock Penta can teach us all that a little compromise isn't always a bad thing. Weighing in at around 7.2 ounces, the Penta is an ultralight helmet with a hard exterior.
This makes the Penta both both delicate and durable—its hard exterior protects it from getting damaged too easily, and yet it's light enough to wear all day. It's also well ventilated, and its fully removable padding makes it easy to clean.
Some climbers complain that the straps are hard to adjust and the helmet only comes in one size, so if you have a particularly large, small, or uniquely-shaped head you'll want to try it first. But with its nice design, many features, and low price point, the Penta just might be your perfect fit.
Pros
Durable
Good value
Nice looking
Lightweight and comfortable
Cons
Hard to adjust
Hard to size
Maybe you've had a head injury in the past. Maybe you're especially cautious about not having one in the future. Or maybe you're just rich. But if safety is your main concern and money is no object, consider forking over the extra cash for the MIPS model of the aforementioned Wall Rider.
MIPS is an acronym for Multi-directional Impact Protection System. It's essentially a low-friction layer that allows the helmet to slide relative to the head, absorbing and distributing forces transferred to the brain from angled impacts.
This technology has been integrated into helmets since the early 2000s, but this is the first climbing-specific helmet of its kind. It has all the features of the Wall Rider, with added protection. At just about an ounce heavier and $50 more, the Wall Rider MIPS earns a spot as my #3 top choice for the best climbing helmets for its added safety.
Pros
Durable
Good ventilation
Lightweight and comfortable
Attractive
Safe!
Cons
Hard to adjust
Not the absolute lightest
Expensive
Petzl manages to brag in climbing terms when they describe this helmet as "less than the weight of two quickdraws." It's made to wear all day, and its internal liner is washable so it doesn't smell like you did. At 6 ounces, it's so light you'll forget you're wearing it.
The lightest, most comfortable helmet on the market—sounds perfect! Why isn't it at the top spot? Well, you've probably learned by now that, in life, everything comes with a price. This one comes at the price of looking like an orange conehead. And, depending on how kind your "friends" are, you'll never forget you're wearing it—no matter how little it weighs.
That said, the Sirocco's new model, which is higher in price (you'll likely find the older model on sale), isn't quite as offensive but still makes you look like a packing peanut. So, if you're one of those people who sacrifices form for function, go with the Sirocco. This helmet loses points for affordability (it's expensive) and durability (it can even get damaged at the bottom on a heavy pack).
For all that it lacks in style, resilience, and price point, it makes up for by just being so incredibly comfortable. And if that's a top priority for overall enjoyment of your adventures, this helmet is worth the investment.
Pros
Lightweight and comfortable
Good ventilation
Washable liner
Cons
Awkward looking
Expensive
This helmet is my #5 choice for the best climbing helmet for many reasons, and I have to admit that a big one is superficial—I seriously like the way it looks! It has all the breezy ventilation of other helmets, without making you look like you're competing in the Jetsons' edition of the Tour de France. In other words, it gives you that classic look and, as an added plus, comes in a variety of colors to choose from.
This helmet doesn't win for absolute lightest or cheapest, but at around $100 it's a reasonable investment for the quality. It's also not as light as the Sirocco, for example, but it's still lightweight enough to forget it's on your head if you size it right.
This helmet checks a lot of boxes, but where it drops to the middle of the pack is durability. Where we're willing to excuse durability issues with the ultra-lightweight helmets, the Meteor suffers the same drawback without the light-as-a-feather feel.
If you're willing to treat the Meteor with care, its comfort, price point, and cool factor will be worth the extra caution.
Pros
Lightweight and comfortable
Good ventilation
Nice looking
Good value
Cons
Not as durable as some
Not the absolute lightest
Not the absolute cheapest
6
Black Diamond Half Dome
This helmet holds nostalgic significance for me, as it was my first climbing helmet ever. You know why it was my first climbing helmet ever? You guessed it—it's inexpensive and not hideous looking.
I love this helmet for beginners, but it's really perfect for anyone who isn't going to use it all day. It's also an excellent choice if you want an extra helmet for when you finally pay your dues and take your friend outside for the first time.
It's not super lightweight, but it is easy to adjust, making it comfortable overall. They've improved the ventilation system since I bought mine years ago, but it still runs a bit hot. Even so, it's the most affordable helmet on the list and it's very durable.
Long story short: If rope climbing is more of an exception and less of a rule, get the Half Dome and save that extra money for a crash pad.
Pros
Durable
Affordable
Nice looking
Cons
Heavy
Hot
Not as comfortable as some
If you're looking for a climbing helmet that's high quality, durable, and that won't break the bank, look no further than Petzl's Boreo. This helmet is only slightly more expensive than the Half Dome, and it weighs slightly less.
The price difference between the Boreo and the Half Dome is somewhat negligible, so I would say this helmet is a top contender for "Best on a Budget," as it's durable without feeling like you're carrying a small child on your forehead. It also has better ventilation than the Half Dome, so it's a great choice if your head runs hot.
If you want to get something on the less expensive side that will essentially last forever, and you're trying to decide between these models, I'd go with the one that fits your head best. They're pretty comparable, but because they're on the heavier side it's even more important to choose the helmet that fits you perfectly.
Pros
Durable
Affordable
Good ventilation
Cons
Heavy
Not the cheapest
Not as comfortable
At around $60, the El Cap is a solid budget option if you're not as concerned with weight. Mammut made up for the extra weight by adding ventilation and a sun-blocking visor for comfort.
The El Cap is also easy to adjust, so if you size correctly you might find it's worth its weight so to speak. Its hard plastic shell is durable and reliable. Like the other inexpensive models on this list, it won't cost much and is built to last.
All that said, a major drawback of this helmet remains its weight—it's heavy. But if you're looking for a budget option with some sun protection, go with the El Cap.
Pros
Durable
Built-in visor
Affordable
Cons
Heavy
Not the cheapest
Not as comfortable
If you have an especially sweaty head and a slightly larger budget, the Black Diamond Vapor should be at the top of your list. At just 6.6 ounces, it's one of the lightest models on the market.
It may be one of the lighter options, but, unfortunately, it's also one of the more expensive. I also don't care for the Spiderman-web look, but that's a personal preference. If you're going to be spending long days on the wall and you run hot, trust me—this climbing helmet is worth it.
Like other ultra-lightweight models, this helmet is fragile. You can't just throw it at the bottom of your heavy pack and throw the rest of your gear on top. But what you sacrifice in durability you gain in comfort. Kind of like a water bed, right?
Pros
Lightweight
Good ventilation
Unique look
Cons
Expensive
Fragile
"Modern" look
Rounding out my choices for the best climbing helmets is the Edelrid Madillo. This may be the climbing helmet made for gear nerds and backpackers. That's right—it folds! This makes it perfect for climbers who are really concerned with saving space in their pack.
As much as I love making room for more snacks, this helmet loses points for being heavy. And, as you might imagine, it doesn't have the greatest reputation for durability.
Having said that, if you're a climber who rarely uses a helmet but wants to pack one just in case the spirit of safety strikes you, this helmet might be the perfect fit.
Pros
Easy to pack
Interesting looking
Conversation starter
Related Rankings
When Should I Wear a Climbing Helmet?
I (and RAVE, and my dad) recommend you wear your helmet every time you climb! This includes bouldering at the gym! But, this probably isn't realistic.
Remember when I said earlier that I don't wear a helmet that much? That's because I'm an admittedly lazy climber, and therefore, my days outside usually consist of bouldering or short sport climbs where helmets are uncommon.
That said, rockfall is no joke, especially in certain climbing areas with less solid rock. And, everyone makes mistakes. Even experienced climbers put their leg behind the rope or take weird falls sometimes.
Long story short: Helmets are commonly considered an essential piece of gear in alpine and multi-pitch climbing, where rockfall and big, uncontrolled falls are more likely. But you need to weigh the risks and rewards, and decide what's worth more to you. You might be less comfortable or stand out at the crag, but you're also the one with a nice, shiny, totally intact cranium.
How Do I Size My Helmet?
Remember being a little kid learning to ride a bike? For many of you, your parents put your helmet on for you, and you looked up and felt the fear of death in the pit of your stomach as they clipped the clasp near the sensitive skin on your neck, gave you a loving look, and shook it back and forth to make sure it wasn't moving around. Well, not much has changed since you upgraded from training wheels.
Your helmet should fit snug and cover your entire head as well as the top of your forehead without moving around when you look side to side or up and down. Like any piece of gear you wear, I recommend trying it on before you buy (if at all possible). Most helmets come in two sizes and have adjustable straps, so make sure you have it sized and adjusted correctly before you make your decision.
Is There a Difference Between Men's and Women's Climbing Helmets?
Like most climbing gear, helmets are like a gender-neutral restroom—sensibly welcoming to everyone! But, if you (male or female) have a lot of hair, you might want to consider helmets marketed to women, because they usually offer space in the back for your ponytail. Or you can just keep your eye out for a gap in the webbing in the back that'll leave room for your 'do.
RAVE Recommends
Your head is looking so fresh, so stylish, so protected, and you want to keep shopping? Check out these products I also love!
Trailheads Micro D Fleece Gaiter: Sometimes, on those cold alpine days, the thing you need most is a nice Micro D to keep you warm. This neck warmer is ultra-comfortable for all-day wear.

Black Diamond Storm Headlamp: This mid-priced headlamp will fit perfectly on your brand new helmet and keep you safe for long nights on the wall.

Mammut Helmet Holder: Most climbers attach their helmet to their backpack with the chin strap and suffer as it bounces around everywhere, making noise and being generally inefficient. Use this holder to attach your helmet to any backpack with front exterior straps to solve this (annoying albeit minor) problem.

Y&Y Vertical Belay Glasses: When considering your future, your head isn't the only thing that needs protection. Get these glasses and stop straining your neck every time you belay—you can thank me when you're old.

Devin Fuller
Devin Fuller formerly traveled the world as a fashion model, and now resides in San Francisco, CA. She loves being active outside, mostly climbing, sometimes surfing, and always eating and drinking well.