Depending on what you climb, you might use different shoes, a different rope, even a different partner.
But your climbing chalk is the one part of topping out that remains constant. Choosing your chalk is a commitment. And with this in mind, I set out to find the best climbing chalk for your warm ups, projects, and everything in between.
Look no further than FrictionLabs Unicorn Dust. It stops sweaty palms without over-drying your hands. Tons of athletes, from Daniel Woods to Alex Puccio, swear by it—probably because FL pays them to. They have yet to send me a check, so I can genuinely say their product lives up to the hype.   
Buying chalk is kind of like buying toothpaste. It's necessary, but you're not going to gleefully unwrap a fresh bag of chalk and shake with excitement. No one is giving you chalk for your birthday—unless your friends are boring or your significant other is the practical type. But have you ever felt your hands ache when you watch new climbers head up the wall chalk-free? Or wish you brought your chalk bag with you any time you see a movie with Alex Honnold?
Chalk is basically the underdog of climbing gear. No one is stoked on it, no one talks about it, but at the end of the day, we all have to give thanks for its part in our sends and adventures. So this review is for you, chalk, the unsung hero of the climbing world.
The Climbing Chalks We RAVE About
FrictionLabs makes a variety of chalk textures, from super chunky to fine—all of which are the highest quality, purest, and, unfortunately, most expensive products on the market. I like the texture of the Unicorn Dust, but anything from their line is going to give you that luxury feeling.
Read Full Review
Shop FrictionLabs Unicorn Dust
Use this refillable chalk sock to prevent loose chalk from getting everywhere. Or, if you're like me, fill your bag with loose chalk and use it like a stress ball when you get too far from your last clip.
Read Full Review
Shop Metolius Super Chalk Sock
Chalk is that magical white dust that athletes, from weightlifters to gymnasts, use to absorb sweat from their hands. It's especially crucial in rock climbing, as you can imagine reducing sweat, increasing friction, and generally making things less slippery is pretty important when you're a few hundred feet off the ground—probably even more important at 15 feet, for that matter. It's what's covering Margo Hayes's face in what might be one of the most endearing and inspiring photos of all time.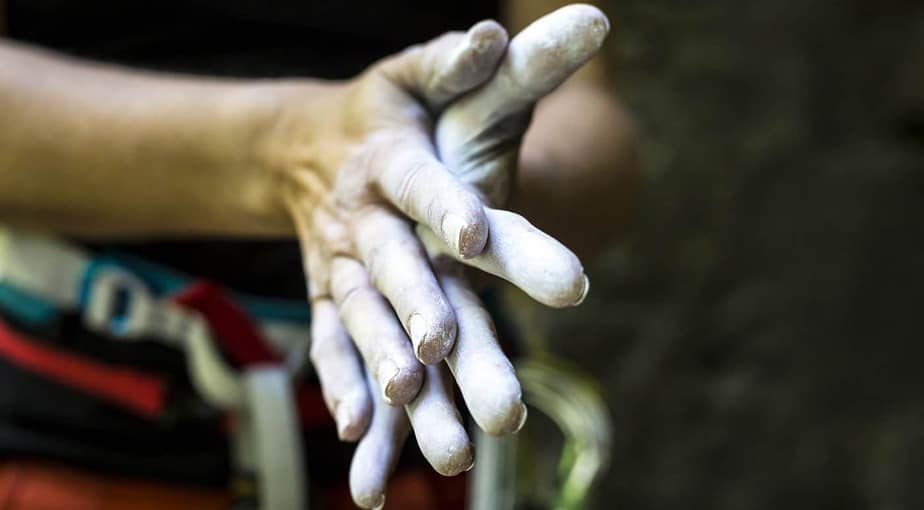 It's often sold in bulk or in bags at your local climbing gym, but you can also find climbing chalk online or at almost any outdoor retailer. It's one of those things you don't think about until you're running low—and then you really think about it. Climbers even use chalk as a mental crutch, as if getting your shoes so tight they're basically fused to your feet and getting your hands covered in chalk will be the perfect combination that'll help you finally send your project.
What Is Climbing Chalk?
Climbing chalk is a necessary evil. It's a bit smelly, and it's definitely messy—it will get on your clothes and your face, and leave marks on whatever you're climbing. Until they invent an invisible, odorless, synthetic version of magnesium carbonate that works just as well (looking at you, Shark Tank) or we finally adapt to stop sweating profusely on our hands (looking at you, middle school version of myself on a first date), chalk is what we have to work with. So why not buy the best, longest lasting, and purest product on the market?
Loose Chalk
You have a few choices when it comes to the form your chalk takes. You can go with loose chalk, which is a popular option as it gives the satisfaction of feeling your hands coated in the stuff. It's by far the messiest choice, which it's why it's banned at some gyms. It's what accounts for the white haze often seen on the horizon, and the big white spots on the floor. But mentally, spiritually, physically, literally—it works.
Chalk Socks
The second choice is a chalk sock. Some companies offer reusable chalk socks that you can refill with loose chalk to prevent over-use, running out sooner, and generally being wasteful. You can also buy cheaper chalk socks that are usually stapled together and don't allow you to reuse them. They won't give you that oh-so-good feeling of loose chalk on your hands, but they will stop you from your own wastefulness and prevent you from asphyxiating the people around you in a cloud of white powder.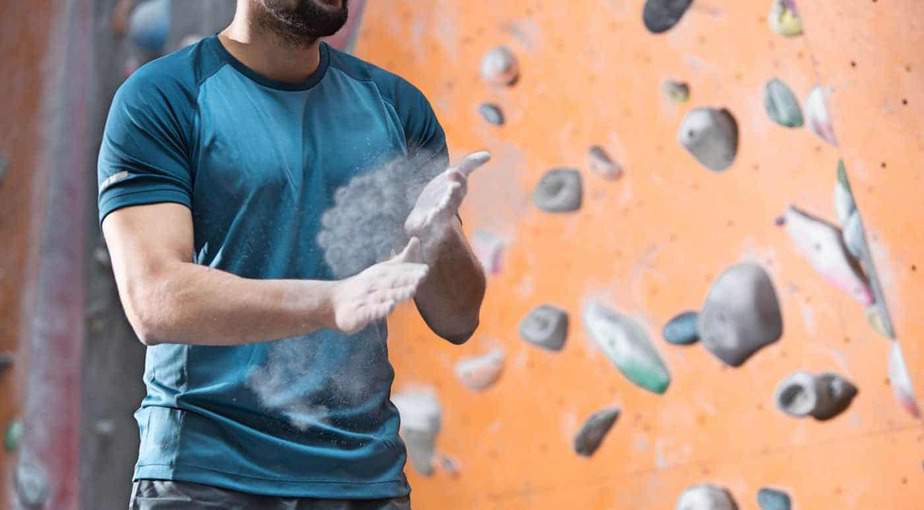 Liquid Chalk
The third option is liquid chalk. Not as commonly used, liquid chalk combines regular chalk with alcohol so you can rub it on your hands in liquid form. The alcohol dries, leaving your hands with a base layer of chalk that's absorbed into your skin. Again, it doesn't give you the same invincible feeling of your hands being coated in loose chalk, and most people use some form of regular chalk on top of their liquid chalk (liquid chalk + chalk sock + loose chalk = Holy Trinity of sweat-free extremities).
Liquid chalk also doesn't allow you to be the obnoxious friend who has to do the Lebron James at every session (maybe this is a positive?). But it does prevent you from unintentionally looking like a geisha. More importantly, the alcohol helps sanitize your hands, and the base layer will prevent you from wasting that high-quality chalk you decided to invest in.
One More Option
Your fourth option is no chalk. Just kidding. This isn't an option. Unless you're this guy. I'm guessing not, though, cause that guy definitely doesn't read advice or gear reviews on the internet.
Methodology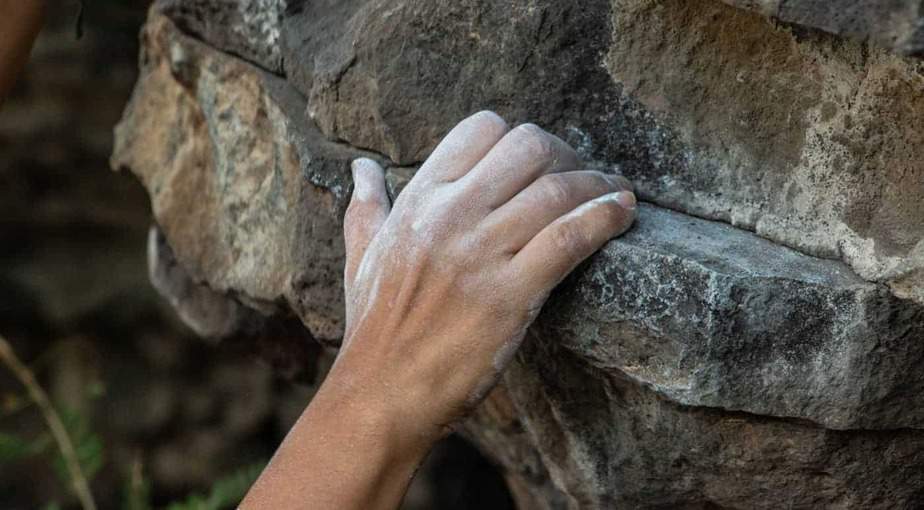 Not to brag, but I chose my short list of the best climbing chalk products after a whole lot of testing. (Does this make me a "professional" climber? I think maybe. Yes. I think yes.). I tested each product on a variety of terrain, from indoor to outdoor, bouldering problems to longer routes. And I kept a few things in mind when determining the best climbing chalk:
Cost:

 Everyone knows that sketchy guy who's always "borrowing" everyone's chalk or picking up scrap chalk nuggets from the floor. He's reducing his impact, living simply, on the road, whatever—we get it. On the bright side, chalk is relatively inexpensive. We took cost in mind, but also, don't be this guy.

Type:

Whether you like chalk socks, loose chalk, or liquid chalk really comes down to personal preference. We looked at all types of climbing chalk to determine the best in each category.

Purity:

We sought out the nice, pure, magic white powder that isn't cut with too much calcium carbonate or calcium sulfate. You know, the good stuff.

Efficacy:

We want chalk that lasts longer so you don't have to chalk up as often throughout the route, or, worse, feel your hands slipping at the top of your boulder problem. If you want to chalk up unnecessarily to rest and shake off nerves, don't worry—we won't judge you (we do it too!).

Texture:

This, again, comes down to personal preference. I like my peanut butter crunchy and my climbing chalk smooth, but that's just me. Some people use the pebbles in their chalk to draw tick marks on the wall, or for the meditative feeling of crushing chalk between their fingers.
The Best Climbing Chalk
What Exactly Is Climbing Chalk?
Short answer: Magnesium carbonate (or MgCo3), which is a non-toxic, inorganic salt. It's used to dry athletes' palms, but is also used in toothpaste, cosmetics, flooring, fire extinguishers, and as a laxative in high doses. Information is fun!
How and When Do I Use Chalk?
If you're a new climber, you might feel intimidated by all the people around you chalking up like they came out of the womb with white hands. Don't worry—there's no right way to do it. Just put a little chalk on your hands before you climb.
If you're bouldering, people generally chalk up before each boulder problem (hence the big chalk buckets that stay on the ground). If you're getting on ropes, it's best to have a chalk bag that wraps around your waist so you can chalk up before and during the climb.
Really, climbing can be scary—but not because you should be intimidated by other climbers. My attitude: chalk up in the locker rooms if you want!
There Must Be Some Sort of Etiquette I Can Mess Up Here, Right?
The one way you can mess up is by leaving "tick marks," or the small lines made with chalk to point out hand or foot holds when climbing outside. With a few (often debated) exceptions, all tick marks should be rubbed off at the end of a session.
RAVE Recommends
Okay, you've found your favorite climbing chalk. Your hands are dry and you're ready to get out there. Check out these products to help you hold your chalk and protect your skin!