Our pick for the best overall basketball shoes are the Adidas Performance Men's Crazy Explosive Basketball Shoe.
Available in four color options, these quality shoes are made from 100% textile and synthetic material with a rubber sole. You'll love how comfortable they are, as well as how responsive they'll make your game out on the court. 
Whether you're a gym rat or just a massive NBA fan, everybody loves a good pair of basketball shoes, and it's even better if the name of your favorite baller is associated with the brand. There is, after all, no better way to show your support than decking yourself out head to toe in your team's gear — and that includes the shoes.
But maybe you're more than a fan — maybe you play basketball and want to take your own game to the next level. We hear you, when it comes to basketball shoes, there are a lot of options out there — and none of them are cheap! So we did the hard work for you. 
We'll tell you why you need basketball shoes, why they're important, which shoes have the best cushioning, and even whether or not they are good for everyday use.
We know you'd rather be in the gym working on your "J," or planning your NBA fantasy team for next season. Coming up next is our ranking of the 10 best basketball shoes. 
No matter what, these shoes have a complete game: in the lane, in the paint, and beyond the three-point line.
The Basketball Shoes We RAVE About
Best Overall Unisex Basketball Shoe: Nike Hyperdunk
Our pick for best unisex basketball shoes are the Nike Hyperdunk. With Zoom Air units, responsive cushioning, and a wavy traction pattern, these shoes offer excellent grip on the court, no matter what position you play.
Read Full Review
Shop Nike Hyperdunk
Maybe up until this point you've been playing basketball in any old pair of sneakers. Cue your dad telling you, "In my day, we didn't have those fancy, expensive, shoes — we just balled!" 
So you might be asking, why do I need basketball shoes?
Basketball shoes help prevent injuries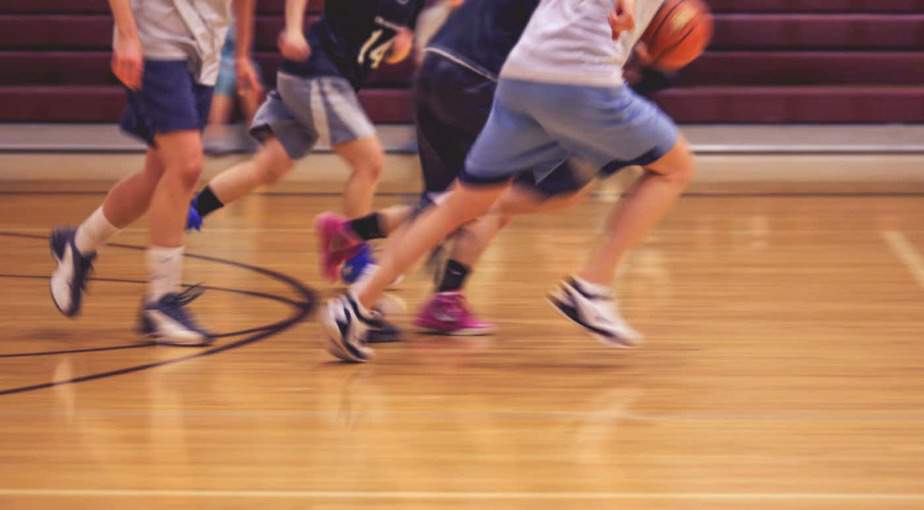 Playing hoops puts your body at an increased risk of injury. Here's what basketball shoes do to help keep you on the court:
You don't want a rolled ankle, one of basketball's most common injuries. Regular running or tennis shoes just don't have the same kind of ankle support compared to basketball shoes. 
Basketball shoes are specially designed to help protect your feet from everything the game of basketball puts them through, supporting them where they need it most, and providing stability when it counts.
The kind of running, jumping, and leaping involved in playing basketball puts a lot of stress on your knees, ankles, and back. Brands like Adidas and Nike have invested a lot of research in ways to relieve some of that pressure — solving the problem, with like, actual science.
Basketball shoes help your game
Okay, so no pair of basketball shoes will make you an all-star player, but every player needs a quality pair of basketball shoes.
Each position in basketball has its own set of signature moves, all of which take a toll on your feet, ankles, knees, and back. Basketball shoes support these areas of your body while you play.
But why are basketball shoes so expensive?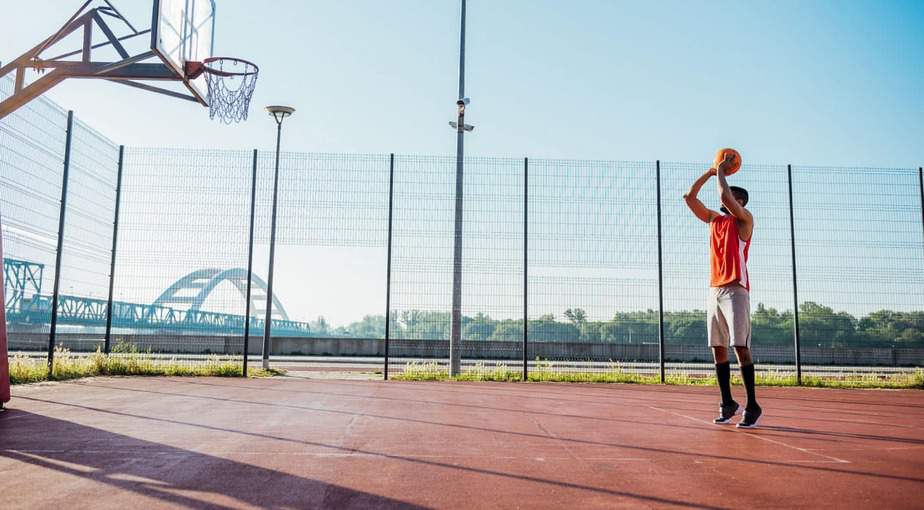 We get it — basketball shoes are pretty expensive. But look at it this way, basketball shoes for playing basketball and running shoes are designed for running. 
If you're both a runner and a basketball player, maybe you figure you can save some money and wear your running shoes on the court. 
But that's just going to wear your running shoes out faster. Get a good pair of running shoes and a good pair of basketball shoes and you'll save a lot of money down the line.
Have we convinced you how much you need a good pair of basketball shoes? The next question is how do you find the right pair for you?
How to choose a basketball shoe
There are three basic parts of any basketball shoe:
Upper height comes in high, mid, and low. High provides the most ankle support, and low uppers are all about agility. Mid is a happy medium, providing some ankle support while also allowing for some flexibility. 
The midsole is where all the cushioning happens. Most midsoles are made from the following:
Ethylene-vinyl acetate (EVA) foam

Compressed EVA foam

Polyurethane
…or sometimes a combination of all of the above.
If you're looking for a light midsole, go with EVA or compressed EVA foam. Polyurethane midsoles are more durable, but also more dense.
Some shoes use proprietary technology to add extra cushioning at the heel and forefoot, and basketball shoes reinforce the medial portion of the shoe for extra stability. 
The outsole of the shoe, where the traction comes from, is usually made from rubber or some kind of other synthetic material. For peak balance, go with a flat and wide outsole. For grip, look for an outsole in a herringbone or hexagonal pattern.
If you play a lot of outdoor ball, look for a thicker outsole. 
And while this part of the basketball shoe buying process may be the least important, it certainly is the most fun: No matter what, you should like the way the shoes look, and how they make you feel.
Now that we've covered the different parts of a basketball shoe, let's move on to how the shoe should fit. 
How to find the right size basketball shoes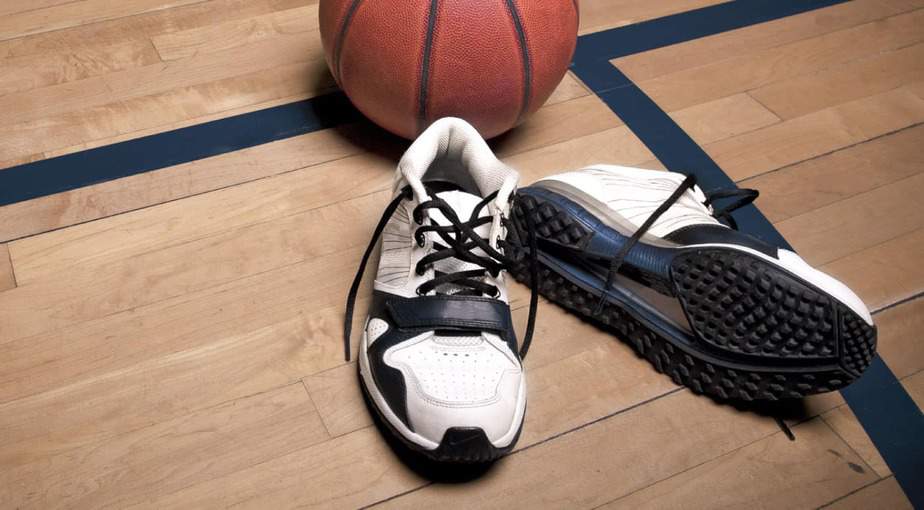 Getting a good fit is perhaps the most important part of buying a new pair of basketball shoes. Here are a few pointers:
Make sure your toes have enough room in the toe box

Always stand up when you try on basketball shoes

There should be about a thumbnail length's space between the tip of your longest toe and the shoe

Check for any heel rubbing or slipping
That's about all you need to know about the basics of basketball shoes. The only thing left to do is to buy a new pair from our ranking of the 10 best basketball shoes.
Methodology
People are into basketball shoes. Like, really into them. There are websites, blogs, and Youtube channels full of reviews and comments just about basketball shoes. Some people buy basketball shoes just to keep them in the box!
As we prepared this ranking, we looked at the opinions basketball shoe lovers, industry professionals, and basketball players of all skill levels. We didn't limit this ranking to just men's shoes, including a 50/50 mix of both men's and women's basketball shoes.
We also consulted similar rankings from trusted and reputable sources all over the internet.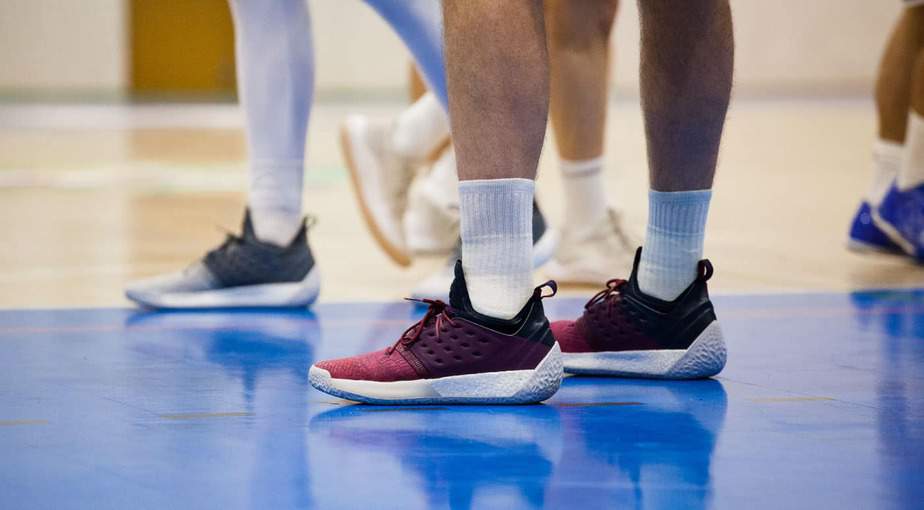 We ranked each shoe on the following criteria:
Uppers

Midsole

Outsole

Additional features
We also took into consideration:
Price

Brand

Rarity

Aesthetics of the shoe

For which style of play the shoes are best suited
No, we didn't try on these shoes ourselves, but if you've ever seen any of us try to play basketball, you'd know that wouldn't have helped much anyway. But we haven't included any shoes we wouldn't wear ourselves.
So trust us, this is only the good stuff. Coming up next is our ranking of the 10 best basketball shoes.
The Best Basketball Shoes
Got some unusual feet? Flat, wide, or webbed? Okay, maybe not that last one. Here are some pointers to help you find your best basketball shoes, no matter what kind of feet you have.
1) What are the best basketball shoes for wide feet?
You've always been tall, that's why you play basketball in the first place. But along with height often come wide feet. Nevertheless, many basketball shoes seem to be made for narrow feet. 
The good news is that more and more shoe manufacturers are taking steps to address this issue. Here's what to look for when you shop for basketball shoes for wide feet:
Arch support

Ankle support

Stability control

Anti-slip soles

Wider toe box
And here are some additional tips for shopping for the best basketball shoes for wide feet:
Look for shoes made from stretchable material
Knitted and woven material can overstretch, but if you have wide feet, you want shoes with some capacity to expand.
If the shoes have an especially wide traction pattern, chances are they were designed with wider feet in mind.
Best basketball shoe for wide feet: Adidas NEO Cloudfoam Ilation.
Available in wide sizes, the Adidas NEO Cloudfoam Ilation has a rubber sole, a shaft measuring approximately mid-top from the arch, and an air mesh tongue, collar, and rear quarter. It's the perfect shoe for a basketball player with wide feet. 
2) What are the best basketball shoes for flat feet?
If you have flat feet, you know they can cause a lot of pain, even when you're just standing for prolonged periods of time.
Flat feet, also known as fallen arches, can be caused by a variety of reasons. Sometimes it's genetic, sometimes it's due to spending too much time in ill-fitting shoes. 
So finding a good pair of shoes is important, particularly if you're passionate about playing basketball. 
Too much physical exertion in poorly fitting shoes can result in pain and swelling in the bottom of the foot. In addition, fallen arches tend to turn your ankles inward when you're physically active, putting extra pressure on the joints. 
If you have flat feet, or fallen arches, here's what to look for in a new pair of basketball shoes:
Enhanced arch support

Stability control

Integrated shock-absorbing cushions
Best basketball shoes for flat feet: NIKE Air Jordan XXXII.
What sets these shoes apart for players with flat feet is superb arch support and lockdown, as well as the kind of amazing cushioning and excellent traction expected from any Nike product. 
3) And which basketball shoes are best for plantar fasciitis?
Plantar fasciitis is one of the most common causes of heel pain. This condition happens when the thick band of tissue stretching across the bottom of your foot, connecting your heel bone to your toes, becomes inflamed. 
No matter the reason why plantar fasciitis occurs, it is very painful, and it can cause a lot of issues for basketball players. 
But many basketball shoe manufacturers have taken up the cause, producing shoes made especially for players suffering from plantar fasciitis. 
Here's our pick for the best basketball shoes for plantar fasciitis: Adidas Harden Vol 2. 
If you suffer from plantar fasciitis, you'll love the Harden Vol 2's extra foam boost in the midsole, minimizing joint pain and maximizing impact protection. 
You'll also appreciate the adjustable lacing system and strong rear panel, which help create the perfect fit and add extra protection to the midfoot. 
4) What are the best basketball shoes?
By now, you want to get out and play basketball, so we won't take up any more of your time. Here's the good stuff: 
Our pick for the best overall basketball shoes are the Adidas Performance Men's Crazy Explosive Basketball Shoe. We love these shoes for their blend of style and performance, with an up-to-date lacing system, extra cushioning, and Xeno upper. Wear these shoes, and you'll be explosive too. 
Our next pick is the best overall basketball shoe for women: We say head straight to the AND1 Women's Overdrive Basketball Shoe. 
What sets these shoes apart is the unparalleled breathability, durable textile and synthetic construction, and rubber sole. They'll help you maintain control out on the court. 
And for the best overall unisex basketball shoe, there is no better option than the Nike Hyperdunk.
When it comes to the Hyperdunk, we love the Zoom Air units, responsive cushioning, and unique, wavy traction pattern.
RAVE Recommends
In addition to the best basketball shoes, what else do you need to take your game to the next level?