The era of the briefcase is closing. This is the era of the work backpack.
Once upon a time, men in flannel suits crowded into carpools carrying three essentials: a newspaper, umbrella, and briefcase — all identical.
We live in a different world today. The modern workforce is more mobile, on-the-go, relies more on public transit, and carries heavier (and more delicate) personal items — like laptops and tablets. We're saying "good riddance" to the briefcase and welcoming work backpacks with open arms! For decades, briefcases were a leading cause of back pain, achy joints, and poor posture. The best work backpacks are more versatile, efficient, and ergonomic: the carrier of choice for the modern urban worker.
In this list, we give you a varied selection of work backpacks with top scores in quality, comfort, and style. Whether you're a high-rise executive or a downtown pavement hitter, there's something here for you.
Also be sure to check out our ranking of the Best Headphones.
The Work Backpacks We RAVE About
Work backpacks are nothing new, technically. They've been around for centuries. The trouble is they've been the preferred carrier of working class types as well as heavy foot-travelers, adventurers, and outdoorsmen. There is one simple reason for this: practicality. The backpack is a simple but efficient carrier that is more forgiving on your muscles, joints, and lower back.
In recent decades, the backpack has begun to climb the corporate ladder. It is fast becoming a respectable carrier for business people from high-rise offices to downtown cubicles. This is a result of many transformations in the workplace. Employees are more mobile now than ever before. They rely more on public transit. And they must carry heavier (and more delicate) personal items like laptops and tablets.
While the briefcase still carries the day (Get it? Carries? I'll see myself out …) as the more professional and business-appropriate carrier, recent models of work backpack have flexed their superior carrying capacity and durability while making them more stylish and workplace appropriate. With this, there is now a breathtaking range of backpacks for laptops to choose from.
RAVE Reviews has identified the best work backpacks on the market, across all price points, to make your decision easier.
Read on and discover how a work backpack will change your life.
Why You Should Prefer a Work Backpack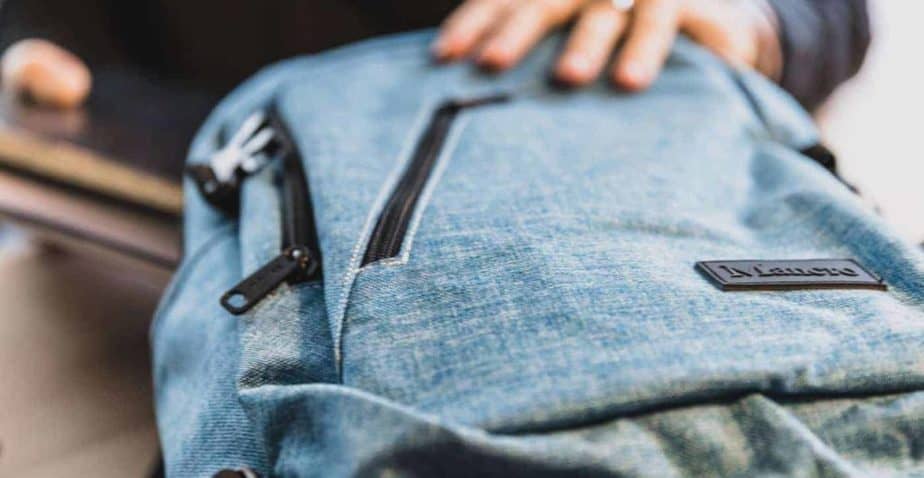 There is a long debate about the best way to carry your professional effects: briefcase, backpack, handbag, or roller. Most people must commute to an office for their jobs. While this is usually done by car, recent studies show that more and more workers rely on public transit. Freelancers and private contractors may work from home, but often their work involves a great deal of travel to visit clients.
In short, everyone has at least a little bit of work-related stuff they need to carry with them at all times, and it can't always fit in a pocket. The main items include laptops, books, papers, pens, and calculators. The more distance you need to cover in a day, the more important it is to select the right luggage.
In this section, we'll walk you through every alternative to backpacks. We'll remark on the cons and pros of each. At the end, you should have a clearer idea if a work backpack is right for you.
Briefcase
Nothing quite measures up to the traditional briefcase. It has a high symbolic stature in our industrious and fast-paced culture. Nothing quite says, "Let's get down to business" like lifting a polished leather briefcase like a sidearm and slapping it on a table. Just watch almost any movie! If there's a load of cash or a doomsday device or a secret serum that needs transport, the preferred packaging is always a briefcase! It is the most cinematic piece of luggage on this list.
Pros:
Professional looking
Rich cultural symbolism
Durable
Whatever there is to be said for style and cultural symbolism, the briefcase is fast falling out of favor. And for very good reasons. While good for professions like law or real estate, which require only a few papers and some pens, the briefcase immediately becomes cumbersome when you need to carry anything substantial. When a briefcase carries what it is designed to carry, it's awesome. But it is also extremely limited in what it can carry and how much. Documents? Sure. Tablet? OK. Laptop? Maybe not. Water bottle? Heck no.
But there's more. Even if you carry just a few items, lugging around a briefcase every day will affect your posture over time. When carrying a briefcase, weight distribution is uneven. This causes strain on joints and muscles. Over time, this can lead to sore muscles, achy joints, and back pain. This could set you up for injury later on. The longer and more frequently you need to carry a briefcase, the more damage it could do.
Cons:
Can affect good posture
Extremely limited carrying weight
Often expensive
Handbag
As women climbed the socioeconomic ladder in the 20th century, they changed workplace culture. Women even changed what equipment was used. Thus the professional handbag (or purse). You know a piece of luggage is here to stay when it crosses the gender threshold. Nowadays, just as it is commonplace to see women with briefcases, there are handbags designed for men.
The handbag does much the same thing as a briefcase. If there is one thing setting it apart, it is the option to sling a strap over the shoulder. For this reason, handbags have a higher weight capacity. In fact, once personal laptops became standard equipment, the handbag boomed in popularity. In fact, many handbags are designed to carry a laptop and little else.
Pros:
Stylish
Higher weight capacity
Specialized design for new tech
However, many of the problems of the handbag are the same as the briefcase. First, it puts all the weight on one side of the body. While a handbag does a better job of centering the weight, it also tends to carry a heavier load. This only adds the strain on the neck, shoulders, and lower back. Second, handbags tend to be less durable than their briefcase forebears. They are especially ill suited for poor weather.
Cons:
Less durable
Can affect good posture
Not weatherproof
Roller
Rollers are essentially a mash-up between a high-durability briefcase and airport luggage. A briefcase with wheels, if you like. They are usually the carrier of choice for older workers who have retired their briefcases. They seem to have all the pros of briefcases with none of the cons.
Since they are pulled, not carried, rollers put no stress on the body. They have an extremely high weight capacity. They may look less professional, but they spare you a trip to the chiropractor.
Pros:
High weight capacity
Durable
Posture friendly
Rollers are wonderful, but only if you happen to be trailing it on a smooth and even floor. Commuters who must drag a roller across streets or sidewalks will have a difficult time. The slightest cracks in the concrete will send the roller bucking. Bits of debris get lodged in the wheels. If you fail to evade a puddle of spilt slushy, the underside of your roller will need a clean.
The roller's greater weight and size make it difficult to maneuver through narrow walkways and rotating doors. They take up a lot of floorspace, which makes them irritating on elevators and distracting in conference rooms. If you use public transit, they are a hassle to haul off and on transfers. If you make the mistake of filling them to capacity, you may even injure your back.
Cons:
Cumbersome and unwieldy
Bad for long-distance commuting
Bad for public transit
The Work Backpack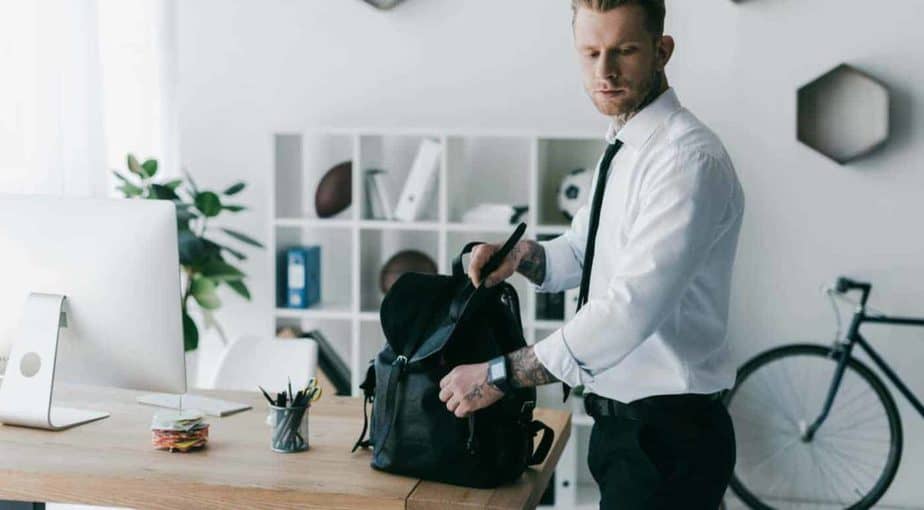 In the above reviews, we've tried to strike a balance. Obviously, briefcases, handbags, and rollers all have factors playing in their favor. We don't suggest the work backpack is the best work carrier in all circumstances. It isn't. Still, there is a strong case for why it should be seriously considered for your circumstances.
So, here's the case for the work backpack:
The work backpack distributes weight evenly on both shoulders: While you must still be careful how you pack and carry your backpack to avoid straining your shoulders, neck, and lower back, the backpack is far more friendly to your body than its peers.
The work backpack is durable: I need to be clear here: Obviously, some briefcases and rollers are built like safes. While a work backpack is less useful for bludgeoning an assailant, it tends to have a longer lifespan when used for its intended purpose.
The work backpack is weatherproof: A work handbag in the rain is a disaster. A leather briefcase in the snow may need to be reupholstered. But a work backpack has roots in outdoor adventuring that equip it for even extreme weather conditions. Got caught in the rain on the way to the office? You may need to dry your hair, but your personal effects will be dry as a bone. If you're carrying important documents, a work backpack is a safer bet.
The work backpack can alternate between work and play: Let's say you like to go somewhere before heading home after you clock out. Maybe it's the gym, the park, or the bar. Do you really want to be seen with your briefcase or roller? That's like bringing the office with you! A backpack fits into any environment. More than that, its greater storage space means it can carry your gym clothes or a frisbee as well as your laptop.
The work backpack has greater storage capacity without being cumbersome: You want to pack smart. You seldom want (or need ) to fill your backpack to capacity. Carry only what you need. That said, most backpacks have space to carry everything you might use throughout the day. Laptop? Check. Documents? Check. Water bottle? Yep. Breath mints? Why not. A briefcase or handbag must be more selective.
The work backpack is stylish: There's no need to look like you just got back from a camping trip. Buyers have a wider range of products than ever before! It's not difficult anymore to find a backpack that meets your needs while looking like it belongs in a high-rise office. At the very least, it's easy to find a model that won't clash with your suit.
The bottom line is this: The longer your commute, the more you need to carry, the more mobile your lifestyle, and the more time you spend walking outdoors, the more seriously you should consider using a work backpack.
Methodology
How did we find the best work backpacks out there? The results of these reviews came from cross-referencing product tests (by both companies and individuals), applying critical analytics to hundreds of customer experiences, researching the policies, principles, credentials, and methodologies of manufacturers, and also citing authorities on particular brands. In short, we strived to put ourselves in your position. The only difference is that we did the research for you.
Below are the questions we asked when reviewing each product:
Price. Does the quality of the backpack reflect (or exceed) its value?
Style. The backpack should be considered a part of your workplace wardrobe. It can't all be about function! So we ask, is the backpack aesthetically pleasing?
Construction. In addition to high-quality materials, is the product designed with office workers in mind? Is there an internal compartment specially designed for a laptop, another for documents, etc.?
Comfort. For example, are the straps padded? Is the back plate ventilated? Are the straps adjustable?
Personable features. In addition to work-related supplies, does the design account for personal effects like keys, water bottle, breath mints, cellphone, sunglasses case, etc.?
Weatherproof. Is the backpack built to endure rain and snow?
Security Features. What measures does the backpack take to protect the contents both personal and work-related? For example, does the zipper have a lock? Are certain pockets Radio Frequency Identification Device (RFID)-protected?
Mobility conversion. Can the backpack be converted into a roller, when shoulders begin to ache?
Company policies. Does the company offer a warranty? If so, what are the terms? Is shipping free? What about returns?
Positive reviews. Once we get past the marketing jargon, how are the actual experiences of buyers? Are they positive?
The Best Work Backpacks
1
Briggs & Riley Kinzie Street Medium Backpack
Price: $215.20
Construction: Proprietary polyester fabric blend
For long-distance commuters, frequent travelers, and any pavement hitters who spend any notable time during the day on their feet, this backpack for laptops is the industry standard. When it comes to style, efficiency, and high-quality construction, it doesn't get better than this. The design is modern and sleek; if you replaced your briefcase with this, no one would ask questions.
Let's start from the outside. The proprietary polyester fabric blend wicks away moisture and resists wear and abrasions. It's not quite waterproof, but unless it is soaking in a puddle, you should be fine. The polyester is leather-tough and can endure the abuse that comes with the knocks and bumps of a long commute. Lightweight, versatile, with industrial-grade hardware, it's also gorgeous. It is available in two colors.
Briggs & Riley is a unique company on this list because it specializes in luggage rather than fashion. The company focuses on engineering for urban life, not style. And it shows. Every square inch of this product displays thoughtfulness and efficiency. The 15-inch laptop sleeve is generously padded. A second main compartment features an organizer for every tool or item you may need. There is also a "secret" pocket in the back, near the armpit, for sensitive items like wallets.
Pros
Extremely durable
Thoughtful urban design
Aesthetically pleasing
Cons
A bit pricey
No size options
2
Timbuk2 Parkside Laptop Backpack
Price: $45
Construction: Polyester
Anyone who has done any browsing for an adult backpack that doesn't look like something out of middle school has come across the brand Timbuk2. In many respects, they've led the charge on backpacks designed for us grown-ups in the workplace. At any rate, they offer the widest selection of adult backpacks, so it was statistically likely they'd place high on this list.
The Timbuk2 is made of polyester. Though more durable when woven, this material manages to hold up well over time. It can endure all the abuse that comes with your commute. While it isn't exactly waterproof, it is water resistant. If you get caught in a downpour, you have at least some time to find shelter. 
The Timbuk2 can store loads of items. It features two large front pockets and other smaller ones, including a side pocket with an elastic mouth — perfect for your water bottle! The main compartment is 25 liter — one of the largest on this list — and the padded laptop sleeve can fit laptops up to 15 inches. It also features a ventilated back panel to keep you cool on hot days. This product gives you all the essential features of a quality backpack and then some. 
Pros
Durable polyester
Lifetime warranty
Extremely affordable
Cons
Not waterproof
A bit oversized
No security features
3
Kenneth Cole Slim Tech Laptop Backpack
Price: $500
Construction: Columbian Leather
As stylish as backpacks can be, they seldom live up to the geometric beauty of a shining leather briefcase. Some even think a backpack can't be as professional looking and workplace appropriate as a briefcase. Well, we beg to differ. The stylists at Kenneth Cole, a fashion house based in New York City, deliver all the class and quality of a traditional briefcase to a work backpack.
This piece is made entirely of Columbian leather, which makes it both tough and touchable. Designed for executives on the go, this backpack could replace your briefcase, and no one would question it. It features three compartments, each designed to hold a special piece of tech: laptop, tablet, and phone. It can fit laptops up to 15.6 inches — large for this market! Every wall is padded lushly for added protection.
This backpack is packed with travel-friendly features. It helps you stay organized with a front compartment that includes a padded phone pocket, pen loops, card holders, and even a keyring clip. You can also breeze through TSA with the integrated EZ-Scan technology that allows you to get through security without removing your laptop. Sure, the leather may need occasional cleaning and polishing, but when you look this good, who cares?
Pros
EZ-Scan technology
Professional style
Spacious, organized design
Cons
High price
Large for everyday use
No security features
4
Dagne Dover Dakota Backpack
Price: $135-$195
Construction: Neoprene
This is the backpack endorsed by the working women of New York City. The construction is made of neoprene, a variation of the synthetic rubber used to make scuba suits. This makes this women's backpack for laptops super tough but also lightweight (the largest size clocks in under 3 pounds), easy to clean, comfortable, and ready for bad weather. Neoprene molds to the shape of the body and is very breathable.
The design of the Dakota backpack is minimalist, but you can personalize it by selecting from six different colors. This model comes in three different sizes, ranging from 8 to 20 liter volume. We find the medium (16 liter) is sufficient for holding everything you will need for the office, plus an extra pair of clothes and shoes for the gym. This is an efficient backpack that looks good and is good for the commute as well as travel.
Every size will fit most 13-inch laptops. Each size has a main chamber, a mesh laptop sleeve along the back interior, an array of pockets both external and internal, a large front pocket, and even a shoe bag. Both shoulder straps are adjustable. Shipping and returns are free within the continental United States. 
Pros
Tough neoprene construction
Clean, efficient design
Free shipping
Cons
Somewhat higher price point
Somewhat small
No security features
5
Herschel Little America
Price: $99.99
Construction: Woven polyester
If a mountaineer and a traditional American-style barber designed a backpack, this would be it. It's basically a rucksack for a laptop. Offering a balance of style and function, this backpack could endure a cross-country hike without looking out of place in a conference room. The iconic leather straps with buckles add some refinement. The rest of the backpack is made of 100% woven polyester, which makes it extremely durable and water resistant.
Available in more than 51 styles, you can choose the best pairing for your suit and tie. This mid-volume size is ideal for everyday use. The main internal compartment is 17 liter. The laptop compartment along the back is padded and lined with fleece, giving extra protection for those inevitable bumps and blows during your commute. It fits a standard 13-inch laptop. This makes it a good fit for the average person, but individuals around 5 feet tall may find it too large.
A large front pocket can store your smaller items. There is also a small internal pocket for your phone with a hole for your headphones to fit through. You can listen to music or podcasts in a crowded bus without worrying about dropping your phone!
Pros
Tough polyester construction
Efficient design
Padded laptop sleeve
Cons
No size options
Very few pockets
No security features
7
Haerfest Travel Backpack Small Nylon
Price: $275
Construction: Nylon
A favorite for musicians, the Haerfest is a lovely thing to look at. Small enough to wear on your bike but spacious enough for your camera and an extra pair of shoes, this is the perfect go-to pack for people on the go. The exterior shell is made of nylon with premium cowhide leather trim. This makes it water-resistant, not waterproof — but unless it is standing in a puddle, you should be fine.
The expansive main compartment will fit everything you will need for the day. A separate laptop compartment has extra padding for safety. The sleeve fits a 13-inch laptop. Meanwhile, three deep external pockets can store all your smaller items. The slim shoulder straps from the front are designed to resemble suspenders, which gives the Haerfest another point for style.
This sleek design is available in nine colors. When traveling, the backside of the backpack features a panel that fits over the extended handle of your roller. This makes it easy to wheel around an airport while traveling. Every inch of nylon is carefully designed. While minimalist, it is excellent for daily use. It also makes a great personal carry-on during flights.
Pros
Minimalist design
Roller panel
Padded laptop sleeve
Cons
A bit small
A bit expensive
No security features
8
The North Face Jester Backpack
Price: $69
Construction: Polyester
Originally designed for campus, the Jester is just as formidable for the office. The North Face is a unique brand on this list because it specializes in outdoor gear. The Jester is just as happy next to a fireplace in the wilderness as it is in a conference room or classroom. If you live in weathered cities like Seattle or Chicago, this might be the backpack you need.
The Jester has enormous storage space. It is 28 liter. The back and shoulder straps are recently redesigned and given extra padding for a more comfortable fit. Wearing this is like sitting in an ergonomic chair. It is not only super comfortable but uses a FlexVent feature to keep your back cool on hot days. Every compartment, including the 13.5-inch laptop compartment, has extra padding.
This is a backpack designed to stand up to lots of abuse while hauling a big load, and the polyester shell is tough and water resistant. It was designed for college students who transition between physics lab and gym on a daily basis. This translates well for modern pavement hitters who live out of their backpacks.
Pros
Built tough
Lifetime warranty
Super affordable
Cons
A bit large
Not waterproof
No security features
9
Rains Waterproof Backpack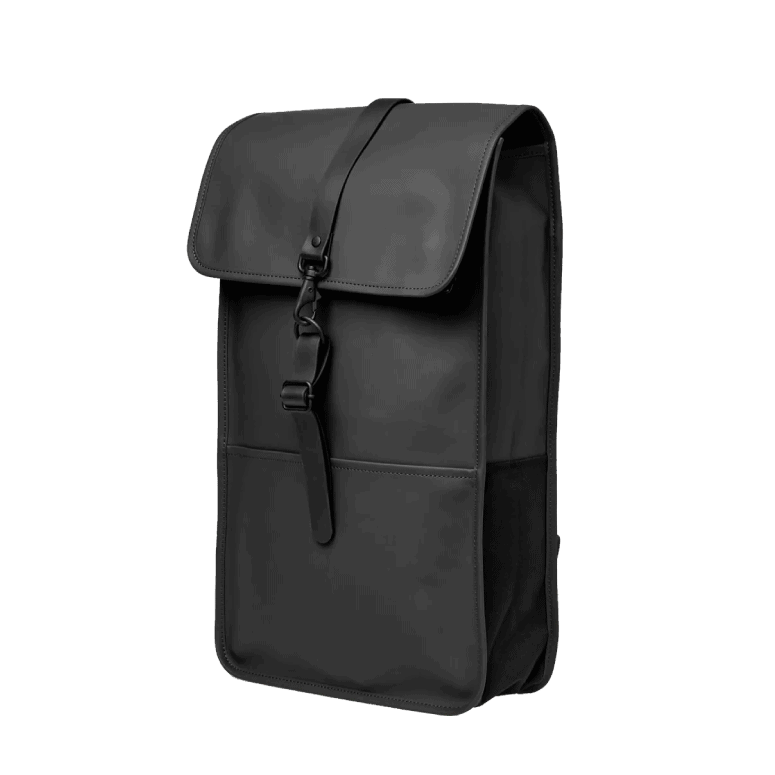 Price: $110
Construction: Polyurethane-polyester blend
For anyone who spends a great deal of time in the open air, rain is a constant worry. A sudden downpour is all it takes to ruin important documents and damage any electronics. For those who need more than water resistant, then this is the backpack for you. The Rains can soak in a puddle and all your contents will stay bone dry. Even the zipper has an aqua guard, so not a drop will get through!
But it's not all function. The Rains is obviously a beautiful piece. The polyurethane-polyester blend gives it a texture resembling leather. The backpack is available in nine different colors, and the adjustable shoulder straps resemble suspenders. The trimmings are made of stainless steel or durable rubber, which makes this a backpack that can weather any storm.
The design is intentionally minimalist — every additional pocket weakens its waterproofing power. It features one main 13 liter compartment, one 13-inch internal laptop sleeve, one internal zipped pocket, and one outer phone pocket. While this is a limited carrying capacity, you have peace of mind that it will stay dry.
Pros
Built tough
Waterproof
Minimalist
Cons
A bit small
Limited carrying capacity
No security features
Price: $265
Construction: 1000D CORDURA nylon
The GORUCK markets itself as the toughest of the tough, good for cities as well as … war zones. It is made in America and built to last a lifetime (and then some). And the company stands by this marketing. If your GORUCK wears down from regular use, the company's Scars Lifetime Guarantee promises they will fix or replace it. Free of charge. You won't even need to show the receipt.
The GORUCK is made of 1000D CORDURA, a patented braid of nylon fabric that is lightweight, super tough, and water resistant. Its design is inspired by Special Forces medical rucksacks. It opens flat, which makes it easy to pack and organize. It comes in two sizes (21 liter, 26 liter) and three colors (black, blue, camo). There are a variety of pockets but not to the point of distraction.
The GORUCK overdesigns to give maximum protection for your stuff. The laptop compartment is not only padded but includes a removable hard plastic frame sheet and a false bottom to cushion landings. The shoulder straps have extra padding for comfort. Who says a bombproof backpack can't be cozy?
Pros
Built tough
Extreme protection
Scars Lifetime Guarantee
Cons
Overdesigned
Not waterproof
No security features
What's the difference between a backpack and a rucksack?
Looking for a backpack, you've probably seen some backpacks advertised as "rucksacks." You may even have come across the elusive "rucksack backpack." The truth is, the differences between a rucksack and a backpack are largely nominal. In fact, the two terms are often used interchangeably.
This is not to say there is no difference. A backpack, strictly speaking, is a large carrier of 50 liter or more. You can live off the contents of a backpack for several days. That is, a backpack is used for backpacking trips. Technically, none of the products in this review are backpacks. Carriers less than 50 liter are usually referred to as "daypacks." Backpacks are identified by a waist strap in addition to two shoulder straps that help the body support the weight. Daypacks feature no waist strap.
In this review, we use the term "work backpack" interchangeably with "daypack" that is specially designed for professional urban life. But technically, they are all daypacks since none exceed 30 liter.
A rucksack is usually made of tougher materials than either backpacks or daypacks. It also tends to be larger. The word rucksack comes from the German word for backpack. The best way I can explain the difference is that a rucksack is made for the field. The rucksack you would buy from a supplier would resemble the sort of bag used by military personnel in the field.
A rucksack is typically built tougher for severe weather and values function above style. It includes a number of design features that specialize it for military use, such as the size and placement of pockets. Rucksacks are great for camping trips, adventuring, and hitting the gym, but the daypack is a better work backpack.
When should I stop using a briefcase?
The briefcase has been the standard carrier for professional urban workers for generations. It looks good and, if we are honest, symbolic. People take briefcases much more seriously than backpacks.
That said, there comes a time when a briefcase is more a liability than an asset. A briefcase requires the constant use of one hand. This makes it more difficult to maneuver narrow walkways on a bus or operate a phone. A backpack lets you have both hands free.
Some briefcases now feature an attachable strap that lets you sling it over one shoulder. This makes it easier to carry, but we run into a similar problem: A briefcase inevitably places all the weight on one side of the body. Transferring it from one hand to the next is required to avoid fatigue, especially if you are carrying something heavy like a laptop or multiple documents.
Over time, this can have adverse effects on your health and posture. The one-sided weight adds strain on your muscles and joints. If you suffer from chronic shoulder and neck soreness or lower back pain, seriously consider retiring the briefcase.
Our advice? Get rid of the briefcase now before there's a problem. A backpack will distribute weight more evenly and keep your core more centered. While you should still be careful about how much weight you carry, a backpack is much better for your health overall.
How should I pack and wear a backpack?
A backpack centers your weight distribution, which is better for your neck, shoulders, and lower back. However, you still run the risk of injury if you overpack or pack incorrectly. This might surprise you, but it isn't just how much you pack but how you pack it that makes a big difference.
First, limit your effects only to the things you will use that day. To be clear, if you think you might use it, but you usually don't, then don't pack it. Even if it's a stick of lip balm — every ounce counts. Make it a game: Lay out everything you think you will need during the day, then force yourself to remove three items. Your lower back will appreciate it.
Second, make sure the shoulder straps are adjusted to the correct length. The straps should be snug so that the bag stays close to the body. Slouchy or loose backpacks will strain the shoulders and lower back. The bottom of the bag should not hang more than 2 inches below the waistline.
Third, when you get down to packing, keep items you use frequently close to the surface or somewhere easy to access. Your water bottle and phone, for example, should go in side pockets. Your extra pair of shoes should reside deeper in your backpack.
Think of your packing procedure in terms of layers. The bottom layer should carry lightweight and soft items, like extra clothes or a towel. Heavy and hard items should reside in the top layer, close to the core but free of the lumbar region. This creates optimal weight distribution that puts the least amount of strain on your body.
How do I waterproof my backpack?
Let's say "water resistant" isn't going to cut it for you. You need something more extreme, but you're not ready to purchase a waterproof backpack like the Rains Waterproof Backpack. You have a few options.
The first and best method of waterproofing is to use a trash bag or large ziplock bag. Empty your backpack, then fill it with a large plastic bag just as if you were replacing the bag in a trash can. Then pack your items and close off the plastic bag with a knot, rubberband, or twist tie. Zip your backpack, and you're ready to go!
The second and less reliable method is to use a waterproofing spray. You will need to reapply this spay every time you use your backpack to keep it waterproof. Be careful not to spray your personal items. It is best practice to empty your backpack before treating it.
What are the best work backpacks?
Whatever your budget and your needs, there is a backpack out there for you. RAVE has your back (Get it?). To identify the best work backpacks on the market, we analyzed all the data from the most trusted review sites.
If you want something built tough to last your entire life, you can't go wrong with the GORUCK GR1. Inspired by rucksacks used by Special Forces, this monster is over-designed to withstand a war zone. The patented nylon weave is Kevlar-tough and water resistant. Plus, the manufacturer offers a Scar Lifetime Guarantee: If you wear out your GORUCK, the company will fix or replace it for free.
If you don't need something super tough, just super waterproof, then you will want the Rains Waterproof Backpack. There's also plenty of other top-ranking contenders, such as: the Everki Premium Travel Friendly Laptop Backpack for added security, the Dagne Dover Dakota Backpack, and the stylish Kenneth Cole Slim Tech Laptop Backpack
But the Briggs & Riley Kinzie Street Medium Backpack is our overall best choice for work backpacks. It scores high marks in every department. Beautiful, efficient, fairly priced, versatile, lightweight, and tough as nails. This is the industry standard.
RAVE Recommends
Whether you have a long commute or your job requires you to hit the pavement, you are on your feet a lot. You are living out of your backpack on a daily basis. Once you have your work backpack squared away, check out the products below and take steps toward a healthier, happier you:
Herman Miller Sayl Chair: Once you are in the office and off your feet, are you sitting in a chair that compromises your posture and exacerbates your back pain? Go for an ergonomic design instead.

Blake Adams
Blake Adams is a widely published educator, journalist, and copywriter. He lives with his wife and cat in...*throws dart at a map*...Elburn, IL.