For guarding one of your most valuable possessions, the Targus Drifter II is our best backpack for laptops.
It's designed for both comfort and durability, so it won't sacrifice itself in the battle to keep your laptop safe.
Your laptop can easily be one of the most expensive personal possessions you own. But leaving it safely tucked away at home defeats the point of owning one for work or study. When you've no choice but to take it out with you, a high-quality laptop backpack can save you from having to replace a smashed screen.
In judging a backpack for its ability to protect your computer, there are more factors to consider than you might think. It needs to offer impact protection while shielding your bag's contents against the elements and warding off dust and dirt. It needs to avoid placing unnecessary weight on your spine and shoulders, while remaining comfortable and breathable in the heat.
If you choose one of the top products recommended in our rankings, you can't go wrong. We've taken the word of the public in locating the very best backpacks for laptops, and then rigorously tested them ourselves. We've packed them, dropped them, dragged them, and assessed them for durability, support, resistance to the elements, and more.
The Backpacks for Laptops We RAVE About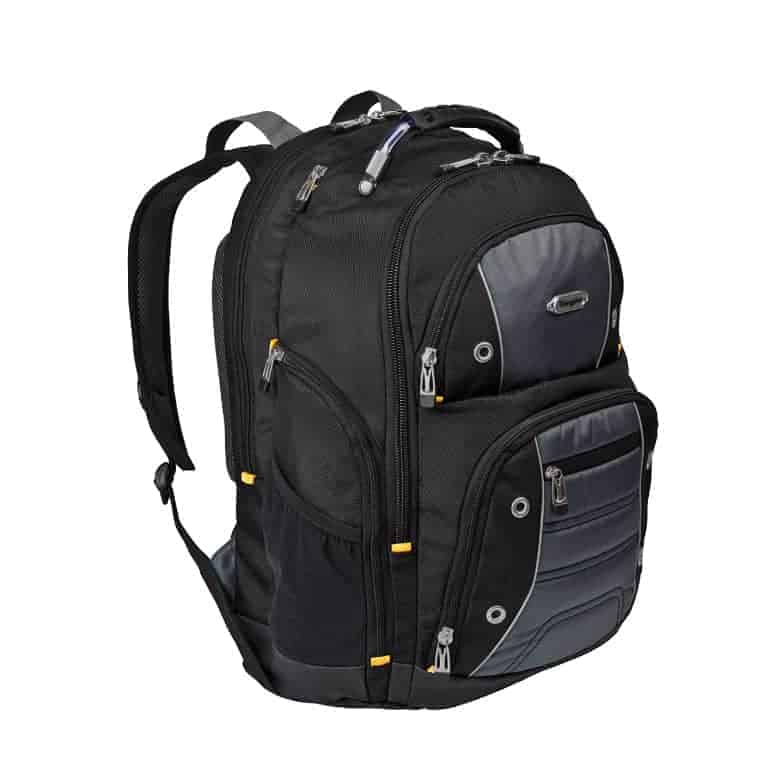 Best Overall
Targus Drifter II Backpack for 17-Inch Laptop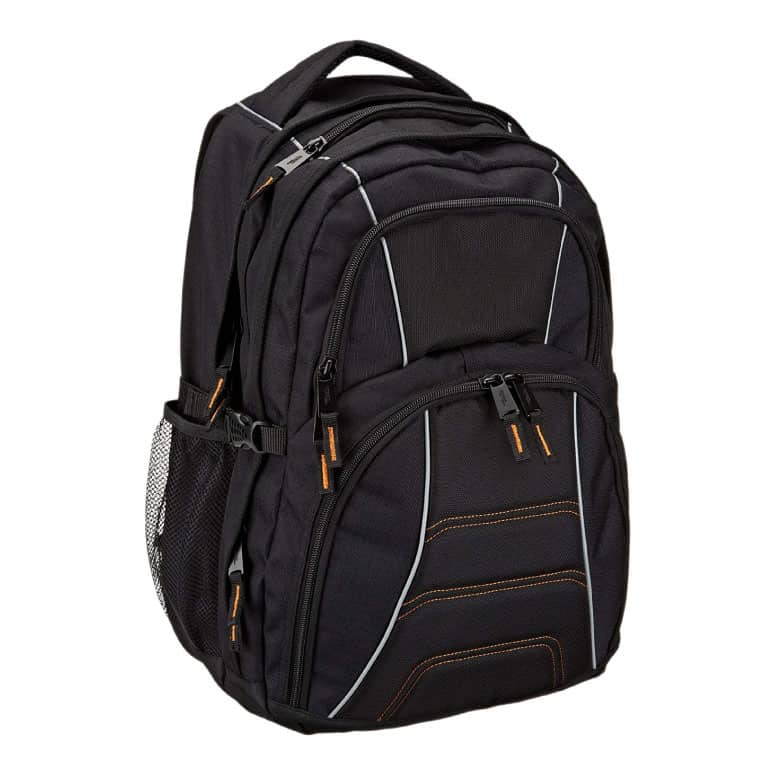 Best Budget
AmazonBasics Backpack for Laptops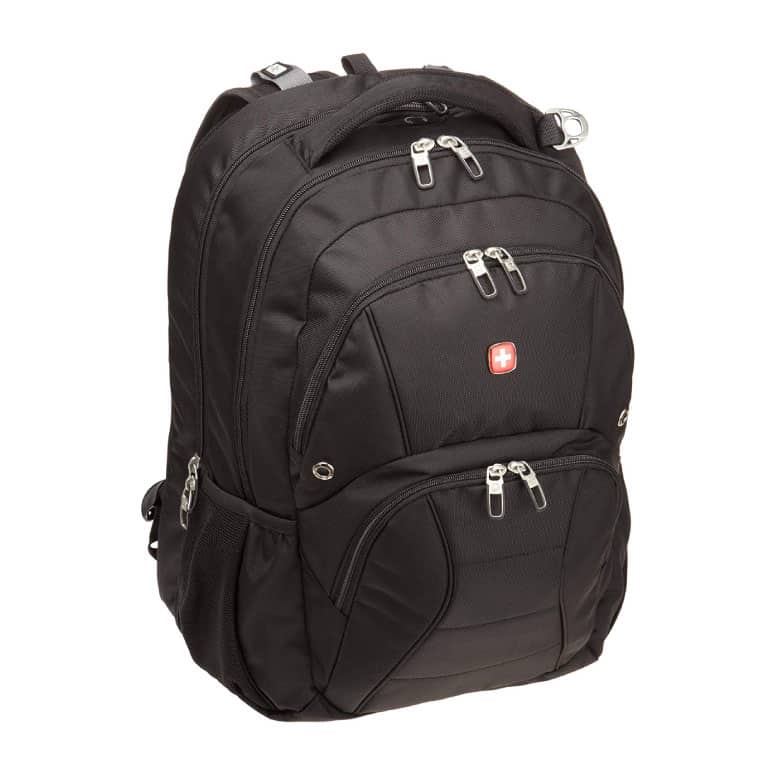 Best for Travel
SwissGear SA1908 Laptop Backpack
You came here looking for a backpack for your laptop, but we want you to leave with something more versatile. Sure, you need a bag with sufficient space and padding to accommodate and protect your computer. But it's likely that you'll always need additional space for the other essentials you're lugging around with you.
Capacity and Laptop Size
One of the key considerations for a laptop backpack is how much space you need, and your laptop's screen size. If you buy a laptop backpack without measuring up, you might find that your computer doesn't fit. Check out our included FAQ section for how to accurately measure your laptop's screen size.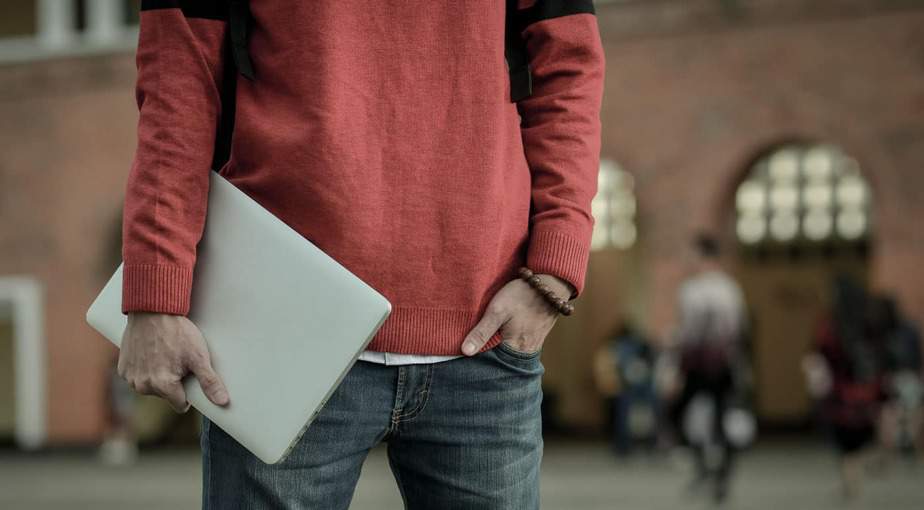 Even if a backpack supports your screen size, you'll still want to ensure that there's some space left over. By this, we mean leaving enough room that your machine isn't pressing against the seams. Doing so can lead to a reduced lifespan of the bag's stitching and zippers—or worse, it can leave the corners of your laptop vulnerable to sudden bumps.
But you'll also want to consider the space left over for other possessions, or business or study essentials. Laptops can take up a great deal of space, with their rigidity consuming a larger footprint than you'd expect. Look for separate compartments that you can use for smaller items, fiddly power cables, and important books or documents.
Additional Storage Pockets
Aside from the main internal storage, it never hurts to have extra pockets on both the inside and out. Storing small items alongside your laptop can damage the computer's lid or rear panel. What's more, you don't want to get caught in the rain while fishing for your house keys.
So what kind of pockets can you expect, and should they be located on the outside or inside? Whether you're studying in a library or working in an office, you could use a flat pocket that's often positioned on the outside of the backpack. These are ideal for carrying important documents like contracts, purchase orders, or that last-minute assignment.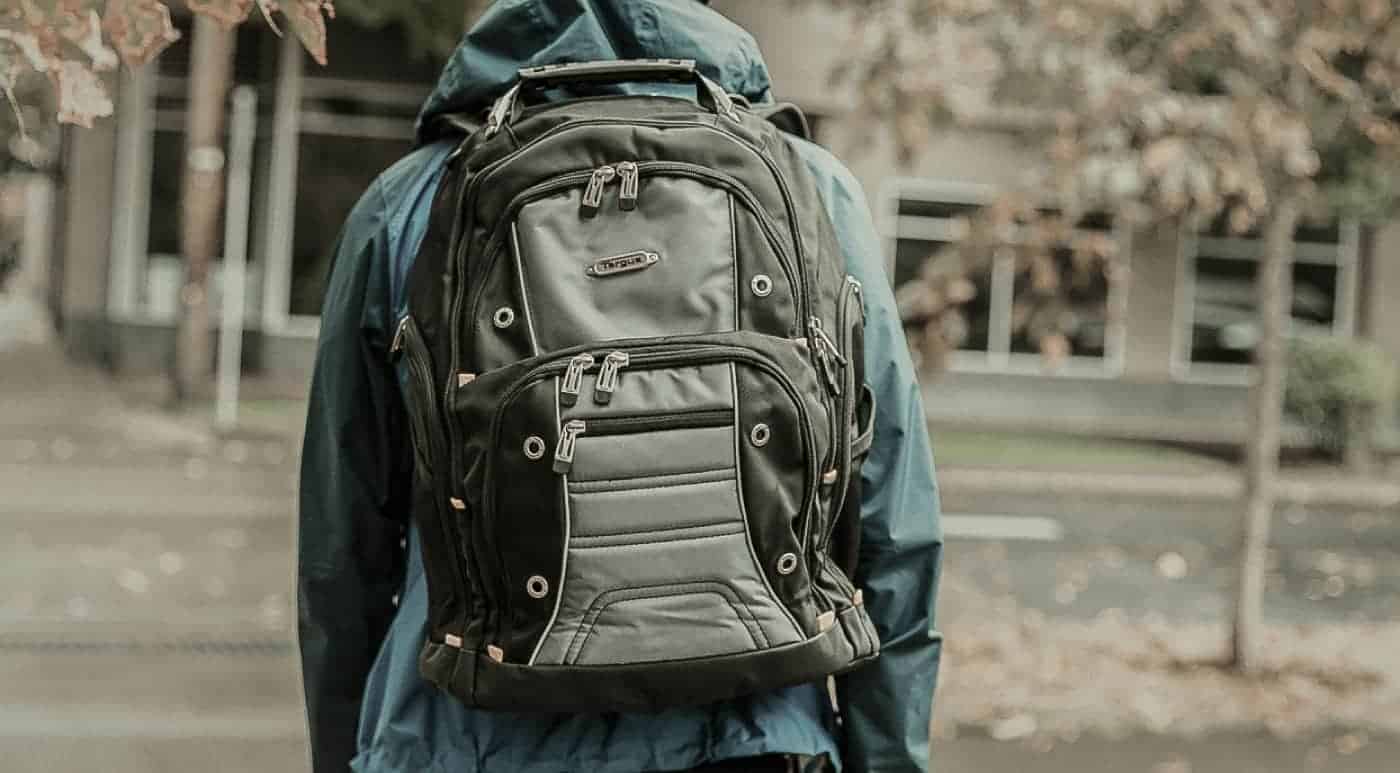 In terms of smaller compartments, think about what you carry in your pockets on a daily basis. Your wallet or purse, your smartphone, a flash drive, or business cards are all safer inside a dedicated, zippered compartment. Bigger pockets would also be beneficial for storing your laptop's charger, HDMI cables, and other laptop essentials.
Many backpacks also feature a water bottle holder, which is a bigger benefit than you might expect. No matter how water resistant your backpack is, it's useless if your water bottle bursts alongside your laptop. Backpacks can often skimp in this area, but we've looked for the best backpacks that provide a large enough pocket.
Water Resistance
It goes without saying that your laptop backpack needs to be adequately water resistant, with moisture being one of its biggest threats. Whether you're caught in a rainstorm or clumsily knock a drink onto your pack, it has to be able to resist or repel the liquid. There are several levels to water resistance, which we'll outline below.
The typical measure of water resistance that you'll see on products like phones and backpacks is an "IP rating." Though the scale varies widely, most products in an affordable price range will be rated around IP65 to IP68. Anything higher isn't really necessary for a laptop backpack and would just add unnecessary digits to the price tag.
For a laptop backpack, look for IP65 or IP66 ratings, which protects against low- to high-pressure water spray and light rain. Ratings IP67 and IP68 are designed for protection against short and shallow, and deep and long-term immersion. If you're immersing your laptop backpack into shallow or deep water, you're going to have a bad time.
Methodology
Our rankings won't try to sell you an inferior product, nor pick up commission on a brand we know nothing about. The 10 products we've recommended are based on real reviews aggregated from online sources—and left by real customers. They've been tried and tested by thousands of other laptop owners, and subsequently ranked highly on websites such as Amazon.
We take these consumer ratings and then apply our own scoring system to work out which laptop backpacks are top dog. We assign a score, giving us the final rankings, while also picking out the best budget and best for travel bags. But you can rest assured that any bag on this list is high in quality, comfort, and versatility.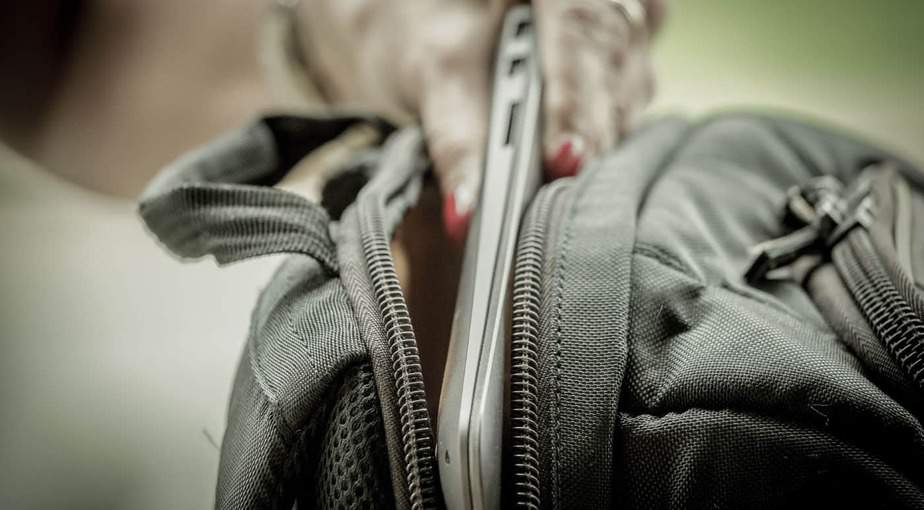 So how do we reach our final score for each backpack? We consider a wide array of factors and how each bag scores individually on these points. Here are the most important considerations for us when we recommend a top backpack:
How flexible the material is, as this can affect comfort and storage space
How spacious the main compartment is and whether the pack has additional pockets
The comfort afforded by the material, design, straps, and everything else
How resistant the bag is to liquids, dust, dirt, and anything else your laptop hates
How easily cleaned the backpack is, and whether it's machine washable
How secure is the laptop sleeve, and general security of the bag's fastenings
How accessible the main compartment is when you're in a hurry
The Best Backpacks for Laptops
1
Targus Drifter II Backpack for 17-Inch Laptop
The Targus Drifter II has an abundance of real estate for storing all your personal possessions, with large dimensions. Though front-to-rear space is limited when a laptop is carried, internal height and width is generous. Padding is also collapsible, which gives way to more space while providing a more stable base to the backpack.
This backpack also does a great job of minimizing shoulder strain resulting from lugging around a heavy laptop computer. Two wide straps spread the weight of your gear across a larger surface area, with cushioned padding stitched in. They're also elasticized, so the bigger your load, the more support you'll get.
In terms of drawbacks, this backpack has few to speak of, which is why it captures such positive customer feedback. One minor niggle is the inability to remove internal dividers for additional space inside the main compartment. The external pockets also lose capacity when the main compartment is crammed full, though they're still usable.
Pros
Rubber sole repels stains
Elastic straps soften load
Well-cushioned laptop sleeve
Cons
External pockets lose space
Dividers aren't removable
2
AmazonBasics Backpack for Laptops
Though this backpack is basic by name, its design is anything but simple or boring. It has one of the largest numbers of compartments we've seen on a laptop backpack, with a total of four main pockets. It's also well-padded throughout, from the laptop sleeve to the internal compartments and the shoulder straps.
And don't get us started on the benefit of those small dividers up front that are perfect for keys, flash drives, or phones. No more fishing for a small, misplaced item among a sea of books, paperwork, and empty lunch Tupperware. There's even that coveted water bottle slot on the outside, which will happily hold a container up to 20 oz. in size.
Though this may come as a shock, for a budget backpack, there is little in the way of negative feedback. The pack lacks a USB port, and should you use a 17-inch laptop, zipping the seams can feel like a squeeze. But we think you'll agree that these points are hardly worth skipping over what is an ideal budget laptop backpack.
Pros
Vast array of compartments
No lack of padding
Dividers for all your small items
Cons
17-inch laptops are a squeeze
Lacks a USB or headphone port
3
SwissGear SA1908 Laptop Backpack
Though not the priciest laptop to make our list, this pack has a premium look and feel. Reinforced zippers form a secure seal for the multiple, spacious compartments, while not being so overwhelmed by fabric as to cause snags. The rear also benefits from specially-designed airflow panels that help increase circulated air and keep your back cool.
The SwissGear SA1908 has one stand-out feature that makes it our best for travel backpack laptop. The ScanSmart design utilizes a single compartment solely for your laptop, making it straightforward to locate in its dedicated sleeve. This compartment folds out completely, so when it comes to TSA checks, you don't even need to unpack your machine.
Where this bag excels in protecting your laptop with a dedicated pocket, it loses out on the provision of space for smaller items. There are some internal dividers, but no dedicated pouches for the keys, wallets, or flash drives. This will leave you fishing around the larger compartments, and bulky, 17-inch gaming laptops can be a tight fit, too.
Pros
Durable, reinforced zippers
Airflow rear panel design
ScanSmart for easy TSA checks
Cons
Lacks smaller pockets
Chunkier laptops are a squeeze
4
Kopack Slim Business Laptop Backpack
When they named this backpack the "Kopack Slim," they weren't kidding. You may struggle to fit more than your essentials inside. That said, it can still cater to laptops up to 17 inches, providing you don't mind smaller laptops sliding around. There are a whopping 17 separate pouches inside, which is deceptively generous for such a slim backpack.
The aesthetically-pleasing design of this backpack isn't just for show, as it's scratch and puncture resistant. Water resistance is also included, further improving the protection offered to your expensive machine. The only break in this protective design is in a built-in USB port, providing access to your smartphone or MP3 player.
Unfortunately, one of the main selling points of this laptop backpack is also one of its biggest design flaws. The anti-theft feature of securing the laptop beneath the straps is a clever idea, and it prevents access to the sleeve when worn. However, when the straps are worn snugly, it can be difficult to remove a laptop from the pocket.
Pros
Puncture and scratch resistant
Designed to repel thieves
Includes a USB cable port
Cons
Inaccessible laptop sleeve
Doesn't immobilize small laptops
The Incase Icon Backpack would probably be higher on this list but for its price and size. It is, honestly, hard to imagine a better backpack for laptops. With 14 different types of pockets and pockets especially designed for laptops, tablets, and mobile devices, this bag is a techie's dream. The laptop compartment fits up to a 15-inch' computer, while the overall volume for the bag is some 17 liters.
The sleek design doesn't hurt, and the straps and compression-molded back panel offer great comfort for the wearer. Though there is not as much padding as one might want for the laptop compartment, it is lined with faux-fur, so your device won't get scratched.
The functionality, smooth urban style, and comfort make this an ideal bag for folks who have a long commute and need to bring their gear along for the ride!
Pros
Dedicated laptop, tablet, and mobile pockets
Good comfort
Great design and durability
Cons
No built-in charger
On the expensive side
6
Booq BSQ-GFT Boa Squeeze
A stylish and functional bag, the Booq BSQ-GFT Boa Squeeze offers a sleek and urban profile for anyone who needs to transport their laptop. What makes this bag really stand out is the protection it affords your major investment—the laptop.
There is a dedicated sleeve in the main compartment that includes at least a half-inch of protection, plus airmesh back padding that allows heat to escape from the back panel. Made from a water-repelling ballistic nylon, this is really one of the most stylish bags on our list.
If you are looking for a pack that will speak to your ultra-modern personality, this is the bag for you!
Pros
Cool style and design
Good construction
Good storage and organization
Cons
Not waterproof
A little pricey
Side pockets not functional
In terms of size and capacity, the Everki Titan is absolutely huge—like wearing a second person on your back huge. This can be both an advantage, in terms of internal space, and a drawback, in terms of cumbersome maneuverability. It's all about what you're looking for and whether you're happy to accept the trade-off.
This is another laptop backpack that is lighter than the SwissGear when empty, despite being much larger. Along with its vast range of additional compartments, this makes it a viable alternative as a travel laptop backpack. The straps are durable and adjustable, so you can adapt to the load as you pack or unpack your daily essentials.
Now on to the drawbacks—starting with the thinner material when compared to something rugged like the SwissGear, for example. This is likely how, despite its huge stature, the Everki Titan manages to remain lighter than the SA1908. However, this lends itself to a less protective exterior and compartments that don't hold their rigid structure well.
Pros
Enormous internal capacity
Somehow lighter than SwissGear
Endless additional pockets
Cons
Compartments lack structure
Material reasonably thin
As expensive as they come
8
The North Face Borealis Backpack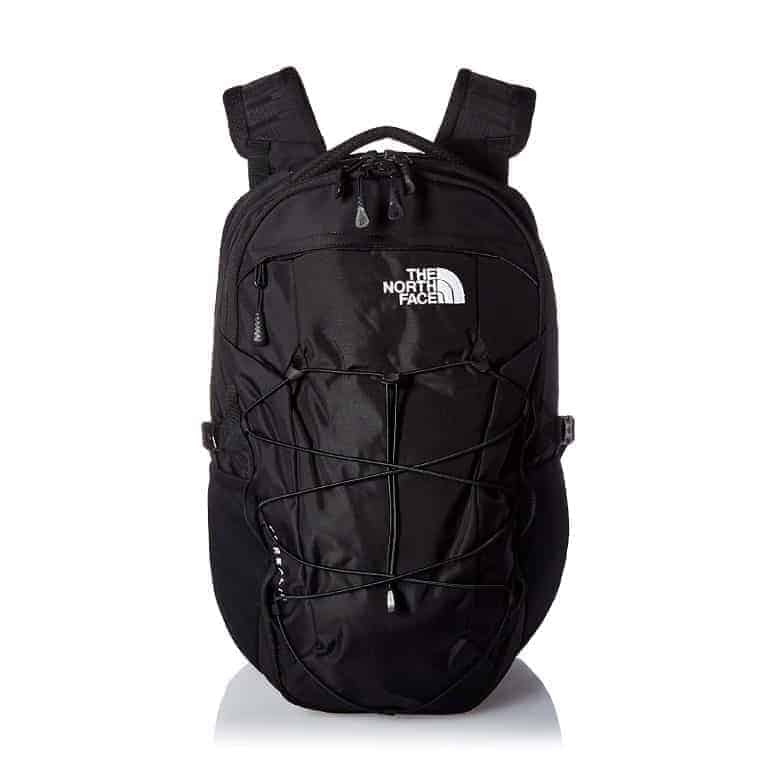 What the Borealis lacks in style it makes up for in functionality, comfort, and durability. The Borealis is a large and roomy pack that can handle laptops up to 15 inches in its dedicated, fleece-lined laptop compartment. The padding offers superior protection for your laptop. There is also a smaller padded fleece-lined pocket in the second compartment that can fit tablets.
The Borealis is one of the most comfortable bags on the market, which is great if you have a long commute or just want to be out and about for a whole day. Constructed using polyester and nylon, the bag offers great water resistance, except around the zippers. The bag also comes with handy water bottle pockets and an external bungee system for additional carrying options.
Offered in both male and female designs and colors, this is an excellent bag at a somewhat reasonable price!
Pros
Very comfortable to wear
Great laptop protection
Good water resistance
Cons
Lacks style
May be too bulky for some
The Aer Fit Pack 2 keeps up the tradition of the original fit pack, only this time they're using a better mesh material on the back, which is not as scratchy against the skin. The Fit Pack 2 is specifically designed to allow commuters and gym-goers to carry only one bag.
The unique design of the Aer Fit Pack 2 effectively places a duffle-style bag on top of a backpack. This design allows you to put your gym clothes in the outer pack, which is accessed with a zipper that's placed vertically down the front of the bag. This compartment also includes a shoe bag, which is very effective at reducing that sweaty gym smell. The whole bag is ventilated, ensuring that smelly workout clothes won't stink up everything else in your bag.
The main compartment has a number of standard features, like a padded laptop sleeve that can fit a 14-inch laptop, as well as smaller pockets and compartments for storing other essentials. No longer do you have to carry one bag for work, and a second one for the gym!
Pros
Clothing bag is great
Internal-ventilated shoe bag
Cons
Not as spacious
A little pricey
Minimal laptop protection
10
Lily & Drew Casual Travel Daypack
The Lily & Drew Casual Travel Daypack offers great style—and the price isn't too bad either. It offers good capacity, with a large 8-inch by 10-inch opening that makes it easy to see everything in your bag. The main compartment also includes a laptop sleeve for 14-inch laptops, which offers minimal protection, as well as two smaller internal pockets.
There are two external zipper pockets on the front of the bag, and one more on the back panel that allows for storing items you need to access quickly, but which you also want secured. The bag is relatively comfortable, including padding in the straps, as well as a useful handle on the top and a trolley strap on the back so you can attach it to carry on easily.
Though we would have liked more protection for the laptop, this Casual Travel Daypack does offer a style, comfort, and plenty of room for carrying your gear.
Pros
Good price
Stylish
Lightweight
Cons
Only fits smaller laptops
Doesn't offer much protection
Zippers can be difficult
Related Rankings
How Do I Measure My Laptop so that I Know Which Backpack to Buy?
With so many screen sizes available, it's essential that you check your laptop's screen size before you buy a backpack for it. If you go too small, either your computer just won't be able to fit inside, or it may have too little protective padding surrounding it. Go too large, and you'll have a backpack your laptop slides around in, risking damage and reducing stability.
So how do you ensure that you have an accurate measurement and won't pick the wrong size backpack? And why do laptops advertise just one measurement rather than separate figures for width and height? We'll explain exactly how to capture an accurate measurement below, as well as why there is only one measurement.
Screen size isn't measured on width and height separately, but rather diagonally, from corner to corner. You should avoid including any screen bevel as part of this measurement. Instead, start and finish at the screen's glass edges. A simple, flexible tape measure is best for the job, as rigid measuring tools risk scratching your laptop screen.
Regardless of country, you'll typically see this figure represented in inches to maintain consistency across the world. Though manufacturers will often round this figure to the nearest whole number, so be careful when choosing your laptop backpack. And be sure to allow enough padding space so your laptop isn't pressing flush against the zippers of the backpack.
What's the Safest Way to Carry My Laptop?
Unless you're moving from one desk to another, you should always consider keeping your laptop tucked away in a padded bag. If you do carry your laptop unprotected, at least ensure you're not lifting it by the screen while it's open. This can result in screen distortion and cracking, or damage to the laptop casing and screen hinges.
Though simple sleeves are available, they usually lack handles and straps, or have no separate compartments for accessories and cables. Storing these items alongside your laptop can result in scratches and other aesthetic damage to your laptop's outer casing. So when you're out and about, always keep your machine inside your padded laptop backpack.
Any good laptop backpack will offer a dedicated sleeve for your portable machine, providing stability and cushioned support. You should always ensure that your laptop is properly inserted into the sleeve and that no other objects are sharing it. Premium backpacks are typically better at cushioning the space between your computer and your spine, offering greater comfort.
Of course, you should also be sure to avoid sources of moisture and excessive heat. Many backpacks come with an IP rating that indicates their resistance to water and dust. You should find a product that has at least some resistance to water, and avoid dropping your backpack by radiators.
Can I Use My Laptop Backpack as a Carry-on or Personal Item?
If you'd prefer to avoid checking your laptop bag at the airport (and who wouldn't?), you can take it aboard. Most airlines permit laptops in the cabin, but you should always check your specific airline's guidance before traveling. At the very least, you'll be expected to unpack the device from your bag for TSA checks.
Look up your airline's baggage size and weight restrictions to avoid your backpack being relegated to the aircraft's hold. Backpacks are normally less robust than suitcases, so you don't want yours to be bumping around the luggage conveyor belts. Make sure that unwieldy straps and bulky pockets don't protrude beyond the dimensions permitted, as these do count toward those measurement requirements.
If you'll be routinely traveling abroad with a laptop, consider a backpack that has convenient travel features built in. The SwissGear SA1908 utilizes a ScanSmart design, which splits the case into two parts when unfolded. With one fluid motion, everything in your backpack is visible, ready for TSA scanning, and there's no need to remove your laptop.
Can I Wash My Backpack?
Dirt can quickly accumulate on a backpack, and though many can be wiped clean, nothing beats a proper wash. This is especially true for backpacks made from material such as canvas or other soft fabrics, which often absorb stains. The good news is that one way or another, you can restore your backpack to its former glory.
Occasionally, you'll find a backpack that can be put through the washing machine cycle, though not all bags can. If yours is eligible for the washer, be sure to open all compartments and place the bag in a pillowcase. This will prevent the backpack straps and zippers from snagging on the machine and potentially damaging the bag or the machine.
Hand washing is simpler, with the same principles of using cool or lukewarm water, plus detergent-free soaps. In a bath or basin, you can scrub your backpack with a soft cloth or brush. A toothbrush can be an ideal way to get into those smaller crevices such as zipper tracks and small pockets.
After you've freshened up your backpack, it's time to let everything dry out naturally, away from direct heat sources. Never throw your bag into the dryer, as it can irreparably damage the fabric, as well as weaken the fastenings and seams. Instead, hang the backpack upside-down to completely drain moisture away, before storing or reusing it once completely dry.
What Are the Best Backpacks for Laptops?
Each of the backpacks featured in our top-10 rankings could be considered one of the best backpacks for laptops. But we've narrowed them down to the top three that money can buy, according to real customers and our scoring criteria. Whether you're the well-traveled type, looking for a bargain, or only want the best, there's something here for you.
Our best overall backpack for laptops has to be the Targus Drifter II. The design has clearly been well-thought through, from the durable rubber sole to straps that stretch to accommodate greater loads. It's also super roomy, though there's always space for more by collapsing the internal compartment dividers.
If you're on a budget, consider the best budget backpack, the AmazonBasics Backpack for Laptops. The AmazonBasics range of products may be inexpensive, but that doesn't mean they're poor in quality or lacking in features. That means more money for much-needed takeaway coffees when you're pulling a late shift or studying through the night.
The final backpack in our top three is the best for travel, with padded protection that will go the distance. With its ScanSmart design, the SwissGear SA1908 will save you headaches at airport security when you can simply unfold your pack at TSA checkpoints. You'll soon wonder how you ever managed without this often overlooked benefit.
RAVE Recommends
For the person who's always on the go, your new backpack can carry more than just your laptop. Whether they're large or small, many of these top-ranked backpacks have space for your other essentials. If you're getting ready for college, a trip, or just want to go on a little spending spree, check out these recommended products:
Anker PowerCore+ 26800 Portable Charger: Many backpacks feature a built-in USB charging port, but they don't provide the juice. To ensure you can use this functionality and don't run out of steam, you're going to want a portable power bank.

Samsung 32GB BAR USB 3.0 Flash Drive: You should always keep a backup of your essential documents, whether they're work or study-related, or personal to you. A flash drive keeps everything safe and secure in a single location.

BUBM Double Layer Electronic Accessories Organizer: A mass of cables can confuse your backpack's entire organizational system. Keep everything neat and tidy by packing away your electrical accessories into this organizer.

VicTsing MM057 2.4G Wireless Mouse: Laptop trackpads can hold you back if you're performing fine-tuned tasks. Eliminate one of those cumbersome wires with a USB wireless mouse.

Chris Winn
Chris Winn is a freelance writer who works in the Minneapolis area, where he and his family are beholden to two cats and a dog.