In our search for the best backpack for college, we chose the SwissGear 1900 Laptop Backpack as our best overall bag.
It looks cool and will keep you cool, whether you're studying on campus or running to catch a flight home.
What do you think of when you're looking for the best backpack for college use? Most likely, something that can carry heaps of books, with additional compartments for accessories and essential documents. But a college backpack can be so much more than a simple space to store your study materials.
What qualities should you look for, other than being spacious enough to carry your books, study materials, and personal possessions? Think about how else you might use the backpack. For example, some products are designed specifically to make airport security checks easier.
Regardless of the backpack you choose, you should always weigh quality against cost. Sure, you could find a backpack that won't set you back much more than a Starbucks, but it also won't last long. Below, we've highlighted the top 10 best backpacks for college, plus our best overall backpack.
The Backpacks for College We RAVE About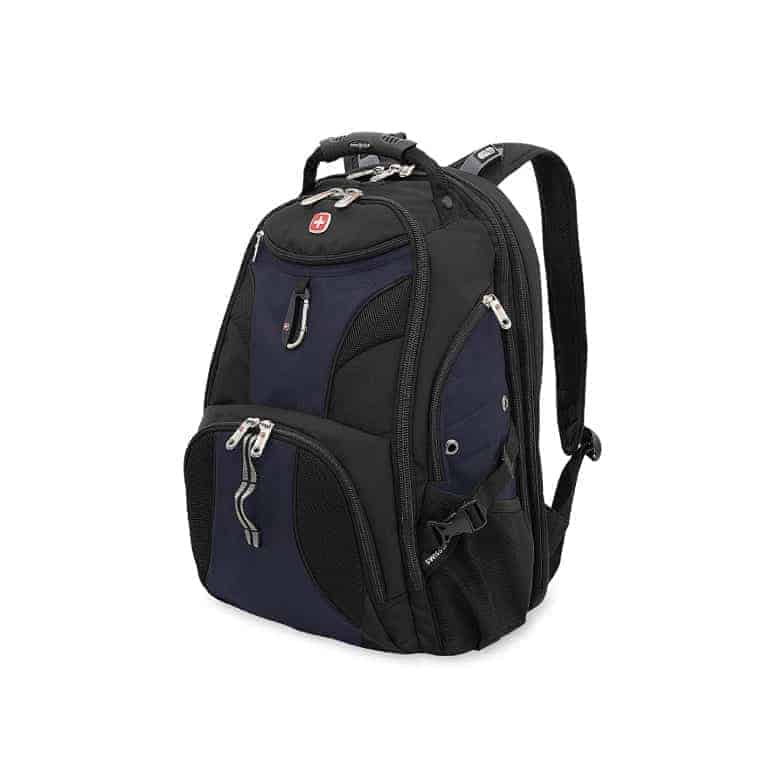 Best Overall
SwissGear 1900 Travel Gear TSA Laptop Backpack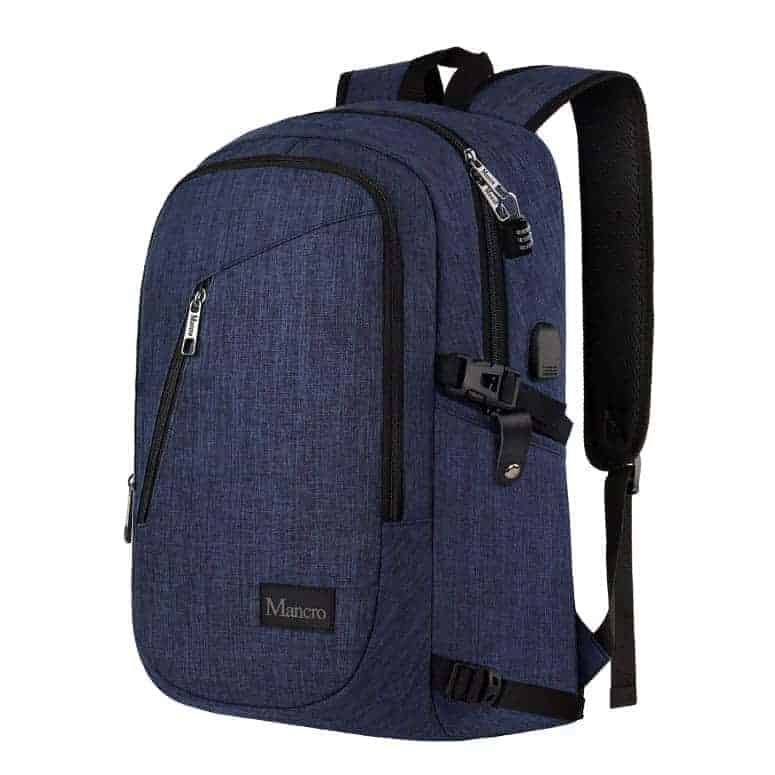 Best Budget
Mancro College Backpack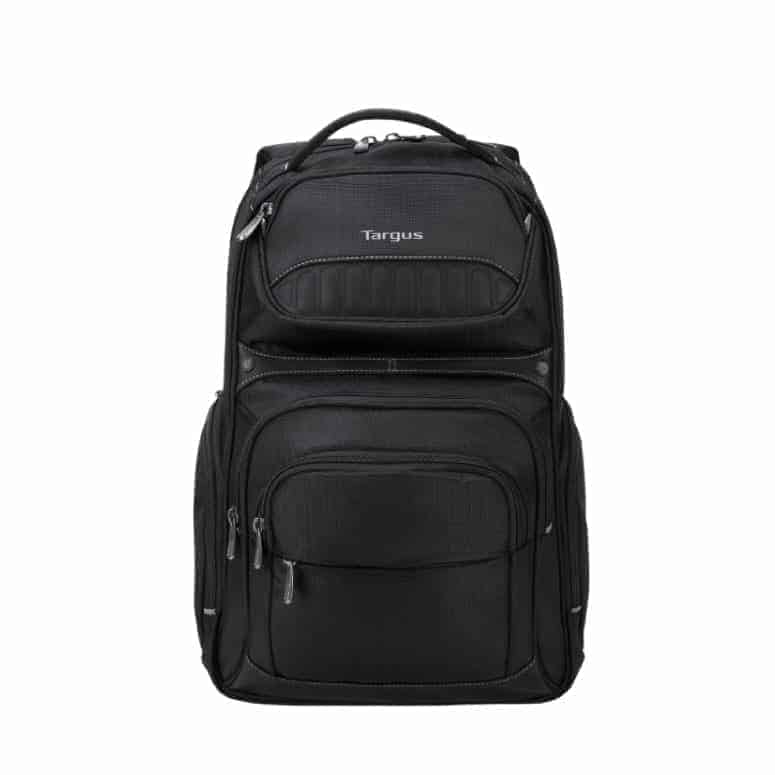 Most Versatile
Targus Legend IQ Laptop Backpack
When you're ambling between multiple classes, you rely on your backpack to haul everything you'll need for your day. You need something that's both spacious and supportive, but equally something that leaves your essentials accessible. If you don't have a backpack for college, you'll be kicking yourself when you start dropping books everywhere.
What Type of Backpack Should You Buy?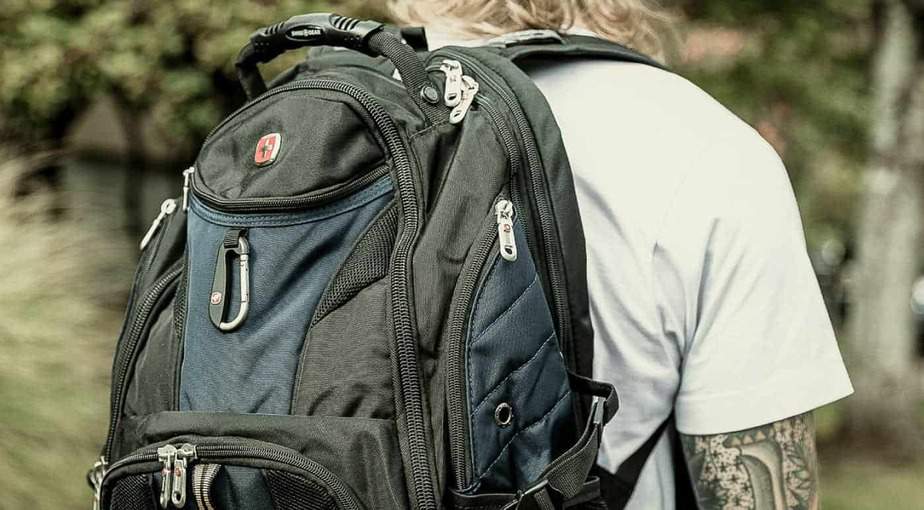 A backpack is a backpack, which is to say that there aren't a huge variety of different types to choose from. The key differences come in the style of the bag, in terms of fabric, structure, and design chosen by the manufacturer. That said, some students opt for a messenger bag over a traditional backpack.
Messenger bags are the style you've probably become accustomed to seeing on the back of a courier. Worn over the shoulder or across the chest, they use a single strap as opposed to two straps. They're usually smaller, with fewer pockets, though they're more flexible, casual, and versatile.
For general college use, we think you're better off choosing a traditional backpack over a messenger bag. They offer rigidity and support for your books and laptop, without being uncomfortable. They're also more likely to survive bumps and scrapes when traveling between home and campus.
Capacity
When it comes to carrying capacity, how large does your backpack really need to be? If you buy a backpack that has too much room for your needs, you'll end up packing it with junk. Even if you don't, the excess material is just more weight to carry—and a half-empty bag isn't comfortable.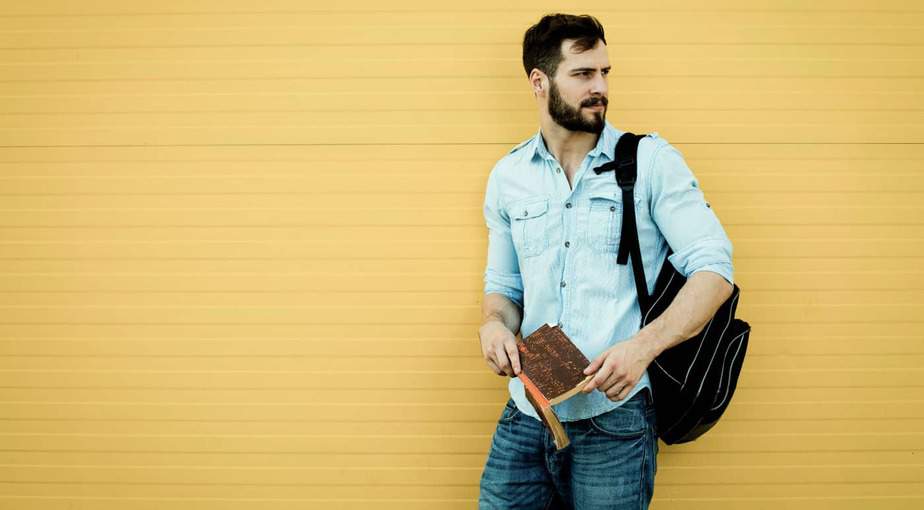 On the other hand, if you opt for a backpack that's too small, you'll obviously be short on space. Or even worse, you'll over-pack and end up being jabbed in the ribs by books and binders. Both are undesirable scenarios—and the perfect reason to ensure you buy a backpack with capacity in mind.
External Compartments
It's easy to focus too much on capacity and forget about having additional, external pockets on your new backpack. These may seem like simple bonus storage space, but they're actually incredibly useful. We'd choose to sacrifice some internal storage space if it meant that we got more compartments on the outside.
Take the water bottle holder for example. This is a feature that many students will look for in their search for a new backpack. It keeps your bottle upright and accessible, while ensuring that leaks won't trash your gear.
Many backpacks also have a sizable flat pouch on the exterior. These slim compartments are perfect for storing paperwork and keeping it crease-free. If you're due to turn in a paper or need to submit an important application, these pockets will keep your essential documents secure.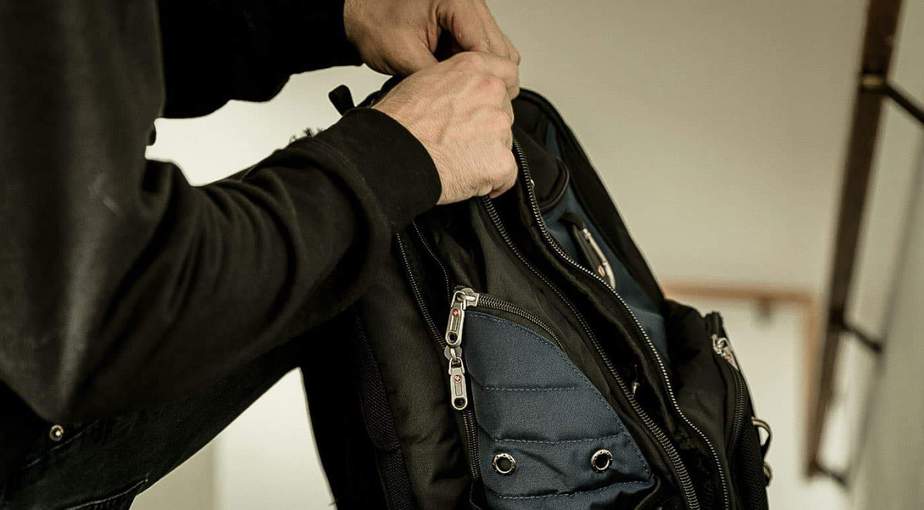 Finally, you've got the smallest exterior compartments, which are designed for keeping your essentials accessible. A wallet or set of keys is easily lost under the mountain of books and other debris stored in your main compartment. Having these in a separate pocket on the outside saves you valuable time digging.
Water Resistance
Water resistance is one of those qualities that feels like a nice-to-have, but in reality it's important for life on campus. At some point, you're going to get caught in the rain or snow. And don't get us started on the chance of somebody eventually spilling a drink on your new backpack.
When looking at water resistance, you'll most likely encounter an "IP rating" from IP65 through IP68. Rating IP65 and 66 protect against low- and high-pressure water jets. Rating IP67 and IP68 protect against low-depth immersion and long-term immersion in water, respectively.
For college, you're unlikely to need anything beyond IP65 or IP66 protection for light rain and spillages. If you're paying more to get a higher rating of water protection, it's likely money wasted. Unless, of course, you're planning on dropping your backpack into a lake.
Optional Extras
In the race to better each other, manufacturers are constantly trying to add useful and interesting features. The SwissGear backpack unfolds for easier transit through airport security, while the Kopack Slim has a built-in USB port. These features are nice to have but should be ranked less important in your decision on which backpack to buy.
Methodology
Some review websites have a hidden agenda when reviewing products, such as promoting their own products. We feel this is an unfair practice, as it can lead to you buying inferior products due to bias. That's why we only recommend products vouched for by real customers who have tried and tested them.
We gather customer consensus from across the internet, scouring product reviews and aggregating scores. This helps us formulate a long-list of the top products on the market, based solely on positive customer feedback. We then narrow down that list using a number of key factors to bring you the very best of the best.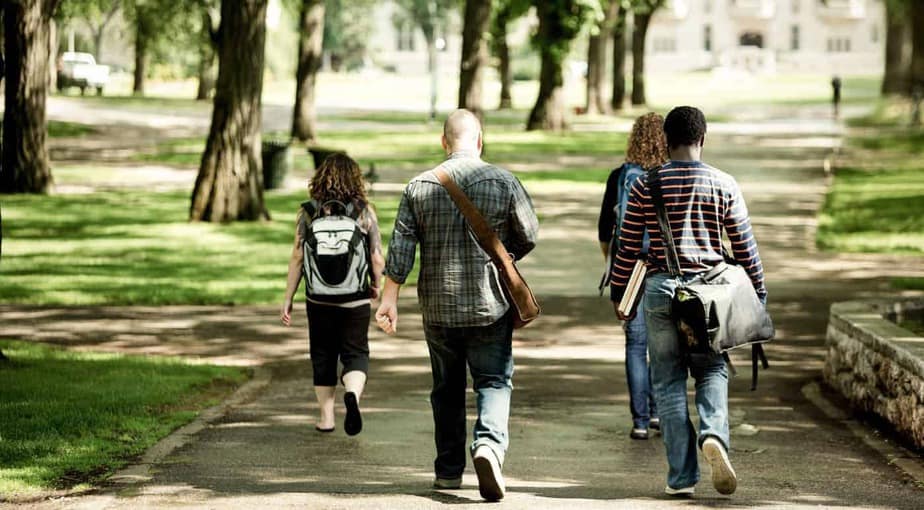 To aid in working out which products are the winners and which are the losers, we look at a host of different criteria. Below, we've listed the factors that helped us determine the top backpacks:
Comfort of the bag in how it adheres to your body's shape
Accessibility of contents stored within the backpack
Number of compartments for your smaller items, like money and water bottles
Rigidity of the material, which can impact both comfort and support
Water resistance rating, for protection of your documents and electronics
Security of the backpack, in terms of anti-theft functions and strap thickness
The Best Backpacks for College
1
SwissGear 1900 Travel Gear TSA Laptop Backpack
The SwissGear 1900 is full of innovative ideas that make it our best overall backpack for college. Sick of unpacking everything for the TSA when making your way through airport security? Simply unfold the backpack for easy scanning without having to remove everything from your bag.
Thought has also gone into the design of the backpack's body, with airflow panels engineered into the back side of the pack. These panels keep you cool and sweat-free when things are heating up. What's more, the shoulder straps are ergonomically contoured to adhere to the natural shape of your shoulders.
The laptop sleeve won't please everyone, as the Velcro design doesn't provide a firm seal to hold the sleeve shut. However, the only other real niggle to speak of is that it can suffer some loose threading after prolonged use. These points aside, this is a durable and well-designed backpack that is deserving of our top spot.
Pros
Durable build quality
Thick, strong zippers
Main pocket expandable
Cons
Can suffer loose threading
Laptop sleeve is unpopular
2
Mancro College Backpack
From the outside, this doesn't look like a particularly spacious backpack—but looks can be deceiving. There's space for the majority of laptops under 17 inches, and a total of 14 pockets are spread across the whole bag. Security for the main pocket takes the shape of a combination-lock design to deter would-be thieves.
The built-in USB port is a nice touch, though it could be implemented in a more useful manner. It's easy to mistake the backpack for being capable of charging a phone, but the bag doesn't have a power supply. That said, providing your expectations aren't unrealistic, the USB port is a great addition to have when on the go.
There aren't many negatives, aside from the padding in the shoulder straps having a tendency to move around after use. Otherwise, this is a good value bag that will stand up to the rugged college life. And water resistance will protect against drink spillages as much as it will protect your laptop from the rain.
Pros
Anti-theft lock design
Built-in USB port
Deceptively spacious inside
Cons
USB cable can get in the way
Padding in straps bunches
3
AmazonBasics Laptop Backpack
You can rarely go wrong with AmazonBasics,  a brand that regularly provides inexpensive solutions to life's problems. Let's face it, your college backpack is going to take a lot of abuse when you start your new campus life. Do you really want to carry around a several-hundred-dollar backpack 24/7?
The zippers on this bag are, quite literally, a sticking point for many customers. In terms of design, they are less durable than those on the above SwissGear backpack, for example. There's also excess material around the zipper tracks that can cause the zippers to catch and pull during operation.
Still, for this price point, minor design niggles can almost be forgiven entirely. This backpack has loads of storage compartments and can fit more inside it than you'd expect. Just don't expect to fit the latest smartphones into the phone pocket.
Pros
Heaps of compartments
Inexpensive solution
Water resistant in light rain
Cons
Flimsy and fiddly zippers
Smartphone pocket is too small
4
JanSport Big Student Backpack
JansSport has been making backpacks for over 50 years. Sporting the classic aesthetic of JanSport backpacks, the Big Student Backpack's name is very apropos. This is a bag designed for students, and it is big. 'Nuff said. Seriously though, this is a large backpack without a lot of frills, but its functional design and capacity continues to endear students everywhere.
The pack features two large main compartments, as well as three zippered front pockets—one of which is an organizer—and a mesh water bottle pocket on the side. The compartments are large enough to hold numerous books or papers. The material is a rugged 600 Denier polyester. One of the benefits of this bag is that it comes in a bunch of colors and designs—43 in all, so you should be able to find something that fits your style.
And, as with all JanSport products, this bag comes with a lifetime warranty. This is a great bag at a really good price, which will be music to the ears of any college student on a budget!
Pros
Lifetime warranty
Big and spacious
Wide variety of colors and designs
Cons
Not a lot of features
No laptop sleeve
Shoulder padding is a bit thin
5
Legend IQ Laptop Backpack
This backpack is optimized for transporting your tech around campus, or using as a carry-on bag for air travel. Individual compartments keep your essential electronics separated from those smaller, more easily lost items. And a trolley strap provides a simple storage mechanism for freeing up your arms inside the airport.
Like most mid- to high-end backpacks, airflow panels are built into the back to stop you from sweating heavily. The bag is also engineered to remain upright when free-standing, offering support to your laptop and tablet. Outside of the gadget sleeves, five external pockets provide plenty of space for accessories, keys, or your wallet or purse.
The Legend IQ loses points for some usability issues, mostly revolving around the shoulder straps. In addition to being thinner than you'd typically get with a backpack, they'll often suffer from loose threads after prolonged use. It's for these reasons, plus the inability to remove the compartment dividers, that the bag drops to fifth position.
Pros
Separate tablet compartment
Optimized for upright storage
Trolley strap for rolling luggage
Cons
Some users suffer a strap defect
Dividers can't be removed
Shoulder straps could be thicker
6
Under Armour Storm Hustle II
Under Armour has a reputation for well-built products across an array of product types. So it's no surprise that this bag is well built and durable, with abrasion-resistant material that is easily wiped clean. This makes it perfect for standing up to messy college life and constantly being dropped and dragged across the floors of dorms and lecture halls.
The backpack has a lot of utility when it comes to carrying your smaller items. The five exterior bags represent a large portion of this backpack's storage capacity, while the base pocket is even bigger. If you're on a sports scholarship, or just like to hit the gym, it'll easily house your sports gear and trainers.
You do pay a price on internal storage for the sake of getting a brand name product. College life necessitates some large items, like binders, so you need all the internal storage  you can get. Unfortunately, this backpack doesn't tick that box, which is why it makes the sixth position in our rankings.
Pros
Wipes clean with ease
Deep side pockets for drinks
Abrasion-resistant bottom
Cons
Could be bigger
Zippers stretch when full
Lacks reflective protection
7
Fjällräven Kånken Backpack
The Kånken Classic Pack has been in production since 1978, employing a completely unique design compared to modern backpacks. Introduced as a means of improving child posture, it's ergonomically engineered—despite its appearance. Though it looks different, and with a design that is clearly dated, it's still a viable bag for college.
Its unique square shape, and the fact that it unfolds all the way around, means everything is accessible. The central pocket is also roomier than it may appear, thanks to this specific design. Also, the Vinylon F material makes it water and dirt-resistant, perfect for withstanding the spills and stains that college life brings.
However, sometimes the design of vintage items are discontinued by the mass market for a good reason. The thin straps on this backpack lack the padding of modern bags, so a heavy load will dig into your shoulders. What's more, vintage-lovers aside, the aesthetics of this bag probably won't appeal to your average college freshman.
Pros
Unique shape conforms easily
Inside is larger than it appears
Dirt- and water-resistant design
Cons
Front pocket doesn't hold much
Uncomfortable arms straps
Design won't be for everyone
The Kopack Slim Backpack forces you to decide on your most essential possessions, with little room for the kitchen sink. Still, it manages to squeeze in 17 individual compartments, with designated slots for almost everything you could need. That includes a laptop sleeve for personal laptops up to 17 inches in size, with anti-theft protection.
This backpack uses attractive material that's resistant to scratching and water-repellent, to stand up to the abuse of college life. Built into the material is a USB port, allowing a cable to be plugged into an external battery pack. And with a range of colors to choose from, it's entirely unisex.
Anti-theft features include a laptop sleeve that sits hidden beneath the shoulder straps, mounted on the rear of the backpack. However, smaller laptops can slide around in the sleeve, and it's difficult to access if the straps are tightened. For these reasons, the Kopack loses some love and slides down the ranking.
Pros
Anti-theft design considerations
USB port for smartphone charging
Resists scratches and punctures
Cons
Smaller laptops move in sleeve
Needs adjusting to access laptop
9
High Sierra Loop Backpack
High Sierra is known especially as an outdoor fitter. The High Sierra Loop Backpack combines outdoor technology with laptop features. It's also not as expensive as some of the other bags on our list, which means it won't bust your budget!
Features include padded shoulder straps that can be adjusted for height, compression straps for extra reinforcement and ease in adjusting bag size, and a durable reinforced bottom with external straps at the base for attaching a small blanket or coat. It also has multiple compartments, including an organizer, smaller compartment for books with a tablet sleeve, and a large main compartment.
This backpack comes with a music media pocket on the top of the bag with a port for headphones, and it includes a laptop sleeve that can fit a 13-inch laptop, which is on the smaller end. The handle is awkwardly integrated into the shoulder straps, which may affect comfort by placing more stress on the front of the shoulder if you carry larger loads.
Pros
Lightweight
Good durability
Stylish
Cons
Weak seams
Questionable zippers
Smallish capacity
10
Everki Atlas Laptop Backpack Checkpoint Friendly
College students are in constant motion. Whether it is to and from class or that part-time job, out for a party, or traveling home to do laundry, you need a bag that makes travel easy. And the Everki Atlas is just such a bag. The checkpoint-friendly design is great for air travel, as it allows you to unzip the bag and lay it flat on any TSA checkpoint x-ray machine.
The bag also offers great volume for carrying your laptop. In fact, there is space for up to an 18-inch laptop in the bag. It's always a pain to not be able to find your stuff once you've packed it, and the Atlas solves this by using a high-contrast orange lining that makes it easier to find that pen or your keys.
The five-point strap system helps distribute the weight of the bag more easily, making this a comfortable pack to wear for longer durations. With additional smaller pouches, this a very functional bag for your college needs, though the price may scare some folks off.
Pros
Lightweight but durable
Comfortable to carry
Great capacity for laptops
Cons
Very expensive
Falls over easily
Can get bulky when filled
Related Rankings
What Do I Need in a Backpack?
Backpacks can excel in a number of areas, so what's good for one person may not suit another. Our overall winner, the SwissGear 1900, ticks all the right boxes, making it suitable for anybody looking for a backpack for college. Otherwise, here are some of the most important factors for you to look for when buying your new bag.
If you're going to be lugging around heavy objects, like books or soccer boots, then you need support. Unbalanced loads or backpacks without proper support can gradually throw your back out, something that's bound to creep up on you. A backpack that properly spreads out the load is not only better for you, it's more comfortable.
You should also consider the resistance to the elements offered by the type of fabric you choose. Some materials that may look more aesthetically-pleasing, such as canvas, are typically worse at resisting water. If your bag doesn't keep out the weather and other spillages, then your contents won't stay dry either.
Depending on the value of your backpack's contents, you might also want to consider how secure your fasteners are. Some bags use zippers and anti-theft locks, while others opt for simple Velcro. If you're storing your wallet, smartphone, or car keys in side compartments, you don't want them easily accessible.
Should I Get a Backpack or a Messenger Bag?
Backpacks and messenger bags are very similar in design and functionality, but one wins over the other in certain areas. Both are appropriate for college, but it's good to understand the advantages of each type of bag. Storage space, comfort, accessibility, and support for laptops all come into play.
One of the design differences between the two types of bags is in the rigidity of the rear panel and the material that's used. Messenger bags tend to be more malleable and conform to the shape of your body. This directly translates into greater comfort when worn.
However, backpacks are generally better suited to storing your college laptop, as most have a designated laptop sleeve. Their rigidity also means that your computer will be well protected from bumps and scrapes. That said, some messenger bags have compartments on either side for cushioning your laptop computer from your back.
That just leaves accessibility and storage space. With their single shoulder strap and soft design, messenger bags typically reign supreme where quick access is concerned. However, storage space is one area where both types of bag have equal footing.
What Size Backpack Should I Get?
Backpack capacity is typically more of a concern for outdoor hobbyists who are embarking on a hike or other journey. That said, it's still essential to think about the storage space you need for your studies, too. All the best backpacks for college mentioned in this ranking range from around 15 liters up to around 35 liters.
Backpack capacity can go far higher than this number, with some models ranging to 80 liters and beyond. But these mammoths are very heavy and better suited to endurance sports or outdoor pursuits. For simple college life, a backpack with a capacity up to 40 liters maximum will be perfect for your needs.
The size that you ultimately settle on will be shaped by certain factors directly related to your studies. One key consideration is whether you have a laptop computer and, if you do, how big it is. To holster a laptop, you'll need a bag of a certain size, and 17-inch models demand a higher capacity.
Similarly, consider what major you're studying and the essential equipment required, as this will also come into play. If you're studying English, you're likely to have a heap of heavy and bulky books to carry. If you're on a sports scholarship, you may want additional, roomy pockets for your sports gear.
Can I Use My Backpack as a Carry-on?
With checked-baggage fees constantly on the rise, you'd be smart to avoid using a suitcase (if you can). You can use your backpack as carry-on luggage, keeping your personal possessions close to you. However, you'll have to pack carefully to ensure that you meet TSA and airline requirements.
Make sure to check your airline's size restrictions for carry-on luggage so there are no nasty surprises at the airport. Check that all flaps and compartments close securely and that nothing bulky is unnecessarily extending the footprint of the backpack. When closed and secured, the measurements of the bag should fit within the airline's requirements.
Some backpacks, such as the SwissGear 1900, have features designed to make breezing through TSA checks as easy as possible. This backpack fully unfolds (as do a couple other on our list), while keeping your possessions secure, which makes security scanning effortless. If you want a stress-free experience at the airport, it's worth considering these little extras.
What Are the Best Backpacks for College?
With any of the products on our list, you can be sure of quality and convenience, as voted for by customers. But chances are that you're looking for something that ticks one of a few specific boxes. Whether you're after the very best, something on a budget, or a jack of all trades, we've got you covered.
For the best overall backpack for college, the SwissGear 1900 is our clear winner. It's durable enough for tough college life, while still retaining that all-important comfortable fit. It's also very roomy inside, yet can unfold down the middle for airport security checks or accessibility in a hurry.
That said, the SwissGear 1900 is at the higher end of the budget and may not appeal to thrifty students. So for the best budget backpack, why not pay half the price and pick up the Mancro College Backpack? Not only is the capacity greater than the SwissGear, it has anti-theft locks built-in, though the design feels less premium.
Our final backpack in the top 3 picks is the most versatile bag of them all. The Legend IQ Backpack boasts separate pockets for both your laptop and tablet devices. It'll stay upright during lectures for easy access, but can attach to your luggage trolley in airports. Whether you're studying or traveling, the Legend IQ can do it all.
RAVE Recommends
Now you know which backpack to buy, you're all set for hauling your college essentials around campus. But you might benefit from some other college essentials, so check out our recommendations below:
Cooluli Mini Fridge Electric Cooler: There's nothing like a cool soda or energy drink during those late-night cramming sessions. With this fridge, you won't even have to leave the dorm.
AeroPress Coffee and Espresso Maker: When you need a caffeine fix but can't find the nearest Starbucks. The AeroPress gives you freshly ground coffee that fits right into your backpack.
Sofa Sack – Plush Ultra Soft Bean Bags Chair: Personal space can be limited at college, and getting used to your new pad may be tricky. Bean bag chairs have so many uses, including as a place to study, relax, or catch a nap.
AmazonBasics 6-Outlet Surge Protector: You might be surprised as the number of charging points you'll need when you get to college. Easily overlooked, but absolutely essential, this extension lead will provide space for all your gadgets.
Anker PowerCore Portable Charger: With all your new college contacts, it's more important than ever to be reachable by friends and family. The Anker PowerCore can completely recharge your phone when you've run it into the ground.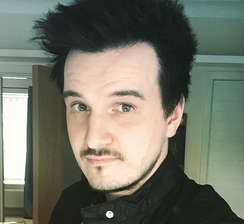 Chris Barry
Chris Barry lives in Dorset, England with his wife. When he's not writing product reviews, Chris can usually be found furiously writing and editing his first novel, or watching horror movies.