Spoiler alert: Jones Mountain Twin Snowboard is our pick for the overall best all-mountain snowboard.
When you hear everything we have to say about the board, we know you'll agree. But for now, just take our word for it. With a unique rocker/camber flex pattern, smooth turn initiation, and a blunt nose, this board handles all sorts of snow conditions and all kinds of riding styles. Whether that's cruising groomers, or popping off side hits at the resort — just what you want from the best all-mountain snowboard.
Developed in the 1960s, snowboarding is one of the most popular winter pastimes on the planet. In the span of just a few decades, the sport made its way from a garage in Michigan to one of the biggest stages in all of sports: the Olympic games.
But did you know snowboarding used to be called snurfing — a mash-up of "snow" and "surfing"? Doesn't quite sound the same, now does it?
Eventually, snurfing became snowboarding, and the sport became what it is today. In this article, we'll not only tell you about the best all-mountain snowboards, but we'll also tell you what you need to know about the origins of snowboarding, and get you up to speed on key snowboarding slang and terminology.
So when you're finished reading, you'll be landing steezy tricks with the best of 'em. Just in time for winter, here's RAVE Reviews' ranking of the 10 best all-mountain snowboards.
The All Mountain Snowboards We RAVE About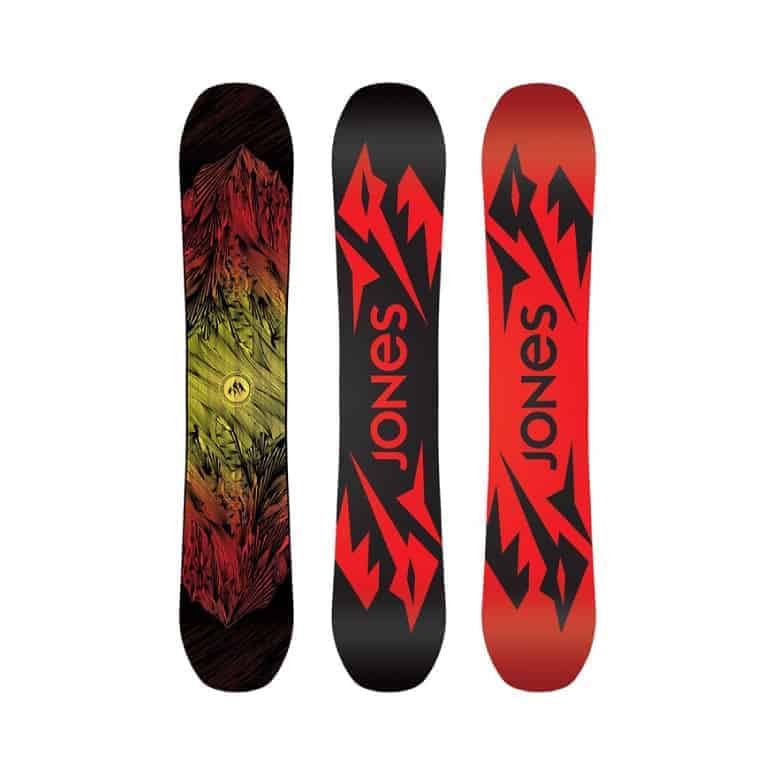 Best Overall
Jones Mountain Twin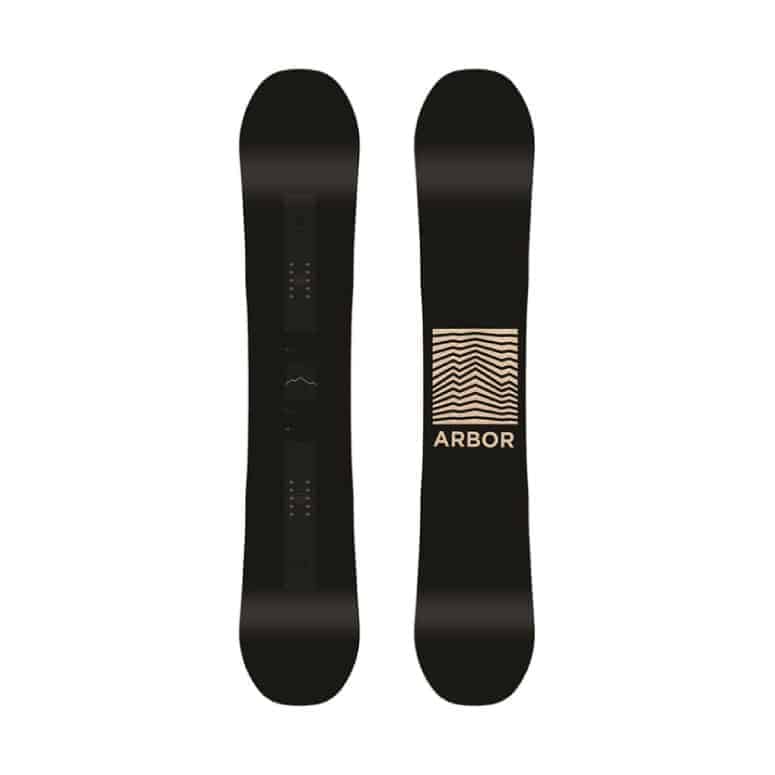 Best For Beginners
Arbor Formula Rocker Snowboard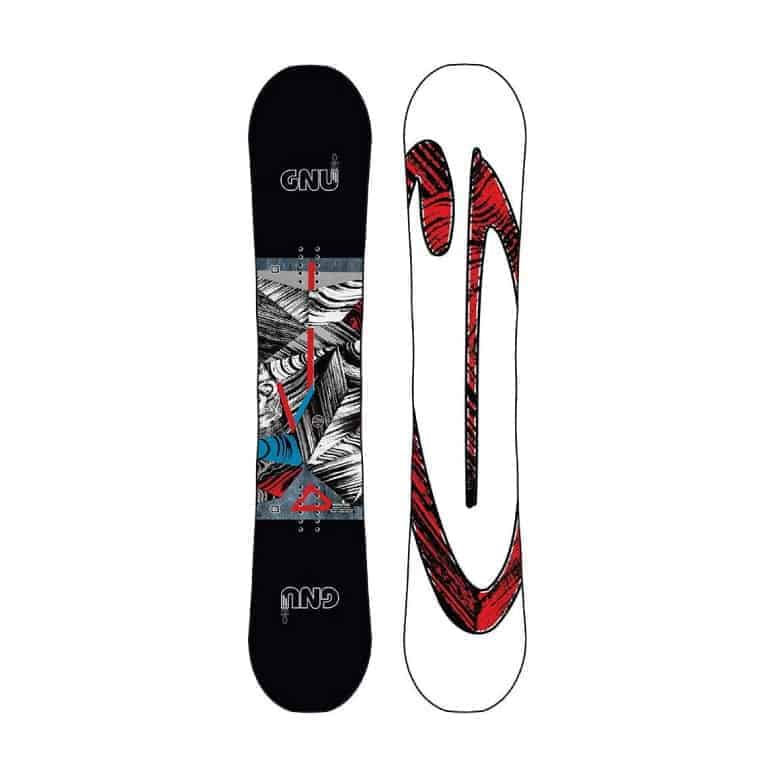 Best For Women
GNU Carbon Credit Asym BTX
What Are the Best All-Mountain Snowboards?
How do two skis bolted together in an engineer's garage become a multi-billion dollar winter sports juggernaut? Here's what you need to know about the origins of snowboarding.
The History of Snowboarding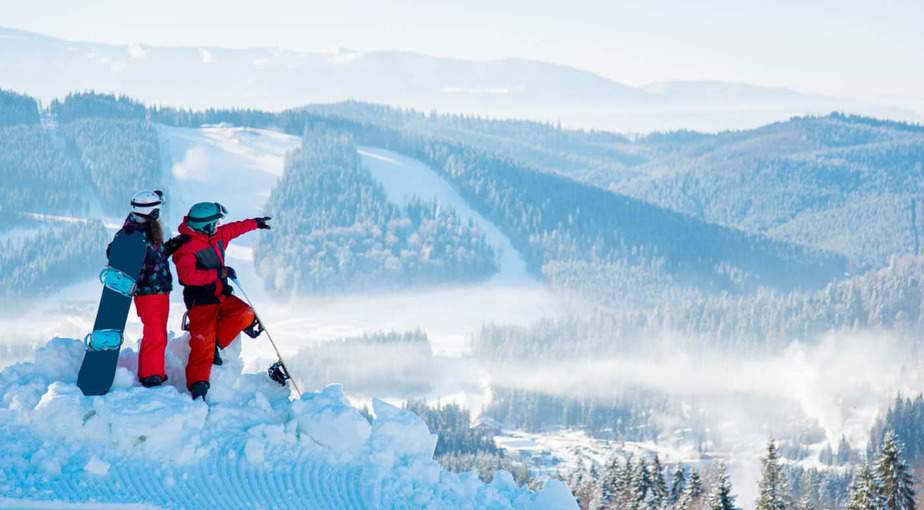 It all started in a garage in Michigan, when an engineer named Sherman Poppen bolted a pair of skis together and attached a rope. At first, the unit just seemed like a good toy for Poppen's daughters to play with during the cold winters of Michigan.
His wife called it "snurfing" — a blend of snow and surfing, and in retrospect, a pretty apt description of the snowboarding experience.
Poppen's new toy took off in his hometown of Muskegon. So much so, a company now called Brunswick saw an opportunity, licensing Poppen's invention and selling about half-a-million boards in 1966 — just a year after Poppen's invention emerged from his garage — and about a million snowboards over the next decade.
The Early Years of Snowboarding
The success of the snurfer quickly caught the attention of winter sports enthusiasts. Early snurfers were considered a children's toy, and were very cheap to build. But soon, regional and national competitions sprang up and the sport of snowboarding was born.
Before long, others wanted to get in on the snowboarding trend — businessmen like Jake Burton and Tom Sims, who'd go on to found companies bearing their surnames and that to this day remain among some of the most instantly-recognizable brands in all of snowboarding. Other companies from the early days that are still in business include Gnu and Winterstick.
Snowboard Innovations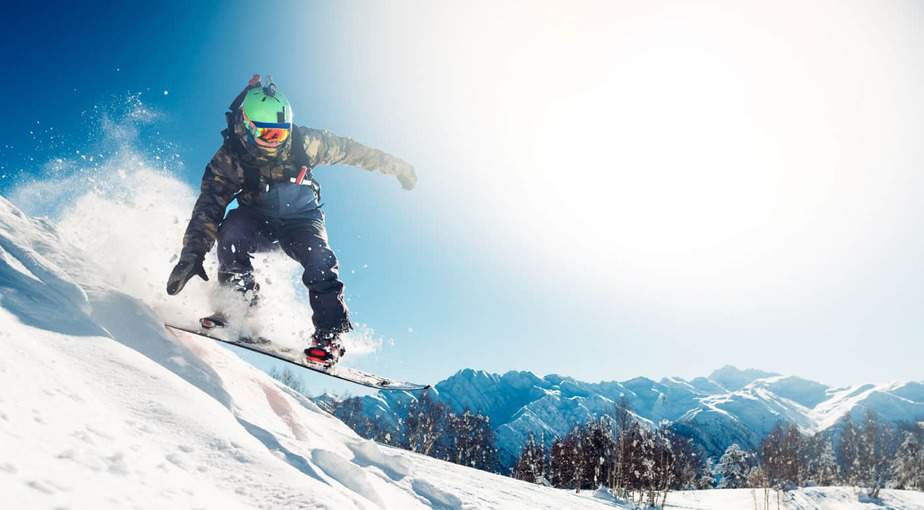 By the 1990s, snowboards were allowed at almost all ski resorts. But at that time, all snowboards had straight edges and traditional camber, a lot like skis. In 2004, Lib Tech and Gnu added MagneTraction, serrated edges that increase a snowboard's edge control on ice.
And In 2006, the snowboarding brand Mervin Manufacturing introduced reverse camber, calling it Banana Tech. This would prove to be the biggest departure from skis in the history of snowboarding, because reverse camber boards "ride loose," reducing the chance of catching an edge.
Further innovations in snowboarding include hybrid camber, called a "rocker profile," with reverse camber between the tip and tail of the snowboard. In 2019, choices abound for snowboarders looking for the perfect board in all sorts of snow conditions and for all kinds of snowboarding styles — from jibbing to freestyle, and from groomers to deep powder or hardpack.
But you're here because you're looking for the best all-mountain snowboard, good in any snow condition and for any kind of riding style. To find the best board, however, you're going to need to know some key snowboarding terms.
Snowboarding Terms and Phrases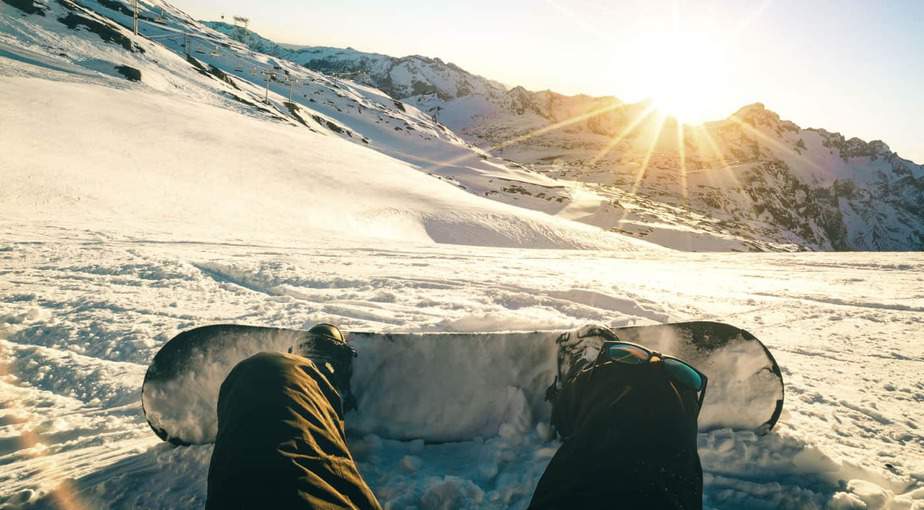 When shopping for the best all-mountain snowboard, these are a few of the most common snowboarding terms and slang words that will likely come up. Here's a quick rundown of words and phrases that will help you while shopping for a great board, and help you fit in at the park.
Backcountry: Backcountry is anywhere outside the boundaries of a ski resort.
Base: The bottom the snowboard, or the part of the board that slides on the snow.
Directional: A rider on a directional board stands slightly off center and in a setback stance. Directional shape snowboards are also meant to be ridden in primarily one direction.
Flat Camber: A board with a flat camber profile is neither concave or flat.
Rocker: Sometimes called reverse camber, rocker is the opposite of camber. Boards with a rocker profile look like they could rock back and forth.
Flex: Flex refers to the stiffness or lack of stiffness of a snowboard. Longitudinal flex refers to the stiffness of the from tip to tail, while torsional flex refers to the stiffness of the width of the board.
Sidecut: Sidecut refers to the radius of the edge that runs along the side of a snowboard.
Topsheet: Quite simply, the topsheet is the top of the snowboard, or the part of the board you can see underfoot.
Pow: Pow is snowboarding slang for powder, as in "that's some fresh pow."
Ride Switch: To ride switch means to ride with the opposite foot forward of how you normally ride.
Edge Hold: Edge hold describes the ability of a snowboard to hold the arc of a turn on firm snow.
Freeride: Freeride is a style of riding focused on groomers, backcountry, and powder.
Freestyle: Freestyle is a style of snowboarding that's a mix of terrain park, or the part of the park with terrain conducive to tricks, as well as non-terrain park riding.
These are only a few terms and slang words from the world of snowboarding, but it's a good start. Coming up next is our ranking of the 10 best all-mountain snowboards.
Methodology
When researching this ranking of the 10 best all-mountain snowboards we threw our net as wide as possible — considering everything from Burton custom boards to Never Summer prototypes.
We also poured over snowboard reviews, expert input from snowboard professionals, personal experience, and manufacturer specs to present to you a complete picture of your all-mountain snowboard options. We can't wait to share with you the results.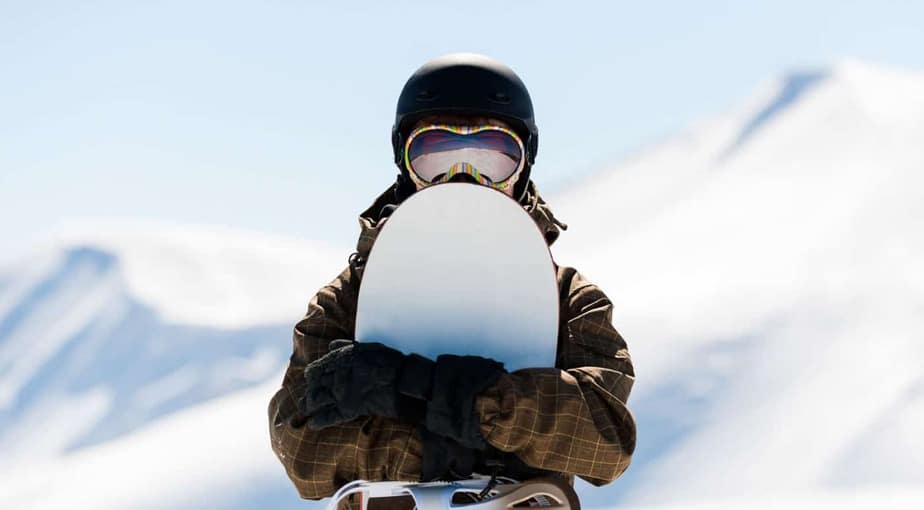 We ranked each board on the following:
Flex
Core
Side cuts
Extra features
Manufacturer
Price
Warranties and return policies
…and that's just the start of it!
Do you feel that? There's a nip in the air. Snowboard season is coming. Here's everything you need to know about the 10 best all-mountain snowboards.
The Best All Mountain Snowboard
Taking the top spot in our ranking is the Jones Mountain Twin Snowboard, a true twin shape snowboard with CamRock, a unique rocker/camber flex pattern ideal for mountain freestyle.
The shape includes a progressive sidecut for smooth turn initiation, and a blunt nose for easy plowing through powder and crud. In addition, the V-core and FSC Mountain Core caught our attention.
The V-core creating improved maneuverability and the Mountain Core adding pop and durability. There's also Triax fiberglass laminates, recycled ABS sidewalls, and Sintered 7000 Base for speed and improved wax absorbency.
Sustainability is a first priority for Jones, with an eco-plastic topsheet. Snowboard reviews comment that this board has really strong grip, and it's great on uneven terrain, but it's weak with edge to edge transitioning.
Pros
CamRock flex pattern
V-core and FSC Mountain core
Recycled ABS sidewalls
Cons
Weak edge to edge transitions
Up next is the Ripsaw X from Never Summer. What caught our eye about the Ripsaw X was the Ripsaw rocker camber profile and a powerful medium-firm flex rating. We also love the Vario Power Grip sidecut, using multiple radiuses to create extra contact points for enhanced edge hold.
There's also a superlight wood core, Sintered P-Tex Sidewalls, Durasurf Sintered 4501 Base, and a Premium Coextruded Polymer Topsheet, providing more grip than other topsheet materials, and acting like a built-in stomp pad.
Some riders feel the board is only average for jibbing, however, and pretty stiff for a directional twin snowboard, but the Ripsaw can be aggressive when you want it to be and is particularly suited for carving.
Pros
Vario Power Grip sidecut
Polymer Topsheet
Sintered P-Tex Sidewalls
Cons
Not great for jibbing
Stiff for a twin
3
Lib Tech T.Rice Pro Hop
Named in honor of world-famous snowboarder Travis Rice, the Lib Tech T.Rice Pro HP takes third in our ranking. What we liked about the board was the C2 hybrid camber technology giving the board flotation and precision off-piste.
The cambered profile is rockered underfoot with camber on the tip and tail for full contact and control in any sort of condition an all-mountain rider might encounter. The flex is medium stiff, and you can choose between the blunt freestyle nose, or a pointy freeride nose — a definite advantage to the T.Rice Pro.
In addition, the core is almost 50/50 Aspen and Paulownia, with an eco-sublimated sintered base. Riders call the T.Rice Pro a versatile mid-flex board ideal for intermediate to advanced riders in particular, but mention it's not a particularly aggressive board.
Pros
C2 hybrid camber tech
Choice of blunt or pointy nose
Eco-sublimated sintered base
Cons
Not particularly aggressive
Best for intermediate and up
4
Arbor Formula Rocker Snowboard
Now, let's talk about the Arbor Formula Rocker. The board blends a progressive parabolic arc rocker profile with a tri-radial Grip Tech sidecut design. We also liked the Grip-tech shape with heel and toe contact points for more ergonomic grip and extra control when necessary.
The lightweight FSC Certified Highland Core is made from poplar and Paulownia. Also notable is the Biax Glassing laminate designed for park all-mountain riding, making the Formula Rocker the best choice for beginning riders.
And always an eco-conscious company, Arbor uses recycled steel edges and recycled ABS sidewalls, and a bio-plastic topsheet. Overall, this is a very soft-flex board, best for beginners and intermediate riders. If you're just starting, choose the Formula Rocker, but keep in mind, you may outgrow it as your skills improve.
Pros
Grip-tech shape
Biax Glassing laminate
Recycled ABS sidewalls
Cons
Best for beginners
Not for charging
No stability
5
GNU Carbon Credit Asym BTX
Fifth in our ranking of the 10 best all-mountain snowboards is the GNU Carbon Credit Asym BTX Snowboard — our pick for best women's all-mountain board. The GNU Carbon Credit is a great board for any skill level — from beginner to advanced rider. And what's truly unique about the board is the asym — as in asymmetrical — profile.
Changing the sidecut and core of the snowboard, the asym profile more closely mimics the human body, which helps give a rider more consistent heel and toe performance, and the asymmetrical wood core also has a softer flexing heelside for power, a lower activation angle, and precise control — just the kind of versatility women need in an all-mountain snowboard.
In addition, the Magne Traction serration points add even more contact points, which improves grip on hard pack and ice. Overall, this is an easy-flexing snowboard, with an original Banana profile, giving the board the feel of a surfboard and the power of camber. Riders comment on the exceptional grip, as well as the kind of float common in rocker boards.
Pros
Asym profile
Magne Traction
Easy-flexing
Cons
Average for carving
Best on frontside
Good for beginners
The Ride Warpig is next in our ranking, and what sets the Warpig apart is the signature short and wide profile — a profile common in cutting-edge "volume shifted" snowboards. What this means is this board has fantastic float, great performance in pow, is strong enough to carve, and has enough playfulness for freestyle.
It's a  tapered, directional rocker, medium flex board, with a wood core made from aspen, bamboo, and lightweight Paulownia. Other features worth mentioning include the sidewall designed for increased board strength, to reduce weight, and prevent topsheet chipping, and there's also a stone ground sintered base.
While some riders don't like the extra wide, short and fat profile, others call this board a jack-of-all-trades with a feel like "all-mountain snow surf."
Pros
Volume shifted
Wood core
Stone ground sintered base
Cons
Average on pipe
"Stubbiness" not for everyone
Not great for uneven terrain
Next up is the Bataleon Wallie Snowboard. If you like to press, ollie, or jib, this board it for you due to the finely-tuned JIB 3BT camber, with a wide centerbase and short section of sidebase.
The wide centerbase also creates a stable platform from which to press, ollie, and put down landings — making this board a good choice for park riders.
What we also liked about the board is the soft-flex wood core made from poplar, with beech strips on the tip and tail, both working to reinforce the backbone for extra pop and durability.
Otherwise, this is a twin board with Wallie tips and sidebase uplift, as well as SideKick, making turn initiation smoother, increasing float in fresh pow, and improving how the board handles in rough terrain.
Also worth mentioning is the Super Slick X base, making the board durable and very slick in all sorts of terrain. Many snowboarders call this board a jib stick, stiff underfoot, playful, and soft in the middle. Just don't expect much stability.
Pros
JIB 3BT camber
Wallie tips
ABS Solid Walls
Cons
Not much stability
Short turns for carving
Very soft
Up next we have the Rossignol XV Sushi LF White Label snowboard, made for quick maneuverability but also capable of handling big mountain terrain.
Something in particular that's unique about the Rossignol XV is the AmpTek Elite Rocker profile — 30% rocker at the nose, 60% camber at the insert packs, and 10% rocker in the tail — meaning this board floats in deep snow, with enough bite for heavy carving.
The core of the board is a single kind of vertically laminated wood. Something else we want to be sure to mention is the L.I.T.E. Grip Technology laminate, creating edge control unique in the world of all-mountain snowboards — the urethane bending away from the sidewall, providing extra edge-hold and making the Sushi LF a got-to for technical and icy conditions.
On the downside, however, the Sushi LF does rank pretty poorly for jibbing and riding switch, but it is a great choice if riding in powder is more your style. In addition, Rossignol is one of the most divisive snowboard brands on the market — riders either loving or hating their product.
Pros
L.I.T.E. Grip Technology
AmpTek Elite Rocker profile
Good in powder
Cons
Divisive brand
Poor in jibbing
Weak for riding switch
Now we want to tell you about the next pick in our ranking, the Berzerker snowboard from Ride. What got us pumped on the Berzerker were the carbon laminates, the carbon Slimerods, and the Performance Core.
All combined, these features make this a high-quality all-mountain board and a good freestyle board for park riding as well.
Also worth mentioning is the shape, Quadratic Sidecut, or a blend of three radius points improving turn initiation and exit without sacrificing grip. The Performance Core is a blend of aspen, bamboo and lightweight Paulownia. And the standard steel edge wraps around the board's entire perimeter.
The Berzerker does tend to rank poor for jibbing, and only average for jumps, but if riding pipe is your thing, the Berzerker could be the right board for you.
Pros
Carbon Slimerods
Quadratic Sidecut
Good for pipe
Cons
Poor for jibbing
Average for jumps
Slow turn initiation
The next board in our ranking of the 10 best all-mountain snowboards is the Burton Deep Thinker Snowboard. What we loved about the board is how it's slightly tapered, with a camber-dominant profile and a floaty nose, giving it extra playfulness in all sorts of conditions
It's a directional flex board, with a poppy tail and a tough and durable nose, helping maintain control in all-mountain situations and at high speeds, while the Pro-Tip tapered tip and tail works to reduce swing weight for easier mobility.
Something else we want to be sure to mention is the FSC Certified Super Fly II 700G Core, made from strong and light wood, targeting specific areas of the core to reduce weight, increase strength, and add pop.
On the downside, some riders comment the Deep Thinker is pretty stiff, a good match for a strong, heavy rider.
Pros
Camber-dominant profile
Pro-Tip tapered tip and tail
Super Fly II 700G Core
Cons
Stiffer flex
Not very "buttery"
Not good for small riders
Related Rankings
Looking to fill out your snowboard gear? The answers to these frequently asked questions might help.
What are snowboard bindings?
Snowboard bindings are probably the second most important piece of snowboard gear besides the board itself. These days, snowboard bindings are pretty high-tech, designed for a perfect hold on your snowboard and great freedom of movement as well.
When shopping for snowboard bindings, you'll want to consider the following:
Flex
Mounting system
Preferred snowboarding terrain or snow conditions
There are three primary types of snowboard bindings, strap-in, rear entry, and step-in. Here's what you need to know about each kind of binding:
These are probably the most common kind of snowboard bindings. With one strap over the ankle, and another over the toes, they're easy to put on once you're off the lift. Strap-in bindings aren't as quick to put as step-in style bindings, however, but many feel they provide a much better fit.
Step-in bindings work when two prongs on the bottom of a snowboard boot click into the binding plate. This style doesn't offer much support, and is difficult to put on when the binding plate gets packed with snow. Step-in style bindings are probably the easiest to use, but rear-entry and strap-in systems are much more stable.
Rear-entry bindings are probably the easiest kind of snowboarding binding to put on. Simply pull down the back of the binding and slide the boot inside.
Additional factors to keep in mind when shopping for snowboard bindings are flex, fit, color, and riding style. Here's a quick rundown on which style of binding best suits different snowboarding styles.
If freeride is your preferred riding style you'll want stiff flex bindings.
For freestyle riding, choose flexible bindings with lots of give.
And for all-mountain riding, pick all-mountain bindings, medium flex — not too flexible, and not too stiff.
It's also important to learn how to adjust your bindings. And if you don't want to worry about binding at all, you can just buy a complete snowboard with bindings included.
What are the best snowboarding goggles?
The last thing you want on the mountain is to have your goggles fog up. Vision is important! To help, snowboarding goggle technology has come along way — from magnetic systems designed to make it easy to swap out your goggles, to adjusting the tint of your lenses with the push of a button.
Here's a quick guide to shopping for snowboard goggles:
Lenses come flat, sometimes called cylindrical, or spherical. Flat lenses are cheaper, but spherical lenses perform better than flat lenses. Here's why:
Spherical lenses have more surface area, broadening your field of vision.
The curve of spherical lenses is strategically designed to reduce glare.
Since cylindrical lenses have flat edges which can create distortion at certain angles.
With spherical lenses there's more space between your face and the cold outside, there's better insulation and airflow, which reduces the chance of fogging.
In addition, when shopping for snowboarding goggles, you'll want to think about lens color, or tint, as well as multiple or interchangeable lenses, as well as add on features like UV protection, polarized lenses, and anti-fog coating.
You'll also want to consider frame size. Goggles come in small, medium, large or OTG, meaning "over the glasses."
What are the best snowboard pants?
It's cold out there and you're going to need some pants to help you stay warm and dry. We compiled some pointers for finding the best snowboard pants.
Waterproof rating is probably the most important feature of snowboarding pants. The higher the rating, the more waterproof the pants will be. Waterproof ratings are measured in millimeters.
For pants to be considered truly waterproof their waterproof ratings need to be at least 1,500 millimeters, but some pants come as high as 20,000. Most pants however are right 5,000 and 10,000 millimeters.
The first thing you'll want to decide when shopping for snowboard pants is whether you prefer insulated or shell pants. Insulated pants have insulated material built right into the pant, while shell pants are just like insulated pants without the insulation.
Why would anyone want shell pants instead of insulated pants? Shell pants are lighter, and you might want to get shell pants if you tend to overheat.
Breathability is another important feature of snowboarding pants. Breathability is measured in grams, determined by finding the Moisture Vapor Transmission Rate, or MVTR.
Entry-level breathable fabrics will have MVTR ratings right around 2,000-3000 grams and fabrics at the high end of the breathability scale have an MVTR around 25,000 grams.
This isn't all there is to know about finding good snowboard pants, but it's a start. Other things to consider durability, seam type, and added features like boot gaiters and suspenders.
Take your time when shopping for snowboard pants because no matter what, you don't want to find yourself at the top of the mountain without a pair.
What are the best all-mountain snowboards?
Just give us what we're here to find out, you might be saying: "Tell us what's the best all-mountain snowboard."
Ok, your wait is over, except that we couldn't settle on just one all-mountain snowboard (we stand by all the boards in our ranking) so we broke up our findings into three categories: best overall all-mountain snowboard, best all-mountain snowboard for beginners, and best all-mountain snowboard for women.
First, we want to tell you about the overall best all-mountain snowboard: Jones Mountain Twin Snowboard. For all-mountain riding you need a board designed to handle whatever conditions you might find on any given day in the snow, whether that's on the mountain, in the park, or on the pipe. And Jones Mountain Twin Snowboard is just that board.
Next, our choice for best all-mountain snowboard for beginners is the Arbor Formula Rocker Snowboard. This is a soft-flex, forgiving board, constructed with the needs of beginning to intermediate boarders in mind.
And the board we liked best in the category of best women's all-mountain snowboard is the GNU Carbon Credit Asym BTX Snowboard, due in no small part to the asymmetrical profile which helps the board fit small, lighter body types.
But this board is no lightweight — durable and versatile enough for whatever the mountain might bring you.
RAVE Recommends
A new board, new bindings, new goggles, and new pants — what else do you need? Here are five products no snowboarder can do without.
Demon Complete Basic Tune Kit with Wax: Everything Needed to do a Basic Tune and Wax for Your Skis and Snowboard
DryGuy Travel Dry Boot Dryer: When your back at the lodge dry your boots with this boot dryer from DryGuy.
Smith Optics Unisex Snow Sports Helmet: Safety first — protect your brain bean with this unisex snow sports helmet for Smith Optics.
Burton Men's Gore-Tex Gloves: Protect your hands from the elements with a pair of Burton Men's Gore-tex gloves.
Zionor X4 Snow Goggles: These high-performance goggles feature anti-fog and UV Protection as well as 100 percent UV400 protection coating.
William Kennedy
William Kennedy is a staff writer for RAVE Reviews. He lives in Eugene, OR with his wife, daughter, and 2 cats, who all politely accommodate his obsession with Doctor Who and The Smiths.