RAVE's pick for best all mountain ski is the Völkl M5 Mantra.
One of the ski industry's most well-respected models, M5 Mantra skis, have Titanal frame construction and rocker in the tips and tails. The perfect combination for an all mountain freeride ski. But, of course, this model isn't the only note-worthy all mountain ski. Check out the other top-ranked skis in our ranking below. 
When we were kids, we loved snow days. This doesn't have to change when we're grown ups. Waking up to a blizzard simply means a chance to bail on work, pull out the all mountains skis, and go carve-up some powder.
In this article, we'll tell you everything you need to know about all mountain skis. Beginning with, what are all mountain skis as opposed to regular skis? What are groomer skis and what are all-rounders? And what's the difference between camber and rocker? — and by rocker, we don't mean Sammy Hagar, or that thing your grandma sits in.
All this and more is coming up in our ranking of the 10 best all mountain skis. So keep reading, because the slopes are calling. Will you be ready?
The All Mountain Skis We RAVE About
Best Overall All Mountain Ski: Völkl M5 Mantra
RAVE's pick for best all mountain ski is the Völkl M5 Mantra. Precise on-trail and capable off-piste, the Völkl M5 Mantra sets the standard for what an all mountain ski should be. 
Read Full Review
Shop Völkl M5 Mantra
Best All Mountain Ski for Expert Skiers: Kastle FX 95
Our choice for best all mountain ski for expert skiers is the Kastle FX 95. With a 95 millimeter waist underfoot, the Kastle FX 95 dominates on-trail and off-piste with awesome control and precise turns.
Read Full Review
Shop Kastle FX 95
Best All Mountain for a Beginner: Salomon QST 99
And when it came time to choose the best all mountain ski for a beginner, RAVE picked Salomon QST 99. The Salomon QST 99 is the complete setup to float and maneuver through crud and fluff.
Read Full Review
Shop Salomon QST 99
What Are All Mountain Skis?
All mountain skis are really nothing more than skis versatile and adept enough to handle whatever you encounter on the mountain. But you know what sounds cooler than that? Calling your all mountain skis "a one-ski quiver." 
There aren't a lot of hard and fast rules about what makes skis all mountain skis. On the narrow end, think on-trail groomer skis, on the wide end, think skis that can handle back bowls and powder. 
All mountain skis are usually 85mm to 105mm underfoot. They're best on the front side of the mountain, and meant to help you ski in bounds — except, of course, when you don't want to.
It's also important to understand what all mountain skis aren't. 
All mountain skis aren't meant for deep powder or the backcountry. 

They're usually too heavy for uphill travel, though these days they're getting lighter as construction materials improve.
In summary, all mountain skis are your go-to skis for a wide variety of skiing conditions. But that doesn't make them a one-size fits all solution. When choosing a pair of all mountain skis, keep in mind your ability level, your local snow conditions, and your personal skiing style.
But most of all, when choosing all mountain skis you need to understand ski waist width. 
What is Ski Waist Width?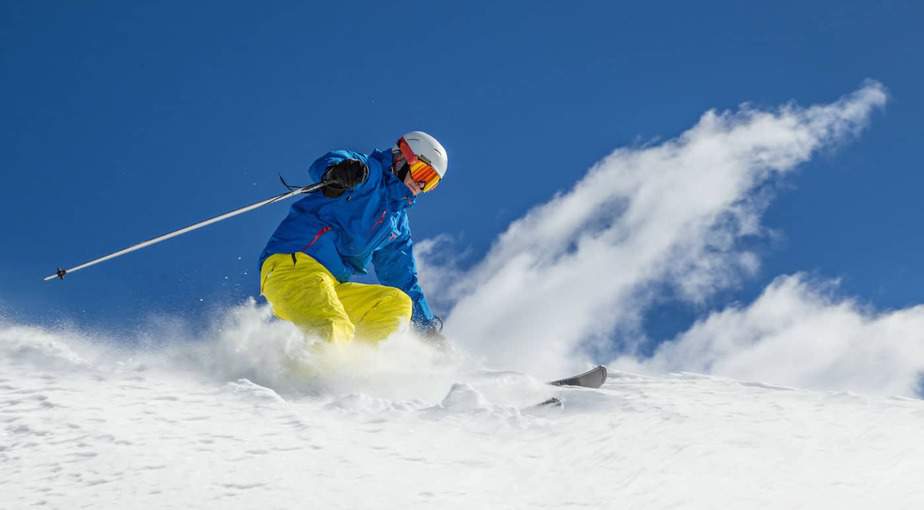 Ski waist width measures a ski's width at its middle,  "waist," or narrowest point. 
A narrow

waist width means your skis will b

e quicker edge to edge during turns.

Wider

waist widths means more surface area,

providing better flotation in powder and choppy snow.
Live in an area like Colorado or Utah, where the dry and powdery stuff falls in large amounts? 
If that's you, you'll want "powder sleds," or skis with a waist width of 100mm or more. All mountain skis don't really work in these conditions, and you'll be best served with a few skis to choose from, whether you're skiing in the backcountry, or sticking with lift-assist skiing.
These days, most skis are wide enough to stay stable and under control in soft snow or hardpack.
Next, let's cover groomer skis and all-rounders. Which one's right for you?
Groomer skis

are between 80mm and 90mm waist width range

, and they're meant to be used on well-groomed powder.

All-rounders

have a wider waist width, somewhere between 90mm and 100mm. All-rounders can handle well-groomed runs as well as off-track powder runs, with a more universal profile, and a light tip/tail rocker, limiting tail flap. 
Another way of describing an all-rounder is an all mountain ski, and since all mountain skis are what you're here for, stick with an all-rounder. 
The next thing we'll cover is your ski profile: camber, rocker, or mixed camber/rocker. What do those terms mean?
What is Rocker and Camber?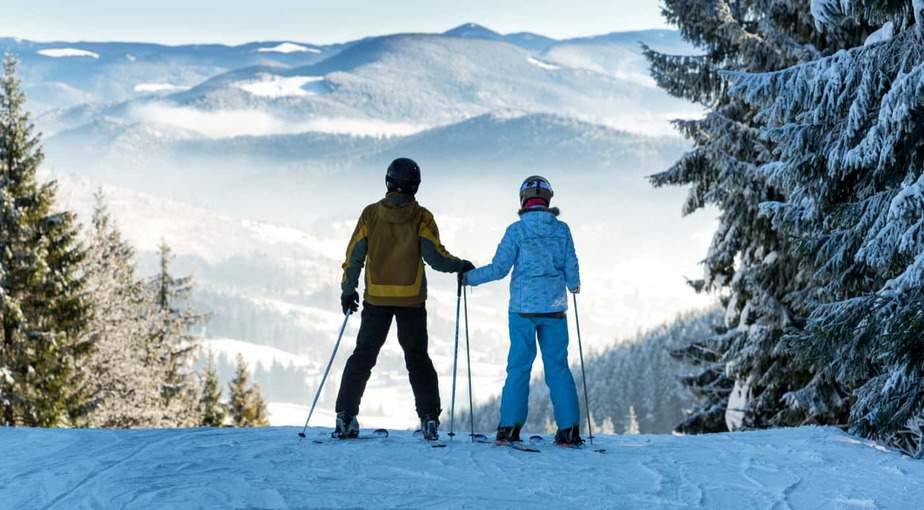 Camber:

Camber profile is the design of a traditional groomer — with a half-moon like shape peaking right under your boot, with contact at the tip and tail of the ski, creating superior edgehold on groomed slopes. 
Camber is sort of like the O.G. design for an all mountain ski, but lately camber has fallen out of favor for rocker and mixed camber/rocker. If you're an aggressive skier on well-groomed runs, camber is still your best choice.
Rocker:

With a banana-like look,  a rocker profile, also known as

reverse-camber ski

, means the tips of the skis are raised at either end. While full rocker has risen in popularity in the all mountain market, it's still best for off-trail skiing in deep powder.
Mixed Camber/Rocker:

Mixed camber/rocker design provides the best of both worlds: improved edge control, while still being able to handle the deep stuff. If you like to cover the whole mountain, it's the best option for you. 
Best Turning Radius For All Mountain Skis
Choosing the best turning radius, sometimes called side cut radius, depends a lot on how you like to ski, as well as the kind of powder that tends to fall where you like to ski.
Here's what you need to know:
All-around skier? Stick to 16-20 meters.
Keep in mind, the longer the ski, the shorter the turn radius. Shorter skis will turn sharper, but you'll lose something in top-end speed and flotation.
There's a lot to know about skis. What we've covered so far is just a start, but for now, let's move on the 10 best all mountain skis. 
Methodology
When researching this ranking of the 10 best all mountain skis, RAVE Reviews consulted avid skiers, ski industry professionals, as well as the opinions and research of similar, up-to-date rankings from all across the internet. We also carefully examined the manufacturer's specifications to bring you an accurate picture of what to expect from each pair of skis.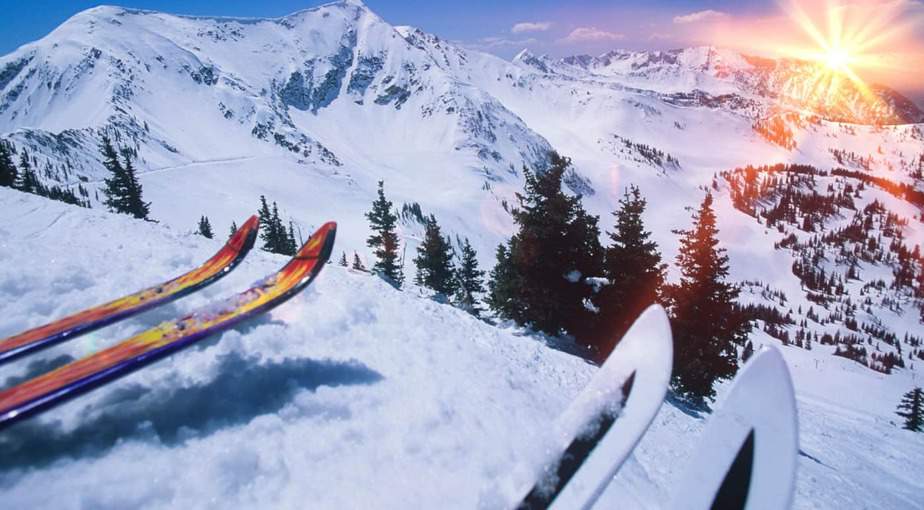 When looking at each ski we kept at eye on the following:
Sidecut

Core

Construction style

Profile 

Tips
We also kept in mind cost, manufacturer, the best snow conditions for the skis, edgegrip, and more.
With this criteria in mind, we're proud to stand by our ranking. So keep reading, because there's fresh powder just waiting for you.
The Best All Mountain Skis
Still trying to decide which all mountain skis are right for you? Maybe the answers to these frequently-asked-ski-buying questions will help.
How stiff should my skis be?
Ski stiffness is another important consideration when shopping for new skis. More than anything, ski stiffness sets beginning models of skis apart from advanced-level varieties. 
Stiff skis stay stable at a high speed, while also maintaining high performance potential. A beginning skier may have difficulty keeping control of stiff skies, however, and stiff skies are also more difficult to turn. Advanced skiers, on the other hand, can become frustrated with the top-end performance of soft skis.
Whether a ski is stiff or not has everything to do with what it's made out of. Stiff skis are often made from 2 layers of Titanal. While the metal adds weight, it also helps improve stability.
Softer skis have metal laminate along the outer edges. This shifts the focus away from speed, making them a more playful ski. This means softer skis are a better choice for skiing off-piste at a mild speeds.
Furthermore, flex pattern refers to the stiffness of the ski's tip and tail. Race skis usually have a stiffer tail, meaning more  power when exiting a turn, while many skiers prefer a very even flex pattern for versatility in bumps, powder and groomed-snow carving. "Even" flex patterns also bend smoothly into round turns.
Last, if you ski in a lot of tight terrain, with trees and bumps, consider softer skis. For higher confidence at speed, or in challenging snow, choose a stiff shovel or center body.
Last, if you ski in a lot of tight terrain, with trees and bumps, consider softer skis. For higher confidence at speed, or in challenge snow, choose a stiff shovel or center body.
What are the best all mountain skis for women?
Of course, women are capable of carving up powder just as well as men. There are some specific features women should look for in all mountain skis, however, because women do tend to be shorter and weigh less than men, with lower centers of gravity and smaller feet.
But this doesn't mean all women need a light, short, soft ski. Here's what women should look for in a new pair of all mountain skis:
Like any skier, women in the market for new skis need to first ask themselves the basic questions:
What type of terrain do you like to ski?

What type of terrain would you

like

to ski?

What are your turns like? Short ones, long cruisers, smears, or carves?
Women might feel like they need a shorter ski, but that's not always the case. In addition, light doesn't always mean better for a female skier. Women shopping for a new pair of all mountain skis should be sure to familiarize themselves with terminology like camber and rocker (both covered earlier in this article), as well as sidecut, or the way a ski is shaped wider in the tip and tail and curved in at the waist, allowing for more edge contact when skiing through a turn. Skis with a long and flat sidecut will make bigger turns.
Most of all, don't underestimate your skill when shopping for all mountain skis, something women still have a tendency to do. 
What's the best all mountain ski boot?
The perfect ski setup means works as a cohesive unit — from the ski, to the boots, to the bindings. It doesn't make sense to match up a high performance boot with an entry level ski, does it? 
Here are some pointers when shopping for new ski boots:
Boot flex is maybe the most important factor when shopping for new ski boots. Almost all downhill boots are given a flex index number ranging from approximately 60 to 140. The lower the number means the boots are softer with more give, and they are are more comfortable — usually the best choice for a beginner. As your skills advance, you'll want a higher flex index number.
The size of a ski boot is measured in "Mondo." It's tough to get a good fit online, so we recommend buying ski boots at a reputable ski shop, or from a well-respected online dealer that allows returns.
How Mondo works is the size of your foot is measured in centimeters. A 30 centimeter foot has a Mondo size of 30. It's a little more complicated than that, so again — we recommend leaving this part to a professional.
Last is the width of the boot's footbed, measured in centimeters. Ski boots come in narrow, average and wide. Getting the last right is important because some side-to-side motion will inevitably happen when you're headed downhill, and too much will negatively affect performance. 
What are the best all mountain skis?
You're here to buy a new pair of all mountain skis, so we'll put all the information you need in one spot. After careful consideration and research, here are RAVE's picks for the best all mountain skis in the following categories: best overall, best for expert skiers, and best all mountain skis for a beginner. 
Völkl M5 Mantra is RAVE's choice for the best overall all mountain ski. The M5 Mantra has long been the benchmark for an all mountain freeride ski. Wide enough to be a carving ski, and narrow enough to be a powder ski, these are one pair of skis that are capable of skiing it all. 
RAVE says the best ski for an expert skier is the Kastle FX 95. The skis have a Silver Fir and Beech wood core, these skis can bulldoze through any terrain, with easy turn initiation and flotation on the deep fluff.
And the best all Mountain ski for a beginner goes to the Salomon QST 99, a strong performer in fresh snow, as well as crud and chop. They aren't too wide for moguls, but wide enough to float through fresh snow with a good amount of maneuverability. Most of all, the QST 99 skis are easy and fun!
RAVE Recommends
Now that you've picked out a new pair of all mountain skis you're almost ready to hit the slopes. Complete your setup with this ski gear: