The game of chess can be traced back millennia and checkers is even older.
The American board game franchise is not as ancient, but it still has its own list of classics. These games are staples for fun of all kinds, from family game night to roommate bonding and childhood memories. Add wine and make it a board game date night!
The fun of board games is undeniable, but this sometimes masks a wonderfully serious side they can bring through educational enrichment. Whether perfecting fine motor skills or strategic reasoning or social negotiation, many board games gain acclaim for the ways they stimulate important skills in children and adults alike.
Each game listed has a unique history with rules and parts that vary from complex to simple, but what they share in common is a heritage of American analog entertainment that has lasted into the digital age. Take a look at this list compiled by www.boomtownbingo.com/welcome-bingo-review to rekindle your passion for the inimitable and durable fun of the American board game!
Methodology
The data and selection process for this list of the 30 Greatest American Board Games is based on triangulated key term searches on Amazon.com (controlling for relevance and reviews), plus the estimated total sales at BoardGameGeek.com. The games are rated on four 5-point Likert scales according to:
(1) their "nostalgia rating" (i.e., their "classic" status within American society and culture lasting across multiple eras, indicated by their self-replication and appearance in popular television, film, videogames, and other media as indicated in their respective Wikipedia entries),
(2) their "play rating" (i.e., their user-intuitive and age-appropriate ability to be played and enjoyed, indicated by qualitative ratings on Amazon.com and other review sites),
(3) their "cult rating" (i.e., their communities formed online in message boards and niche enthusiast sites and any awards as indicated by Wikipedia and BoardGameGeek.com), and
(4) their "education rating" (i.e., their ability to develop age-appropriate skills, from fine motor skills to memory and strategic thinking, and any relevant awards or recognition for these characteristics from information at Wikipedia and BoardGameGeek.com).
There are no losers on this list—you win by shutting off the screen and having an old school board game night!
[divider]1. Scrabble[/divider]

RAVE SCORE = 95%
Nostalgia – 100%
Play – 90%
Cult – 90%
Education – 100%
See price on Amazon
Using a standard dictionary and a crossword puzzle format, lettered tiles are used to form words in this simple but absolutely classic board game. Strategic placement of tiles on bonus spaces awards the biggest bounty of points and all the usable letters on the board can be combined and extended to enlarge point totals.
Letter tiles have points assigned to them, with common letters with lower points and rare letters with larger point totals. This point system rewards not only lengthy words and large vocabularies, but also short words that use uncommon letter combinations. The players left after the winner uses all their letter tiles are ranked according to the leftover letter totals, the one with the most losing.
Internationally loved and in 29 languages,150 million sets have been sold. Competitive Scrabble tournaments abound and robust records of gameplay are kept. The game abounds in popular culture, including The Simpsons, and has been adapted to every size and format imaginable. Right now Scrabble thrives in its online form, allowing players to compete with anyone in the globe and this often includes tips that can help to develop Scrabble skills or even cheat the game a bit. If this causes some anxiety, you might want to try some CBD Oil before playing.
Analog sets range from basic to boutique, including custom-made artisanal sets, and even in the stock version the wooden letter holders and felt bag all contribute to an elevated experience. Most of all, Scrabble encourages a series of linguistic skills: developed vocabulary, good spelling, and imaginative associations between letters along with numeracy and arithmetic skills for tabulating totals and keeping score.
[divider]2. Monopoly[/divider]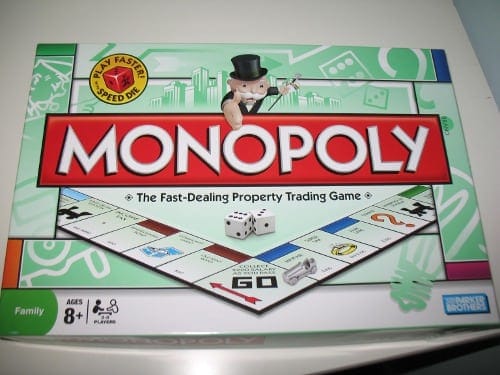 RAVE SCORE = 91.25%
Nostalgia – 100%
Play – 90%
Cult – 100%
Education – 80%
See price on Amazon
A game dating back to 1903, Monopoly is a family multi-player classic, with a board, set pieces, two stacks of cards, and a bank of cash (the famous "Monopoly money"). Play is advanced by the throw of dice and the game is known to last for hours.
After a while of gameplay the board becomes a maze of rent to pay or collect and cards to collect with good and bad fortunes. Players can land in jail and when a full board rotation is completed, $200 are collected. Property ownership can be enhanced with the iconic greenhouses and red hotels, but if renovations costs are due, this can also backfire.
Perhaps the most iconic American board game of all, it is especially memorable for its ode to New York City and the capitalist spirit of the investment capital of the world. As one moves clockwise through the board the property values increase, ending with Boardwalk.
Its lessons extend into personal finance and interpersonal negotiations and basic arithmetic and risk management staple skills of gameplay. Luck is involved as well, especially when the cards are in play. All in all, it is a must-have for any board game collection and can also be purchased in numerous versions, including several video games, and, perhaps most uniquely of all, in a seasonal run of McDonalds competitions based on Monopoly.
[divider]3. Catan[/divider]
RAVE SCORE = 91.25%
Nostalgia – 80%
Play – 85%
Cult
– 100%
Education – 100%
See price on Amazon
Catan engages players to successfully develop, manage, and earn Victory Points for the rich Island of Catan. Vying for resources, navigating incidents, and maintaining resources are a few of the issues players must govern. A unique hexagonal tile board, which can be rearranged for each game creates new options and fresh play, makes up the Island of Catan.
Resources such as lumber, wool, brick, or grain serve as capital for players to begin to settle their land. Rolling dice forwards play. Development cards create Catan's roads, cities, and settlements. Raiding resources amongst players and strategic building increase opportunities. Achieving 10 Victory Points (amassed through owning settlements and cities and other achievements) dictates the winner.
The game is highly decorated for its educational merits and boasts a strong and enthusiastic American cult following. In fact, no other game on this list has won awards over as long a period of time. Catan has won major awards from 1995 to 2015. Numerous video games based on it, directly and indirectly, have been released and a film centered around the game came out in 2014.
The Washington Post went as far as to call it "the game of our time." The game is highly analytical but, along with advanced strategic and planning skills, it also involves the creation of narrative and story. This combination gives it a long list of skills that are developed across cognitive and emotional intelligence meters.
[divider]4. Qwirkle[/divider]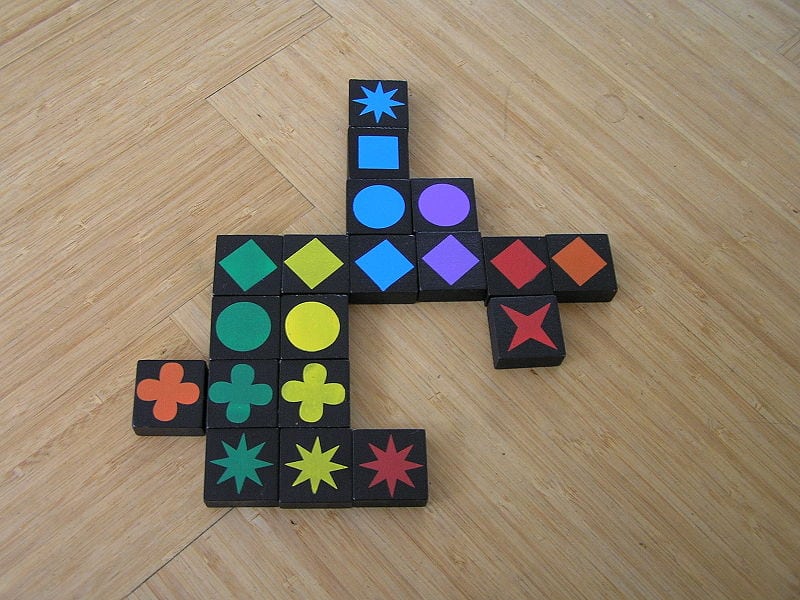 RAVE SCORE = 90%
Nostalgia – 80%
Play – 100%
Cult – 80%
Education – 100%
See price on Amazon
Created in 2006, the award-winning Qwirkle takes a fresh approach to tile laying games. With 108 vibrant pieces displaying combinations of six different shapes in six different colors, players work to create a 'Qwirkle' by housing the tiles based on common attributes of color or shape. Working with a bag of tiles, players select six tiles and can lay 1-6 tiles in a single line on the playing space. As long as the tiles share common attribute points are awarded. Players also have the option to exchange tiles (with the loss of a turn) to choose more tiles from the elusive stash. Players must maintain six tiles at all times and game continues until all the tiles have been chosen and one player uses all of their Qwirkle tiles in play. The player with the highest point tabulation wins! Simple to learn, but addictingly hard to master!
For logic lovers and the strategically minded, Qwirkle is a new game with a time-honoured and instantly classic feel and has won several coveted awards for its educational merits. A mix between Tetris, puzzles, adversarial strategy, and geometric manipulation, this is a game that engages the mind but also motivates competitors to perfect gameplay with strategy and vision. Sequencing, color and pattern recognition benefits with a challenging, engaging spin on family games. From five to ninety-five, everyone wants to get a 'Qwirkle!'
[divider]5. Risk[/divider]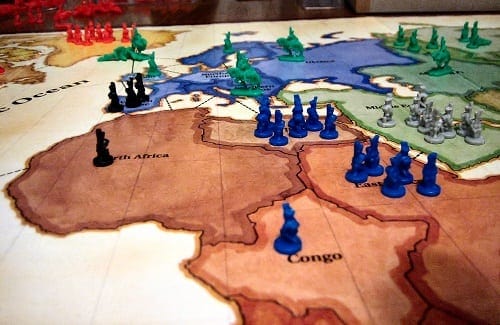 RAVE SCORE = 87.5%
Nostalgia – 90%
Play – 70%
Cult – 100%
Education – 90%
See price on Amazon
A simple goal of acquiring and defending territory launches into a strategic military gem with Risk. Appealing to players of all ages, Hasbro's dice rolling war game hits themes of diplomacy and conquest and will go down in history as one of the most popular board games with a major fan base of enthusiasts. Pieces range from foot soldiers to infantry to artillery, each assigned with increasing point totals. These pieces occupy and defend territory against other players. As one conquers an entire continent, a larger point per turn is rewarded. There are various options for shorter or longer gameplay, and players can test their luck in the game by opting for a dice-determined "battle" if they can match the set pieces in a territory, which allows an under-resourced player to compete against a more robust army. The last player standing wins.
Global War has never been so much fun and what seems to be a simple set of pieces and rules quickly becomes an intense test for critical reasoning, risk assessment, and strategic judgment. Risk also teaches basic geography and could serve a wonderful, albeit bellicose, introduction to world history. There are numerous replications of Risk, based on multiple themes and branding, and several other classic games owe their existence to the popularity and wit of Risk.
[divider]6. Axis and Allies[/divider]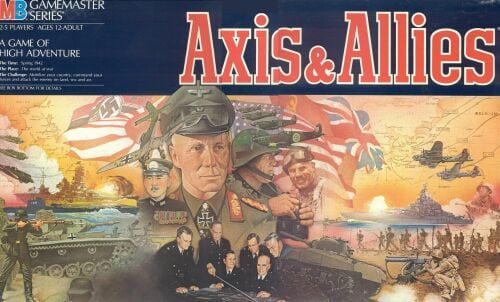 RAVE SCORE = 86.25%
Nostalgia – 80%
Play – 85%
Cult – 80%
Education – 100%
See price on Amazon
Employing military tactics, this game loosely based of World War II brings out the strategic commander in everyone. Unlike other games that begin from a blank slate, gameplay for Axis and Allies begins already immersed in wartime action. The Axis expansion is at its peak. The major powers of the world are teetering between complex allied relationships. Enter game players who must make critical decisions to employ attacks, strategically enter territories and ultimately liberate and take occupation of cities. With a complex board, cards, dice, coins and plastic military figures, games can become tactical battlefields in way history buffs and historical fiction fans will be thrilled by. History can be rewritten each and every game.
AAward-winning and honored for its high quality of play, this 2-5 player game brings logistics and economics together seamlessly. The gameplay sequence is kept simple, but the variables of the game add natural and enjoyable complexity. Full rounds of strategic bombing raids, naval bombardment, and anti-aircraft defense make the game a dramatic simulation, to boot. Several computer and video games has been made of it, and ten spin-off versions are in circulation, plus a miniature series, all simulating different specific historical settings. From geography and geopolitics to logistics and probabilities, this game offers bundles of fun that are sure to sharpen the intellect in the process.
[divider]7. Clue (Cluedo)[/divider]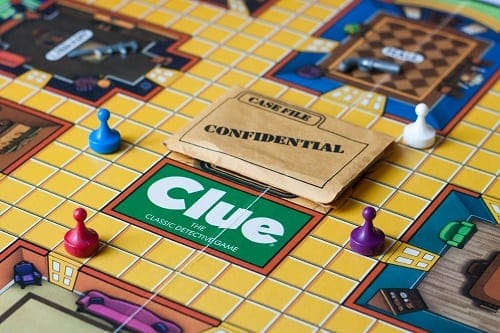 RAVE SCORE =  85%
Nostalgia – 90%
Play – 80%
Cult – 90%
Education – 80%
See price on Amazon
Who did it? Clue creates detectives of us all since 1950, as players gather information to successfully deduce 'who' 'where' and 'how' the crime was committed. A mansion is the setting for the board and players move around rooms, hallways, and secret spaces as they figure out who to suspect, which weapons were used, and where the crime was committed. The plot commences with secretly stashing one card from each category in a closed "fact envelope." Players then roll dice to move along the different spaces of the mansion, stopping along the way to deduce the answer hidden in the envelope. Once a player feels confident they have answered the facts of the case, they venture to make an accusation. If they are wrong, they must sit out and effectively lose the game, but if they successfully solve the three components correctly, they become the winner.
The game has been affiliated several times over its lifespan with Sir Arthur Conan Doyal estate to use his character Sherlock Holmes as a part of the Clue brand. It has numerous adaptations (including a "Nostalgia Edition") and spin-offs across analog and video games and even has had musicals, plays, feature films, books and other media dedicated to it—including a fully merchandised set of Clue-branded miscellaneous items. Deductive reasoning, fact-based research skills, and story and plot development all contribute significant strategic and critical thinking skills to its players.
[divider]8. Battleship[/divider]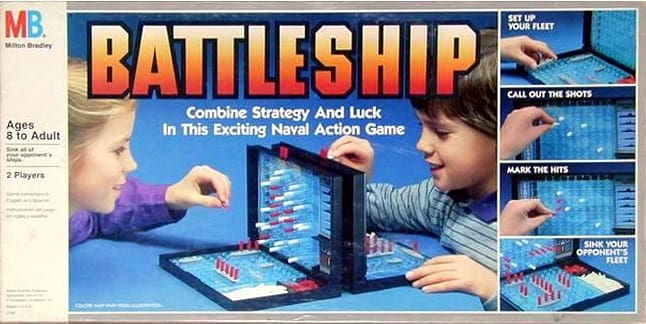 RAVE SCORE =  82.5%
Nostalgia – 80%
Play – 80%
Cult – 80%
Education – 90%
See price on Amazon
Humbly starting as a pencil and paper game during World War I, Battleship keeps opponents guessing which grid coordinate will successfully target and eventually sink their enemies five ships. Each game comes with two units that function on an x/y axis, with small pegs plus boats of different sizes to model the action and keep track of the guesses. Players alternate with guesses to which their competitor notifies them if it is a miss or a hit. Hits disclose patterns that can help to triangulate the placement of the ship. Possibly as crucial as gameplay is the ship placement before the game begins. Clustered ships are often easy to locate yet the relatively small size of each grid makes it tricky to space out.
Battleship was produced as a computer game as early as 1979, and has been a part of the evolution of video games to the present. In 2012, a sci fi action film based on Battleship was released as well. The game is an excellent exercise for working on a grid based chart, which has many applications to geometry and mathematics. It also requires attention to detail in keep accurate records and some cunning in finding effective patterns to place ships. It most advanced educational skill is deductive thinking skills, which help a good player to make better guesses based on previous information. The art of guessing is important for the sciences and any from of research in general but with Battleship these dry guesses become animated and exciting!
[divider]9. Jenga[/divider]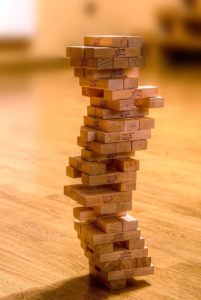 RAVE SCORE = 80%
Nostalgia – 60%
Play – 100%
Cult – 100%
Education – 60%
See price on Amazon
One wrong move and it all comes tumbling down! Jenga's quick setup and easy play allows for young and old to stack and remove the signature rectangular wooden blocks. A solid and stable table or floor are essential to play on. It can be played between two players or more. The stack of blocks seems uniform, but the careful Jenga player finds and feels for the more loose fitting pieces and also sometimes risks removing more stubborn fitting pieces strategically to confound the opponent. As the game progresses the actual structure shifts and changes and the removal becomes more and more fragile and delicate as the structure begins to totter. The balancing act makes for heightened drama as the game progresses. First to cause collapse, loses.
Precise hand-eye coordination and a strategic sense of structure are key to Jenga. The simplicity of the game provides it with a timeless feeling and the fragility of the tower creates enthusiasm and a loud reminder of the end of the game when it all comes crashing down. The game enhances not only fine motor skills, geometry, and spatial thinking in general, it also serves as a basic lesson in building, a fine lesson for future construction workers, engineers, architects, and many other professions. Despite being a simple analog game, it has also been adapted into video games and iOS apps.
[divider]10. Trivial Pursuit[/divider]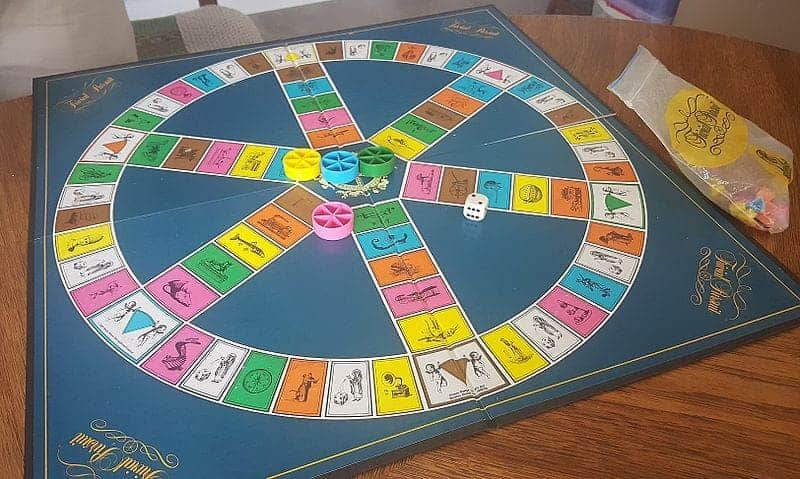 RAVE SCORE = 78.75%
Nostalgia – 80%
Play – 75%
Cult – 80%
Education – 80%
See price on Amazon
Trivia buffs are created around the Trivial Pursuit board. Allowing single player or team play and with six challenging categories spanning Geography to Sports and Leisure, the pursuit of knowledge has never been more engaging. The board itself is a wheel: a circle with spokes connected to a central hub. Dice rolls determine advancement and, along with question cards, some spaces on the board allow for extra turns and so on. The player's piece is sometimes called a "cheese" because it resembles a cheese wheel, with triangular sections to be filled when a section has been mastered. The player(s) that fills their wheel first and answers a question inside the hub of the trivia wheel wins the game.
Variations of Trivial Pursuit abound, with specialized and adapted questions added. Pubs and taverns make use of the concept or the game itself regularly in trivia nights and even without the board rely on the question cards for material. While general knowledge is tested, memory and particular subject areas are flexed the most by repeated players. When experts play together, just as important as knowing the answers is finding strategies to speak up first and to anticipate answers to question. While trivial things are often seen as unimportant, Trivial Pursuit has proven to be a non-trivial must-have for anyone's board game collection and has been sold several times for very non-trivial sums of money.
[divider]11. Twister[/divider]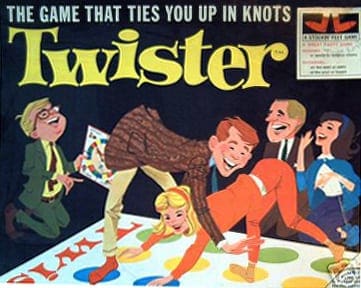 RAVE SCORE = 77.5%
Nostalgia – 90%
Play – 80%
Cult – 90%
Education – 50%
See price on Amazon
This game stands out as the only game in this list where the players themselves serve as the key board game pieces. A plastic mat serves as the board, and a spinner and a few willing participants combine to create twisting fun in this physical game. The classic mat features six rows of circles in bold primary colors that guide the placement of hands and feet. The spinner assigns a limb to a color, which forces players to adapt to the spin and, of course, the other player's bodies on the mat. A player who touches the mat with anything other than hands or feet is eliminated. Two player options make the game competitive (and in this version no circle can be shared by two players); more than four players make it nearly impossible but quite comical.
Milton Bradley's creative socializer has been creating awkward encounters in personal space since 1966. It is a game that has saturated popular culture and made appearances in film and television and references to Twister exist in song lyrics and even ordinary metaphorical language. This game tests physical flexibility and creativity in movement, strength and endurance in holding a position, and the social skills to do it will with grace and good natured fun. Those who need tons of personal space may not enjoy it, but Yoga practitioners may find it a fun application of their skills as well!
[divider]12. Blokus[/divider]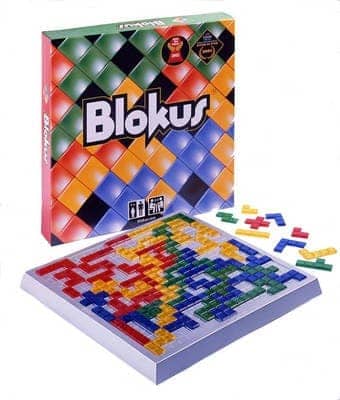 RAVE SCORE = 75%
Nostalgia – 60%
Play – 80%
Cult – 70%
Education – 90%
See price on Amazon
Created in 2000, award-winning Blokus challenges 2-4 players to arrange each of their 89 shapes on the grid-like board. Negotiating space and strategically defending territories make this game puzzling and thrilling. Whichever player has the fewest pieces remaining wins and having zero pieces left awards a points bonus (for when the game is played in multiple rounds). The game begins with their designated colors set of 21 pieces. The goal is to place as many of the 21 pieces on the board. Sound simple? The one catch is that each piece must touch at least one other of the same color piece — but only at the corner. The game continues with thrilling, fast-paced strategy and ends when there is nowhere else to move. The squares left unplayed are tabulated and the player boasting of the lowest total points wins! Like an expert blackjack table, advanced players can make this game look easy and make use the board in a highly efficient style.
Winning the Mensa Select and Teacher's Choice Awards more than prove the educational bona fides of Blokus, and it has a number of video game adaptations to its name as well. With unending combinations of piece placement and move options, its easy-to-understand concept allows for near-instant gameplay, but endless opportunities to refine strategy and gameplay. The pieces evoke a Tetris aesthetic, but they corner connection forces a more complex pairing for piece placement. From geometric visualization to abstract strategic reasoning, this game has a lot of sharp and fun mental exercises for all ages.
[divider]13. Connect Four[/divider]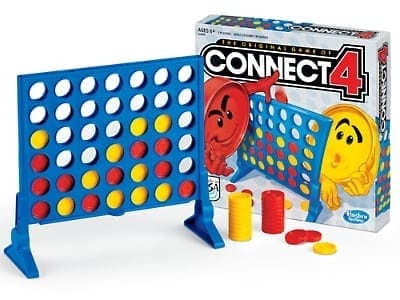 RAVE SCORE = 73.75%
Nostalgia – 90%
Play – 75%
Cult – 60%
Education – 80%
See price on Amazon
Four matching pieces, set in a row. Using red and yellow checker disc-like pieces on its iconic vertical standing blue board, Connect Four employs simple logic, deduction, and abstract strategy. The bottom of the board has a slide trigger to release the pieces when it's time to start over. Game play begins by each player choosing a color side and one player launching one of their 21 colored disc pieces down the chosen column grid. The second player reacts to their opponent's decision and makes strategic defensive or offensive moves. Blocking and holding your opponent at bay is part of the fun! When one player is able to vertically, horizontally, or diagonally reach the coveted four connections, they are the winner and the slide trigger is released, sending all the pieces down to start again.
Quick paced and rapidly understood, this Hasbro mainstay is fast on value for all ages. Rumored to be invented by David Bowie, which became an urban myth, Connect Four has a strong presence in popular culture. Mathematical models have been developed to solve this game along with various rule variations. It is intuitive but can also be studied in significant depth, even by the game research of UC Berkeley! Although less technical in many respects than other heavy strategy and grid-based board games on this list, Connect Four is the hidden gem of rigorous and in-depth cognitive development for all ages.
[divider]14. Operation[/divider]
RAVE SCORE = 72.5%
Nostalgia – 90%
Play – 80%
Cult – 60%
Education – 60%
See price on Amazon
Using fine motor skills and hand-eye coordination, wannabe surgeons are commissioned to remove body parts from Cavity Sam, Milton Bradley's whimsy patient with a red light-up nose, without touching the electrically charged edges that buzz the failed end of the turn. Drawing a card, players use tweezers as 'Doctor' or 'Specialist' to treat twelve often funny and even absurd ailments. Will Cavity Sam need his Adam's Apple removed? Or maybe the Butterflies in his Stomach? Playing solo and testing your extraction skills is a challenge too. Each successful removal is rewarded with the dollar amount promised on the card. If a player fails and you are holding the Specialist card for that piece, your success will be rewarded with double the dollar amount. Most dollars wins.
Challenging even for the most steady hand, Operation has been buzzing since 1965 with appearances on television, video games, and many adaptations for family film and television franchises like Toy Story, Doc McStuffins, and Rudolph the Red Nose Reindeer. While Cavity Sam has taken on many characters, the thrill of success remains the same. Although not cognitively complex, and even quite absurd at times, the development of fine twitch motor skills is paired with the need for patience, and problem-solving for how to extract an object from a difficult and limited space, make this not only fun but extremely and uniquely worthwhile.
[divider]15. Yahtzee[/divider]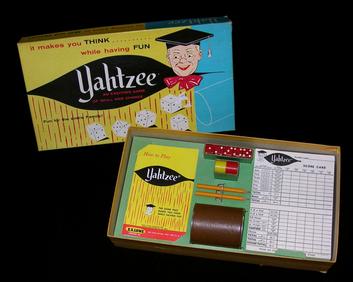 RAVE SCORE = 70%
Nostalgia – 90%
Play – 50%
Cult – 50%
Education – 90%
See price on Amazon
The excitement of creating combinations of dice has never wavered, keeping Yahtzee a fixture on game shelves around the world. Shake and roll your way to a Full House, Straight or the elusive Yahtzee to generate the highest score and win! Yahtzee play is not difficult, with a scorecard, dice, shaker and writing utensil as the only apparatus needed in the game. Rolling the five dice, players first choose which scoring category they are vying for on that round. Each player then has up to three shakes per turn to create the best scoring mix of that category. After thirteen rounds, the scores are tabulated and the winner is declared.
As much fun and passion as this game generates, it also involves quite complex mental operations in probabilities and overall quantitative skills. Created in Toledo, Ohio, this game does not replicate itself easily, but has proven durable and popular through its iconic lifespan. Shaking and rolling dice has an appeal for all ages and the straightforward structure of the game makes its appeal universal. But do watch your temper, playing this game has also contributed to documented cases of physical confrontations, including one murder! Any game where passions run this high is a must-play. And, unlike most math and quantitative skills settings, this one will never put you to sleep!
[divider]16. Cards Against Humanity[/divider]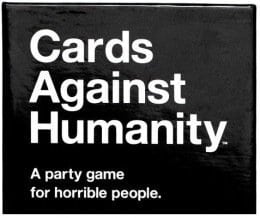 RAVE SCORE = 67.5%
Nostalgia – 90%
Play – 90%
Cult – 70%
Education – 40%
See price on Amazon
A party game for adults, based on creating satirical statements? What could go wrong? This hugely popular group game, managed by a Card Czar, encourages players to fill in risqué or politically incorrect terms. The game doesn't end with winning, just encouragement to enjoy the process — or revel in the awkwardness. The premise is disarmingly plain. Each player begins by choosing ten white cards. An awkward ask of the last person playing who has "pooped" sets the tone for the rest of gameplay and also designates the Card Czar. A black card is read and each player must answer with their funniest white card. The Card Czar reads the black card in combination with the submitted white card submissions and chooses the most humorous. That player gets an Awesome Point. These points are awesome but they don't add up for a score of any kind.
While at times controversial in the media, Cards Against Humanity has a significant presence in popular culture and while its skills may seem to be completely misanthropic, most of all it teaches a particularly self-deprecating sense of humor. This is a game that teaches one to not be so serious all the time. Not for the politically correct and definitely not for children or innocent adults, Cards Against Humanity has released multiple expansions with new questions and fill-in-the-blank prompts. Flexibility in rules and the option of specialized house rules create an organic and pliant party atmosphere.
[divider]17. Sorry![/divider]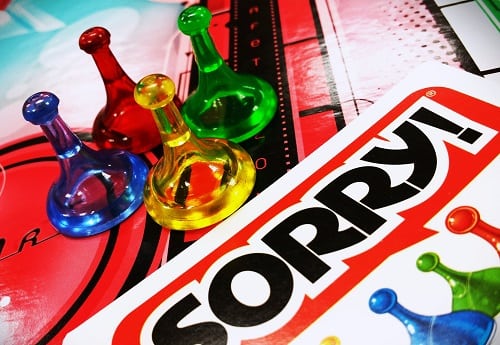 RAVE SCORE = 65%
Nostalgia – 60%
Play – 80%
Cult – 60%
Education – 60
See price on Amazon
Sorry! players might say sorry as they negotiate space in Hasbro classic, but they won't be sorry for playing. Two to four players or two teams of two draw cards to move their three pawns (borrowing from the classic chess piece shape) out of their safety area. Then the negotiation and antics begin, as players have the chance to target their opponents as they race around the game board. The original game version features four pawns per player, but an upgraded version was released in 2013. Now Sorry! uses only three pawns, along with new charged Fire and Ice tokens. The Fire and Ice options give your pawns additional strengths. The jumping and sliding, elementary counting, and probability all keep players returning to say Sorry! The objective is to make it all around and return to one's home space first.
There have been several adapted versions, including with Disney and Pokemon themes, and an express version of the game. The game is said to be based on the ancient Indian game of Pachisi. Handheld and computer versions have been released as well. The game is a race concept, but the flexibility of the gameplay make it a unique game that presents options for creativity in the composition and sequence of the game itself. Emphasizing the need to say Sorry! might also contribute to the development of good manners as well!
[divider]18. Hungry Hungry Hippos[/divider]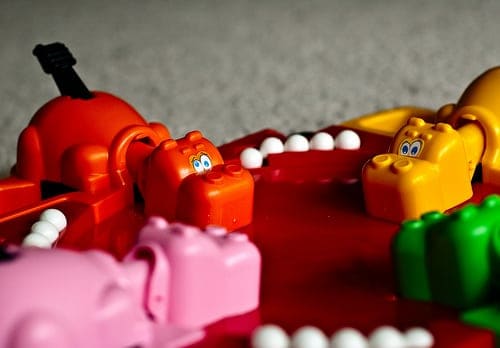 RAVE SCORE = 63.75%
Nostalgia – 90%
Play – 85%
Cult – 70%
Education – 20%
See price on Amazon
Hippos are always hungry for small plastic marble sized pieces tabletop game, appealing to early learners since 1978. Pressing a lever to open your hippo's mouth, quick movement earns your hippo the most pieces and gives you the win. The game accommodates four players at a time, one hippopotamus per player. The mechanism is a simple spring loaded pressure system that extends the hippo's telescopic neck out and up to then retract and "eat" the marbles it collects in that motion that are stored in a small receptacle area behind each hippo, directly under the lever mechanism. After the hippos consume all the marbles, players count their catch to determine the winner. In a mechanical era, the analog appeal of Hungry Hungry Hippos makes it a real treat to play.
The noise of the hippos is usually competing with the loud squeal of delight and joy from those playing the game. The color scheme and even the custom names of the hippos have changed over time, but it remains a staple for children. This is a game that can be enjoyed without too much fanfare or specialization; the sheer fun of hippos eatings plastic marbles as fast as they can deliver all the perks one could want from this iconic board game. The game has been adapted into an arcade game and since 2015 there has been a World Championship at Gen Con.
[divider]19. Mouse Trap[/divider]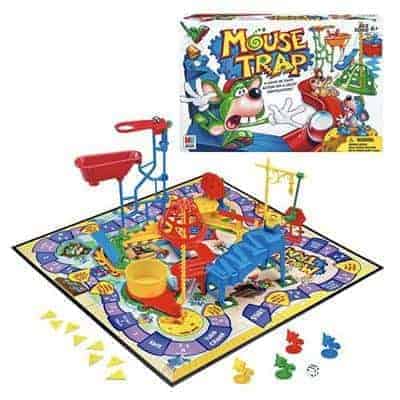 RAVE SCORE = 60%
Nostalgia – 60%
Play – 60%
Cult – 80%
Education – 40%
See price on Amazon
While constructing a Rube Goldberg style mouse trap, players travel the twisting board of this acclaimed game. Don't get your mouse trapped as you play to avoid the delicate pitfall. With over 80 total pieces in the game, players use cheese to negotiate and roll a dice to advance. Cringe as the crank turns and watch the pieces all start to fall, hoping to catch a mouse in the ultimate trap. The player with the final remaining mouse in the game wins. Luck of the dice, careful building skills, and an evolution of rules that allow more gameplay all contribute to its charm. Pivotal to the game's success is the suspense and merriment of the trap being flipped and watching the ball tumbling down, through the bathtub … on the springboard … and finally to the trap.
Although not as adapted or replicated across brands or themes, in part due to its iconic set pieces, it was the inspiration for the children's television show in England, Motormouth. In this television show, children raced through a life-size version of the game board. Another version with three traps instead of one was released in the United Kingdom. The Elefun and Friends characters are now featured on Mousetrap branding, replacing the original version. The game's customizable, 3D element combines creativity and building with the strategic elements of gameplay.
[divider]20. Cranium[/divider]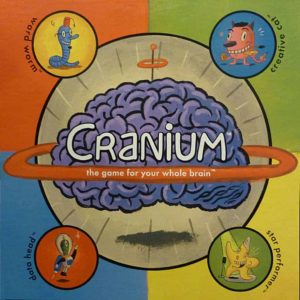 RAVE SCORE = 58.75%
Nostalgia – 55%
Play – 70%
Cult – 40%
Education – 70%
See price on Amazon
Not every game actively promotes using such a wide variety of smarts, sillies, and even artistic abilities. Cranium fills that gap by asking players to employ themselves in many tasks that require different skills, and faculties. With a vast array of missions, players must spell, act, draw, or just plain guess. Parade through the brightly colored game board and engage your brain in the tomfoolery of Cranium! One minute you have to complete your task is fleeting, only adding to the frantic fun. Gameplay lasts around one hour and in a mixed group of talented people, everyone's niche ability will have its moment in the sun. It's not a jack-of-all-trades skills test, plenty of luck is required, too!
A great game to bring together broad groups of people, Cranium's classic version and many spin-offs such as Cranium Family Edition, Cranium Party, Cranium Dark, and Cadoo are welcome additions to gatherings. It has been awarded for its holistic approach and breadth of skills required and involves verbal, imaginative, memorized, and performative exercises in rapid succession. Unlike the simpler forms of this game, the board, set pieces, and cards also require note-taking and, of course, the multiple tasks needed to win. These skills may be broad but they also can be silly and are sure to lighten the mood in any group willing to take it on for an evening.
[divider]21. Chutes and Ladders[/divider]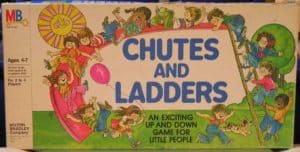 RAVE SCORE = 57.5%
Nostalgia – 65%
Play – 70%
Cult – 45%
Education – 50%
See price on Amazon
Based on ancient Indian game called Snakes and Ladders, the children's classic Chutes and Ladders has players roll dice and climb figures up through the welcoming, vibrant board to advance play. Oh no! Landing on a space with a chute barrels your player down and away from the finish line. The numbered and gridline board provide a perfectly logical progression for ease of understanding, with pitfalls and shortcuts to make it exciting. Perfect for non-readers and with only basic counting required, Chutes and Ladders is a mainstay of youngsters internationally. Gameplay time usually amounts to 30 minutes, which keeps players committed and climbing (or sliding) with fun.
With strong sales globally for many years, Chutes and Ladders is one of the all-time classic children's games that could even delight a nostalgic adult. The coinage of the expression "back to square one" is influenced by the descending chute progression of the game, landing an unsuspecting player back at the beginning of the board. Moral lessons are also attributed to Chutes and Ladders. For example, it is the main metaphor of Salman Rushdie's Midnight's Children. The idea is that for every ladder you climb, a snake is ready to strike, and for every snake, there is a ladder that will assist you. A developmentally appropriate game for children, Chutes and Ladders teaches progressions and sequencing and even some classic lessons about life.
[divider]22. Scattergories[/divider]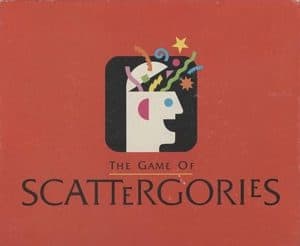 RAVE SCORE = 55%
Nostalgia – 60%
Play – 70%
Cult – 40%
Education – 50%
See price on Amazon
This 2 to 6 player game features a 20-sided die with letters by which players select categories to be guessed within a time limit for 3 rounds.The letters on the die exclude the ones that are too hard to find words to match. Once the die is rolled and the letter has been tabbed, the timer is set for three minutes. An electronic timer with a paced beeping noise has been replaced with a sand timer in newer versions. After the timer begins, a player writes down as many words that fit into the category correctly. Using alliteration yields higher point totals. Once the timer expires, the tabulation begins. If you have the same answer as another player, that \/home\/157957.cloudwaysapps.com\/zrunzamyfz\/public_htmlifies your point and if a player challenges the validity of your word, a vote amongst players will be taken. If there happens to be a tie in votes, the player who is in question will not have their vote counted.
Scattergories was featured on a game show hosted by Dick Clark on NBC in 1993 and has an app version dedicated to it as well. Based on old parlor games, this version was awarded the Mensa Select Winner in 1990 and deservedly so: it requires a quick wit and develops one's sense of intuitive and quick, on-the-spot thinking. With rounds lasting under five minutes, this games really distinguishes itself in the realm of decision-making under pressure, an important skill for everyday situations.
[divider]23. Life[/divider]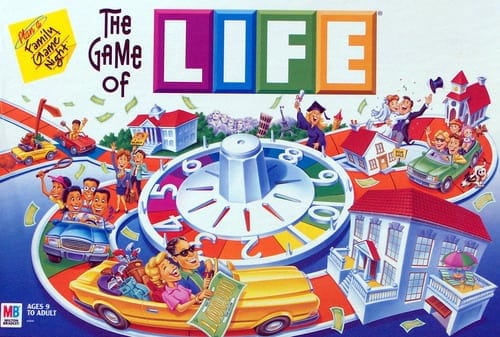 RAVE SCORE = 55%
Nostalgia – 60%
Play – 100%
Cult – 20%
Education – 40%
See price on Amazon
Also known as The Game of Life, Life is a developmental concept that spans through the chronology of an ordinary life span. With a small car for a game piece and a spinning wheel to advance, up to eight players navigate through life's ups and down's in this Milton Bradley staple. Picking cards and being faced with decisions like "Getting Married" or adding small blue or pink pegs (the "Children") are established early in the game. A bank is featured in the game with cash denominations and insurance plans available for purchase. As you drive the road you are faced with various conundrums, whether or not you planned well or have good fate seals your success or failure in 'Life.' Whether you end up going to college or find an unexpected payday, the path to retirement is filled with unexpected chaos and welcome reprieve. Existentialist may love or intensely hate this game, but lovers of fun, especially children, have enjoyed it for decades.
Savvy decisions, moral choices and a little bit of luck are layered into strategic play. Some more recent updates try to reward good behavior to make the message of the game a bit more constructive and many versions of the game have been developed, often in partnerships with popular television and film media. The most recent changes try to make the game less reliant on chance, but that remains its main criteria for success, which may be a good way to sum up real life as well.
[divider]24. KerPlunk[/divider]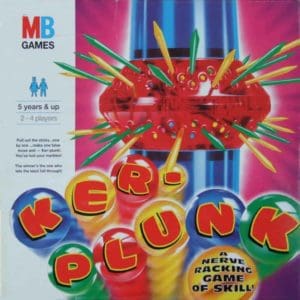 RAVE SCORE = 52.5%
Nostalgia – 70%
Play – 60%
Cult – 40%
Education – 40%
See price on Amazon
Don't let your marbles go KerPlunk! Carefully draw out a straw from a thicket of 26 to 30 straws while not disrupting the marbles above in this quick play family favorite. The game takes place in a plastic cylindrical tube, which is divided into halves by a midsection of colored "straws" (thin plastic rods), inserted through small holes in the plastic casing. Marbles begin in the top section. On the bottom, there are divided troughs that rotate for each player and collect any marbles that down. Once a player touches a straw, they are required to pull it out. The player who completes the game with the fewest marbles in their trough wins. Up to four players can play at one time.
The game is strategic in the placement and choice of straws to draw, especially in relation to other players to follow, and it also requires a degree of dexterity and fine motor skills to be successful. A steadier hand will disrupt less than a shaky one will. The main thrill, though, is the suspense of whether the marbles will fall, especially when they begin to slip through the cracks but not quite drop down entirely. It has a few variations based on children's media, like the Toy Story version, which uses a rocket ship instead of the generic cylinder and a more portable version.
[divider]25. Trouble (and Double Trouble)[/divider]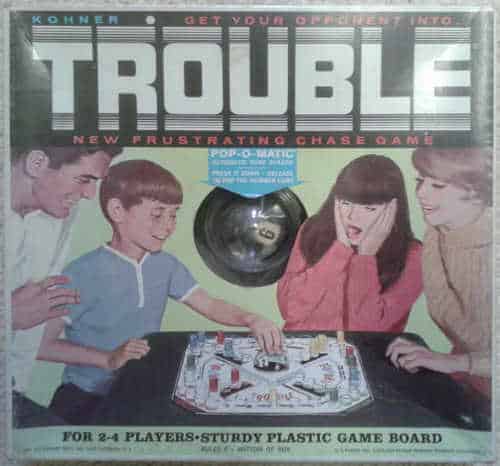 RAVE SCORE = 51.25%
Nostalgia – 70%
Play – 60%
Cult – 35%
Education – 40%
See price on Amazon
Pop the dice in the center bubble and maneuver your colored pieces around the board and back to safety in this catchy, punchy table game! The spaceship look of the board and the one of a kind feel of the dice bubble give this game's layout a futurism that today even has a throwback bit of irony involved. Trouble happens when a player lands on your piece and sends you back to the start. Trouble begins with players identifying which color team they are and then popping the center bubble to begin movement. In order to do this, they must pop a six on the dice. A six is necessary to initiate movement out of home base for subsequent pieces as well. Make it all the way around and return to home base before everyone else to win.
Quick paced and easy to learn, Trouble has been creating mischief since 1965 and is another board game with roots in the ancient Indian game of Pachisi. The game has an obscure cult following and enjoys several releases of themed editions. The World Championship of this game is held each year, with cash prizes and accolades being presented to the winner. Trouble has two name variations, Frustration in the United Kingdom and Kimble in Finland. The game teaches basic lessons of numeracy and sequencing in a stable and straightforward gameplay setting, with perhaps the most satisfying dice throw of all the listed games
[divider]26. Zingo![/divider]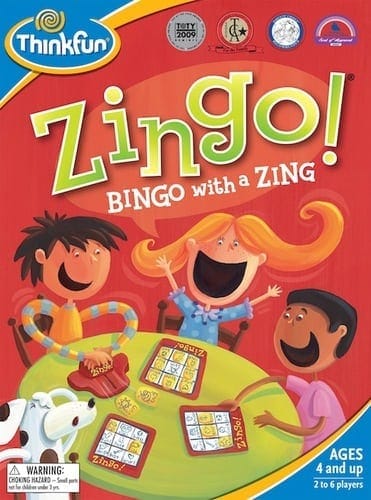 RAVE SCORE = 50%
Nostalgia – 20%
Play – 100%
Cult – 20%
Education – 60%
See price on Amazon
A simplified bingo-like game for early learners, Zingo is perfect for playdates and classrooms. To begin the game, each player chooses a playing card which is printed with a grid of words and corresponding images. A player operates the Zingo machine and two plastic playing pieces, each marked with a word and an image, are revealed simultaneously. As they are revealed, players can call for the card if their playing board has a match. The first player to verbally call for the card is awarded that piece and places it over the corresponding image on their board. Once a player's board is completely full, they are declared the winner. In traditional bingo this would be called a "blackout." Boards are able to be flipped over to either beginner or more advanced player levels. Variations highlighting sight words, numbers, and word building enhance the classic version featuring common words such as 'kite' 'ghost' or 'owl.' If you are intrigued by the history of bingo, check out boomtownbingo.com/history-of-wembley-stadium for a pretty detailed account of what's gotten us where we are now. So many people are enjoying the variations that have recently come out.
Reminiscent of matching games, the competitive pressure to call out your match makes the game fun and loud. Also, while traditional bingo is a blast for adults, this version allows for all ages to enjoy. Waiting for the last tile to complete a Zingo! is, like its grown-up equivalent, riveting and nerve wracking. Attention and focus building skills are enhanced and object recognition creates early understanding of identical sets, similes, and analogies. The ultimate joy is getting to yell Zingo! and declare yourself the winner!
[divider]27. Candy Land[/divider]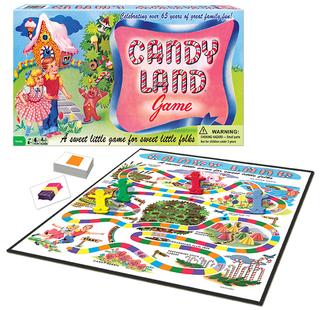 RAVE SCORE = 48.75%
Nostalgia – 80%
Play – 60%
Cult – 30%
Education – 25%
See price on Amazon
Queen Frostine, Lord Licorice, and other delicious pals greet up to four players as they walk the candy-colored roads of Candyland. Early versions used cards with images of iconic characters to advance to or either a single or double image of a color, indicating how far you should advance. Now replaced with a spinner for advancing, Candyland retains its sweetness. Perfect for pre-readers with its simple counting and syrupy theme, Milton Bradley's pleasant land has been an after dinner treat since 1949. It has very little player involvement, but the colors and candy make it an imagination palate for a young imagination and prepares them for future board games. There is no real strategic play necessary, simple adherence to direction allows the storyline to develop. The first player to reach the Candy Castle is the winner of Candyland.
Candy Land has enjoyed several adaptations, including in full-length films based on the game's characters. While the characters have changed names — Queen Frostine to Princess Frostine and Plumpy has disappeared completely — the candy-coated charm of Candyland has remained, selling over one million copies each year. Until the year 2006, the candy section in Toys R Us in New York City Times Square had a Candyland theme and Kate Perry's even used the game as a theme in her album California Gurls. While relatively simple, verging on the simplistic, Candy Land proves the cultural staying power of images and a welcoming and sweet pastiche.
[divider]28. Pictionary[/divider]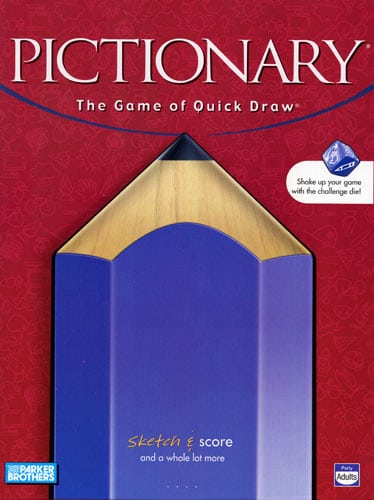 RAVE SCORE = 45%
Nostalgia – 45%
Play – 80%
Cult – 25%
Education – 40%
See price on Amazon
A team structured charades game, Pictionary provides prompts on cards with categories ranging from Object, to Difficult, to Action. Using only a marker and a whiteboard, the team delegate must convincingly illustrate the correct term to their teammates. Drawing players are not allowed to use verbal cues, numbers, or letters during their turn. With the sand release timer running, hysterics are quick to ensue in this soiree sensation. An accompanying game board is a series of squares with small game pieces. The team to reach the end first wins the game. A dry erase marker is key, since permanent markers would ruin all the fun. Being a visual artist or exceptional drawer is not as important as the ability to write visual cues for guessing.
Pictionary has been featured in stand-alone television shows twice, in 1989 and 1997, and a number of variations on the game exist in other gameshow formats and a few video games. Pictionary exercises the image side of the imagination, and the ability to think in pictures is a sign of a high functioning intellect. It also tests the non-drawing player's ability to think through abstract associations under pressure. Beyond a test in drawing, the game is truly a game about communication and, of course, plenty of fun.
[divider]29. Cootie[/divider]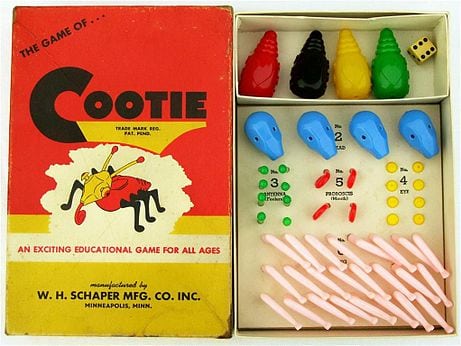 RAVE SCORE = 40%
Nostalgia – 60%
Play – 60%
Cult – 40%
Education – 20%
See price on Amazon
Can you build a Cootie? This matching table-game targeted toward young children originated in 1949, in Minneapolis, Minnesota. Using a dice to acquire pieces of the Cootie bug, generations of children have been attracted to this award winning staple. The idea began as a potential fishing lure which morphed into a toy that eventually became the game, named after the 'cooties' or bugs like lice. The game play is determined by chance and the process does not vary from assembling the Cootie, but it can double as a toy in itself if patience with the dice runs out, especially with younger children.
Cootie has high sentimental value with Baby Boomers and is seen as an icon of 20th-century games. Other games like Ants in the Pants, Don't Spill the Beans, and Don't Break the Ice exist as well, but Cootie remains the only classic among them. It also has a variety of adaptations and spin-offs as the rights to the game have transferred over time. It teaches a highly simplified lesson anatomy and physiology but most of all it provides children with a fun 3-dimensional object to race to completion. For younger children, hand-eye coordination and shape matching skills are developed as well.
[divider]30. Pie Face![/divider]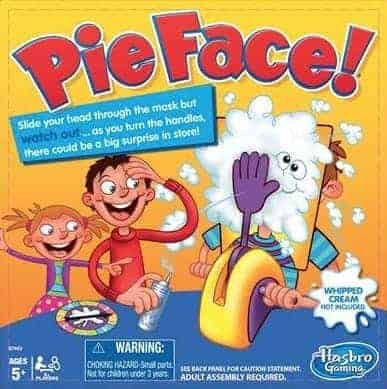 RAVE SCORE = 40%
Nostalgia – 40%
Play – 80%
Cult – 20%
Education – 20%
See price on Amazon
Who doesn't dream of getting a pie thrown in their face? A highly sought after party pleaser, Pie Face! players each put their face into a cut-out frame. While spinning a wheel and rotating a lever, one unlucky player will be randomly launched with a "pie." The pie can be shaving cream or the sweeter whipped cream option or the cleaner option of a wet sponge. The element of surprise and the drama of anticipation make this game highly entertaining and hilariously messy. It is not hard to tell who wins and loses, although good natured play makes it winners of all involved.
An innocent reminiscence of Russian Roulette makes the game a family friendly option, with nothing but a but a moist face on the line. Made by the classic board game giant, Hasbro, this game is a reprise from a version that didn't take off in the 1950s. Today there are innumerable Pie Face! videos online, a testament to its viral popularity. It is hard to expect to learn much or develop any unique skills, but players of Pie Face! attest that it is highly therapeutic through its ability to stimulate tons of laughter. They say that laughter is the best medicine, so if you're in need of a lift in your spirits, try playing Pie Face! With some friends and with a smartphone you might have yourself a viral video to boot!