Summer's here, things are opening up and it's time to get back in shape. One of the best ways to get the blood pumping and the body moving is by using a treadmill. Many people like the idea of having a treadmill at home because they don't have to leave home to go to a gym, there are no additional costs involved, it helps with weight loss, and workouts can be done at any time.
The Treadmills We Rave About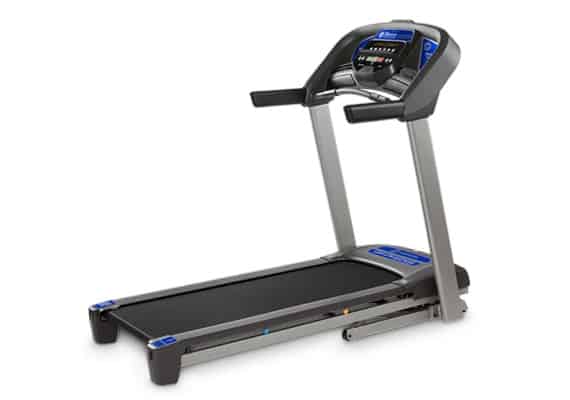 Best Value
Horizon Fitness T101-04
Best Overall
NordicTrack 1750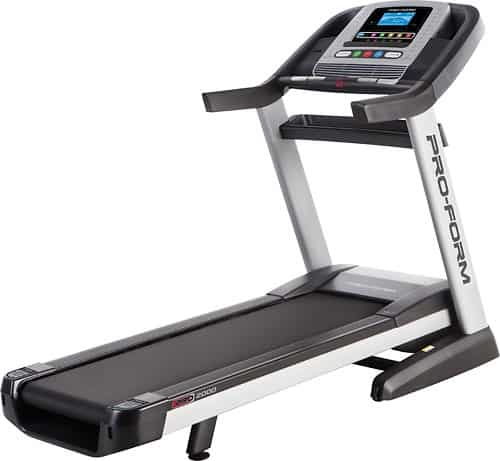 Best High End
ProForm Pro 2000
Benefits of Exercising With a Treadmill
Individuals who use treadmills have a higher blood circulation, increasing the level of oxygen to the muscles, and generally improved cardiovascular health. Most treadmills have specialized fitness programs and technology so advanced a trainer can be right there on-screen. Additionally, there are no fluctuations in pavement – one of the biggest risks for runners. The treadmill is stabilized on a balanced floor where the speed can be controlled.
The treadmills listed below are some of the hottest and in-demand on the market, easily known as the top 10 treadmills for home use. These best treadmill brands for home are guaranteed to get you in shape (if you do the work). When investing in fitness equipment, knowing what you're getting is key. Considerations when choosing one that is suitable should include the frame size and weight of the machine, the shock reduction, quality, technology being used, and of course the maintenance requirements. It is important to purchase one that meets all requirements including space. Convenience is the name of the game, and purchasing a treadmill is one that takes thought and information.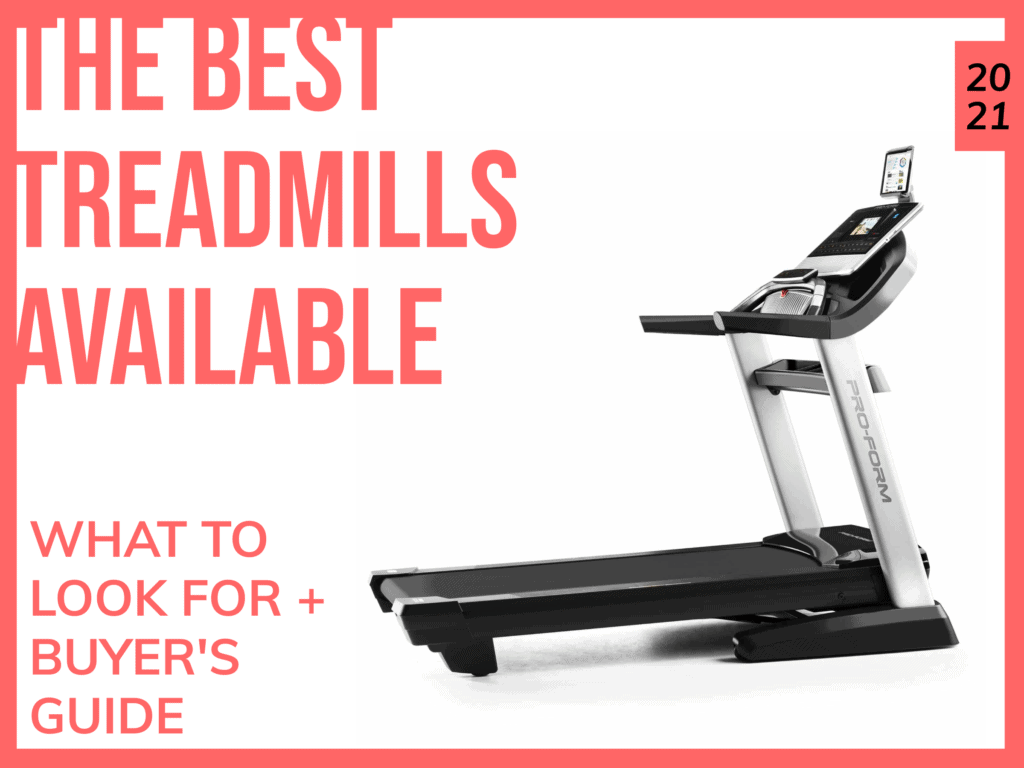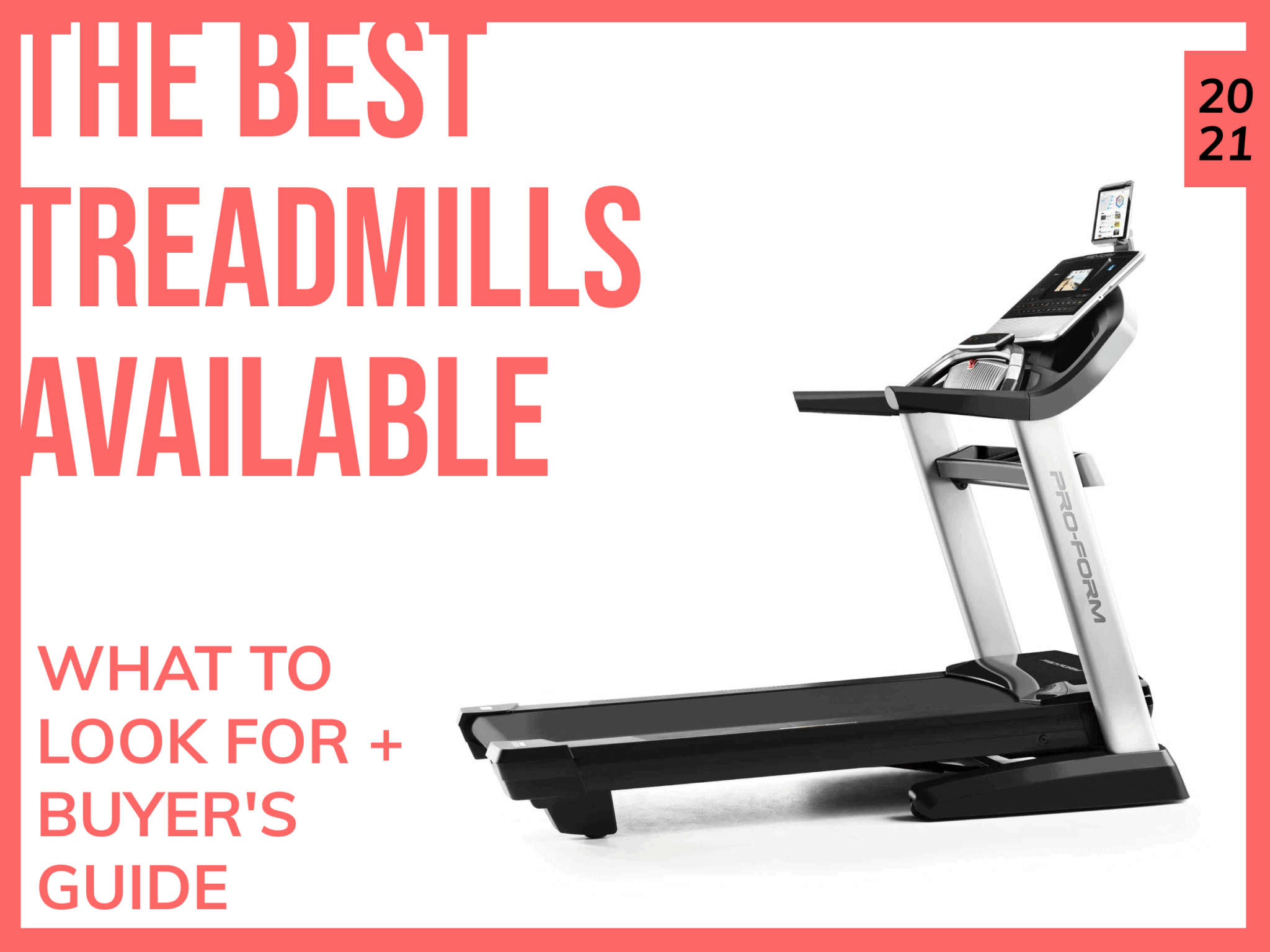 If you're wondering which treadmill is best for home use, we're listing everything you need to know about these machines to help you determine which one is best. While you don't have to buy the most expensive on the list to get exercise, when spending money on an investment like this, the best decision is to make it worthwhile. Here's what you need to know about these top-rated treadmills for home use:
The 10 Best Treadmills
Good for beginners and intermediate runners or people new to exercise, the ProForm Pro 200 has a 3.25 CHP2 MachZ ™️ motor,  -3% Decline to 12% Incline QuickSpeed ®️ Button Control, 20"x60" tread belt and SpaceSaver ®️ Design with EasyLift ™️ Assist. Weight capacity is 300 lbs, with a 35.3"W x 77.3"deep x 59.6" tall footprint. Outfitted with Fan, Bluetooth ®️ Audio capabilitis with Dual 2" speakers and a 10" Smart HD Touchscreen. Warranty includes 10-Year frame, 2-year parts, & 1-year labor.
Pricing for this treadmill is on the lesser end, providing a sturdy, yet affordable treadmill for the everyday user.
Pros
iFit enabled, 1-Year Family Membership Included, wide range of workout programs, good value for the price. Out of the box assembly.
The NordicTrack x32i comes with an upgraded HD smart touchscreen and iFit interactive personal training, Built with a 4.25 CHP DurX ™️ commercial plus motor, -8% decline to 40 incline, 0-12 MPH speed, OneTouch controls, 300 lb. user capacity and a 76" L x 40"W x 73" H footprint, the 22" x 65" running surface is comfortable and spacious. It's easily one of the best treadmills for running. Warranty includes 10-year frame warranty, 2-year parts warranty, and 1-year labor warranty.
NordicTrack is well-known within the fitness industry as one of the top contenders in their category. This treadmill does not disappoint, although the pricing may be too steep for individuals who are looking for a sturdy treadmill without a high price tag.
Pros
Quiet Drive Incline Tech, mobile app, Google maps, stat tracker, Bluetooth headphone connectivity. Reflex cushioning for low impact cushion with decreased impact. Out of the box assembly.
Cons
No lifetime warranty, does not fold, and price.
The Sole F63 is named "Best in its Price Range" by Fit Rated, Run Reviews, and others. With a 3.0 HP motor, this treadmill has a top speed of 12 MPH with 15 levels of incline. Weight capacity is 325 lbs, with a running surface of 20" x 60" and a step-up height of 8". Bluetooth speaker compatible, USB device charging, customized programs. LCD screen with real-time statistics. EasyAssist Folding Deck design. Lifetime warranty on motor and frame. One of the best treadmills for the money, and one of the best treadmills for walking.
This would be a good exercise alternative for seniors who can only walk and not run. Compact with folding capabilities helps in creating space while not having to compromise on the ability to work out at home.
Pros
Integrated tablet holder and handlebar adjustment technology. Integrated entertainment systems. Free shipping and money back guarantee. Designed for light runners and walkers.
Cons
Tech is limited, fan is subpar, not ideal for avid runners
The NordicTrack 1750 is a powerhouse with a 3.75 CHP DurX motor, -3% decline to 15% incline, and max of 12 MPH. User weight is 300 lbs. with a SpaceSaver Design with EasyLift Assist. 10" Smart HD touchscreen with 22" x 60" tread belt makes this roomy. Dual 2.4 GHz & 5 GHz Wi-Fi connections add to the enhanced trainer control. One of the best treadmills with incline due to the Quiet Drive Incline Tech, this comes with a 10-year frame warranty, 2-year parts warranty, and 1-year labor warranty.
Pros
Runners Flex cushioning, Dual AutoBreeze workout fans and integrated tray. 2 3" speakers and iOS and Apple compatibility. 1-Year iFit Membership included.
Cons
Foldable, but not portable.
The NordicTrack X22 is one of the best treadmills with incline. With a 4.0 CHP DurX commercial plus motor, -6% decline to 40% incline, and 12 MPH speed, runners and walkers can enjoy the quiet drive incline tech with a 22" x 60" commercial tread belt and Reflex cushioning. 22" smart HD touchscreen and 300 lb. capacity. Warranty includes 10-year frame, 2-year parts and 1-year labor.
Pros
1-Year iFit Family Membership included, Google Maps workout tech, built in speakers and cooling fan. 44 programs built into the machine, mobile app, and Bluetooth upgrade.
Cons
Low user weight capacity, limited storage space
The LifeSpan TR3000i treadmill has a 350 lb. max user weight with a 2.75 HP continuous duty DC. 12 MPH max, with 15 incline levels. EZfold system for convenience. Belt size is 20"W x 56"L. Side rails with non-slip plastic help with balance. Lifetime warranty on motor and frame, 5-year warranty on parts, and 1-year warranty on labor, making this one of the most attractive warranty deals in this class.
Pros
Quick, free shipping; 30-day return policy; minimalist design with a space-saving footprint; variety of programs; 15% automated incline. Heart rate monitoring and USB option. Handlebar controls. Intelli-Guard, Intelli-Step and Intelli-Key.
Cons
Handrails not as long as standard treadmills; Running belt is not conducive for tall runners.
The Sole F80 is the best rated treadmill in it class with a number of awards. With a maximum weight support of 375 lbs. this is a heavy-duty machine. 3.5 HP with a max speed of 12 MPH. Incline can be adjusted to 15 different levels. Running surface is 22" x 60", with a height of 66". Large, vibrant display and Cushion Flex Whisper Deck to reduce joint impact.
This treadmill carries an amazing warranty package, with free lifetime warranty on motor, deck and frame, 5-year warranty on electronics, 5-year warranty on parts, and 2-year warranty on labor. and voted best quality for price, motors, and frame.
Pros
Free shipping, 30-day money back guarantee, Bluetooth audio speakers, USB charging port, integrated tablet holder and innovative armrest control. Bulletproof frame and highest grade welded construction.
Cons
Few customized programs (only 10); bulky and heavy; side rail a little short
When it comes to Sole treadmills, this is the cream of the crop. With the largest belt offered by this manufacturer, the Sole F85 touts a 22" x 60" belt to accommodate taller and larger people. Another benefit of this treadmill is the 2-ply commercial-grade belt used to support the 4 HP motor. With a maximum speed of 12 MPH, this is a top-rated treadmill with a folding deck design and Cushion Flex Whisper Deck. 10.1" TFT-LCD touch panel and Android system with Wi-Fi phone or table mirrority capability. And 15 levels of incline. Weight max is 400 lbs., with a heavy-duty steel frame construction. Lifetime warranty on the frame, motor, and deck, with a 5-year warranty on electronics and parts, and a 2-year warranty on labor. This treadmill saves on space with an affordable design for these heavy-duty features.
Pros
Wireless heart rate monitor is attached; Bluetooth audio speakers, integrated tablet holder, bulletproof frame
Cons
Limited variety in workout programs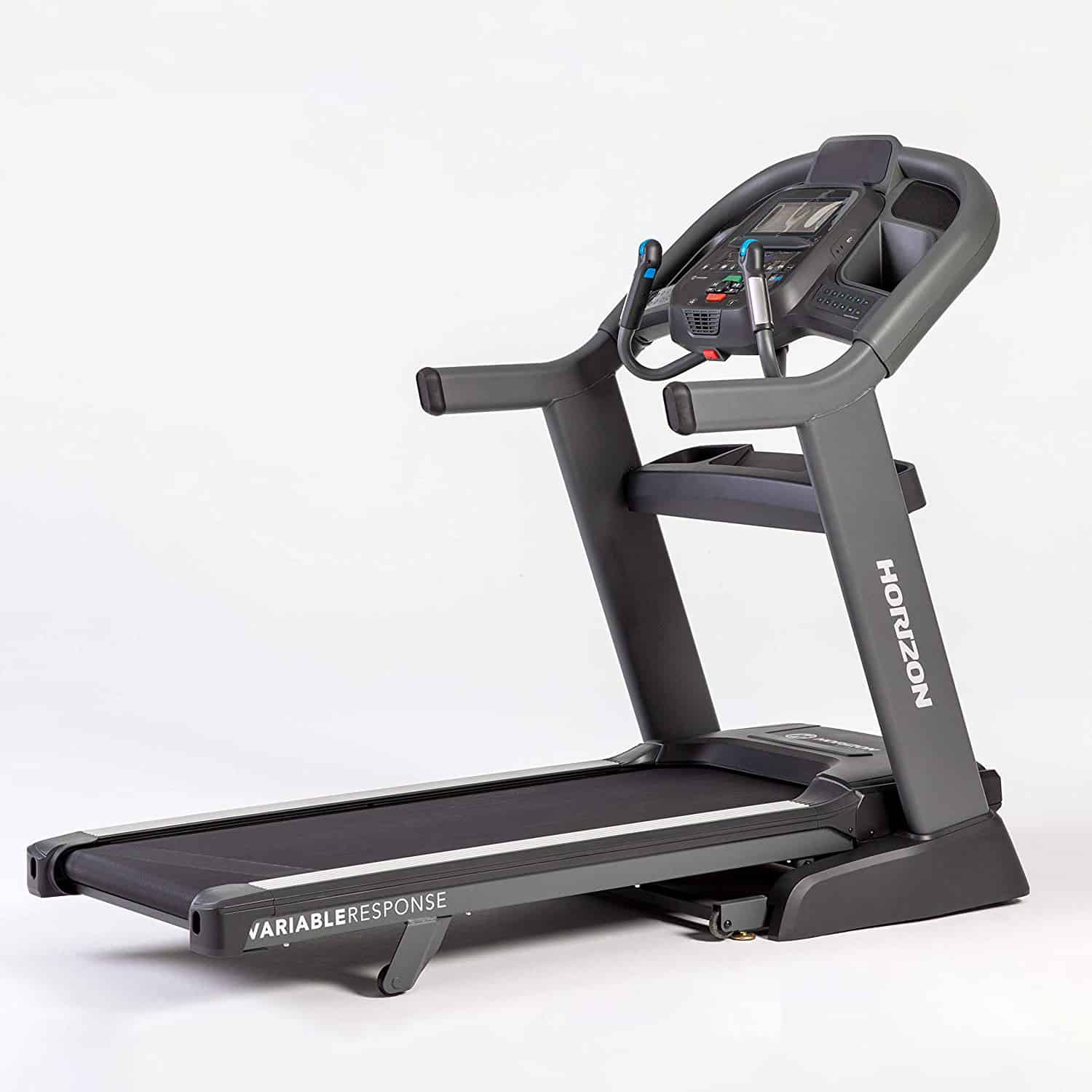 Built to support exercise at home, the Horizon 7.8 AT is part of the brand's studio series. Packed with smart features, this treadmill has a 4.0 continuous-duty HP motor. Voted one of the best treadmills of 2019 from RUNNER'S WORLD magazine, there is a 9.3" full color display monitor that supports both tablet and phone. QuickDial controls and Bluetooth connectivity directly to Peloton help make this attractive with on-demand fitness classes capabilities.
22" x 60" running surface, with a 3-Zone cushion deck for performance. Weight max is 350 lbs.The treadmill is easily stored with the one-step hydraulic folding function and space-saving design. There is a lifetime warranty on the frame and motor.
This is a good treadmill for walkers, runners, and those wanting to start becoming active. With an affordable price tag, this treadmill meets most expectations.
Pros
Incline adjustment is fast, heart rate monitoring, large running area
Cons
Only 10 built-in workouts, no HD touchscreen, additional devices needed to use apps
This is one of Horizon's bestselling machines, with a durable 2.5 CHP motor, one-touch keys, and a 55" 3-Zone cushioned deck. Good for runners, joggers, and walkers, the one-step hydraulic folding is a great space saver. The set up for this treadmill is 30 minutes or less, and it comes with a device  holder and rapid-charge USB port. 20" x 55" running area, max speed is 10 MPH. Designed to partner with apps to stream media while transmitting heart rate data. Max user weight is 300 lbs. Lifetime warranty on the frame and motor; 1-year warranty on parts and labor.
This is an affordable, user friendly model that supports everyone trying to exercise. A little on the inexpensive end, this does not detract from the features that are useful for everyone to use.
Pros
Water bottle holder, Bluetooth speakers, audio in/out jack, energy saver mode, fan
Is a Treadmill Good Exercise?
Absolutely, the treadmill is one of the best ways to work the cardiovascular system at a low impact. It's a piece of equipment that can be utilized in a number of spaces, especially if it's one that can fold. Some people can't handle extreme levels of exercise, and the treadmill is controllable. Speed, time, incline, and fitness level are set by the user, and there are even some treadmills with heart rate monitors, step counters, and Bluetooth capability to sync with other devices.
One of the great things about a treadmill is that it can help gauge the level of fitness that is best. This means that an individual on a treadmill will be able to determine whether they are doing too much daily. With a treadmill, individuals can make their own adjustments based on the way they feel rather than going by what a trainer may recommend.
Treadmills also help maximize the amount of time per day. People often use the treadmill while they are watching television, listening to music, or on a call to make sure they are getting their exercise time in. For many people, doing these activities while on the treadmill helping the time pass quickly so the workout may seem shorter and easier.
People who experience health challenges should really consider getting a treadmill to complement their regimen. While most people don't necessarily think about the benefits of having a treadmill, there are many people who have lost tons of weight just by walking on a treadmill. The myth is that everyone has to run on a treadmill to lose weight or tone their bodies, and that is not true. Treadmills are designed to meet individuals wherever they are in their exercise journey to make things easier when they are trying to stay healthy.
Exercise is relative. An individual cannot consistently eat unhealthy and expect to have great results, but a treadmill can help with maintaining weight and range of motion. Most people don't understand how walking or running can quickly transform someone's body type into a well-toned machine. Treadmills are the silent saviors of the exercise industry, and only a select few understand all the benefits it offers.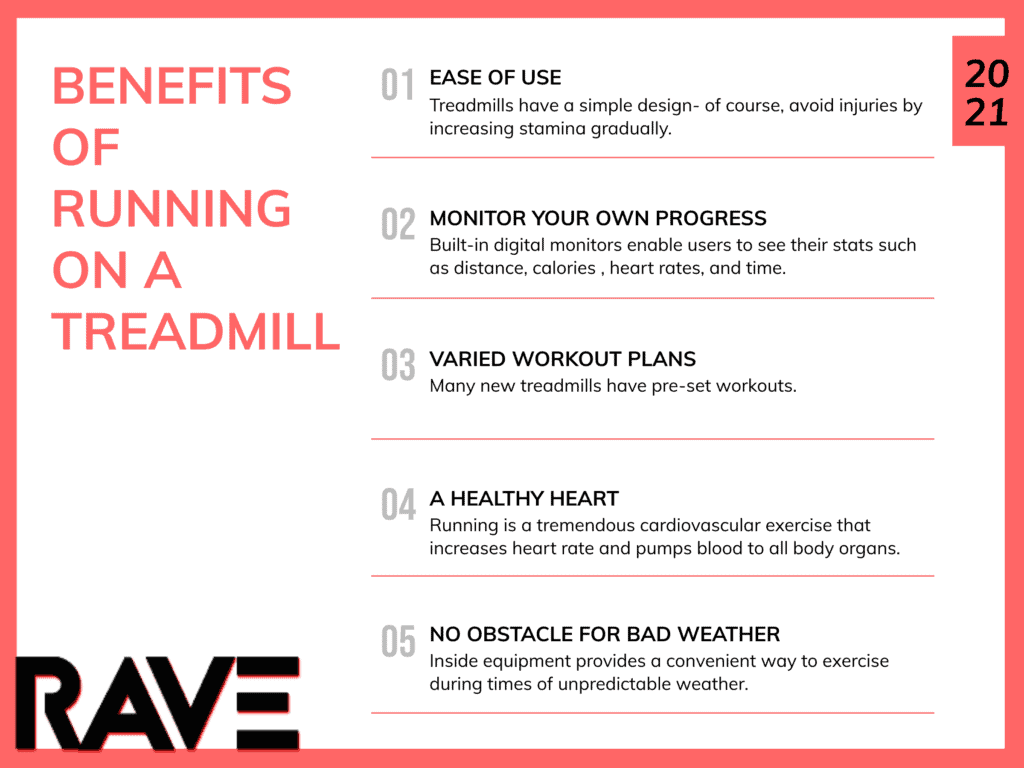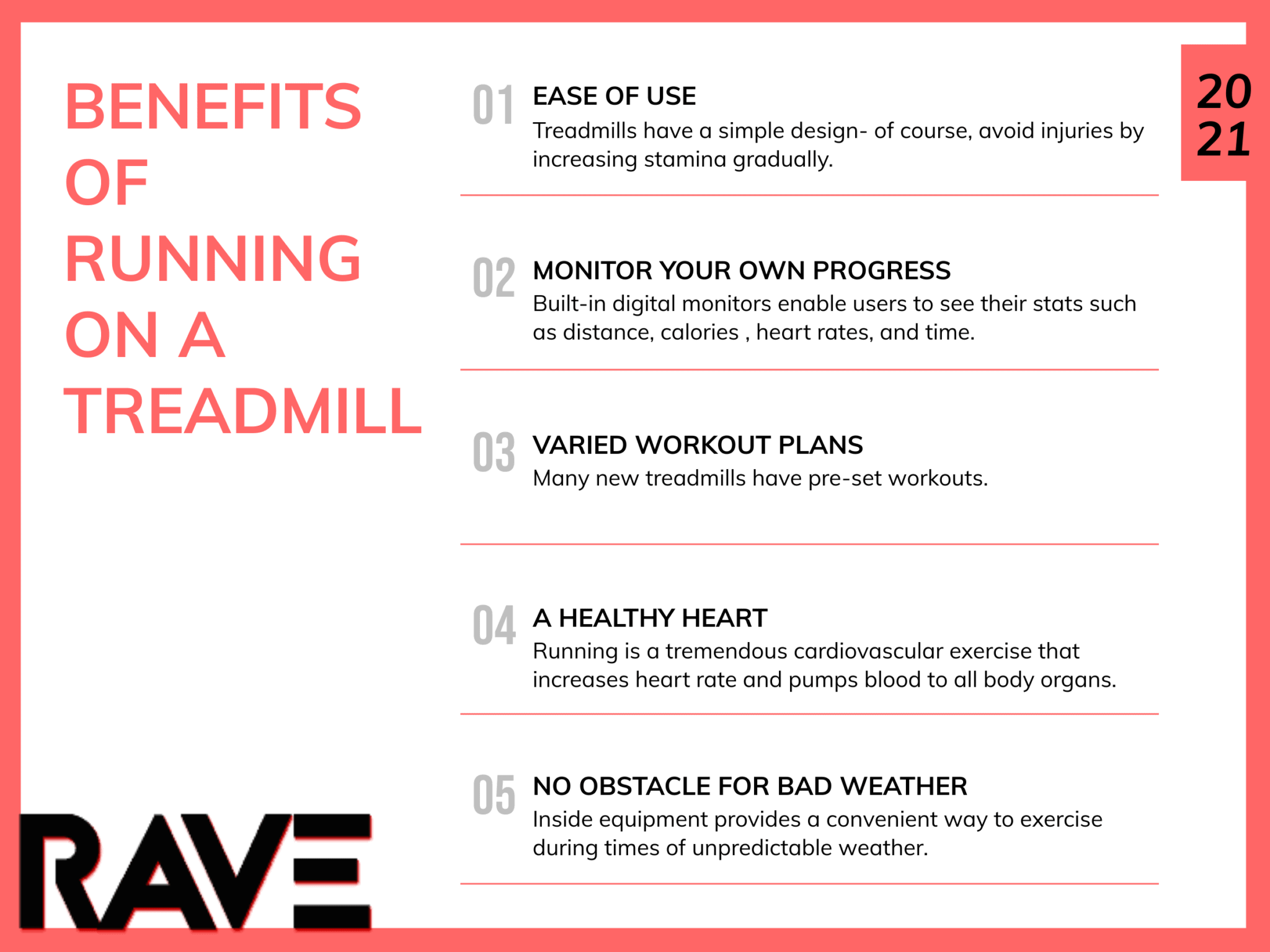 Who Can Benefit from a Treadmill?
Anyone can benefit from having a treadmill handy. While some people are not able to run, walking on the treadmill can be just as effective. In fact, some of the best home treadmills are designed to accommodate all fitness levels. The key in using a treadmill is to not overdo it. Let's look at some of the benefits of using a treadmill:
Good for the heart
Did you know doctors use the treadmill when diagnosing heart disease and other cardiac ailments? They use the treadmill to place the body under stress to help determine the problem.

Exercise
Treadmills can help keep the body in good shape when used at least twice a week. They can help in losing weight and burning fat. Treadmills are convenient and can be easier on the joints and feet instead of pavement. Even if someone doesn't have a gym membership, they can still receive great results on their fitness journey. When a treadmill is right there in the home, it is much easier to workout for at least 20 minutes as opposed to getting in the car and heading off to a gym. Additionally, on those cold or rainy days, having a treadmill in the home alleviates leaving and can keep excuses about not working out at bay. It's no secret that proper exercise helps with sleep, aches and a host of other things.

Helpful for diabetics
People with type 2 diabetes should work out regularly to control their symptoms in addition to having a healthy diet. Physicians often recommend exercise of about 20 minutes a day to help release any stored glucose. A treadmill assists in lowering blood glucose levels, to help reduce the amount of medication being taken.

Having a treadmill helps saving money being spent for a gym membership or a trainer. With a treadmill in the home, it doesn't have to be for one specific person, but can be used by everyone in the home.
Children can especially benefit from having a treadmill in the home, as they are often full of energy that doesn't seem to dissipate. With childhood obesity being so prevalent, having a child walk on the treadmill can be a great way to monitor their weight. Parents who make this a fun activity for children see greater benefits and the children start putting exercise into their daily regimen when they start getting older.
Pregnant women can also take advantage of having a treadmill in the home. Walking at their own pace but a few times a week can help the circulation in their bodies and regulate their weight. It's no secret that walking often helps with childbirth, but many women do not want to go to a gym while pregnant. Being able to walk at their own pace using one of the built-in workout options is always a good thing.
Is a Treadmill Good Exercise for Seniors?
For older people, a treadmill may be the best way for them to get some exercise on a regular basis. There are handle bars to help regulate their balance, A physician who is recommending a treadmill for their patients usually has some idea on the best treadmills for seniors. Seniors who use treadmills are less likely to have accidents. When used correctly, a treadmill can be a great solution for exercising in the privacy of their home.
Most people don't realize that as seniors age, they should still try and maintain some form of exercise to keep their cardiovascular system healthy and the blood circulating throughout their body. Seniors who maintain some form of physical activity greatly improve their quality of life and mobility. You'll also find seniors who exercise are livelier and do more.
While it is recommended to walk outside, it isn't for everyone. It is easy for a senior to open the window while walking on the treadmill to still get the fresh air needed while getting their exercise in for the day. Having the treadmill on a patio may still have the same results. One of the great things about seniors walking on treadmills is that when walking outdoors, the likelihood of falling, hurting their feet, or worse can occur. If a senior is on an exercise regimen, being able to walk even during times of bad weather or being too cold or hot outside is always welcome.
Is it Worth Having a Treadmill for Home?
Most people don't realize there is a recommended daily exercise minimum to stay healthy. With schedules being so uncertain, and people still wavering about things fully getting back to normal, having a treadmill for the home may not be a bad idea. One of the most important things about having a treadmill at home is having the right one that is worth the investment. This means the treadmill must be appealing enough to want to use it at home and not have it sit and collect dust.
For avid exercisers, having a treadmill at home is the perfect solution to not having to spend money at the gym. Even if the treadmill is bought for one specific person, exercising may become infectious to everyone in the house. People who are trying to lose weight can definitely benefit from having a treadmill in the home, especially if they are shy about their weight or feel uncomfortable going to a gym. Walking or running on a treadmill can quickly help develop a strong abdomen, great looking legs, and toning all over.

Having a treadmill is a good investment if the individual is serious about their health. While many people don't see the advantages of the investment, today's treadmills are sophisticated, technologically advanced, and offer a host of features and benefits that continue improving every year.
One of the best things about modern treadmills is their ability to teach while exercising. Many people wish to go around the world but don't have the finances or means. With certain programs on the treadmill, there are many learning opportunities in vivid color to help individuals learn about other cultures and places all over the world. Some of these exercise programs are truly breathtaking, making the investment worthwhile.
These are just a few suggestions to consider when shopping for home treadmills. When deciding what is the most reliable treadmill for home use, it's always important to compare the specifications of the treadmill with a needs and requirements list to get the most out of the investment.
Equipped with this information, users will be able to make a more informed decision on the best type treadmill manufacturer they want in their homes. As you can see, no two treadmills are alike, and they all have certain features that appeal to different tastes and expectations. The one consistent thing is that someone can still get to exercise with value no matter what price bracket. With so many people being stuck at home, having an alternative that will work and still deliver the exercise they need is a win-win.
Use this list to determine what's right for you and your family to get the exercise you want and need. These manufacturers are always adding new features and incentives, and often offer sales for individuals looking to buy. By keeping abreast of these models and manufacturers, you may be able to get a lesser model at a sale price to fit your budget and not compromise on taste. All it takes is a little research (which we've done) and an attitude that you will find the best solution that works for you and your budget.
Here's to great exercise for your and your family all year, and look for the new models to have even better features that may match your expectations and budget. Exercise and treadmills go hand in hand every day of the year. Know what you're looking for and you'll be fine.
Related: