Your office Christmas party is coming up.
You have your ugly sweater. You've worked up some new holiday-themed jokes to impress your boss. You're prepared to avoid Marge from accounting — you still haven't turned in those receipts, have you? And most of all, you're ready to act like you hate Christmas music (while secretly enjoying it).
The only thing missing is your White Elephant gift for the gift exchange.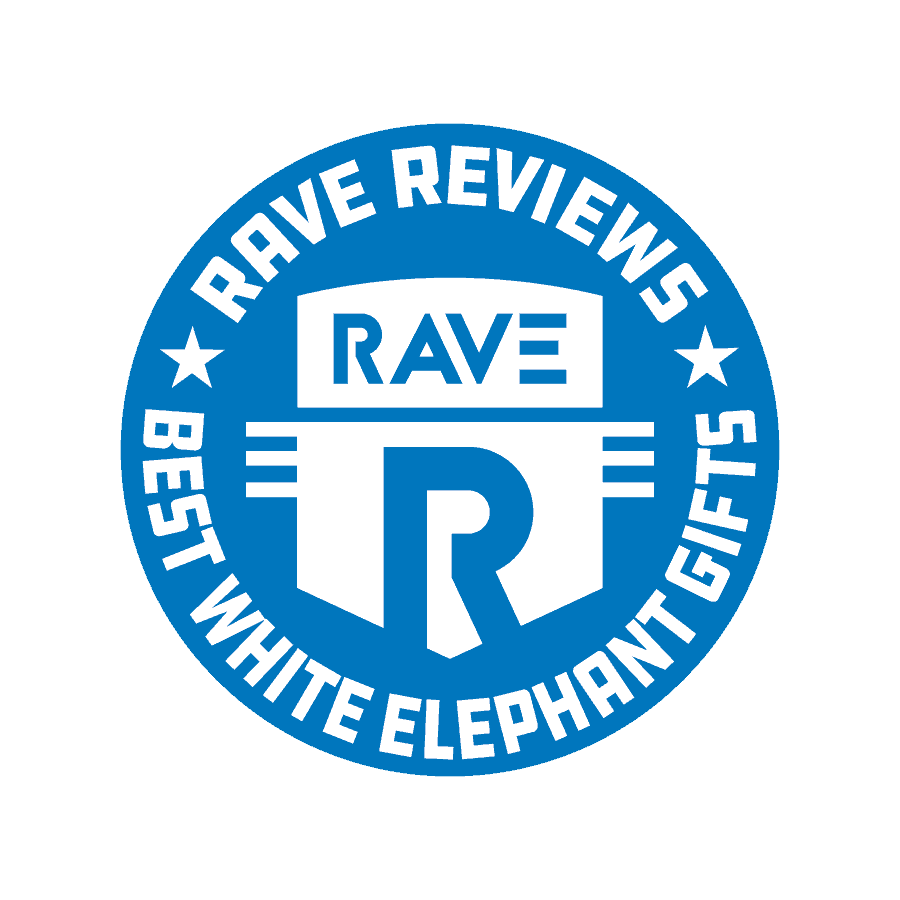 Don't panic! RAVE Reviews has what you need to sleigh your next White Elephant gift exchange. (See what we did there?)
We've compiled the 25 best White Elephant gifts that will leave your coworkers laughing. Or better yet, make them want to trade or steal your unique and surprisingly cool gift idea. And all without needing to take out an advance on your paycheck!
But what is a White Elephant gift exchange? How do they work? If you've mastered your office fantasy football league or March Madness bracket contest, participating in a White Elephant exchange will be no problem at all.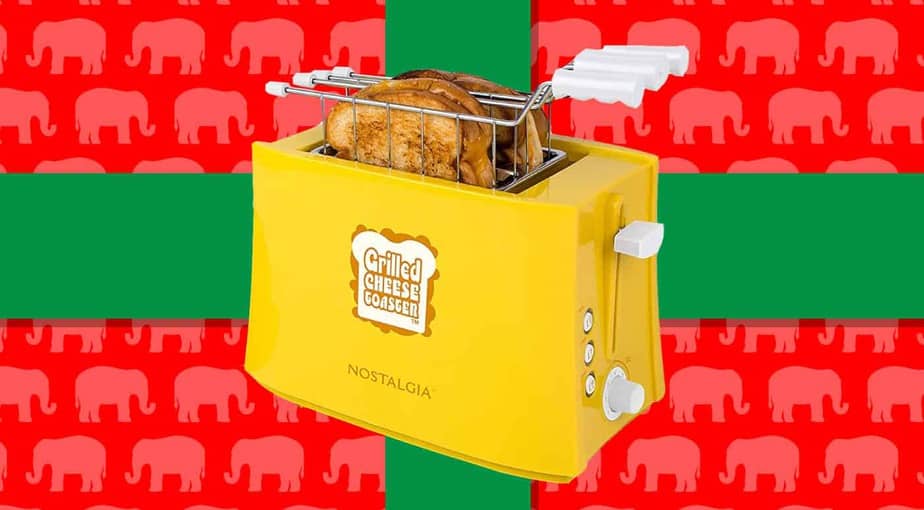 Here's how White Elephant gift exchanges work (trust us, they're easy):
Folks pool together bad, campy, surprising, or funny gifts.

Over a series of rounds, people "steal" gifts from the pool. The gifts can then be re-stolen, usually up to 3 times. Most often, the third stealer gets to take the item home. (Look out for Marge in accounting, she's crafty.)
Rules can vary, but those are the basics. But where does the practice come from?
Dig a little deeper, and White Elephant gift exchanges have a surprising history.
Story goes, White Elephant gift exchanges go all the way back to the kingdom of Siam (modern-day Thailand). The king would gift an actual white elephant to anyone who displeased him. Here's the catch: White elephants were revered in Thai and Buddhist cultures.
So in other words, those who received the king's gift couldn't let the elephant go, regift it, or put the animal to work. And as you might imagine, it's not cheap to take care of an elephant. Would you want to be charged with the care of a 12-ton mammal?
Very funny, King of Siam. Good one.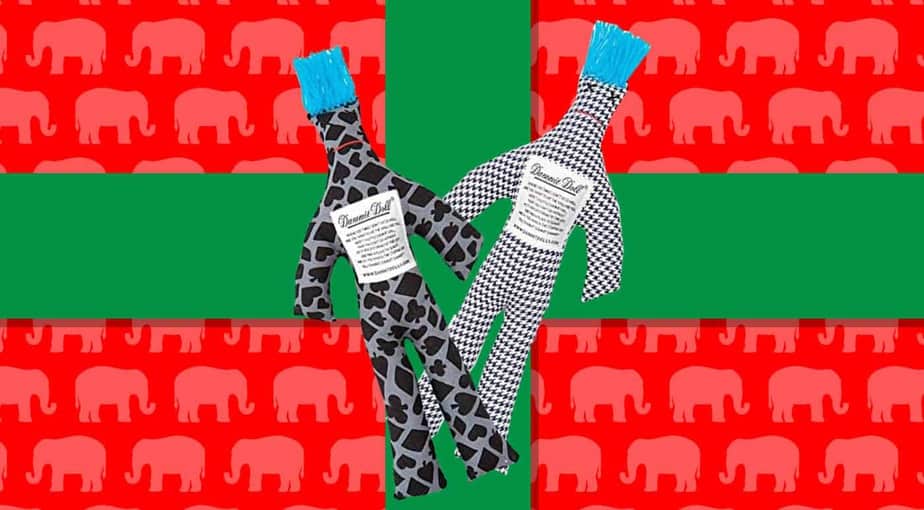 Okay, it's commonly believed this story is a myth. Nobody really knows where the practice of White Elephant gift exchanges comes from. But what we do know is they're a fun, low-pressure way to exchange gifts with friends, coworkers, or family.
So have you ever heard of a Dad Bag 3D Beer Belly fanny pack? Or Adult Achievement stickers? These are only a few of the excellent gag gift ideas RAVE uncovered.
Methodology
While compiling this list, we triangulated similar lists from sites like Amazon, Etsy, and others, all across the Internet.
In our list, we gave each gift a laugh-o-meter ranging from 1-10.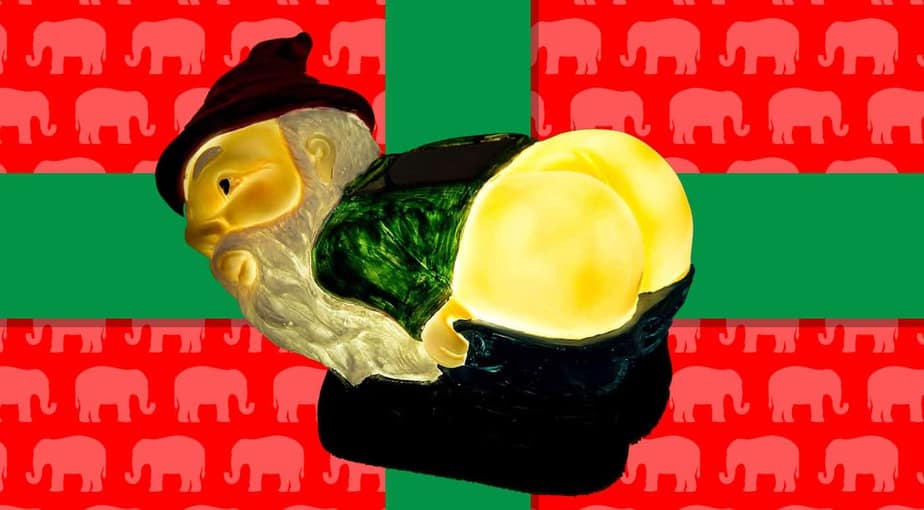 Each gift earned points based on the following criteria:
Affordability: Nobody wants to spend too much on a gag gift. Where's the fun in overpaying?
Uniqueness: You want to be sure your gift is the only one of its kind at the party, inspiring lots of steals.
Laugh-a-bility: Because let's face it, sharing a laugh with friends, family, and coworkers is what a White Elephant gift exchange is really all about.
Dad Bag 3D Beer Belly Waist Pocket

Your coworkers will ROFL when they unwrap this prank gift. It's a lifelike waist bag that redefines the term "dad bod." It's made to imitate a big belly, complete with bushy hair.

It's also pretty useful, with a large capacity. A small zippered pocket inside helps keep important stuff safe,  like money. And the main pocket, sized 15 x 7 inches, is ideal for storing stuff like your phone, headphones, keys, or wallet. Because dad bods come in all sorts of wonderful shapes and sizes, the Dad Bag 3D Beer Belly fanny pack has an adjustable belt, designed to fit waists up to 50 inches.

This killer White Elephant gift is made from premium material. It's anti-wrinkle, waterproof, easy to clean, easy to store, and eye-catching. It's perfect for hiking, running, and travel. Your coworkers will fight over the Dad Bag 3D Beer Belly fanny pack at your White Elephant gift exchange.

Laugh-o-meter: 10

Fanny packs, like dad bods, are on trend in 2019.

Oh, for Fox Sake Stemless Wine Glass

Relieve a little office tension with the Oh, for Fox Sake 15 oz stemless wine glass. It's the perfect passive-aggressive gift for your next office party.

The glass is suited for both men and women, which will only increase the odds your gift will get re-stolen over and over again. This wine glass is top quality, made in the USA with the finest materials. You can guarantee constant satisfaction for whomever ends up with this top-ranked gag gift.

It's dishwasher safe, and printed with durable ceramic inks that are fired at a temperature of up to 1200 degrees. And the wine glass will come carefully packaged in a durable gift box, saving you the time of wrapping it.

Laugh-o-meter: 10

Now and then, we all wish we could say "Oh, for fox sake" to a few people in the office.

BigMouth Inc Toilet Mug

You arrive at the morning business meeting. All around the table, people are drinking from Starbucks cups and "World's Best Dad" mugs. Instead, you take a long slow sip of coffee from … a toilet mug? Damn, that sounds funny. Maybe you won't want to give this mug away after all.

Either way, the toilet mug will have your friends and coworkers groaning — while plotting to swipe — this most-excellent White Elephant gift.

Made from high-quality material, the BigMouth Toilet mug comes from BigMouth Inc. of Glastonbury, CT. And it holds up to 12 ounces of your favorite beverage.

Laugh-o-meter: 10

An especially good gift if coffee makes you poop. Or for that guy Chad in the cubicle next to yours. What is he always doing in the bathroom, anyway?

Potty Putter Toilet Time Golf Game

Oh, so maybe THIS is what Chad does in the bathroom for 20 minutes. He's working on his golf swing! At least he's being somewhat productive, while you endlessly scroll through Facebook at your desk and take one coffee break after another.

Regardless, the golfer in your life will get extra practice time with Potty Putter Toilet Time Golf Game. This game includes its own putting green, cup with flag, two golf balls, putter, and, perhaps most importantly, a "Do Not Disturb" door hanger.

You'll get big laughs, and maybe a few steals, when you bring the Potty Putter Toilet Time Golf Game to your White Elephant gift exchange. You don't have to love golf to love this gift.

Laugh-o-meter: 10

Score a White Elephant hole-in-one with the Potty Putter Toilet Time Golf Game.

The Original "If You Can Read This" Funny Socks

After a long day of work, you want to take off your shoes, relax, and have someone else take care of you. Well, you can with the Original "If You Can Read This" Funny Sock. Send your request without words by simply kicking up your feet.

These adorable and funny non-slip socks read: "If you can read this, bring me some"…insert preferred post-work refreshment here: coffee, wine, chocolate.

They're also incredibly comfortable, made from luxurious cotton to keep your feet toasty warm. And the hand-picked non-skid letters on the bottoms offer perfect balance and safety. These socks are one-size fits most, making the Original "If You Can Read This" Funny Sock a great White Elephant gift for almost everyone.

Laugh-o-meter: 10

A perfect gift for the discerning fan of comedy socks in your life.

Lavley 16 Adult Achievement Stickers

Adulting is hard! Stuff like paying bills and showing up to work on time every day can be a real drag. Reward all that hard work with the Lavley 16 Adult Achievement Stickers.

Did you wear a bra today? There's a sticker for that. Did you pay a bill on time? There's a sticker for that, too. After all, we got stickers as a reward in grade school. Who says grown-ups don't like stickers too?

The set of 16 stickers celebrates other important accomplishments, like "almost" going to the gym and managing to keep your houseplants alive. The stickers are about 1.5 inches across. They're guaranteed to earn lots of laughs, and maybe even a few steals.

Laugh-o-meter: 9.5

Be careful: These stickers might give HR some ideas about how to reward employees instead of giving you all a raise.

EZ DRINKER Beer & Soda Can Holster Belt

Get up from your desk less often with the EZ DRINKER Beer & Soda Can Holster Belt. We agree, it might not be the best idea to fill the belt with 6 beers at work. But don't worry, it also works with some transported-in-the-same-truck-as-citrus-fruit-flavored La Croix.

Arrive at work showing how ready you are to give your full focus to the tasks at hand. Or sit down to watch the game with all your refreshments within arm's length.

However your recipient ends up using it, this is one of the most successful gifts to bring to your next White Elephant gift exchange.

Laugh-o-meter: 9.5

If the belt doesn't fit, or if you need help putting it on, it's definitely a good idea to switch from beer to water.

Little Stinker Original Bag of Unicorn Farts Cotton Candy

Little Stinker makes their novelty candy in a variety of flatulence-themed styles, from dinosaur farts to zombie toots green apple candy. We at RAVE particularly like the unicorn fart variety.

Regardless of which flavor you select, they're all great White Elephant gifts. After all, it's scientifically proven: farts are always funny. And the cotton candy-flavored unicorn farts are a fun pick-me-up for those sleepy afternoons in the office. 

Each bag of Unicorn Farts Cotton Candy comes with 3 ounces of sweetness. All the Little Stinker flavors are gluten-free and allergen friendly, so everyone at the office can enjoy!

Laugh-o-meter: 9.0

No unicorns were injured in the making of this candy.

World's Okayest Employee Mug

Show you're a team player with a "World's Okayest Employee" mug from Funny Mug.

This traditional 11 ounce white ceramic coffee mug is perfect to fill with any hot beverage you desire, or just to sit on a desk for plenty of laughs around the office. It's microwave and dishwasher safe, with a large, easy-grip handle. The mug is also suitable for house and restaurant use.

Other designs include "World's Okayest Boss" and "Employee of the Month Runner-up." If you work in accounting, consider bringing the "It's Accrual World" mug to the party. Regardless of what you choose, take any of these funny mugs to your White Elephant gift exchange and it'll be the hit of the party. 

Laugh-o-meter: 8.5

Note: If you are actually someone's boss, these mugs are not recommended as a gesture of employee appreciation.

Funny Animal Paw Socks

A top prank gift, these eye-catching animal socks are 80% polyester, 10% cotton, and 10% spandex. And more importantly, who doesn't love a fresh pair of footy gloves?

Funny Animal Paw Socks are very comfortable, with excellent elasticity, and they will fit feet up to men's size 13. They come in a variety of animal designs, including cats, dogs, tigers, dinosaurs, zebras, eagles, horses, donkeys, and elephants. All kinds of furry and scaly friends! Best of all, these socks are realistic enough for any cosplay enthusiast.

Bring them to your office Christmas party and watch everyone jump at the chance to steal these socks!

Laugh-o-meter: 8.0

Funny Animal Paw Socks look great with a business casual outfit.

Solar Mooning Gnome

This Mooning Gnome from GreenLighting will immediately catch the attention of any gardeners at your White Elephant party. Or really anyone with a good sense of humor. In fact, we can't think of a better way to greet people into your home or yard than a gnome showing his bare butt, lighting up the night with his solar-powered rump.

An amorphous solar panel absorbs light during the day. The panel recharges the battery, eliminating the need to swap out batteries or install an expensive outdoor power system. And the lights are LED, using a fraction of the energy of incandescent lights. This means lower energy costs while providing stable light output. 

But forget all that boring stuff — Light Up Butt Garden Gnome will be an instant sensation at your White Elephant gift exchange. This is the kind of White Elephant gift that will go down in office party lore.

Laugh-o-meter: 8.0

We just can't get over the gnome butt!

Awkward Turtle: The Word Card Game for Adults

A word-guessing game that's a little like Taboo, the Awkward Turtle is sometimes dirty, always cringe-worthy. Give clues to your team to help them guess the words on your card. The game features 352 awkward looking, sounding, and feeling words on 90 cards.

A game for large groups, Awkward Turtle is made for 4+ players split into two teams. You can, however, play with a small group of friends, a larger party, or well, the entire office. After Marge from accounting goes home, that is. Imagine her saying the word "moist" (cringe).

Bring Awkward Turtle to your White Elephant gift exchange, and watch everyone fight over it. This game is a great way to break the ice among friends new and old.

Laugh-o-meter: 7.5

If you can't laugh at fart jokes, then Awkward Turtle isn't for you.

Nostalgia TCS2 Grilled Cheese Sandwich Toaster

Okay, so this White Elephant gift is actually kind of sensible. But it's also pretty cool. After all, throwing something that's somewhat useful into the White Elephant mix is a great way to get lots of steals.

This Grilled Cheese Sandwich Toaster makes 2 sandwiches in minutes, with 2 removable toasting baskets to hold the sandwiches in place while they're cooked. There's an adjustable toast setting, ensuring your cheese will be perfectly melted. It also features cancel, preheat, and defrost functions. This toaster remains cool to the touch, with a crumb catcher for easy cleanup.

If whoever scores the Nostalgia TCS2 Grilled Cheese Sandwich Toaster leaves it in the break room, they'll be the envy of the entire office.

Laugh-o-meter: 7.0

Not big on laughs, but who doesn't love a good grilled cheese sandwich?

Beard Head Stubble Populous Beard Beanie

The Beard Head Stubble Populous Beard Beanie is funny, but it also serves a purpose: keeping you warm during the cold winter months. It's a detachable and adjustable velcro beard face mask. The velcro ensures that it will fit every head. It's made from super-soft yarn, keeping you comfortable and warm. 

Inspiration for the product came while the founder of Beard Head was on the slopes. He couldn't find a way to keep his bandana in place. Now, the Beard Head Stubble Populous Beard Beanie is a funny and functional White Elephant gift, appealing to all sorts.

Beard Head styles also come in camouflage, viking, bushy, trim, and even ZZ Top-level beard action. Freakin' awesome.

Laugh-o-meter: 6.5

Fake beards are always funny.

Twerking Naughty Reindeer

This electronic, twerking, naughty reindeer ornament wiggles and twerks to "Sexy And I Know It" by LMFAO. The last time you laughed this hard, you were watching Jim from HR dance at that one conference you went to.

The plush figure is perfect for Christmas decorations or a fun holiday display. The ornament is made of polyester felt and soft furry material. 

This lively Christmas decoration is battery-operated. To activate, simply press the foot of the reindeer. 

Laugh-o-meter: 6.5

Spread some cheeky joy this year at your White Elephant gift exchange with the Twerking Reindeer.

The Totally Awesome Book of Useless Information

There's always that person in every office: spouting off useless information, trivia, or other random factoids whenever they get half a chance. Give them some fresh material with The Totally Awesome Book of Useless Information.

Learn how the Pilgrims ate popcorn at the first Thanksgiving. Hear about how Maine is the toothpick capital of the world, or how frogs have teeth. Have you ever wondered what kind of food cockroaches like to eat? Or how tall a baby giraffe is when it's born? We all know tigers have stripes, but did you know tigers also have striped skin?

From the creators of The Book of Useless Information, this go-to White Elephant gift is full of the wildest, oddest, funniest facts about history, science, food, animals, and more.

Laugh-o-meter: 6.0

This book fills your brain with only the best useless information.

Wonder Woman Throw Blanket with Sleeves

Occasionally, we all need to feel like Wonder Woman. And with this 100% polyester wearable blanket with sleeves, you can!

Made of soft fleece, the blanket has oversized, loose-fitting sleeves. This means your shoulders, arms, and upper body remain warm and comfy. But your hands remain free. So you can use them to surf the web, read, snack, or talk on the phone.

The blanket measures 48 inches by 71 inches, it's safe to machine wash and dry, and all imagery is fully licensed. Other design options include Darth Vader, Superman, and Harry Potter.

Laugh-o-meter: 5.5

Watch your coworkers embrace their inner superhero as they fight over this gift. A guaranteed hit at your White Elephant exchange.

Fat Cat Art: Famous Masterpieces Improved by a Ginger Cat with Attitude

Everyone loves cat memes. And Fat Cat Art collects in one place the popular internet memes of Svetlana Petrova. In her memes, Petrova superimposes her fat, ginger cat Zarathustra into works of classical art. With hilarious results.

Odds are you've seen several of these images before. Maybe you've even shared them in emails with your coworkers, or on social media. Flip through the book and see Zarathustra alongside Venus, in Titian's Venus of Urbino. She reclines sexily, almost knocking Venus off the chaise lounge. In another image, the cat gives God's pointing finger a very cat-like cold shoulder in Michelangelo's Creation of Adam.

Bring this book to your White Elephant gift exchange, and watch it get stolen, and re-stolen, over and over again. It's 304 pages and measures 7 x 0.7 x 7 inches.

Laugh-o-meter: 5.5

You'll never look at classical art the same way again.

Farting Animals: Adult Coloring Book

Farting Animals: Adult Coloring Book reminds us that in nature, everyone farts. Watch the beautiful creatures of nature pass gas in the wind, forest, or even under the sea. Who doesn't love a "flatulent fox," a "pooting penguin," a "tooting tom cat," or a "steaming squirrel"? There's a unique design on all 52 pages.

This perfect White Elephant gift works great with color pencils, pens, markers, or crayons. Leave it in the break room for some silent-but-deadly fun and relaxation for the entire office!

For other coloring book ideas, consider Cat Butt: An Off-Color Adult Coloring Book for Cat Lovers, or the Super Cute Farting Animals Coloring Book.

Laugh-o-meter: 5.0

We're just happy these books aren't scratch 'n' sniff.

"I Survived Another Meeting that Should Have Been an Email" Journal

Bring this funny journal to your office White Elephant gift exchange and it will get stolen again and again.

Whether used to take notes in meetings or to keep for personal use, the I Survived Another Meeting journal is 100 pages, blank ruled, and ready to receive musings of all sorts. It's paperback, with a soft matte cover. 

The journal measures 6 inches by 9 inches, so it's the perfect size to carry anywhere: from work meeting to endless work meeting. Or simply keep it at your desk to jot down notes and ideas, or take a brain break with a little personal journaling or poetry.

Laugh-o-meter: 4.5

This journal just says what we're all thinking.

Nostalgia Retro Pop-Up Hot Dog Toaster

For a White Elephant gift that mixes whimsy with just a touch of usefulness, pick up this hot dog toaster. Maybe you can even get whoever ends up with the toaster to make lunch for the whole office.

The toaster cooks 2 buns, as well as 2 regular-size, or extra-plump, hot dogs at a time. There's an adjustable cooking timer and stop cooking button, as well as a removable hot dog cage.

The toaster includes mini tongs for removing hot dogs, and a drip tray for easy cleaning. Plus it's all got such a charmingly retro design.

Laugh-o-meter: 4.0

The Nostalgia Retro Pop-Up Hot Dog Toaster will make every day in the office feel like a warm summer picnic in the park.

Dammit Doll Classic

Help your coworkers relieve some stress while at work with a Dammit Doll. Handmade from high-quality material, this doll is durable enough to endure whatever you can throw at it. Or whatever you throw it at.

Keep it near your desk for whenever the urge arises to take out a little frustration. Or carry it with you to meetings, or in your coat pocket for a little stress relief while on the go.

To let out even more of your pent-up frustrations, consider the Dammit Doll that looks more than a little bit like our 45th President: red, white, and strong enough to endure all your negative political energy.

Laugh-o-meter: 3.5

A Dammit Doll will help provide some much needed work/life balance.

The Screaming Goat (Book & Figure)

We've all wasted some good office time huddled around someone's computer watching screaming goat videos on YouTube. So bring this Screaming Goat book and figurine to your White Elephant gift exchange it will be the hit of the party.

Your new best friend goat companion sits on a tree stump. Simply gently press him and he screams! 

This gift includes a 32-page illustrated pocket guide of fun facts and trivia about everyone's favorite farm animal. If goats aren't your thing, consider this yodeling pickle.

Laugh-o-meter: 3.0

Used in moderation, this gift will bring endless laughter to the office. Use it too much, and you might get banished to the basement.

Desktop Cornhole

This mini kit brings cornhole to any desktop or tabletop. It's just what you didn't know your break room was missing.

Cornhole is one of the most iconic and beloved lawn games, and with Desktop Cornhole, you'll have everything you need to play: 2 raised platforms, 8 bean bags, and a 32-page illustrated book on the popular game.

If cornhole isn't your thing, consider desktop skee-ball, tetherball, or golf. Bring this gift to your office party and start the world's first office cornhole league. You will be champion!

Laugh-o-meter: 2.5

Whether playing against friends or coworkers, this kit serves as the perfect pastime or office distraction.

Oh, The Meetings You'll Go To!: A Parody

This hilarious parody of the Dr. Seuss classic Oh, the Places You'll Go finally tells the truth about adulting. Mainly, that it's made up of a lot of meetings.

With a unique blend of verse and imagery, Oh, The Meetings You'll Go To!, by Dr. Suits, teaches you what you'll never learn in school. It's brutally honest, yet ultimately uplifting. Something any 20-something will relate to.

Bring this book to your White Elephant gift exchange and gather your coworkers together on the carpet. It's story time!

Laugh-o-meter: 2.0

You'll never again laugh so hard about hating your job.