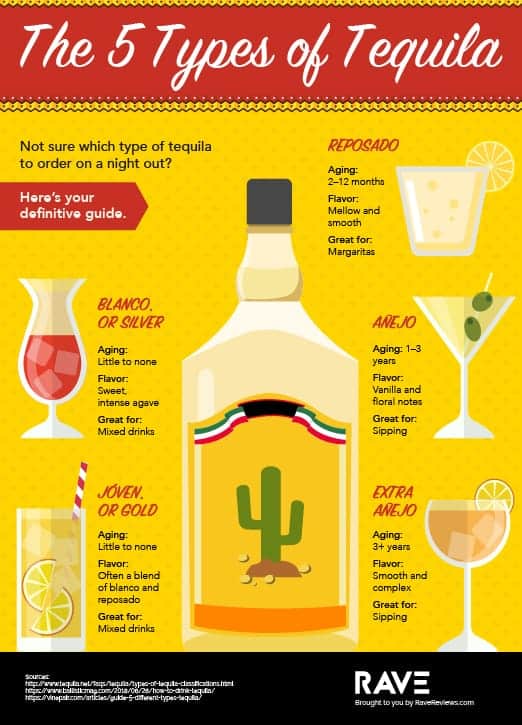 At RAVE, we love our tequila. So we thought we'd put together a little guide to help you pick the right tequila for your tastes.
Back when your tequila consumption was limited to margaritas or shots with a lime chaser, you might not have cared what kind of tequila you were drinking.
And since you were drinking whatever was on well, you may have thought you didn't like tequila that much. But try a middle- or upper-shelf tequila, and it might just blow your mind. It turns out there's a lot more flavor and substance to tequila than many of us realized.
But what types of tequilas are worth trying in an elegant cocktail, or in a lowball with a little ice?
A lot of it comes down to your own preferences. Are you looking for something with a complex flavor worthy of sipping? Or do you want to expand your repertoire of mixed drinks? To decide, you'll need to consider both the age of the tequila and the flavor you prefer.
Just as with wine or bourbon, the age of a particular batch can make a huge difference when it comes to the quality and complexity of your tequila. Those tequilas that are generally considered to be the highest quality have been aged for three years or longer.
When it comes to flavor, the less-aged varieties may be a bit sweeter. Move into the reposado, and you'll start to get a more mellow, smooth flavor that's great for margaritas.
If you'd like something that's great for sipping, try an añejo (aged 1–3 years) or an extra añejo (aged 3+ years). These incredibly complex tequilas will be smooth and might feature notes of vanilla or floral elements. They're a great conversation piece for an elegant get-together — or just for a night on the town!
Check out and share the infographic to the right to learn more about which type of tequila is best for you.
And now that you understand which tequila you're searching for, look through our ranking of the best tequilas by category to see what we recommend for each type.