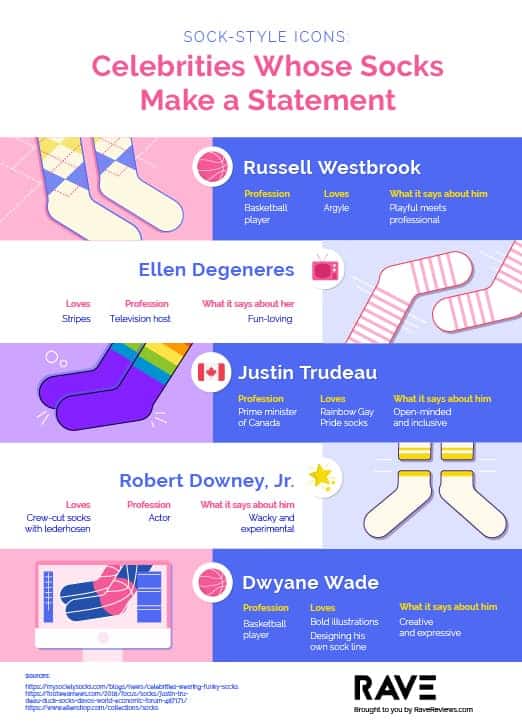 Your socks say a lot about you.
They can communicate your playful or professional side. They can blur lines and make statements. And no one knows this better than the celebrities who have used socks to make statements of their own.
Sure, no pair of socks is ideal for every occasion. You wear dress socks to work or to a wedding, but that doesn't mean they're right for a night out on the town. Likewise, you need special socks (wool is recommended) for hiking, and probably some low-cut socks when you go running. Everyone should have at least a few pairs of each of these types of sock in their drawers.
But socks are also a way of stepping out and standing out. Just ask celebrity talk show host Ellen Degeneres, whose socks are at the heart of her quirky style. While you might not wear her brightly striped socks to a business meeting, they make her seem more approachable and down-to-earth — and that's great for her job as a TV host.
At what other jobs might quirky socks be a strong choice? Prime minister of Canada, apparently. Justin Trudeau wears socks to celebrate the diversity of his country. He's been spotted wearing rainbow socks in celebration of Gay Pride and Ramadan socks in recognition of the Muslim holiday. Oh, and duck socks. Because ducks are Canadians too.
Basketball player Dwyane Wade has taken his love of socks with bright, bold patterns and illustrations to a whole new level. He's designed his own sock line for Stance that includes everything from athletic to dress socks.
Your sock choice offers plenty of ways to express yourself.
Learn more about who's leading the way when it comes to sock style from our infographic.
Then develop your own style with our ranking of the best socks for different occasions.