Because the Northwest offers some of the best hemp in the world, its CBD shops offer similarly distinguished quality.
Hemp is a temperate region crop that grows best in more northern latitudes, so the Pacific Northwest has ideal growing conditions for the plant. Naturally, all that hemp farming has spurred innovation in the industry, and there are hundreds of CBD brands online all competing for your business.
However, there's something to be said about visiting a CBD shop in person. You get the chance to sample the products, ask questions, meet the owners, and enjoy the complete shopping experience. Luckily, the Pacific Northwest is an ideal place to find such retailers.
In this post, we're going to take you on a tour through Oregon, Washington, Alaska, and Idaho to introduce you to the best CBD Shops in the Pacific Northwest.
NOTE: If you have lingering questions about what CBD is, how it works, or how it's popularly used, then consider jumping to our FAQ section at the end of the article before you dive into our list.
Is CBD Legal in the Pacific Northwest?
Some Pacific Northwest states were among the first legalize recreational marijuana, while others maintain some of the most strict laws against it. One fact remains clear though, CBD is legal to purchase and use in any of these states according to the 2018 Farm Bill.
This bill states that CBD extracted from industrial hemp may be legally sold, purchased, and used recreationally so long as the product contains no more than .03% THC. So if CBD is federally legal, why would you care about marijuana laws?
Well, in northwestern states where marijuana is legal, you will find a much larger selection of CBD products. Since these states will offer CBD products derived from both marijuana and industrial hemp, products will contain many different combinations of CBD and THC levels. Of course this only represents a positive to those who enjoy their CBD when its paired with THC, even if its only slight over the federally legal amount.
Here's an overview of the marijuana and hemp laws in the Pacific Northwest:
The Best CBD Stores in the Pacific Northwest: Our Methodology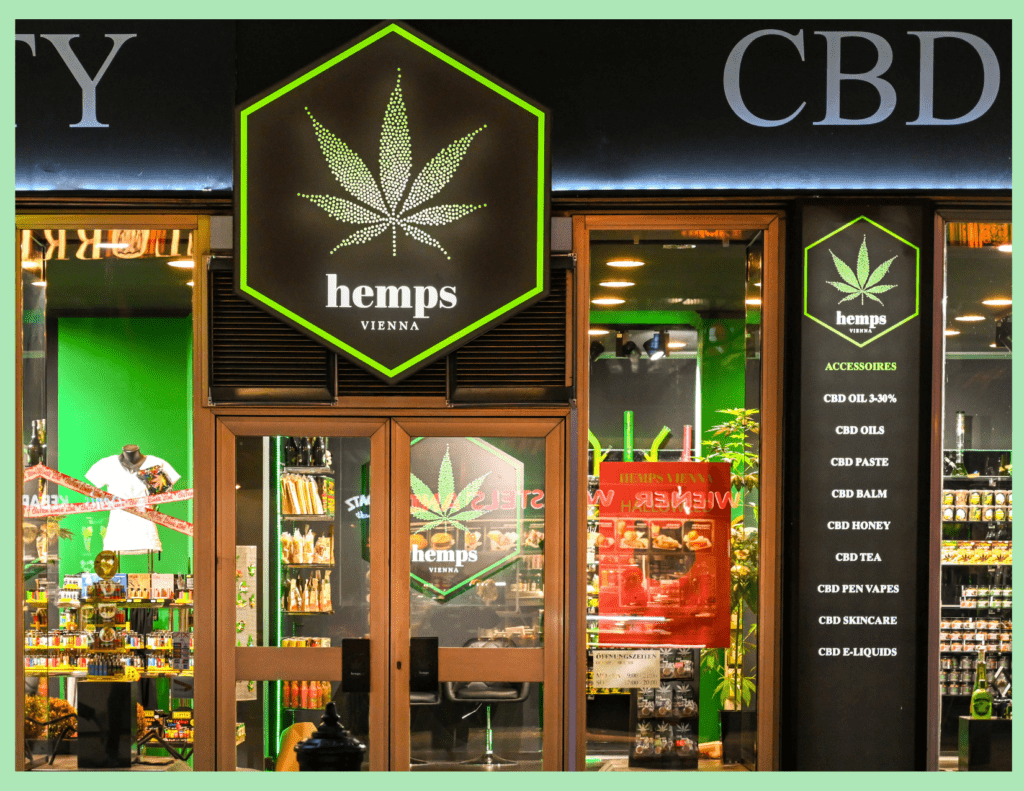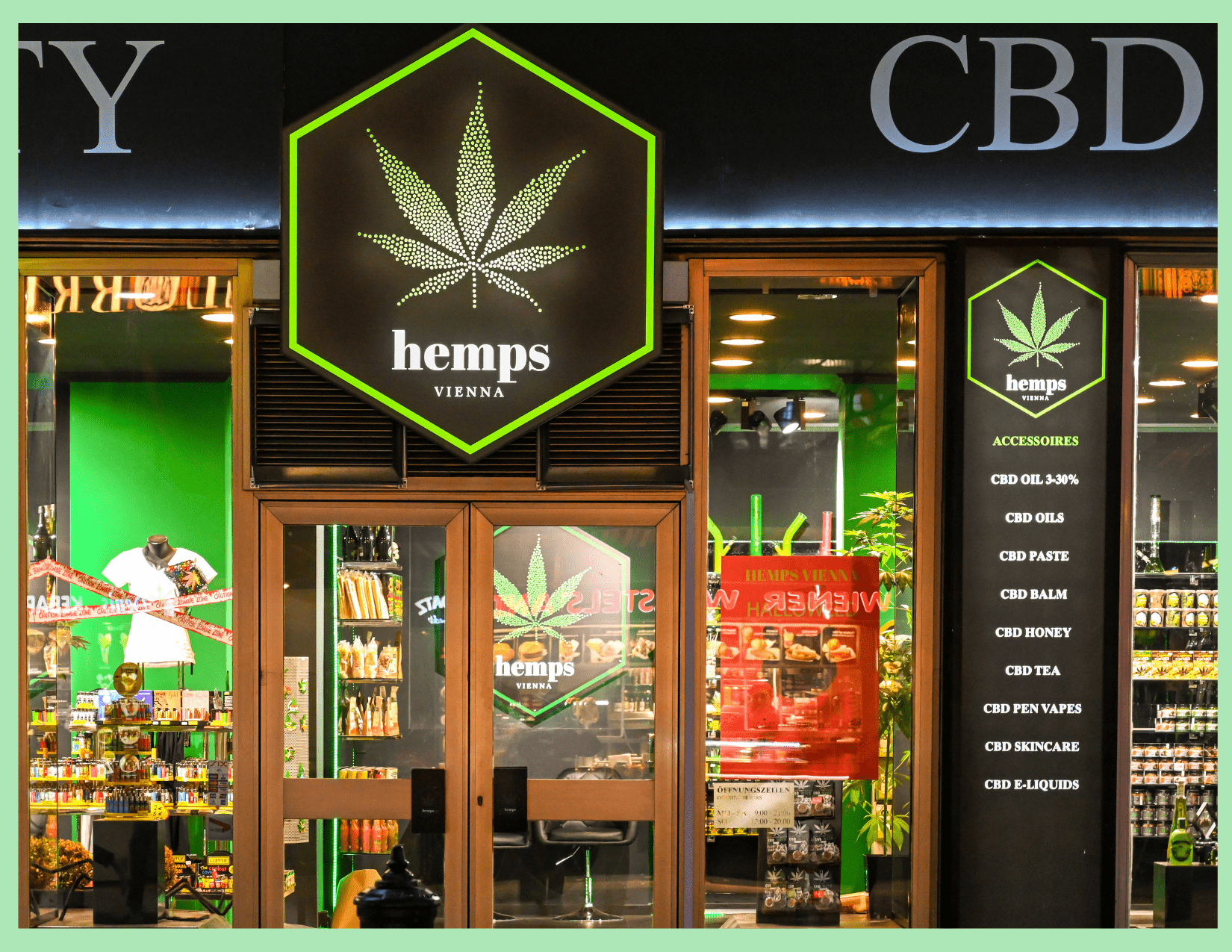 There are hundreds of dispensaries, cannabis shops, and CBD retailers in the PNW, so narrowing them down to just 30 was a challenge. First, we analyzed all the top-rate CBD stores in all four states. Then, we narrowed them down according to popularity, selection, location, and level of service.
However, we haven't ranked these shops in any particular order. Instead, they are categorized by state to make it straightforward for our readers to find CBD in a specific region. Notably, if you can't make the trip out to the Pacific Northwest, you can bring CBD from the PNW to you. A vast majority of these shops (especially those that carry their own formulations) have online stores and will ship all over the country.
So, now that we've covered the basics of CBD, let's dive into the best CBD shops in the Pacific Northwest, state by state.
The Best CBD Stores in Washington
1. Ganja Goddess
Where: 3207 1st Avenue South, Seattle, Washington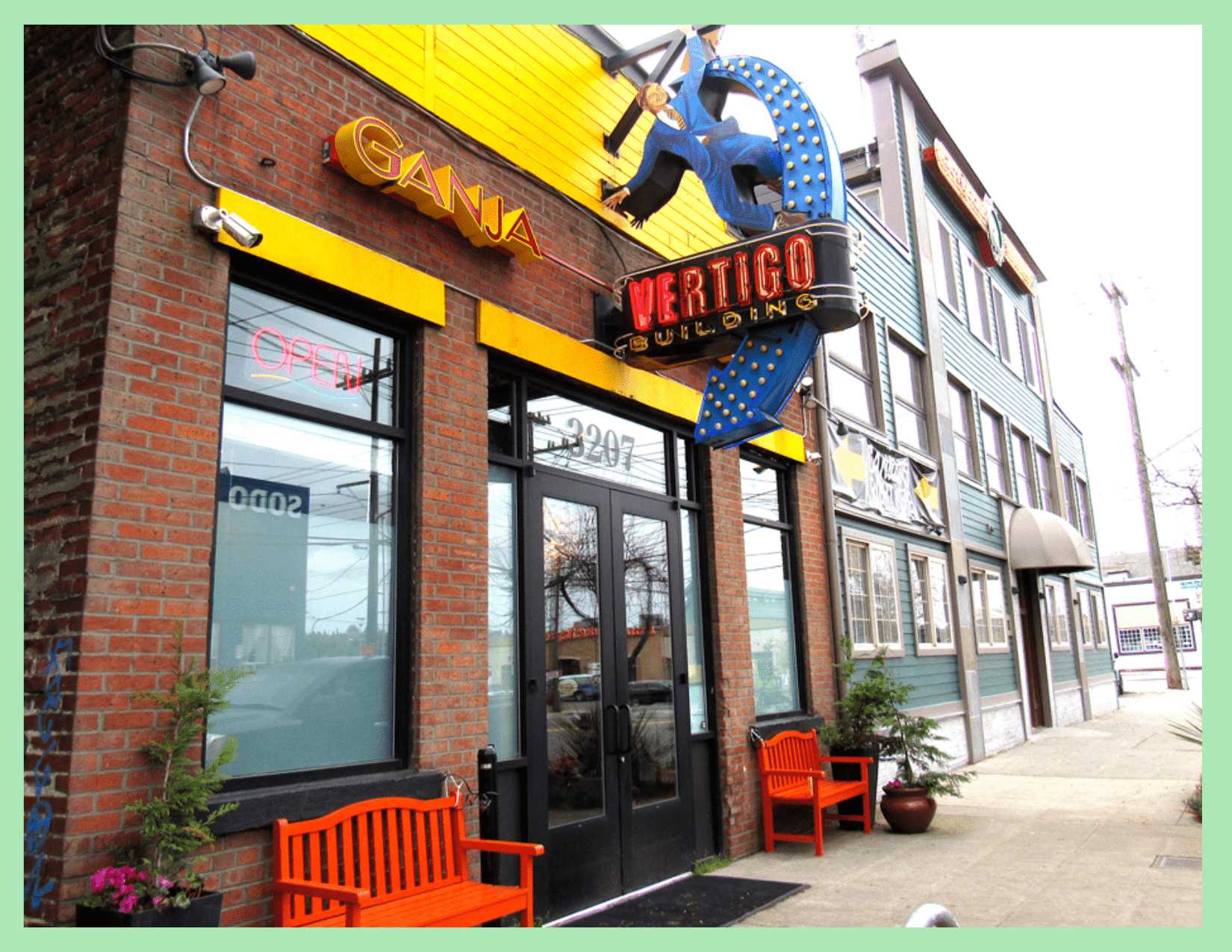 Hours:
Monday-Saturday: 8am-11pm
Sunday: 10am-9pm
Ganja Goddess claims it's "one of Seattle's original pot shops," and they allegedly have the best product and budtenders in town. However, it's not a dispensary. Instead, this is a full-service, recreational shop with a ton of options. Since it's a cannabis retailer, you'll find all the usual THC offerings here, but they also have a fantastic selection of CBD products. Plus, you can get any combination of cannabinoids you want to suit your specific needs.
For example, you can select from options like:
Green Revolution's 20:1 CBD Tincture containing 250mg CBD, 12.5mg THC, and 5mg CBG per bottle.
Fairwinds' CBD Ratio 1:1:1 Tincture containing 67mg CBD, 67mg THC, 67mg CBG per bottle
Wildflower's CBD+ Relief Tincture containing 1000mg of CBD and less than 0.3% THC per bottle
The store also carries an excellent inventory of CBD topicals, including body balms, relief creams, intimidate oil, bath bombs, and more. You've got to be 21 to visit, so keep that in mind if you're traveling with minors.
2. Alchemy Health & Wellness CBD
Where: 1206 State Avenue Unit H, Marysville, Washington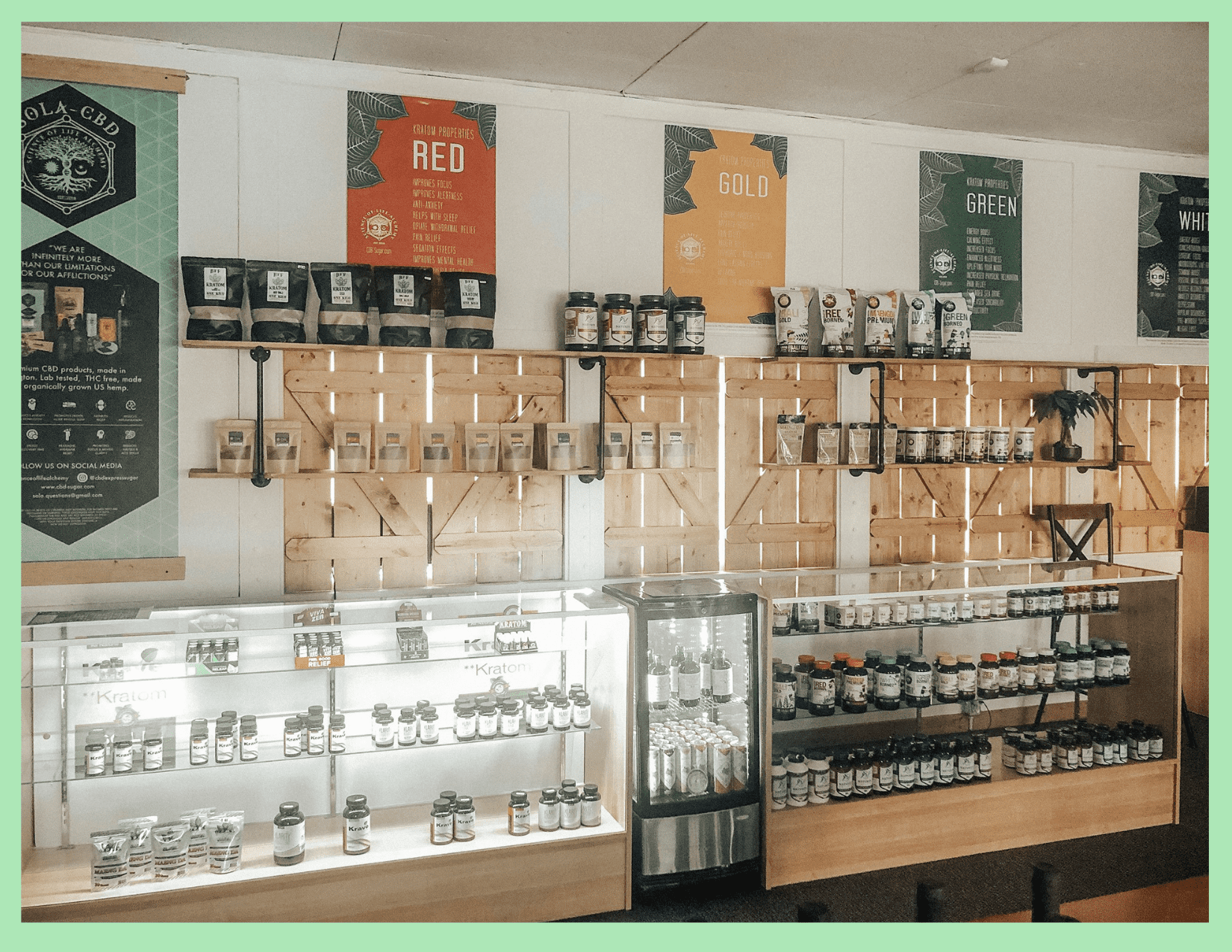 Hours:
Monday-Friday: 10am-6pm
Saturday: 10am-5pm
Sunday: Closed
Alchemy Health & Wellness in Marysville is a pleasure to visit. This little shop off State Avenue carries a full range of high-end CBD products, including their own brand—SOLA CBD. Sleek and bright, the shelves are stocked with CBD tea, edibles, pet products, flower, concentrates, capsules, topicals, and more. A few of our favorites include:
CBD Sugar Packets: Perfect for your morning coffee, these nifty little sugar packets contain raw Turbinado sugar and 25 mg of full-spectrum CBD powder.
Chocolate Cream Hydrating Salve: Made with 500 mg of broad-spectrum CBD and raw cocoa butter, this healing and nourishing salve smells good enough to eat.
Bacon-Flavored CBD Pet Tincture: A favorite of Alchemy's four-legged patrons. And let's face it—what dog can resist anything that tastes like bacon?
Alchemy Health & Wellness has two other convenient locations—one in Lynwood and the other in Everett. Be sure to check them all out if you're in the area!
3. Have a Heart Belltown
Where: 115 Blanchard Street, Seattle, Washington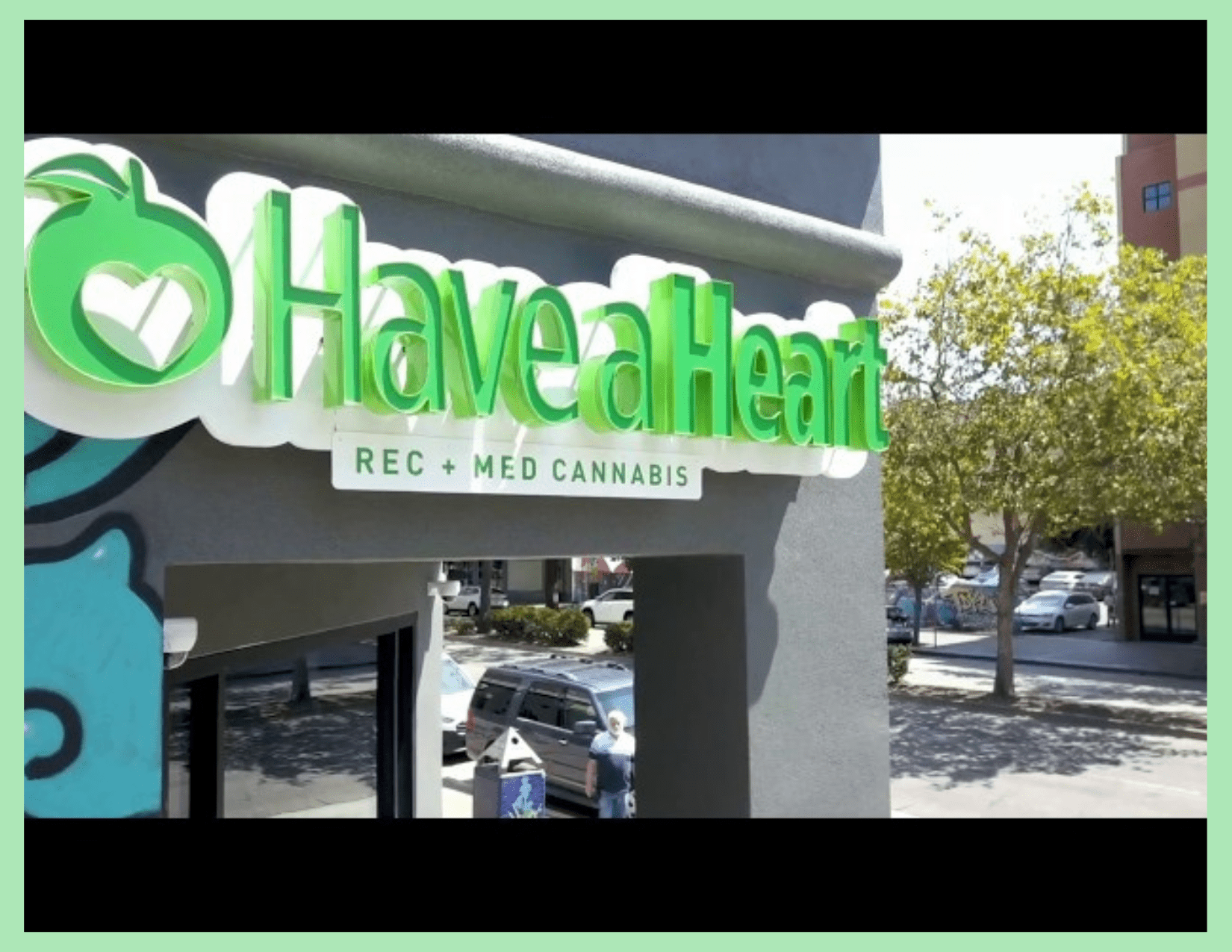 Hours:
Monday-Sunday 8am-11:45pm
Have a Heart is a wildly popular Seattle dispensary with five locations: Belltown, Bothell, Greenwood, Ocean Shores, and Skyway/Seatac. Their Belltown location is in the heart of downtown—surrounded by unique boutiques, coffee shops, and restaurants. Just minutes from Pike Place Market, it boasts stunning water views and promises a wonderfully relaxing shopping experience.
This is a recreational cannabis store, so you can choose from a vast inventory of THC products. You'll also need to be 21 to visit. Their impressive CBD selection includes dozens of unique products and staple items, including tinctures, edibles, vape cartridges, pre-rolls, capsules, topicals, honey, chocolate, pet products, and much more.
The offerings come in an array of potencies. Some contain small ratios of THC to CBD, while others have only CBD. However, one of the great things about this store is the incredibly knowledgeable staff. If you're unsure what you're looking for, they will be sure to hook you up right.
4. Ballard's Original Herbs House
Where: 716 Northwest 65th Street, Seattle, Washington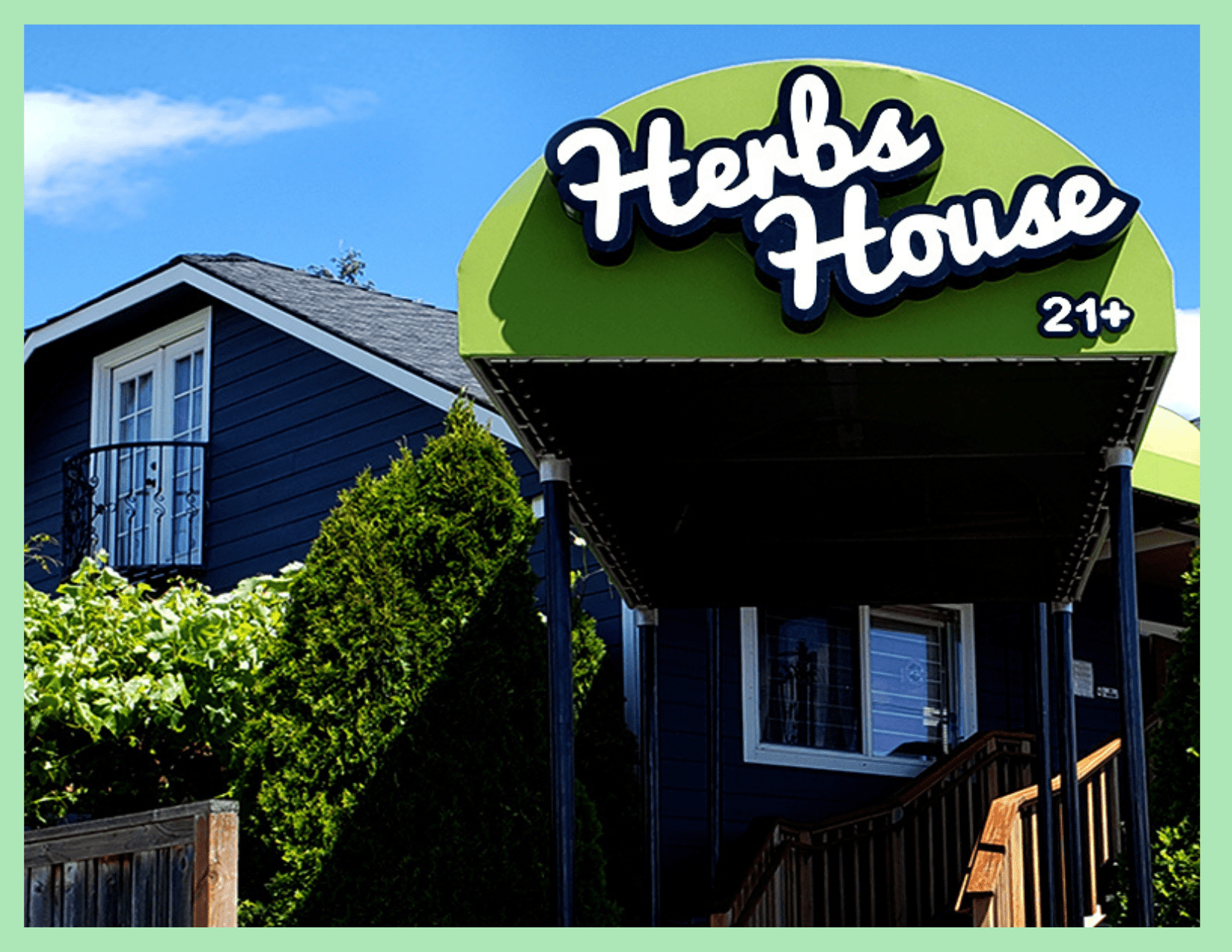 Hours:
Monday-Sunday: 8am-11pm
Dubbed by High Times as the "throwback shop" of Seattle's marijuana dispensaries, Ballard's Original Herbs House is, well… a house. Located just a step away from bustling Seattle, visitors can stop in and enjoy a bit of respite. Have a seat and relax by the fireplace, check out some murals by local artists, or have a conversation with one of the friendly budtenders. These knowledgeable employees will make sure you get the exact CBD product you need before you leave.
The shop offers dozens of CBD products in varying potencies, and like the other cannabis shops on our list, you can get your CBD straight up or with a small ratio of THC—your choice. For example, Herb's carries Journeyman's Berry CBD Jellies made with a 50/50 mix of CBD to THC. However, they also have a 30:1 version containing only 10mg of THC to 300mg of CBD.
They've also got capsules, dried flower, tinctures, topicals, vape cartridges, beverages, ginger mints—the list goes on. So if you're looking for a unique CBD product, you'll want to make the trip to this eclectic shop.
5. Herboriste
Where: 1308 Main Street, Vancouver, Washington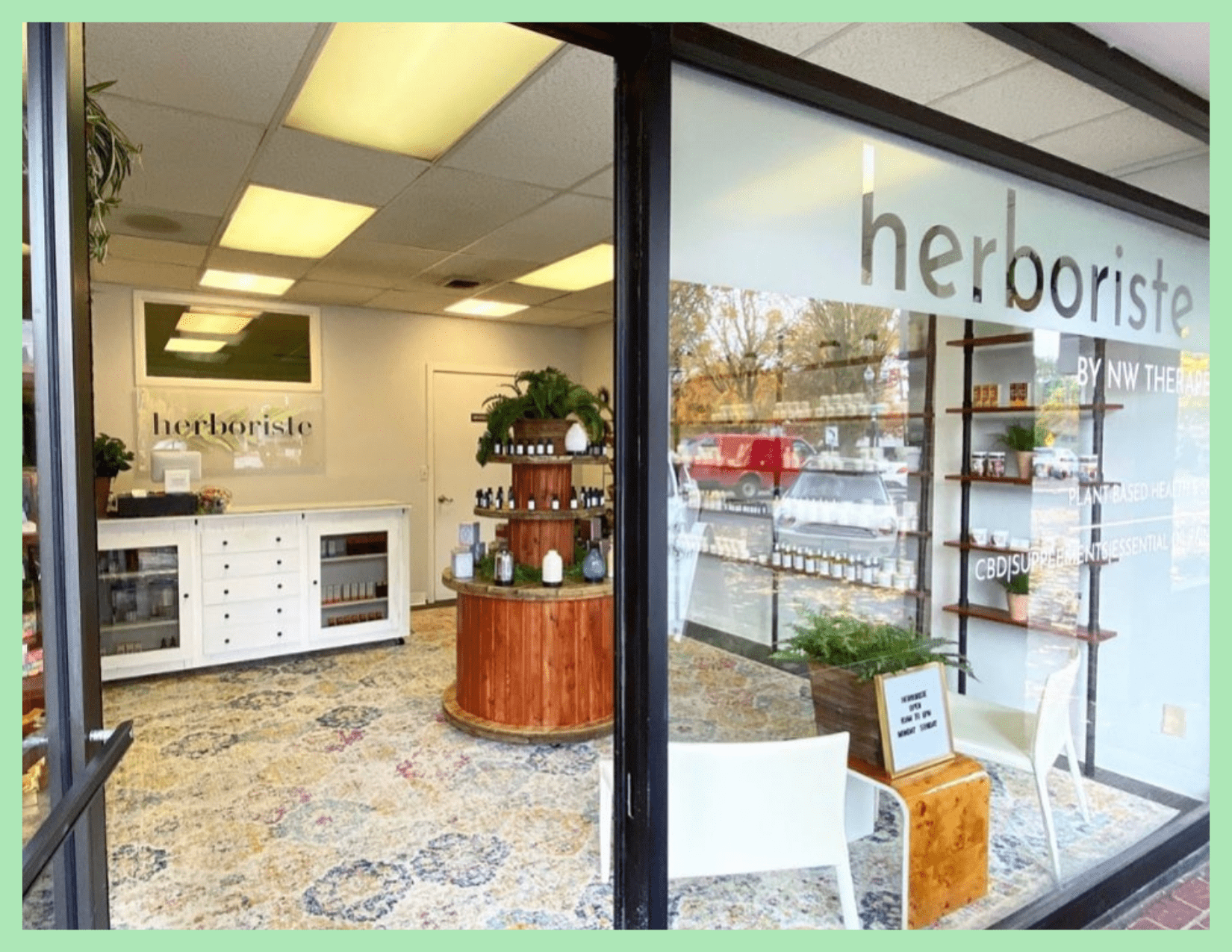 Hours:
Monday-Saturday: 10am-4pm
Sunday: Closed
Herboriste calls itself "Vancouver's Best Fully-Operational CBD Dispensary," and they live up to that tagline. The shop carries CBD products from nine exemplary brands, including three local makers: NW Therapeutics, Grön, and USA Hemp. If you're in Vancouver and looking for any type of CBD product, this is where you're going to find it. Selections at Herboriste include:
Oils and Tinctures
Tea and Other CBD Beverages
Vapes and Hemp Flower
Softgels and Capsules
Pet Products
Gummies and Chocolate
Honey Sticks
The entire NW Therapeutics topical CBD product line is manufactured in-house and includes creams, lotions, and oils formulated explicitly for muscle, nerve, and joint pain relief. Additionally, Herboriste also carries Delta 8 THC products. You can also order any of their fabulous products online and have them shipped. Or, if you live in the Vancouver/Portland area, you can get them delivered right to your door.
6. CBD of Spokane
Where: 101 North Stone Street, Spokane Valley, Washington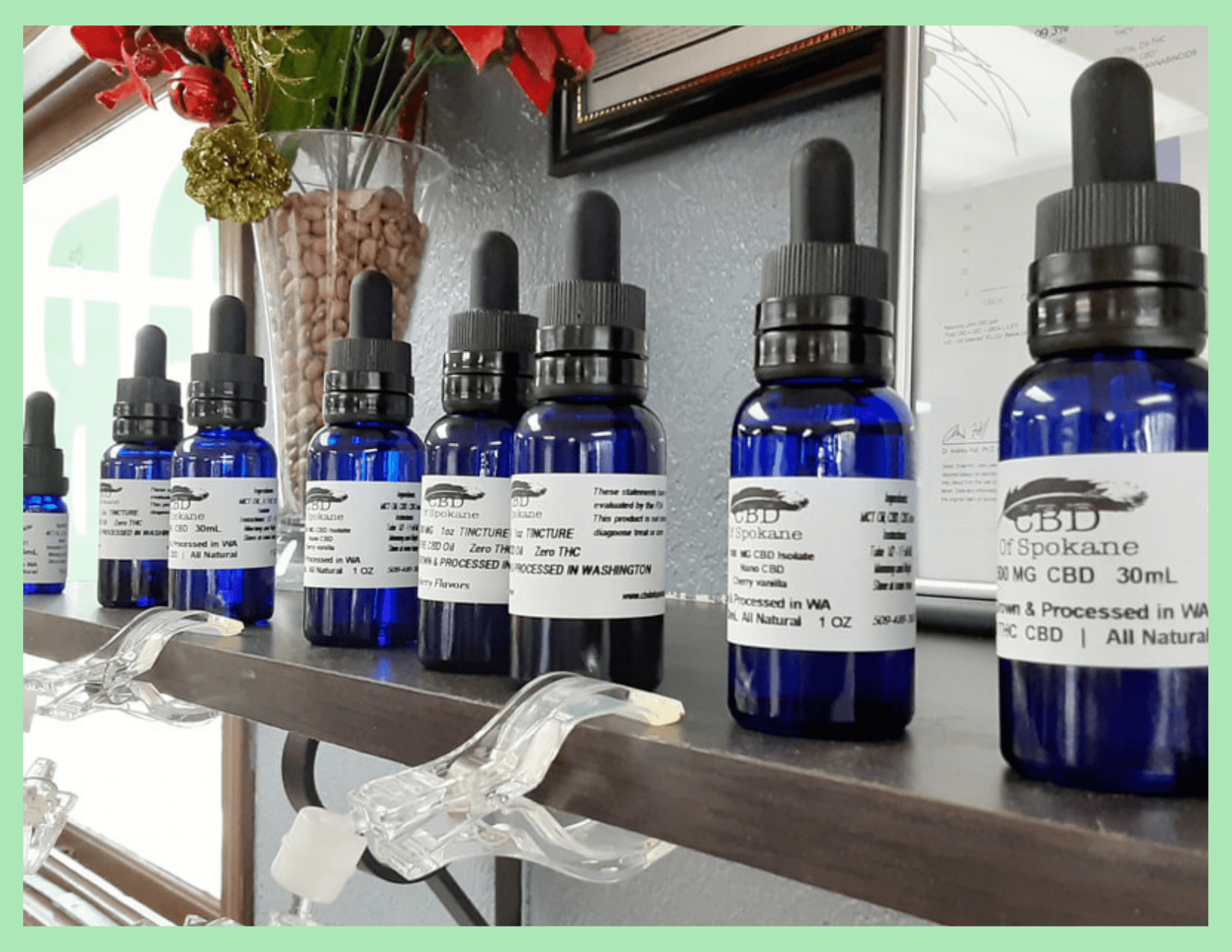 Hours:
Monday-Thursday: 10am-6:30pm
Sunday: Closed
CBD of Spokane is a franchise of American Shaman, a national brand with over 130 stores in dozens of states. The shops are designed to provide a relaxed, spa-like experience for clients, where they can try out the products and get one-on-one help from knowledgeable CBD consultants.
The Spokane Valley shop offers a massive range of in-demand products made with full and broad-spectrum CBD and other cannabinoids like CBG, CBDa, and CBN. They also have an excellent selection of Delta 8 products. The inventory includes:
CBD Oils
Topicals
Gummies
Capsules
Hemp Flower
THC-Free CBD Hemp Oil
Edibles
Tea
Candy
Water
Pet Products
A second location at 220 East Wellesley Ave in Spokane is also well stocked with American Shaman brand products.
7. The Novel Tree Medical
Where: 817 130th Avenue Northeast Suite C, Bellevue, Washington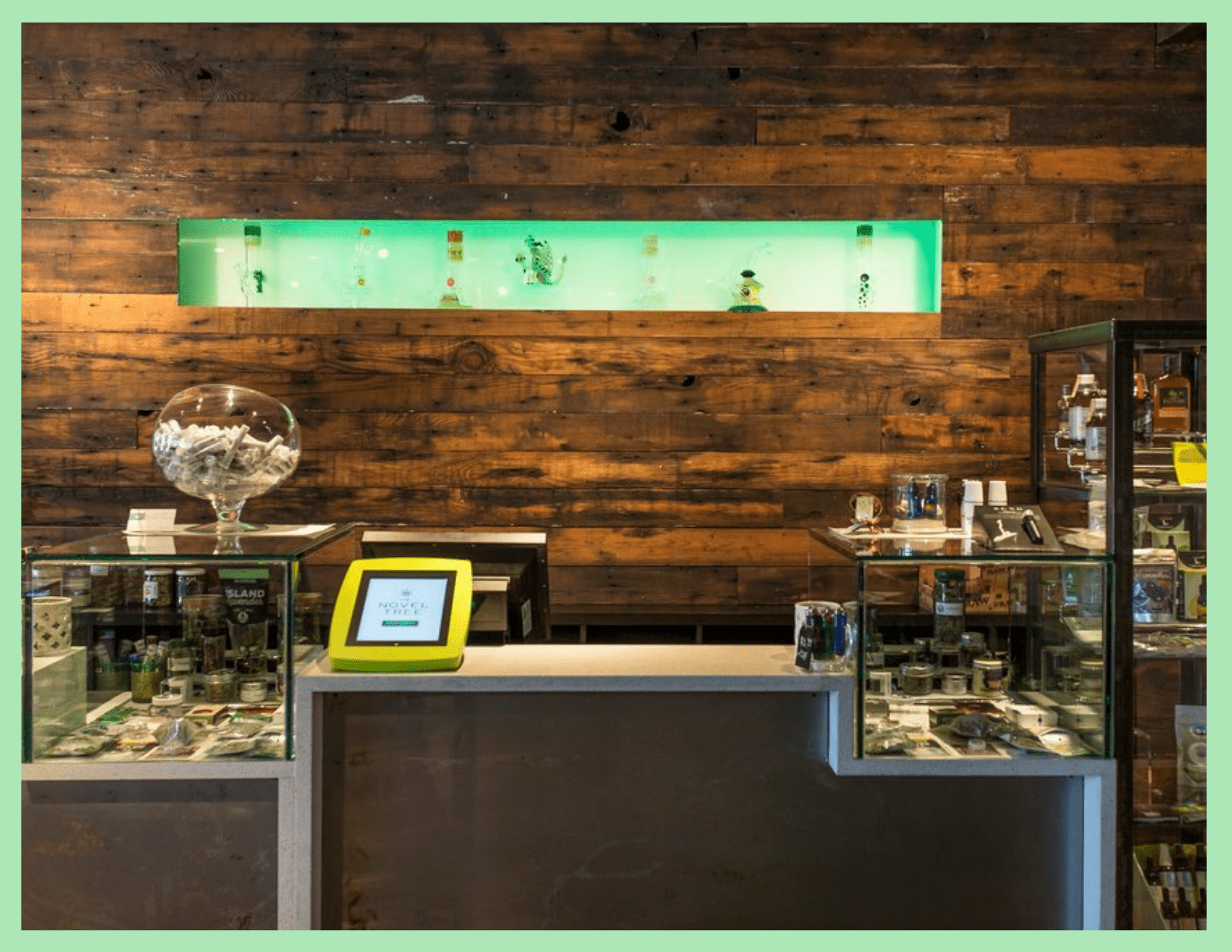 Hours:
Monday – Friday: 10am – 7pm
Saturday: 10am – 3pm
Sunday: Closed
The Novel Tree Medical caters to patrons who are looking for a more clinical setting. They offer a medical spa ambiance with a private consultation room. This store is ideal for medical patients who are uncomfortable with visiting a dispensary or recreational cannabis store to educate themselves about using CBD. Perfect for those new to the compound, it's a compassionate and discrete place to shop for CBD products.
As with other cannabis shops on our list, The Novel Tree Medical offers a wide range of CBD products, some containing only CBD and others with a combination of cannabinoids. If you like, you can schedule a free medical consultation to discuss your goals for wellness and help determine what product is right for you. You do not need a referral or medical authorization, as anyone in Washington over the age of 21 can legally purchase cannabis (including CBD).
Several trusted CBD brands are sold here, including Ceres, Fairwinds, Green Revolution, Polite, Double Delicious, Skagit Organics, and more.
8. American Harvest Cannabis
Where: 7550 US-97, Peshastin, Washington
Hours:
Monday-Sunday: 8am-10pm
Voted by Leafly as "The Best Dispensary to Take Your Mom To," American Harvest Cannabis is a great shop to visit if you're new to CBD. That's because their ultra-friendly budtenders are delighted to answer all of your questions and direct you to the products that will meet your needs. The store carries Cannaburst, Green Revolution, Fairwinds, and Verdure, and their CBD items feature an excellent inventory of vapes, CBD-infused drinks, and more.
You don't need a medical card to visit, but you will need to be 21 or older, and you'll have to present an ID. If you wish to get your medical card, American Harvest has state-certified MMJ consultants to help you obtain one. You can also order online, and they have curbside pickup available.
Located in the Wenatchee Valley, the shop is just outside of Leavenworth and well worth the trip. Leavenworth has some incredible events throughout the year, including Maifest, Oktoberfest, Bavarian Icefest, and a Christmas Lights Festival.
The Best CBD Stores in Idaho
9. Snake River Solace
Where: 2095 East 17th #6, Idaho Falls, Idaho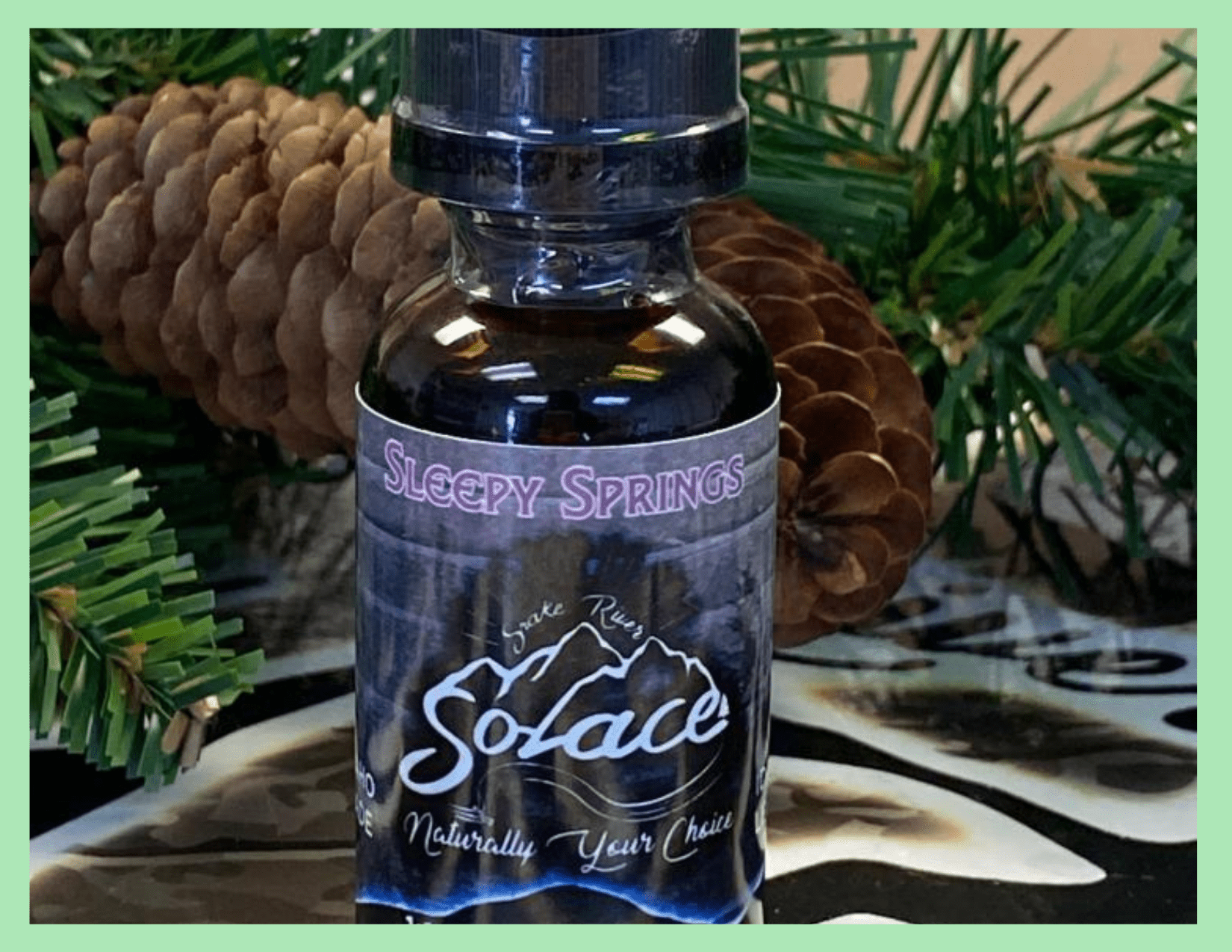 Hours:
Tuesday-Saturday: Noon-2pm and 3-6pm
Monday: Closed
Sunday: Closed
Hailed as "Southeast Idaho's First Premier Hemp CBD Store," Snake River Solace carries its own branded CBD products with zero THC. That means they are all made with either CBD isolate or broad-spectrum CBD. Snake River products are manufactured at the brand's production facility in Idaho and are third-party lab tested for potency and purity. Their inventory includes:
CBD Oil in several potencies and flavors
CBD and CBN tincture
Babbling Brooks CBD Massage oil Babbling Brooks
Babbling Brooks CBD Topical Cream
Rolling Rivers CBD Roll-on
CBD Pet Spray
CBD Tea
CBD Gummies
The store opened its doors in 2008 and is exceptionally well-reviewed. In fact, they have 105 five-star reviews, and the owner responds personally to each and every one of them. This is one of those places that people return to again and again, thanks to top-quality products and an ultra-friendly and knowledgeable staff.
10. Nugget CBD
Where: 1503 Broadway Avenue, Boise, Idaho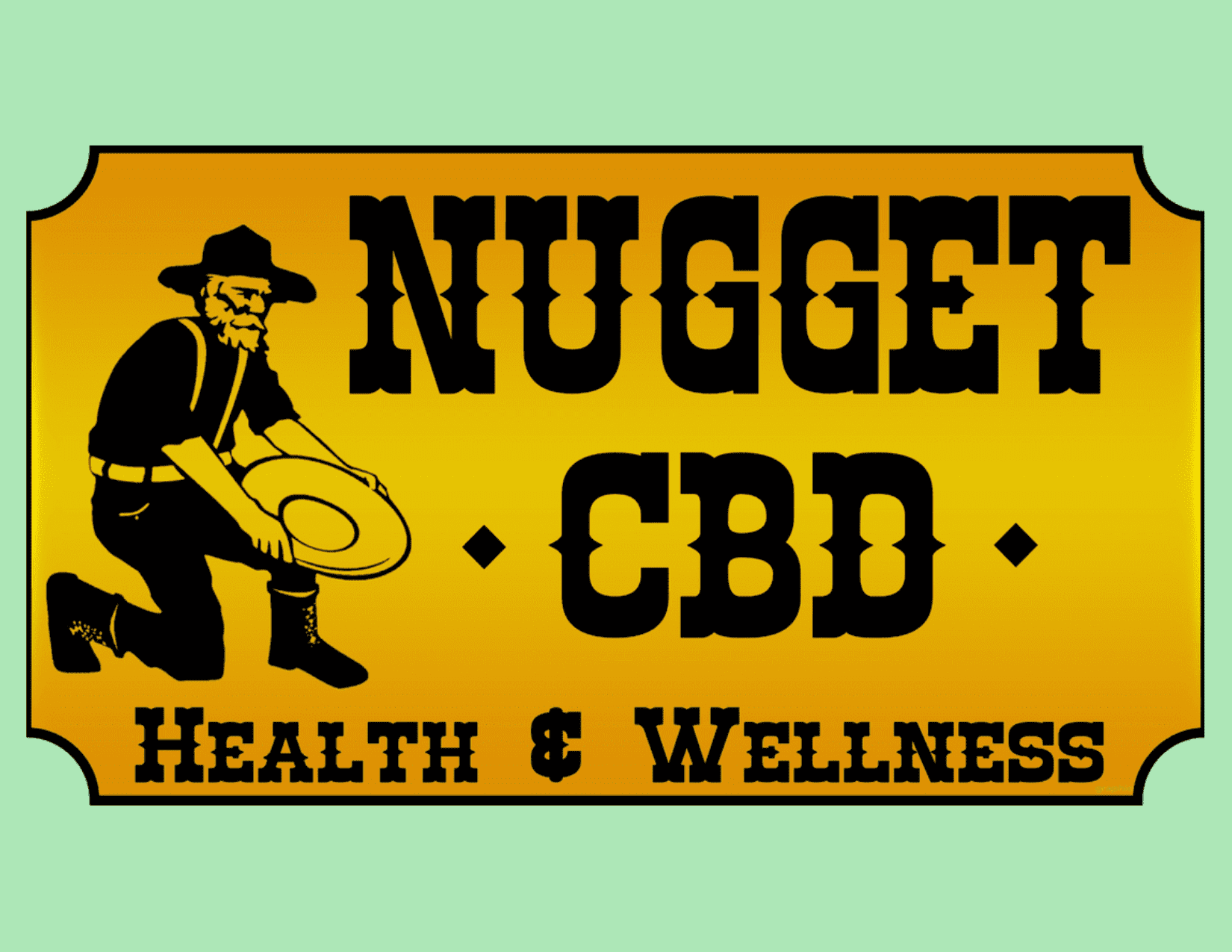 Hours:
Monday-Saturday: 10am-6pm
Sunday: 11am-5pm
Nugget CBD has established itself firmly in the Idaho CBD market. With five locations in Idaho and four in Oregon, it's safe to say they are one of the most popular CBD shops in the Pacific Northwest. In addition, their stores are well stocked with a massive array of reputable CBD brands, including:
cbdMD
BOBO Biscuits
Sandies Candies
Wyld CBD
Mule Extracts CBD
Social CBD
Sacred Herb Medicinals
CBDistillery
Grön
Infinite CBD
Honu Naturals
Sun God Medicinals
Mr. Moxey's Mints
Crystal Creek Organics
The store carries every CBD product you could possibly need—topicals, edibles, tinctures, pet products, and more. Some of the more unusual items you can get include CBD toothpaste, pain patches, lollipops, intimacy lubricant, soaking salts, wild pear gummies, etc. You can also check out Nugget's other retail CBD shops at:
Meridian: 1330 East Fairview Avenue, Suite #102
Nampa: 5840 East Franklin Road
Pocatello: 705 Yellowstone Avenue
Idaho Falls: 625 Pancheri Drive
11. Enliven CBD
Where: 2585 Caldwell Blvd #104 Nampa, Idaho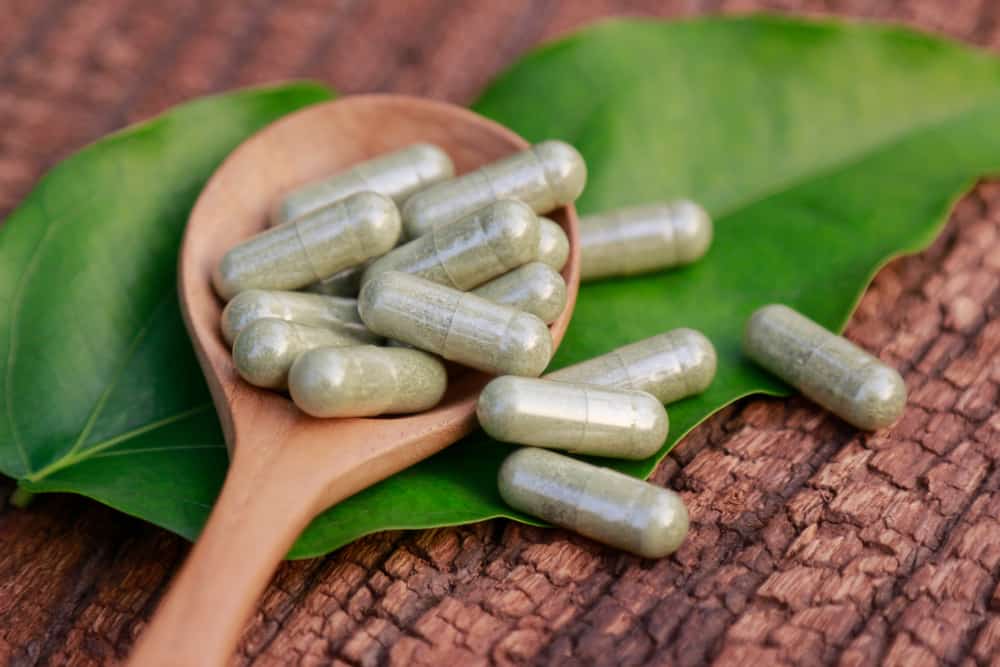 Hours:
Monday-Saturday: 8am-5pm
Sunday: Closed
This Veteran owned and operated CBD store in Nampa has a large selection of CBD products and a helpful and cheerful staff. Customers rave about how personable the owner is, and they also remark on the extremely reasonable prices. The space is large and airy (plenty of room for social distancing) with a boutique-like atmosphere.
Enliven has an excellent selection of CBD products, including tinctures, gummies, vape pens, pre-rolls, face masks, sunscreen, pain sticks, roll-ons, balms, creams, and CBD chewing gum. They even carry a few types of kratom capsules. In addition, they stock several popular brands: Dynamic CBD, Bio Spectrum, CBDistillery, Healthworx, Just CBD, and Koi, to name a few.
12. Your CBD Store
Where: 690 Blue Lakes Blvd N, Twin Falls, Idaho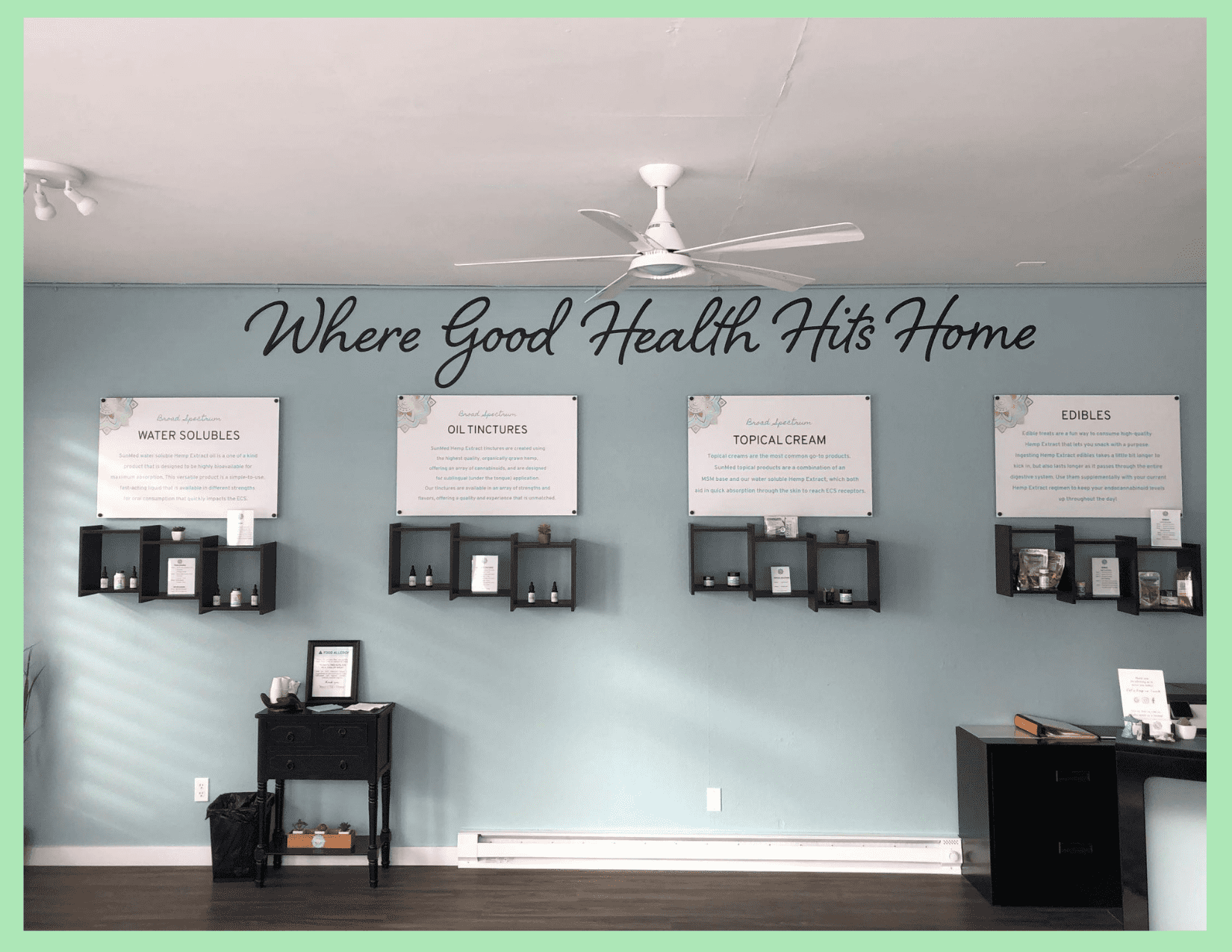 Hours:
Monday-Saturday: 10:30am-6:30pm
Sunday: Closed
Your CBD Store is a franchise developed by Rachael Quinn, who founded the first shop in 2018 in Bradenton, Florida. Together, she and her husband Marcus developed a CBD product line, SunMed. Today, they have over 300 stores across the US—pretty impressive for being in business for only four years!
Their product line is equally impressive, which explains the rapid growth of this chain. They carry a dozen different types of tinctures in various flavors and potencies, and you can get full-spectrum, broad-spectrum, water-soluble, whole-plant, and organic formulations. They even have a CBD weight-loss product called TRIM, containing Delta-9-V. Additionally, their inventory includes:
Edibles: Gummies, Hard Candy, Powdered CBD Beverage Sticks
Capsules: Full-Spectrum or Broad-Spectrum Soft Gels
Topicals: Roll-Ons, Creams, Serums, Bath Bombs, Bath Soaks, Lotions
Pet Products: Paw & Nose Balm, Tinctures, Treats
Your CBD Stores are all tastefully decorated and have a warm and pleasant atmosphere that makes them a pleasure to visit.
13. Global CBD LLC
Where: 205 North First Avenue, Sandpoint, Idaho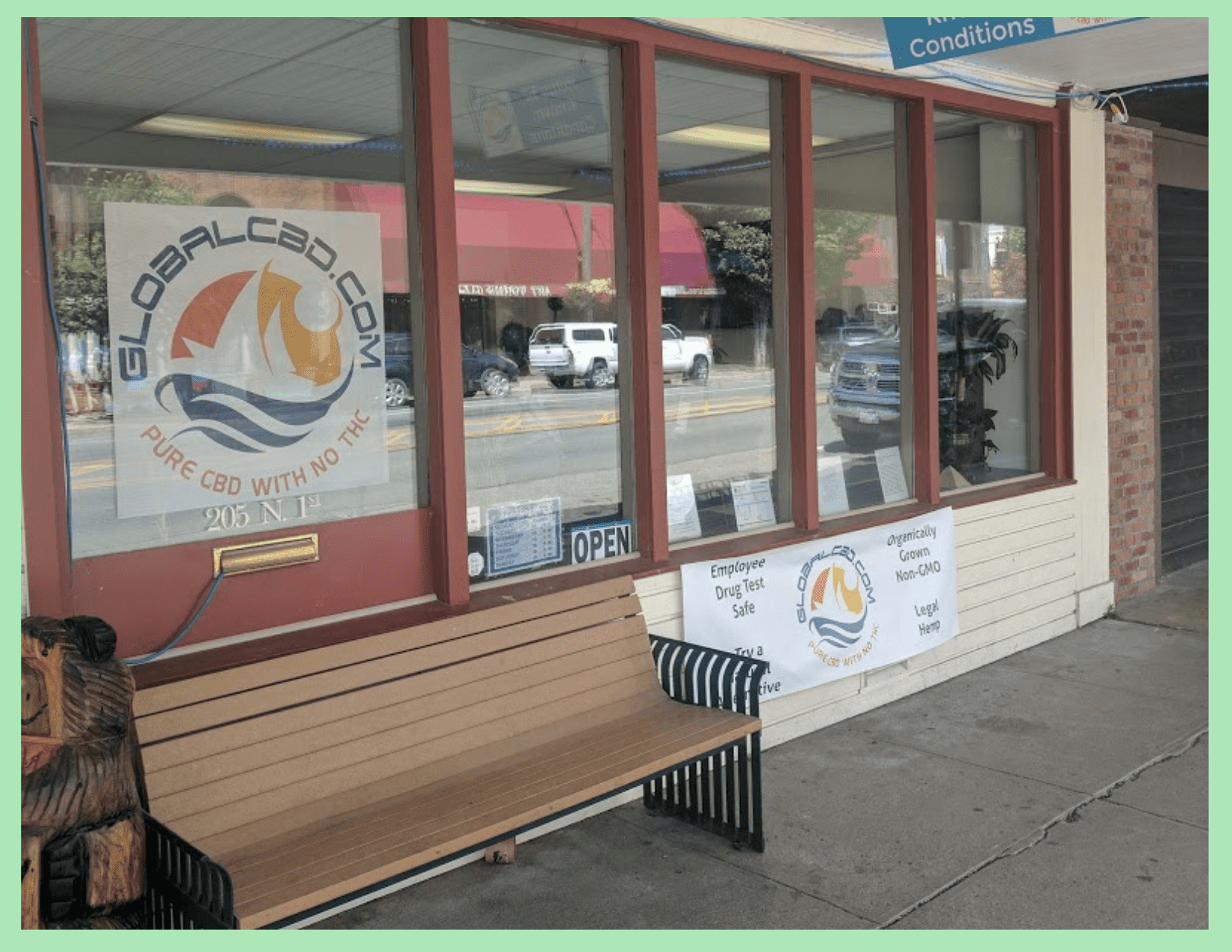 Hours:
Monday-Friday: 10am-2pm
Saturday: Closed
Sunday: Closed
Located in beautiful Sandpoint, Idaho, Global CBD LLC is a small shop that carries its own private label CBD. Their Nano CBD tinctures are third-party lab tested and THC-free, so they are ideal for those who have workplace drug testing or who are worried about the potential effects of a full-spectrum product. Most importantly, they are in compliance with Idaho laws.
These are blended tinctures that are formulated with various other natural compounds and designed to suit different needs. For example, here are the active ingredients for the blends:
Awaken Blend: CBD Isolate, Ashwagandha, Green Rooibos (Tea Leaf, No Caffeine), Ginkgo Extract
Chill Out Blend: CBD Isolate, Chamomile, Lavandin Root, Ginger Root, Licorice Root
Rejuvenate Blend: CBD Isolate, Chamomile, Lavandin Flower, Passion Flower, California Poppy
In addition to Global CBD's blended tinctures, they offer a complete-spectrum oil with a range of cannabinoids and terpenes, including CBD-A, CBDV, CBG, CBE, CBN, CBC, Bisabolene, Farnesene, Camphene, E-Farnesene, and Farnesol. Other available products include skincare, pet care, and transdermal CBD pain patches.
14. Happy Life CBD Bubble Tea & Coffee
Where: 537 North Milwaukee Street, Boise, Idaho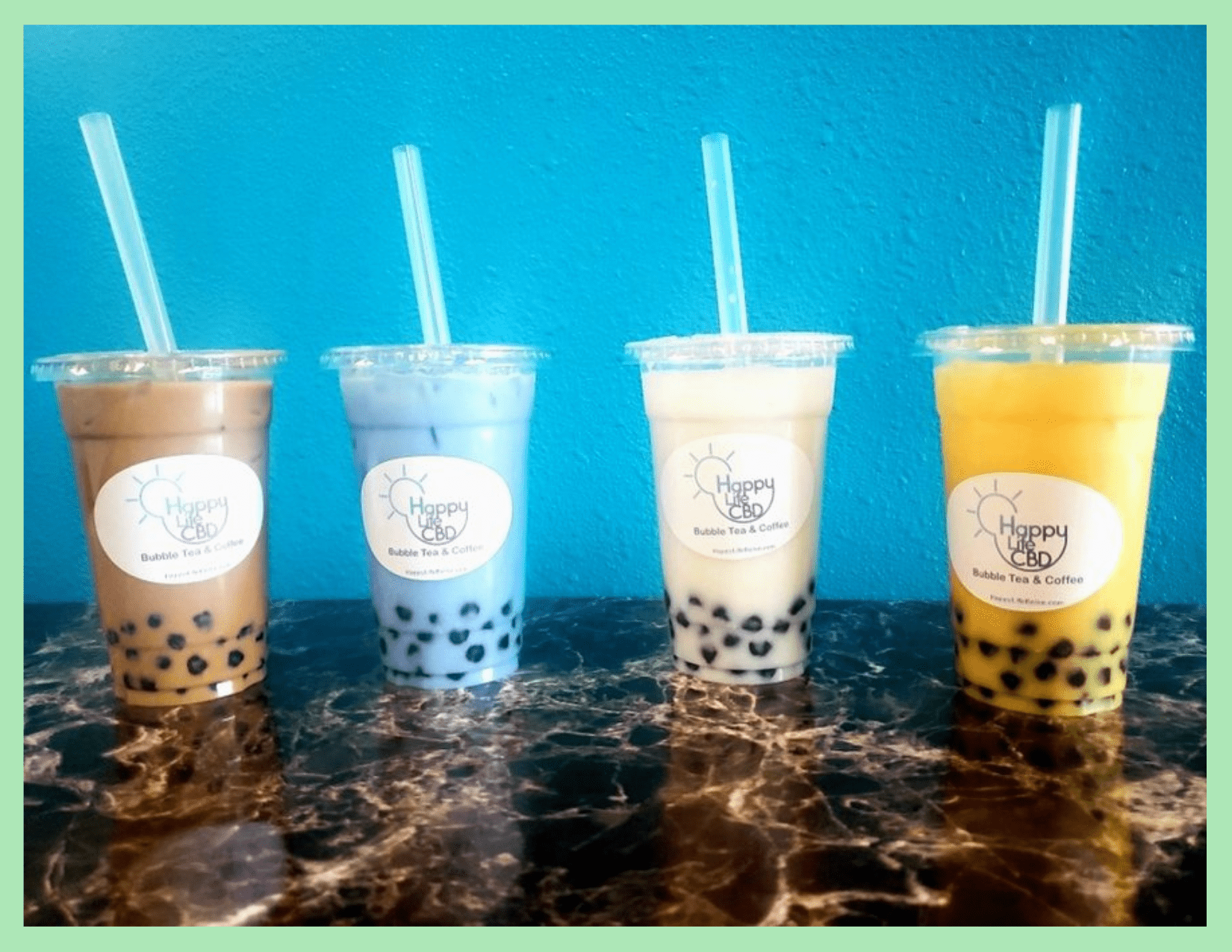 Hours:
Monday-Sunday: 10am-7pm
Happy Life CBD takes the prize for the most original CBD store in Idaho. This unique shop sells coffee and bubble tea in a variety of flavors to which they will add a shot of CBD if you desire.
Bubble tea (also known as boba milk tea) is a traditional tea-infused drink that originated in Taiwan in the 1980s. This fun beverage starts with a tea base to which any number of flavors are added. Then, it is mixed with a sweetener and tapioca—hence, the bubbles. Part drink, part dessert, there can be many variations of this popular beverage.
At Happy Life, you can choose from a vast list of flavors and ingredients like almond, pistachio, chocolate, coconut, vanilla, strawberry, pineapple, honeydew, lavender, mango, and much more. If you're in Boise, a stop at Happy Life for bubble tea or a cup of joe with CBD is a must.
The shop also has a website where you can purchase CBD products from an extensive list of top vendors, including cbdMD, Social CBD, Joy Organics, Infinite CBD, Creating Better Days, Funky Farms, Lift, Sunny Skies, and more. In addition, customers can choose from over forty unique CBD oils, edibles, topicals, capsules, pet products, etc.
15. White Pine Organics CBD
Where: 10388 West Overland Road, Boise, Idaho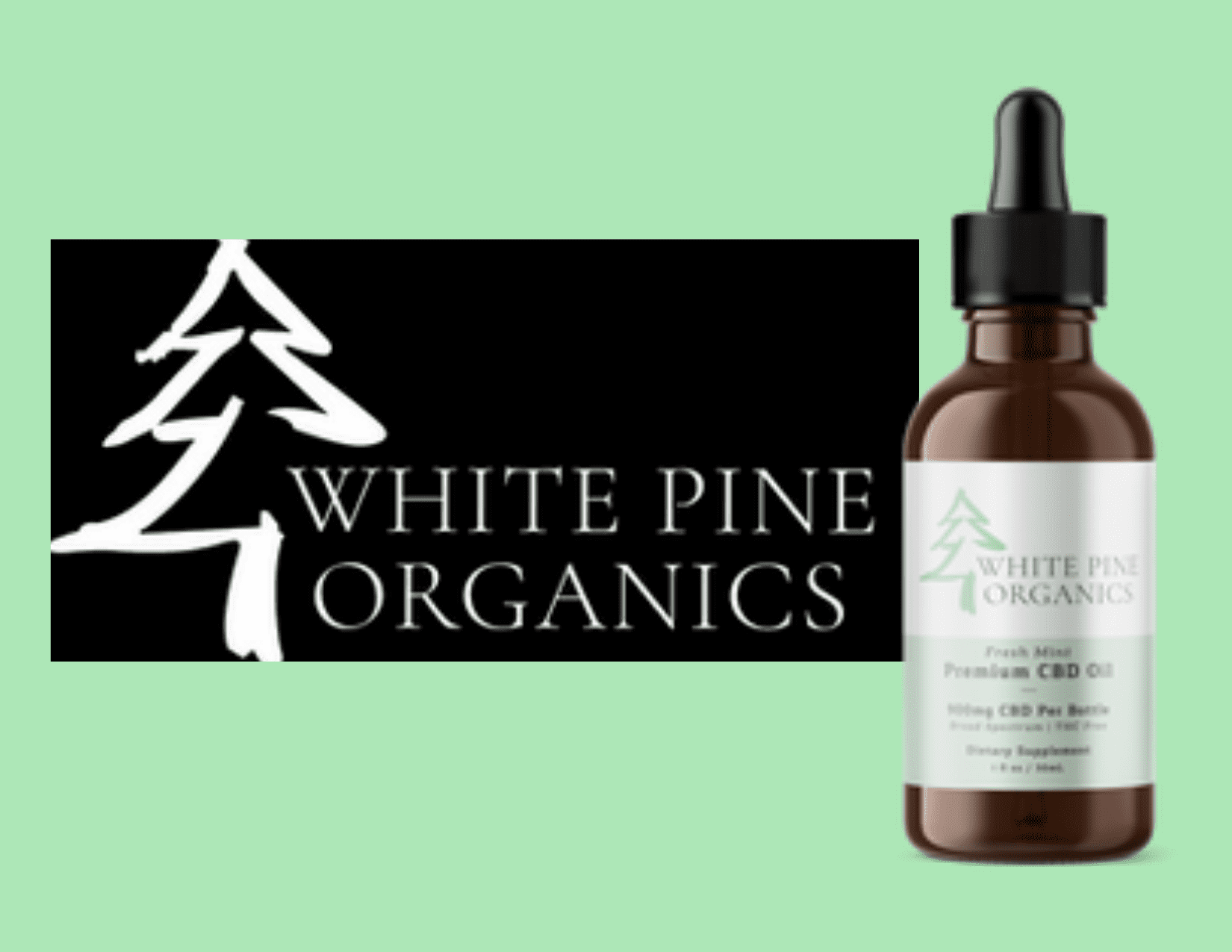 Hours:
Monday-Friday: 10am-8pm
Saturday: 10am-9pm
Sunday: 10am-6pm
White Pine Organics was founded in 2020 by husband and wife team Tarna Estrada and Kyle Rognlie. Having successfully used CBD for a few years prior, they decided to create their own line of safe and effective products, and White Pine Organics CBD was born.
The store is spacious yet cozy, and they carry only the White Pine Organics brand. Among the products offered, patrons will discover:
CBD Softgels: Some formulated with melatonin, some with curcumin, and others with just broad-spectrum CBD
CBD Tinctures: Offered in several potencies and flavors, including orange citrus, fresh lemon, and fresh mint
CBD Gummies: In strawberry-lemonade or green apple
CBD Pet Products: Beef flavored dog chews
CBD Topicals: Choose from a CBD sports cream, lavender-eucalyptus salve, or an unscented pain stick
Customers who visit the Boise shop can expect one-on-one attention and an educational consultation if they would like one. Of course, you can purchase all of White Pine Organics' products online as well.
The Best CBD Stores in Alaska
16. Enlighten Alaska
Where: 2600 Spenard Road, Anchorage, Alaska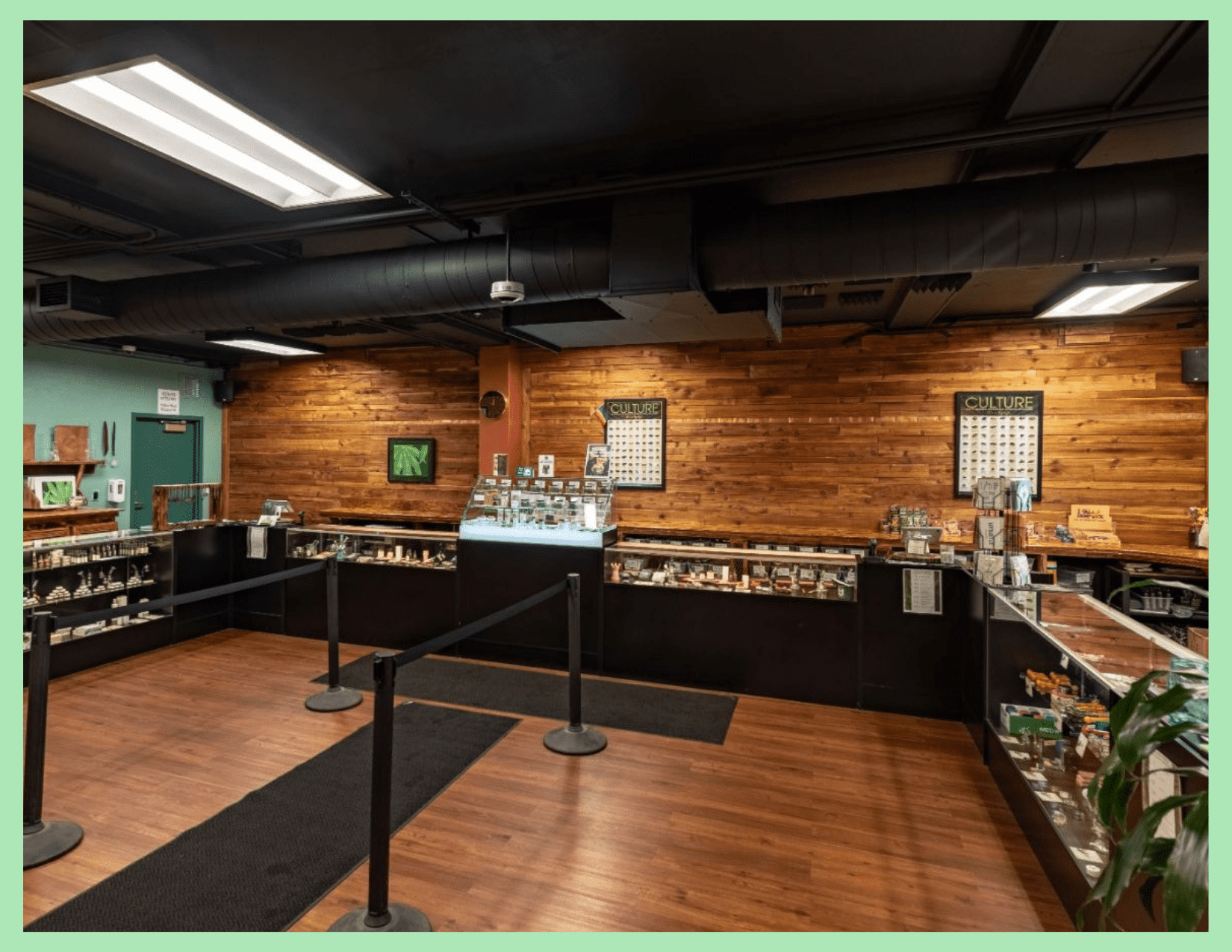 Hours:
Monday-Saturday: 9am-11pm
Sunday: 9am-9pm
Enlighten Alaska was one of the first cannabis retail stores in the state. They opened in 2017 on the corner of 26th and Spenard Road. Their 22 team members view themselves as stewards of the cannabis industry, taking that responsibility seriously. At any given time, you can walk into Enlighten and be greeted by a friendly and knowledgeable budtender who will answer your questions and help you choose the product that is right for you.
The store has the usual cannabis offerings, but they also have a great selection of CBD products from Frontier CBD, Alaska Ruff, Top Hat Concentrates, Denali Hemp Company, Hempire, and Extract Labs. Some of the products are a mix of THC and CBD, while others contain only CBD.
For example, you can order Top Hat Concentrates' Caramel Cookie CBD Co2 Cart, an indica vape product that contains 27.05% THC and 44.89% CBD. But you can also get Frontier CBD's Salted Caramel Tincture that contains only trace amounts of THC. So your best bet at Enlighten is to ask questions since they are incredibly accommodating to newcomers.
17. Piece of Mind Cannabis
Where: 221 East 5th Avenue, Anchorage, Alaska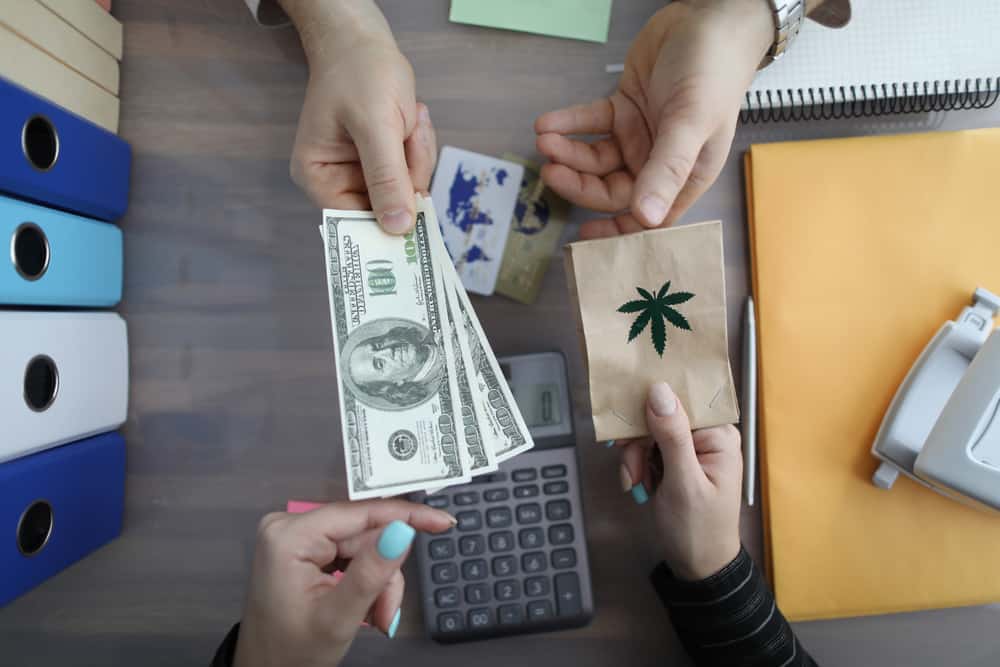 Hours:
Monday-Sunday: 9am-11pm
Piece of Mind Cannabis has several locations in the Pacific Northwest, including stores in Bellingham, Pullman, North Spokane, and South Spokane, Washington. The Piece of Mind Cannabis store in Anchorage is their newest venture. It's a cannabis retail boutique with an amazing vibe.
Customers over 21 can stop into the shop and browse an array of products, or they can order online and pick up their items later on. The best way to shop for CBD at Piece of Mind is to visit directly and speak with one of the helpful budtenders who can direct you to the products that will suit you the best.
Customers remark not only on how courteous the staff at Piece of Mind is but also rave about this Anchorage CBD store having the lowest prices in town.
18. Denali Dispensaries
Where: 225 East 5th Avenue, Anchorage, Alaska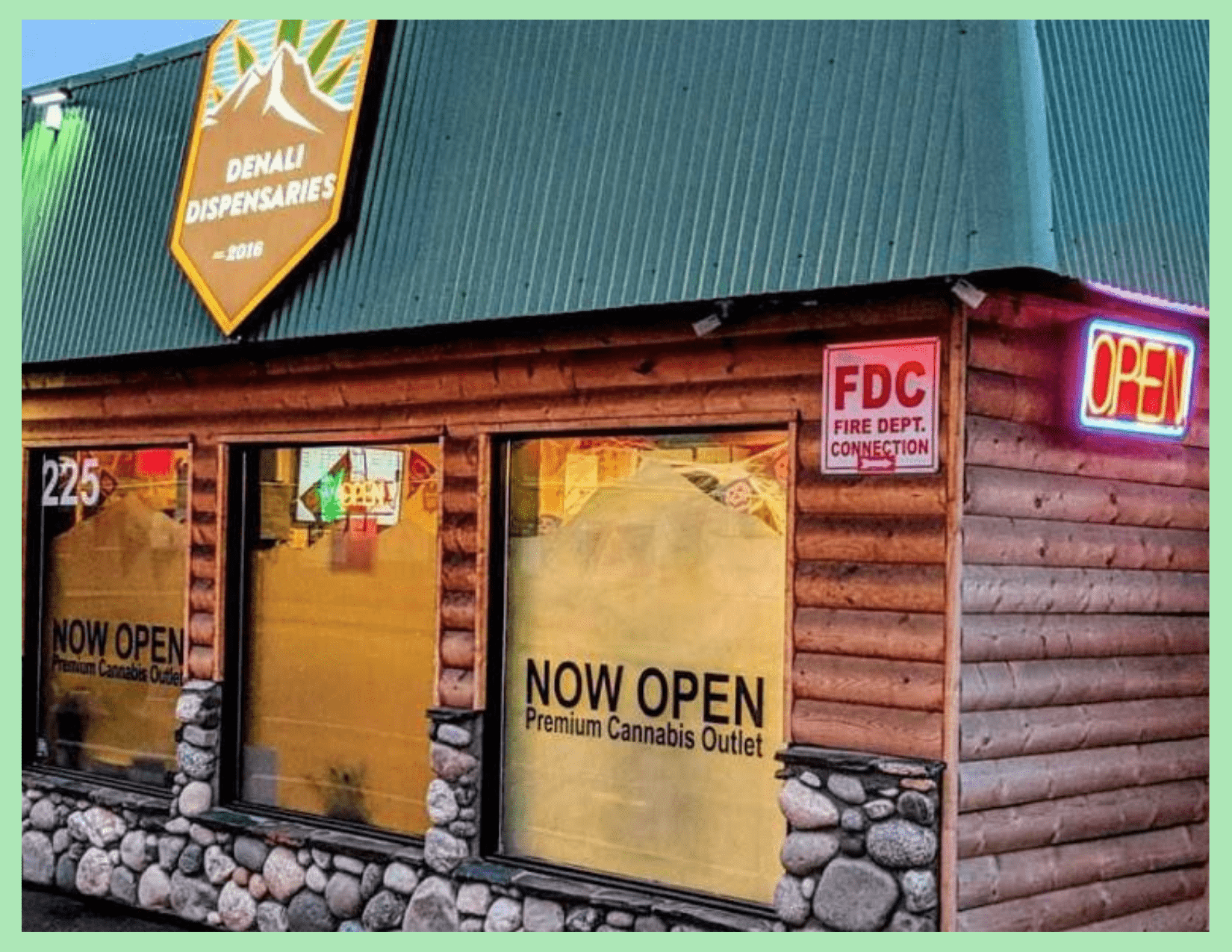 Hours:
Monday-Thursday: 8am-10pm
Friday-Saturday 8am-11pm
Sunday: 9am-9pm
Just a few doors down from Piece of Mind, you'll find Denali Dispensaries. Founded in 2016, this shop has a warm and welcoming atmosphere, excellent service, and award-winning cannabis products.
Amongst the massive inventory of cannabis products, customers will also find a decent selection of CBD products from brands like Frontier CBD, Social CBD, Canamo, and Willy's Remedy. The store carries:
CBD Pet Tinctures
CBD Drops, Tinctures, and Oils
CBD Blue Velvet Pre-Rolls
Rainbow Bites CBD + Melatonin
CBD Salve
CBD Sparkling Water (Raspberry-Lime, Black Cherry, and Natural)
CBD Peppermint Loose Leaf Tea
19. Alaska Buds
Where: 660 Third Avenue Suite B, Bethel, Alaska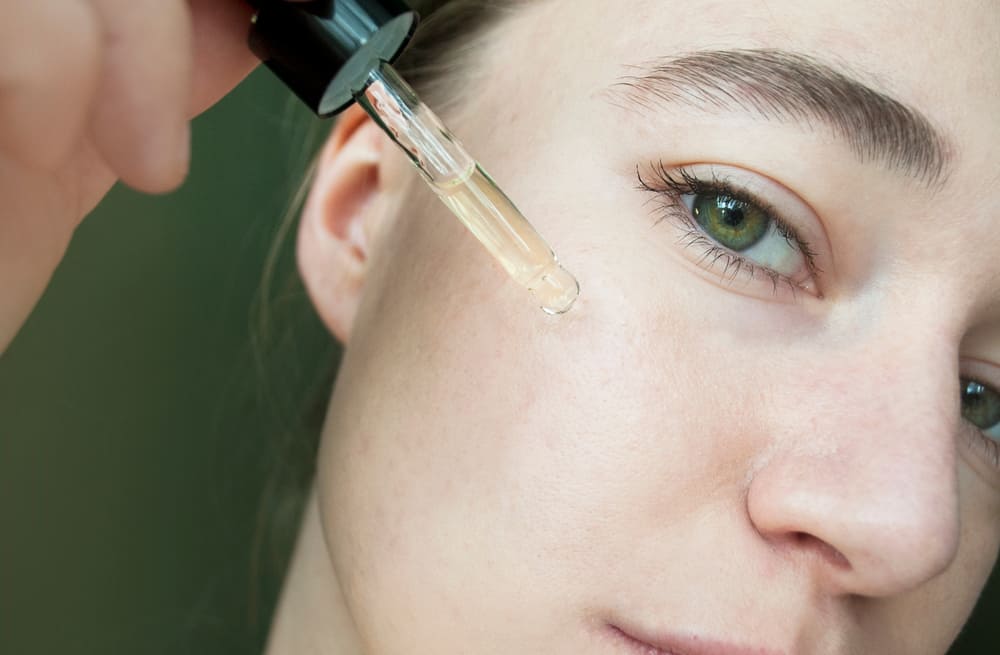 Hours:
Monday-Sunday: 11am-9pm
Alaska Buds is a recreational cannabis store with locations in Bethel and Anchorage. Open seven days a week, they have won the coveted "best of Weedmaps" award for high-quality selections and excellent customer service.
You can visit this shop or the 5th Avenue location in Anchorage to talk to any budtender about your specific CBD needs, and you can also order from the company's extensive online menu. With over six pages of CBD products to choose from, you're sure to find something that will meet your needs. A few of the most popular CBD offerings you can get from Alaska Buds include:
CBD Drops from Canna Trading Company
Watermelon Kush E-Liquid from Hemp Bombs
CBD Eye Serum from CBD for Life
Broad-Spectrum CBD Pet Tincture from High Expedition
CBD Beard Balm from Hemp Bombs
CBD Raw Alaska Honey from Renew
CBD Black Cherry Sparkling Water from High Expectations
Of course, this is just the tip of the iceberg when it comes to the CBD products you can purchase at Alaska Buds.
20. Releaf Alaska
Where: 910 West International Airport Road, Anchorage, Alaska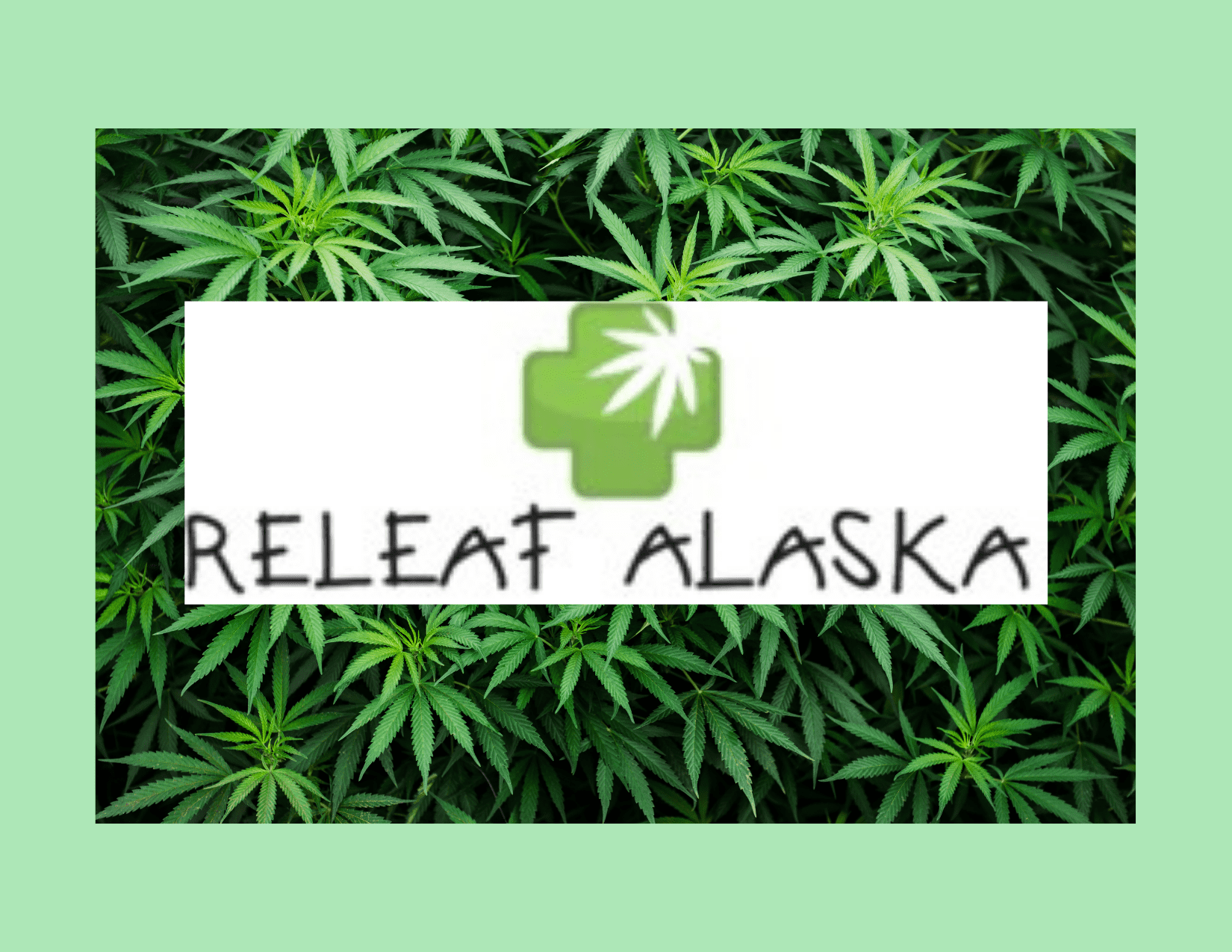 Hours:
Monday-Saturday: 10am-7pm
Sunday: Closed
While most of the Alaskan shops we've found sell all types of cannabis, Releaf Alaska is one of the only stores in the state devoted entirely to CBD products. They have a super-catchy motto: "We are "Dedicated to the Medicated" by helping you heal with CBD and Plant Based supplements."
So, what will you find at Releaf Alaska? To start with, all of their products are made with legal industrial hemp and contain less than 0.3% THC. In addition, they offer free local delivery if you can't make it into the shop, and for those outside of the area, they offer free delivery on orders over $50.
Product offerings include:
Over nine CBD tinctures in varying potencies and flavors
Dozens of CBD Edibles: Honey sticks, tea, chocolate, gummies, beverage packets, lozenges, lollipops, and more
Pre-rolls and CBD cigarettes
CBD pet products, including tinctures and treats
Tons of CBD topicals like serum, lotion, pain freeze, cream, lip balm, soap, toothpaste, salve, and more
CBD vape products, including cartridges and batteries
Releaf Alaska also carries a wide selection of other nutritional supplements like Chaga, lion's mane coffee, Rhodiola, and more.
21. Magical Gardens
Where: 12656 Kenai Spur Highway, Kenai, Alaska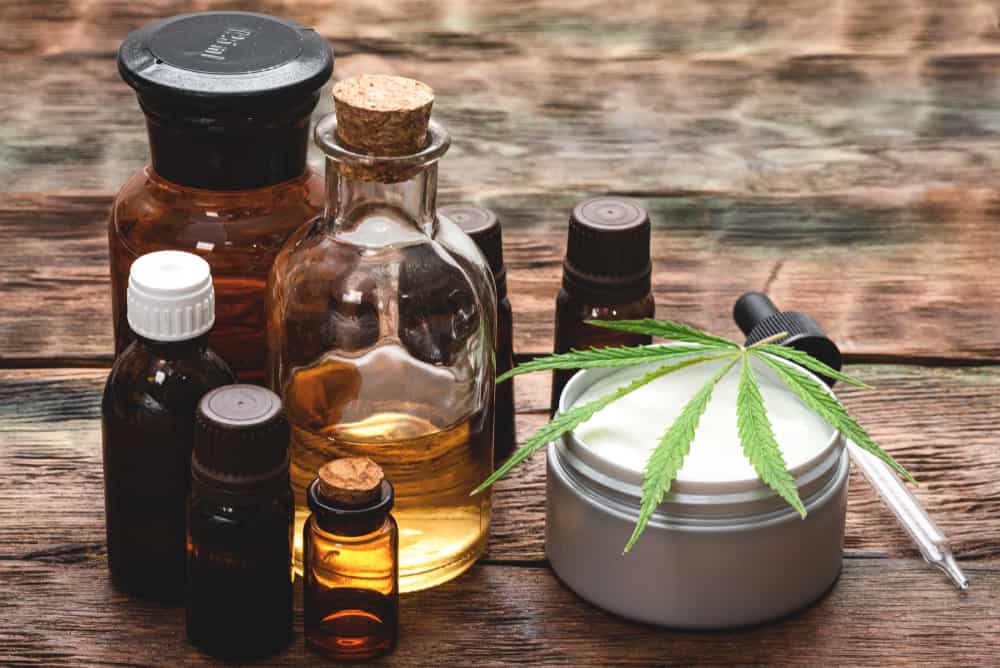 Hours:
Monday-Saturday: 12pm-7pm
Sunday: Closed
If you're visiting the coastal Alaskan city of Kenai, a trip to Magical Gardens is in order. This highly-rated shop has a startling array of top-shelf CBD brands to choose from, including:
CBD Living
CBDistillery
Charlotte's Web
Sunsoil
Medterra
Myriam's Hope
Funny Farms
Lazarus Naturals
Hemp Bombs
Magical Gardens also carries a vast inventory of tinctures from Bluebird Botanicals, a Certified B Corporation that has been widely recognized by several publications and industry associations.
As far as products go, this store may have the widest selection of any of the best CBD shops in the Pacific Northwest. They offer hundreds of CBD products—too many to list. You can shop for tinctures, capsules, edibles, pet products, topicals, drinks, vapes, and much more. A few of the products that stand out include Honest Paws Hemp Infused Peanut Butter for Pets, Hemp Bombs CBD Hangover Patch, and Steep Fuze CBD Coffee.
22. Great Northern Cannabis
Where: 541 West 4th Avenue, Anchorage, Alaska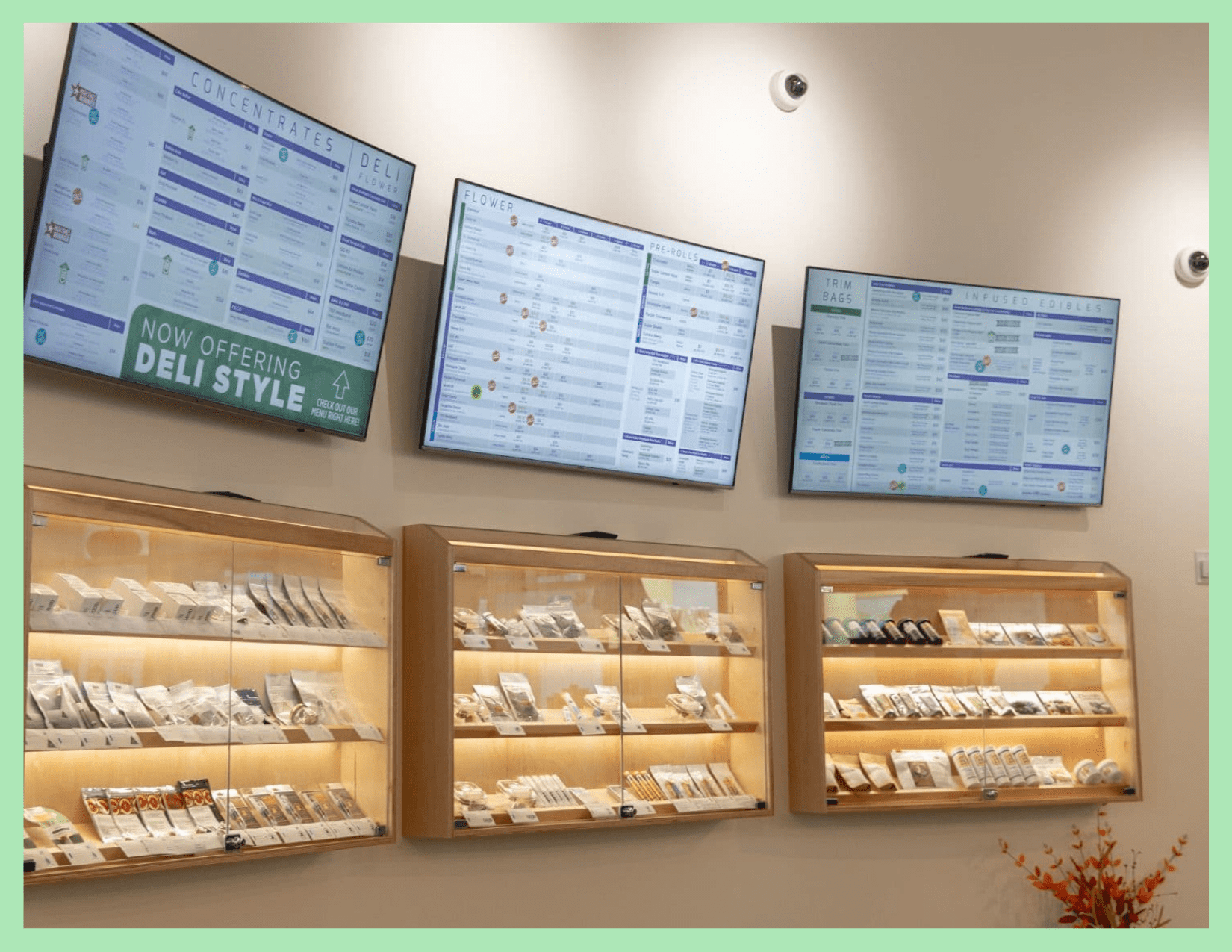 Hours:
Monday-Sunday: 9am-Midnight
Great Northern Cannabis is one of Alaska's most well-known dispensaries and is also one of the best shops in TPN to get high-quality CBD products. They have three great locations: Downtown, Dimond, and Tudor. All of the shops carry the same type of inventory, and you can order ahead for pick up if you would like. Another huge plus with Great Northern Cannabis is their hours—you can visit seven days a week from nine am to midnight.
You'll need to be 21 to stop by since this is a traditional recreational weed shop. However, there are plenty of THC-free products to choose from as well. Here are just a few of your options:
Hhemp CBD + CBG Chief Stix
FCBD 100mg CBD Fresh Rain Bath Bombs
SMK CBD Infused Salmon
GNC 900mg Orange CBD Tincture
SCBD CBD Balance Gel Capsules
SCBD 750mg Pomegranate CBD Tincture
FCBD Lavender CBD Salve
FCBD Hemp Bomb CBD Pain Patch
Visiting the downtown Great Northern Cannabis location is a treat in itself. This open, airy space has a spa-like feel with gorgeous displays and lighting. You'll also find friendly and knowledgeable employees who will go out of their way to make sure you find the CBD product you need before you leave the store.
The Best CBD Stores in Oregon
23. Kaleafa
Where: 19197 South Molalla Avenue, Oregon City, Oregon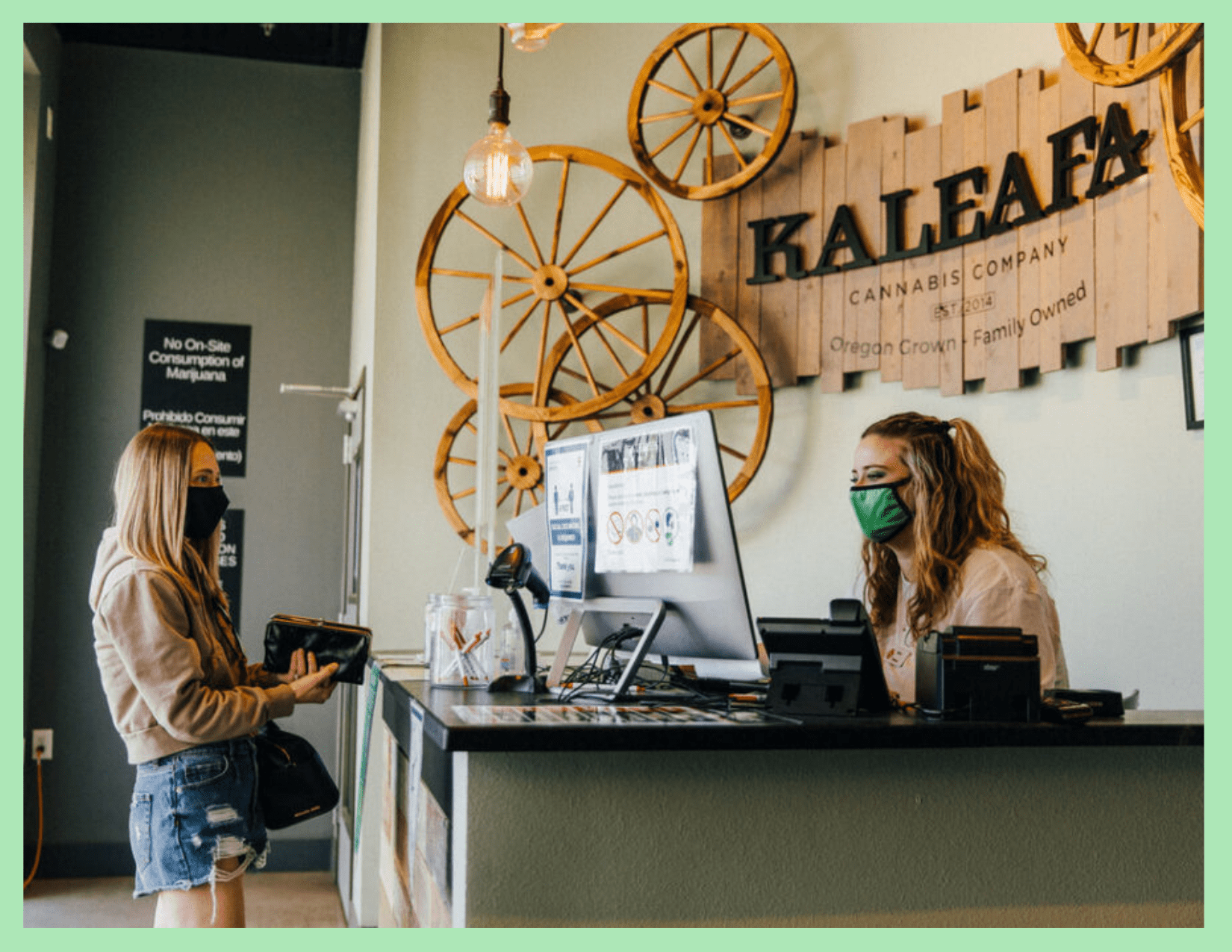 Hours:
Monday-Sunday: 8am-10pm
Kaleafa claims to be "The Northwest's Premier Cannabis Dispensary Experience," and we would have to agree. The company has 10 locations—eight in Oregon and two in Washington, all staffed by experienced and friendly budtenders who are ready to serve you.
You'll find all the usual THC-infused products and loose flower at the shops, plus a great selection of CBD products. Some of the products are formulated with only CBD and other non-psychoactive cannabinoids, while others have a small ratio of THC. Choose from edibles, tinctures, topicals, capsules, and vape products. There are 88 CBD products in all at the Oregon City location. A few of the most popular items include:
Honu CBD Dark Chocolate Peppermint Patties
Angel CBD Drops in a wide range of potencies and flavors, including peppermint and lemon-ginger
CBD Citrus-Berry Shots
Grön CBD Chocolate Bars with a CBD/THC mix
Rick Simpson Oil, waxes, terpenes, and crystalline
Topicals like lotions, bath salts, massage oils, and relief cream
24. Oregon CBD Company
Where: 1989 Santiam Highway Southeast, Albany, Oregon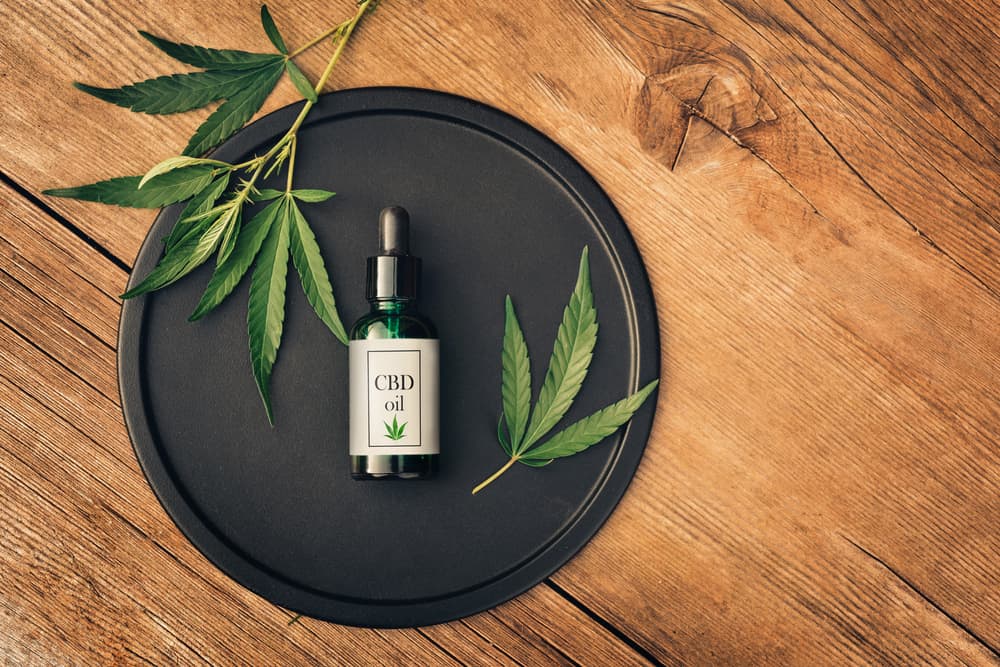 Hours:
Monday-Sunday: 10am-7pm
Albany, Oregon is a small, bustling city filled with historical architecture, cozy bed & breakfasts, award-winning dining, and plenty of activities to fill your days and nights. If you venture to this area, be sure to stop at Oregon CBD Company.
As Albany's first CBD store, they have an excellent selection of products for their customers to choose from. You can pick up your selections curbside, visit the store in person, or order online and have them shipped to your door. They carry tinctures, vapes, concentrates, edibles, loose flower, pet products, topicals, capsules, and more. A few of the most popular items include:
Otto's CBD Cider: Hopped Apple, Pineapple Passion, or Pear Rhubarb
Pet Releaf Edibites
Filed Smokes Hemp Cigarettes
Mr. Moxie's CBD Mints
Social CBD Pain Balm Stick
Hemp Bombs CBD Freeze Gel
Oregon CBD also offers an in-house one-gram CBD pre-roll for just $8.00 and a nice selection of Delta 8 products.
25. CBD Hemp Store
Where: 230 E Main Street Suite A, Hillsboro, Oregon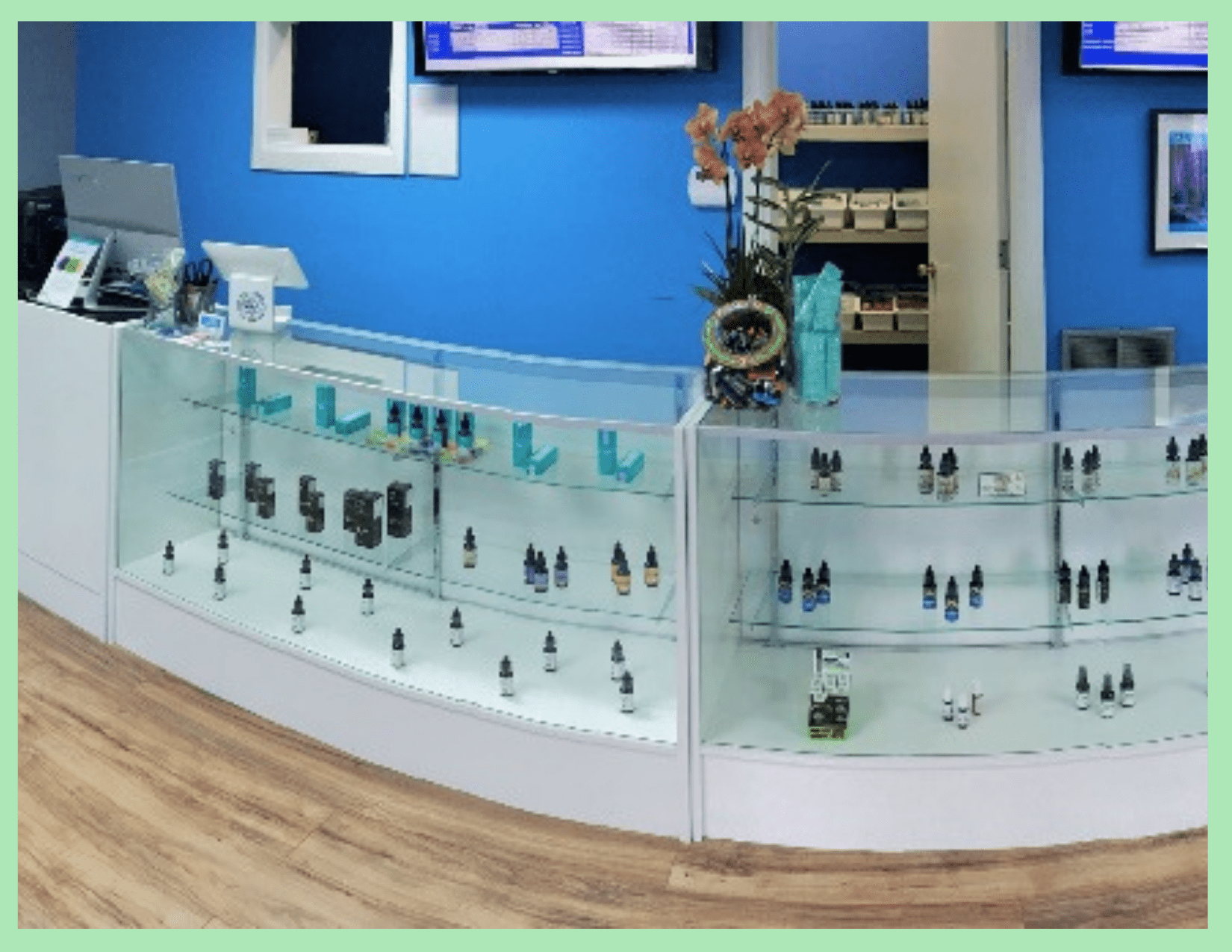 Hours:
Monday-Sunday: 10am-7pm
The CBD Hemp Store in Hillsboro is a favorite among Oregon customers. They are stocked with some of the most well-known brands in the Pacific Northwest, including Ablis CBD Infusions, Roots of Life, Flora Sophia Botanicals, Healthy Roots Hemp, Smokiez Edibles, Gron CBD, Wyld CBD, and Nightingale Remedies.
The store has a large selection of CBD tinctures in potencies ranging from 600 to 2500 mg of CBD per bottle. In addition, you can choose from full-spectrum, broad-spectrum, or TFC-free CBD oil. They also carry some fantastic topicals from Roots of Life, including THC-Free Icy Rub, CBD Muscle Gel, and CBD Citrus Lotion.
If you're looking for CBD edibles, they've got an excellent selection in this category too. You'll find CBD tea, chocolate, taffy, gummies, and more. They also carry capsules, vapes and concentrates, and CBD pet products.
A sister store, Seaside CBD Outlets, is located at 1111 N Roosevelt Drive Ste 324 in Seaside.
26. CBD American Shaman Portland
Where: 315 South Montgomery Street Suite 330, Portland, Oregon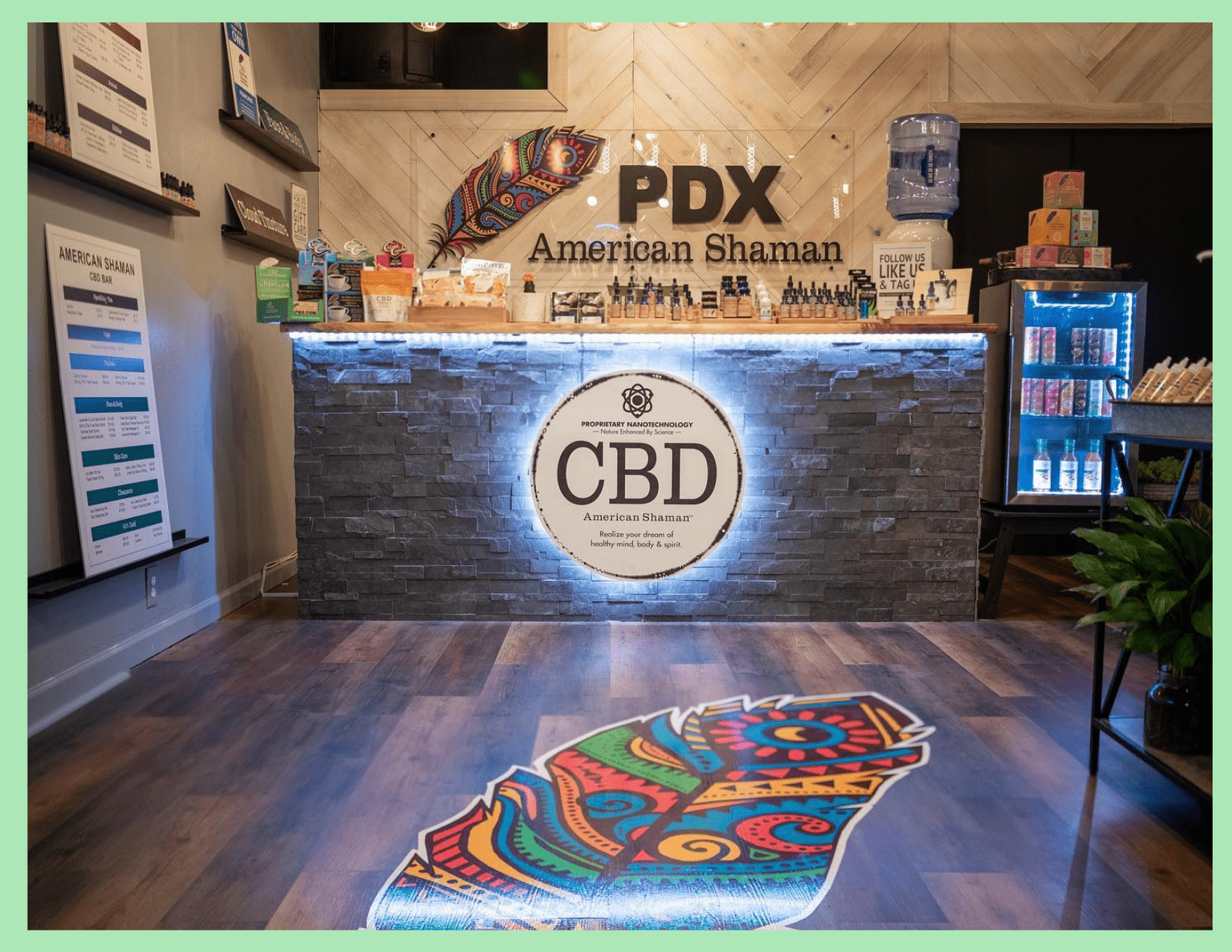 Hours:
Tuesday-Saturday: 11am-6pm
Sunday: Closed
Monday: Closed
American Shaman is a franchise with dozens of stores all across the US. This Waterfront Park Location in Portland is staffed with friendly and helpful employees and consistently receives five-star reviews on Google for being one of the top CBD stores in the Pacific Northwest.
You can purchase American Shaman's extensive line of products in their brick and mortar stores or online, and this brand has developed an excellent reputation over the past few years. The shop is small, quaint, and tastefully decorated. The selection is vast, but here are a few of the most popular items:
Full Spectrum, Water Soluble, CBD Hemp Oil in varying potencies and flavors, including Blueberry Moon, Strawberry Banana, Grape, Lemon, Natural, Cherry Limeade, Cool Berry, Cinnamon, Apple, Tutti-Frutti, Tropical Punch, and Watermelon.
Terpene Rich Hemp Oil Tinctures
Extra Strength Water Soluble CBD Oil
Edibles such as CBD cookies, hard candy, gummies, popcorn, honey, coffee, and lollipops
Topicals like CBD face cream and under-eye serum.
27. Your CBD Store
Where: 1119 Northeast Hogan Drive, Gresham, Oregon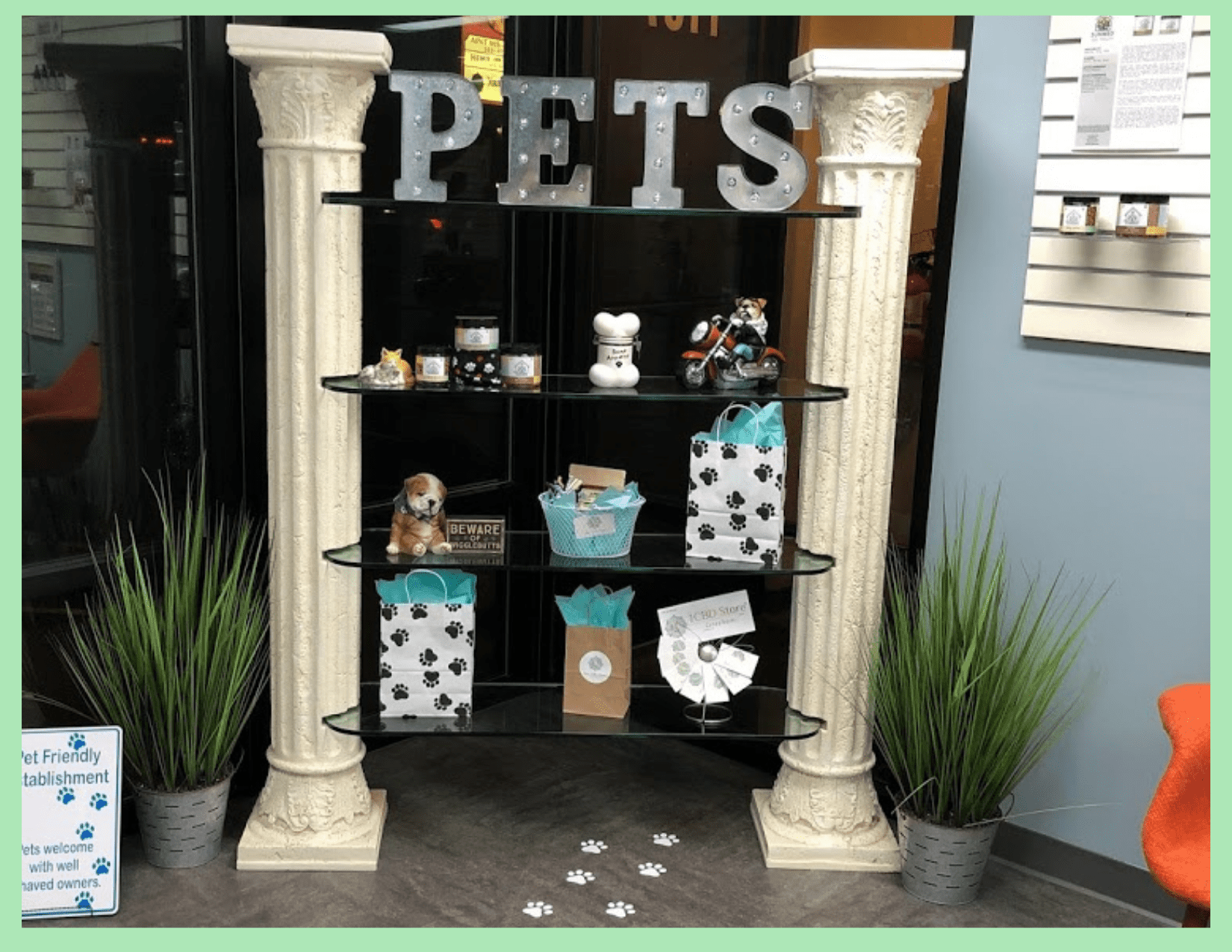 Hours:
Monday-Saturday: 10am-7pm
Sunday: 11am-4pm
Your CBD Store had its beginnings in 2018 in Florida. Founded by Rachel Quinn, the company has franchises all across the country. There are 300 in all, and this store in Geshem is one of the top CBD stores in the Pacific Northwest. You may have noticed that this is the second time this franchise has appeared on our list.
The company has an excellent product line, with everything you could possibly want on the menu. In addition, they carry their own line of edibles, capsules, topicals, pet products, and tinctures in a considerable range of potencies and flavors. Plus, you can choose from whole-plant, broad-spectrum, full-spectrum, or water-soluble CBD oils. They even carry Delta V-9, a product that may be highly effective for weight loss.
A few of the unique products available include:
Topical Motion Roll-On
Broad Spectrum Daytime Mango Gummies – 750mg
Full Spectrum Nighttime Blueberry Gummy
CBD Peach Rings
Pet & PawNose Balm
CBD Daytime Ageless Moisturizer
CBD Nighttime Ageless Serum
28. Oregon Euphorics
Where: 70 Southwest Century Drive Suite 170, Bend, Oregon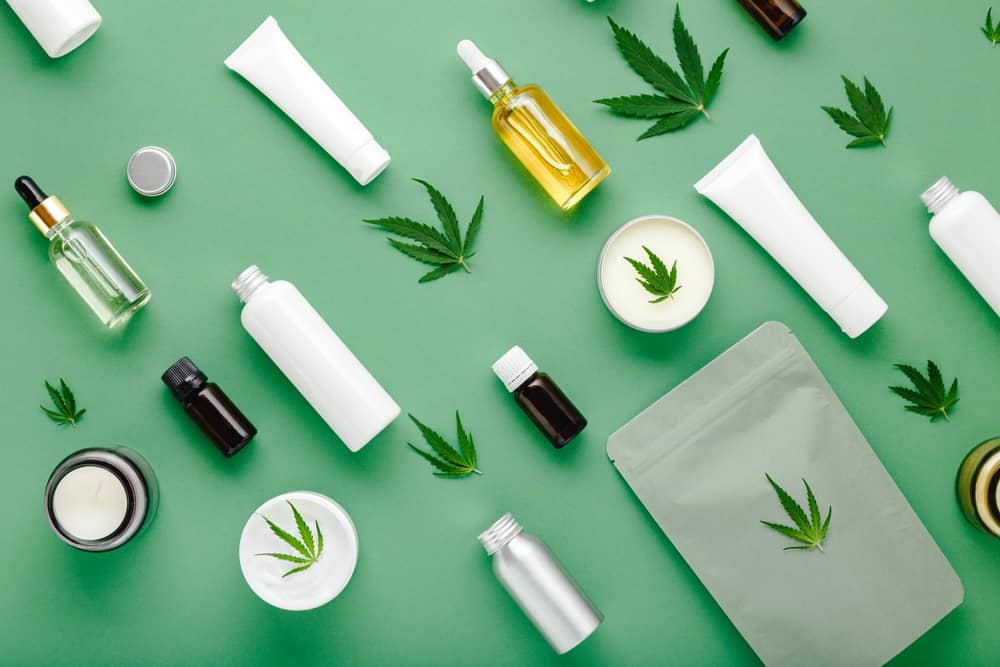 Hours:
Tuesday-Saturday: 10am-9pm
Sunday: 12pm-6pm
Oregon Euphorics is located off 14th street next to Goodlife brewing. It is inside the inner courtyard of the Century Center on the west side of Bend, Oregon. This popular cannabis dispensary carries a great selection of CBD products from vendors like Wyld CBD, Angel Industries, Medicine Farm Botanicals, Moxie's Mints, Siskiyou Sungrown, Enjoy, Gummy Buds, High Desert Pure, and Protanicals.
You can purchase CBD items with or without THC. If you're confused about the ratio of cannabinoids in a product, all you need to do is talk to one of the expert budtenders who will help you find exactly what you are looking for.
All of the products sold at Oregon Euphorics are tested for cannabinoids, THC, pesticides, and mold, with the certificate of analysis posted so you can view it yourself. Their CBD products include gummies (elderberry, blackberry, and strawberry), flavored and unflavored tinctures, loose flower, mints, pain balm, and even CBD sparkling water in blood orange, raspberry, and lemon.
29. Oregon Hemp House
Where: 6767 South Macadam Avenue Portland, Oregon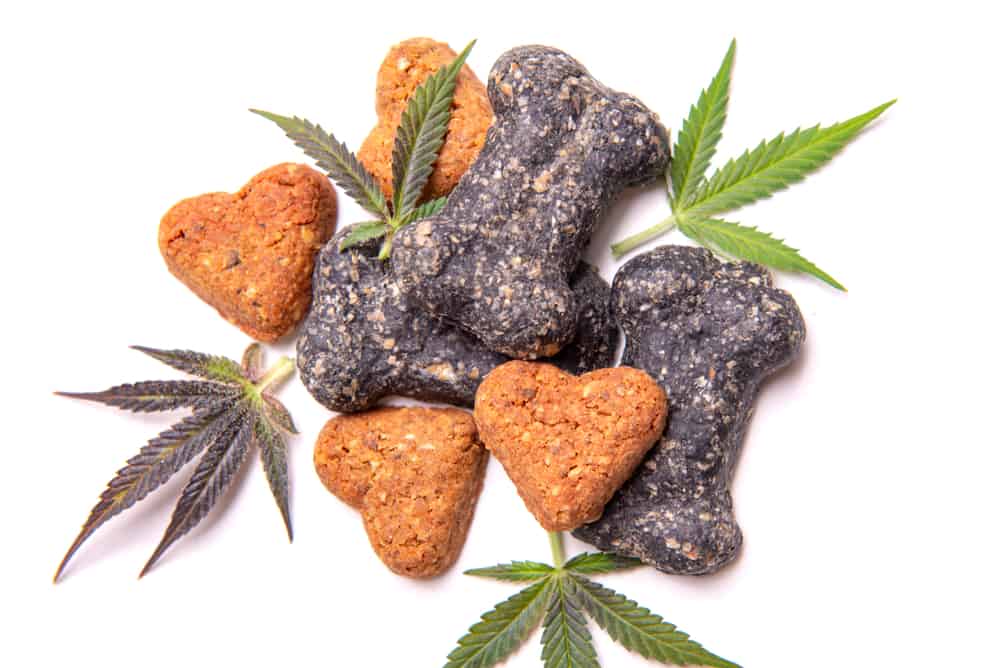 Hours:
Tuesday-Saturday: 10am-7pm
Sunday: Closed
If you're looking for a shop that caters primarily to only CBD users, Oregon Hemp House is an excellent choice. This Portland shop has a huge inventory of CBD products, making it one of the best CBD shops in the Pacific Northwest. Their categories include body care and beauty items, edibles, drinks, loose flower, vapes, tinctures, pet products, pre-rolls, and much more.
This is a wellness and lifestyle boutique, so you'll notice it has a sleek, spa-like environment. They also carry a lot of different products than what we've seen before. For example, they offer 15-gram jars of Organic Green Roots loose flower CBD in strains like Elektra, Hawaiian Haze, Lifter, Sour Space, Special Sauce, Suver Haze, Chardonnay, and more. Or, you can buy pre-rolls by Living Earth Hemp in packages of five.
Other unique offerings include:
Hemp-Infused Chocolate Hazelnuts by Grön
Kill Cliff CBD Hemp Infused Clean Energy Drink
LIT Hemp Facial Oil by Kana
Bath Salts (Lavender + Bergamot) by Empower
The CBD Skincare Co. Pet Shampoo
Nano-CBD Sweet Pet-ato Dog Treats by Creating Better Days
30. Red Barn Hemp
Where: 33814 S. Meridian Rd. Woodburn, Oregon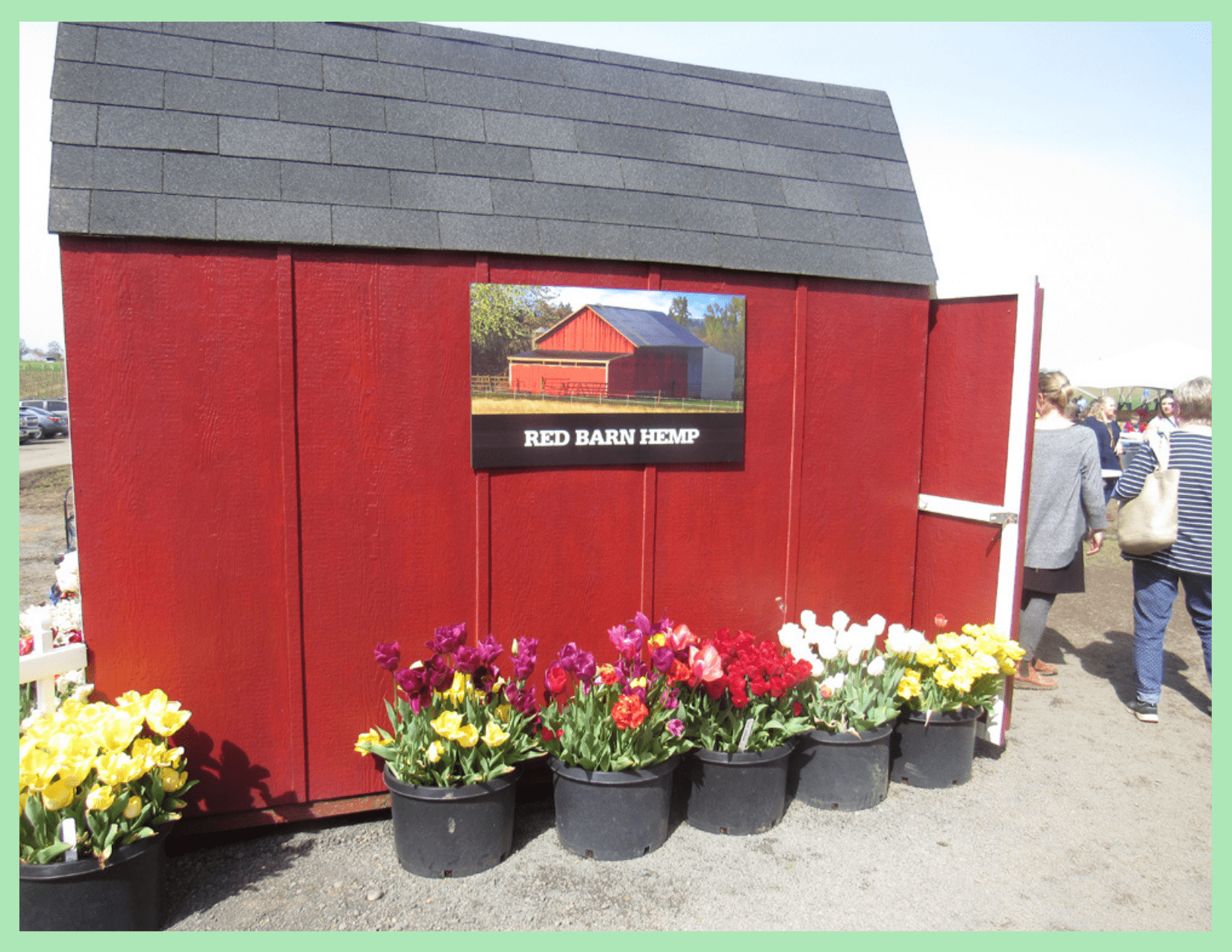 Hours:
Friday-Monday: 10am-4pm
Tuesday-Thursday: Closed
Red Barn Hemp is a family-owned and operated hemp enterprise specializing in private-label CBD products sourced from their own Woodburn farm. They offer a great selection of products, including:
Whole-Plant Hemp Oil Tinctures
Hemp-Infused CBD Oil Capsules
Whole Plant Hemp Oil MSM Cream
Whole Plant Hemp Oil Warming Muscle Gel
Hemp Infused Bath Bombs and Bath Salts
CBD Face Serum and Lip Balm
CBD Massage Oil
They also offer CBD products for pets, including Whole Plant Hemp Oil, CBD Dog Biscuits, and CBD Horse Pellets. A visit to the Wooden Shoe Tulip Farm & Vineyard in Woodburn to shop at Red Barn Hemp makes the perfect mini-road trip any time of year. Close to both Portland and Salem, Red Barn Hemp has an excellent reputation in the region, and their farm store is one of the top CBD shops in the Pacific Northwest, thanks to the fantastic quality of the products. If you can't make it out to the farm, you can shop for any of Red Barn Hemp's products through their website.
FAQ: What is CBD and How is It Used?
To properly enjoy CBD products, you'll need to know what is and what it does. Knowing this you'll then be able to better evaluate which products are right for you. Because let's face it: there are so many options out there, it's easy to feel paralyzed by indecision.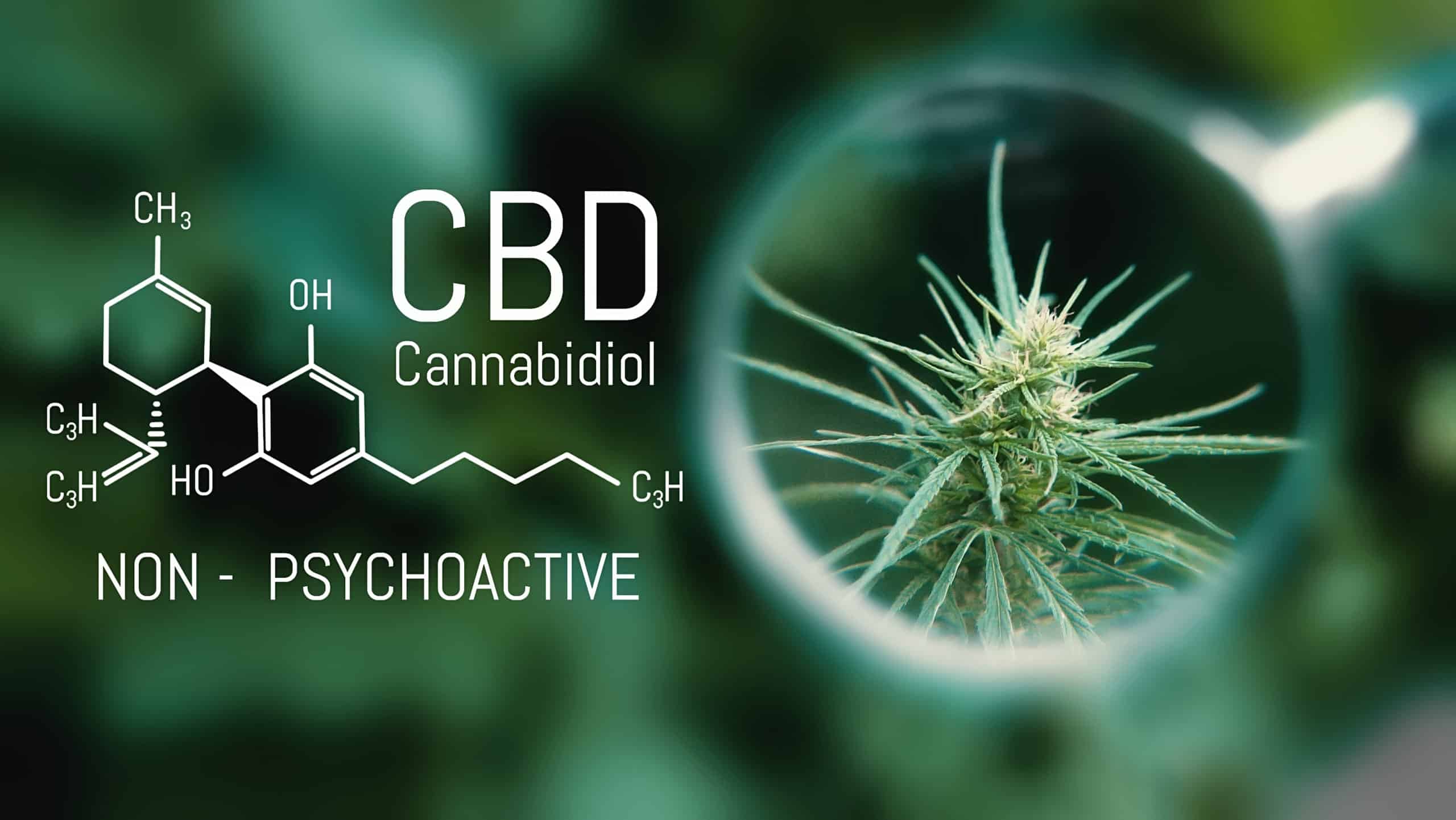 What Is CBD?
In 2013, Forbes predicted a hemp revival, stating that "as we transition to a future that embraces more sustainable agriculture practices, industrial hemp can help lead the way."
Eight years later, industrial hemp is one of the most valuable crops in the US, and CBD is one of the top-selling health products of all time, but what exactly is it?
CBD is found in all types of cannabis, but it is especially abundant in the humble hemp plant. It's a cannabinoid—a chemical compound that, when extracted from hemp, has a host of potential advantages to the human body (and pets too).
In fact, it's pretty similar to marijuana when it comes to the possible health benefits. But there's two things that set it apart—it's not psychoactive and it's federally legal. That means that people who use CBD may enjoy all of the benefits of cannabis without getting high, feeling impaired, or risking legal problems. That's a huge plus for people who would prefer to forego the intoxicating effects of weed.
How Do People Use CBD?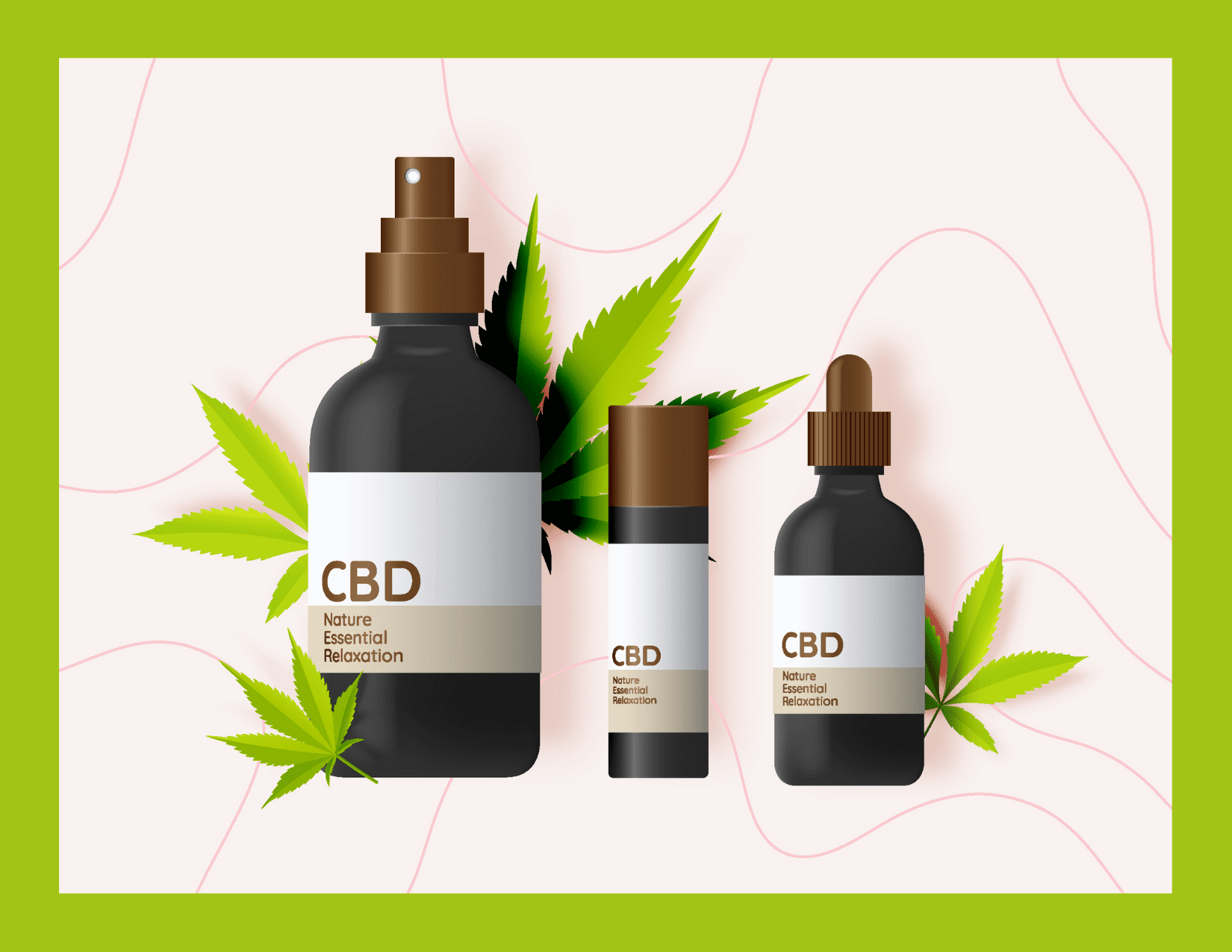 Like THC (the chemical in marijuana that gets you stoned), CBD can be used in many ways. You can smoke it, of course, and many people do. But it can also be vaped, applied to the skin, or ingested (often as gummies).
The most popular CBD products are tinctures or CBD oils. These are the ones you hear about the most. CBD oil can come in a variety of sizes and potencies, and vendors can add different flavors to make the robust and earthy taste more palatable.
Other popular ingestible CBD products include capsules, gummies, candy, beverages, gum, coffee, tea, cookies, and a host of other treats. In addition, CBD topicals can consist of lotions, creams, salves, massage oils, bath bombs, and more.
Finally, there are CBD pet products. As CBD became more popular, people were discovering it had an array of possible benefits for our four-legged friends, too. So now, you can find treats, biscuits, tinctures, shampoo, and other CBD-infused products for your cat, dog, and even your horse.

Dr. Kasey Nichols, N.M.D.
Dr. Kasey Nichols, N.M.D. focuses on sleep disorders and drug-free pain management utilizing both conventional and alternative medicine at his private practice,
Onyx Integrative Medicine and Aesthetics
, located in Gilbert, AZ. He served as the Director of Medical Operation and Administration at a national substance abuse disorder corporation with 16 facilities across seven states. He graduated from Cleveland University-Kansas City with a Bachelor's of Science in Human Biology, graduating with honors, and holds a Doctorate from The Southwest College of Naturopathic Medicine. He holds licenses in both Arizona and Kansas. Dr. Nichols has given numerous talks to professional organizations, given interviews for newspapers across the United States, and numerous television news interviews with ABC 15/CW 61 in Arizona, Channel 3 in Arizona, and others. Dr. Nichols has appeared in
Cosmopolitan
,
Reader's Digest
,
WebMD
,
Healthline
, and many other health and lifestyle publications.