Whether you're a practicing massage therapist or simply someone with chronic muscle pain, the best CBD massage oils might be just the ticket to relief.
A good massage can be life-changing, right? A good massage can give you both the mental and physical relief you need to function. A good massage can sometimes be the difference between making it through the week in one piece or not! You get the gist.
But sometimes the manual manipulation of muscles just isn't enough to do the trick. Enter CBD massage oils. CBD might actually improve upon the already amazing effects of massage—pain relief, anti-inflammation, joint health, muscle recovery, stress relief, and more.
Receiving a massage with CBD oil can potentially help accelerate the recovery process and deactivate your sympathetic nervous system (that's the "fight or flight" mode we can't seem to escape in modern living). Some people even say that the best CBD massage oils can help make one massage feel like three!
If you're ready to take your massage therapy career to the next level or are eager to get the muscle relief you've been desperate to find, this list of the best CBD massage oils, lotions, and creams is a great place to start.
Also be sure to check out our ranking of the overall best CBD oils and best CBD topicals.
The CBD for Massage That We RAVE About
CBD Crash Course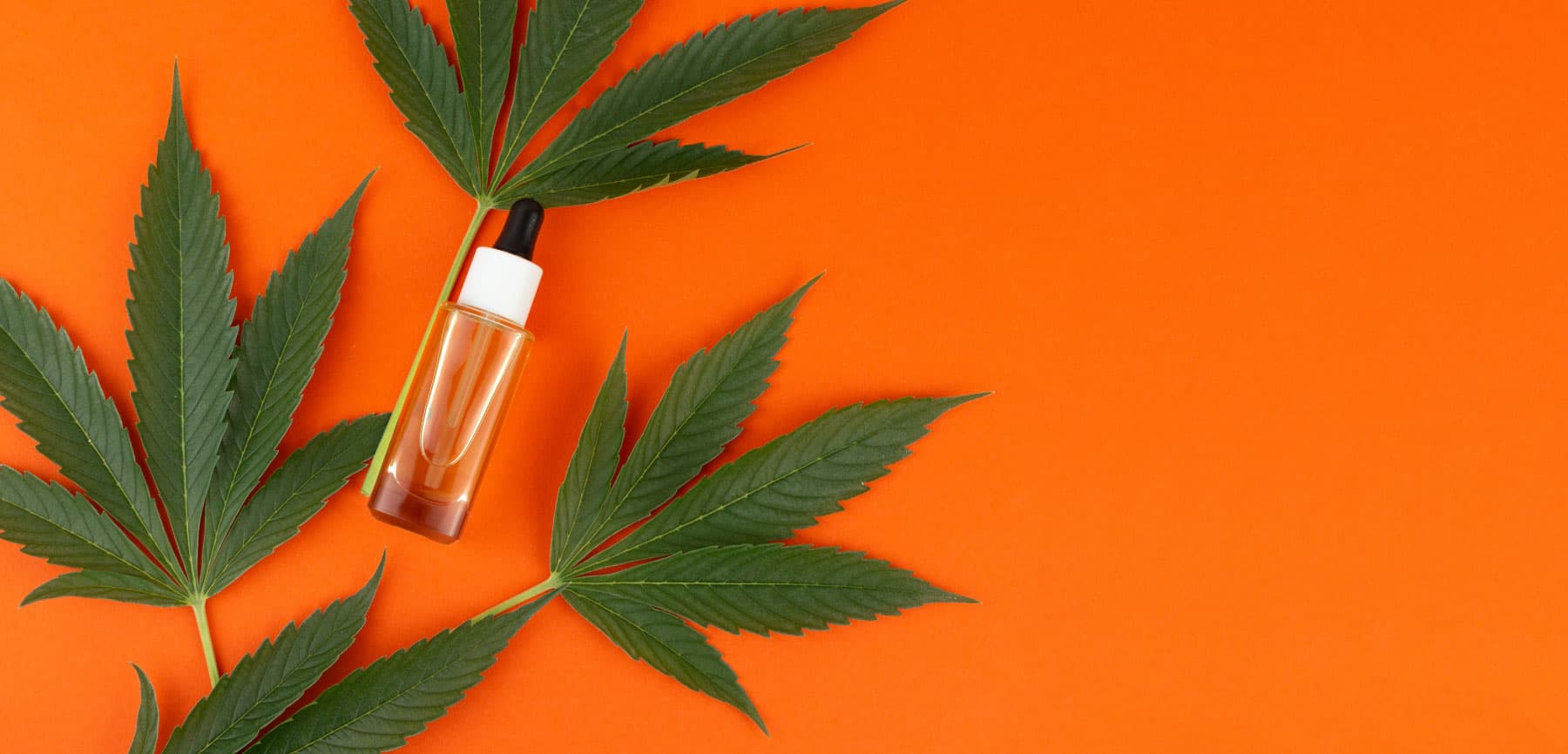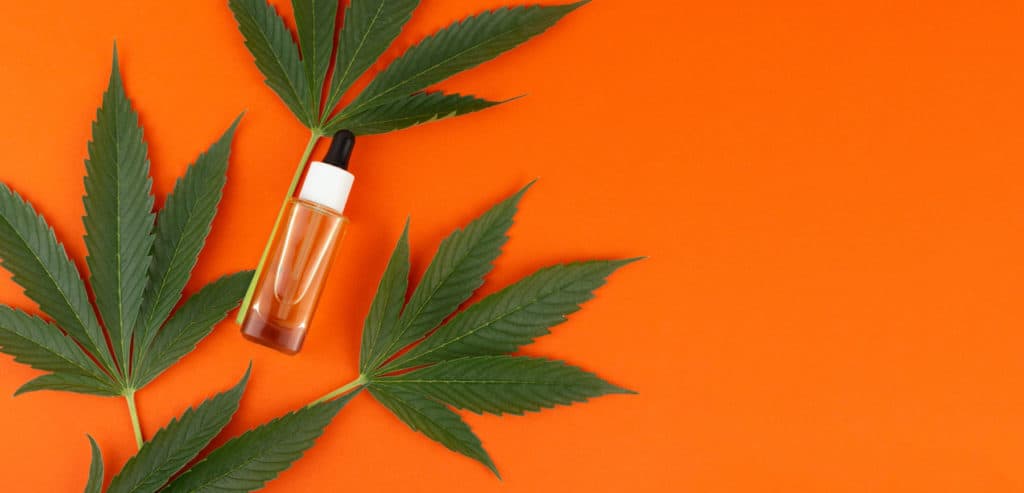 Chances are that by now you've probably heard about CBD. In the last five years, CBD has seemingly sprung up everywhere. Depending on where you live, you've likely seen it in pharmacies, grocery stores, or maybe even on your mom's kitchen counter. You can find CBD in beer, chocolate, gummies, and a host of other foods.
So what is CBD? Is all the hype substantiated? Let's get down to business. CBD is the abbreviated term for cannabidiol. It is a natural compound that comes from the cannabis plant. But here's the thing: CBD will not get you high. Throw out all of your preconceived notions about marijuana (well, if they're negative connotations, that is).
Unlike its sister compound THC, CBD does not produce any psychoactive effects. In fact, CBD offers many of the benefits of consuming cannabis with virtually no negative side effects. While studies are ongoing, many researchers believe CBD may help with:
Improving pain relief
Reducing inflammation
Lowering anxiety and depression
Boosting restful sleep
Soothing arthritis and joint-related pain
CBD isn't just the byproduct of a plant. As it turns out, our bodies are equipped with an entire system that is compatible with CBD (and other cannabinoids). The endocannabinoid system naturally produces endocannabinoids (endo- means "within" or "internal"). These endocannabinoids have the exact same effect in our bodies as the cannabinoids from the cannabis plant.
The endocannabinoid system is all about keeping the body in homeostasis. Essentially, this means keeping the body balanced. It's no wonder, then, that both the endocannabinoid system and CBD contribute to essential functions and systems like sleep, stress, mood, and pain.
When our body systems are out of whack—whether it's an inflamed muscle, stress, or insomnia—our endocannabinoid system goes on high alert.
The cannabinoids from CBD act exactly like the body's naturally produced endocannabinoids. They find the distressed cannabinoid receptors, link up with them, and may calm the system.
There are numerous ways to experience the benefits of CBD. The two most common ways are to ingest CBD orally (as pills, drops, or edibles) or to smoke or vape CBD. There's also a third option: topical CBD application, or applying CBD to one's skin. This particular use of CBD is the one we'll focus on in this article: CBD massage oil.
CBD Massage Oils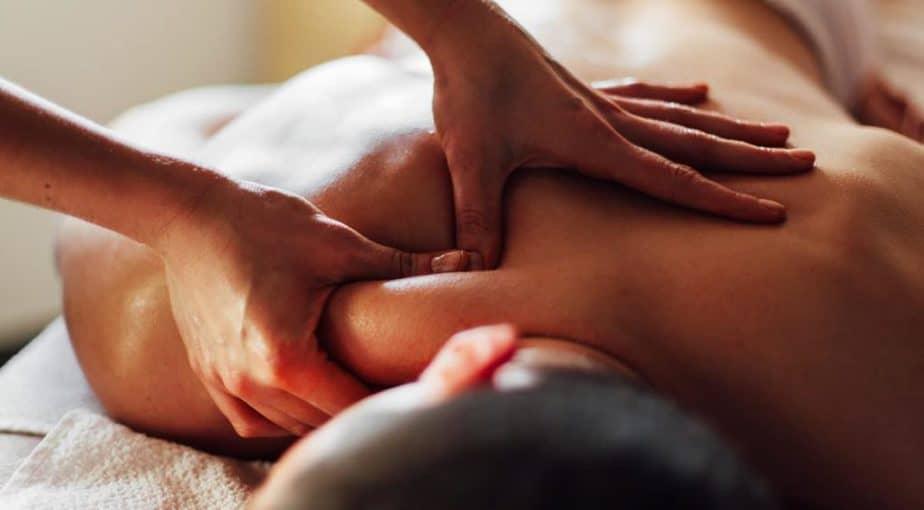 CBD massage oils offer one of the best ways to tackle muscle pain, joint aches, and inflammation. Unlike ingesting or smoking CBD, applying it topically targets specific areas for longer-lasting effects. CBD massage oils can help treat chronic or acute pain in a localized area, rather than affecting the whole body.
You do not need to be a professional massage therapist to reap the benefits of CBD massage oils. You can easily apply the oil to yourself, or have your partner help out. But if you want the maximum effect, you could book a professional CBD oil massage. Make it a spa day!
How Do the Best CBD Massage Oils Work?
When you receive a massage, typically the therapist uses a lotion, oil, or cream on your skin as a lubricant to work the tension out of your muscles. Typical lubricant bases are coconut oil, grapeseed oil, jojoba oil, and sunflower seed oil. Adding CBD hemp oil to a base lubricant allows for not only an amazing massage, but one that includes all the possible CBD health benefits we discussed above.
Dr. Nikola Djordjevic, a medical advisor at HealthCareers, gives some thoughtful advice on choosing a CBD massage oil. She specifically praises coconut oil as a base for a CBD massage oil:
"I would have to go with CBD-infused coconut oil, hands-down, due to the natural properties offered by the combination of these two 'superfoods.' Whether ingested or used topically, it can treat various health conditions, from boosting the immune system to treating muscular inflammations. So, if giving a massage with organic coconut oil wasn't good enough, adding CBD to the mix only adds to the relaxation factor associated with massages."
Remember the work of the endocannabinoid system? The job of the cannabinoid is to find a distressed cannabinoid receptor. Turns out, that job is easier when it has a partner in crime—a lipid (commonly known as fat). In other words, CBD is most effective when it is paired with a base oil that is high in fat.
Dr. Djordjevic goes on to explain why CBD-infused coconut oil is especially good at letting the CBD complete its intended task:
"Health benefits aside, the main reason that coconut oil is perfect to infuse with CBD is that it contains a lot of fat (80%), making it easier for the cannabinoids to bind to it. More importantly, it allows the effects of CBD to be delivered more efficiently than other types of oils. In other words, the effects of CBD are much stronger with coconut oil as the binding agent, making it excellent at targeting localized muscular inflammation."
Massage is all about muscle relief. We get a massage to work out the "knots" in our shoulders, or to improve our hip extension, or to strengthen our neuromuscular pathways. But a CBD-infused massage may also help with aftercare and muscle recovery. Once again, Dr. Djordjevic helps shed light on this process:
"CBD also helps to speed up muscle recovery, so a CBD/coconut oil massage is great for athletes. It does this by using a different pain pathway compared to traditional anti-inflammatory medications. The CBD travels through the endocannabinoid system [rather than the digestive tract], making it an entirely new way to target pain and muscular inflammations."
Your Epidermis is Showing
Eyeroll, I know. But let's talk about skin! Skin is the largest organ in the body. In addition to regulating body temperature, communicating sensation and feeling, storing nutrients, and holding together the water balloon that is your body, skin serves as the guardian and gatekeeper of your body against all external forces—bacteria, water, sunshine, topicals, etc.
Our skin is made up of three layers: epidermis, dermis, and subcutis. Given that our skin is the largest organ we have, it is a huge player in the endocannabinoid system. Our skin contains the highest amount and concentration of cannabinoid receptors.
Unlike an edible CBD gummy or other treat, which goes through your digestive tract and travels to your bloodstream, the path of a topical CBD application is slightly different. Your skin barrier makes it hard for the CBD to directly enter your bloodstream; instead, a topical CBD product encounters the dense concentration of cannabinoid receptors in your skin, allowing for a targeted, local response.
During a CBD oil massage, the therapist will do exactly what they normally do—maybe some effleurage (long strokes), petrissage (kneading), trigger point therapy, or active release. As your skin absorbs the oil, you will start to feel the amazing effects of CBD… and those effects will last well into the rest of your day.
Quality is Everything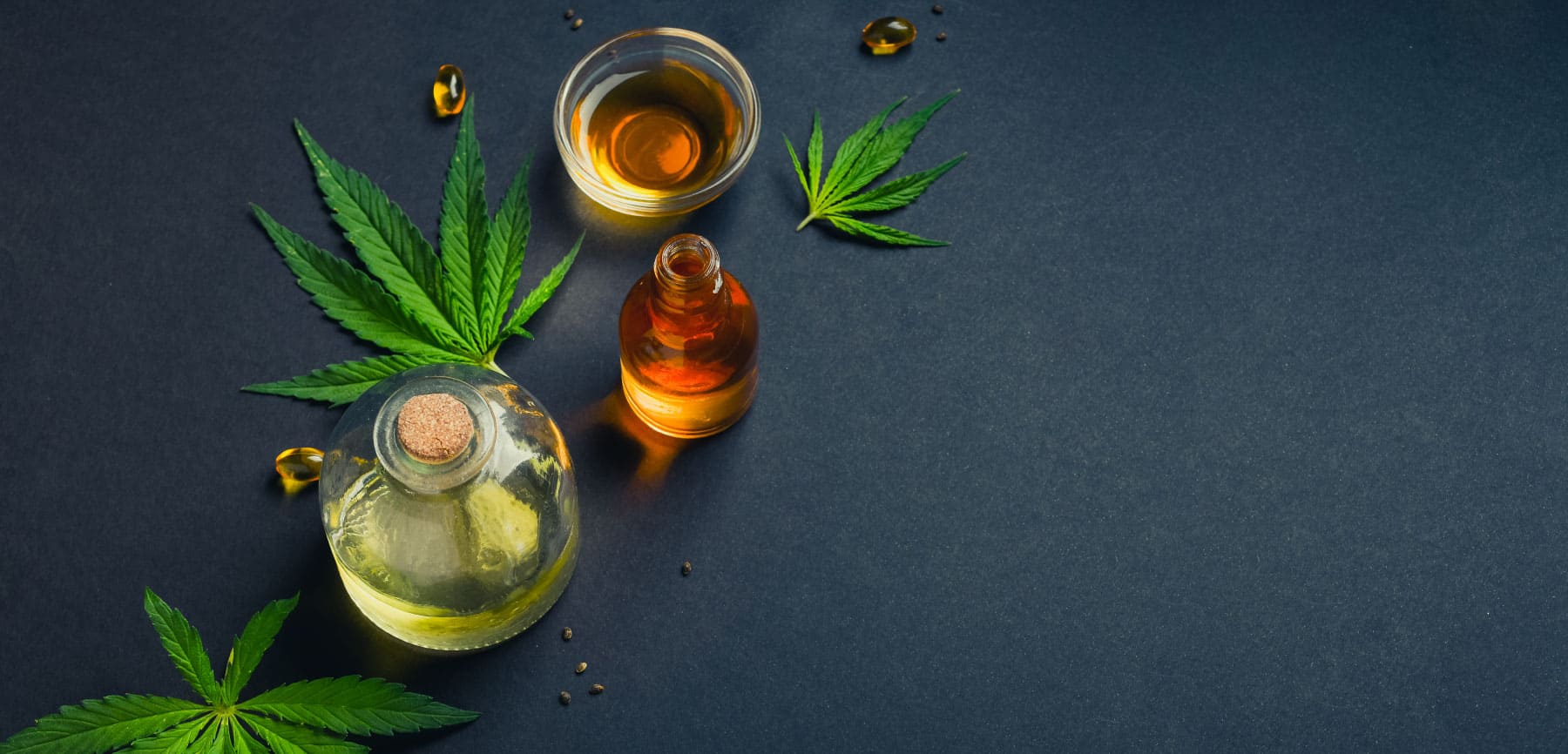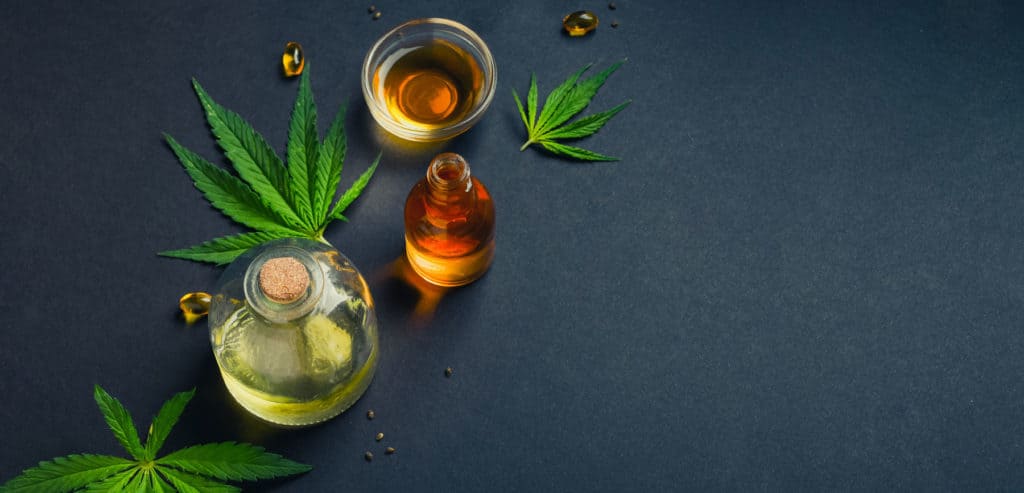 You've heard it a million times: you are what you eat. Well, the same principle goes for your skin: you are what you apply! When you're looking for the best CBD massage oil, make sure you are aware of the exact ingredient list. Ask yourself some important questions:
Is the product organic?
Does it contain chemicals or additives?
Has the product been tested on animals?
Does it contain gluten or other common allergens?
Dr. Wendy Twohey, a chiropractor from the Dr. Gil Center for Back, Neck, and Chronic Pain Relief in Tennessee who specializes in hemp products, offers this advice about choosing a CBD massage oil:
"Although I don't have a particular product that I suggest, I do recommend that CBD oil always be organic. We should have the same high quality expectations for the products we put on our skin as for products we ingest orally."
Kaycee Mitchell, a cannabis expert and enthusiast, agrees. Mitchell always advises customers to do thorough research on CBD oil ingredients:
"Many people don't think the quality of CBD matters when it is in a cream [or oil], but it really does! Your skin is your largest organ and you should only be absorbing high-quality products."
A Note on Dosage
Beyond ensuring that your CBD massage oils are high quality, understanding dosage is a great way to get effective results.
Here's the catch: there are no hard and fast rules to dosage. The effectiveness of a CBD topical can be different depending on your BMI, your sensitivity to chemicals, if you take it with food, and other factors. People typically use anywhere from 50mg to 1,000mg of CBD per day.
Most CBD massage oils will have the dosage amount on the label. Just be sure it's clear if the label indicates overall CBD concentration or CBD concentration per tablespoon/teaspoon.
In general, it's best to start with a low dosage and work up from there as needed.
Rest assured, it's virtually impossible to overdo it with the best CBD massage oils. You're just fine-tuning at this point! You can apply most CBD massage oils liberally and frequently (every 4-6 hours) without fear of any adverse effects.
The Best CBD Massage Oils
Now that you have a sense for what types of things to look for in a CBD massage oil, we thought we'd help you out on the next step—finding a product that's right for you! Below, we've reviewed 10 of the best CBD massage oils and creams out there.
1
Moon Mother Massage Oil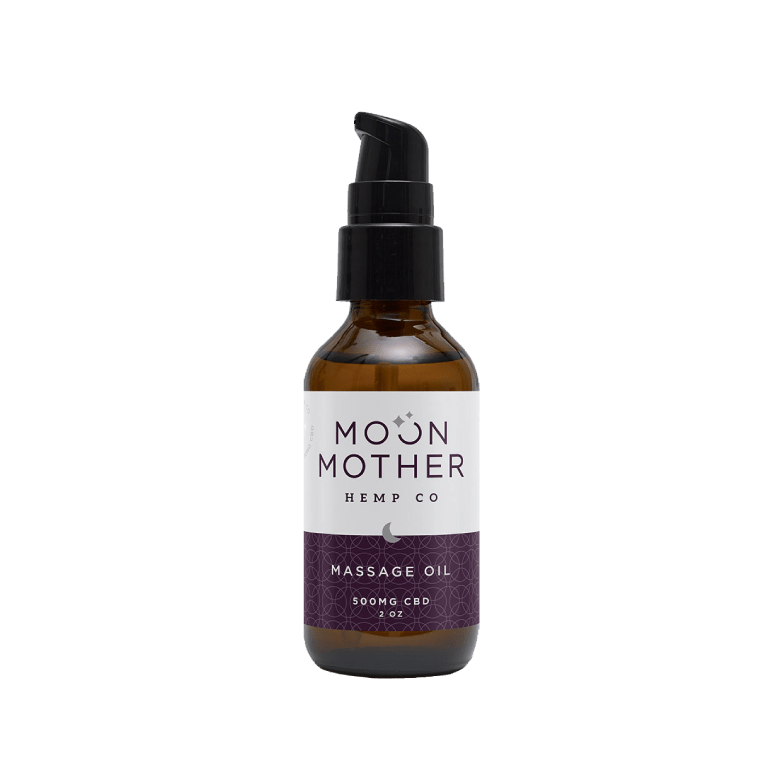 WEBSITE EXPERIENCE: 91.3/100
Key Ingredients: jojoba oil, lavender essential oil, hemp extract
Moon Mother Hemp Company prides itself on sustainability and this Colorado company checks off all the boxes if organic and mindful living is something you value. All of their products are cruelty-free, gluten-free, 100% organic, and never tested on animals. Their full-spectrum CBD oil contains a spectrum of cannabinoids and phytonutrients, retaining the goodness of the whole plant in each drop.
All of the full-spectrum hemp used to make their special products is locally grown by the Moon Mother team in Boulder. Moon Mother Massage Oil is simple in design. Using just three ingredients—jojoba oil, lavender essential oil, and a full-spectrum hemp extract—this CBD massage oil stays true to its original natural intentions. It's reasonably priced and comes in two size options: 2oz (with 500mg CBD total) and 4oz (with 1,000mg CBD total).
Pros
USDA-certified organic hemp
Smells great
Robust testing practices
Cons
Return policy is only 15 days
2
Receptra Naturals Seriously Relax + Arnica Oil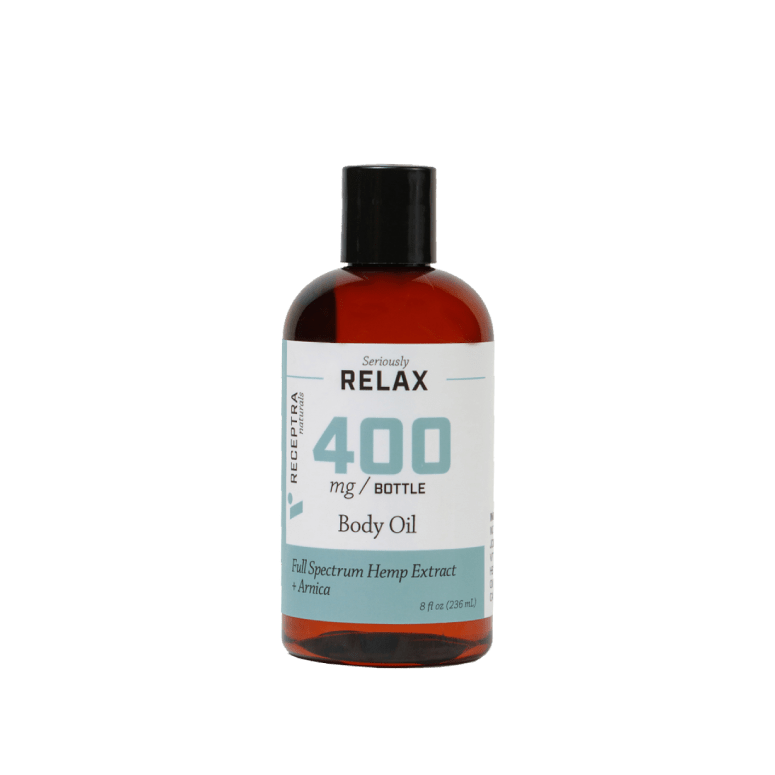 WEBSITE EXPERIENCE: 83.3/100
Key Ingredients: jojoba oil, vitamin E, camphor
Founded in 2015, Receptra Naturals has grown from a one-man company to a team of over 40 passionate individuals who truly believe in the healing power of hemp. They have one simple guiding principle: "The Truth is Curative". Extraction is handled using food-grade alcohol and dried hemp flower—a process similar to that of making vanilla extract. The company offers several great quality CBD products including topicals, tinctures, pet products, and capsules.
Receptra's eight-ounce body oil combines organic and natural ingredients and is intended to moisturize and hydrate skin as it soothes away minor aches and pains. Each bottle contains 400 mg of hemp extract and is formulated with organically grown Colorado Hemp. It's great to use after a shower or during a massage, and it can be reapplied as often as needed. The oil is infused with soothing lavender and vanilla scents and has a strong hempy fragrance that we loved. Some users, however, may find it smells too much like cannabis. 
Pros
Free standard shipping
30-day guarantee
Lab reports available
3
Mana Artisan Botanics Hemp Massage Oil Concentrate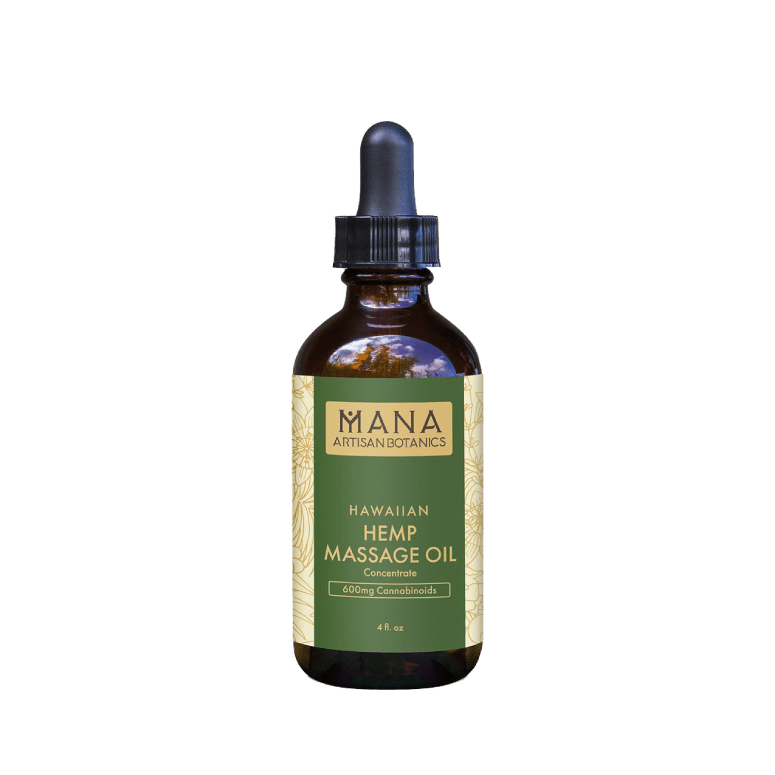 WEBSITE EXPERIENCE: 80/100
Key Ingredients: organic MCT coconut oil, phytocannabinoid-rich organic hemp oil, vitamin E oil
If you are searching for a unique and luxurious brand of CBD massage oil, Many Artisan Botanics is worth a look. This Hawaiian-based company had its beginnings at the founders' Honaunau Farm Wellness Retreat and they offer some of the finest hemp-based products you will find. Each of their handcrafted options is made from organic ingredients sourced directly from local farmers, and it's not unusual to see exotic additions like macadamia nut, passionflower, and plantain in some of their product offerings.
While Mana's hemp massage oil concentrate is fairly pricey, it's also one of the most potent on our list, containing 600 milligrams of CBD in a four ounce dropper bottle. It has a neutral fragrance and can be used on its own or added to other topicals as an enhancement. Third-party lab testing results are readily available for those who want to inspect them, and the website offers a wealth of educational resources for customers who would enjoy a bit of light reading.
Pros
High-potency
Sourced from organic ingredients
Lab reports available
Cons
Free shipping on orders over $150 only
4
CBD Living Massage and Body Oil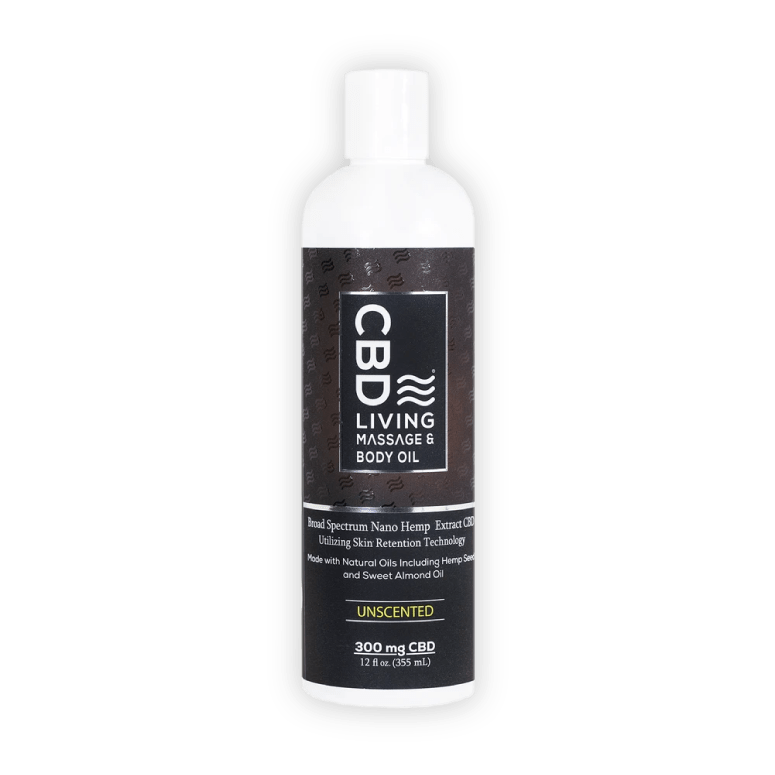 WEBSITE EXPERIENCE: 85/100
Key Ingredients: grapeseed oil, apricot oil, almond oil, hemp seed oil
Based in Corona, California, CBD Living was established in 2013 and their selections are now distributed globally. They utilize only organically grown Colorado hemp to formulate their products, which are manufactured with a proprietary process called nanotechnology. The company claims that this method makes their CBD up to 90 percent more bioavailable.
Their massage and body oil is unscented, so it's perfect for those with sensitive skin. Additionally, it contains no THC. It can be purchased in a 12-ounce size containing 300 mg of CBD, but if you're one of those people that says "I need this stuff in bulk" you will be happy to know you can purchase it by the gallon. Massage therapists and salon owners will also enjoy this option.
Pros
Available in large quantities
Free shipping over $75
THC-free
5
Lazarus Naturals CBD Massage Oil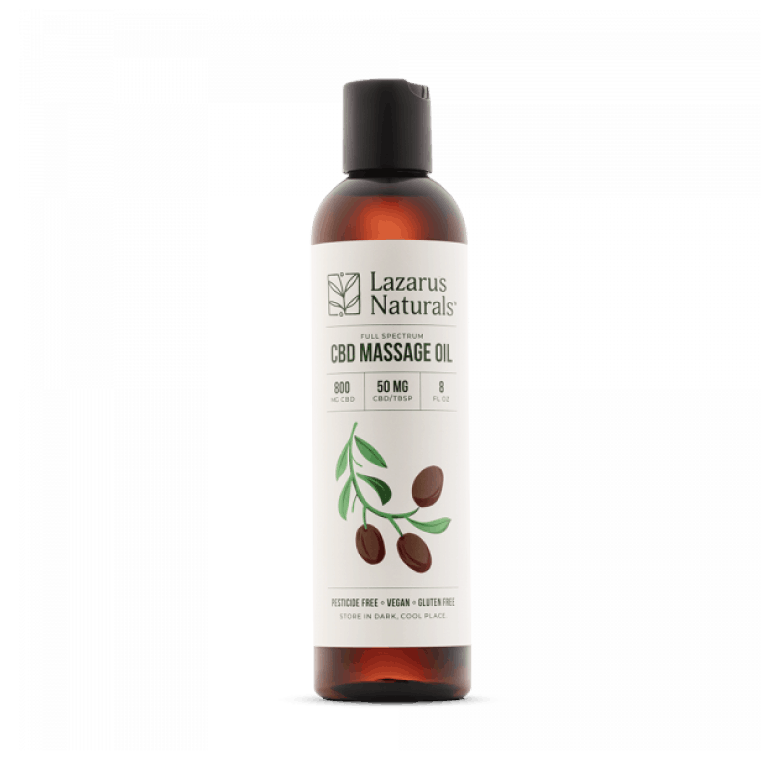 WEBSITE EXPERIENCE: 93/100
Key Ingredients: organic jojoba oil, sweet almond oil, fractionated coconut oil
Lazarus Naturals is a well-respected company out of Portland, Oregon that has been in the CBD business since 2014. This CBD massage oil is a full-spectrum, hemp-derived product that comes in three different size options—2oz, 8oz, and 16oz.
One huge benefit to this product is the company's immaculate reputation. The mission of Lazarus Naturals shines through in its discount programs for veterans, folks on disability, and low-income households. Additionally, Lazarus Naturals grows the hemp for all of their products in-house at Lazarus Farms. All of the hemp is non-GMO. This massage oil is coconut-based but has no additional scent.
Pros
Great prices
Hemp sourced from the brand's own farms
Free shipping
Cons
Customers expecting a scented oil will be disappointed
6
Sagely Naturals Drift and Dream Body Oil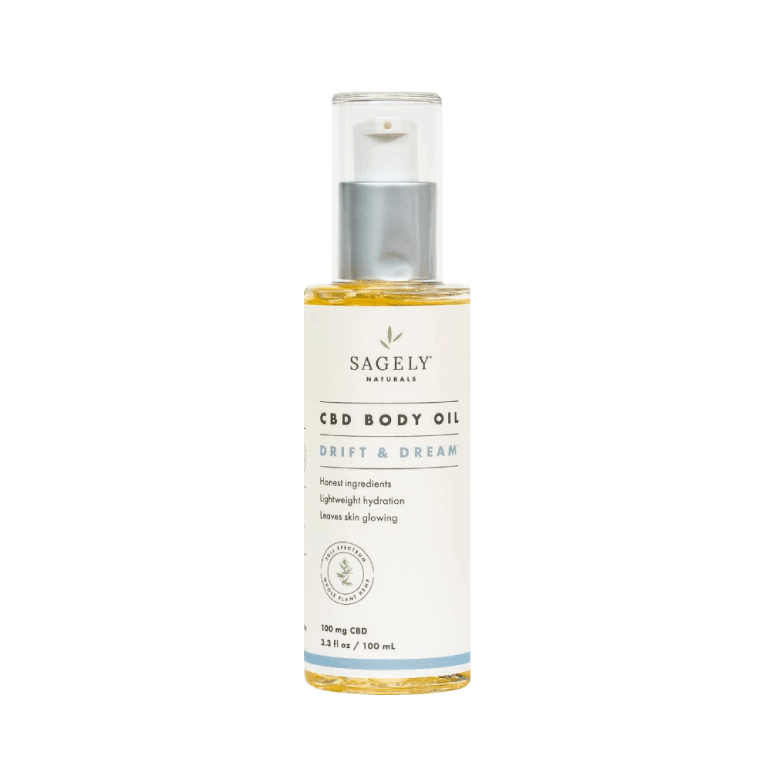 WEBSITE EXPERIENCE: 88/100
Key Ingredients: broad spectrum CBD, lavender oil, geranium oil, clary sage oil, evening primrose oil, and more
This heavenly body oil by Sagely Naturals can be applied after a shower, during a massage, or right before bed to help you get a better night's sleep. It's fast-absorbing, so it won't leave your skin sticky, and it has been formulated by expert naturopaths and chemists using broad-spectrum CBD.
This oil is an especially good choice for those who are choosy about ingredients. It contains no parabens, synthetic fragrances, artificial colors, or sulfates, and is vegan and gluten-free. It is manufactured in a GMP facility and has been created using high-grade domestic hemp. There are 100 mg of cannabidiol in each 3.3-ounce bottle, and the inclusion of so many wonderful plant extracts makes this one of the best smelling CBD massage oils on our list.
Pros
Vegan and cruelty-free
Made in a GMP facility
Free shipping on orders over $36
7
American Shaman CBD Massage Oil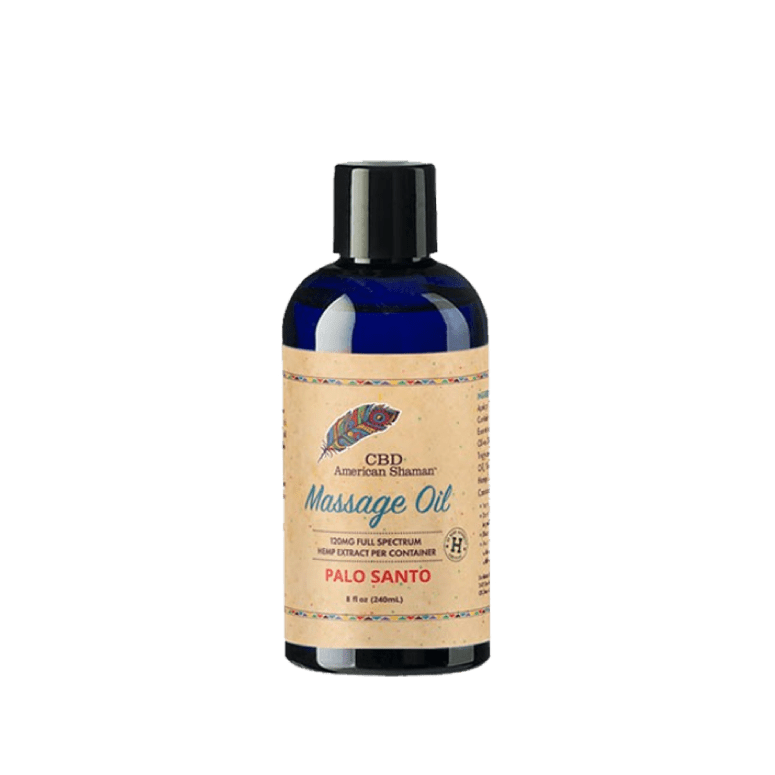 WEBSITE EXPERIENCE: 89/100
Key Ingredients: sweet almond oil, hemp extract, apricot oil, MCT, CBD oil, essential oils
If you are looking for just the right option when it comes to the best scented CBD massage oils, American Shaman has you covered. This reputable brand is well known for its wide variety of high-quality product offerings and pop-up shops, and their massage oil does not disappoint.
Generously sized, each eight-ounce bottle contains 120 milligrams of full-spectrum, terpene-rich CBD. Customers can choose from tea tree, lavender, or palo santo scents or opt for the unscented version. We love that they offer a money-back guarantee with an ample return window (45 days if purchased online or 30 days at one of their retail locations). All of the hemp used to make American Shaman products is grown in the US on agriculturally-responsible farms, and the brand is certified by the US Hemp Authority.
Pros
Four scents to choose from
Made with full-spectrum CBD
U.S Hemp Authority-certified
Cons
Pricier than other on our list
8
CBDfx Rejuvediol Massage Oil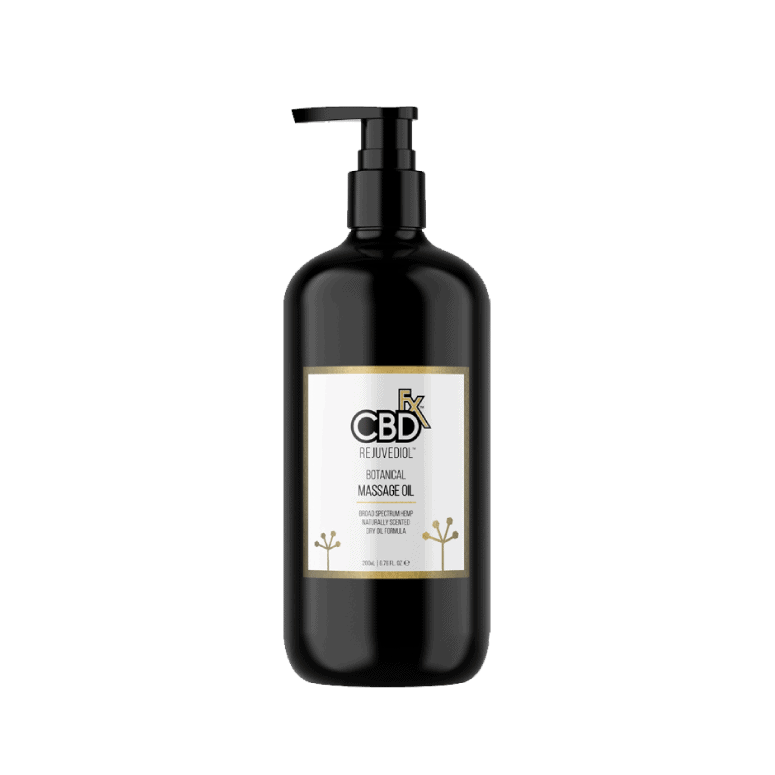 WEBSITE EXPERIENCE: 78/100
Key ingredients: organic broad-spectrum hemp oil, sweet almond oil, sunflower oil, fractionated coconut oil, jojoba oil, calendula oil, rosehip oil, and more
Rejuvediol™by CBDfx is a dry massage oil that will leave your skin feeling pampered without a sticky, greasy residue. It's ideal for summer, and for those who enjoy botanicals, it contains over a dozen essential oils. Each 6.76-ounce bottle contains 200 mg of CBD sourced from organically-grown hemp. One of the things we like about this massage oil is the pump, which makes for simple, mess-free dispensing.
CBDfx is a trusted leader in the CBD industry, and their products are generally well-reviewed.  They utilize CO2 extraction and publish third-party certificates of analysis on each product page so you know exactly what you are getting. Although most users love the scent of this formula, those who are sensitive to fragrance may want to investigate another option.
Pros
Cruelty-free
Third-party lab tested
30-day guarantee
9
Blue Ridge Hemp's CBD Infused Massage Oil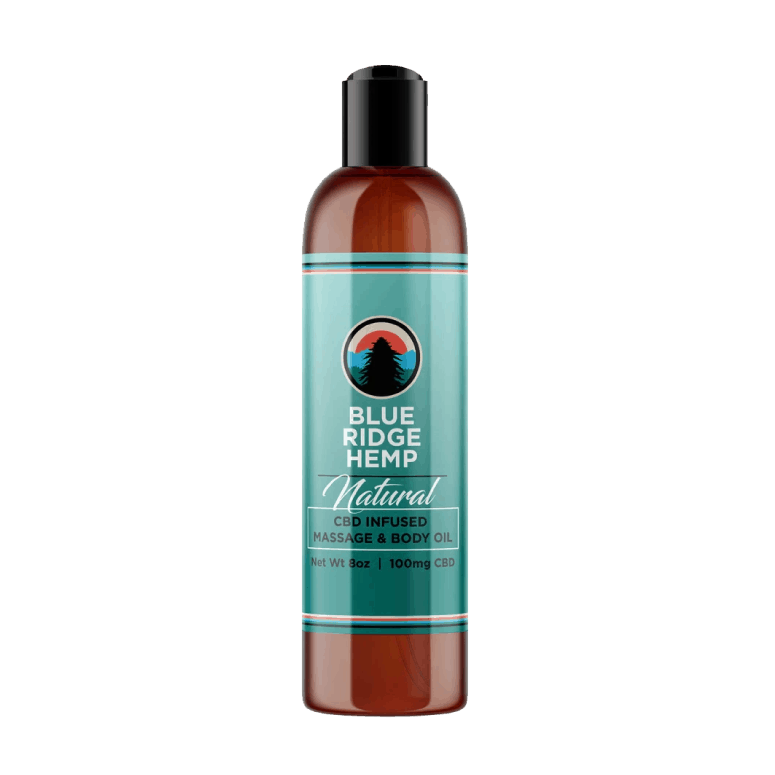 WEBSITE EXPERIENCE: 80/100
Key Ingredients: sunflower oil, sesame seed oil, jojoba seed oil
A big winner among massage therapists, Blue Ridge Hemp's CBD Infused Massage Oil checks off all the boxes. It is intended to target inflammation, nerve and muscle pain, muscle spasms, and more. Unlike many other CBD massage oils, this is a 99.7% CBD isolate, so it contains no THC. Combined with other therapeutic botanicals like lavender, ginger, and peppermint, this massage oil aims for depth.
Blue Ridge Hemp values clean energy methods in the extraction process. In addition, all of the products are vegan, non-GMO, and eco-friendly. The company works to make its products accessible to all through financial assistance programs, and free shipping starts with a minimum order of only $20.
Pros
Vegan and cruelty-free
Well-reviewed
Reduced price assistance available
10
BioCBD+ Muscle and Joint Relief CBD Oil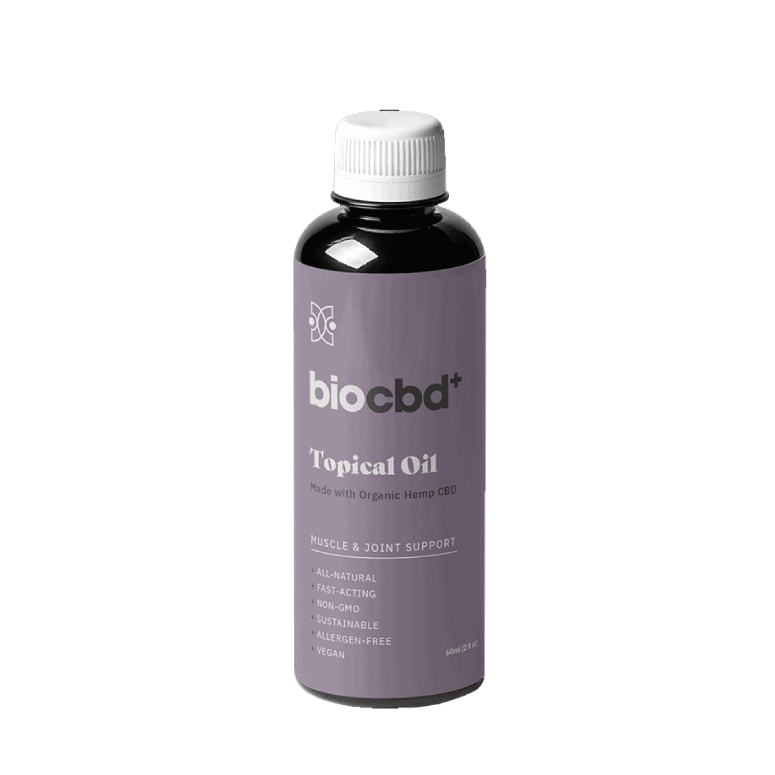 WEBSITE EXPERIENCE: 77/100
Key Ingredients: organic hemp oil, eucalyptus, burseraceae, ginger, curcumin, white willow bark
BioCBD+ offers a Muscle and Joint Relief CBD Oil that combines full-spectrum, water-soluble CBD with lots of other natural extracts, oils, and Ayurvedic herbs. They believe in the power of the entire plant to boost bioavailability. In fact, they claim to offer 100% bioavailability in all of their products.
The company sources their CBD from organic hemp, and similar to some other brands, they offer a discounted rate for a monthly subscription. While the product is extremely well reviewed, One drawback is its relatively steep one-time price ($70) compared to the bottle size (2oz). 
Pros
Made with 100% organic hemp
Triple lab-tested
30-day guarantee
Dr. Kasey Nichols, N.M.D.
Dr. Kasey Nichols, N.M.D. focuses on sleep disorders and drug-free pain management utilizing both conventional and alternative medicine at his private practice,
Onyx Integrative Medicine and Aesthetics
, located in Gilbert, AZ. He served as the Director of Medical Operation and Administration at a national substance abuse disorder corporation with 16 facilities across seven states. He graduated from Cleveland University-Kansas City with a Bachelor's of Science in Human Biology, graduating with honors, and holds a Doctorate from The Southwest College of Naturopathic Medicine. He holds licenses in both Arizona and Kansas. Dr. Nichols has given numerous talks to professional organizations, given interviews for newspapers across the United States, and numerous television news interviews with ABC 15/CW 61 in Arizona, Channel 3 in Arizona, and others. Dr. Nichols has appeared in
Cosmopolitan
,
Reader's Digest
,
WebMD
,
Healthline
, and many other health and lifestyle publications.