Gummies are one of the best ways to take CBD, offering longer-lasting effects than sublingual tinctures.
After researching, analyzing, and taste-testing a whole range of gummies, we've named our number one favorite: CBDistillery. Read on for our full list of the very best in CBD gummies.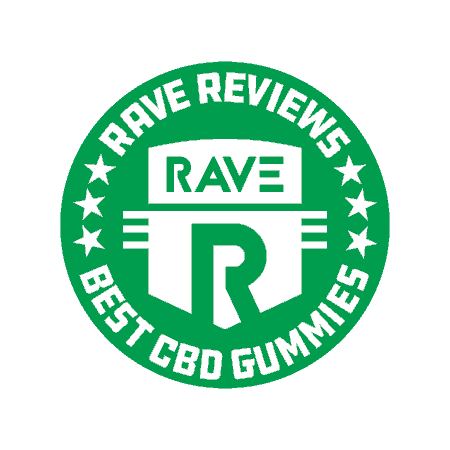 For those who want to experience the benefits of CBD while satisfying their sweet tooth, CBD gummies are the food of the gods. But how, in the overcrowded world of CBD confectionery, do you find the best CBD gummies?
Fret not. At RAVE Reviews, we take CBD gummies very, very seriously. (We actually do.)
The CBD Gummies We RAVE About
We'll fill you in on how CBD works, and, importantly, what to look for in a high-quality CBD gummy. We'll spell out your choices, de-mystify CBD parlance, and help you avoid giving your money to unscrupulous CBD companies. And of course, we'll tell you our favorites.
If you're ready to dive right in, take a look at 10 of the best CBD gummies you can buy right now.
Best CBD Gummies
CBDistillery

At the top of our list is CBDistillery, a group of Colorado natives who are working to create some of the best CBD products available. They source local, organic hemp and use a clean CO2 extraction process.

These CBD gummies are about as close to perfect as you can get. First, they taste great and have a distinctively natural, fruity flavor. CBDistillery uses very high-quality, organic, vegan ingredients, including natural colors and flavors. And, unlike many companies, they do provide a third-party lab test for the gummies so you can see exactly what you're getting.

The only possible drawback for CBDistillery's gummies is that they are isolate-based, so you won't benefit from the presence of other cannabinoids. On the other hand, there's no THC either, so drug tests won't be an issue. And, as a bonus, they're very reasonably priced.


SAVE 10% WITH CODE BESTCBD18

Fab

We're big fans of Fab, a California-based company with a mission to revolutionize the CBD world. These people are nutrition nuts, and their organic, Colorado-grown, CO2-extracted CBD is some of the best you'll find.

While most of their products use a full-spectrum CBD oil, Fab chose to use an isolate for their gummies. As with all their products, Fab uses high-quality ingredients — with no artificial colors or flavors. And with a nice fruity flavor, they taste good enough that you'll probably have a hard time stopping at one.

These are coated in CBD, rather than being infused with it, so the amount of CBD you're getting could vary from gummy to gummy. But Fab provides a third-party lab report for their gummies which shows the reported level of CBD — not to mention a high level of company transparency.


SAVE 15% WITH CODE RAVE15

Sunday Scaries

A newer arrival to the world of CBD, Sunday Scaries has a slightly confusing name, until you realize that their products are meant to beat the Sunday Scaries (the edgy, anxious feeling you get when facing a new work week). Their broad-spectrum CBD products are sourced from organic, domestically grown hemp.

Unlike most CBD companies, the focus of the Sunday Scaries brand is their gummies. They do sell a tincture as well, but the gummies are definitely the center around which their universe turns. They are priced in the mid-range and have only one concentration: 10mg/gummy. But these taste good — not medicinal, and not too sweet — and are made from quality ingredients. You can also choose between a vegan and non-vegan option.

Sunday Scaries also gained points for their free shipping and generous return policy. One drawback is the area of transparency. While they do offer a third-party lab report of the CBD concentrate used for their products, the company doesn't seem to have lab tests for the gummies themselves.

cbdMD

cbdMD is a Kentucky-based company that is making waves in the CBD world for their high-quality products and very good prices. And they use CO2-extracted CBD from organic hemp grown in Kentucky and Colorado, so they're not cutting corners on quality source material.

cbdMD's gummies are infused (not coated) with broad-spectrum CBD, so you get both CBD and other minor cannabinoids, minus the THC. These gummies taste good, though they weren't the favorite. They're slightly medicinal and it's a bit hard to tell which flavor you're eating (especially the reds). The texture is really nice and soft, though. And the ingredients are high-quality and vegan.

cbdMD is another company that provides the third-party lab report for the CBD oil they're infusing into the gummy, but does not provide a lab report for the gummies themselves. So you have to trust that the CBD has been evenly distributed. But if you're not happy with what you get, the company has a very generous return policy.


SAVE 15% WITH CODE RAVE15

Lord Jones

And now for the gourmet option. Lord Jones is a luxury CBD company that puts a premium on presentation. These CBD gummies (ahem, gumdrops) are meant to sit on your coffee table like a beautiful box of chocolates. You certainly won't want to hide them away in your medicine cabinet.

They don't just look good, though. Lord Jones uses premium, organic, Colorado-grown hemp for their broad-spectrum products. These have no THC, and you'll be able to find a third-party lab report for the gummies themselves. Each gummy contains 20mg of CBD, and they taste great if you're okay with a bit of a hempy aftertaste. They have a very nice, soft texture and a natural, fruity taste.

Of course, the drawback here is the price. These are by far the most expensive on our list. And you won't be able to return these if you don't like them — Lord Jones has a strict no-return policy for their gumdrops. Though, when something looks and tastes this good, you probably won't want to.

Hemp Bombs

A Florida-based CBD company, Hemp Bombs sells CBD products that are derived from organically farmed, U.S.-sourced hemp. The website and packaging leave much to be desired (in the words of one customer review, "garish and frenetic"), but the company displays third-party lab tests for all their products, so you can feel confident about what's inside the bottle (or bag, in this case).

These gummies taste like candy — one reviewer said they remind him of Sour Patch Kids. They also come in several concentrations so you can choose your dose. On the downside, these are coated rather than infused with CBD, and they do contain artificial colors and flavors — and gelatin (not good for vegans).

But if you want to avoid THC, all of Hemp Bombs' products are isolate-based. And Hemp Bombs has both good prices and a generous return policy, making this a low-risk investment.


SAVE 20% WITH CODE RAVE20

Highland Pharms

Highland Pharms got its start in the Highland Lakes region of Texas and the company has a longstanding commitment to natural health. They sell a range of CBD products that are procured from high-grade, organic, Colorado-grown hemp.

Highland Pharms offers some of the best-tasting gummies on this ranking. They have a bright, natural, fruity taste and they check all the boxes when it comes to quality. They're infused with full-spectrum CBD (rather than coated) and they're made with natural ingredients — no artificial colors or flavors.

Highland Pharms would be higher on the ranking if it weren't for an issue with transparency. A customer service request for third-party lab reports for the gummies brought an assurance that every batch of all products is tested by a third-party lab. There is one lab test result for their CBD oil on the website, but so far we've received no further information on testing for the gummies.

CBDfx

A California-based company with a broad range of CBD products, CBDfx is very upfront with what goes inside their bottles. They use organic, American-grown hemp for their CBD, and third-party lab reports are easy to find for every product they sell.

The company website claims that theirs are the first 100% vegan, full-spectrum gummy bears available. A claim like this is pretty hard to verify considering the number of options out there — but they certainly are vegan, and they're made without artificial colors or flavors. They're also infused rather than coated with CBD, which is a good thing.

However, these are expensive and they just don't taste great. They're sweet with a strong hemp flavor (which is perhaps hard to escape with a full-spectrum gummy). And at 5mg per gummy, this is a very low CBD concentration, so you'll probably need to take more than one (but you may not want to).

Green Roads

A Florida-based company with a mission to provide a safe, effective alternative to prescription painkillers, Green Roads offers a very respectable variety of CBD products. All are derived from organic, Colorado-grown hemp, and their CBD is extracted via CO2.

Green Roads does a lot right when it comes to gummies. First, they're infused with broad-spectrum CBD. That means that you get CBD, along with terpenes and minor cannabinoids — minus the THC. They also provide third-party lab reports for all their products, and the reports are easy to find on the product pages. And they offer a range of concentrations for their gummies.

The main problem with these is that they really don't taste very good (fairly medicinal and artificial), which seems pretty important in a gummy — and they're big, so you have to work your way through a lot of somewhat weird-tasting gummy. We also dinged them for their ingredients. These include artificial colors, flavors, and gelatin (which is a problem for vegetarians).


SAVE 20% WITH CODE RAVEREVIEWS20

Hemplucid

Hemplucid is a company that makes a big deal about transparency — for good reason. There are a lot of dodgy companies out there, and Hemplucid wants to set themselves apart. And for the most part, they succeed. Third-party lab reports are available for all their products, and they are open about sourcing and extraction.

So Hemplucid is doing a lot right when it comes to their CBD products. Their gummies are made from high-quality ingredients, including organic, full-spectrum CBD and no artificial colors, flavors, or gelatin.

These are expensive though, and they — at least the CBD coating — do not taste good. We also had an issue with finding good information about the gummies. When we called customer service prior to purchasing, we were assured that these were infused, not coated, with CBD. On tasting them, however, it was pretty clear that these were only coated in CBD — which a second call to customer service verified. Hemplucid has a generous return policy, and any company can experience a glitch in communication, so that shouldn't necessarily throw shade on the company as a whole. It definitely dropped them further down on our ranking, though.
The Best CBD Gummies: How Do They Work?
CBD — or cannabidiol — is one of 113 cannabinoids that come from cannabis plants. First discovered in the 1940's, it's only recently that CBD has come into the spotlight. It began with a growing swell of anecdotal evidence of CBD's benefits. People claimed that it helped with their epilepsy, pain, anxiety, and even diseases like cancer.
The scientific research is in the early stages, but even scientists are cautiously enthusiastic. Whether or not we've discovered the actual plant of immortality, there's no denying that CBD seems to be helping a lot of people with a lot of different conditions.
So how does it work?
The answer to this lies in our endocannabinoid systems. Composed of receptors and chemicals, the endocannabinoid system maintains balance within your body by helping to regulate emotions, pain, sleep, mood, and appetite.
CBD actually works through multiple mechanisms, but many of its effects come from interactions with CB1 and CB2 receptors in your endocannabinoid system. And the way CBD relates to those receptors is unique.
For example, when THC (CBD's cannabinoid cousin) is introduced to the body, it binds with the CB1 receptor. This binding action is what makes you high when you smoke marijuana.
CBD, on the other hand, can't bind to the CB1 receptor. In fact, it has a low affinity for either receptor. Instead, it influences them in indirect ways.
The upshot of all this is that CBD can't make you high. And not only will it not make you high, but it will even dampen the effects of THC (by changing the shape of the CB1 receptor). So it's actually kind of a buzz-kill.
CBD's wide range of apparent benefits — from reducing inflammation to neuroprotection — combined with its lack of psychoactivity is why it is the subject of so much scientific research right now.
But to experience the benefits of CBD for yourself, you'll need to find a high-quality product.
The Best CBD Gummies: Source
To find the best CBD gummies, you really do have to go all the way to the source — where and how the hemp is grown. Whether or not you eat 100% organic food, growing methods are a really important thing to pay attention to when it comes to buying CBD products.
This is because hemp is a bio-accumulator, meaning that it absorbs substances that are present in the soil (like pesticides). Hemp literally pulls environmental contaminants out of the soil. In fact, it's so effective at soil-cleaning that it's even being used in Chernobyl as a part of phytoremediation efforts.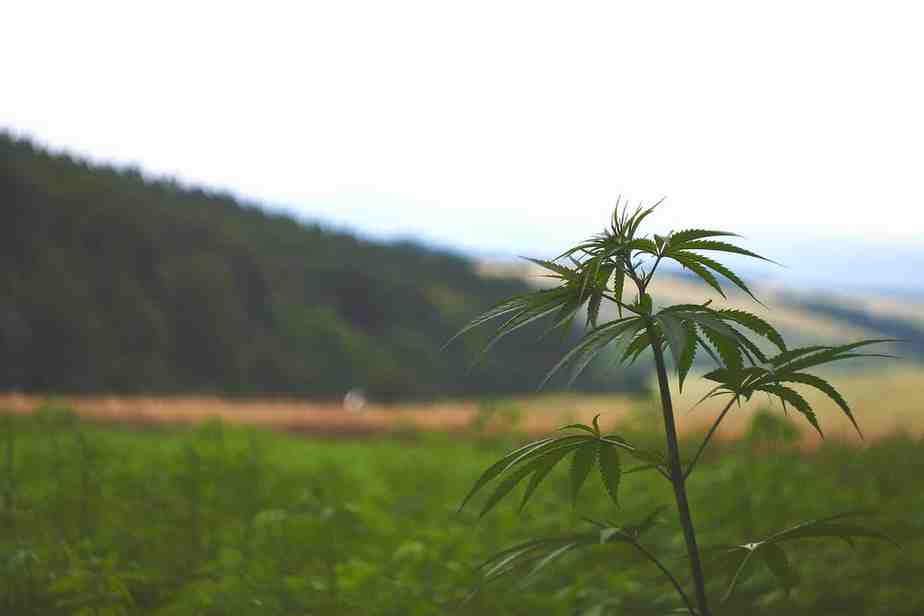 This matters when it comes to pesticides obviously, but it also pertains to heavy metals (from industrial fertilizers) that might exist in the soil. Because the USDA doesn't issue an organic certification for most hemp (unless it's grown in a state-run pilot program), you'll need to contact the company about whether or not pesticides are being used.
Third-party lab reports can also be really good sources of information. Many companies only display the cannabinoid content on their reports, but some do offer the test results for heavy metals and other contaminants. If those results aren't on the lab reports that are displayed on the website, it never hurts to contact the company directly.
The importance of soil is another reason to make sure your CBD oil was extracted from U.S. grown hemp. Hemp from China and countries in Eastern Europe is cheap and readily available. But regulations are just stronger here, due to the Federal Farm Bill of 2014, which provides an avenue for states to legally set up a license and certification process for farmers to go through.
Best CBD Gummies: Ingredients
Obviously, the best CBD Gummies should contain very high-quality CBD. This means that it should be grown organically, preferably in the U.S., with third-party lab reports that attest to concentration levels.
In terms of CBD quality, extraction is another thing to pay attention to. CO2 and ethanol are both good, clean CBD extraction methods, and currently there's no industry consensus about which is better (though people have strong opinions on both sides).
But CBD gummies contain more than CBD, and since all the gummies on our ranking conform to the above standards of sourcing and extraction, it's worth looking closer at the other ingredients.
To begin with, CBD gummies need to be sweet. The amount of sweetness is probably going to vary widely depending on personal taste, but the sweetness is definitely a big part of the appeal.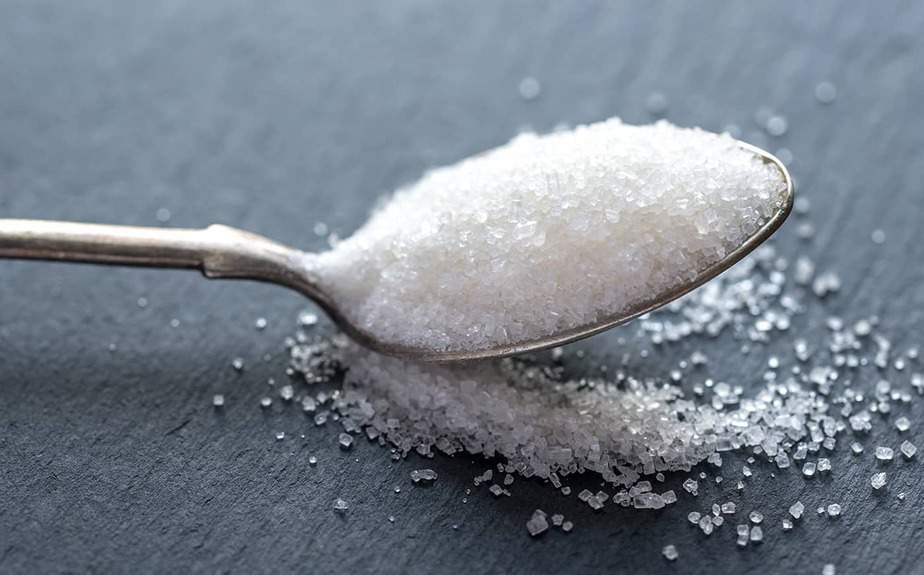 Sweeteners are a hotly contested subject, but without going too far into the battle of the sugars, we can probably all agree that one of the very worst is high fructose corn syrup (although agave nectar seems to be up there with a lot of dieticians).
The amount of sugar is worth looking into as well. The best CBD Gummy is going to hit the sweet spot of deliciousness without taking you down the road of the sugar coma. Sometimes less is more.
And what is a gummy without color? The mind boggles.
Color we must have, but preferably not the kind with numbers. The biggest culprits here are colors like red 3, red 40, yellow 5, yellow 6, blue 2, and caramel coloring (sounds so innocent, right?).
Ditto for flavors. Although, to be honest, the term "natural flavors," which you might see on a list of ingredients, is referring to flavoring that is so highly processed that it is hardly a step above the "artificial" flavor variety. But they do originate in real food and spice sources. If that helps.
If you're leading a vegetarian or vegan lifestyle, thickeners are another ingredient to pay attention to. Gelatin is the cheapest and easiest way to get the ideal gummy consistency, but it is an animal product. Vegan thickeners include pectin (the most common), cornstarch, and tapioca, among others.
Best CBD Gummies: Infused vs. Coated
You might assume that all CBD gummies have a similar manufacturing process, but you would assume wrongly. Like most aspects of the world of CBD, there is little that you can actually assume. Best practices do exist, but whether or not companies follow them is entirely up to them. One common practice among CBD gummy manufacturers is to make the gummies first, without the CBD, then spray them with a coat of CBD (or roll them in CBD isolate) before they are bottled.
The practice of coating gummies is mainly problematic because it makes it very difficult to ensure an even distribution of CBD. This means that in a bottle of CBD-coated gummies, you'll probably have gummies with significantly more and less than what the bottle claims.
If a company does coat their gummies with CBD, look extra closely at third party tests of their gummy products  — but keep in mind that it's very difficult to accurately test a coated product.
The alternative is to infuse the gummies with CBD oil, mixing it in (and hopefully mixing it very well) with the other ingredients. This process not only means that the CBD is more evenly distributed, but it is better protected from heat and light so it has a longer shelf life. And a longer shelf life means that you're more likely to be ingesting the amount of CBD that is labeled on the bottle.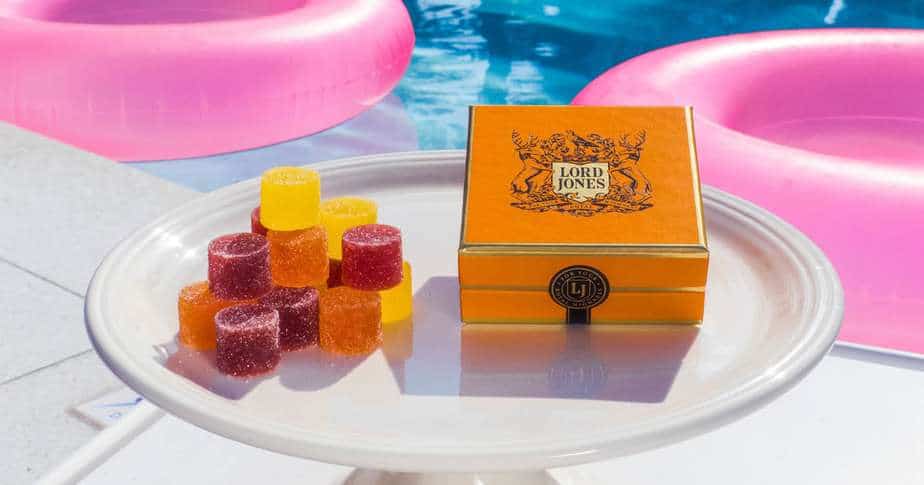 But keep in mind that even in an infused CBD gummy, the CBD can still be unevenly distributed. So it's always a good idea to check third-party lab reports before purchasing.
Best CBD Gummies: Bioavailability
To state the obvious, your body first needs to absorb CBD before it begins to work. And there are oh so many readily available ways to get it into your body. You can take it orally (either sublingually or ingested), topically (through your skin), vape it into your lungs, and even, for the more adventurous among us, via suppositories.
That sounds simple enough, but not all methods of taking CBD are equal when it comes to how much your body is able to absorb.  The medical term for this is bioavailability, and there is a definite hierarchy here.
At the top of the bioavailability pyramid is intravenous administration, but we'll bypass a discussion of that since it's hardly a recommended way of taking CBD. Vaping and sublingual tinctures are the next step down from literally sticking it directly into your bloodstream. These methods allow CBD to enter into your bloodstream in a fairly direct way, bypassing the digestive process.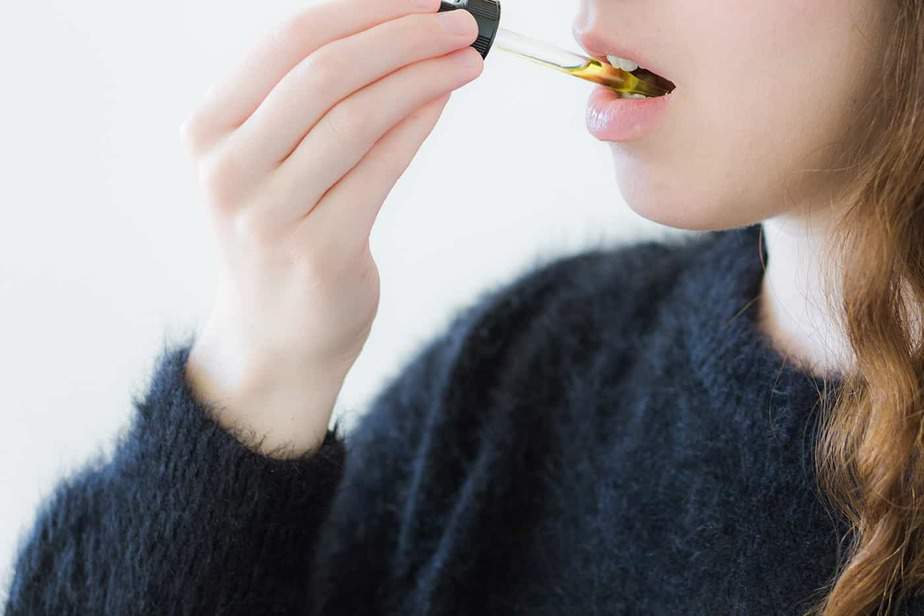 Ingesting (eating or swallowing) CBD is arguably the easiest way to take CBD, but it actually has a relatively low bioavailability. The numbers on this vary, but studies have shown that the bioavailability of ingested CBD to be from between 6% up to a high of 20%. So if you take 10mg of CBD, you can expect to actually benefit from between .6mg up to 2mg of what you swallowed.
Those aren't great numbers, although there's evidence that taking CBD orally in the presence of dietary fats (preferably saturated fats) can increase bioavailability significantly. But that won't help you in the case of CBD gummies — unless you take your favorite kind of dietary oil with it, which seems weird but not impossible.
So why take CBD gummies? There are certainly more efficient ways of getting CBD into your body, but ingesting CBD also has its perks. For example, it does have the benefit of lasting longer within your body. Vaping and tinctures work fast, but don't last as long. So if you're trying to keep a more constant, slow-acting, low dose of CBD in your body, eating a gummy may be a good way to go.
And then there's the deliciousness, and let's just be honest about that. They taste good — or they should. And they're colorful. And fun. And portable. And discreet.
Best CBD Gummies: Full-spectrum, Broad-spectrum, or Isolate?
There are a lot of options out there when it comes to CBD Gummies, and one of those choices centers around the presence or absence of THC. For those who are new to the world of CBD, here's the breakdown of these terms:
Full-spectrum CBD oil also contains other minor cannabinoids (including small amounts of THC) and terpenes, which give hemp its distinctive smell and taste.
Broad-spectrum CBD oil contains minor cannabinoids and terpenes, but no THC.
CBD isolate should be pure (99%+) CBD, with no other cannabinoids or terpenes present at all.
Keep in mind that even a full-spectrum CBD oil, should (by law, according to the 2014 Farm Bill) contain no more than 0.3% THC. That is a tiny amount of THC which will not cause psychoactivity — it won't make you high.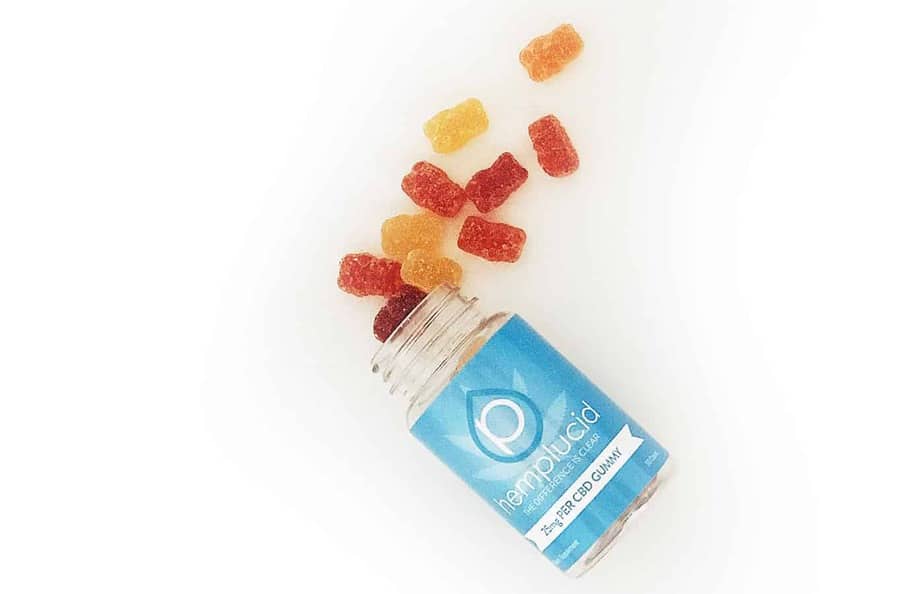 So why would you want THC to be present at all? Well, if you've ever heard of the entourage effect, this is what we're talking about. There's some evidence that cannabinoids (and terpenes) work better in concert with each other, rather than when they're isolated in their pure forms.
There's been some scientific research on the entourage effect (like this oft-cited study), but, like many things related to CBD, the scientific jury is still out on this one — the research is just too slim. The anecdotal evidence is pretty strong, though, which shouldn't be ignored.
On the other hand, there are some people who just need to avoid THC altogether. If, for example, you have to take a drug test for work, even small amounts of THC could cause problems for you.  THC can build up in the fat cells of your body, so there's a chance that if you're taking a full-spectrum product on a regular basis, THC could show up on a drug test.
People who have been diagnosed with bipolar disorder or panic disorder might need to avoid THC altogether as well. In these cases, a broad-spectrum or isolate product is exactly what you want.
The other point to make when it comes to any kind of CBD product is that cannabinoid content can vary dramatically, depending on how careful the company is about consistent concentration. There are companies selling "CBD gummies" that literally contain no CBD. Or much, much more than they report. Or they might contain much higher levels of THC than they should.
This is why looking at third-party lab tests is so important. If you want to feel confident that you know what you're getting, don't buy CBD products from companies that don't make third-party results available.
Best CBD Gummies: Potency
There's not too much to say about potency, except to make sure you know how much you're eating. Most CBD gummies are offered in concentrations of 5mg up to 25mg per gummy. That's a pretty big difference.
Generally, the rule with experimenting with CBD is "start low, go slow." A 5mg gummy really isn't going to deliver much CBD to your body, but starting with a low dose will help you determine how much you need to get the effects you want.
Best CBD Gummies: Children
Can you give CBD gummies to your child? We're not medical experts and are not going to give you a definite answer to that question. But assuming that as a parent, you've exhaustively researched the pros and cons of giving your child CBD, consulted actual medical experts, and decided that it is something you want to try — the reality is that not all dosing mechanisms are going to work for children.
Vaping, for example, is definitely not appropriate for children, and sublingual tinctures may just be too complicated (depending on the age of your child, holding weird-tasting liquid under the tongue for a minute or two could be a hard sell). Children find it difficult to swallow capsules, so you may decide that, ultimately, gummies are your best shot.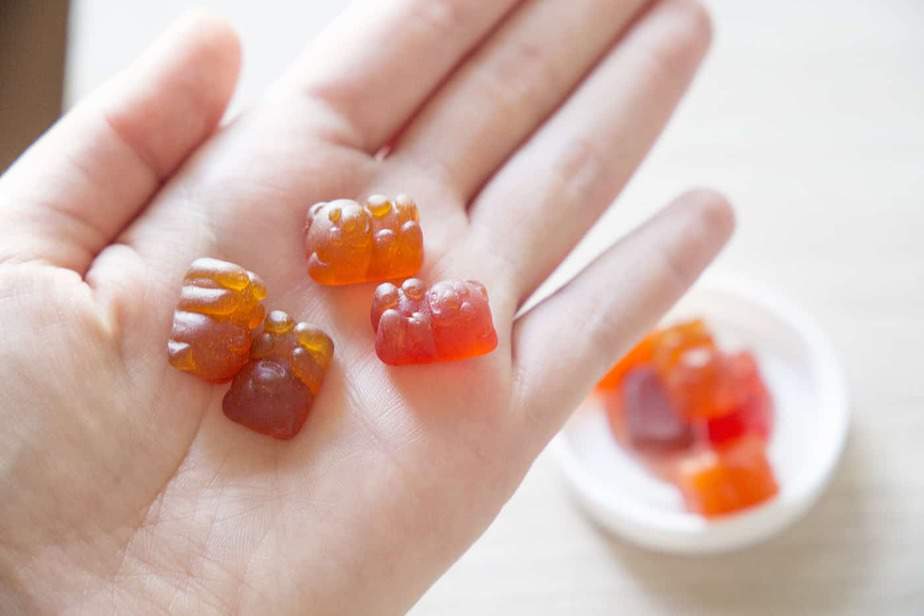 But you'll have to go the extra mile to check up on ingredients, manufacturing processes, and especially third-party tests to ensure that you know exactly what you're giving your kids.
And it probably goes without saying, but we'll say it anyway, that CBD gummies should be treated like medicine. They should be kept in a place where children can't get into them in the event of a sugar craving (when you happen to be out of the room). CBD has a good safety profile, but nevertheless, play it safe — especially if you choose a full-spectrum product with small amounts of THC.
Best CBD Gummies: Company Transparency
We've already made this point several times, but it's worth repeating. The CBD industry is unregulated, and there are a lot of snake-oil vendors out there. It's actually quite easy to set up a CBD business, and there are more coming online every day. It's really up to the consumer to perform due diligence.
That means that the cheapest CBD that you can find is likely not going to be the highest quality. This is for the very good reason that ensuring that CBD is consistently concentrated, contaminant-free, and ethically sourced costs money.
On the other hand, there are some great companies that are doing all the right things and are still finding a way to keep their prices reasonable. And there are companies who charge a lot and not delivering what they say. So cost is no guarantee of quality.
Third-party lab tests are the best way to check the quality of what you're getting. And the more information they provide, the better. These lab results should be readily available, either on the website or by request (from customer service). When you look at the lab results, make sure you can see the name of the testing lab. If you can't see the name of the lab that performed the test, you should ask more questions.
You should also be able to find out where the CBD was sourced and how it was extracted. Many companies put this information on their website, but if you can't find it, give them a call or email them. If a company doesn't want to divulge that information, think twice about buying their products.
It might take some experimentation before you find the best CBD gummy for you. We all have individualized endocannabinoid systems, so different formulations work for different people.
Just make sure to try one product at a time, so you know what is working (or not working) for you. And keep track of how you feel. This will help you discern if you're experiencing the relief you want.
And enjoy the deliciousness of the discovery process!