With so many options available, finding the best vaping CBD products can confuse even the most knowledgeable enthusiast. In this article, RAVE aims to dispel the misinformation and ambiguities in order to present the best products–with a breakdown of what makes great products stand apart from the rest.
The sheer number of choices can be a bit overwhelming. But if you've heard of CBD's potential medical benefits and you're looking for the best CBD for vaping, you've come to the right place. Because with all the concerns surrounding vapes, even vape lovers are taking a second look at their most treasured brands.
CBD vaping–for those who enjoy it–is here to stay. The combination of being able to enjoy the benefits of CBD while avoiding the pitfalls of traditional herb smoking, makes vaping a superior option for many CBD lovers.
For fast relief, vaping CBD is hard to beat and its popularity continues to grow. But CBD has become big business and looking for best quality CBD products can feel like navigating a maze of contradicting information. If you'd like to know which brands produce CBD vapes with true quality and great business practices, then continue reading!
Want the TLDR on the Best Vape?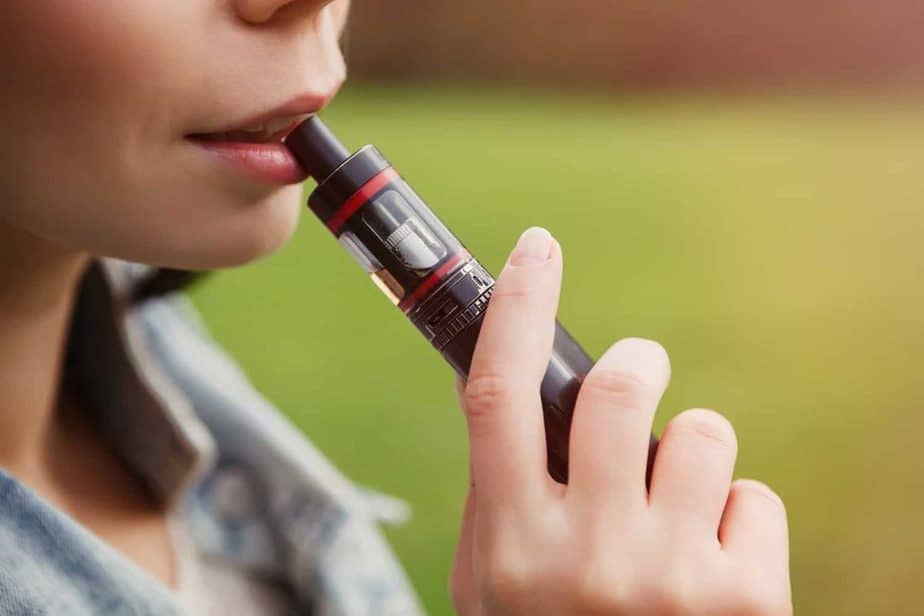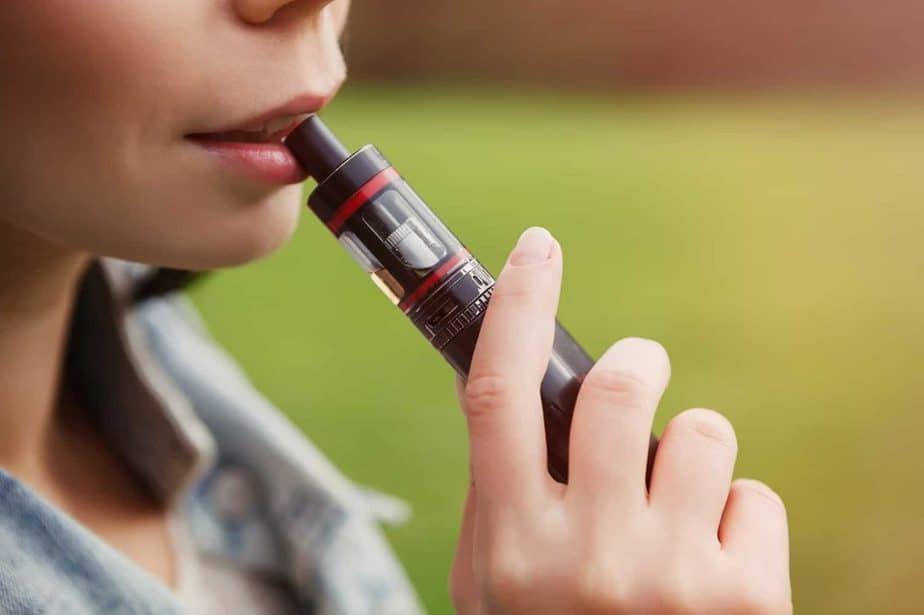 At RAVE, we respect your time. So if you're in the market for a quick answer, we provide a brief summary of the one product we would choose if we could only choose one.
Our pick for the very best CBD oil for vaping is CBDfx. Available in 12 flavors, the brand's disposable CBD vape pens contain ultra-pure CO2 extracted oil and no cheap additives or fillers. Plus, they are an industry-leading brand that has been trusted since 2014.
CBDfx is not the only notable CBD vape oil worth mentioning, though. To quickly and easily sort through the options and pick the absolute best CBD vape product for you, check out our ranking of the best CBD for vaping. But before we dive in, let's take a look at how we arrived at this ranking and which factors were used to identify the best products.
Methodology for Ranking the Best CBD for Vaping
What makes a great vape? From scouring hundreds of product reviews and after consulting industry experts, we believe we have narrowed it down to a few core factors. Does the vape create a smooth, comfortable vapor? Will the vapor burn the throat or lungs after continued use? Are the ingredients used in the product respectful of the customer's health?
We answered these questions, and more. Here's a breakdown of the factors we believe contribute to the best CBD vapes on the market:
Price as compared to market standards: Does the price fairly represent the value on offer?

Quality of ingredients used–both in terms of the CBD and the oil accelerants: Are there any health concerns about the ingredients used in the vape oil formula?

Reputation of the brand: Is the brand well-known with an established history of excellence?

Customer reviews: What did customers say after using the product?

Concentration of CBD: How much CBD will you get from vaping the product?

Battery life / lifespan of the vape: Does the product last more than a few days?
Best CBD for Vaping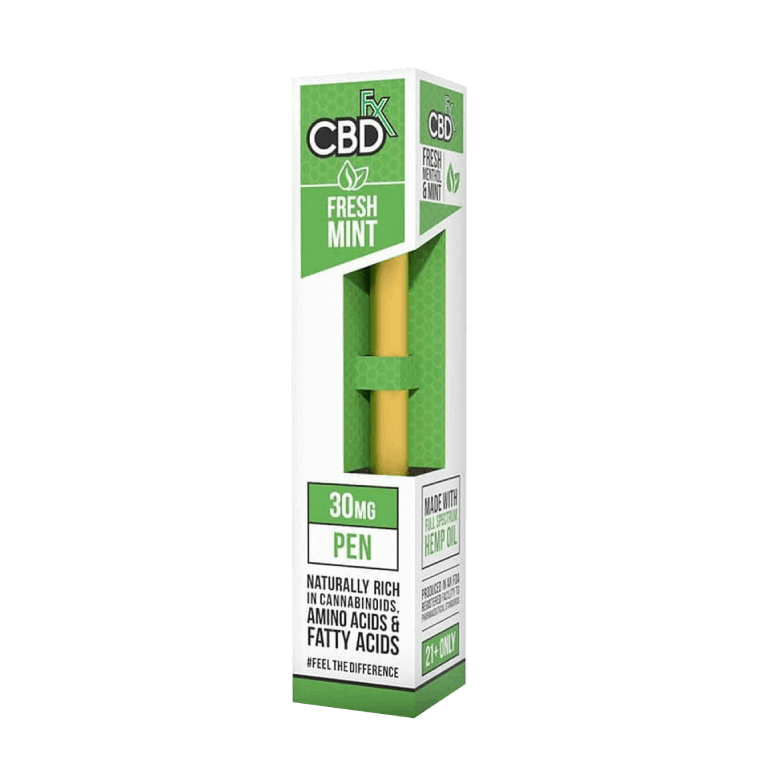 WEBSITE EXPERIENCE: 80/100
Based in California, CBDfx offers customers some of the best and most affordable broad-spectrum and isolate CBD products on the market, and their pre-filled vape pens provide excellent value if you would like a disposable option.
They use broad-spectrum CBD oil in their products, so you'll benefit from minor cannabinoids–without the risk of building up THC in your body. Their vape juice is a proprietary blend that contains CBD and a PG/VG mix with natural flavors. The pens come in several flavors, but we particularly love the Blue Raspberry and the Melon Cooler options. Each is just $14.99 and comes pre-filled with 30 mg of CBD sourced from organically grown hemp. You can also purchase them in a case of 12.
Each pen lasts for about 100 puffs and is ready to go right out of the box, no charging required. The battery will outlast the e-juice, so there is no reason to refill either. The company states that new users will likely find it lasts around two weeks, while for intermediate users it may only last a week. It's a terrific option for those who are new to vaping CBD and are not ready to make a big investment.
And if you grow out of the pens, CBDfx offers Vape Juice you can use with your own device, too.
Pros
Tons of cool flavor choices
30-day guarantee
Frequent discounts and promotions
Cons
User experience a little chaotic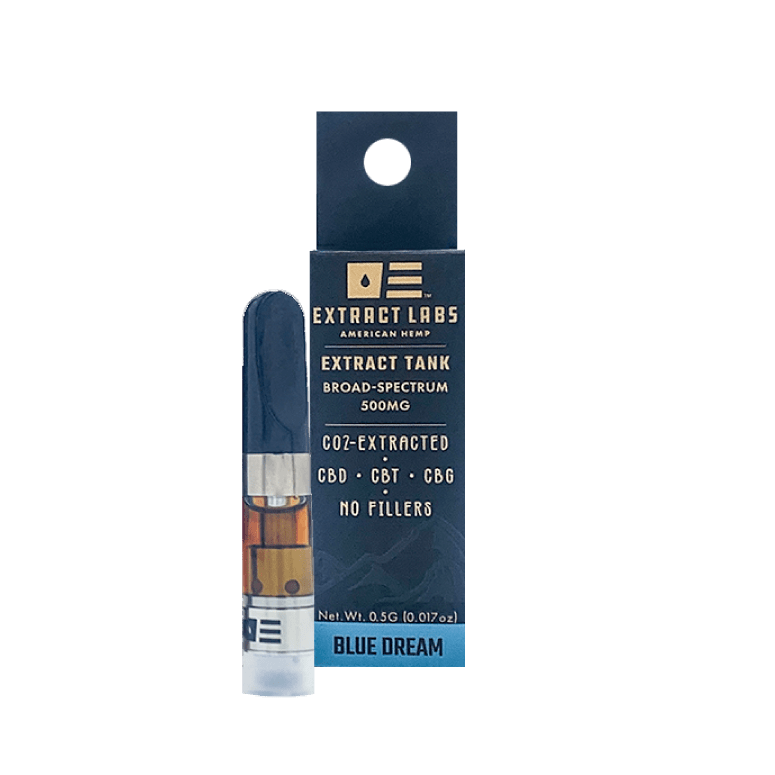 WEBSITE EXPERIENCE: 76.7/100
Extract Labs comes in second in our ranking for good reason. Founded by combat veteran Craig Henderson, this Colorado-based company sets a high bar when it comes to transparency, and they only use organic, American-grown hemp.
The brand's full-spectrum CBD extract tanks are perfect for beginners and veteran vapers alike. They contain no MCT, vegetable glycerin, propylene glycol, or thinning agents. Plus, they are guaranteed vitamin E acetate-free. Extract Labs offers several variations, but we are partial to their Granddaddy Purp Vape Oil Tank. It's an earthy mixture of grape and berry from Big Bud and Purple Urkle ancestry that contains CBD, CBT, and CBG.
The tank will work in any compatible 510-threaded battery (sold separately on the website) and contains 500 mg of cannabinoids. If you're curious about the lab results for this high-quality vape oil, the product page links to a full list of third-party COAs that go back for a full year. Lastly, If you're unhappy with your experience they will refund you for your purchase within 60 days.
You will be hard-pressed to find a better CBD vape that offers the quality and brand-transparency as is offered here.
Pros
Free shipping on orders over $50
Complete lab reports on website
60-day money-back guarantee
WEBSITE EXPERIENCE: 76.7/100
CBDistillery is run by a group of Colorado natives that do a bit of everything CBD. They believe that high-quality CBD should be accessible to the masses and are doing their bit by keeping their local, organically grown hemp extracts fairly priced.
CBDistillery has several e-liquid options — all broad-spectrum-based (so no THC). Depending on your preferences, you can try them in two potencies— 500 mg regular-strength or 1000 mg extra-strength. We are particularly impressed that every e-liquid offered by CBDistillery is U.S. Hemp Authority Certified, which gives consumers an extra layer of assurance when it comes to safety and quality. 
We sampled the extra-strength 1000 mg Strawberry Lemonade E-Liquid and loved it — actually, we found it ridiculously hard to put down. Users can choose from other fun flavors as well, including strawberry-lemonade, mint, and grape. If you're looking for a highly concentrated dose of CBD that tastes great, look no further. 
Pros
Excellent prices
Great product selection
Lab reports on website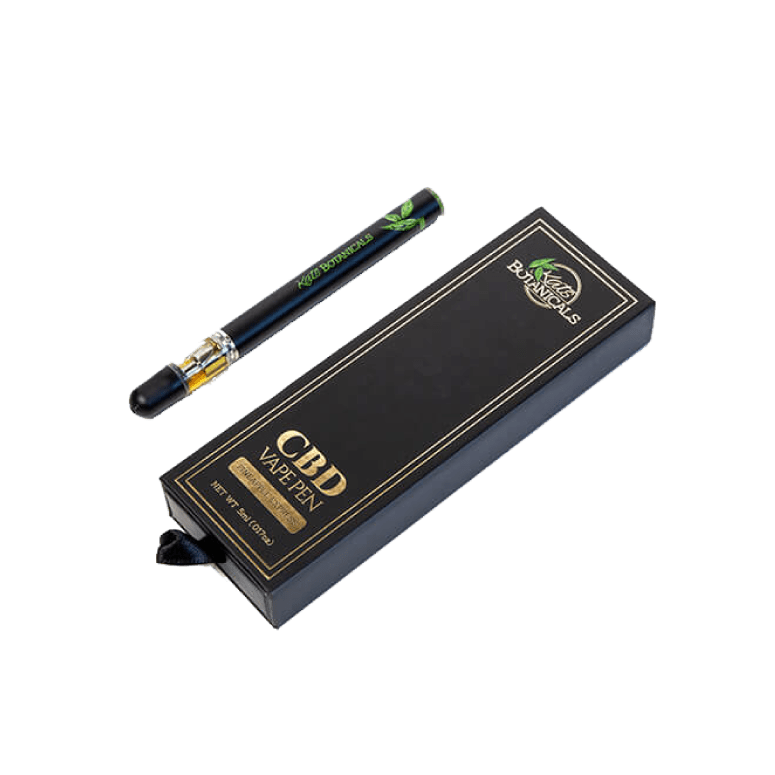 WEBSITE EXPERIENCE: 76/100
This New Jersey-based company was founded by Justin Kats in 2016, and it's been going strong ever since. The brand has an extremely loyal following and a strong commitment to making emerging alternative botanicals available to the marketplace. Their hemp is carefully grown and hand-harvested in Colorado and is completely organic.   
Kats offers its 250-mg CBD Vape Pens in four flavors: Banana OG, Pineapple Express, Strawberry Cough, and Watermelon OG. All are made with full-spectrum distillate CBD oil and contain additional beneficial terpenes like Myrcene, Humulene, Limonene, a-Pinene, and others. Along with CBD, other cannabinoids like CBDA, CBDV, and CBG are also present.
All of Kats' products are thoroughly lab tested for potency, purity, contaminants, and unwanted compounds. Plus, they carry a 30-day satisfaction guarantee. The pens are simple and ready to use right out of the package.
Pros
Lab testing batch-lookup tool on site
Reputable and trusted brand
All-in-one kit ready for immediate use.
Cons
Free shipping threshold is high at $100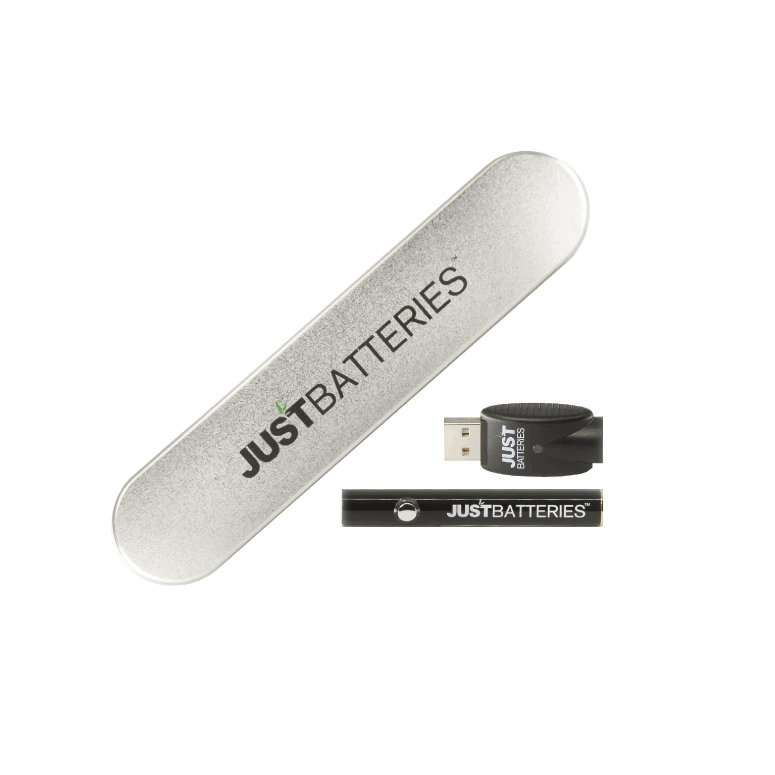 WEBSITE EXPERIENCE: 86/100
Up next in our ranking of the best CBD brands for vaping is Just CBD. Established in 2017, the company has headquarters in Florida and London, offering a full lineup of hemp-based products on both sides of the pond. They carry tinctures, capsules, pet products, topicals, and a huge selection of tasty edibles, so it's not surprising that they also offer some of the most unique flavored CBD Vape Oil. 
Strawberry Cheesecake, Pina Colada Ice, and Blue Razz are just a few of the yummy taste options available. Our personal favorite, CBD Vape Cookies, is reminiscent of freshly baked toll-house cookies. Like all of the vape oils, it's available in 100, 250, 500, or 1000-milligram options with prices ranging from $12.00 to $29.99.
Those who prefer vape cartridges have an even more extensive selection to choose from. Just CBD offers over a dozen cartridge flavors like Grape Glacier, Honey, and Blueberry. Plus, they have a great selection of rechargeable vape pens on tap, so you can get everything you need to start vaping CBD right away. 
Just CBD conducts extensive third-party testing on all their products, and they received an A (excellent) rating on LeafReport for the accuracy of their COAs. The brand also has over 22,000 user reviews and is a proud member of the Florida Hemp Council. If you're looking for a brand you can trust, these guys work hard to earn yours. 
Pros
Very active on social media
Excellent flavor options
Weekly sales and specials
Cons
Returns apply to unopened items only and must be within 15 days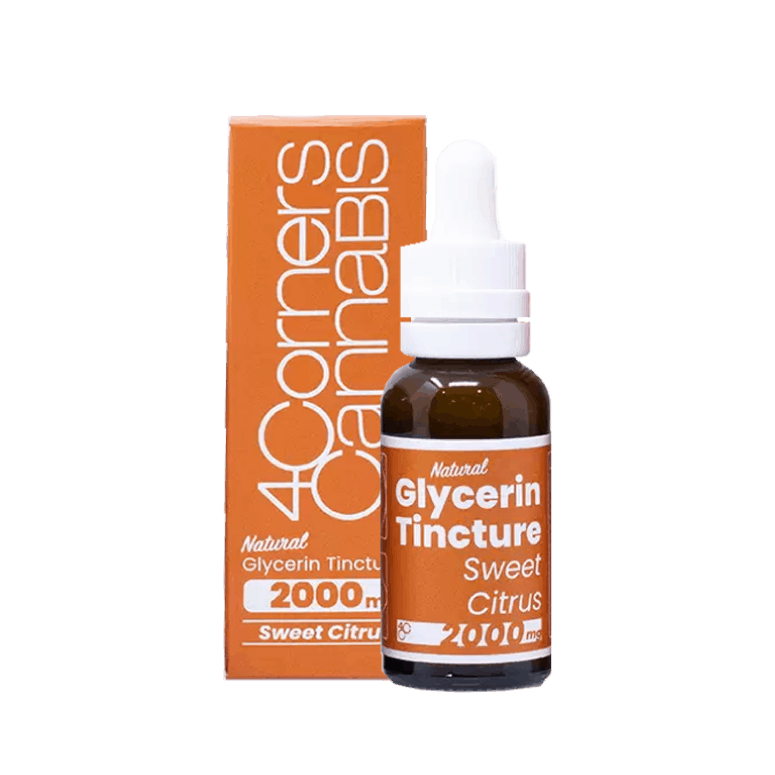 WEBSITE EXPERIENCE: 90/100
4 Corners Cannabis has a unique perspective when it comes to growing hemp—they choose not to grow any more than what can be hand-harvested. Unlike some white-labeled brands that source hemp from huge farms, the 4 Corners Brand is committed to controlling all aspects of production from seed to sale, resulting in some of the best cannabinoid, terpene, and flavonoid profiles in the industry.
They extract a bit differently too, using only the highest quality organic sugar cane alcohol from Brazil. The company believes that using this high-grade solvent is the only way to retain the full spectrum of beneficial compounds in the plant.
4 Corners' Glycerin Tincture is billed as a sweet and tangy alternative to their other offerings, and this product is unique in that it has multiple uses. Not only can you Vape this formulation, but it can be taken sublingually or added to beverages. Plus, it contains no coconut or avocado oil like some of their other options, which is important for those with allergies.
This tincture is a bit pricier than some of the others on our list but is a clear choice for those who are concerned about purity. The only ingredients are Vegetable Glycerin, Complete Spectrum Hemp Extract, and Limonene.
Pros
Responsive customer service
Contains no diacetyl
Good for those with coconut or avocado allergies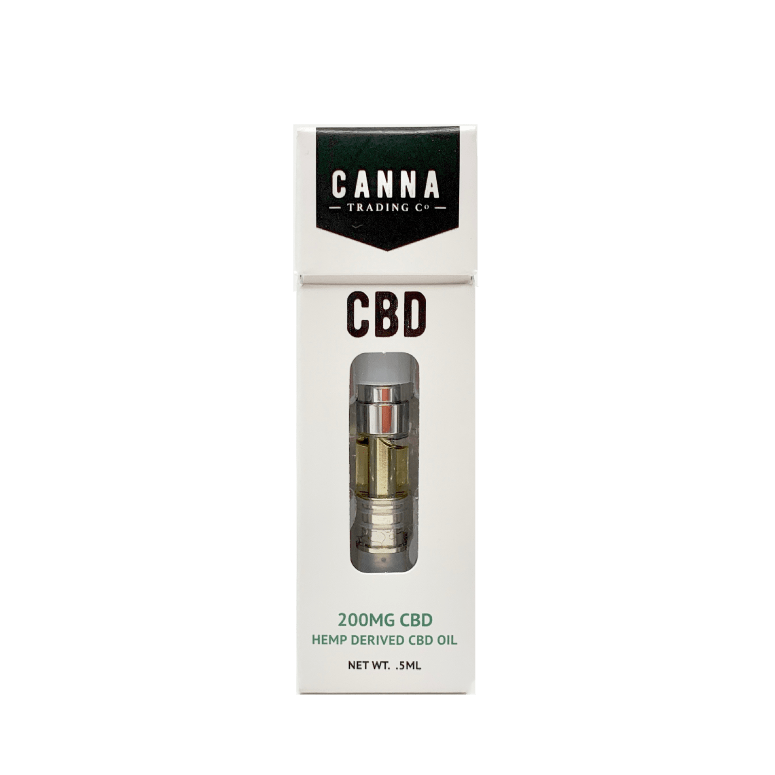 WEBSITE EXPERIENCE: 90/100
Based in the Central Coast area of California, Canna Trading Co. has been around since 2015. They use organically-grown, supercritical CO2-extracted, broad-spectrum CBD oil with terpenes and minor cannabinoids, but less than 0.1% THC.
Canna Trading Co. got its start as a vape-focused company, so they know what they're doing when it comes to vape products. They have streamlined offerings — you can choose between a disposable vape pen or cartridge containing 200mg of CBD. They use MCT oil as a cutting agent and natural terpenes for flavoring their 14 different taste options. We are particularly enamored with Skittles, Sunset Sherbet, and GSC Thin Mints. 
Canna Trading Co. does display a third-party lab report for their CBD extract on their product pages, but there doesn't seem to be testing for individual products like their vape juice. We've also been unable to find out how often these tests are performed. They do, however, have a generous, 30-day return policy in case you're not satisfied.
Pros
14 flavors to choose from
Nice terpene blend
Lab tests available on site
Cons
Batteries only under warranty for one month on vape pens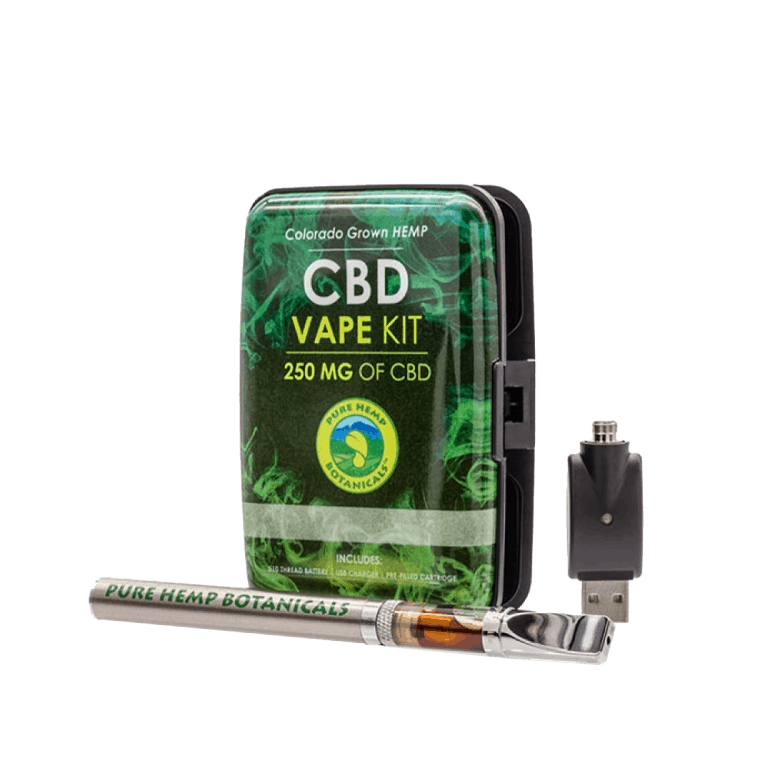 WEBSITE EXPERIENCE: 90/100
Pure Hemp Botanicals is a company that is passionate about CBD — and about the planet. Located in Colorado, they use local, organic hemp for their CBD oil, and their ethos of compassion and sustainability is integrated from seed to packaging. They are one of the only companies we've seen that doesn't send out their CBD products with a box full of packing peanuts!
Pure Hemp Botanicals offers a line of full-spectrum vape products, with everything from bottles of vape juice to vape kits that include everything you need. They do use Propylene Glycol (PG) in their vape products, but all flavors are derived from natural plant sources.
We sampled the sweet mint which, truth be told, was not our favorite of all the mint-flavored vape products we tried. But they have several other flavor options as well. And you can find lab results for all their products on the website that stand as testaments to the commitment to quality and transparency of this brand.
Pros
Refer a friend for 15% off
Lots of money-saving promotions
Batch tool to look up lab report for your product
Cons
No international shipping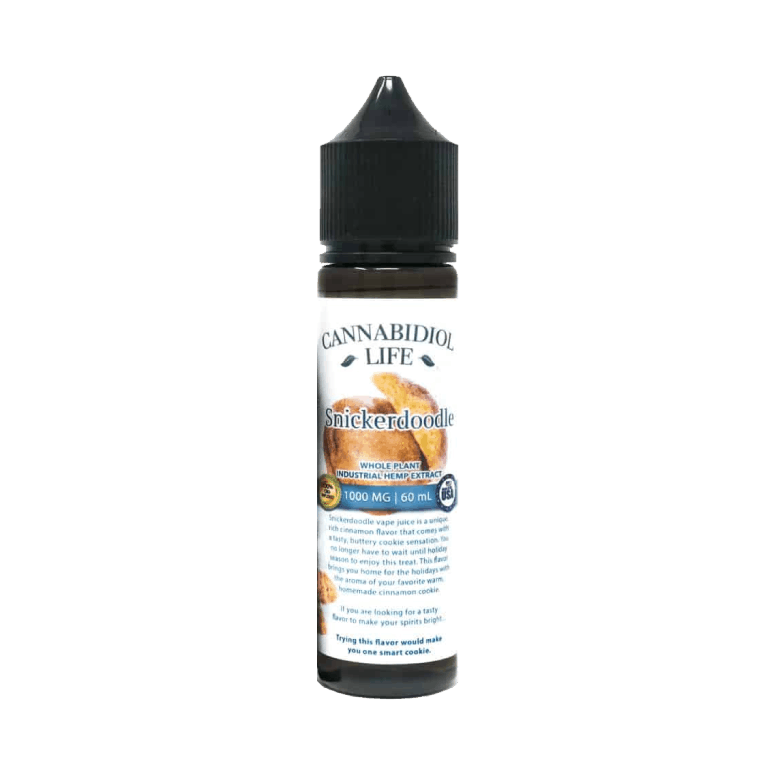 WEBSITE EXPERIENCE: 90/100
Cannabidiol Life is a frequent flyer on our top CBD product review lists. With a strong focus on safety and transparency, all of their offerings are USDA-certified organic and GMP-certified. They oversee the entire process from seed to shelf, even removing all stems and seeds by hand. (In case you were wondering, this process takes two hours for every pound of hemp).
The company offers a wide range of smokables, including crystals, dabs, wax, pens, raw flower, and of course—vape juice. The juice comes in potencies of 500 or 1000 mg of CBD and is available in a variety of flavors including vanilla ice cream, snickerdoodle, chocolate mousse, and nine other yummy flavors.
Cannabidiol Life focuses on full-spectrum CBD oil which has been sourced from industrial Colorado hemp. The formulation is a 75/25 max vegetable glycerin to propylene glycol blend. They are packaged in unicorn squeeze bottles with a fine tip for easy filling.
The brand gets lower marks than some of the others on our list for two reasons: The inclusion of artificial flavors and their lack of product COA's. While you can find these third-party testing results on many of their products, the vape juice does not appear to have any published reports, and there is no batch lookup tool on the site.
Pros
Many other smokable CBD products
Twelve great flavors
Made with USDA certified organic CBD
Cons
Lack of third-party testing on vape juice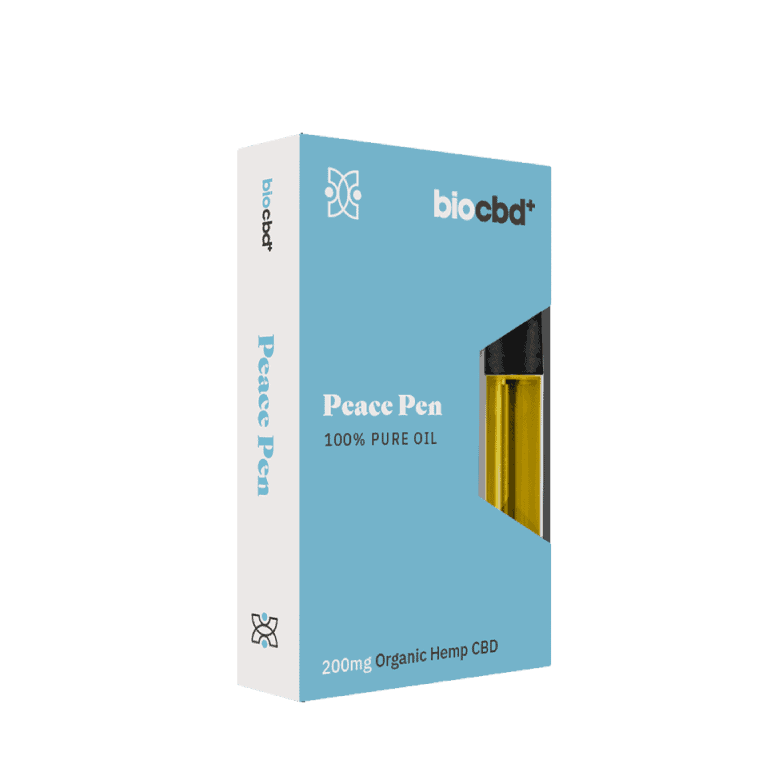 WEBSITE EXPERIENCE: 82/100
BioCBD+ uses a proprietary blend of water-soluble CBD and Ayurvedic herbs which the brand claims are one of the most scientifically advanced products on the market. With a strong focus on health education and sustainability, the company brings a short list of CBD products to the marketplace—capsules, muscle and joint relief oil, and vape products.
This combo pack is an ideal choice for those who are new to vaping. It includes everything you need to get started: a vape cartridge, battery charger, and a case. The cartridge comes prefilled with the brand's exclusive "I am Peace" formulation, which contains 500 mg of organic CBD, lemongrass, lavender, clary sage, and bergamot.
The rechargeable battery is 510 thread and can be controlled with the touch of a button. It will easily last around 100 puffs. The cartridge will last approximately one to two months, depending on how frequently you use it. Cartridges can be purchased separately when you run out. 
The company offers a 30-day money-back guarantee (less shipping) if you are not satisfied. But if you're interested in combining the benefits of CBD with other holistic herbs, then this might just be your next favorite vape. 
Pros
No chemical fillers
30-day guarantee
Well-reviewed
FAQ: CBD Vaping and How it Works
We've presented to you the best CBD vapes on the market, but this sort of assumes you've already built a solid understanding of CBD vaping, how it works, and why people do it. So if you would like to learn more about the topic, we've anticipated your questions and compiled this FAQ section.
And even if you're an avid CBD vapor, consider checking out the information below. We might be able to teach you something new!
A Word on the Legality of CBD Vaping
There's much conflicting and ambiguous information on the legality of CBD. But the core fact that you should always remember is that industrial hemp, and the extracts resulting from it, were made federally legal in the 2018 farm bill and led to CBD being officially removed from the Controlled Substances Act.
This bill wrote into legal categorizations a distinction between industrial hemp–which does not contain significant amounts of THC–and marijuana, which is primarily grown for its high concentrations of THC. This distinction similarly clarifies that any extract from industrial hemp inherits this 'legal status.'
In other words, so long as a cannabinoid extract contains less than .3% THC and was sourced exclusively from industrial hemp, then the product obtains federally legal status. Thus whether the CBD comes in the form of an edible, oil, or a vape doesn't affect it's legality–it's all fair game!
How Does CBD Work?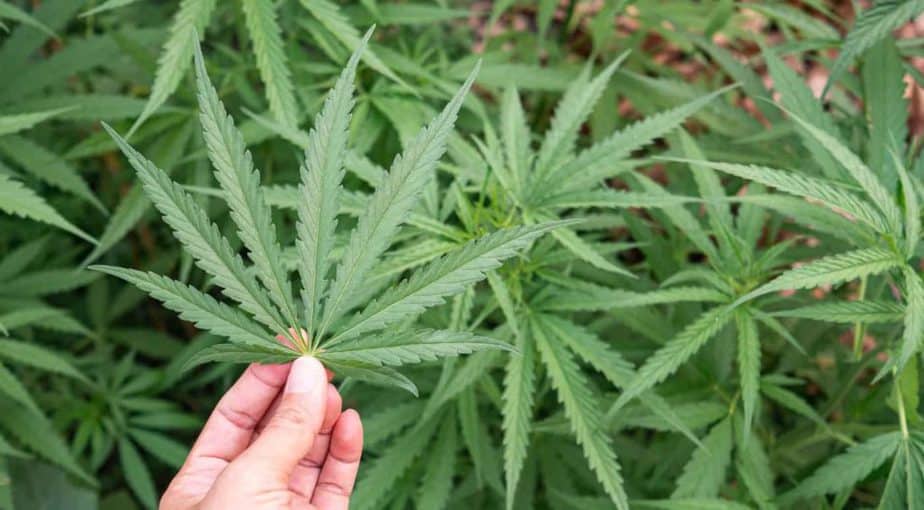 First, some CBD basics. CBD — or cannabidiol — is a cannabinoid, a chemical compound that is found in cannabis plants. There are over a hundred of these, each with its own effects. But you're most likely to have heard of the two most prevalent and well-known cannabinoids, CBD, and THC.
THC we've been hearing about for a long time. It's the cannabinoid responsible for the "high" you feel if you smoke marijuana. CBD, on the other hand, while it shares a virtually identical chemical structure, cannot get you high.
The vast majority of CBD on the market in the U.S. is extracted from industrial hemp plants — a fibrous strain of cannabis that contains exceptionally low concentrations of THC. The source may seem like a minor detail, but it's actually especially important in the U.S. because industrial hemp production is legal at the federal level. Other forms of cannabis are not.
CBD works by interacting with a system of receptors and chemicals in your body called the endocannabinoid system. The endocannabinoid receptors, named CB1 and CB2, are spread throughout your brain and body, causing widespread effects.
The Endocannabinoid System
Broadly speaking, the endocannabinoid system works to maintain homeostasis, or balance, within your body. Its influence is wide-ranging and includes pain, inflammation, mood, and sleep regulation.
Cannabinoids like CBD actually closely resemble chemicals that your own body produces, called endocannabinoids. This makes for easy interactions between CBD and endocannabinoid receptors.
Though the science on CBD is in the early stages of development, CBD was actually discovered in the 1940s, and there is some research from the decades that followed. But CBD has only come under the microscope in an intensive way very recently. This was due, at least in part, to the wave of anecdotal reports of CBD's benefits.
The recent nature of the scientific research on CBD means that we have a long way to go before we understand how CBD works. Many studies are small and few have been at the clinical level where the compound can be tested on humans. Still, if you read the studies that are coming out, it's clear that scientists are cautiously excited about its potential.
To date, there's evidence that CBD's benefits may include:
Anxiety and mood regulation
Pain control
Anti-inflammatory
Anti-convulsant (relieves seizures)
Neuroprotective (it protects brain cells)
Proapoptotic (it may keep tumors from growing and spreading)
Vaping and Bioavailability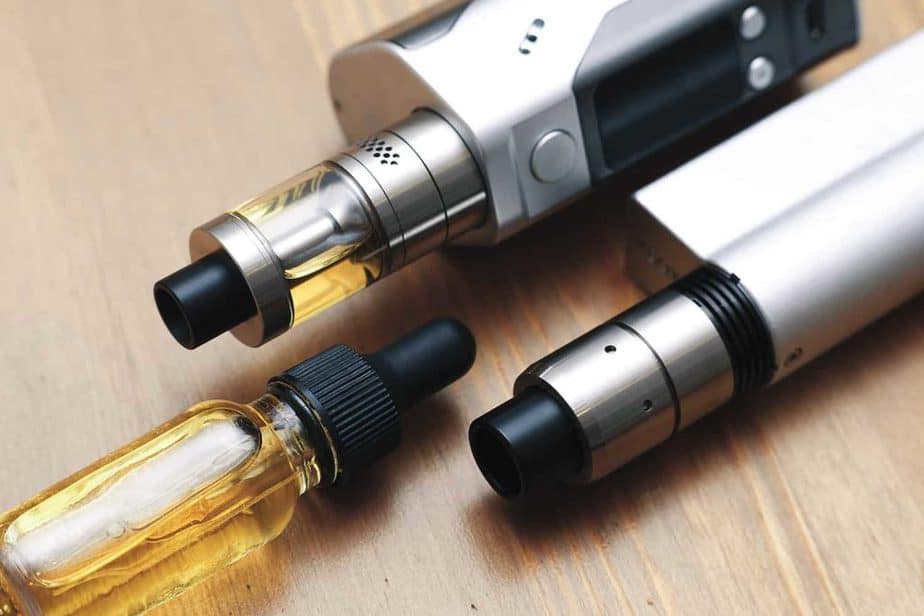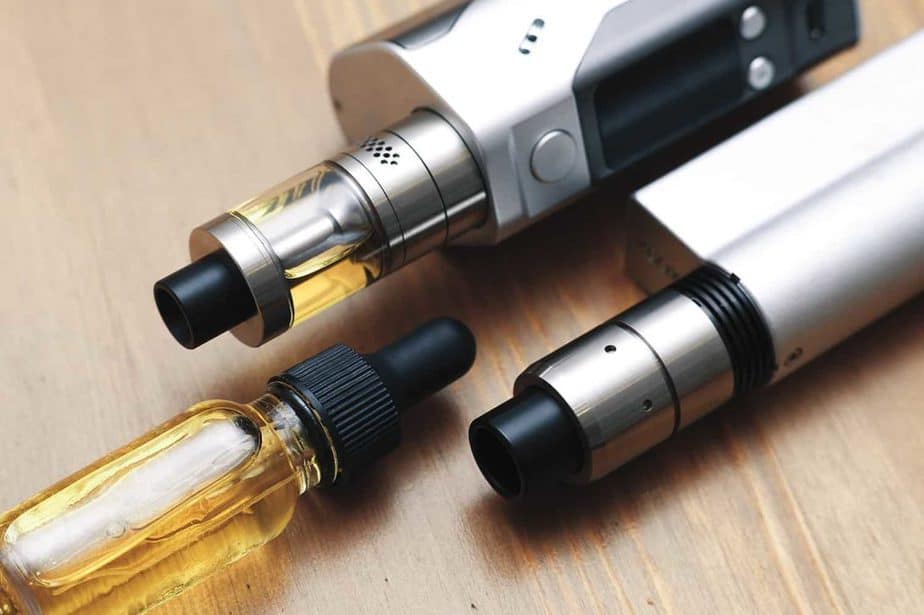 You've probably noticed that there are lots of ways to get CBD into your body. A non-exhaustive list would include tinctures, capsules, topicals, concentrates, edibles, transdermal patches, and vaping. All of these methods have their own benefits, but they are not all equal when it comes to how much of the CBD your body can absorb.
Bioavailability is the medical term that describes this process — how much of a substance your body will absorb, and how long it takes to do that. Ingestion (like swallowing a capsule) has one of the lowest rates of bioavailability.
So if you eat a CBD gummy, you'll only be able to benefit from a small amount of the CBD you swallow. Taking CBD sublingually (under your tongue) or through a transdermal patch are much more efficient routes.
But for high bioavailability, it's really hard to beat vaping. Because it doesn't have to go through the digestion process, the CBD enters your bloodstream through a very direct route. If you're in pain or you feel anxiety setting in, vaping CBD may deliver fast relief.
But everything, as they say, comes with a price. The downside of vaping's fast effects is that they tend not to last as long as they might through slower routes like ingestion. If you're looking for a long, slow release of CBD — vaping probably isn't what you're looking for. But if you want to feel the effects of CBD fast, and if you want to benefit from the maximum amount of CBD you're purchasing, then vaping is definitely worth trying.
Organic CBD
Finding organic CBD is important for anyone using CBD in any form. But it's even more important for those wanting to vape it. That's because vaping heats the CBD in order to turn it into vapor, and heat can change the chemical makeup of anything else that happens to be in the CBD. This includes pesticides, residual solvents from extraction, or heavy metals that might be present.
So it's hard to overstate the importance of looking for organically grown CBD. For complex reasons we won't go into here, most CBD oil is not going to have the USDA's organic stamp of approval. So you'll need to look into a companies' growing practices. Many companies will provide this information on their website. But if not, don't hesitate to call customer service and ask questions. It's definitely that important.
Isolate, Full-Spectrum, Broad-Spectrum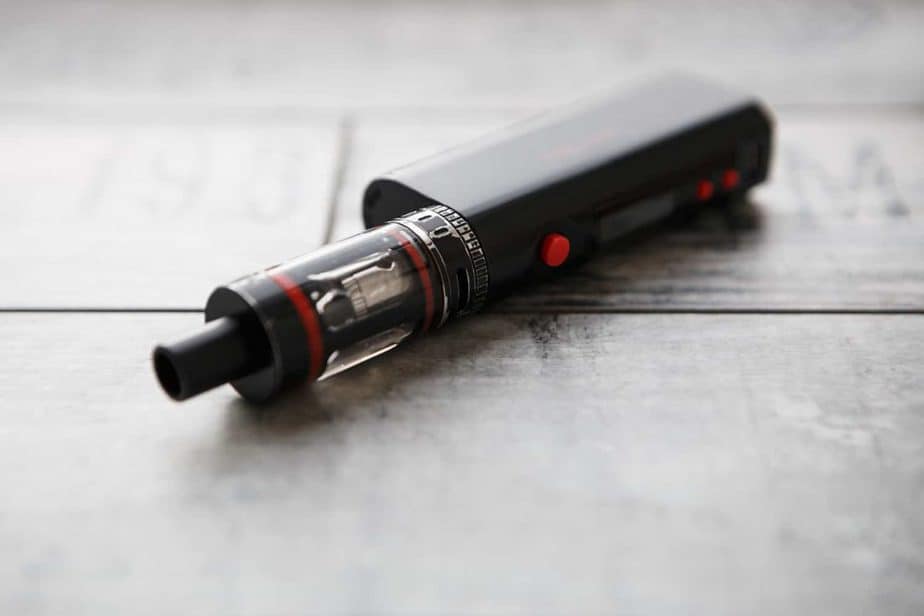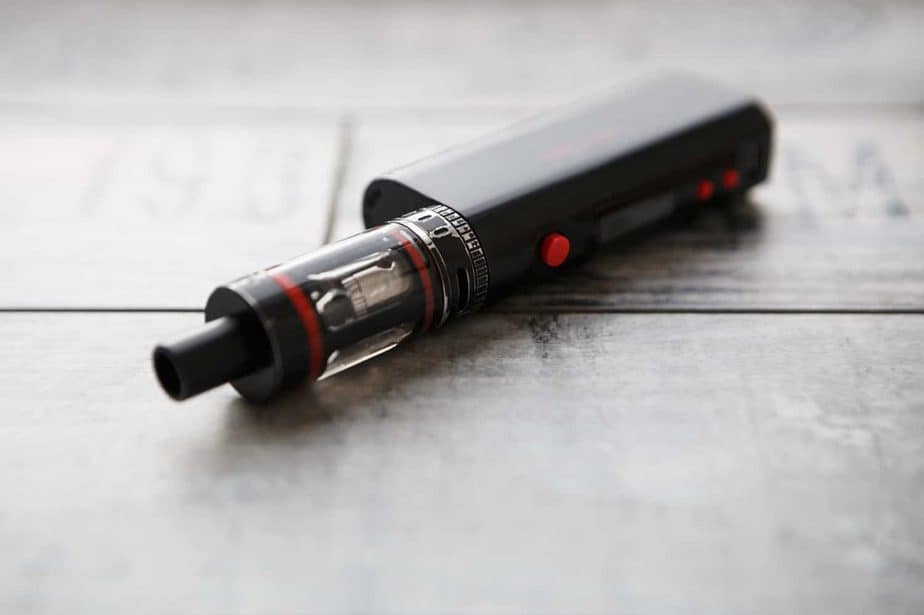 One decision you'll need to make before buying CBD vape liquid centers on the presence or absence of the cannabinoid THC. And why is THC such a big deal? As we noted above, THC is the cannabinoid that is responsible for the feeling of being high.
To be clear, we're not talking about large concentrations of THC. The vast majority of CBD being sold in the U.S. is extracted from industrial hemp, which by definition (according to the 2014 Farm Bill), contains less than 0.3 percent THC.
You'd have to take a fairly high dose of CBD to begin to feel the effects of that amount of THC. However, if you have to take a drug test for work, or if THC affects you negatively (for example, if you deal with panic disorder or bipolar disorder), then you may want to avoid it altogether.
In that case, what you want is a vape liquid that contains either CBD isolate or broad-spectrum CBD. Either of these options should be free of THC in the 99%+ range. CBD isolate is pure CBD with no other terpenes or cannabinoids present. Broad-spectrum CBD oil should contain other minor cannabinoids and terpenes, with just the THC removed.
Either way, if avoiding THC is important to you, make sure to check out third-party lab reports before you purchase a product. This will help you feel confident about exactly what you're vaping.
Trace Amounts of THC
The final option is purchasing full-spectrum CBD vape oil, which contains minor cannabinoids, terpenes, and less than 0.3 percent THC.
If you're wondering why anyone would want those other cannabinoids present, the answer has to do with the so-called "entourage effect." This refers to the idea that cannabinoids work best when in the presence of other cannabinoids, rather than on their own.
There's some evidence that synergy is created when CBD contains a broad cannabinoid and terpene profile. If you want to benefit from that, and you're okay with taking in a trace amount of THC, then a full-spectrum product is what you want.
CBD Oil vs. CBD Vape Liquid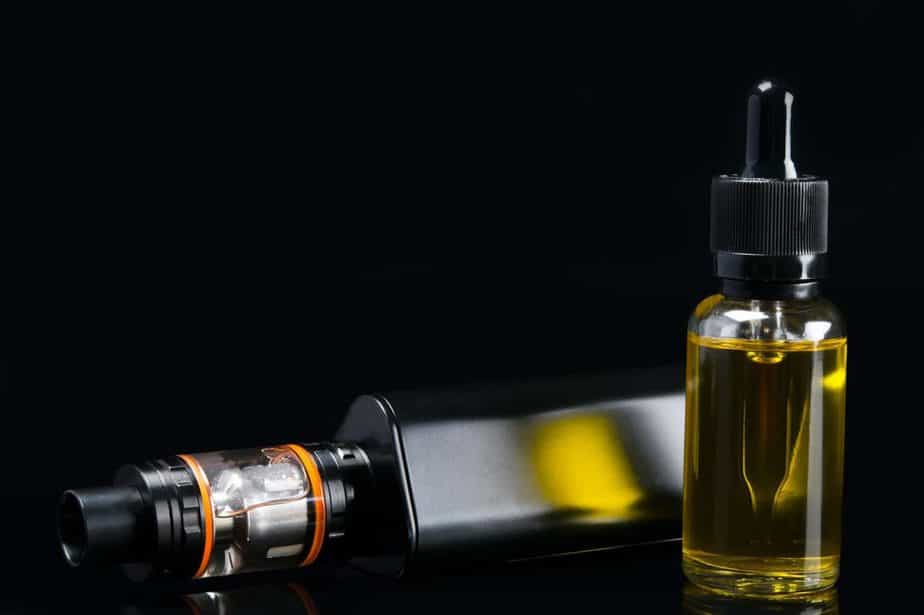 One really important point to touch on is the difference between CBD oil and CBD vape liquid. They are not interchangeable. The confusion, however, is understandable since CBD companies often use the terms "oil" for their vape products. As in, "CBD vape oil." This is not helpful.
CBD oil, also known as a CBD tincture, is CBD extract in a carrier oil like MCT oil, olive oil, or hemp oil. It's made to be taken sublingually or to be swallowed. But if you pour that stuff into your vape tank, you're going to run into problems. First, it won't burn well, so whatever vapor you inhale will taste terrible — and you probably won't get much CBD. And because the oils used in a tincture are so thick, they may also mess up your vaporizer, which is not intended for such abuse.
CBD vape liquid, on the other hand, is specifically designed to be vaporized and inhaled. (Other names for it are e-juice, vape juice, or e-liquid. But for the sake of consistency, we'll refer to it as vape liquid).
So what's the difference?
Both use carrier oils, but vape liquids tend to use different ingredients. That's because many vegetable oils are too thick (viscous) for vape pen heating coils. So vape liquids also usually include a thinning agent that makes it more easily vaporized.
We'll go into greater detail about ingredients later on, but for now suffice it to say that if you want to vape CBD, you should definitely purchase a CBD liquid intended for that purpose.
Vape Juice Ingredients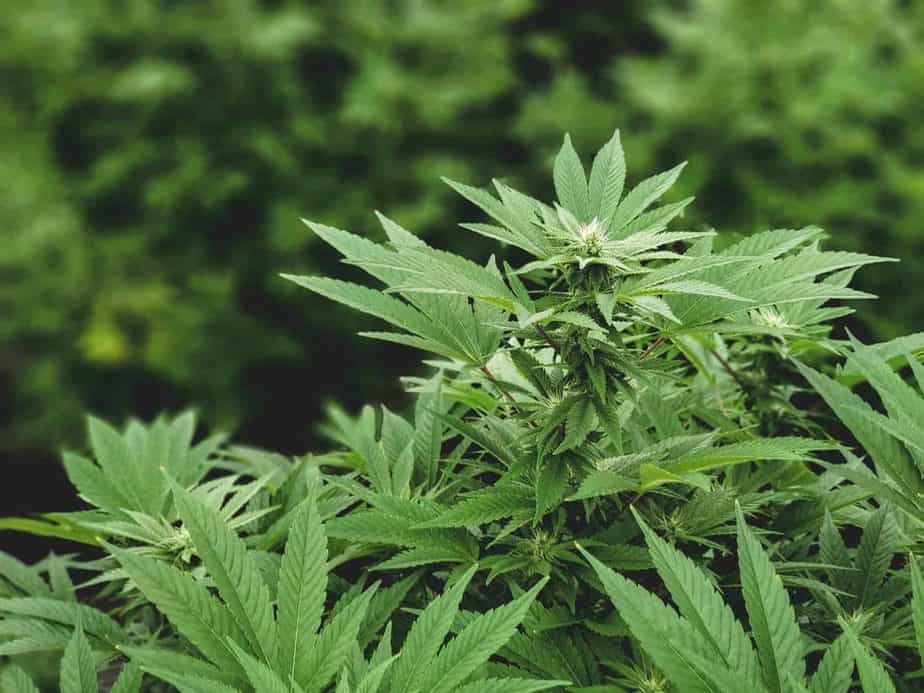 So, assuming you've done some research and found good e-liquid options that use organically sourced CBD, what other ingredients should you consider?
We noted above that thinning agents are often used in vape liquids. This allows the CBD to move through the vape pen, and it also creates a higher volume of liquid — this allows for different concentrations of CBD and makes the CBD oil last longer as well.
And for the cloud chasers among us, these thinning agents (especially PG and VG) are often responsible for the vapor clouds that appear when you exhale.
There are several different thinning agents that might be used in CBD vape liquid. The most common are:
Polyethylene Glycol (PEG)
Propylene Glycol (PG)
Vegetable Glycerin (VG)
Medium Chain Triglyceride Oil (MCT oil)
All of these are considered safe for human consumption by the FDA. At least when they're ingested. Unfortunately, research has shown that both Polyethylene Glycol (PEG) and Propylene Glycol (PG) produce carbonyl compounds when heated.
What are Carbonyl Compounds?
Carbonyl compounds — like formaldehyde, acrolein, and acetaldehyde — are known carcinogens which can cause cancer. PEG is by far the worst culprit for the production of carcinogens, and it's becoming less common to find it as an ingredient in vape liquids.
PG, though, is still commonly used, and while it seems not to be as dangerous as PEG, it is still associated with the risk of inhaling carcinogens.
Another of the most commonly used carrier oils is Vegetable Glycerin (VG). Studies have shown that at low power settings (5W), VG produces no detectable carbonyls — so it seems, at least for now, that it might be a safer option. People like the vapor clouds VG produces and the fact that it doesn't irritate the throat. It is still pretty viscous, though, so you'll need to make sure you have a vaporizer that can handle thicker liquids.
MCT oil is also used as a base for CBD vape liquids. It doesn't create the clouds of vapor that VG does, but so far it hasn't been shown to be associated with health risks.
In addition to carrier oils, many vape liquids include flavorings. Some flavors are accomplished by using terpenes, which are natural components of the hemp plant. The presence of natural terpenes may actually boost the effects of CBD, due to the "entourage effect," which we'll discuss later on. Terpenes also come with the added bonus of thinning the liquid, so some manufacturers are beginning to concentrate heavily on these.
What about Vape Flavoring?
On the other hand, many companies use chemical flavorings for their vape liquid, which come with a whole slew of issues. Many of these flavorings contain a chemical called diacetyl.
This chemical, which is responsible for buttery flavors, can lead to a serious respiratory condition called bronchiolitis obliterans, or "popcorn lung." Its nickname derives from the workers at microwave popcorn factories who were diagnosed with the disease after inhaling large amounts of the chemical.
And diacetyl is only one chemical among many used to create flavors. Scientists have also discovered that cinnamon, vanilla, and cherry flavors react with propylene glycol to create entirely new chemical compounds.
The reality is that there's a lot we don't know about the effects of these chemicals on our bodies — especially when they are inhaled. And the more chemicals present, the more likely is that they will combine in unpredictable ways.
It's a good idea to read labels closely and ask lots of questions if ingredients aren't clearly labeled. You'll have to make the call about how much risk you want to take with unknown chemicals.
Necessary Vaping Equipment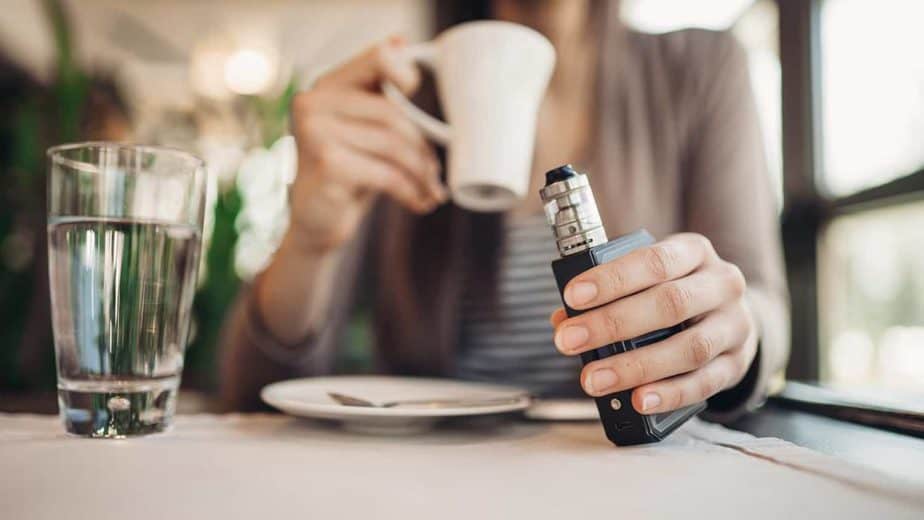 Vape pen, e-cigarette, call it what you will — to vape CBD, you'll need a vaporizer of some kind. That sounds obvious, but there are many options out there.
Your first, and easiest option, is to buy a pre-filled vape pen. Many companies sell these — and they're not necessarily that expensive. If you've never vaped before and you just want to give it a try, this may be a good way to go.
On the other hand, disposable vape pens are not refillable and the battery isn't replaceable. When it's done, it's going to end up in a landfill. Also, for obvious reasons, disposable pens tend not to be super high-quality pieces of equipment. And cheaply-made vaporizers can increase the risk of inhaling things you really don't want to inhale — like heavy metals.
Buying Good Vaporizers Matter
Those are good reasons to buy a well-built vaporizer. If you're willing to go this route, you'll have some choices to make. There are lots of options and it can be overwhelming for a beginner. But all vaporizers contain the following elements:
Atomizer or coil: this is the heating element in the vaporizer.
Battery: the power source
Tank: the reservoir for the vape liquid (some vaporizers only use pre-filled cartridges)
Wick: An absorbent material (often cotton) that draws the vape liquid into the heating element.
Your choice of vaporizer will center around questions like how portable and discreet you want it to be. Also, do you want to be able to refill the tank with vape liquid from a bottle? Or do you only want to use pre-filled cartridges? There are vaporizers that can do both, but they cost more. Also, if you're using a more viscous liquid, make sure you buy a vaporizer that can handle it.
There's no way around doing some research. It might help to talk to someone who knows their way around vaping — and vaping CBD in particular.
Brand Transparency
If you want to feel confident that you're truly getting the best CBD for vaping, company transparency is a key indicator of quality. Companies that hide behind inflated claims without any solid information to back them up are often selling products that either contain inferior CBD, or just a lot less than they claim.
To avoid buying from one of these companies, look for information about company practices like where they source their hemp. U.S. grown hemp is going to be your best bet, since regulations are more stringent here than elsewhere. You can also look into their growing practices. Do their growers spray with pesticides or use chemical fertilizers?
These questions are particularly important when it comes to vaping CBD. Even chemicals deemed generally safe can become dangerous when heated. It definitely pays off to pay more for organically grown CBD products.
And if a company won't show third-party lab results for their CBD oil, they probably have something to hide. In an unregulated industry, we rely on third-party labs for unbiased information about what's in a given product. These should be easily accessible and up-to-date, either on the company's website or by request.
Our CBD Library

Dr. Kasey Nichols, N.M.D.
Dr. Kasey Nichols, N.M.D. focuses on sleep disorders and drug-free pain management utilizing both conventional and alternative medicine at his private practice,
Onyx Integrative Medicine and Aesthetics
, located in Gilbert, AZ. He served as the Director of Medical Operation and Administration at a national substance abuse disorder corporation with 16 facilities across seven states. He graduated from Cleveland University-Kansas City with a Bachelor's of Science in Human Biology, graduating with honors, and holds a Doctorate from The Southwest College of Naturopathic Medicine. He holds licenses in both Arizona and Kansas. Dr. Nichols has given numerous talks to professional organizations, given interviews for newspapers across the United States, and numerous television news interviews with ABC 15/CW 61 in Arizona, Channel 3 in Arizona, and others. Dr. Nichols has appeared in
Cosmopolitan
,
Reader's Digest
,
WebMD
,
Healthline
, and many other health and lifestyle publications.