Do you love CBD? Millions of people take CBD oil everyday, but did you know your pets can enjoy beneficial cannabinoids, too? Pet owners can now find dozens of CBD brands that offer CBD oil for dogs. But what is marketing hype, and what is real value?
Join us as we answer these questions and review the best CBD oil for dogs on the market and explore the range of benefits that your furry friend can enjoy. We'll walk you through all the relevant safety concerns as well as how to evaluate pet CBD products for quality and effectiveness.
We'll explain what ingredients work the best for dogs CBD and other pets. And we'll talk about the best techniques for giving CBD to your pets. So if you think your animal stands to gain from the amazing benefits of the hemp plant, then continue reading!
Table of Contents
The CBD for Pets We RAVE About
Dog CBD vs. CBD for People
Dog CBD and CBD for people are the same in many aspects. In fact, there's nothing wrong with testing out your pet's CBD product. But before you do, a word of warning.
The primary difference between CBD for animals and CBD for humans is the flavoring and carrier ingredients. For instance, many CBD oils for dogs will contain strong flavors to appeal to a dog's pallet such as bacon or salmon. (We don't recommend trying dog treats with CBD unless that's just your thing).
Other CBD products for dogs will be indiscernible from those for humans, and might be flavored with ingredients like green tea extract or passion flower. You'll want to make sure that the company you're buying from isn't skimping on quality, though.
Double check that the CBD company posts lab results verified by a third party and that the CBD and hemp oil is sourced from high quality hemp plants.
CBD Oils for Dogs Worth It?
The benefits of CBD for pets will vary from pet owner to pet owner. If your animal struggles with old age, pain, or issues with the central nervous system, then CBD might be something worth trying. There's a plethora of studies to back the use of CBD in humans, but the science is far less developed in the context of CBD oil for dogs.
So from our perspective, there's two groups of pet owners who will probably find the most value in CBD oil for dogs.
The first group would be those with aging pets or dogs that experience some sort of physical or psychological issue that CBD might help with–such as seasonal allergies or joint pain. Small dogs with anxiety and large dogs needing an anti inflammatory also stand to benefit.
The second group would be devout CBD lovers who believe it in its healing powers, and who want to give their dogs a boost to their immune system and quality of life. After all, when you someone loves CBD it seems that they want everyone else to love it, too.
So why not your furry friends?
Methodology of Ranking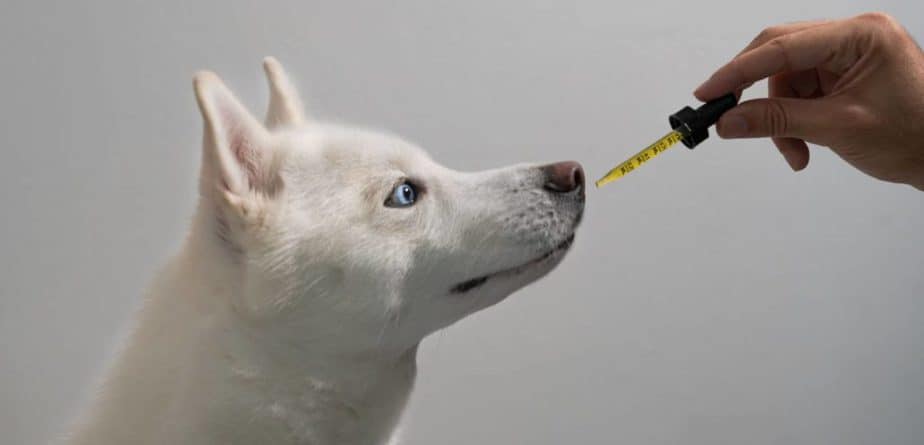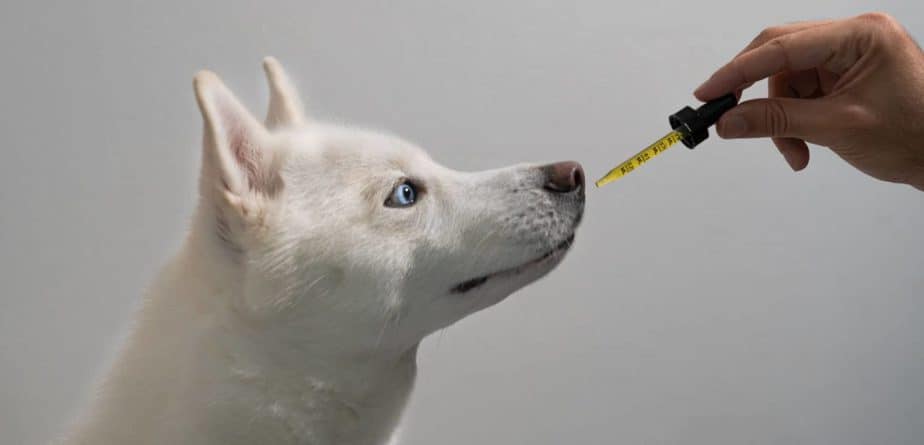 There are many best CBD oils out there, and just as many CBD companies that offer pet products. Some brands are dedicated entirely to pets, while others offer a pet CBD line along with other products. For this ranking, we looked at both types of companies.
So how did we rate the companies we reviewed? Our methodology considers 20 factors that fall into five categories. We extensively reviewed many companies, but only the top 15 made the cut.
Here's a quick breakdown of how we came up with the numbers:
Quality
This category includes everything that pertains to what is actually inside the bottle. We look at the hemp source — both where it was grown and whether it was grown organically. We rewarded companies that source American-grown hemp (since it's better regulated) as well as companies that grow their own hemp.
Top marks went to companies that have bent over backward to source USDA-certified organic hemp. That is not an easy feat!
We also preferred pet CBD pet products that used carrier oils and ingredients that are safe and healthy for dogs. Some CBD brands offer dog CBD oil that contains essential oils, MCT oil, and gluten free natural flavors like sweet potato that have been shown to offer health benefits to your furry best friend.
We also let our pets sample the each CBD oil product to see if they were enticed by the taste or not. Depending on whether your giving your dog CBD oil or CBD dog treats, it's actually better for the dogs not to quickly eat and swallow the CBD (see our section on the difference between CBD oils for dogs and CBD treats for dogs for more on this).
Transparency
This category is all about how open the company is when it comes to their processes, including sourcing, manufacturing, and testing.
A major portion of this category's points are rewarded based on how a company approaches lab testing. We scrutinize lab testing procedures, rating companies on how hard we have to work to find lab reports (COAs) as well as how up-to-date and thorough those lab tests are.
Top marks go to companies with a complete set of lab reports for each product on their website. If they're batch numbered (so we know testing is up-to-date), that's even better!
Value
This category is pretty straightforward. Nobody wants to spend more than they have to on a product. So, for this category, we calculated the price of CBD per milligram and weighed it against its quality score.
For consistency, we used the price of the highest potency pet CBD tincture we could find on the website.
Website Experience
If you've spent much time perusing the websites of various CBD companies, you'll know that they range from the hastily assembled, amateurish specimen to the extremely polished and professional.
We take the website experience into consideration because we know that it's really annoying to find a great product but to have to navigate an infuriatingly slow website. Or to have to deal with an annoyingly glitchy checkout process. We could go on.
For this category, we check everything from website speed to quality of product descriptions and FAQs. We go through the checkout process (well, most of it) to check for glitches and consider how many options they offer for pet CBD oil.
Customer Service
Figuring out which product to purchase can be daunting, not to mention trying to figure out how to dose your pet or how to read a lab report. And what if there's a problem with your order?
This is where customer service becomes really important. To evaluate how companies deal with customer inquiries, we went undercover.
We sent emails to each company, posing as a customer with questions about anything from testing to return policies. We then ranked them on the speed and quality of their replies and looked for red flags from previous customer reviews.
And just to make sure we included everything we look for as customers, we gave points for strong return policies and free shipping.
So without further ado, we present to you Our 15 Favorite CBD Oils for Dogs. We hope our research makes your CBD hunting easier!
Also be sure to check out our list of the Best CBD Gummies.
FAQ and CBD Library
If you're looking into CBD oil for dogs, chances are that you enjoy using it yourself! If you'd like to find some awesome CBD products to enjoy yourself, then consider our CBD library. We've conducted hundreds of hours of research into the CBD industry to find the best products in various categories.
We've also worked to provide our readers with the most relevant and helpful information regarding CBD oil and the industry at large.
Is CBD for Dogs Safe?
While your dogs may safely consume CBD products formulated specifically for dogs, there are some important caveats to note. Firstly, full spectrum CBD oil that contains too much THC could lead to health concerns for your dog.
The best CBD oil for dogs will be sourced exclusively from industrial hemp and will contain only trace amounts of THC (under .3%) which does not pose a health risk to your dog. So when shopping for CBD oils for dogs, be sure to only trust full spectrum CBD products that have been third-party lab tested so that you know exactly what your giving your furry friend.
Additionally, you'll want to double check other ingredients in your animal's CBD product. The best products contains MCT oil, gluten free ingredients, and is free of heavy metals that might cause unwanted side effects.
So while CBD for dogs may well be one of the best natural remedies available to them, always monitor your animals after they take CBD for their first time.
The benefits of CBD oil for dogs
According to the American Kennel Club, scientific studies have yet to fully demonstrate the effectiveness of CBD in dogs. However, the anecdotal evidence is strong enough to encourage dog owners to consider it.
Many dog owners report that administering CBD oil for dogs can help to alleviate pain, swelling, and might even be able to stop seizures. Additionally, some dog owners report that the best CBD oil for dogs is capable of alleviating symptoms of anxiety, depression, and even separation anxiety. So if you're considering adopting shelter dogs, you might want to consider giving your new best friend some CBD to alleviate the symptoms of stress during the transition.
While the science lags behind, many dog owners believe that their furry friends enjoy a better quality of life by taking CBD.
How do you give CBD to dogs?
The best way to administer CBD oil for dogs will depend on the unique personality of your pet. Some dogs will not like you placing CBD oil drops on their tongues or in their mouths. If this is the case, then your best bet is to shop for a CBD oil for dogs that is meant for adding to their food or to treats. (See our article on the best CBD dosage for dogs).
Some companies offer dog treats infused with CBD as well. While others offer CBD oil for dogs that's formulated with tantalizing flavors such as bacon.
PRO TIP: Be sure that if you're administering CBD oil directly into your dogs mouth that you don't accidentally gag them, crack the dropper on their teeth, or touch the dropper to their mouth. Touching their mouth with the dropper can inadvertently transfer bacteria back to the CBD oil where it can become rancid as a result.
For this reason, we found the best way to administer CBD oil for dogs is to apply a few drops to their favorite bone or chew toy. When a dogs licks or chews on something with CBD oil, it stays in their mouth longer, which allows it to be absorbed sublingually, and then boosts its effectiveness.
When a dog simply eats CBD, the dose loses much of its bioavailability. If your dog seems to want to swallow immediately after getting drops in its mouth, then consider applying the dog's CBD to its gums or even to the flesh side of the ear (and rub in gently.)
CBD for Dogs: Bioavailability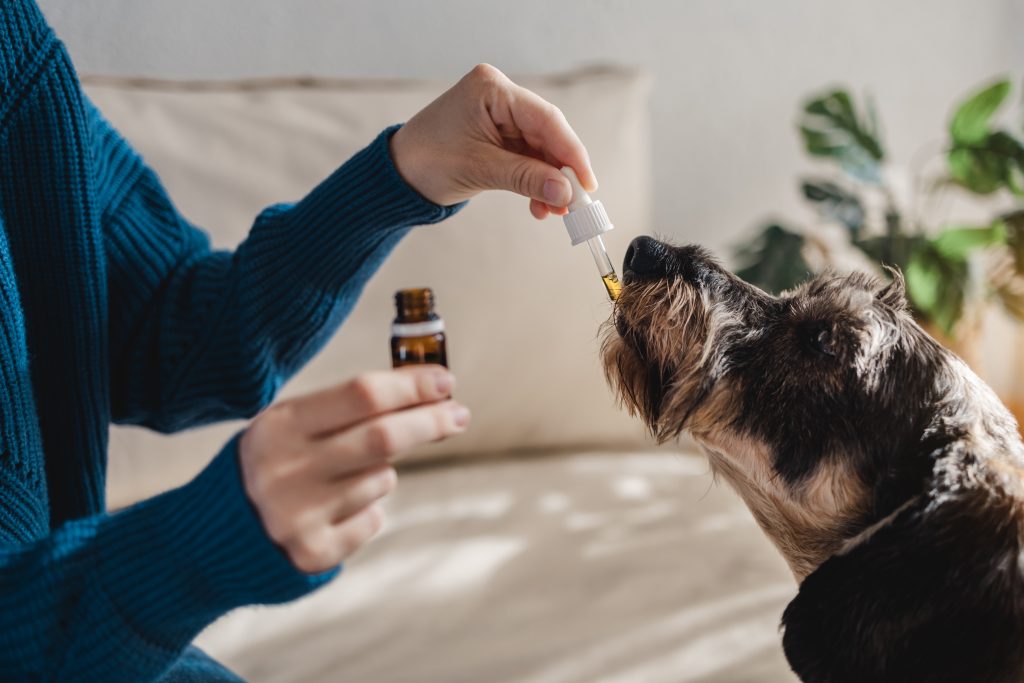 The best CBD for dogs will offer a formula with high bioavailability. The term 'bioavailability' refers to the efficiency of a substance in absorbing into the human body, specifically the bloodstream. While this process is similar in humans and dogs, the research shows that CBD absorption in dogs is more difficult.
One study shows for instance, that CBD may have much lower bioavailability in dogs than it does in humans. The prevailing theory here is that dogs do not allow CBD oil to sit in their mouths for long, and quickly swallow it–negating the beneficial rates of absorption associated with sublingual drops.
In other words, you'll want to consider one of two options to ensure your dog absorbs a sufficient dose of CBD.
Train your dog to not swallow after administering CBD oil drops under the tongue. This will let the CBD absorb much more effectively. Obviously, this is much easier said than done!

This option will probably be the most reasonable option for most dog owners. If you're dog quickly swallows any CBD oil drops or CBD dog treats, then you'll need to purchase CBD products with a much higher concentration of CBD per dose. Because your dog is only absorbing a fraction of the CBD dose, this will ensure that your pet absorbs enough to enjoy its effects.
CBD Oil for Dogs Versus CBD Dog Treats
Most CBD for pets comes in the form of CBD oil drops, but some companies do offer CBD dog treats and even dog food.
The major difference here is one of bioavailability, and so you might even say it comes down to a difference in cost effectiveness. As mentioned above, studies show that dogs have a hard time absorbing CBD effectively, particularly when it's absorbed orally (when eaten).
So you have a choice to make. CBD dog treats are far easier to give to your dog, but they'll need to have a high dose of CBD, since only a portion of each dose will actually be absorbed into the dog's blood. Or you can just give your dog more CBD treats but this isn't always feasible.
Your second option is to try CBD oil for dogs, but it can take finesse and patience to make sure your dog gets the most out of it.

Dr. Kasey Nichols, N.M.D.
Dr. Kasey Nichols, N.M.D. focuses on sleep disorders and drug-free pain management utilizing both conventional and alternative medicine at his private practice,
Onyx Integrative Medicine and Aesthetics
, located in Gilbert, AZ. He served as the Director of Medical Operation and Administration at a national substance abuse disorder corporation with 16 facilities across seven states. He graduated from Cleveland University-Kansas City with a Bachelor's of Science in Human Biology, graduating with honors, and holds a Doctorate from The Southwest College of Naturopathic Medicine. He holds licenses in both Arizona and Kansas. Dr. Nichols has given numerous talks to professional organizations, given interviews for newspapers across the United States, and numerous television news interviews with ABC 15/CW 61 in Arizona, Channel 3 in Arizona, and others. Dr. Nichols has appeared in
Cosmopolitan
,
Reader's Digest
,
WebMD
,
Healthline
, and many other health and lifestyle publications.