After careful research and review, we've curated this list of the top 10 best CBD capsules for 2022.
CBD capsules and softgels have become increasingly popular among consumers as companies expand their product repertoires beyond the classic forms of CBD consumption such as vape pens, gummies, and oils. While they may be relatively new, CBD capsules provide a number of benefits that you may find work well for your lifestyle.
While selecting the overall winner was tough with so many options available, we can clearly say that Kanibi took the top spot. They have created some of the most consistent hemp-based products on the market. As consumers demand more standardization in their CBD capsules, Kanibi has risen to the challenge by providing safe and trusted softgels that contain precisely the same ingredients each and every time.
The CBD Capsules We RAVE About
Why Choose CBD Capsules?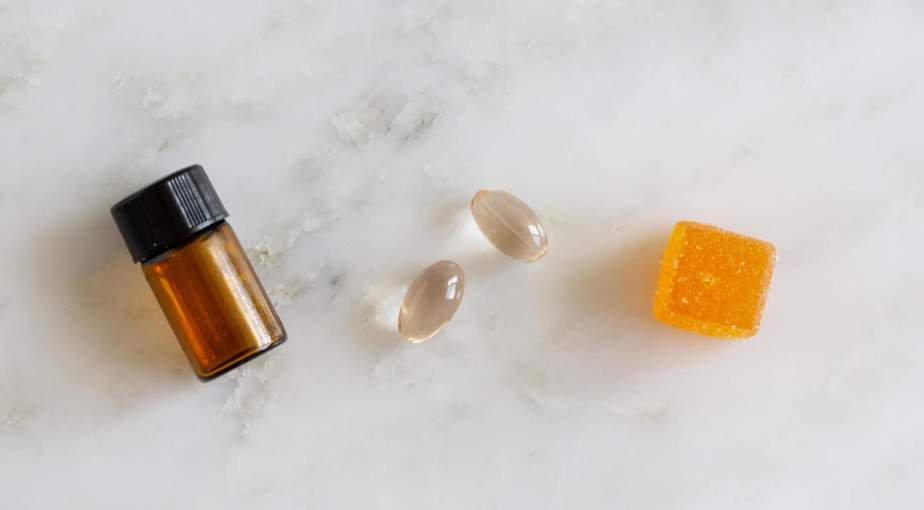 CBD capsules and softgels are often grouped together, like in this review, because they are very similar at first glance. Capsules are made from two pieces that interlock into a cylindrical shape. Many supplements come in capsule form because the herb or natural plant can be easily ground down and incorporated into the capsule.
Capsules can also contain liquids, such as CBD oil. What makes them different from softgels is that you can open them and mix the ingredients in with your food or drink, which can be a convenient option. On the other hand, softgels are not meant to come apart and were made to contain liquid ingredients. Softgels are known to have a longer, more stable shelf life although they are best kept in a cool, dry environment.
Both capsules and softgels are great delivery methods for CBD because they are easy to use, discreet, and provide a consistent dose. There is no mess from oil bottles and less confusion around dosing because taking CBD capsules is just as easy as taking any other supplement.
If you want to keep a consistent routine with dosing, taking CBD capsules with your daily supplements couldn't be easier, since you just add them into your pre-existing schedule. Keep in mind that CBD does interact with certain prescription drugs, making them stronger or less effective. Talk with your doctor prior to adding CBD capsules to your daily regimen to be on the safe side.
Methodology
Selecting the best CBD capsules requires a thorough understanding of what makes a high-quality product different from a low-quality one. Our methodology aims to include the most important factors that you'd need to consider when selecting CBD capsules.
Here is a list of the criteria we used to evaluate our top 10 best CBD capsules. In case you're curious about why these are important, we'll go over them in detail in the FAQ section below.
Hemp sourcing
Extraction method
Third-party testing
Transparency
Customer service
The Best CBD Capsules for 2020
1
Kanibi Full-Spectrum Softgels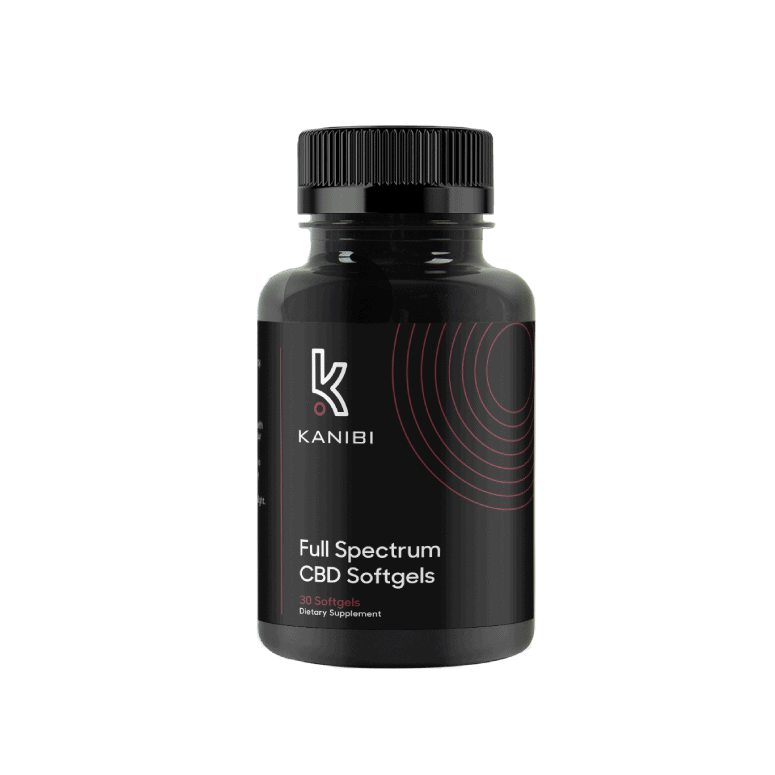 WEBSITE EXPERIENCE: 100/100
Kanibi's CBD softgels are in the number-one spot for a reason. Affordable, transparent, and effective, this new brand has established itself as a key player on the CBD scene, and they've become well-known for their exacting standards. This means that when you purchase hemp products from Kanibi, you'll get precise dosing in products sourced from the same selectively harvested plants—every single time. With so many CBD brands flooding the market, we're discovering that consumers are putting a high priority on this type of consistency.
Kanibi's softgels contain 25 mg of full-spectrum CBD in each serving. Formulated with organic Kentucky hemp, they are double-lab tested for safety. There are no artificial ingredients, fillers or preservatives, just full-spectrum hemp oil and MCT oil.
CBD Serving: 25mg softgels, 30 softgels per bottle.
Pros
U.S.-grown organic hemp
Made in an FDA-inspected facility
100 percent money-back guarantee
Cons
Only one potency option
Full-spectrum only
Contains trace amounts of THC
2
Populum Hemp CBD Softgels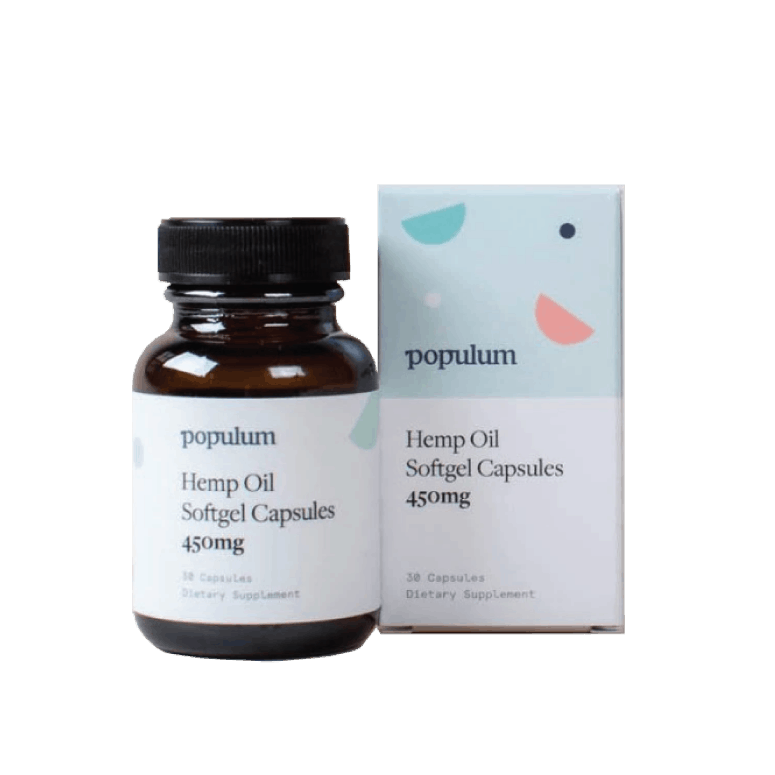 WEBSITE EXPERIENCE: 100/100
Populum prides themselves on their "no frills" business model that focuses on product quality over quantity by using domestically grown, non-GMO hemp. Their product line is small but is intentionally crafted to provide the best CBD experiences for the customer. Each product comes with the lab results tucked into the package to create a level of trust and transparency with consumers.
Their 750mg softgels are now formulated with plant-based capsules. That means these might be the best CBD softgels for vegans who are having a hard time finding options that fit their dietary needs.
CBD Serving: 15mg or 25mg softgels, 30 softgels per bottle.
Pros
U.S.-grown hemp
30-day risk-free trial
Plant-based capsules
Cons
Not organic
Only one option
Full-spectrum only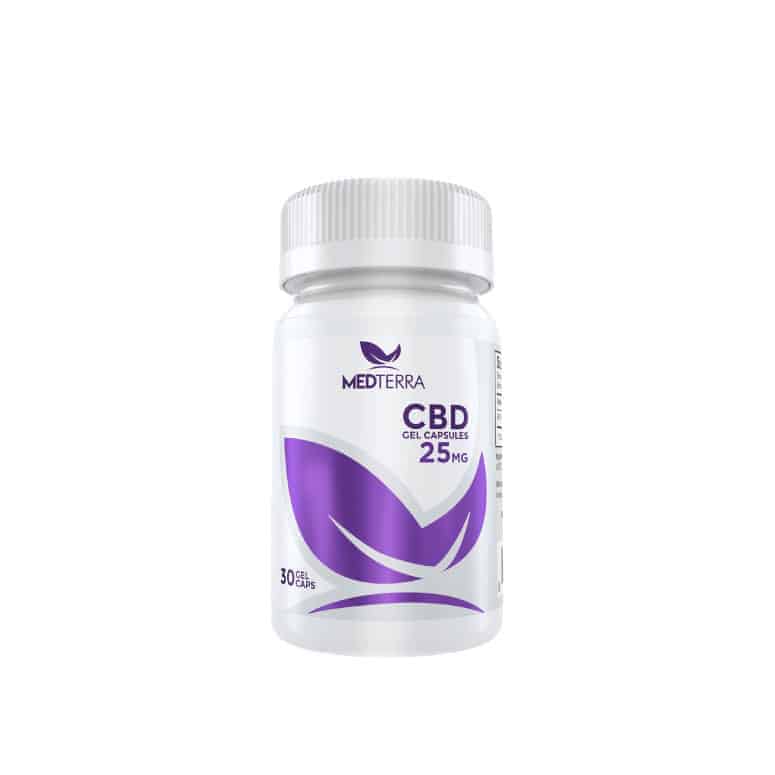 WEBSITE EXPERIENCE: 76.7/100
Medterra uses organically grown hemp from Kentucky to formulate their CBD isolate gel capsules. Each and every product they offer is third-party tested to ensure consistency and purity. 
Their gel capsules are made with MCT or fractionated coconut oil and are sold in two strengths formulated for daytime and nighttime use.
CBD Serving: 25mg and 50mg per softgel, 30 capsules per bottle.
Pros
100% organically grown
30-day money-back guarantee
Established and trusted company
Cons
Only offer CBD isolate capsules
Available only in higher strength
4
Joy Organics CBD Softgels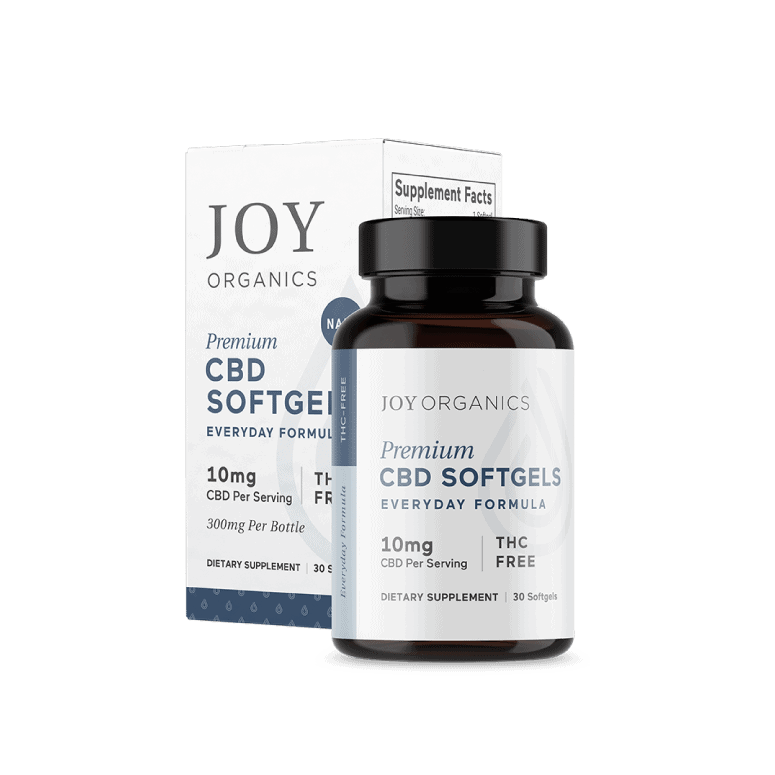 WEBSITE EXPERIENCE: 96.7/100
CUSTOMER SERVICE: 100/100
Made from organically grown broad-spectrum premium hemp, Joy Organics CBD Softgels set the bar high with rigorous third-party testing. The nanoemulsion technology used to create the softgels claims to offer more than 200% more bioavailability than oil-based products, which says a lot about Joy Organics' commitment to the consumer experience. For those concerned about the presence of THC in their CBD products, this option is THC-free.
Their softgels come in three varieties: original, sleep-focused with melatonin, and pain-focused with curcumin.
CBD Serving: 10-25mg per softgel, 30 softgels per bottle.
Pros
Highly absorbent
Sustainably farmed hemp
CO2 extraction
Cons
Only offers broad-spectrum
Pricey
5
cbdMD Capsules and Softgels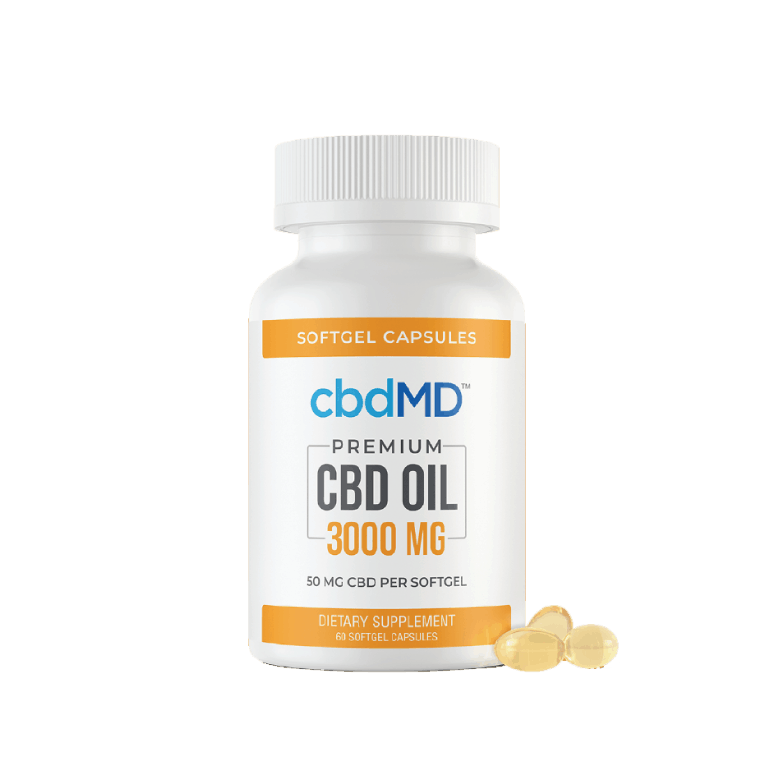 WEBSITE EXPERIENCE: 90/100
cbdMD offers one of the largest selections when it comes to capsules and softgels. They source their non-GMO hemp from U.S. farms to make their superior broad-spectrum products. Both capsule and softgel offerings are made with MCT oil but if you're vegan, opt for the capsules since they don't contain gelatin. 
Ranging from 15mg to 50mg per capsule, cbdMD's selection is made to fit a wide range of needs for both beginners and daily users.
CBD Serving: 15mg, 16.5mg, 25mg, 33mg, and 50mg per capsule or softgel; 30 and 60 capsules or softgels per bottle.
Pros
Third-party tested
Large variety of strengths
Non-GMO hemp
Cons
Broad-spectrum only
No vegan-friendly softgels
6
Charlotte's Web Liquid Capsules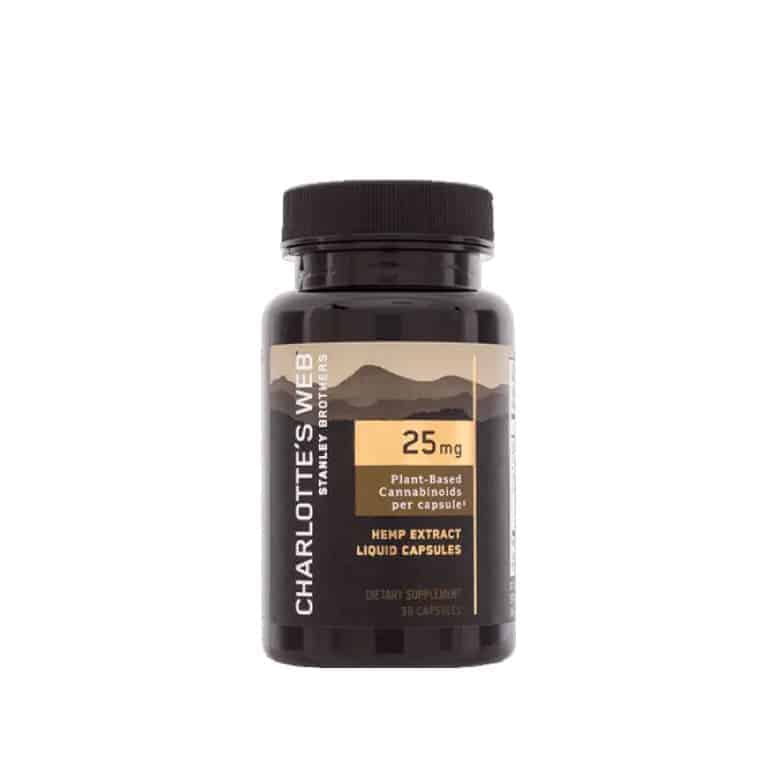 WEBSITE EXPERIENCE: 96.7/100
Charlotte Web offers liquid capsules, similar to Medterra's gel capsules. Charlotte Web maintains a great reputation by using premium CO2 extraction techniques and practicing organic and sustainable hemp cultivation. Charlotte's Web originally offered a dry full-spectrum capsule formula that customers loved, but just recently switched to a liquid capsule that is getting some spotty reviews.
Nonetheless, the liquid capsules are full-spectrum, vegan, formulated to disintegrate faster, and contain higher concentrations of CBD than previous versions.
CBD Serving: 15mg and 25mg per capsule, 30 capsules per bottle.
Pros
Organically grown hemp
CO2 extraction used
Trusted brand
Cons
Spotty customer reviews
Expensive
Liquid capsule
7
Receptra Naturals Gelcaps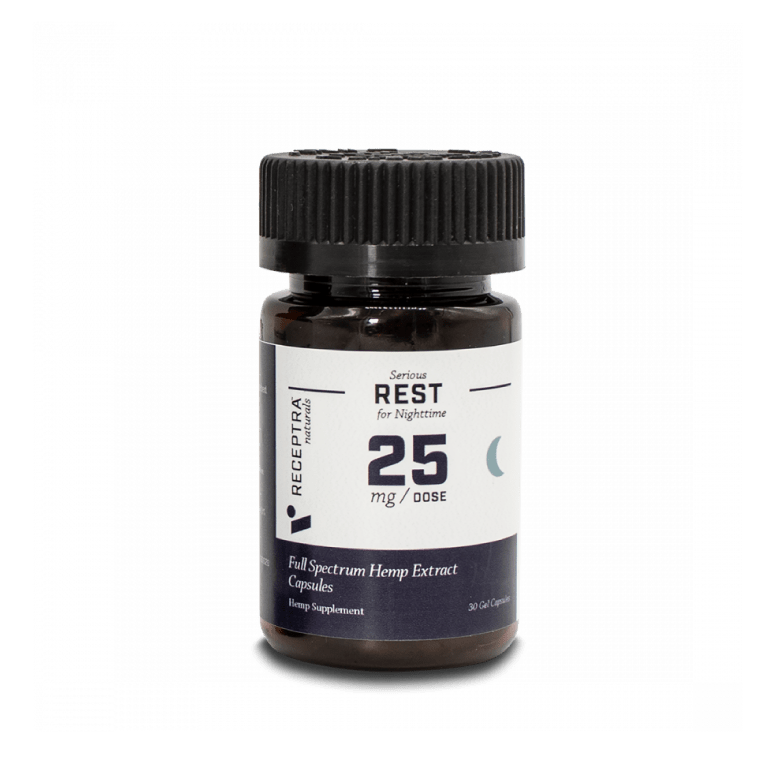 WEBSITE EXPERIENCE: 90/100
Receptra's Seriously Rest Gel Capsules are an innovative option for those who would like additional botanicals in their CBD capsules. They're made with full-spectrum hemp extract, MCT oil, chamomile, valerian root, peppermint, vanilla, and linalool (a beneficial terpene) to support sleep, but may also be effective for those looking for a calming formulation. 
Receptra was founded in 2015 and has quickly developed a great reputation for safety, quality, and effectiveness. Their products are sourced from hand-harvested and organically-grown Colorado Hemp that contains high ratios of cannabinoids and terpenes. 
CBD Serving: 25mg per gelcap, 30 gelcaps per bottle
Pros
CO2 Extraction used
Shipping is free
Full-spectrum with a high terpene profile
Cons
COA's not offered up front (customers must search by batch number after purchase)
Only one potency available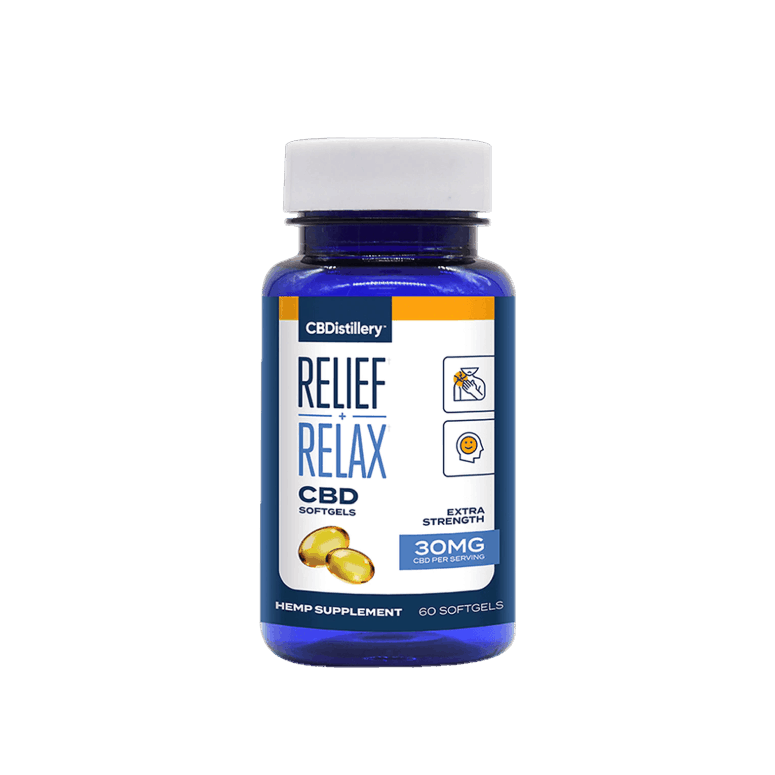 WEBSITE EXPERIENCE: 76.7/100
CBDistillery utilizes natural farming practices in their hemp cultivation. Made from U.S. grown hemp, CBDistillery softgels come in both full-spectrum and CBD isolate forms. This gives consumers the option to opt for the benefits of the entourage effect or go THC-free with a 99% pure CBD isolate version.
Each product comes with easy-to-view lab results on each product page and the overall website navigation is great. The company uses MCT oil derived from coconut oil to increase the CBD absorption rate and provide a tasteless, convenient option for CBD users.
CBD Serving: 30mg per softgel, 30 and 60 softgels per bottle.
Pros
Offers both full-spectrum and isolate
Non-GMO hemp
Great value
Cons
Not 100% organic
Only offers softgels in 30mg form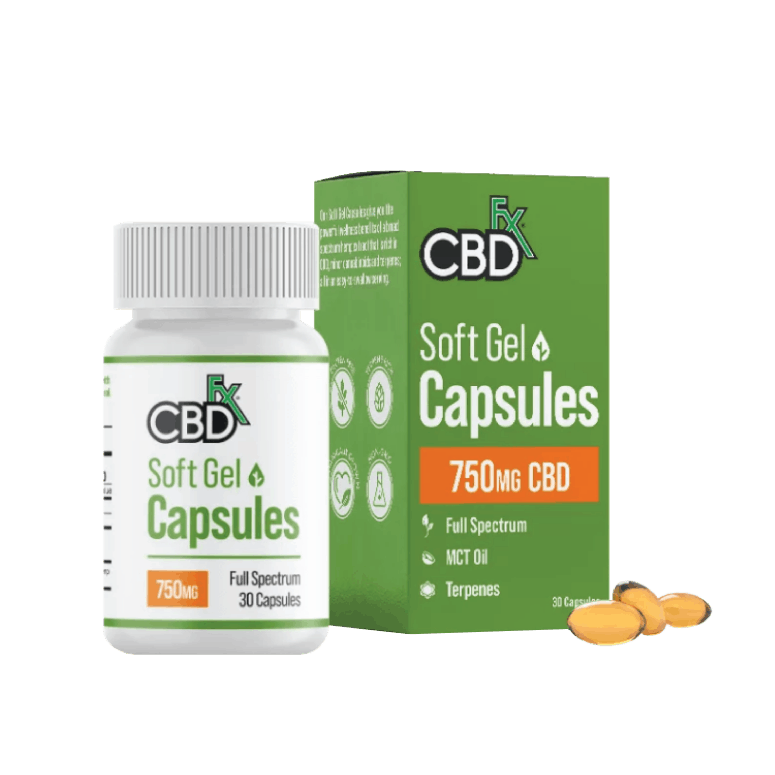 WEBSITE EXPERIENCE: 80/100
CBDfx knows that not all capsules are created equal and focuses on providing the purist capsules without any harsh additives or fillers. The company derives its CBD extract from organically grown Kentucky hemp that they put through strict third-party testing to ensure quality is maintained throughout the manufacturing process.
Their capsules are made with MCT oil and full-spectrum hemp. If you're not ready to commit to a larger bottle, they also sell an 8-count pouch of 25mg capsules.
CBD Serving: 25mg, 30 capsules per bottle.
Pros
100% organic hemp
Trial size available
Childproof bottle
Cons
Limited options
Only sold in one strength
Price
10
RE Botanicals Capsules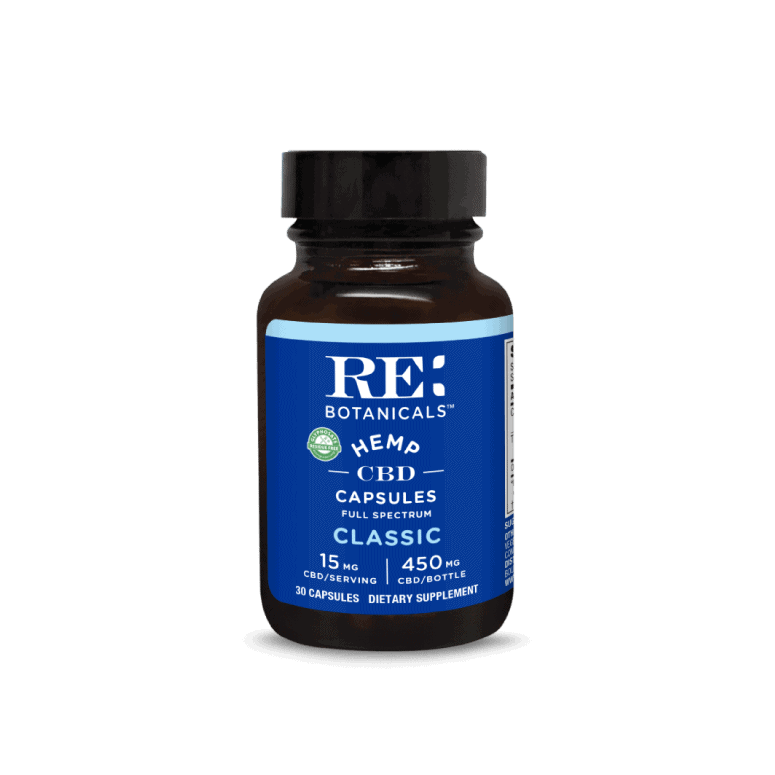 WEBSITE EXPERIENCE: 75/100
Made with just two basic ingredients, these organic capsules from RE Botanics are a favorite among customers who like to keep it simple. They are made with full-spectrum CBD (sourced from U.S. organic farms) and organic virgin coconut oil in a vegan capsule. 
There are no added chemicals or preservatives in the product, which is also certified glyphosate residue free by the Detox Project. Customers can choose from a 30 or 60-count bottle, and each capsule contains 15 mg of CBD per serving. They also offer a 10 capsule blister pack perfect for newcomers or those who want a convenient travel-size option. The brand donates a percentage of sales to support regenerative agriculture. 
CBD Serving: 15mg and 15mg capsules, 30 and 60 capsules per bottle
Pros
Third-party tested
$14.99 travel size
Vegan
Cons
Regular shipping may be slow
Tedious refund process
Related Rankings
How Do You Choose the Best CBD Capsules?
Hemp Sourcing
The best hemp comes from nutrient-rich soil that is cultivated with the most sustainable practices so you don't end up consuming unwanted pesticide and chemical residues.
While not all companies choose to use organically grown hemp, those that are committed to fostering wellbeing will opt to go this route.
Since organic certification is hard and expensive to come by, some brands may choose to use words like "sustainable" or "ethical practices" to indicate that they support clean forms of farming.
Extraction Method
There are three main ways to extract hemp: solvent (alcohol or butane), CO2, or carrier oil. Of the three methods, most products on the market are extracted either via solvent or CO2 for maximum efficiency and purity.
CO2 extraction is considered the purest form since it leaves no toxic chemical residues or unwanted plant matter and is used to make the best CBD capsules. However, it is also the most expensive.
Solvent extraction is considered to be more harmful since there is a higher risk that chemicals may linger in the final product. Solvent extraction is popular but it also may strip the final product of terpenes and flavonoids.
Third-Party Testing
Since there is no federal regulation for CBD testing, it's important that when you're looking for the best CBD capsules that you choose a product that's been tested accordingly. There are companies that double and triple third-party test their products to ensure customers get exactly what they pay for.
Third-party testing guarantees you are getting exactly what's on the label and not falling for a scam.
Transparency and Customer Service
Transparency and great customer service go hand-in-hand because they are the building blocks on which brand loyalty is built. Without either, a company can easily blend into the background of the hundreds out there vying for your money.
Quality products are important, but quality connections are just as necessary in the growing CBD industry where there are often more questions than answers.
RAVE Recommends
If you're not sure capsules are right for you, don't worry. CBD comes in lots of other forms too! Many people like to experiment with various products before settling on a favorite. Here are a few staff picks:
Kanibi Organi Gummies: These full-spectrum CBD gummies from Kanibi are delicious, double-lab tested, and contain 10 mg of CBD in each tasty morsel. Kanibi infuses it right into the recipe for the most therapeutic results.
Plant Panda Pure CBD Oil: Plant Panda's no-nonsense CBD products are perfect for those who are just getting started with CBD. They make it super-easy with just two high-quality options: 750 or 1500 mg CBD oils. Choose from cinnamon, fruit, or unflavored.
Spruce Topical CBD Cream: This topical CBD cream from Spruce CBD is all-natural and contains 300 mg of lab-grade CBD. Customers rave about its effectiveness for arthritis and joint pain, and the pleasant evergreen smell is a treat for the senses. A little bit goes a long way!
Dr. Kasey Nichols, N.M.D.
Dr. Kasey Nichols, N.M.D. focuses on sleep disorders and drug-free pain management utilizing both conventional and alternative medicine at his private practice,
Onyx Integrative Medicine and Aesthetics
, located in Gilbert, AZ. He served as the Director of Medical Operation and Administration at a national substance abuse disorder corporation with 16 facilities across seven states. He graduated from Cleveland University-Kansas City with a Bachelor's of Science in Human Biology, graduating with honors, and holds a Doctorate from The Southwest College of Naturopathic Medicine. He holds licenses in both Arizona and Kansas. Dr. Nichols has given numerous talks to professional organizations, given interviews for newspapers across the United States, and numerous television news interviews with ABC 15/CW 61 in Arizona, Channel 3 in Arizona, and others. Dr. Nichols has appeared in
Cosmopolitan
,
Reader's Digest
,
WebMD
,
Healthline
, and many other health and lifestyle publications.