Doing just about anything in 2021 can be daunting, including maintaining a basic exercise routine.
With this in mind, we narrowed down the best face masks for working out that are comfortable and secure enough to keep you motivated and in shape. Coming in at number one is the Under Armour Sportsmask — with built-in sun protection, a structured yet flexible design, and high-quality breathable materials, UA's Sportsmask is truly built for athletes (and the rest of us normal folks, too).
As gyms reopen and our waistbands continue "shrinking in the wash," many of us are grappling with the harsh reality that we really need to get back in shape.
Others are jumping at the chance to return to some sense of routine, normalcy, and well-earned endorphins. On both sides of the spectrum, one non-negotiable roadblock holds true: We all must wear a face mask when we leave the house.
The Face Masks for Working Out We RAVE About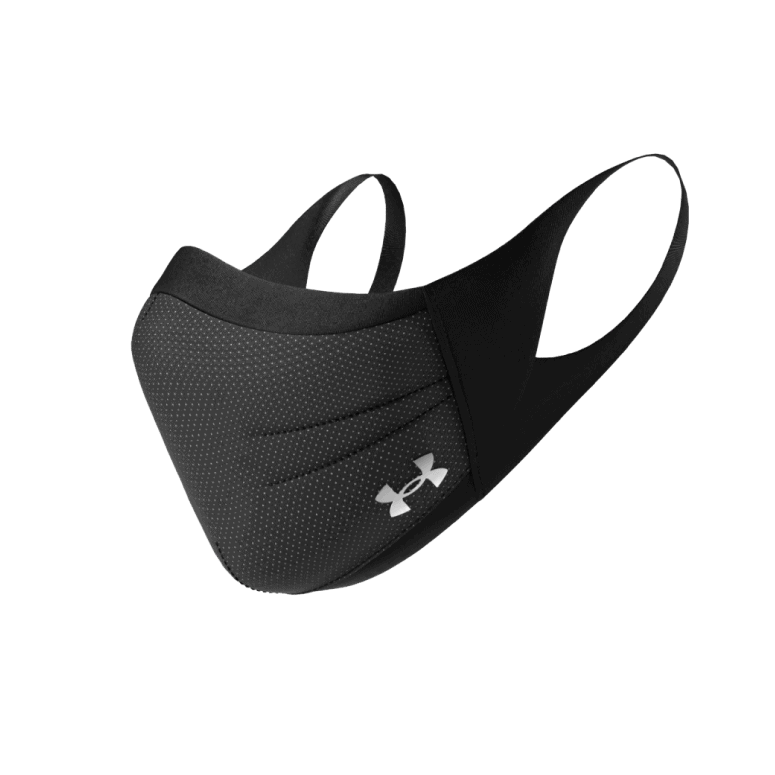 Best Overall
Under Armour Sportsmask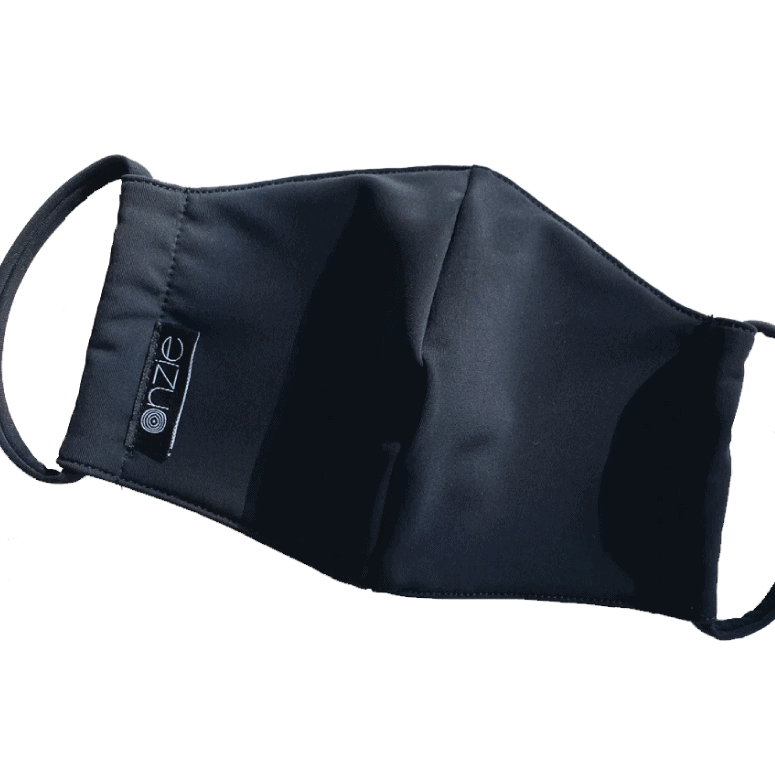 Best for Sweat Wicking
Onzie Mindful Masks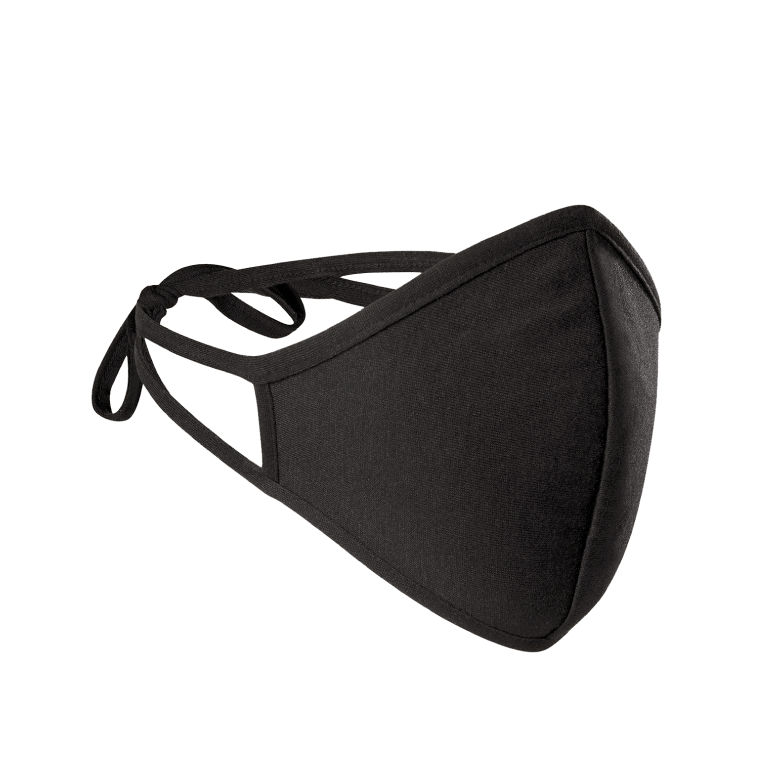 Best Value
Buck Mason Anti-Microbial Face Mask
The unexpected hot take of 2021 is that face masks are the new skinny jeans: an uncomfortable trend that we're willing to put up with for the time being. (I wish it was more of an UGG Boot situation, but we all have to face the situation at hand.) As much as face masks say, "I'm cool, confident, sexy, responsible, and I don't like killing grandmas," there's no denying that wearing a covering over one's mouth and nose is less than ideal when it comes to aerobic exercise. 
Though they may be a super fun way to weed out potential suitors ("Tell me how you feel about face masks at the grocery store" is an excellent dating app filter, in my opinion), they can be uncomfortable enough to leave even the most avid outdoor exercise enthusiast stuck on the couch.
With that in mind, we found face masks that utilize high-quality construction and lightweight, breathable materials so you can keep your community safe — and fit in your pants again.
When it comes to selecting the best face mask, you would think the most obvious choice would be the mask that's the safest. The more complicated truth, however, is that an uncomfortable, ill-fitting face mask will inevitably wind up protecting the wearer's chin.
To combat the ever-present chin temptation, everyone from athletic companies to Etsy entrepreneurs have attempted to find the secret to making a piece of cloth over your face comfortable enough to wear while working out.
As such, you have a number of small variances that may make a particular face mask best for your unique face and your unique work out.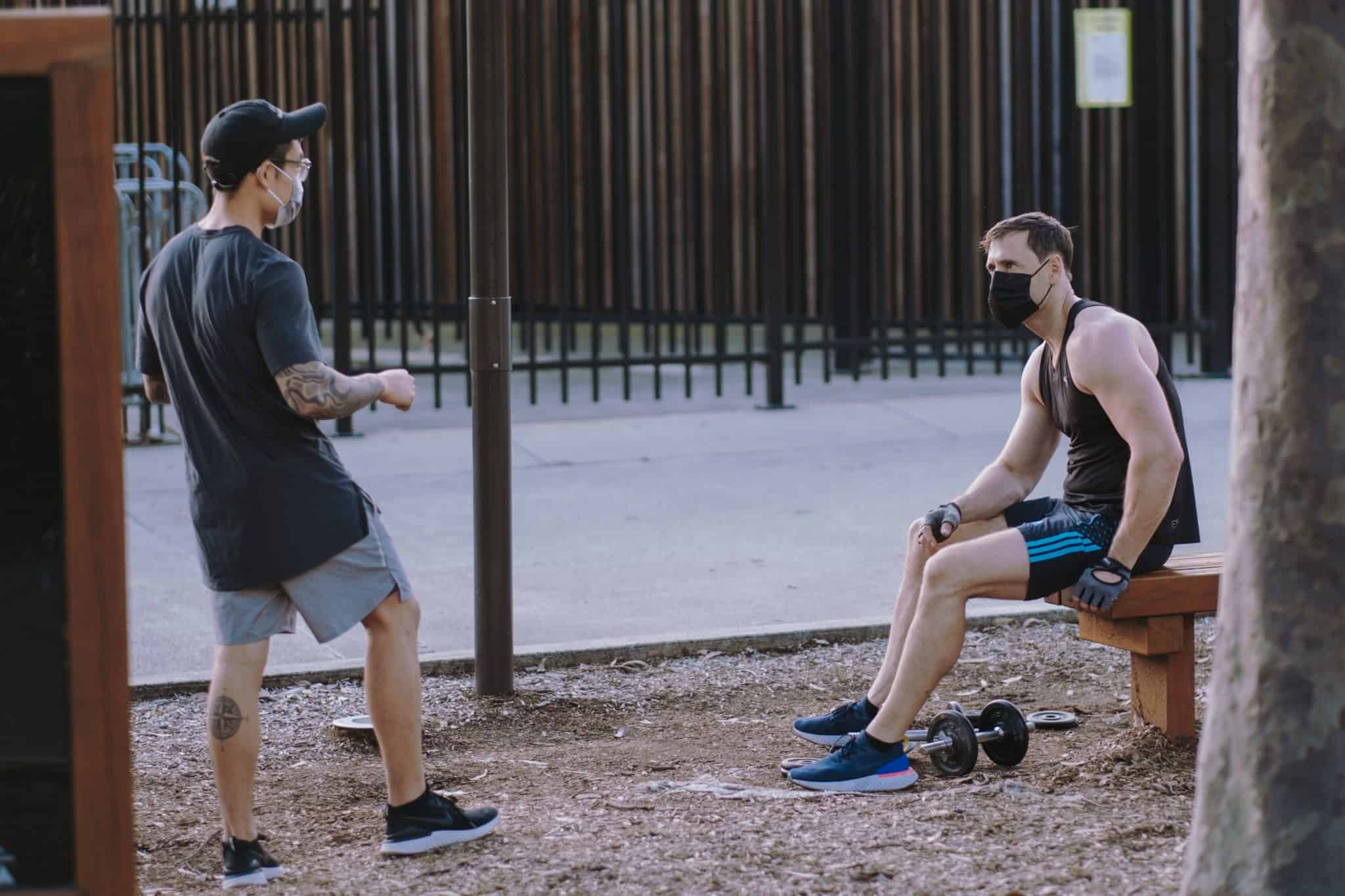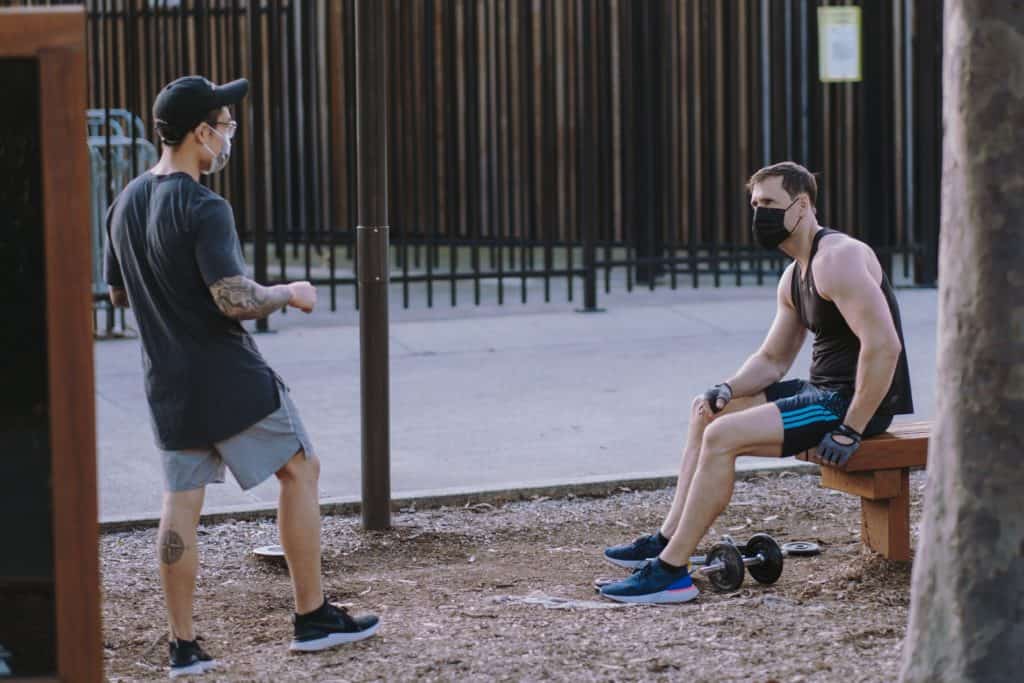 Material
The first thing to keep an eye out for is material. Masks made of silk, for example, may be attractive, skin friendly, and comfortable for everyday use, but they're a nightmare for exercise.
Cotton, the most commonly used mask material, is nicely breathable and soft but tends to trap moisture, making it acceptable for a yin yoga class but a poor choice for high-intensity, high-sweat workouts.
More traditional performance fabrics such as spandex and polyester are the best bet for wicking moisture, which will not only be more sanitary but will also help the mask remain breathable.
Layers
The number of layers a mask has is also a factor to consider. Generally speaking, more layers mean more protection but less breathability. According to the CDC, a mask should have at least two layers of fabric in order to be effective. From there, an antimicrobial filter will help to make the mask more sanitary (and prevent odors from forming).
Fit
The number one factor to consider is fit. If a mask isn't covering both your mouth and nose, you might as well not wear one. What's more, constantly having to adjust a mask is not only an annoying interruption, it also means constantly touching that beautiful barrier — a big 2020 no-no.
With that in mind, we prioritized masks that come in multiple sizes or have built-in adjustability features. In the end, I think of finding your perfect mask like finding your perfect sports bra, boxer briefs, or significant other: most of us have to test a few out before we find the one that fits.
Style
Contrary to nearly every review I have ever written, I didn't factor in the way a mask looks — these really are unprecedented times! In these difficult moments, I see the ability to exercise outdoors as a true privilege. I think you can look a little dorky to show some kindness to your community.
That said, you have a number of types of masks to consider:
Behind the ear straps: This is the mask of choice for most: they're typically the most secure and comfortable so long as the straps are the correct length.
Behind the head ties: While ear straps are perfectly acceptable for some, others find them irritating — or even painful — over time. If ear straps get you down, consider a mask that ties behind your head. Unfortunately, these masks often don't stay in place well enough for exercise, so you'll want to test the mask out at home before, say, committing to a group exercise class.

If you find ear straps unbearable and head ties insecure, check out my recommended products below. There are a number of creative accessories that make ear straps more doable, my favorite being a headband with built-in ear strap buttons.

Neck gaiters: Gaiters are traditionally a piece of cloth worn around the neck by runners or skiers to keep warm. They've been repurposed as a protective face barrier in 2020, as they're a comfortable way to cover your face when human contact is sparse — you can wear it around your neck on a long trail run, for example, and pull it up when you see a person every mile or so. However, there is some controversy around them after one Duke University study found a single-layer fleece gaiter to be ineffective. This caused an uproar in the media, leading the CDC to list them as "not recommended." The jury's still out on how effective they are: The New York Times published an article in support of the gaiter, and the Duke researchers themselves even came out to say that the study was disappointingly misinterpreted by the press. In the end, it's important to do your own research, but the gaiter's baggage is one thing to keep in mind when deciding on your mask of choice.
Bandanas: I have chosen not to include bandanas in my list for best face masks for working out. I believe bandanas to be stylish but nowhere near secure enough to wear for long periods of time while exercising.
N95s: N95s are also not included, as they're reserved for indoor high-risk workers only (they're also exceptionally uncomfortable — all the more reason to give the health care professional in your life a long-distance "thank you").
Like finding a great exercise routine, trial and error is the name of the game. It's important to keep in mind that masks are not a guarantee of safety. While wearing a mask outside of your home is a given, you'll need to make your own decisions on the level of risk you're comfortable taking. From there, find the simple things that make you happy, find ways to actively practice appreciation, find random acts of kindness, find a great 2020 workout routine, and, last but not least, find a mask that fits!
Methodology:
In an effort to keep you in shape, comfortable, and masked up, we took user accounts seriously. We considered hundreds of user reviews, other top 10 lists, and thoroughly researched construction and materials to find the best face masks on the market. From there, each mask was given a score based on the following priorities:
Breathability
Comfortability
Layer Count
Adjustability
Durability
Cost
Bonus points were also given to companies who have committed to donate to humanitarian causes as a part of their mask sales.
Without further ado, I present you with a list of face masks we not only stand by, but squat, run, lift, cycle, jump, shoot, and downward dog by, too.
The Best Face Masks for Working Out
1
Under Armour Sportsmask
By designing a mask specifically for athletes, Under Armour has been leading the pack in terms of functionality and construction. What we love most about this mask is that it manages to be both lightweight and structured. Though "ultra lightweight" may sound appealing, this mask's structure prevents it from sitting on your face and leaving you with the sensation of breathing cotton as soon as your heart rate starts to rise.
It also comes packed with features, including a water-resistant shell, antimicrobial lining, and a polyurethane foam layer that keeps air flowing while stopping moisture from hovering on your face. What's more, it's made with Under Armor's signature cooling high-performance fabric with built-in sun protection. 
With all these features, it's hard to believe how customizable this mask is. Offering sizes ranging from XS/S to XL/XXL and an adjustable nose bridge, faces of all sizes can find their perfect fit. Some users have also noted that it doesn't work well with glasses (you'll want a tighter nose seal to prevent fog if you're spectacled). And, at around $30 for one mask, it's certainly not the cheapest option on the market. That said, it's a mask made for athletes and built to last, snagging our coveted top spot.  
Pros
Multiple sizes
Breathable and layered
Water-resistant and sun-protected
Cons
Incompatible with glasses
With easily adjustable head straps, antimicrobial interior mesh, and UPF 50+ sun protection, Buff's masks stand out for their quality construction. Made using 4-Way ULTRA STRETCH CoolNET UV+ fabric, these masks are gloriously stretchy and soft. They also come with a built-in slot for disposable filters. 

At around $30 for one mask and five disposable filters, these masks are on the luxury side, especially if you plan to buy more than one. A 30 pack of replacement filters will also set you back another $22, making these masks an investment. That said, if you're willing and able to pay a high price tag for your face masks, Buff's are one of the best. 
Pros
Adjustable and stretchy
Antimicrobial
Sun protection
Not only does a tiny floating mask bear an unfortunate resemblance to a South Park character, a mask that doesn't fit under the chin also doesn't meet the CDC's guidelines for recommended use. Luckily, Onzie has made a high-quality mask for high-volume faces. 
But size isn't the only thing Onzie's mask has going for it. Made using up-cycled, breathable, quick-drying performance fabric that's supremely stretchy, it's built with comfort in mind. This mask doesn't come with sun protection, so if you're working out in direct sunlight, you may want to consider other options. That said, their multiple layers are machine washable, and at around $24 for two masks, the price point is more than reasonable. 
What's more, Onzie has donated thousands of masks to hospitals in their community, and a portion of sales to the Center for Disaster Philanthropy. So if you're looking for a big mask with an even bigger positive impact, consider opting for Onzie. 
Pros
Large and layered
Breathable
Sweat-wicking
Carbon 38 uses up-cycled material and donates 15% of its proceeds to Girls Inc. But helping reduce waste and inspiring young women to be "strong, smart, and bold," isn't the only thing that we love about this face mask. 
Boasting multiple layers and antimicrobial fabric that's soft, quick drying, and UV protection, this mask is built for long-lasting wear. It's also a great value: for around $29, you get two masks and a laundry bag: perfect for a regular workout routine. What's more, it runs on the smaller side and includes ear toggles and an adjustable nosepiece, so it's perfect for those of us with smaller faces. 
Because the Carbon 38 includes a 100% cotton liner, it may not be ideal if you're a heavy sweater. That said, it's also protected by polyester, nylon, and elastane, so the cotton liner for comfort isn't of great concern. Again, it comes down to fit: If you find yourself with a turkey neck situation every time you wear a mask, Carbon 38's model may just be the solution you've been searching for. 
Pros
Antimicrobial
Good value
Sun protection
5
Shock Doctor Play Safe Face Mask
This mask may just be the gaiter-meets-mask combination you've been looking for, with easy water access to boot. It's designed like a tight-fitting neck gaiter with ear holes, and includes what they call a "Quick-Flip," or a resealable opening near the mouth so you can drink water without removing your mask.
Unlike more traditional gaiters, the Shock Doctor mask boasts multiple layers of polyester and spandex that are breathable and sweat wicking. It's also ideal for those who find ear loops irritating, as it features two helmet-compatible straps that lie flat on the back of the head. What's more, it comes with 50+ UV protection.
With no returns (as with most masks) and no built-in adjustability, this mask is a gamble as far as fit. And, at around $20 for one mask, it's not the cheapest option available. That said, if the fit is right, this comfortable and functional mask might be what brings your workout — and hydration — to the next level. 
Pros
Comfortable and breathable
Sun protection
Layered
Cons
Not as adjustable
Expensive
These simple two layer face covers are supremely soft and breathable. At $30 for a three pack, they're a great way to stock up on masks without breaking the bank. What stands out most about Reebok's face covers, though, is their durability: they're one of the few mask companies that recommend washing with hot water (as is recommended by health experts but often not the companies themselves). In other words, these masks are built to last. 
Our only hesitation with Reebok's face covers is their lack of adjustability: at the time this review was written they offer only one size and don't include a nose piece. Despite this, they boast a tight fit that people swear by: their reviews are loaded with users saying they fit well and stay on.
Pros
Good value
Breathable
Comfortable and durable
Cons
Not adjustable
No nose piece
No sun protection
7
Buck Mason Anti-Microbial Face Mask 5-Pack
If you're looking for a breathable face mask that ties around the back of your head, look no further than the antimicrobial model from Buck Mason. Featuring an inner layer treated with a sanitary coating that will last up to 30 washes, these masks are made to keep you sweating without starting to smell.
What's more, the company is donating one mask for each mask sold and has already donated more than 150,000 masks to essential workers across the United States. At $20 for a five pack, they've done so while still offering a high-quality, affordable product. 
Because these masks tie behind the head, they may not be the best fit for high-intensity workouts, but if you're looking for a comfortable, sanitary mask that you can feel great about wearing, Buck Mason is an excellent choice. 
Pros
Antimicrobial
Affordable
Breathable
Cons
No sun protection
May cause slipping
No nose piece
8
DeSoto Skin Cooler Sports Mask
Previously known for making Triathlon Gear, Desoto has pivoted to make face masks that are both protective and comfortable. We love the company's three-layer mask in particular, as it uses its patented high-quality material to provide protection without sacrificing breathability and comfort.
What's more, these masks include a pouch to add an optional filter and extra-comfortable tieable straps that fit behind the ears or head for optimal adjustability. 
Because these masks don't include a nose piece, they're not ideal for those with glasses. They also don't offer sun protection, so they're not recommended for spending long periods of time outdoors. That said, at $15 per mask, they're an affordable, comfortable option. 
Pros
Layered and breathable
Adjustable
Affordable
Cons
No nose piece
No sun protection
Not antimicrobial
9
Hanes Stretch-To-Fit 6 Pack
Hanes packs have done it again — only this time it's not your mom stocking up on underwear for you at Costco. If you workout regularly and affordability is your top priority, consider the six pack of masks from Hanes. Their seamless masks are machine washable and double layered. 
Plus, they're made using Hane's Cool Comfort moisture-wicking fabric that's nicely breathable and soft, making them a perfect choice for those who need a heavy rotation of masks without spending a fortune. 
Considering the price point, these masks would likely fall higher on this list if not for their fit. Because they don't come with any adjustability or nose piece, many users have complained that they fit awkwardly and tend to slide around. That said, if these masks fit you well, we recommend you stock up. 
Pros
Breathable
Durable
Good value
Cons
No sun protection
No adjustability
Difficult fit
Made of one piece of fabric with ear holes, SMRTFT's sports mask is perfect for those looking for a low-profile mask that requires little fussing. Made using MICROKNIT filter fabric, they're exceptionally comfortable and breathable (almost like a sock for your face). 
At around $25 for one mask, these certainly aren't the most economical option — though they're made to last. The catch-22 of the SMARTFT mask is that its negatives are in its positives: It's made from one piece of fabric. Thus, if you're looking for a multilayered face mask, this is not the face mask for you. But, if you're looking for something lightweight that will stay in place, consider trying SMRTFT's Sports Mask. 
Pros
Comfortable and breathable
Stays in place
Durable
Cons
No sun protection
Not layered
Expensive
How should I clean my reusable cloth face mask after I work out?
Just as (I hope) you wash your exercise clothes and undergarments, face masks are particularly important to clean regularly. To do so, simply wash the mask in the washing machine on the hottest setting. Use a stain-removing detergent, and the hotter the water the better; the heat helps to disinfect the mask. Feel free to throw it in with your regular load!
We recommend a more durable mask for exercise, but if you prefer to hand wash your mask because it's delicate (or to allow for more regular washings) simply soak it in hot water with a small amount of detergent. Fold the mask and scrub it for one minute, then rinse it again with hot water.
If you notice stains on your face mask, treat them using a stain remover. For stubborn makeup stains, rubbing alcohol usually does the trick. Finally, make sure that your mask is fully dry before use.
How should I properly use and remove my face mask?
According to the CDC, there are a few key steps for correct use of a face covering. First, fully wash your hands with soap and warm water for at least 20 seconds before putting on the mask. From there, ensure that the mask fits snugly around your nose and chin without restricting your breathing. Avoid touching the mask, and if you do, wash your hands or use hand sanitizer to kill off any germs.
Remove the mask by only touching the ear loops or ties. Untie any strings if applicable, remove the mask, and set it aside to wash. Repeat the mantra, "I'm not going to touch my eyes, nose, or mouth. I'm not going to touch my eyes, nose, or mouth," as you walk to the nearest sink to immediately wash your hands, again for at least 20 seconds. Count it off, it's longer than you think!
What are the best face masks for working out?
To answer this very important question, we scoured the internet for what hundreds of users have determined to be the best face masks for working out (find out more about our methods in the "Methodology" section above). We also dove deep into materials and construction to find what face mask would empower you to get your best workout — without feeling like you're training for the alpine.
From there, we found a number of solid options, our favorite being Under Armour Sportsmask. We love this mask for its structured yet breathable design, but there are so many amazing options on the market that we couldn't stop there. Masks like the Onzie Mindful mask offer a tailored fit, or even masks with built-in openings for drinking water. Make sure to keep an open mind, and find the mask that fits your lifestyle — and more importantly your face!
RAVE Recommends
Sometimes a comfortable, well-researched mask can only go so far. Consider these accessories we love that will bring your workout face mask game to the next level.

Devin Fuller
Devin Fuller formerly traveled the world as a fashion model, and now resides in San Francisco, CA. She loves being active outside, mostly climbing, sometimes surfing, and always eating and drinking well.